Maurice Jackson: Joining us today is James Pettit, the president, CEO and director of Aben Resources Ltd. (ABN:TSX.V; ABNAF:OTCQB).
In our last interview, we discussed the next unanswered question for Aben Resources and that would be drill results. This week Aben Resources issued a press release conveying some intriguing results. Before we begin, for someone new to the story, who is Aben Resources and share with us the names and location of your three projects beginning with your flagship.

James Pettit: Aben Resources is a gold exploration company based out of Vancouver listed on the TSX Venture Exchange. Our flagship property is the Forrest Kerr property. It's in the Golden Triangle, which is a region of northwestern British Columbia, which has got a tremendous history for high-grade discoveries, the likes of the Snip mine and the Eskay Creek mine discovered 30 some odd years ago. Eskay at the time was one of the highest grade mines in the world. Since then, there's been a lot of discovery that's happened over the years in terms of more gold, silver and copper. These are still in the development stage.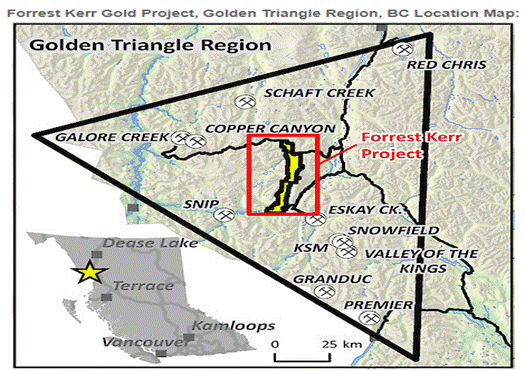 Many of them are waiting for possible higher prices for the commodity, but they're probably the largest untapped development projects in the world, especially the copper projects. Now specifically with us, with the Forrest Kerr Project, we acquired that ground three years ago, and started assembling it. I put three claim groups together. We chose those because they're on a major structural feature, which we look at as one of the controlling structural features in that whole Golden Triangle area. It's called the Kerr Fault and it's a big, big fault that you can see from space.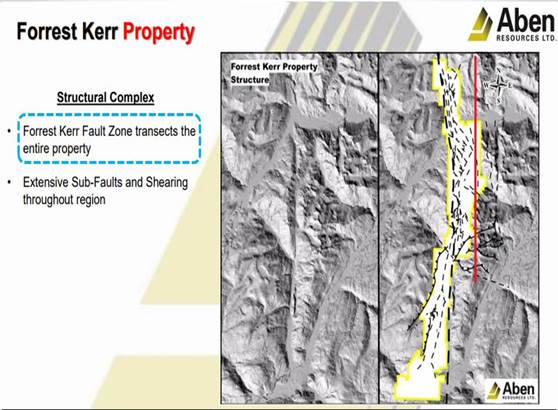 That is an area you want to be near for discovery potential and then there's other geologic features that you want to be coincidental to that, and we're right in between them. We're in a good area. We're getting a lot of attention. The market's certainly paying attention to everything that goes on up there. The most recent new production up there is Pretium Resources' Brucejack Mine, which is a very high-grade gold mine. That really brought about $2 billion in value to its investors. There's lots of potential there. We're excited about it.
That's why we've been so concentrated on it. This year we've drilled now I think just short of 40 holes. We've got 24 to be released still. That's going to take us through the rest of the year almost. We have another project that'll get us through the winter because the weather in the Golden Triangle is pretty severe. It's coastal mountain range right beside the panhandle of Alaska and gets a tremendous amount of rain or snow. It becomes almost impossible to work up there for the winter, unless you've got just a huge amount of money and resources to do it. That whole area will be going quiet soon.
We have another project called the Chico Project, which is in Saskatchewan, just south of what used to be called the Claude Resources gold mine. It's been bought by Silver Standard for $337 million. Silver Standard is now called SSR. It acquired the ground between the Chico property and its property, which it bought from Claude Resources. Basically we think we've got an extension of what SSR is looking for because SSR's interest now is to expand the known resource. To keep that mine alive for the next 20 years, it needs to find more of a resource.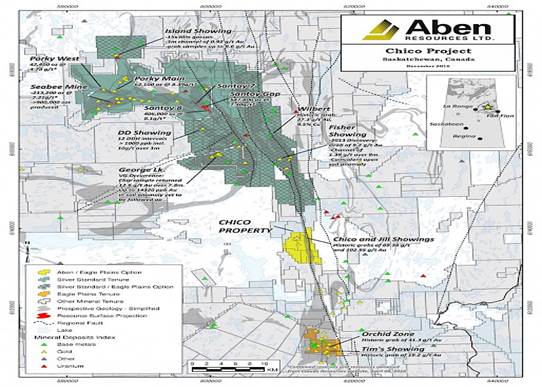 SSR has got a good resource to start with that itbought, but I think it has probably got five to seven years left. SSR wants to take this further. It's drilling on the ground between them and us now. It has acquired all the ground. It's giving us a good model to work with. We'll go in there in the winter. It's the best time to drill in Saskatchewan because it's flat, it's frozen. The lakes are frozen, so we can access an egress very easily. Essentially, we just put up the camp, bring in the rig, and move the rig with a helicopter if need be, or we skid it. We'll be going in there in February. That'll keep momentum going for the company.
Then we've also got a project up at the Yukon called the Justin, which is tied right on to Golden Predator's ground, what it calls 3 Aces. We're right on strike to the 3 Aces structure. We've done a little bit of work there this year in terms of trenching with the mechanical backhoe. We've got that up to the site by helicopter, and we're waiting on assays. We've spent 10 days doing this. We think we're sitting right on top of something very similar to 3 Aces, which is a very high-grade epithermal or hydrothermal quartz vein system. It's very rich.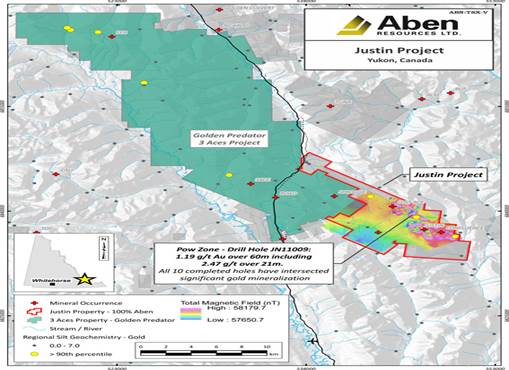 We'll know when we get the assays. If they come back the way I think, we'll be setting up a program for next year. That's a good project to have in the shoulders between the Forrest Kerr or before the Chico mine's down in the winter. We can't really get into the Forrest Kerr until June-July, so we can get up into this region in the interim and keep moving them forward. We've got three really good projects to work on, but our flagship is definitely Forrest Kerr because the audience is there. It's an area play. We all love area plays. That's where we stand right now.
Maurice Jackson: Well, speaking of the Forrest Kerr, let's focus our discussion today on the Forrest Kerr. We have some exciting news; what can you share with us?
James Pettit: We have a new zone. We've been working and concentrating on the North Boundary Zone, but this season we drilled three holes to the south of the North Boundary Zone. It was a kilometer and a half south. We put in these three holes because we're trying to buy time, so we could get more assays back because our concentration is the North Boundary Zone and we needed guidance from some of the assays. We did do that, but we decided to drill where we did because there is a geochem anomaly and target that we wanted to test and it was coincidental with an old geophysical survey that showed something promising.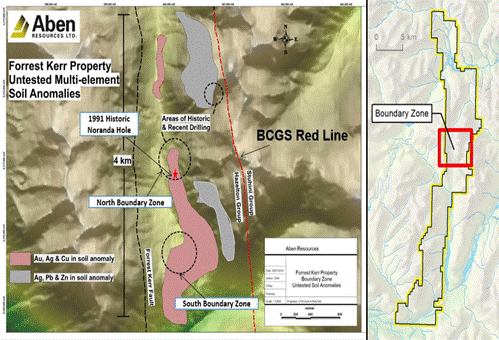 Geophysical anomalies are interesting, but certainly not like a geochem where you actually get the gold in the sample and that's why you're there. You have a good geophysical and geochem target to work with, and it turned out that we did the right thing. We've hit something there. It's not as high-grade as the North Boundary appears to be, but it's broad and it's mineralized. I'll use the best of the three holes, hole 21. You've got almost 380 meters in that hole is well mineralized, primarily gold, from trace level of 0.1 all the way up to 5 grams every interval.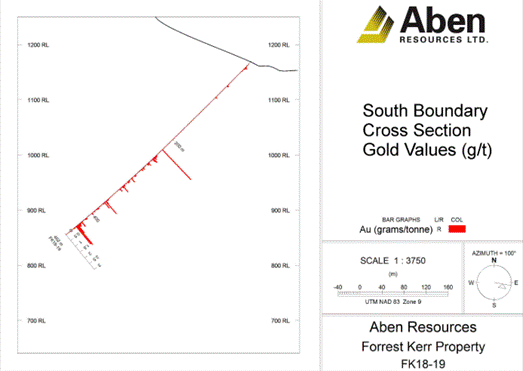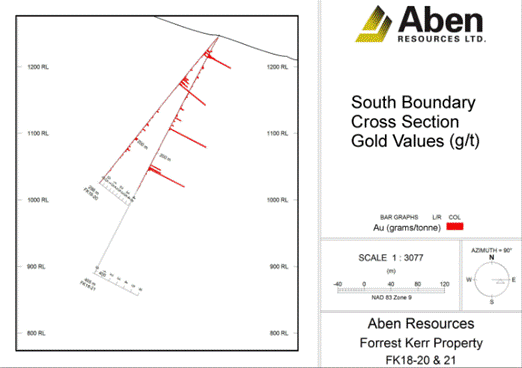 The way we set it up, it's almost like a graph. You very rarely see that much continuous mineralization like that. Well, it's a lot of important information about the tenure of mineralization in that region. That's definitely has our attention. We need to drill more holes there. We'll get to it next year. The season's definitely winding down up there right now, but it's going to give us a lot of info.
Plus, we have now flown the entire valley using an EM geophysical survey, which encompasses both boundary zones to the north and south. We're actually just waiting for the results and the interpretation of the survey. We'll take that information at increased amount of geochem sampling that we've done, as well as all the assay results that we'll have for the season. We'll use that and compile some significant information for next year and work up our next series of targets.
Maurice Jackson: This is quite intriguing, exciting, any adjective you like to associate with it. Congratulations, sir. Now prior to this week's press release, Aben Resources was able to successfully complete a financing and secured a major shareholder. Share the details with us, sir.
James Pettit: The first hole we put out this year was spectacular. It had an interval of 10 meters of roughly 38 grams. I mean that's spectacular in itself, but within that was six meters of 62 grams gold. That's like two ounces. Spectacular results. That got the market's attention. The stock really moved up. The interest for financing was immediately apparent. We did announce a $4.2 million financing and half of it was taken by a fellow named Eric Sprott, who is a bit of a gold legend.
He started Sprott Securities, which now has a big presence in Toronto and also a big presence in Carlsbad, California. He is the consummate and ultimate gold bug. He loves gold and is not afraid to take a big stand in an early-stage deal like this. This is the exploration phase. This is potentially where you can absolutely make the most. You're in at a price that seems very cheap and the market cap is low and you have this discovery. From that point on, you want to keep it growing and the market reacts correspondingly. He's well aware of that. He's not afraid to take a shot. He does it with a number of companies.
But when he gives his blessing to it, it's pretty substantial. Then we also raised another million dollars after that largely because his name was now attached to the original financing, so we raised another just short of a million dollars flow through. The company now has just over $7 million. We've basically got next year's program paid for.
Maurice Jackson: That leads to my next question, what is the burn rate and does Aben Resources plan to return to the market in the foreseeable future for another financing?
James Pettit: Well, the second question's answer is no, we won't. We don't need to. Our burn rate varies from where we are in the area if we've got things on the go, the drill program, etc., our burn rate, and I'm just talking about basically our G&A and marketing burn rate, that can grow to $200,000 a month. Then the field work is always budgeted. This year we had budgeted about $1.5 million and we increased it by about $1 million. This year all in all we spent about $2 to 2.2 to 3 million. I haven't got the finals number in. That's all in for that project. We doubled the size of the drilling program.
We're getting really close to shutting down, but I don't see it going over that. For the G&A side, the operations of the office in Vancouver in marketing because we do. It's important to spend money on marketing. We travel a lot marketing this project. That runs about $200,000 and varies up to $250,000 a month. Then when we aren't working, everything obviously slows down, but then we are still marketing because we want people to know what we achieved. We always have goals. We want the market to understand we're achieving the goals. I think that's quite important.
Maurice Jackson: Indeed it is. Switching gears onto management. Aben's management team has a proven pedigree of geological and business acumen. I want to focus on potential amalgamations in the sector should this occur. Share some of the past successes of management rewarding their shareholders on previous arbitrage successes.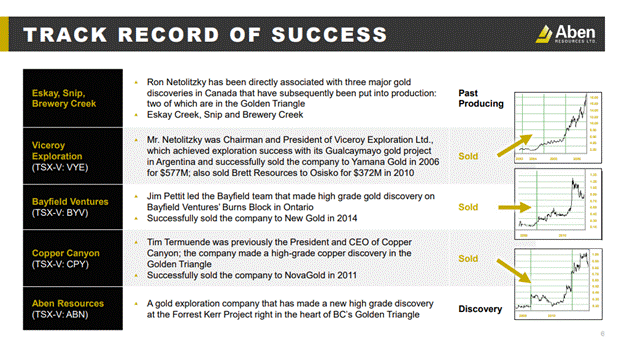 James Pettit: Sure. Well, our chairman Ron Netolitzky, he's like a serial M&A guy. The market really watches what he does. In the past, for example, he was in on the discovery of Snip and Eskay Creek up in this area. He's got a very, very big following of people all over the world who have followed him through his career and starting there. He's also very successful in Saskatchewan as well, specifically in M&A, Eskay and Snip. Snip was sold to Cominco way back and then Eskay ended up in Barrick's hands.
Since then, there's Copper Canyon, which he and Tim Termuende, who's also on the board, sold that to Novagold and that became part of the Galore Creek Project, which is now in the hands of Teck and Newmont. My background, even though I'm not a geologist, is I started a company called Bayfield Ventures and eventually sold it in 2014 to New Gold as part of its Rainy River Project. The three of us have a pretty good background of what's required. We're always in contact. We maintain contact with majors all the time. I think given what's happening in the Golden Triangle, majors are coming back. They're starting to look again.
Last year Goldcorp did a deal with Colorado Resources just on a financing basis, $7 million. That was a surprise move, but it shows the interest I think. Osisko's looking around there. Kinross is looking in the area. Barrick has showed its interest again. I think they actually have a buy back into the Snip deal because Skeena has got their hands on it and they've been working on it and trying to resurrect another zone in the Snip Mine. That's our background. I think it stands out to be honest with you with the amount of M&A that's been done between the three of us.
Maurice Jackson: Talk to us about the share price. The market is rewarding value speculators.
James Pettit: Absolutely. This is the level to enter in this market. Speculators want to be involved with a company that's active, has good projects, good people, etc. Then take a position and wait for them to do what they say they're going to do. In our case, last year was the discovery of the North Boundary Zone. This year was the reaffirmation of it with a tremendous hole that you could really say is the discovery hole. We need to make it bigger now. That's our job. That's where you get this big appreciation in stock price based on speculation.
Then going forward as you put out more and more results, the market will go up and down and follow the results. I'm seeing that this year as opposed to last year, which was as soon as you finished drilling or came out with results and you got too late into September going into October, that market's sold off. It just sold off because tax loss season is coming and they just wanted to be out of whatever they were doing. Because once you're finished, it's a long cold winter to get through and you're sitting on a stock. Like last year, we went back down to $0.10.
That's not going to happen this year because I've got two other projects that are good and we've got a really good shareholder base now. We have so much liquidity this season. We ran from roughly $0.10, maybe $0.12 up to $0.50. Now it's settled back in the low to mid $0.20s now. It's trading good volume. I think probably since July or beginning of August we've traded 150 million shares. That's fantastic.
Maurice Jackson: That's quite impressive actually. Yes.
James Pettit: It's really very impressive. We put out a bunch of holes before this most recent one around that discovery zone. They were less impressive. They were really good. They're all very well mineralized. They just weren't 30 some odd grams. Those that wanted that to be repeated sold out and that just meant there's a whole lot of people who came into the market that they sold out, other people bought it. We've got a really good floor here, the $0.20 to $0.25 range. I think basically it's a buy all day long. We still got 24 holes to put out.
Maurice Jackson: Yeah. We're one of those other buyers. Speaking of the stock price, if I may just interject here, Warren Buffett and Rick Rule, they're noted for sharing how the market rewards speculators that are prepared. In particular, and I'm going to paraphrase them, that you should not purchase a stock if you weren't willing to see the price reduce 30% or more and be willing to purchase more. Now we're on record, we purchased Aben Resources at $0.42 and we're active buyers at current prices and we're confident that the value proposition in our opinion continues to increase.
Mr. Pettit, before we close, multilayered question here, what is the next unanswered question for Aben Resources, when should we expect results, and what determines success?
James Pettit: The next unanswered question really would be how big is this and how robust is this boundary zone, including north and south. So far we've tapped into two zones. The very first priority target we had was the North Boundary Zone. Well, it generally was the boundary zone and we started in the north end and boom, hit it right away. When we prioritized the target zone, this overall property, the Forrest Kerr, we did it based on a compilation study of all the historic data. We came up with about 12 areas we want to go test. We're still on the first one. Two years later we're still in the first one. This boundary zone is four kilometers long and two kilometers wide.
It's all based on geochem. There's a big geochemical survey that's been done there. We've added to it now and now we've completed the airborne. We could be there for a while. I think we're just touching on it now. We've hit a few sweet spots. One's confirmed as a sweet spot, the South Boundary Zone. I think by next year when we do some more holes we're going to be surprised, but I think there's going to be a lot more sweet spots there. We're going to focus and vector in on where did this mineralization come from. That's really what our job is. Figure it all out, get the structure identified and where it came from.
We know there's at least three mineralizing events in the area, and we know there's at least four ages of rock. That tells us there's been four major events that have happened. With three of them, in came the fluids that brought the gold. Let's find some of those feeders.
Maurice Jackson: Well, Mr. Pettit, we've covered the good. What keeps you up at night that we don't know about?
James Pettit: Keeps me up at night? Well, being a good sleeper, not much keeps me up at night. Being in this business so long, I'm used to it. There's always risks. What would scare me is we hit nothing for the rest of the holes. That would be a concern. I don't foresee that. As long as everything stays on course, we're good. I don't really have a concern that would keep me awake at night.
Maurice Jackson: The last question I have for you, sir, is what did I forget to ask?
James Pettit: Most people ask me where do I think we're going to go with what's remaining this season? Obviously, I don't have results. I don't know, but I think we're going to be pleasantly surprised. I think things are looking good. I think we're in the right area for sure. Absolutely the right area. This is a very robust mineralizing system that we're looking at. We're right between the two big structural systems that we want to be in. I think for a discovery profile, we've got a really good one.
Maurice Jackson: Mr. Pettit, for someone listening that wants to get more information on Aben Resources, what is the website address, sir?
James Pettit: The website address is www.abenresources.com.
Maurice Jackson: As a reminder, Aben Resources trades on the TSXV symbol ABN, and on the OTCQB symbol ABNAF. For direct inquiries, please contact Don Myers at 604-639-3851. That number again is 604-639-3851. He may also be reached at [email protected].
As a reminder, Aben Resources is a sponsor of Proven and Probable and that we are proud shareholders of Aben Resources for the virtues conveyed in today's message.
Last but not least, please visit our website www.provenandprobable.com where we interview the most respected names in the natural resource space. You may reach us at [email protected].
James Pettit of Aben Resources, thank you for joining us today on Proven and Probable.
Maurice Jackson is the founder of Proven and Probable, a site that aims to enrich its subscribers through education in precious metals and junior mining companies that will enrich the world.
Read what other experts are saying about:
[NLINSERT]
Disclosure:
1) James Pettit: I, or members of my immediate household or family, own shares of the following companies mentioned in this article: Aben Resources. I personally am, or members of my immediate household or family are, paid by the following companies mentioned in this article: Aben Resources.
2) Maurice Jackson: I, or members of my immediate household or family, own shares of the following companies mentioned in this article: Aben Resources. I personally am, or members of my immediate household or family are, paid by the following companies mentioned in this article: None. My company has a financial relationship with the following companies mentioned in this article: Aben Resources is a sponsor of Proven and Probable. Proven and Probable disclosures are listed below.
3) The following companies mentioned in this article are billboard sponsors of Streetwise Reports: Aben Resources and Pretium Resources. Click here for important disclosures about sponsor fees.
4) Statements and opinions expressed are the opinions of the author and not of Streetwise Reports or its officers. The author is wholly responsible for the validity of the statements. The author was not paid by Streetwise Reports for this article. Streetwise Reports was not paid by the author to publish or syndicate this article. The information provided above is for informational purposes only and is not a recommendation to buy or sell any security. Streetwise Reports requires contributing authors to disclose any shareholdings in, or economic relationships with, companies that they write about. Streetwise Reports relies upon the authors to accurately provide this information and Streetwise Reports has no means of verifying its accuracy.
5) This article does not constitute investment advice. Each reader is encouraged to consult with his or her individual financial professional and any action a reader takes as a result of information presented here is his or her own responsibility. By opening this page, each reader accepts and agrees to Streetwise Reports' terms of use and full legal disclaimer. This article is not a solicitation for investment. Streetwise Reports does not render general or specific investment advice and the information on Streetwise Reports should not be considered a recommendation to buy or sell any security. Streetwise Reports does not endorse or recommend the business, products, services or securities of any company mentioned on Streetwise Reports.
6) From time to time, Streetwise Reports LLC and its directors, officers, employees or members of their families, as well as persons interviewed for articles and interviews on the site, may have a long or short position in securities mentioned. Directors, officers, employees or members of their immediate families are prohibited from making purchases and/or sales of those securities in the open market or otherwise from the time of the interview or the decision to write an article, until one week after the publication of the interview or article. As of the date of this article, officers and/or employees of Streetwise Reports LLC (including members of their household) own securities of Aben Resources and Pretium Resources, companies mentioned in this article.
Proven and Probable LLC receives financial compensation from its sponsors. The compensation is used is to fund both sponsor-specific activities and general report activities, website, and general and administrative costs. Sponsor-specific activities may include aggregating content and publishing that content on the Proven and Probable website, creating and maintaining company landing pages, interviewing key management, posting a banner/billboard, and/or issuing press releases. The fees also cover the costs for Proven and Probable to publish sector-specific information on our site, and also to create content by interviewing experts in the sector. Monthly sponsorship fees range from $1,000 to $4,000 per month. Proven and Probable LLC does accept stock for payment of sponsorship fees. Sponsor pages may be considered advertising for the purposes of 18 U.S.C. 1734.
The Information presented in Proven and Probable is provided for educational and informational purposes only, without any express or implied warranty of any kind, including warranties of accuracy, completeness, or fitness for any particular purpose. The Information contained in or provided from or through this forum is not intended to be and does not constitute financial advice, investment advice, trading advice or any other advice. The Information on this forum and provided from or through this forum is general in nature and is not specific to you the User or anyone else. You should not make any decision, financial, investments, trading or otherwise, based on any of the information presented on this forum without undertaking independent due diligence and consultation with a professional broker or competent financial advisor. You understand that you are using any and all Information available on or through this forum at your own risk.
Images provided by the author.