Maurice Jackson: Joining us today is James Pettit, the president, CEO and director of Aben Resources Ltd. (ABN:TSX.V; ABNAF:OTCQB).
Mr. Pettit, for someone new to the story, who is Aben Resources and what is the thesis you're attempting to prove?
James Pettit: Aben is a junior gold exploration company located in Western Canada. We have three projects underway. The primary focus of the company is in the Golden Triangle in northwestern British Columbia. It's called the Forrest Kerr Project. We just put out some pretty gangbuster assays on our first hole of 2018, so it's a very good start. We've also have project in northern Saskatchewan called the Chico Project, and in the Yukon, right next to Golden Predator, we have another interesting gold project called the Justin Project.
Maurice Jackson: Let's discuss your three projects. Beginning with your flagship project Forest Kerr, which is approximately 23,000 hectares, what type of lithology is prevalent there?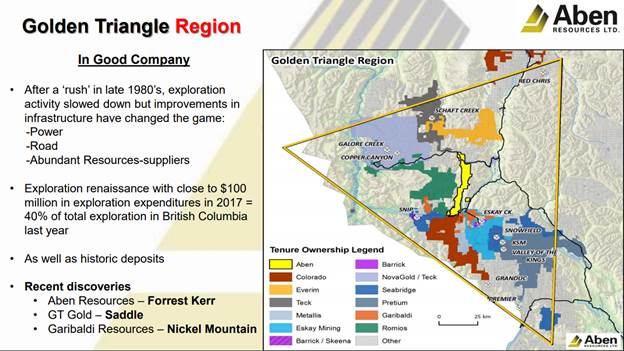 James Pettit: The size of the property being very long and narrow, it's 40 kilometers long, probably 10 kilometers wide. It encompasses 23,000 hectares. The reason it's shaped the way it is because we acquired land that is right along a massive structural feature, which is right in the heart of the Golden Triangle. It's called the Curve Fault, and that acts in our minds as an engine for a lot of what has been discovered there over the last three decades. That's where potentially a lot of the fluids come in off these subs plays. It's prime location, took almost a year to acquire these three different properties and we're earning a 100% in the three that incorporate that whole land package.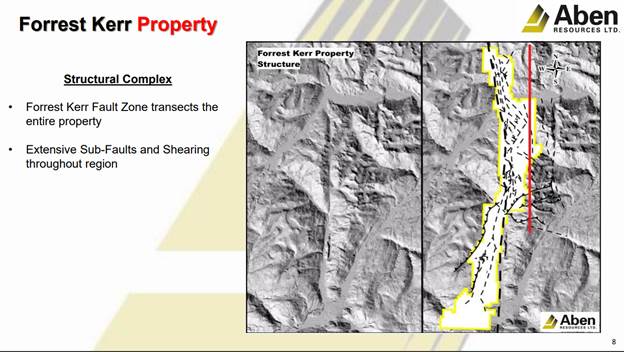 Maurice Jackson: Aben already has historical data on the Forrest Kerr project. Is that correct?
James Pettit: Lots! Each one of those properties came with a treasure chest full of past historical data because there's been a couple of cycles up there. The early initial discoveries of Snip and Eskay back in the 1990s. The infrastructure has drastically improved in the last three, four years, which is fantastic because we now have new access to the following: a massive power generating plant on the Iskut River, which is at the south end of our property, which is a massive generating system. A highway runs right up beside the whole region and Highway 37 goes all the way up to Yukon and Alaska. It's all paved now. Then we have access in the northern part of our project property, Galore Creek Road heading to the Galore Creek Mine, which looks like it could get new life because Newmont's now invested in it. The south side is the access road into the Alta Gas Power Project.
Maurice Jackson: What you just shared with us ties into my next question. Who initially conducted the initial drilling at Forrest Kerr and after that initial data was collected, why did the drilling stop?
James Pettit: This area has experienced three waves of exploration. The initial discovery would have been back in the days of this famous or infamous mining promoter, Murray Pezim, with one of his companies; Ron Netolitzky, who's my chairman, he coincidently ran that company. He discovered Snip and was involved in the discovery of Eskay Creek back in those days. Things ended very quickly because the price of gold collapsed. Then again you've got another resurrection in gold, interest starts again up there. It falls out of favor again for the same reason, not necessarily about gold. It could be any reason, but the high risk venture market took a downturn and people just left their shovels and blades and walked away.
Now we come back the Eskay; it is shut down. Snip is now being resurrected by another company of Ron Netolitzky's. There's more exploration work going on around Eskay Creek. You've now got Imperial Metals' Red Chris Mine right up in the north corner of the Golden Triangle. That's a big copper project that's now in production. In addition, there is Pretium with Brucejack project south of us. Brucejack is a really high grade, big project. Plus, more discoveries are being made. There's some pretty good discoveries being made last year consummating probably the biggest year of exploration up there.
Garibaldi has come out with a nickel discovery. GT Gold near the Red Chris Mine is working on a project that has been turning out some pretty good numbers. I think pretty soon it will have a good looking resource. Then what Aben Resources has found is just amazing; it's probably the highest grades we've seen in western Canada in decades in a one hole. That zone we've hit had three of our holes from last year. That's what brought us back this year and is basically confirming it. Now, we're trying to get a handle on the orientation of it and the structure, which just means we've got to drill more holes around it to expand on it.
Maurice Jackson: Interesting to note, and I want to commend the geological and technical acumen of Aben Resources team here. You've reviewed the historical data and recently commenced a drilling program. Aben just released really some fascinating assays. What can you share with us?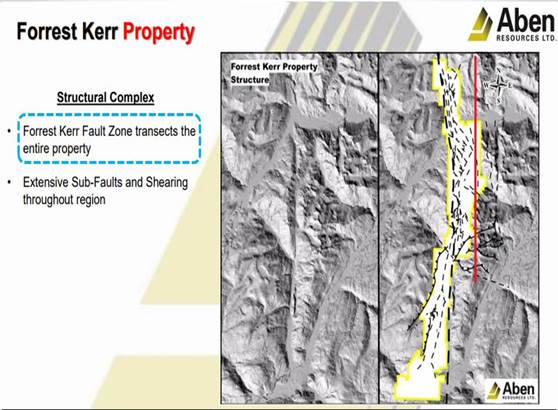 James Pettit: I'll tell you about the historical data when you had up to 20,000 soil and rock samples taken across the whole property. I'm just trying to remember the number of holes, 120 holes drilled historically before us going there. We've got a tremendous amount of data and then you've got to fine tune that down and prioritize a series of targets and the boundary north zone as the best target. We're going to test it and see how big it is and how big it can get. First, you have to get a handle on the orientation. It's a very complex area.
This whole Golden Triangle, I envisioned it as an island chain of volcanoes crashing into the North American plate and it's unique to the world. There are some comparisons to the Philippines and that sort of geology, but this has got a lot of, it's crushed, it's turned over, it's upside down, it's sideways. You end up with a lot of VMS, you end up with a lot of structurally controlled systems and a lot of hydrothermal events, which is great. That's the high grade stuff and there's a lot of porphyries in there. It's a real jumble. It's really an impressive area.
Maurice Jackson: Can you comment on the grades that we just received on the 9th of August on the press release?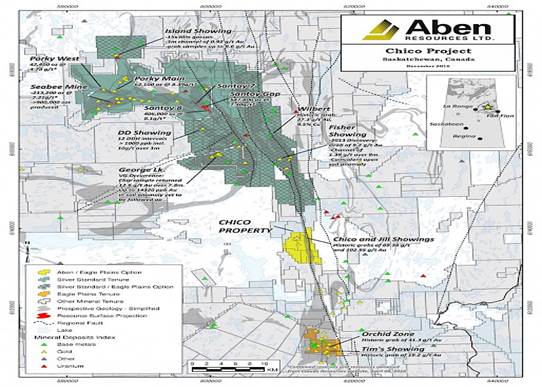 James Pettit: We actually drilled and drilled a 45 and a 50 degree angle. Those holes last year were 45, 50 and 75. As we approach what we were drilling last year we're coming in underneath and to be honest, I thought we'd hit more of the same. Last year there was some really great numbers, 6.7 gram per tonne (6.7 g/t) gold with good percent copper and good grams silver over 10 meters. That's okay. There's lots of that around there. Then we had a hole that was almost 11 g/t over 12 meters. That's really great. That's getting better, but these were very broad intersections. You could extend those out too. That first hole was actually extended out to 387 meters, but that would be like a quarter gram, but it was consistent. That means there's consistency there.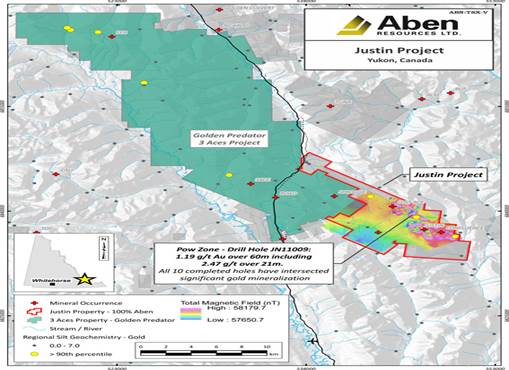 The same with that second hole I just mentioned, it stretched out over 122 meters. That was 1.2 grams. So there's big, broad consistency. Now what we just did is, came in slightly under probably, they're probably be up a 40 meter separation, let's call it, between the holes. That hole had four distinct intercepts, and you don't often see that. The headline one was spectacular. It was 10 meters of 38.7 g/t. Within that was 62 .4 g/t over 6 meters and that's spectacular. That's just one intercept in that hole. You've got an additional intercept of 22 g/t over 4 meters. You've got another intercept of 3.9 g/t over 13 meters and another one of 8 g/t over 6 meters. One of those holes had really high copper attached to it.
Last year's holes were pretty much correlated to chalcopyrite. Whenever you hit chalco you determine whether it's massive chalco, you'll have high grade gold, similar with GT Gold and the environment there. This hole underneath what we just came out with, had very little chalco. It's carbon, so we've now got a new mineralizing event in the same area. There's lots of surprises to be had. We've still got seven holes to report in this immediate zone. It's going to be interesting for us. It was very complex. We do need a handle on the orientation and this will give it to us the more holes you can put in there. Plus we're bringing in an oriented core so that we can get a real handle on it. Once we do that, then we know what angle to hit because apparently the angle was making a big difference because you can see what we just came out with.
Maurice Jackson: Well, I want to be one of the first to congratulate you on a great start here to this drill program here.
James Pettit: Just to let everybody know I'm the one that's not the geologist. I'm the corporate guy, but I got enough geology background to have a pretty good understanding of it all. We do have good people, Ron is excellent. Pretty much retired, but he's still a very, very sharp guy. Then Tim Termuende is very active as a director and he started his career there with Ron.
Maurice Jackson: We'll be able to cover the entire team here later in the interview. You know, one of the virtues I like is the use of optionality by Aben Resources. You've essentially taken over projects that were capital constrained due to infrastructure and glaciers that have been receding. Although early, the drill program is validating the thesis and that's very, very intriguing. We've covered your flagship project. Let's move to the east and discuss the Chico Project. What can you share with us regarding the Chico Project?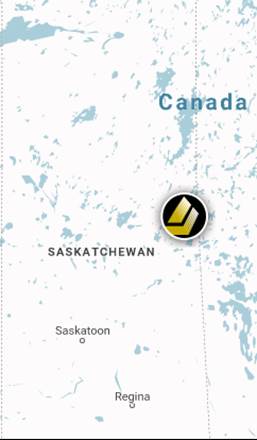 James Pettit: It's got a fair amount of historical information attached to it. It's in an area that people don't associate with looking for gold and that would be Saskatchewan. We just got the one gold mine, Seabee-Santoy complex that used to belong to Claude Resources, just east of La Ronge, south of the Athabasca Basin where everyone looks for uranium. It's an exposed greenstone belt, I guess you can call it in the middle of the prairies. The sediment layer is in that area. I guess this is uplifted a bit and it's also associated with a major fault called the Tabbernor Fault that runs from the middle of the Athabasca Basin up by Rabbit Lake, all the way down to South Dakota. The huge Homestake Mine is associated to the Tabbernor Fault and off that fault are all these splays and that's where the Seabee and Santoy deposits came from Claude Resources.
We are south of there, along the Tabbernor just to the west of the Tabbernor Fault, we've got these shear zones, we call them splays, coming off there. They offer tremendous surface samples. Historically there have been a few holes from old companies. Over the years there have been several holes drilled and they've all hit gold at shallow depths. We're going to go back in. Silver Standard, which is now SSR, has bought the Claude Resources mine for $337 million. It has optioned all the ground between them and us called the Fisher Properties. SSR is drilling 18,000 meters of exploratory holes using an exploration thesis.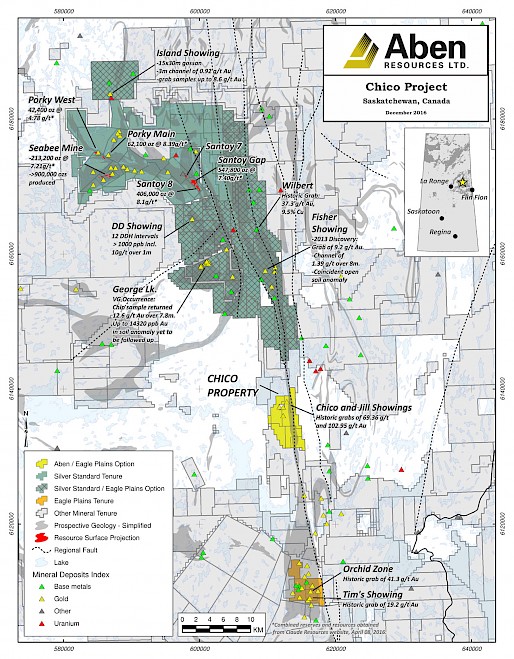 Yes, there's some sort of an intrusion. There's a geophysical target down below that comes up to about 200 or 175 meters deep and that's what the company calls its discovery horizon. We're just south of there and we've got this massive geophysical dome right underneath us that comes up to 200 or 175 meters deep. By the time we get in there to do the work we want to do, SSR will have come out with some sort of information as to how successful it's been. It's going to work out perfectly for us. Now, I will give a caveat. I was going to do it this winter, but, we had all the approvals, we discussed everything with the First Nations when we moved in and put the camp together.
Some of the trappers who are a little more, I don't want to say radical, but they're just little more upset. There was an election going on, the band election and they came to the camp and asked us to leave. I just said, "You know what, fine." We just packed up and left and now they want us back because the election's over and whoever won, won and the government wants us back in there in a hurry. We'll put that one together for the winter because it's a perfect place to drill in the winter. Saskatchewan, it's all frozen. You can move rigs around easy and transportation is all by sled or skidding in or helicopter. It's good, and not mountainous.
Maurice Jackson: James, for those of us that are concerned about jurisdiction, what did the Fraser Institute remark about Saskatchewan?
James Pettit: Well, it's either the number one jurisdiction in the world or one of the top ones. I'm the chairman of a uranium company, Skyharbour Resources. It's a great place to work, but we just happened to have some upset guys that were fighting with the council or whatever and the elections coming up and they saw us there and they said they weren't informed and that happens. The government went right to the premier's desk and they basically did some things for us in terms of assessments. We don't have to file assessments this year because it really surprised them. This wouldn't normally happen and now we've been back up there three times with our people to just see how things are and find out if they are going to be okay with us going back in.
Maurice Jackson: I really appreciate your veracity regarding what's going on currently there at the Chico Project. Finally, we have one more project to discuss and it's located in the Yukon, which is the Justin Project. What has Aben Resources excited about the prospects there?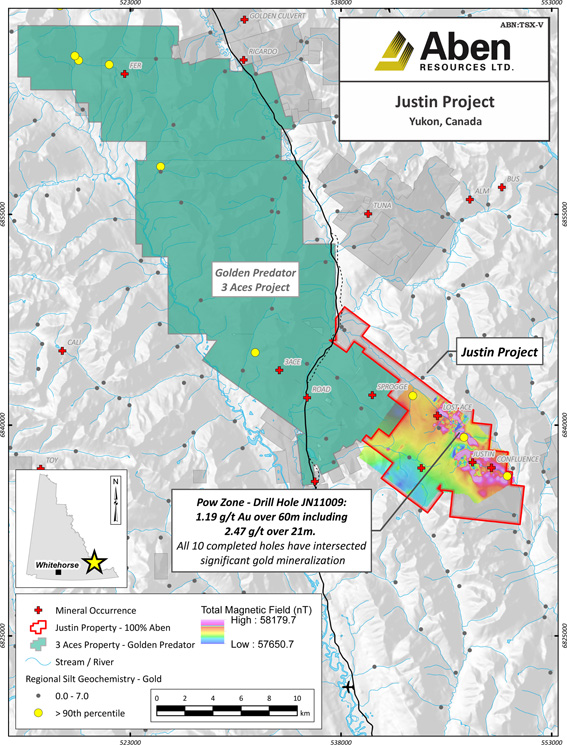 James Pettit: Well, it's a bit of a sleeper. We actually drilled there in 2011, 2012 when the Yukon, was really, really raging. We came up with what we thought was an intrusion related gold system, which can be very large and little bit lower grade, maybe 2 grams, 3 grams, but they can be big. That's what Fort Knox is in Alaska, for example, which is what the Tintina Belt is known for producing. As you get away from the intrusion, you start getting fracturing, and let's call it the country rock. You get these big fractures and you get these big veins as you get away from it all.
That's where Golden Predator's 3 Aces Project is located. The company has been there for years and is spending a lot of money. It's very high grade and adjoins our property. What we did because where we're touching each other's property, we did a soil sampling program last year and we took a 30-kilogram sample and sent it in for gold grain analysis just to get a grain count. We want to know if we're close to this hydrothermal system that Golden Predator is looking at. It came back pretty startling, 30 kilograms worth and you get over 2,000 gold grain samples in that sample and 80% of them are pristine, meaning they haven't mobilized.
They're probably sitting on it or thereabouts, very close. That's what we're doing this year. We're taking a mechanical backhoe up there. We have to fly it in and we're going to trench and we're going to see. The fellow that's going to be overseeing what we're doing used to run the 3 Aces Project. He's knows the area like the back of his hand. He did look at it last year. He says we are probably sitting within 10 meters, that's his guess. We've called that zone the Lost Ace because Golden Predators got the 3 Aces, and we'll see what happens. Golden Predator right now is drilling right on our boundary, so that's going to create some excitement later in the year.
Maurice Jackson: Speaking of that, you're looking at the end of the calendar year for us to get an update on the Lost Ace, is that correct?
James Pettit: Yes.
Maurice Jackson: Sounds good. Mr. Pettit, before we discuss the management team and members, are there any reversionary interest on these projects?
James Pettit: There are a few. On Chico we're earning in 80% from a company called Eagle Plains. One of our directors runs Eagle Plains, Tim Termuende. We will earn 80% by spending a couple million dollars over five years and issuing shares to them. It's not that onerous. You structure these deals so the first year is fairly lenient and you can get enough information to determine whether you want to move forward. On the Forrest Kerr Project, we're earning a 100% interest in all three of those projects by issuing stock to the underlying owners and then guaranteeing $3,000,000 worth of work across all three of them. That's easy to do up there. We'll have that completed by the end of this year. Then we have 80% of the Justin property up in the Yukon. It's already earned.
Maurice Jackson: What is management's philosophy? Are you looking to build a mine or arbitrage?
James Pettit: Our intentions are always to proceed as though you're going to build a mine. You always do that, but you always know there's going to be a buyer at some point because in the industry today, most of the juniors are generally used for the exploration process. The majors, they cut back on their exploration budgets because the juniors are doing the work for them. Then they come to the table with an offer. We're good at that. I sold my last company, Bayfield to New Gold. Tim and Ron were involved in Copper Canyon. They sold that to Novagold. Then Ron, we all know Ron's history is Skeena in terms of M&A. You always listen to offers, no matter if you want to build a mine or not. Personally, I don't know enough about building mines, but I do know about how to get there.
Maurice Jackson: Fair enough. Switching gears, I learned from Rick Rule and Doug Casey that the people running the business are equally, if not more important than, the latent material in the ground. Mr. Pettit, please introduce us to your board of directors and what unique skill sets do they bring to the table?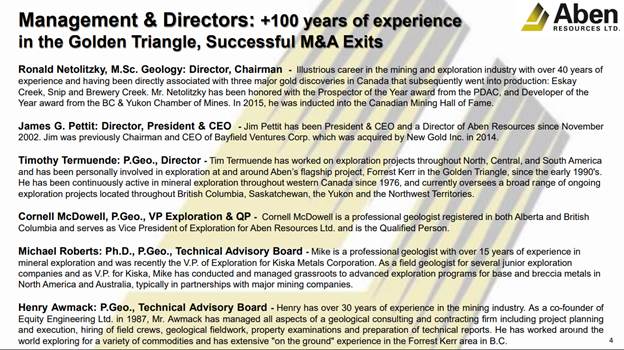 James Pettit: Our chairman, Ron Netolitzky is one of the best explorers in the business. He loves geochem. As far as the Golden Triangle goes and as far as this Saskatchewan goes, he knows more than most people. There's very few people at his level. Tim Termuende is a very active director. He started his career with Ron right out of university and has worked with him very exclusively for years, his whole career. Has a tremendous grounding and now he has a successful project generating company called Eagle Plains. Then there's myself, who I'm generally the corporate side. I handle all the administration. It's all up to my office, the accounting, legal, governance, everything all generates from my office.
Cornell McDowell is running the program and he runs his ship as tight as anybody. He's almost a military guy in terms of his efficiency and he keeps our cost down, which is good. This is an expensive area we're working in. It's easy to lose control. Last year was phenomenal. This year it looks like our drilling costs are even lower. Our guaranteed flying time is coming in under budget. That's excellent. I met him on another project. He was overseeing the drilling and everything on 130,000 meters of drilling I did on copper project.
Then we have some really good advisors. Henry Awmack is almost like Ron up in this area, the Golden Triangle. He started up there years and years ago. He was one of the underlying owners of one of the properties that we consolidated into one package. He's a wealth of knowledge.
Mike Roberts came with the northern project property that we put into this land package. He came from Kiska. He did a lot of drilling, so he's coming up with some really good information. These guys are key. Rick and Doug are serious about what the management, what's their success level, what's their knowledge base, all that stuff. It's very important.
Maurice Jackson: Well, seems that the board of directors are the right people to have here. Tell us more about James Pettit. What makes him qualified for the task at hand?
James Pettit: Well, I got asked that once and I started saying, well, I started and then I stopped because I've been an entrepreneur my whole life. I spent a short period of time working for a company that was expanding its restaurant chain in western Canada, probably one year. The rest of the time from high school I was self-employed and that's my background. I share an office with an individual that started an organization called Young Entrepreneurs Organization. It's now a worldwide enterprise. It's like Young Presidents Organization, that sort of thing. I think they've kind of amalgamated their two organizations, but he started it and we were very like-minded. This industry we're in is perfect for somebody with an entrepreneurial mindset.
Maurice Jackson: What can you share with us about the technical team?
James Pettit: The technical team is as good as it gets. Because of Ron's background, he's done so many things. Very few people have done what he's done from the discovery process to the completion to either a sale or into production. That's key. We take the information he has to offer and utilize it. He's not overly active with us, but he's there. Tim is very active and has done enough of this M&A business that, like myself who were there, we can do it, but then we have access to the people to move it along to whatever stage needs to be done, even production.
Maurice Jackson: Let's discuss your share structure.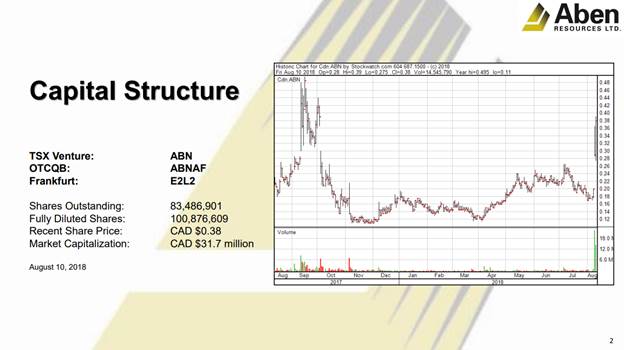 James Pettit: Well, it's a moving target right now because warrants are being exercised because the stock price has moved up, obviously, but right now there's about 83 million shares issued and outstanding; fully diluted it's about 101 million. That's changing because these warrants are coming down. I suspect over the next month we'll probably have a million to a million and a half dollars just from warrant exercises, which is always great to see.
Maurice Jackson: Actually if all those warrants do get exercise, I think that frees up with close to $5 million. Is that correct?
James Pettit: Yes, it would but you don't normally see warrants getting exercised until they're close to their expiration date. December, November, there's a whole series that are going to expire. We're going to see those because the prime season for work in the Golden Triangle is right now through to maybe October. You want to have what you're doing out there in the public domain because what'll happen is then September, October, November, you start hitting tax loss selling, that sort of thing.
Maurice Jackson: How much cash or cash equivalents do you have?
James Pettit: We've got right now, prior to the financing that we've just announced and it'll close, looks like today or Monday, that's $4 million plus. I already had two, plus the warrants another million and a half say, so $6 million, $7.5 million maybe, in that range. It's changing daily actually. But the financing we just closed the lead order was with Eric Sprott, which was a good move. He's pretty aggressive, not afraid to back good goal deals, early-stage deals. We also have a fund in there called Palisades. The allocation that came down to there was only about a half a million shares that I could allocate to insiders and the friends and good shareholders.
Maurice Jackson: What is the burn rate?
James Pettit: Burn rate right now, let's just say G&A and not in the field with the G&A, burn rate here is probably $40,000 to $50,000 a month actually. Then the burn rate in the field, I would say I got to think it's about $300,000 to $400,000 currently. It's going to escalate shortly with this new financing. Going to be more people, probably another drill; 60% of our budget will be drilling and helicopter cost.
Maurice Jackson: Which leads to my next question, but if you would please expand upon it, if you can. Talk to us about cash flow distribution. What is the ratio between cash spent, intangible assets on the balance sheet?
James Pettit: Well, these companies, what are tangible assets? What can we sell? Your asset base is the value that you're given for the project. As far as tangible assets go, it's pretty much a paper value. Any assets that we have the company owns a little bit of stock in other companies because we might have sold a property. I've got shares in other companies and that's maybe a half a million. The money we're spending generally just gets built up over time as losses or not debt as per se, but that's what you do. You're building up losses because these companies spend a lot of money and if they have assets to build on, great. That's excellent.
Maurice Jackson: How much debt do you have?
James Pettit: There is no debt.
Maurice Jackson: Who are some of your institutional investors? I know you referenced Eric Sprott there and that's a great name to have, by the way.
James Pettit: Eric is probably now the largest shareholder. Institutionally, we only have a few. There's a fund out of Europe and it has a very large position, but they would probably be now number three. Then there are a couple of individuals. The fund side of things is that is a big retail shareholder base. That's why I trade so much. We were trading millions of shares a day. That's good as far as I'm concerned. When I look for stock, I don't want to buy something I get stuck in. If something happens and I just sell, I want to be able to sell.
Maurice Jackson: Yeah. You want to get stock, not stuck.
James Pettit: We got have a large retail base with a few institutions.
Maurice Jackson: And what is the float?
James Pettit: The float rate now would be probably $40 million. It's very tightly held in terms of friends and family. I would include the institutions there because I tend to know what they've got.
Maurice Jackson: You somewhat alluded to it earlier, but let's just to clear the record here, are there any redundant assets such as patent mining claims?
James Pettit: No.
Maurice Jackson: Okay. What are the change of control fees?
James Pettit: We keep it around three times at the most. For me, my contract would be three times my salary. By the way, I don't pay myself very much. None of us do.
Maurice Jackson: Would you mind sharing that with us, what that is?
James Pettit: Yeah. $7,000 a month. The reason I do that is because I am a little spread out. I've got a couple of other companies that I'm involved in and you don't have to lean on one company to pay you a large amount. In this business I consider 150 a lot of money a month. I do, but I can spread that out amongst a couple other companies and I don't spend a lot of time on anything else other than this, but I'm there if they need help.
Maurice Jackson: All right. You survived the storm. Multilayer question here, what is the next unanswered question? When should we expect results and what will determine success?
James Pettit:: Well, I'm thinking probably within two weeks. I've been wrong before. The SC labs are in full on backup mode. When I was just up there last week and I took the helicopter, flying around looking at the Eskay and KSM and Brucejack, I counted 20 drills just on the southern portion of the Golden Triangle. There's probably another 10 to 15 on the northern portion, so that core is going somewhere. That's down probably to Terrace where we're using a lab in Terrace and they've just moved a bunch of our pulps over to Kamloops where they have another lab because they're getting pretty backed up. I'm saying two weeks.
Maurice Jackson: The two weeks as a reference of course to Forrest Kerr just for the record.
James Pettit: Yes. That's the only one that's got any work going on right now.
Maurice Jackson: What will determine success once we get those results?
James Pettit: Well, in the heart of the summer, high grade gets success. As you transition more into the fall where the audience builds again and they start paying attention to what could develop into, how's this thing, it doesn't have to always be high grade because you'll see some of the guys that are trying to develop a resource like Snip and GT Gold, they're not getting a lot of love in the market because the market's very small right now. A lot of people are away around the holidays or not paying attention. If you put high grade out, you do galvanize the people who are looking. In my mind, that's the market we're in right now, so high grade for now.
Maurice Jackson: We've covered the good. What keeps you up at night that we don't know about?
James Pettit: Not having a high grade keeps me up at night. You know what I worry about the most right now? It's not even related to what we do, but they're called events, worldwide events that can really shake the markets in general. Because of the one that gets shaken the most is usually the Venture Exchange because it is the riskiest. The one thing that can save it is something that would be good for gold, so that doesn't keep me awake at night, but the other events, things that happen, it's rather tumultuous out there right now.
Maurice Jackson: Finally, what did I forget to ask?
James Pettit: I think it's been pretty thorough to be honest with you.
Maurice Jackson: Well, thank you, sir. James, for someone listening that wants to get more information on Aben Resources, what is the website address?
James Pettit: Website address is www.abenresources.com. The symbols, TSX Venture Exchange TSX-V is ABN. The OTCQB markets in the states is ABNAF and Frankfurt is to E2L2.
Maurice Jackson: And for direct inquiries, please contact Don Meyers at 604-639-3851 or email [email protected] And last but not least, please visit our website www.provenandprobable.com where we interview the most respected names in the natural resource space. You may reach us at [email protected].
James Pettit of Aben Resources, thank you for joining us today on Proven and Probable.
James Pettit: Thank you very much.
Maurice Jackson is the founder of Proven and Probable, a site that aims to enrich its subscribers through education in precious metals and junior mining companies that will enrich the world.
Read what other experts are saying about:
[NLINSERT]
Disclosure:
1) Maurice Jackson: I, or members of my immediate household or family, own shares of the following companies mentioned in this article: Aben Resources. I personally am, or members of my immediate household or family are, paid by the following companies mentioned in this article: None. My company has a financial relationship with the following companies mentioned in this article: Aben Resources is a sponsor of Proven and Probable. Proven and Probable disclosures are listed below.
2) The following companies mentioned in this article are billboard sponsors of Streetwise Reports: Aben Resources, Pretium Resources and Skyharbour Resources. Click here for important disclosures about sponsor fees.
3) Statements and opinions expressed are the opinions of the author and not of Streetwise Reports or its officers. The author is wholly responsible for the validity of the statements. The author was not paid by Streetwise Reports for this article. Streetwise Reports was not paid by the author to publish or syndicate this article. The information provided above is for informational purposes only and is not a recommendation to buy or sell any security. Streetwise Reports requires contributing authors to disclose any shareholdings in, or economic relationships with, companies that they write about. Streetwise Reports relies upon the authors to accurately provide this information and Streetwise Reports has no means of verifying its accuracy.
4) This article does not constitute investment advice. Each reader is encouraged to consult with his or her individual financial professional and any action a reader takes as a result of information presented here is his or her own responsibility. By opening this page, each reader accepts and agrees to Streetwise Reports' terms of use and full legal disclaimer. This article is not a solicitation for investment. Streetwise Reports does not render general or specific investment advice and the information on Streetwise Reports should not be considered a recommendation to buy or sell any security. Streetwise Reports does not endorse or recommend the business, products, services or securities of any company mentioned on Streetwise Reports.
5) From time to time, Streetwise Reports LLC and its directors, officers, employees or members of their families, as well as persons interviewed for articles and interviews on the site, may have a long or short position in securities mentioned. Directors, officers, employees or members of their immediate families are prohibited from making purchases and/or sales of those securities in the open market or otherwise from the time of the interview or the decision to write an article, until one week after the publication of the interview or article. As of the date of this article, officers and/or employees of Streetwise Reports LLC (including members of their household) own securities of Aben Resources, Skyharbour Resources and Pretium Resources, companies mentioned in this article.
Images provided by the author.
Proven and Probable Disclosures:
Proven and Probable LLC receives financial compensation from its sponsors. The compensation is used is to fund both sponsor-specific activities and general report activities, website, and general and administrative costs. Sponsor-specific activities may include aggregating content and publishing that content on the Proven and Probable website, creating and maintaining company landing pages, interviewing key management, posting a banner/billboard, and/or issuing press releases. The fees also cover the costs for Proven and Probable to publish sector-specific information on our site, and also to create content by interviewing experts in the sector. Monthly sponsorship fees range from $1,000 to $4,000 per month. Proven and Probable LLC does accept stock for payment of sponsorship fees. Sponsor pages may be considered advertising for the purposes of 18 U.S.C. 1734.
The Information presented in Proven and Probable is provided for educational and informational purposes only, without any express or implied warranty of any kind, including warranties of accuracy, completeness, or fitness for any particular purpose. The Information contained in or provided from or through this forum is not intended to be and does not constitute financial advice, investment advice, trading advice or any other advice. The Information on this forum and provided from or through this forum is general in nature and is not specific to you the User or anyone else. You should not make any decision, financial, investments, trading or otherwise, based on any of the information presented on this forum without undertaking independent due diligence and consultation with a professional broker or competent financial advisor. You understand that you are using any and all Information available on or through this forum at your own risk.