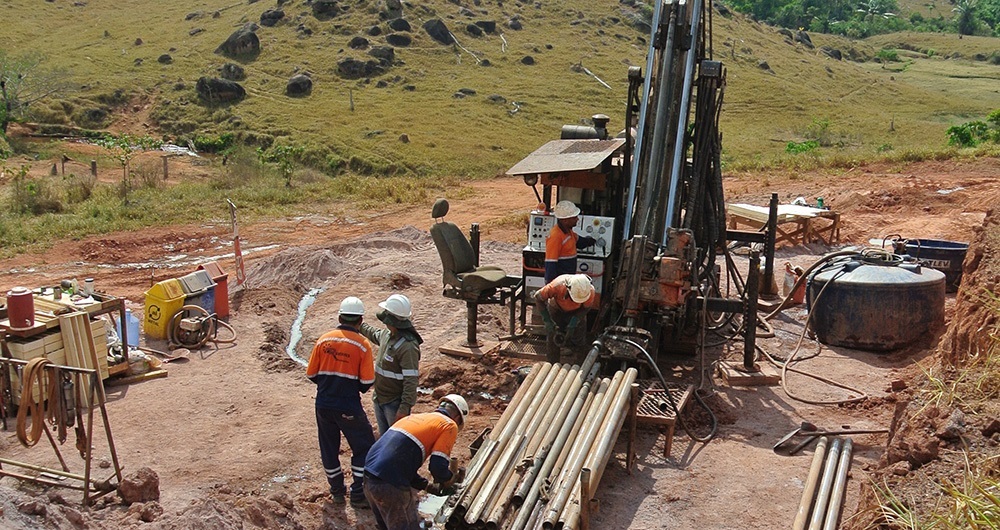 After severe summer doldrums, not only metal prices have picked up again, but also a decent part of mining stocks became energized again, including Meridian Mining UK S (MNO:TSX.V). After the North American Labor Day holiday, the traditional end of the summer session, Meridian began publishing a series of impressive step out high-grade gold drill results that showed a positive market response, enabling an oversubscribed C$10.38M financing supporting the further expansion of the ongoing resource development program at Cabaçal. Meridian could have timed their latest news almost to perfection in this regard, as looking back, it has indeed been a positive turning point for mining stock sentiment with for example copper, zinc and lithium prices at or close to all-time highs.
The ongoing drill program at the Cabaçal VMS Copper-Gold Project in Brazil not only returned impressive intercepts up to 8m @ 71.3g/t Au from the Northwest Extension but is also pulling up unprecedented amounts of visible gold now in that same target area. The interesting part is, besides being impressive, that the last holes are step out holes, and are improving on already strong gold intercepts along a newly established strike. Right now, 72 holes for 9,952 meters (m) of the original 10,000m field program of diamond drilling are completed now, and a steady stream of core is currently being processed at the labs for assaying. We can expect a steady stream of news releases, representing incoming results in an orderly and hopefully exciting fashion before year end and into 2022, but also news about the initiation of an additional 15-20,000m program soon. The latest drill results, the recent financing, and resource potential will be discussed in this article.
All presented tables are my own material, unless stated otherwise.
All pictures are company material, unless stated otherwise.
All currencies are in US Dollars, unless stated otherwise.
Please note: the views, opinions, estimates or forecasts regarding Meridian Mining's performance are those of the author (Critical Investor) alone and do not represent opinions, forecasts or predictions of Meridian Mining or Meridian Mining's management. Meridian Mining has not in any way endorsed the information, conclusions or recommendations provided by the author.
1. Financing
It was good to see the company announcing a raise on September 28, 2021, when the stock was trading at C$0.77, already enjoying a serious uptick for several weeks, when coming from the C$0.45 range, after releasing excellent drill results on September 7, 2021. It was a brokered private placement, on a best-efforts basis for up to C$9.3M, at C$0.70 and no warrant. Not only the absent warrant, but also the timing saved shareholders from quite a bit of dilution, as the reasonable 10% discount on the share price, as the intended 12.9M shares at C$ 0.70 (9.5% dilution) could have been increased to 23.25M shares at C$0.40 (17.1% dilution) if the same amount of cash was raised. This didn't happen fortunately, and the syndicate led by Beacon Securities was able to close the placement for gross proceeds of C$10.38M, as the option to sell an additional C$1.35M was exercised by this syndicate in full as well. The total amount was impressive, but also not having to sweeten the deal with a (half) warrant showed strength. According to Executive Chairman Gilbert Clark, most of the equity went to long only institutions although he wasn't at liberty to name names.
According to CEO Adrian McArthur, the proceeds will likely be assigned predominantly to exploration of Cabaçal. The treasury holds approximately C$12M nowadays after the closing of the latest financing, and also due to ongoing warrant conversions with C$5.1M of well in the money warrants. This is leaving the company well financed to achieve the additional 15-20,000m of drilling and further resource development programs well into 2022.
2. Exploration update
Meridian Mining has been busy this summer at Cabaçal, and the on-going sequence of news releases and corresponding share price appreciation proves they are on the right track.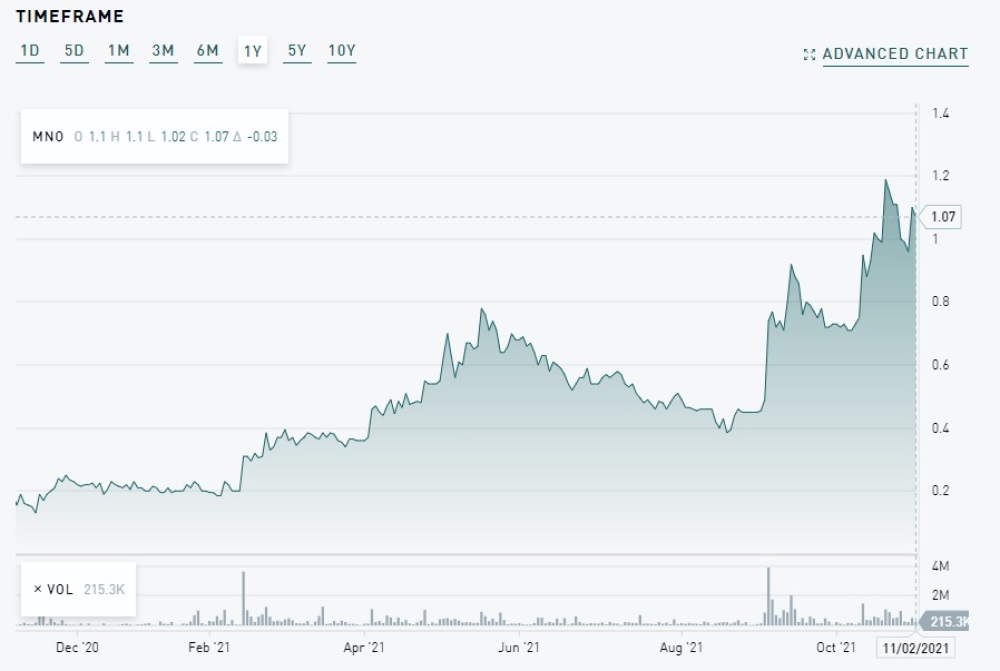 Share price 1 year time frame (Source: tmxmoney.com)
Meridian Mining is extremely busy nowadays with its Cabaçal exploration programs, as besides drilling and BHEM surveys it is also conducting trenching, soil/rock chip sampling, mapping and EM surveys. This reconnaissance exploration is focusing on the 3km wide and 6km long C2A zone, located south of the historical Cabaçal Mine. A November 1, 2021, update discussed the results of the sampling program, indicating four target copper/zinc zones: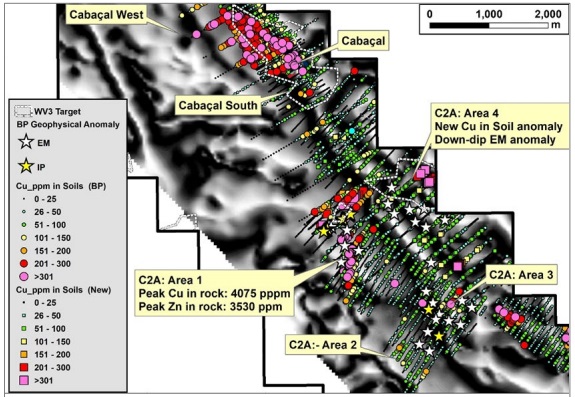 Copper-rich chalcopyrite was found at surface, (soil sampling results up to 0.1% Cu, rock chip sampling up to 0.4% Cu), and as a consequence trenching has been completed, with assays pending. The company also has a follow-up fixed-loop EM survey in progress at the moment. CEO McArthur was pleased with the first confirmation of new targets along the 11km corridor between the Cabaçal and St Helena mines:
"The presence of historical geophysical anomalies extending down-dip and along strike from these strong geochemical responses adds further context to Cabaçal's defined but untested exploration upside, that starts "at surface" (a near surface upside that was once typically found in the world's VMS camps, but most of which are now exhausted or in decline)."
It is fascinating to see new targets seemingly emerging as pearls on a string on the 11km corridor, and as we know the total strike length is much longer even, with the additional potential for parallel structures. I'm looking forward to drilling after target definition and optimization is completed. Next up are the actual drill results being returned so far.
I will start with the most impressive visible gold intercept, reported on October 21, 2021, and will mention other results later on, that have come out since my last update. Management aimed at proving continuity of the discovered high-grade gold structures at the Cabaçal Northwest Extension (CNWE), by stepping out to the northwest of stellar hole CD-049 (8m @ 71.3g/t Au and 0.4%Cu) with hole CD-072. The drillers intercepted a 45m zone of strong sulphide mineralization starting at 40.3m depth, including 2.4m with many specks of visible gold alongside impressive chalcopyrite mineralization: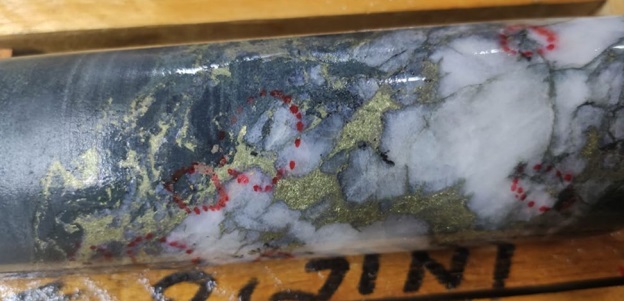 The assays for this interesting intercept are still pending, unfortunately, but when talking to management I got the impression that the upcoming assays could even beat CD-049. Also of interest was the observation of three different gold veins in hole CD-072, which would in fact indicate continuous gold structures, on strike with CD-049. CEO Adrian McArthur was obviously pleased with the core:
"Strong alteration and chalcopyrite dominant bedded sulphide layers suggest we are now defining a second Cu-Au VMS feeder system overprinted by a series of high-grade gold veins, similar to that of the Cabaçal Mine, except the CNWE's high-grade gold vein system is unmined and entirely intact. Ongoing drilling will test for extensions to the Cabaçal system over a 2km strike length and beyond. Plunging below these two VMS feeder systems is the mineralized Cabaçal West target, that we now know has the classic alteration signature to a VMS center and hosts our strongest BHEM conductor. With these open results, Cabaçal is demonstrating its high prospectivity for multiple open pit and underground copper-gold resource development programs."
This would be an important development, as it could indicate a system to the northwest that contains much more gold than anticipated, as management originally set out to verify, expand and develop the "missed copper" by predecessors. Notwithstanding this, the cut in half core of hole CD-070, drilled 50m northwest of CD-072, shows intervals with lots of the yellowish chalcopyrite, indicating significant copper amounts: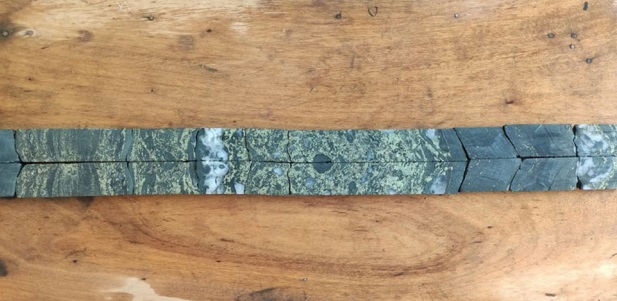 Chalcopyrite contains 34.5% copper, 30.5% iron and 35% sulphur. As such this type of sulphide is the principal source of copper metal. The specific gravity is typically 4.1-4.3 t/m3, which means it is heavier than normal quartz (2.65 t/m3) or granite (2.75 t/m3), increasing potentially mineralized tonnage faster.
The following map shows the locations of the last drill holes (yellow) and various zones: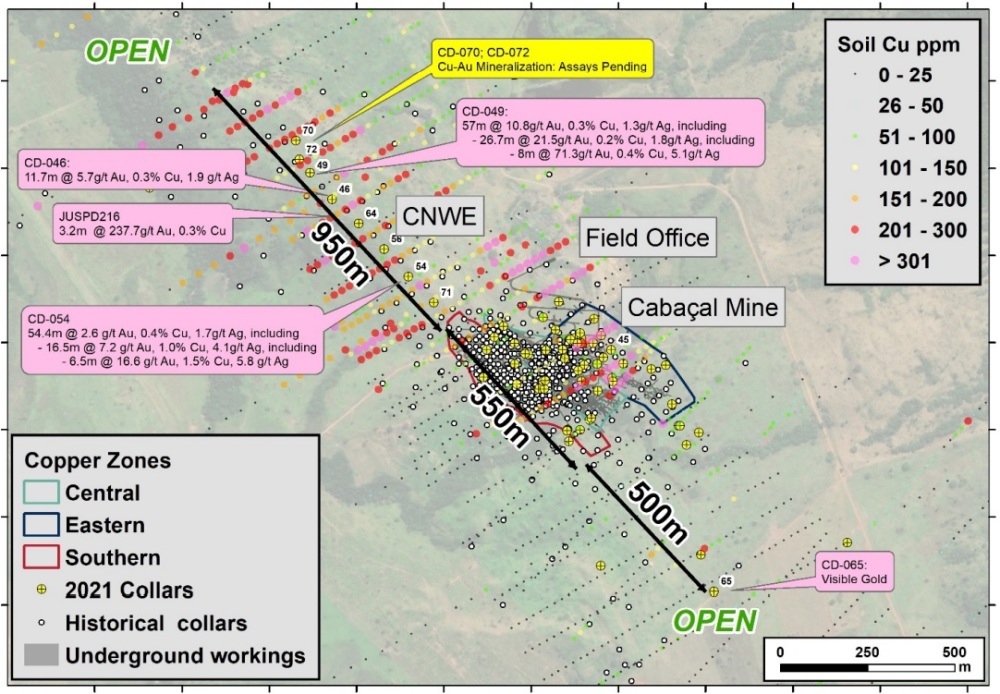 Such high concentrations of sulphides this far from the historical mine lead management to believe it could indicate a second copper-gold VMS feeder system. The successful copper soil sampling by predecessor BP Minerals, represented by the colored dots on the map, indicates clear potential for a much larger mineralized zone, as the samples to the northwest resemble those taken at the historical Cabaçal Mine.
The company reported something that could be the start of a new gold trend in the October 27, 2021, news release, although the results weren't as spectacular as CD-049 this time. Hole CD-063 returned 4.8m @ 0.2% Cu, 2.4g/t Au & 0.8g/t Ag from 129m, and is on trend with hole CD-038 (1.1m of 2.7% Cu, 5.4g/t Au and 10.4g/t Ag from 96.6m.):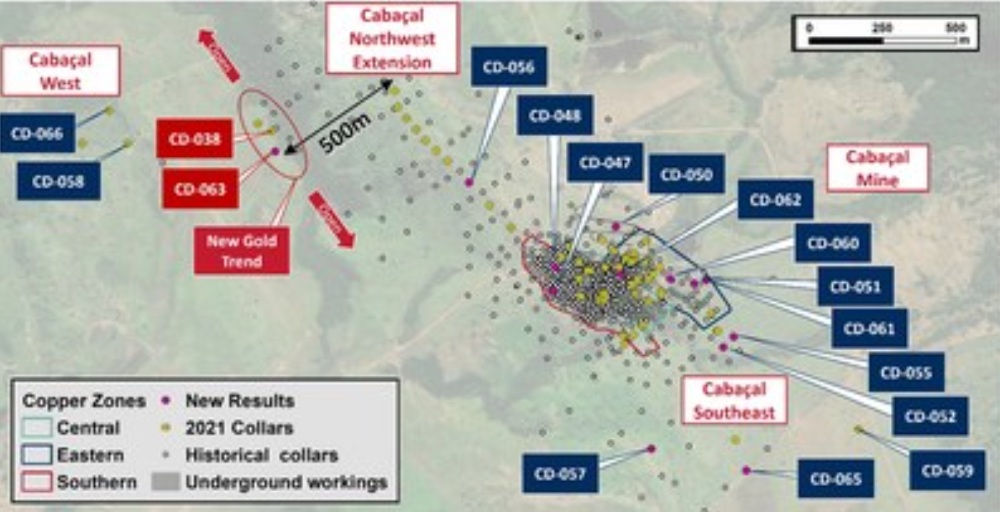 CEO McArthur was pleased with it nonetheless:
"The presence of high-grade gold intervals within the VMS Cu-Au layers previously outside of the main Cabaçal trend, has confirmed an exciting ~500m corridor for future infill drill programs. We have a growing interest to see if the VMS mine stratigraphy is the host for these high-grade gold veins or if they are a separate feature that continues below the VMS sequence; that is yet untested."
Other results were reported, and most interesting was hole CD-052 (to the southeast), which returned 31.3m @ 0.7% Cu, 0.2g/t Au, 4.2g/t Ag, 0.6% Zn (1% CuEq) from 64m, extending the known mineralization outside the historical mine workings. Infill hole CD-056 (northwest extension) returned multiple lower grade intercepts starting at 19m, averaging about 90m @0.3% CuEq, which is not very economic in itself but also above historical cut-off, and probably viable in an open pit scenario with lots of high grade gold and higher grade copper equivalent surrounding it. Hole CD-065, earlier reported having visible gold, returned 9.8m @ 0.6% CuEq (0.5% Cu, 0.2g/t Au, 2.1g/t Ag) from 125.0m, which was a bit disappointing to me, as the visible gold intercept (from 133.75m to 134.1m) returned just 2.2g/t Au. Usually with visible gold I tend to think north of 10g/t Au, but apparently this is not always the case. Notwithstanding this, the company has requested for a screen fire assay, as the intercept is of coarse gold nature, indicating potential for higher grades.
Meridian also drilled CD-066 at Cabaçal West, designed to test a deep conductor. It also intercepted sulphide mineralization, and indicator minerals that leads management to believe to be the VMS pile, with assays pending. A Bore Hole Electromagnetic (BHEM) survey at depth indicated that the hole just clipped a ten times stronger than average conductor (in red) at 380m downhole: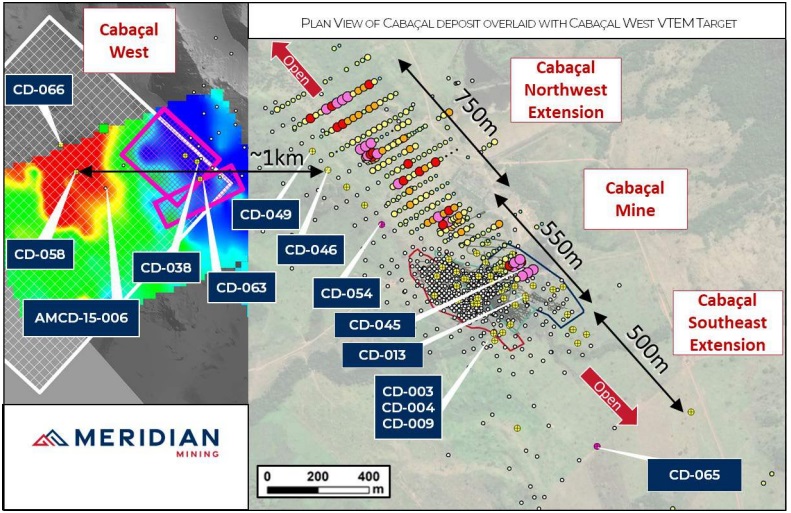 This conductor zone is also interpreted as being three times larger compared to the historical Cabaçal Mine, so management is very keen on drill testing this further and is targeting the center of the conductor with another drill hole at the moment. Although Meridian is drilling these deep targets, future developments will likely be focusing on surface prospects at Cabaçal, as comparable VMS mining camps have operated very extensive open pit operations for decades, before any underground mineralization came onto the radar. And there are many near surface targets at Cabaçal, as can be seen here as a reminder: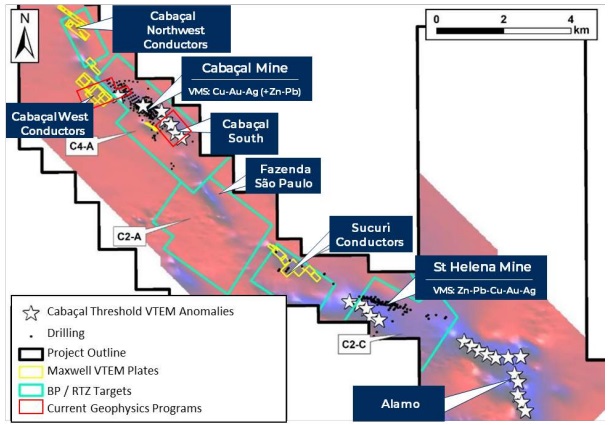 Including the 30km strike from C6 to Alamo targets, it really is a district scale, VMS project, and this is the reason management has set significant goals for themselves, but more on this later on.
A bit further back in time, Meridian was obviously pleased to report the assay from holes CD-049, resulting in a stellar 26.7m @ 21.5g/t Au intercept from 66m from the Cabaçal Northwest Extension (CNWE) on September 7, 2021, and and CD-054 with returned 16.5m @ 7.2g/t Au from 45.1m on September 13, 2021. Hole CD-049 was a 100m step out hole from CD-046 (11.7m @ 5.7g/t Au including 0.3m @ 183.4g/t Au), and a 150m northwest step out hole from the historical JUSPD216 (3.2m @ 237.7g/t Au including 0.45m @ 1672.1g/t Au). Hole CD-054 is a 50m southeast step out hole from JUSPD216, published September 2, 2021. Technically this last hole can be considered an infill hole as it is located between the Cabaçal Mine and further located holes like CD-046 and CD-049, but since these holes are located so far away from the historical mine, I consider CD-049 more or less to be a new discovery, and all holes closer to that hole instead of the mine step out holes from CD-049.
Component of the recent drilling success has been driven by the recommendation of the Meridian geological team and the Advisory Board members to drill angled holes to target the multiple parallel sub-vertical high-grade gold structures, as CD-046, CD-049 and CD-054 were angled holes ( at about 60 degrees). These high-grade subvertical gold structures are believed to be formed at a later stage and overprinting the VMS stratigraphy; whereas the historical holes mostly had a vertical orientation, designed to cut the more horizontal VMS stratigraphy. The historical mine was focused on these high-grade gold zones with a plus 3 g/t gold cut-off grade and simply mined to the limits of BP's resource data but finished in mineralization. Today's mining projects require more drilling and economic studies, and not so much as mining veins on the fly anymore, as most if not all the low hanging fruit is gone now, and adequate de-risking has become much more important for financiers.
The intercepts CD-046, CD-049, CD-054, CD-070 & CD-072 were drilled into the 900m gold in soil open anomaly that has been defined, and the trend line can be seen (black line) in the map below: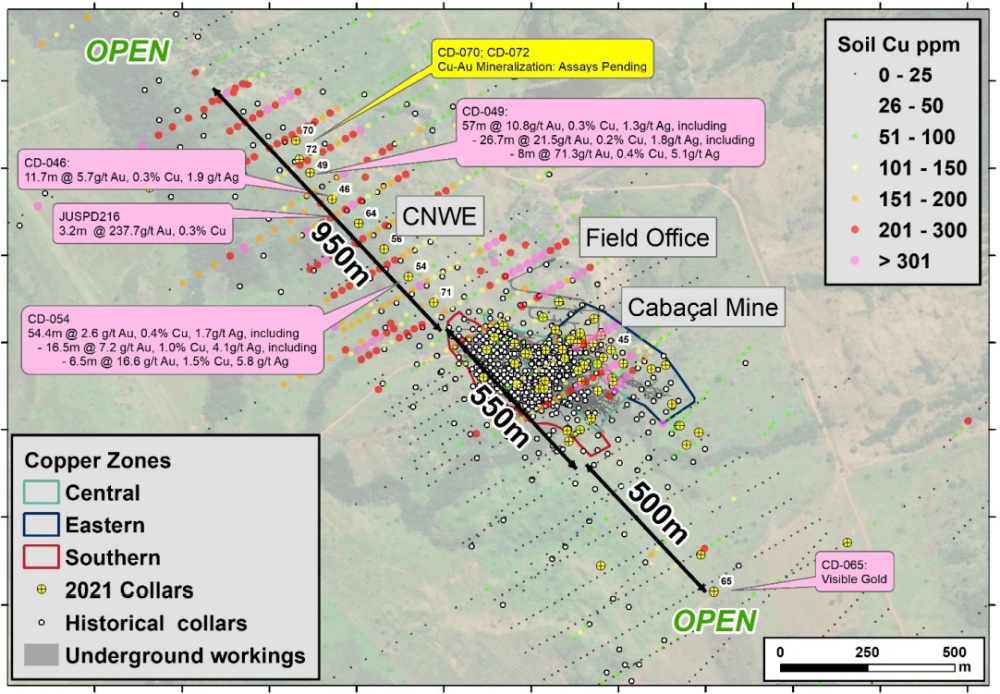 As can be seen below in a slightly older map, historical holes JUSPD209 and JUSPD164 didn't hit impressive gold intercepts in line with JUSPD216, as a consequence of being vertical and missing a near vertical gold structure.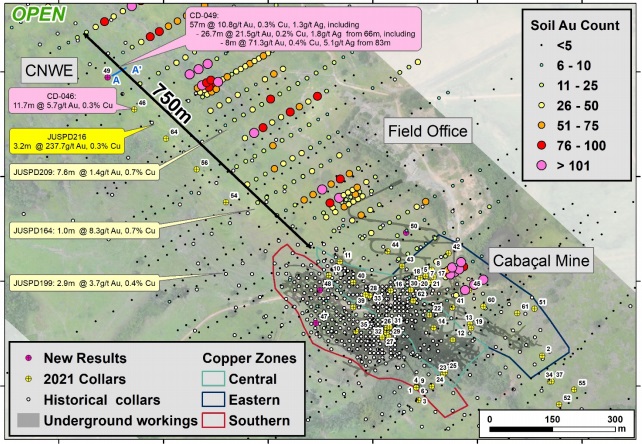 New and angled holes CD-056, CD-064 and CD-072 will provide more insight on this subject, and hopefully these high-grade structures continue to be extended both Northwest and Southeast all the way to the Cabaçal Mine. According to management, there is also a possibility that parallel repeat high-grade gold structures may exist as BP Minerals mapped at the Cabaçal Mine, and such a potential stockwork of veins could really be a game changer, certainly considering the open pit potential.
The assays of CD-049 already indicated multiple high-grade, narrow veins, as the 26.7m @ 21.5g/t intercept from 66m to 93m is built up predominantly by this type of mineralization, and the highlights include multiple intercepts over 100 g/t Au. In fact, the gold mineralization is concentrated in an 8m @ 71.3 g/t Au zone with little residual gold in the remainder. Still a very impressive result, although this high grade veining will take more drilling to delineate properly and is harder to de-risk as an eventual resource as such. However a target of multiple high-grade gold structures within a broad shallow VMS system makes a compelling target for drilling over the coming months. A potential advantage could be that the high-grade core mineralization is contained in a structural corridor, increasing profitability and payback in a future open-pit mining scenario.
CEO Adrian McArthur had this to say about it: "We are thrilled with these results, which have encountering high-grade gold structures within a broader Cu-Au-Ag VMS mineralization package; we believe this area, like the Cabaçal Mine area, has potential to deliver multiple parallel structure over a wider footprint, as we have seen in CD-054 lending itself to a geometry favorable to a bulk mining scenario to extract both the high-grade mineralization and lower-grade envelop."
The assays on CD-054 showed a continuation of stacked high-grade gold veins including several intercepts over 70 g/t Au. The overall intercept returned 54.4m @2.6g/t Au, 0.4% Cu and 1.7g/t Ag from 44.6m, and within this the reported 16.5m @ 7.2g/t Au core carried the bulk of gold mineralization.
A really interesting part of the news release reporting CD-054 was the mentioning of hole CD-065, which intersected sulphide mineralization with visible gold, 500m southeast of Cabaçal. If this area returns the same kind of results as CD-046, CD-049 and/or CD-054, there could be a high-grade gold structure present, trending over 2,000m (with potentially 300-400m already mined out but selective room and pillar mining techniques), potentially adding significant gold ounces within the copper-gold VMS mineralized system.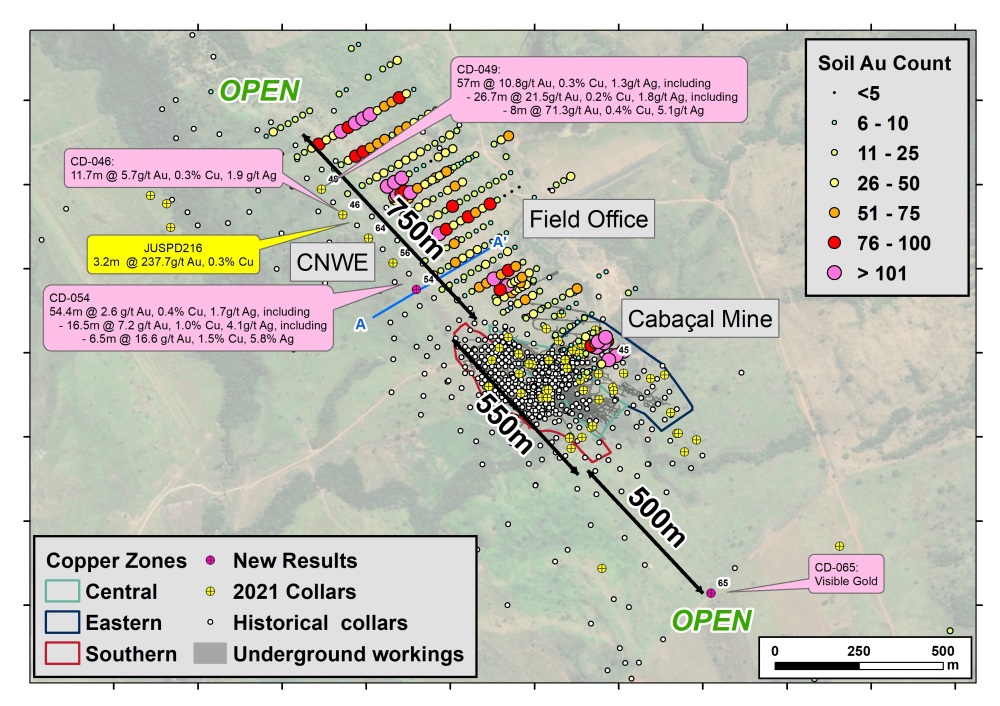 As a standalone gold pocket this will not add significant economic tonnage, so management is eager to show a significant, high-grade structure, striking northwest back towards the historical mine and potentially beyond, and potentially consisting of multiple vein structures as contemplated. This wouldn't be a complete surprise, as the Cabaçal Mine produced 869kt @5g/t Au and 0.82% Cu from 1987 to 1991 by following mostly long, narrow gold zones and leaving the main body of mineralization intact, as can be seen in this projection of historical drilling over the old mine plan (historical mine level plan shown in black):

As one of the last news releases has provided the audience with a conceptual section, showing a potential trajectory for the high-grade gold vein structures, it is possible now to do some hypothetical estimates on contained gold.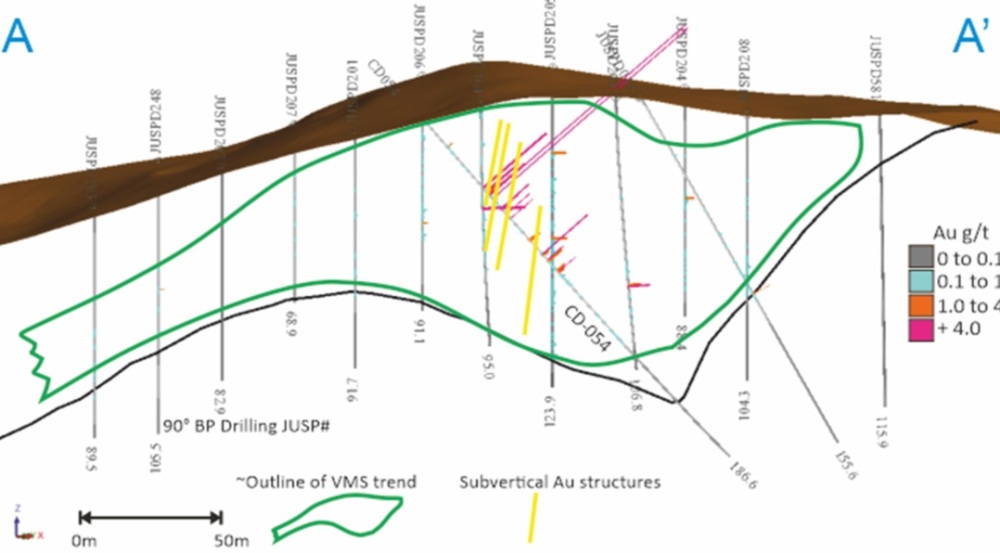 The vertical extent of the high-grade gold structure could be estimated at approximately 100m for the main structure, and another 100m for the parallel substructure (with much lower-grades), when looking at the section above. I asked CEO McArthur how he estimated these vertical extents. He answered that the interpretation of these structures is based on the best interpretation of what they see in the cores, and the grade patterns from adjacent drill holes.
Let's have a look at a back of the envelope estimate attempt of my own, to see what the verified high-grade veins potential could be, in addition to the existing total VMS resource potential. For conservative illustration purposes, a hypothetical main gold structure height of 50m, an average width of 5m and strike length of 750m, a specific gravity of 2.75t/m3 and an average grade of 5g/t Au would result in 84koz Au. If the vertical extent is indeed 100m, this grows to 168koz Au. If the average grade rises to, for example, 10g/t, the result is another double to 336koz Au. If the structure could indeed extend over the hypothetical full 1,400m-1,500m strike length, assuming parts of the 2,000m total strike length are mined out as mentioned, this multiplies everything towards 157-168koz Au for the 50m high 5g/t Au scenario, which could be multiplied with 2 or 4 again, for potentially anywhere from 314-672koz Au potential depending on chosen structure height and/or grade. This will be a focus of the new 15,20,000m drill program. As this is all near surface and combined with copper, this could be a pretty economic addition for any open pit plan, as management has in mind, especially since the recent visible gold core indicates a significant, unmined and intact gold endowment, previously not foreseen.
Since the average grade of historical gold production has been 5g/t Au on average, I picked this grade as the average base case for my estimate, but chances are that it could be (much) higher considering recent results. And of course, the historical average grade is just that, an average. The math is easy and compelling for sure, but continuity is always an issue with narrow veins over longer strike lengths, so we will have to wait and see.
Since the Cabaçal VMS Copper-Gold Project isn't all about gold, the company also reported interesting copper results during the summer. On August 31, 2021, a batch of no less than 20 results were reported (CD-026 to CD-045), drilled at all three main zones, the Southern, Central and Eastern Copper Zones. Highlights are:
CD-029 (SCZ): 71.8m @ 1.0% CuEq (0.7% Cu, 0.3g/t Au, 3.1g/t Ag & 0.2% Zn) from 65.0m, including: 6.9m @ 2.4% CuEq (2.0% Cu, 0.5g/t Au, 7.6g/t Ag & 0.2% Zn) from 91.7m
CD-033 (CCZ): 53.6m @ 0.9% CuEq (0.4% Cu, 0.8g/t Au & 2.1g/t Ag) from 34.0m, including: 11.7m @ 2.7% CuEq (1.1% Cu, 2.5g/t Au, 7.0g/t Ag & 0.1% Zn) from 57.9m
CD-041 (ECZ): 31.4m @ 1.2% CuEq (0.7% Cu, 0.5g/t Au, 4.5g/t Ag & 0.4% Zn) from 70m, including: 10.3m @ 2.2% CuEq (1.6% Cu, 0.7g/t Au, 9.9g/t Ag & 0.1% Zn) from 82.8m;
CD-045 intersected 37.2m @ 1.0% CuEq (0.4% Cu, 1.1g/t Au & 1.4g/t Ag from 1.4m), including: High-Grade "Hinge" structure assays 3m @ 12.7g/t Au, 0.1% Cu & 2.4g/t Ag;
Such grades and long intercepts are very economic at estimated strip ratios varying from 0.038:1 to 2.7:1. When looking at the other drill results of this batch, numerous intercepts were within the 0.3-0.8% CuEq grade (above the 0.2% CuEq cut-off used in the historical resource), but invariably at 17m or longer, at strip ratios of 4:1 or better.
True widths are estimated at approximately 90%, and many holes are still to be deepened through old workings, as drill rods are unable to cross these voids and maintain the right directions due to excessive vibrations or could be lost if the voids are too large. BQ core barrels have arrived on site, and will be used to drill deeper, running BQ rods (60mm outside diameter) within the NQ rods (75.7mm outside diameter). The map below shows all drill holes so far, with the purple locations being the discussed batch: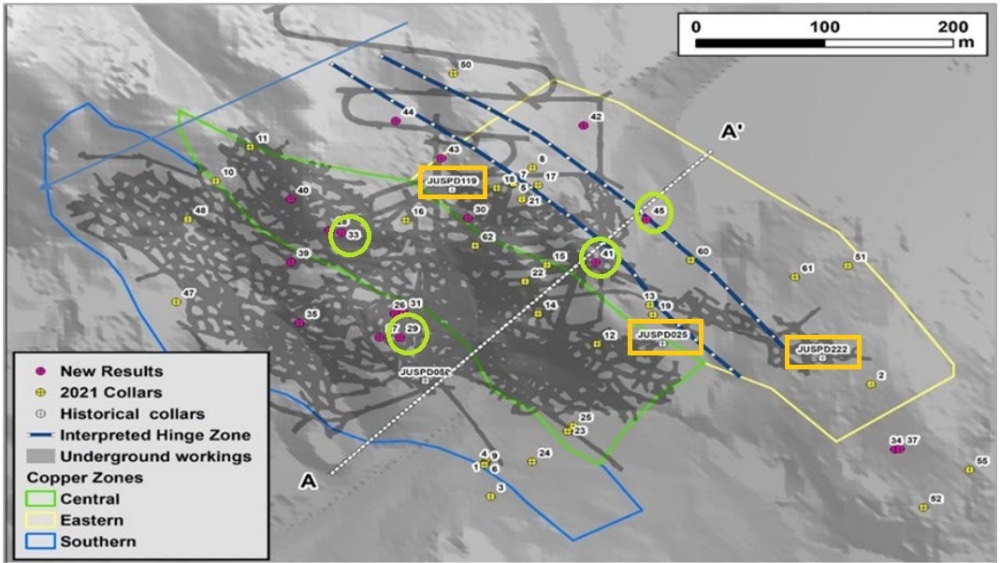 An interesting feature is the introduction of the interpreted Hinge Zone, potentially a high-grade gold structure according to management:
"Meridian's results continue to emphasize the very strong grades, widths and excellent geometry of Cabaçal's Cu-Au-Ag mineralization and now we are defining an internal high-grade gold zone not mined by BP," commented Dr Adrian McArthur, CEO and President. "These results again illustrate that BP Minerals/Rio Tinto, left behind extensive tonnages of the Cu-Au-Ag +Zn mineralization and also the higher grade Au "hinge" hosting structures mapped by the BP Geological team. Cabaçal presents an optimal geometry and mineral distribution well suited to the large scale open pit geometry that the Company envisages."
What I also found to be pretty interesting were the high-grade intercepts of a few historical drill holes, as reported in the news release:
"Hole JUSPD119 intercepted 5.6m @ 7.7g/t Au & 1.1% Cu from 45.2m and to the southeast hole JUSPD222 intercepted 6.5m @ 59.3g/t Au, 0.6% Cu and 4.0g/t Ag, and JUSPD025 intersected 5.0m @ 85.3g/t Au, 0.7% Cu and 10.0g/t Ag. The area between CD045, JUSPD119 and JUSPD025 is sparsely covered by angled drilling and a high priority area for infill drilling."
I wondered if CEO McArthur could explain why he thinks this internal high-grade gold zone stretches over 400m, as besides hole CD-045 there haven't been reported other high-grade gold intercepts within this interpreted zone. He stated the following:
"Only about 10% of the historical holes were drilled at angles of 50-60 degrees, optimal to couple with both the shallow dipping VMS stratigraphy and the steeper overprinting higher-grade gold structures. Most of Meridian's own holes, as twins, also were drilled vertically in this corridor. This 400m hinge zone was in fact identified by the early mapping, by BP/RTZ mine geologists. In the 1990 review by Mason and Kerr, this area was again highlighted as a having potential to host high-grade structures, being sparely drilled compared to the other zones. The CD-045 result builds on these earlier interpretations, showing that the position represents a corridor where high-grade shoots have potential to be developed and delineated with infill drilling. Typical of any gold deposit, we can expect high-grade gold grade mineralization to wax and wane – that is the nature of gold mineralization anywhere. Infill drilling is required to confirm the continuity and extent of the high-grade gold population along this corridor."
This potential hinge gold zone could be additional to the potential high-grade gold structure at Cabaçal Northwest described earlier in this article, and as this zone would be well within the earliest development of an open pit limits, this could be beneficial to future economics.
On October 21, 2021, the company reported that they have just completed an additional hole at Cabaçal West, with CD-066 testing the northern sector of the Fixed Loop surface EM response. The hole has intersected more extensive zones of disseminated chalcopyrite/pyrrhotite/pyrite with local stringer/breccia intervals. Modelling of the BHEM data indicates that the hole clipped the top of the anomaly at about 380m, the strongest conductor to date. A new hole is being collared to intersect the extension of the CD-066 position about 150m down-plunge. This intercept of the mineralized exhalative VMS pile will be the focus of an expanded drill program at Cabaçal West.
This was a follow-up of an update reported on August 23, 2021, mentioning the use of Bore Hole ElectroMagnetic (BHEM) surveys at Cabaçal West. Meridian completed two deep boreholes for this (CD-038 and CD-058), and managed to define several deep conductors, which extend over 1km strike length. Drilling needs to be deepened to hit those conductors properly. It is believed that a VMS feeder system is present above these conductors.
The interesting thing is these conductors were found after drilling a Fixed Loop Transient Electro-Magnetic (FLTEM) conductor surveyed from surface. It appeared the drill bit intercepted the aforementioned VMS style feeder mineralization, but it seemed unlikely this mineralization generated the FLTEM conductor, so the drill holes CD-038 and CD-058 were probed with a more accurate BHEM survey afterwards, finding the deeper and larger conductor which will be drilled in the near term.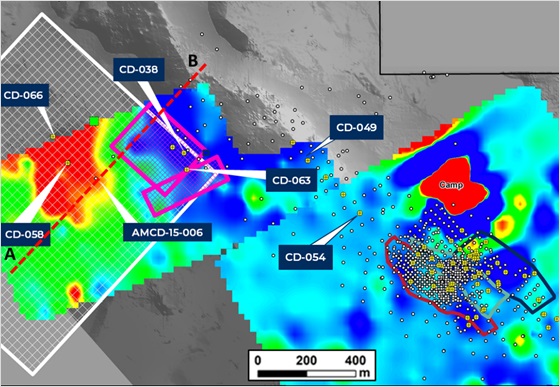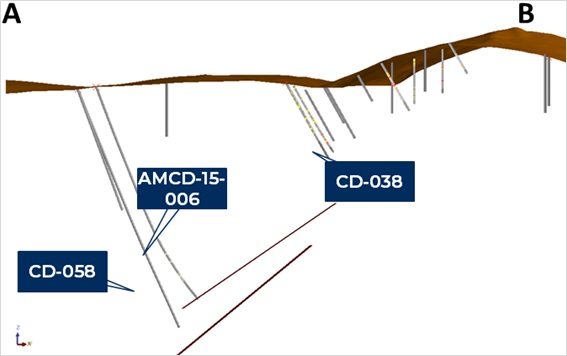 As a reminder, the history in analogue VMS camps is that some deposits are discovered at surface, whilst others are present at depth. The belt has a high degree of deformation – with the lower contact of the Cabaçal mineralization pile being a thrust fault. Targets such as Cabaçal West could potentially represent structural offsets to the Cabaçal system itself, or the various VTEM targets may be related to separate hydrothermal centers.
3. Growth potential of the project
With an increasing flow of results, frequently equaling or even surpassing nearby historical holes, and the potential for several additional high-grade structures looming, a relevant question is what the resource potential is that Cabaçal might have to offer.
First of all, some basics. A historical resource of 21.7Mt @ 0.6%Cu and 0.6g/t Au is present, although cannot be relied upon of course being non-NI 43-101 compliant, so everything estimated in relation to these numbers is hypothetical. The metal prices used were US$1.82/lb Cu and US$845/oz Au. The copper equivalent grade would be 1.00% CuEq at the historical metal prices, and 0.96% CuEq at current metal prices. The historical mine operation mined out 869kt of material (which was excluded from historical resource). The extent of this historical resource is illustrated below in a 3D visualization. Management took the project on with a believe that the project has potential to grow. It can be seen from the diagram that the southeastern extent of the resource is modelled to the limit of the data, and the northwestern extension is located in areas of very spare drill density. Please also note that the historical resource includes the currently drilled high-grade gold structure in the northwest, although not based on the recently drilled very high-grade results, which were not known at the time.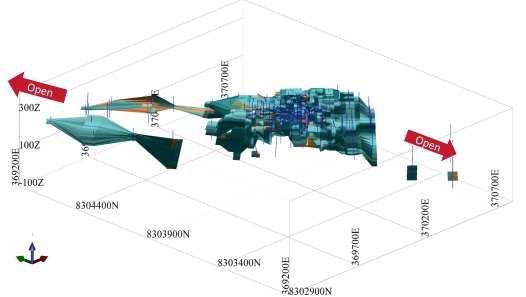 According to this model, the currently outlined mineralized zones (Southern Copper Zone, Central Copper Zone and Eastern Copper Zone) are just a part of the total historical mineralized envelope. What I can estimate now, is the tonnage of these three zones, and estimate what the tonnage is in the historical resource estimate for the same three zones (as part of the total historical volume), interpret the differences and see what the potential consequences could be for the total resource potential.
The specific gravity or density of VMS deposits, containing lots of massive sulphides, is often pretty high, sometimes even reaching 4.5 t/m3. According to management, the historical 2009 resource used a density of 2.7 t/m3, which is standard non-sulphide granite/quartz, but too low for sulphide zones in their opinion. The historical reserves used 2.9 t/m3, but concentrated sulphide zones should be higher according to management, also keep in mind the high density or specific gravity of chalcopyrite. Remember the historical reserves were focused on gold mineralized envelopes, and not as much on sulphides as today's resource delineation efforts.
According to management, the footprints of the historic "Copper Zones" depicted in the BP studies in the areas of greater drill density cover 161,028m2, comprising:
- Southern Copper Zone: 57,907 m2 (about 575m strike length)
- Central Copper Zone: 40,584 m2 (about 450m strike length)
- Eastern Copper Zone: 62,537 m2 (about 415m strike length)
CEO McArthur mentioned that these historical Copper Zones represents a much smaller surface area compared to the 2009 resource containing 21.7Mt.
Globally estimating, for every 10m of mineralized envelope over this total historical footprint area, applying a density of 2.9 equates to about 4.67Mt of mineralized material. There have been some wide intersections across these zones, but assuming an average thickness of 40m, this potentially points towards a mineral inventory of 18.7 Mt just for the Cabaçal Central mine area. As an indication for strike potential, we have seen drilling in the northwest extension returning some wide intervals of copper-gold mineralization, cross-cut by more discrete higher-grade gold structures. The geochemical anomaly over the northwest extension extends for 950m, compared to the 550m core mine area.
More drilling needs to be done of course, but if I would estimate a block of mineralization with a footprint of say 950m along strike x 300m width across strike x 30m thickness with an average density of 2.9 t/m3, this would equates to potentially another 24.8 Mt, and now with another target extension emerging to the south, the management team will certainly be expanding the drill coverage to test whether there is a 40-60Mt potential at Cabaçal and the near mine target areas.
It is interesting to look at historical examples of the gold rich VMS deposits such as the Horne and LaRonde deposits which have now been drilled over a significant depth extent. By contrast, Cabaçal is an "at surface" shallow plunging system, and therefore more easily accessible to surface drilling. The Horne mine within the Noranda VMS district, discovered by EH Horne in 1920 and operated by Noranda from 1926 to 1976, was one of the richest VMS mines in Canada as it produced over 54 Mt @ 6.1 g/t gold, 13 g/t silver and 2.22% copper.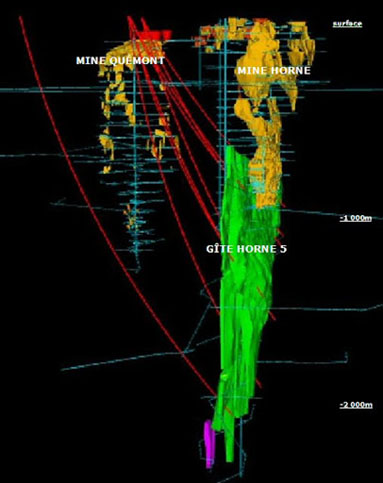 Horne 5 deposit (Source: Falco Resources)
Another sizable VMS deposit is the LaRonde Mine, the second most gold-rich VMS deposit in North America (production and reserves/resources over 59Mt @ 4.31g/t Au). It started out as a gold mine with relatively near surface mineralization (up to 800m depth), and later on after depletion high grade zinc, gold and copper were discovered and (still) mined to depths up to 2,900m.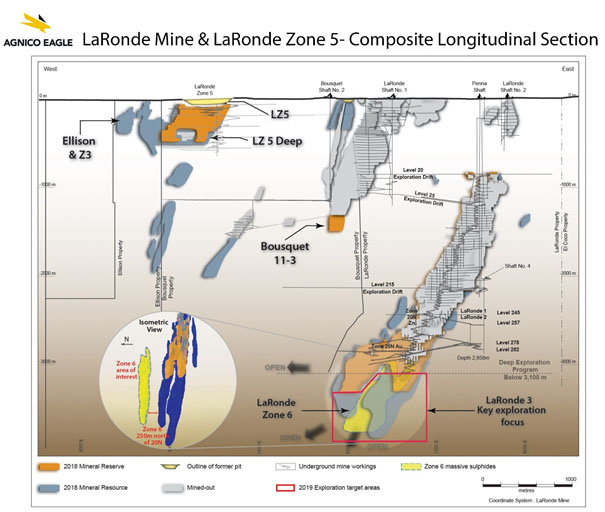 LaRonde Mine Complex (Source: Agnico Eagle Mines)
According to CEO McArthur, David Kerr, a Canadian economic geologic specialist who co-authored the 1990 Mason and Kerr study for RTZ, commented that the Cabaçal had geological similarities to both mines, like, for example, high gold content and stacked massive sulphide lenses.
4. Peer comparison
When resource- and economic potential are discussed, it is always useful to compare a project with peer projects to see where it more or less stands valuation-wise. Always keep in mind that every project (and company) is unique, and each project has its unique individual project aspects, which makes it impossible to normalize two projects completely, let alone multiple projects. Notwithstanding this, analysts have no other way to establish relative valuations, so peer averages are commonly used for this purpose. Note that the quality of comparison depends on the equality of peers. The peer comparison with copper projects below used in an earlier article of mine about Meridian is also meant to provide a broad sector overview of copper developers and advanced copper explorers. It has been updated for this article: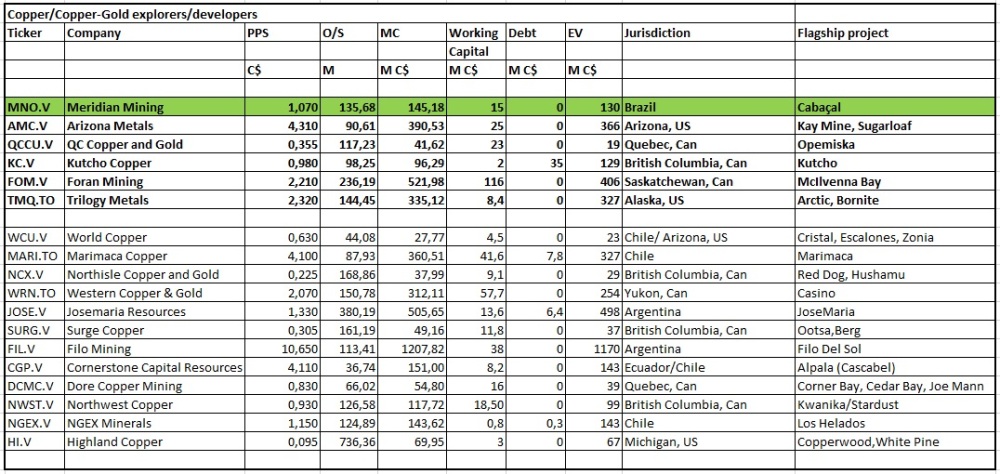 Lots of these stocks ran down during the summer corrections and proved to be at an interesting entry point back then, as the entire list trades higher now on the increasing metals prices.

As can be seen, Meridian Mining doesn't exactly have the lowest EV/lb CuEq metric anymore after the recent run-up, but this has everything to do with the historical resources being relatively small sized, compared to the much larger potential resource target at Cabaçal, which would bring down the EV metric considerably should the 40-60Mt potential become reality. The same situation is applicable to, for example, Arizona Metals, which trades at an even higher EV/lb CuEq metric, with a relatively modest historical resource, also drilling up future potential tonnage.
The next and last part of the table is meant to get an impression on project economics for the various projects: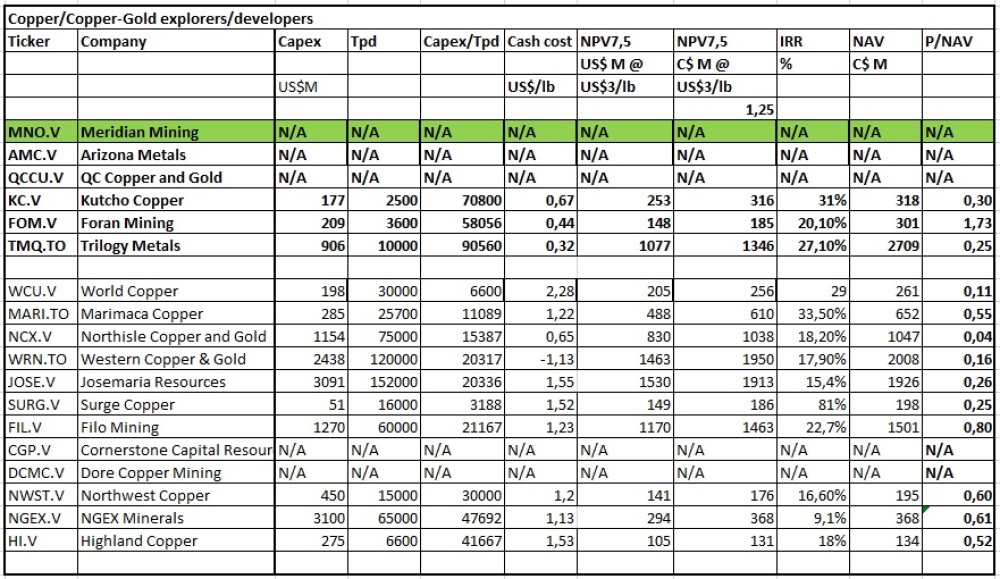 According to management, they expect a high profitability/low capex project, which would make Cabaçal easy to finance and could generate high P/NAV multiples.
Usually, the threshold that can be used nowadays for projects going into production is a P/NAV closing in on 0.6-0.8 (at lower metal prices market cap often equals NAV), but I couldn't find representative copper projects close to production. As a reminder, all P/NAV figures should come down significantly, as a current base case copper price could easily be US$3.60/lb Cu these days.
The peer group indicates the markets' preference for assets with the ability to be financed by a junior company itself. The prime example would be Foran Mining, as they have closed a large C$100M equity financing not too long ago, for construction of McIlvenna Bay. As they increased their resource, it is likely that economics will improve considerably as well, certainly with the current copper price. The other example is Marimaca with its achievable capex to market cap and the recent expansion drilling.
In terms of the larger scale porphyries, the financial backers become all important such as the likes of Filo and JoseMaria who have excellent projects and are backed by Lundin, Trilogy which has a 50/50 JV with South32, and Cornerstone which partly owns the largest undeveloped economic copper project on the planet which has BHP and Newcrest as large shareholders. The path to production is much less certain for most peers though.
Something that will undoubtedly open up more possibilities for project financing is a graduation to the TSX mainboard. Executive Chairman Clark had this to say about aspects and advantages of such an initiative:
"We see graduating to the TSX main board as the organic way to grow Meridian's share price and market cap as a senior issuer; Cabaçal is an asset not a speculation."
Looking to the future for Meridian, management sees Cabaçal as a potential to become relatively low capex, open pit VMS producer in the near term, with significant resource expansion opportunities. The first 10,000m program is nearing conclusion. The ongoing focus will be on delineation of the resource extensions following the success in, and definition of mineralization to the south of the mine. Some twin drilling will continue into the next phase, with the rigs meterage recently diverted to the CNWE and Cabaçal West programs in order to continue to verify the 21.7Mt historical resource estimate. Eleven holes are at the assay lab at the moment or in transit, and results are expected to come in during the coming months, the last ones before year-end. A new 15-20,000m drill program is being designed at the moment to target the resource development at Cabaçal, the high-grade gold strike at Cabaçal Northwest and Southeast and test work along the rest of the 36km VMS belt.
5. Conclusion
Meridian Mining seems to be well on its way to at very least verify the historical resource of 21.7Mt at its Cabaçal VMS Copper-Gold project and take its tonnage potentially much further towards 40-60Mt. The recently closed financing of C$10.38M without any warrants was impressive and will provide budgets well into 2022. The company is also receiving its fair share of positive surprises along the way, given the fact that the drill bit is returning more visible gold now, recently returned the impressive 8m @ 71.3g/t gold intercept, but also produced several positive copper results. As the company is discovering a potential second copper-gold feeder structure with high-grade gold structures overprinting it in the northwest zone of Cabaçal, it is possible that the market focus could shift from predominantly copper more towards gold in the future. This might be the case when contemplating an operation in the future, in order to schedule a rapid payback based on mining of these high-grade gold structures first. But this is all pretty forward-looking of course. If Meridian manages to hit substantial, economic intercepts again at the northwest zone but also other targets that might have high-grade gold structures, investors could be in for a game-changing next phase.
I hope you will find this article interesting and useful and will have further interest in my upcoming articles on mining. To never miss a thing, please subscribe to my free newsletter, in order to get an email notice of my new articles soon after they are published.
The Critical Investor is a newsletter and comprehensive junior mining platform, providing analysis, blog and newsfeed and all sorts of information about junior mining. The editor is an avid and critical junior mining stock investor from The Netherlands, with an MSc background in construction/project management. Number cruncher at project economics, looking for high-quality companies, mostly growth/turnaround/catalyst-driven to avoid too much dependence/influence of long-term commodity pricing/market sentiments, and often looking for long-term deep value. Getting burned in the past himself at junior mining investments by following overly positive sources that more often than not avoided to mention (hidden) risks or critical flaws, The Critical Investor learned his lesson well, and goes a few steps further ever since, providing a fresh, more in-depth, and critical vision on things, hence the name.
[NLINSERT]
Disclaimer: The author is not a registered investment advisor and has a long position in this stock. Meridian Mining is a sponsoring company. All facts are to be checked by the reader. For more information go to www.meridianmining.co and read the company's profile and official documents on www.sedar.com, also for important risk disclosures. This article is provided for information purposes only and is not intended to be investment advice of any kind, and all readers are encouraged to do their own due diligence and talk to their own licensed investment advisors prior to making any investment decisions.
Streetwise Reports Disclosure:
1) The Critical Investor's disclosures are listed above.
2) The following companies mentioned in the article are sponsors of Streetwise Reports: None. Click here for important disclosures about sponsor fees. The information provided above is for informational purposes only and is not a recommendation to buy or sell any security.
3) Statements and opinions expressed are the opinions of the author and not of Streetwise Reports or its officers. The author is wholly responsible for the validity of the statements. The author was not paid by Streetwise Reports for this article. Streetwise Reports was not paid by the author to publish or syndicate this article. Streetwise Reports requires contributing authors to disclose any shareholdings in, or economic relationships with, companies that they write about. Streetwise Reports relies upon the authors to accurately provide this information and Streetwise Reports has no means of verifying its accuracy.
4) The article does not constitute investment advice. Each reader is encouraged to consult with his or her individual financial professional and any action a reader takes as a result of information presented here is his or her own responsibility. By opening this page, each reader accepts and agrees to Streetwise Reports' terms of use and full legal disclaimer. This article is not a solicitation for investment. Streetwise Reports does not render general or specific investment advice and the information on Streetwise Reports should not be considered a recommendation to buy or sell any security. Streetwise Reports does not endorse or recommend the business, products, services or securities of any company mentioned on Streetwise Reports.
5) From time to time, Streetwise Reports LLC and its directors, officers, employees or members of their families, as well as persons interviewed for articles and interviews on the site, may have a long or short position in securities mentioned. Directors, officers, employees or members of their immediate families are prohibited from making purchases and/or sales of those securities in the open market or otherwise from the time of the decision to publish an article until three business days after the publication of the article. The foregoing prohibition does not apply to articles that in substance only restate previously published company releases.
Charts and graphics provided by the author.