Maurice Jackson: Today we will highlight what may be the most overlooked value proposition in exploration, prospect generators. Joining us for a conversation is legendary investor Rick Rule of Sprott USA and Dr. John-Mark Staude of Riverside Resources Inc. (RRI:TSX.V; RVSDF:OTCQB).
Rick, you, along with Sprott USA, are the most trusted and respected names in the natural resource space. That reputation has been earned with a proven pedigree of personal and investment success for the clients of Sprott USA by identifying companies and sectors that are selling at deep discounts. I would like to begin by asking you a two-fold question. What is a prospect generator and why should someone reading strongly consider the value proposition they may present for one's portfolio?
Rick Rule: A prospect generator, as I define it, Maurice, is an exploration company that uses the management's technical expertise and commercial acumen to generate investment ideas and an investment thesis, stake those ideas, stake the physical terrain and then bring in other partners to share the financial risk—often to bear the financial risk—in return for a carried interest in the property and or a royalty.
The idea is that the exploration business is very much like any other form of research and development business, and that the chief value is actually the intellectual capital of the management team—the idea being, with an exploration company, that you share the financial risk of developing a project so that you don't dilute the shares and you don't, as an investor, dilute your interest in the intellectual capital, which is, in fact, the most valuable asset that many of these small companies have.
As to success, I'd like to answer the question statistically. When I was in university, I was taught that a mineralized anomaly had a 1 in 3,000 chance to become a mine. That means the value proposition offered up on Bay Street and Howe Street is that you have a 1 in 3,000 chance of a 10 to 1 return—very poor math.
Now, the truth is that a reasonably intelligent speculator can reduce those odds somewhat by buying into companies that employ serially successful people or by confining one's speculations to companies where they've already established the third dimension. That is where they have an ore body into a deposit, but still over 35 or 40 years of speculating in exploration.
I have invested in something over 65 public prospect generators. The truth is that my memory is now foggy enough that I can't tell you how many, but I've participated in 22 or 23 economic discoveries and 20 takeovers, which means that I have been successful on, shall we say, 20 of 65 starts, versus the expected statistical average in junior mining of 1 in 3,000. We had a young intern here years ago who told me that my experience was three standard deviations better than the industry experience as a whole.
Now, that's the type of arithmetic that somebody like me can't help but pay attention to.
If you want a dramatic example, probably the most dramatic example for me [is] Arequipa Resources, where there was a superb geological team generating prospects in Peru right after the Shining Path had been kicked out—in other words, after the flak jackets came on, but long before the currency was convertible. That company participated, if my memory serves me correctly, in 36 exploration campaigns, all of which were funded by other people's money. Had the company diluted itself over 36 exploration campaigns, they wouldn't have existed by the time that they made their final discovery, which was the Pierina discovery.
The upshot of that is that in the company's sort of three years of existence, they went from a $0.35 per share initial public offering to a $30 per share takeout by Barrick Gold Corp. (ABX:TSX; GOLD:NYSE). [There was] very limited dilution along the way, because the heavy lifting of their exploration—at least the financial heavy lifting of their exploration—was done with other people's money.
Before I relinquish to my colleague, Dr. John-Mark Staude, I'd like to say one other thing that makes me feel comfortable about prospect generators. The truth is that I've spent hundreds of thousands—in fact, millions—of dollars on research over the last 35 years—geological research, engineering research, financial research—and I've paid consultants hundreds of thousands of dollars. In prospect generation the due diligence isn't done by me, it's done by major mining companies, by peers. And the people who are doing the due diligence don't send me a bill. They send John-Mark a check.
Now, whether they're right or not, the fact that they invest in the outcome of their due diligence gives me extraordinary comfort. The fact that BHP Billiton Ltd. (BHP:NYSE; BHPLF:OTCPK) or Rio Tinto Plc (RIO:NYSE; RIO:ASX; RIO:LSE; RTPPF:OTCPK) or Teck Resources Ltd. (TCK:TSX; TCK:NYSE) or Barrick is doing not just the heavy lifting of the check-writing, but also the heavy lifting of the due diligence, for me gives me special comfort.
Maurice Jackson: Quite a compelling value preposition. John-Mark, you're the CEO of a successful prospect generator. Please introduce us to Riverside Resources (TSX.V: RRI | OTCQB: RVSDF) and the opportunity your company presents to the market.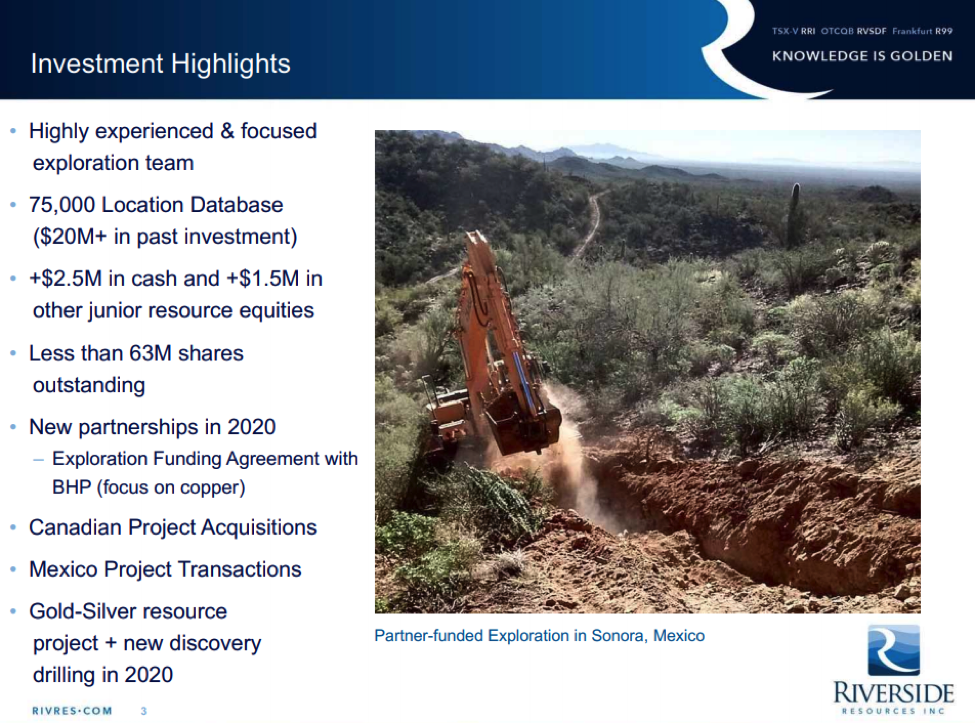 John-Mark Staude: Riverside is a well-funded, value-driven prospect generator advancing a strong portfolio of gold, silver and copper properties in North America. We leverage the company's 75,000+ location database and experienced technical team to discover and acquire new exploration assets. A great example is our exploration funding agreement, announced last year, with world's largest market-cap public mining company, BHP. In this program, BHP is fully funding the exploration work and Riverside is the boots on the ground, doing the technical work.
Our market is niche is that we generate projects. Recently we spun out one of our USA copper-gold projects, which is now moved ahead very successfully, and we profit near and long term from this. We carry a royalty in the Arizona asset and we get paid in over $3M worth of shares. Therefore, we don't dilute our shareholder base. And we very proud of the fact that we keep a very tight share structure.
Maurice Jackson: And what type of resources is Riverside exploring for and where?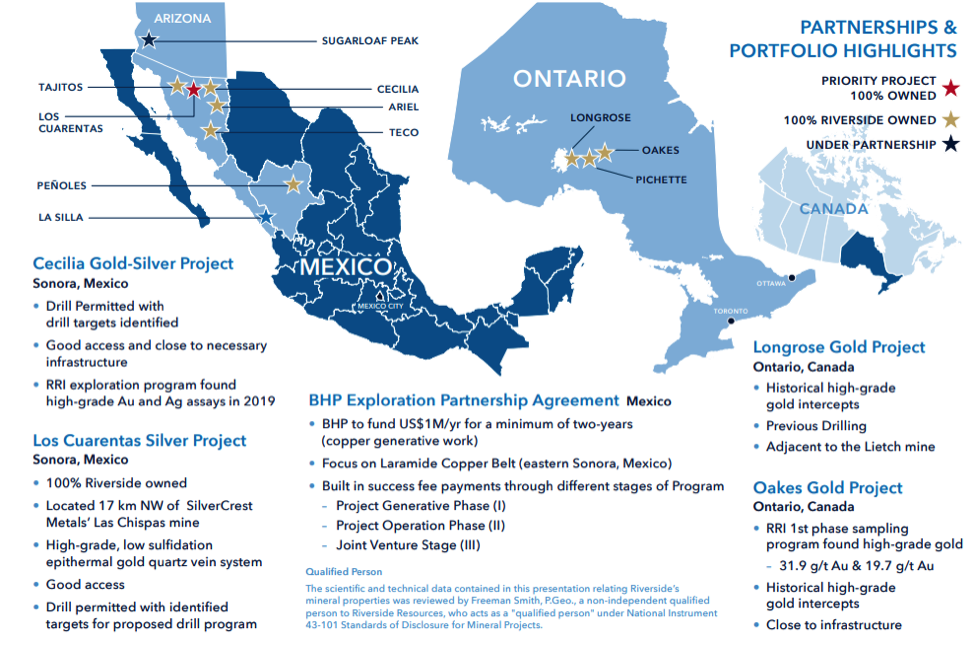 John-Mark Staude: We've largely focused in Mexico, as well as in Canada. We focus a lot on gold, but we also have silver and copper. Riverside really likes shallow, open-pit deposits. Theses deposits don't take much capital to find, and when you find one, and show that it's large, it creates the urgency for majors to look to acquire it.
Maurice Jackson: Does the Riverside property bank consists of greenfields or brownfields exploration plays or a combination of both?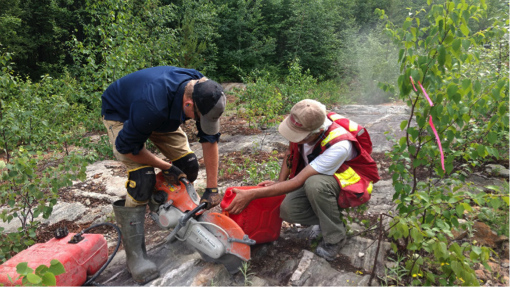 John-Mark Staude: It's interesting. We started off mainly with greenfields, but recently, as companies have left Mexico and we've been able to focus during the downturn, [we] have been aggressively upgrading our property bank to having brownfields exploration play around existing mines and neighboring some of the large discoveries, such as SilverCrest Metals Inc. (SIL:TSX.V) and Premier Gold Mines Ltd. (PG:TSX) in Mexico.
We are also in another high value region, as we're next to Geraldton, Ontario, one of the large developing gold districts with excellent infrastructure and at feasibility stage for potential restart and expansion of the operations. Riverside went from greenfields to brownfields [around existing operations], where we know. . .we have good things that are of value.
Maurice Jackson: Rick, provide us with some background on your relationship with John-Mark and how long have you been an investor in Riverside?
Rick Rule: My first memory of meeting John-Mark was in an investment conference in Vancouver many, many years ago, when I was talking about prospect generation. And John-Mark came up afterward and introduced himself as business development for BHP. So, I immediately understood that he was ultimately a customer of mine and, of course, did my best to impress him. He moved on, if my memory serves me correctly, from BHP to Teck. At some point in time I tried to hire John-Mark. He had the very good sense to refuse me, but the consequence of that is that when he was starting his own company, Riverside. I was privileged to be one of the early investors and we've been shareholders and backers of Riverside, among others, ever since.
Maurice Jackson: Rick, you referenced these success ratios of prospect generators (PGs) versus traditional exploration companies and you're one of the biggest advocates for PGs and, in particular, Riverside. Why has your level of commitment been so strong over the years and what gives you confidence in the future of Riverside?
Rick Rule: Well, the truth is that success in prospect generation has to do with the technical acumen of the management team and their commercial acumen. I was particularly attracted to the fact that John-Mark's pedigree and the pedigrees of his team were particularly well suited to the task at hand. I've always been interested in Mexican exploration in particular and large copper gold systems. John-Mark, if my memory serves me well, went to the University of Arizona, which pioneered most of the modern exploration technology for those types of deposits.
And John-Mark, as a consequence of his Rolodex, has been able to assemble around him a very highly skilled team.
His particular advantage, though, was that he looks at deal structure from the customer's point of view because John-Mark used to represent BHP in these negotiations and after that represented Teck's interest in those negotiations. He understands something about, first of all, what the majors require in a joint venture and how to intelligently structure and price a joint venture so that it will be fair to the Riverside shareholders, but also in the interest of the customer. I think that commercial skill set is something that's lacking in some of the prospect generators that solely have great technical skills.
Maurice Jackson: John-Mark, last year Riverside announced a new strategic partner in billion-dollar market-cap BHP. Why did BHP partner with Riverside and share some of the details of the partnership?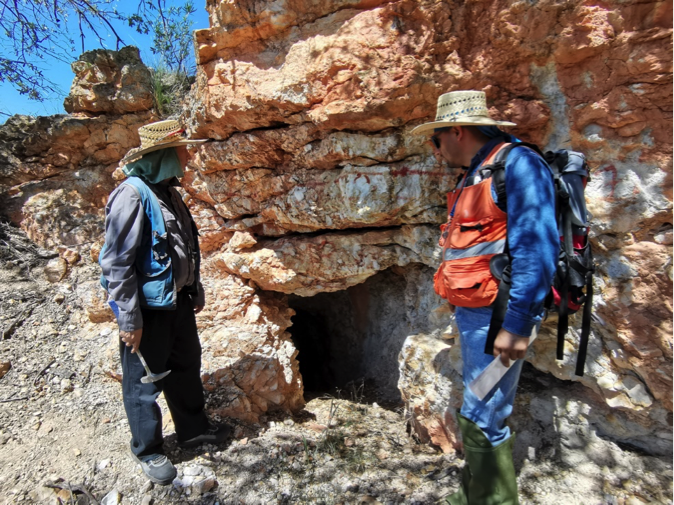 John-Mark Staude: Yeah, we were really lucky. It turns out BHP wanted to grow into Mexico and they knew that we had done these different types of partnerships for technical programs.
There were 12 companies reviewed that were operating in Mexico, and Riverside passed all of those and was selected as the operating group. BHP is 22,000 times bigger than us in market cap. So we're really two different-size companies [with different] goals, and we showed them that we operate safely, efficiently, and can for them too. We've done strategic exploration alliances with Kinross Gold Corp. (K:TSX; KGC:NYSE), Cliffs Natural Resources Inc. (CLF:NYSE), Antofagasta Plc (ANTO:LSE), Hochschild Mining Plc (HOC:LSE), continually being able to develop portfolios for the major companies. We can do it safely and effectively, and that's why BHP came in, and we're really enjoying working with them. This program is a million dollars and we've already been able to have another 50% as a new additional budget into the program each year for just the greenfield starting in the programs.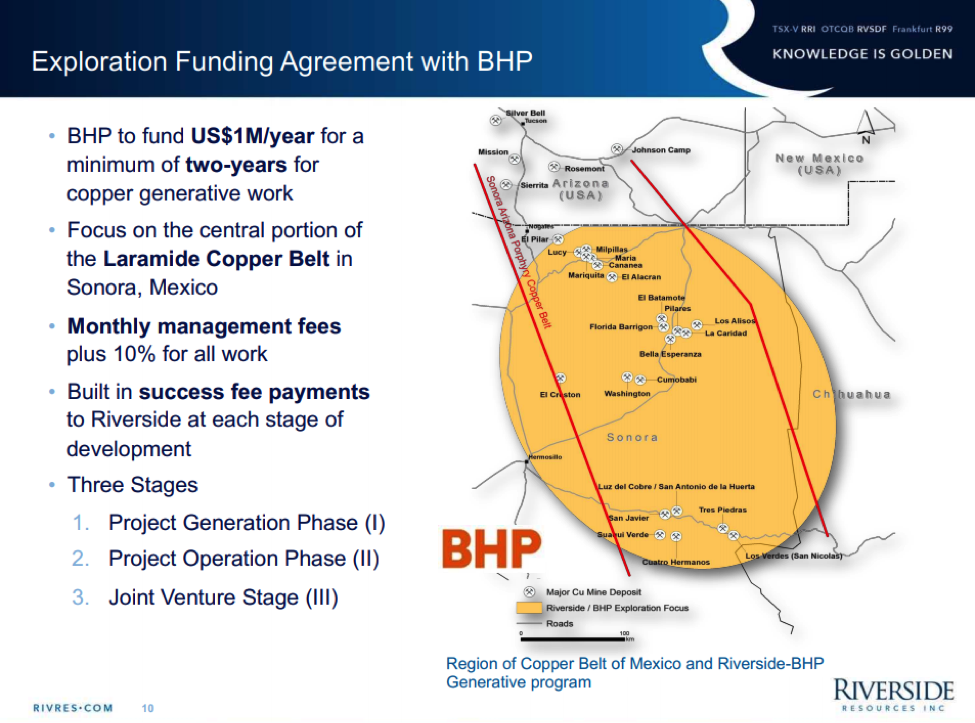 It's a $5 million spend for them to earn into the project. We like those types of situations where they put up all the money. We put up all the science and work, [and] we progress together to develop projects, as Rick says. This really can work for the discovery. Sometimes the discoveries are too small for the major, but they can still be big enough for us, and we can put together those portfolios and then spin them out or do other deals in the future. So we really like working with these major companies.
Maurice Jackson: Rick, what does that convey to the person listening, when two companies, Sprott USA and BHP, are committing capital into Riverside?
Rick Rule: Maurice, anytime that you want to mention Sprott in conjunction with BHP and expertise, you certainly have my permission to do that.
Our interests are different. I think in fairness, one of the things it says is the two different groups who benefit from prospect generation—that is to say, Sprott as a shareholder and BHP as somebody looking for exploration services—have narrowed the field to Riverside. One of the benefits that I think might be lost potentially on Riverside shareholders is the fact that BHP brings more than money.
What BHP might bring to me is due diligence, where they write a check as opposed to send me a bill. But after that, if you assume that John-Mark comes up with an interesting piece of terrain and an interesting exploration idea, BHP has literally hundreds of earth scientists in place. It's almost impossible that there's an assemblage of minerals somewhere in the world that somebody at BHP doesn't have familiarity with. And the fact that they pay the costs and add intellectual capital after the fact is a wonderful benefit that shareholders like myself enjoy from a company like Riverside, [which is] able to joint venture with the largest and smartest mining companies in the world.
Maurice Jackson: Switching gears, John-Mark, what is the next unanswered question for Riverside? When can we expect an answer and what will determine success?
John-Mark Staude: One of them is with the spinning out of Capitan Mining. Riverside actually is able to progress for the shareholders, giving a share of this other company to our shareholders directly.
So the next unanswered question for Riverside? Is there a potential for a giant porphyry copper discovery there? We'll be putting out news before the PDAC, which is in the beginning of March, about our exploration programs in Canada and Mexico.
Maurice Jackson: Please provide us with an update on the capital structure for Riverside.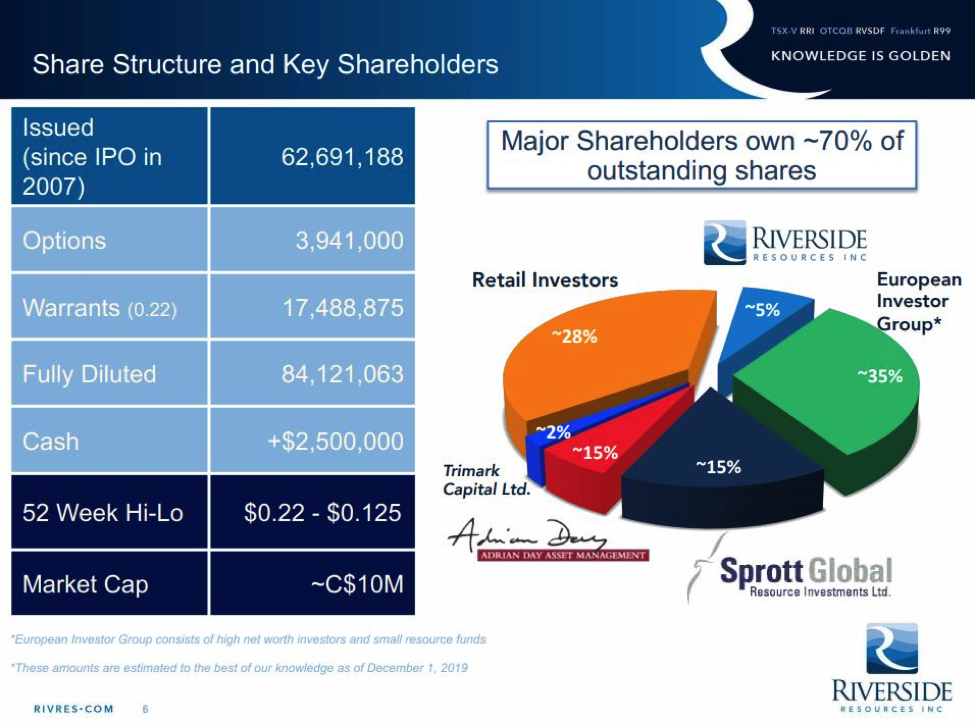 John-Mark Staude: Riverside continues to have a tight share structure with 63 million shares, no debt, and we have over $3 million cash in the bank.
Maurice Jackson: Before we close, Dr. Staude, what did I forget to ask?
John-Mark Staude: I think one of the key things for Riverside is, when are we going to make those discoveries? That's often asked and I think right now we have four different programs going in 2020 with partner funding, and work going on with them. We're particularly, I think, interested in what can we do here in the first quarter so we'll have news flow, and that'll be a really great way for us to be able to put out those new discoveries that we're making.
Maurice Jackson: Mr. Rule, what did I forget to as, sir?
Rick Rule: Well, I don't think you forgot to ask much, Maurice. One thing that I would point out is that over the last 10 years, which have been very, very difficult years for companies in the minerals business—in the minerals exploration business—one of the beauties of the prospect generator model in general, and of Riverside in particular, is that they haven't had to dilute existing shareholders out of existence.
When John-Mark talks about his very narrow share count, one thing he might mention is that the shares are fairly closely held by people who aren't in the stock for a nickel gain. When I remember back to the last exploration bull market, which we enjoyed, which sadly was 2001–2002, one of the things that I noticed is that the prospect generators, when money came back into the sectors, literally had a melt-up because as buyers came into the market, there were no sellers to match them.
Now I'm not suggesting the past is prologue. What I am suggesting is that the tight share floats—closely held companies—do better in nascent bull markets than companies that have had to be very profligate, issuing shares to keep themselves alive during tough times. Another of the unstated perhaps advantages of prospect generators in general, and Riverside in particular.
Maurice Jackson: Rick, if someone listening wants to have their natural resource portfolio graded, can they contact you or someone at Sprott USA?
Rick Rule: Absolutely. I would love to offer readers, as I have in the past, the ability, with no obligation to have me grade their natural resource portfolios. All they need to do is e-mail me their natural resource portfolios at [email protected]sprottglobal.com. Maurice, it's important that readers put both the names and the symbols of their companies in the text, not as an attachment that my security people won't allow me to open. I will rank those companies one to ten, 1 being best, 10 worst, and comment on them where I think my comment is appropriate.
As an added inducement, I will also e-mail back a 40-year gold mining company index, which makes a spectacular case for investing in precious metals mining companies now, as well as a hundred-year commodity chart. So we'll give you two charts, one about gold mining stocks, the others about commodities, and we will, probably more importantly, rate the companies in your portfolio and return them to you.
Maurice Jackson: And in the subject line, please put in Proven and Probable. John-Mark, please share the website address and ticker symbol for Riverside Resources.
John-Mark Staude: Riverside's is www.rivres.com (TSX.V: RRI | OTCQB: RVSDF).
Maurice Jackson: Before you make your next bullion purchase, make sure you call me. I am a licensed representative for Miles Franklin Precious Metals Investments where we provide a number of options to expand your precious metals portfolio, from physical delivery, offshore depositories, precious metal IRAs and private blockchain distributed ledger technology. Call me directly at (855) 505-1900 or you may e-mail [email protected].
Riverside Resources is a sponsor of Proven and Probable and we are proud shareholders for the virtues conveyed in today's message.
Gentlemen, thank you both for joining us today on Proven and Probable.
Maurice Jackson is the founder of Proven and Probable, a site that aims to enrich its subscribers through education in precious metals and junior mining companies that will enrich the world.
[NLINSERT]
Disclosure:
1) Maurice Jackson: I, or members of my immediate household or family, own shares of the following companies mentioned in this article: Riverside Resources. I personally am, or members of my immediate household or family are, paid by the following companies mentioned in this article: None. My company has a financial relationship with the following companies mentioned in this article: Riverside Resources is a sponsor of Proven and Probable. Proven and Probable disclosures are listed below.
2) The following companies mentioned in this article are billboard sponsors of Streetwise Reports: None. Click here for important disclosures about sponsor fees.
3) Statements and opinions expressed are the opinions of the author and not of Streetwise Reports or its officers. The author is wholly responsible for the validity of the statements. The author was not paid by Streetwise Reports for this article. Streetwise Reports was not paid by the author to publish or syndicate this article. The information provided above is for informational purposes only and is not a recommendation to buy or sell any security. Streetwise Reports requires contributing authors to disclose any shareholdings in, or economic relationships with, companies that they write about. Streetwise Reports relies upon the authors to accurately provide this information and Streetwise Reports has no means of verifying its accuracy.
4) This article does not constitute investment advice. Each reader is encouraged to consult with his or her individual financial professional and any action a reader takes as a result of information presented here is his or her own responsibility. By opening this page, each reader accepts and agrees to Streetwise Reports' terms of use and full legal disclaimer. This article is not a solicitation for investment. Streetwise Reports does not render general or specific investment advice and the information on Streetwise Reports should not be considered a recommendation to buy or sell any security. Streetwise Reports does not endorse or recommend the business, products, services or securities of any company mentioned on Streetwise Reports.
5) From time to time, Streetwise Reports LLC and its directors, officers, employees or members of their families, as well as persons interviewed for articles and interviews on the site, may have a long or short position in securities mentioned. Directors, officers, employees or members of their immediate families are prohibited from making purchases and/or sales of those securities in the open market or otherwise from the time of the interview or the decision to write an article until three business days after the publication of the interview or article. The foregoing prohibition does not apply to articles that in substance only restate previously published company releases. As of the date of this article, officers and/or employees of Streetwise Reports LLC (including members of their household) own shares of Riverside Resources, a company mentioned in this article.
Disclosures for Proven and Probable: Proven and Probable LLC receives financial compensation from its sponsors. The compensation is used is to fund both sponsor-specific activities and general report activities, website, and general and administrative costs. Sponsor-specific activities may include aggregating content and publishing that content on the Proven and Probable website, creating and maintaining company landing pages, interviewing key management, posting a banner/billboard, and/or issuing press releases. The fees also cover the costs for Proven and Probable to publish sector-specific information on our site, and also to create content by interviewing experts in the sector. Monthly sponsorship fees range from $1,000 to $4,000 per month. Proven and Probable LLC does accept stock for payment of sponsorship fees. Sponsor pages may be considered advertising for the purposes of 18 U.S.C. 1734.
The Information presented in Proven and Probable is provided for educational and informational purposes only, without any express or implied warranty of any kind, including warranties of accuracy, completeness, or fitness for any particular purpose. The Information contained in or provided from or through this forum is not intended to be and does not constitute financial advice, investment advice, trading advice or any other advice. The Information on this forum and provided from or through this forum is general in nature and is not specific to you the User or anyone else. You should not make any decision, financial, investments, trading or otherwise, based on any of the information presented on this forum without undertaking independent due diligence and consultation with a professional broker or competent financial advisor. You understand that you are using any and all Information available on or through this forum at your own risk.
Images provided by the author.