Maurice Jackson: Joining us for conversation is Andrew Bowering, the president, director and CEO of Prime Mining Corp. (PRYM:TSX.V). Glad to have you on the program to share the value proposition before us in Prime Mining, which is an advanced stage exploration company. Focused on delivering high-grade gold at a low cost and set for production in two years. Prime Mining offers a number of virtues to the market. Before we delve into company specifics, Mr. Bowering, please acquaint us with Prime Mining and share the opportunity the company presents to the market.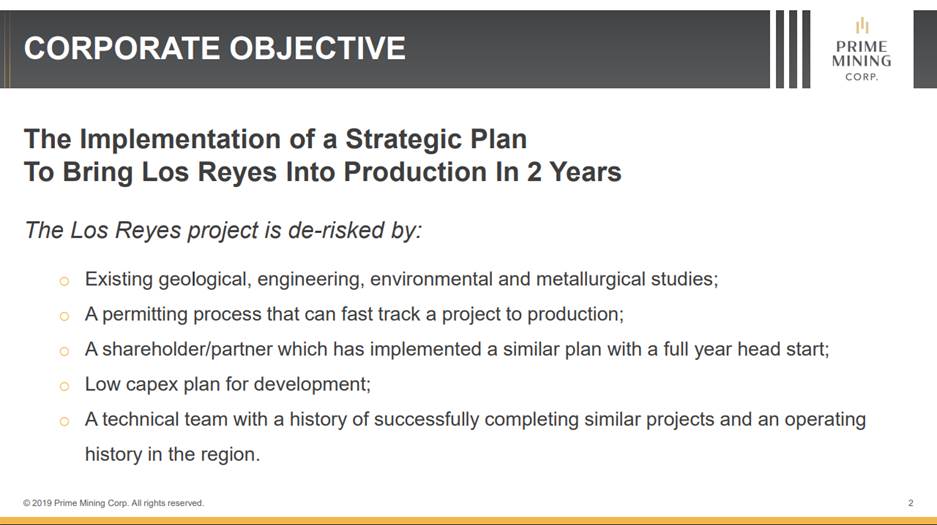 Andrew Bowering: Prime Mining is a relatively new company that's come to the market with the plan of bringing a well-established, well-studied gold deposit in western Mexico into production. In the next 24 to 36 months producing a profitable gold mining company. We're a collection of professional mining executives who have built mines in the past, some capital markets personnel who have funded some pretty significant projects. In addition, we have local Mexican operators who are very familiar with the region and know how to get it done. Collectively, we're going to build a mine and pay it back to shareholders.
Maurice Jackson: One of the virtues I like in a company are the complementary combination of astute geological and business acumen, which Prime Mining has been successfully demonstrating. Mr. Bowering, take us to Sinaloa State, Mexico, where the company recently acquired its flagship Los Reyes project. Where exactly is the project located and provide us with some historical context on the region?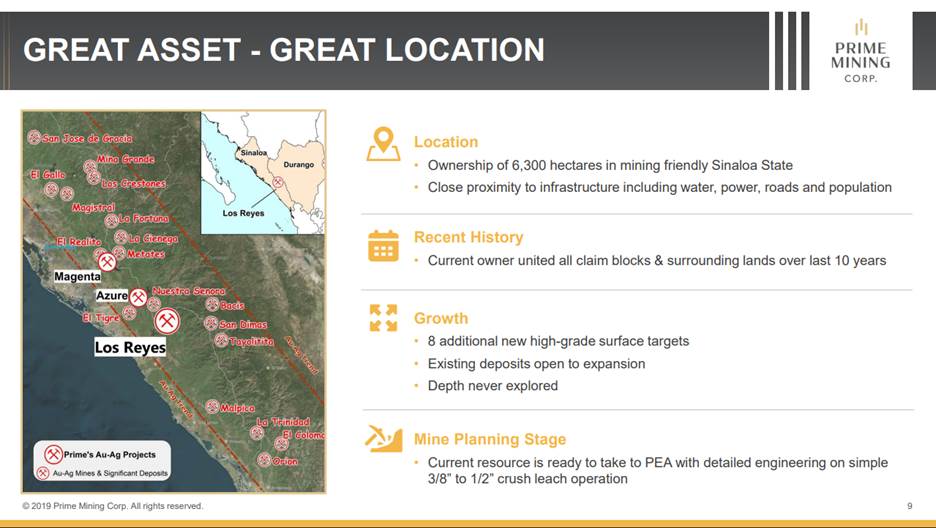 Andrew Bowering: Los Reyes is in western Mexico, in the southern part of Sinaloa, about three and a half hours north by car, off Mazatlán, a famous beach destination for tourists. It's in the Sierra Madre Mountains, very famous for gold and silver exploration from the time of the conquistadors all the way up to the current. The region hosts numerous public company-operated mines such as Chesapeake Gold, American Silver and McEwen Mining, along with numerous others in the region. Los Reyes is nestled in the middle of a number of active producing mines; it sits about 30 kilometers away from a 9,500 population town called Cosala. The project itself is about 6,500 hectares with approximately $20 million U.S. in exploration development spent on it since the 1990s. The project itself was initially discovered in the 1600s and had historical production of several hundred thousand ounces of gold and millions of ounces of silver. Probably wasn't touched again until the late 1980s, early 1990s, when modern exploration took over.
Maurice Jackson: For current and prospective shareholders, can you please answer the multi-million dollar question that Prime Mining presents to the market? That is why Los Reyes?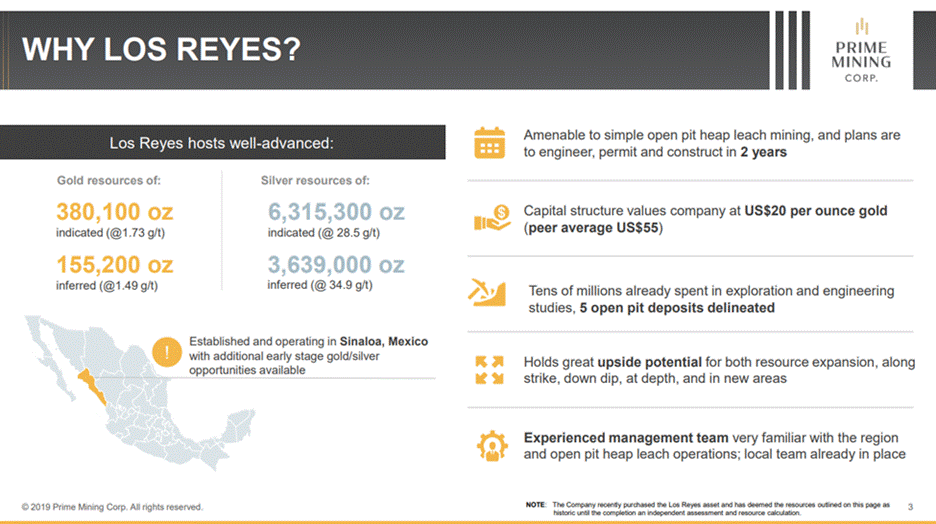 Andrew Bowering: Los Reyes is a well-established, well-studied asset that was available for us to pick up at a great time in the market. To really answer that, I need to take you back a little bit. I need to tell you where this asset was and how it got to where it is. So in the 1990s, a company called Northern Crown had it and put 493 drill holes into it. Then it took it through PFS pre-feasibility at a $325 gold price as an open-pit heap leach.
In 1999, gold was as low as $250 an ounce; the project got shelved in 2000, Northern Crown went bankrupt. Vista Gold came along and picked up the asset but it was busy with a project called Mt. Todd in Australia. By the time 2011 had rolled around, gold was $1,900 and Vista needed to have a look at this asset then. So they drilled a bunch of holes into it. They studied it, calculated a new resource, ran a PEA on it, engaged Tetra Tech to do the work. Tetra Tech delivered a PEA that suggested they build up a CIL plant, full grind, gravity circuit, tailings compound. Yes, recoveries were high, but it was $150 million cap-ex to build and about a $30-some odd million sustaining cost. During the course of that whole study, about two and a half years, the price of gold dropped by $300 some odd dollars an ounce. Vista was busy shoveling money into Mt. Todd. So they mothballed the project and looked for a way to recoup the $8 million they had put in to do that study.
Along came a company called Corex, cut a deal on the property for payments of a million and a half dollars to own it outright with a 1% NSR. Corex merged with Minera Alamos and there's three projects in their company. 2017 comes along, they make an initial payment of a $1.5 million on the property. 2018 comes, they don't have the money to make that second $1.5 million payment. They extend it for six months by a $150,000 cash payment. That's where Prime Mining enters the picture. In February of 2019, Minera Alamos had a bank balance of about $1.8 million Canadian and $1.5 million U.S. payment due to Vista in 30 days.
We cut the deal with Minera Alamos at that point in time and we got the project. So now we have bought a project for $6 million that has a well-studied 530,000 ounce, high-grade oxide deposit, and we know what to do with it. Our plan is to take all that work that's been done in the past and move it forward into production in the next couple years. What's important to note is that Mexico is one of those regions where you don't have to have a mining plan to get a mining permit. Evidenced by SilverCrest this year where they announced their PEA in May of this year and their mining permit in July. Minera Alamos who announced their mining permit at Santana just three months ago, still has not announced the drill resource. Point is you can get a permit to mine in Mexico within 12 to 14 months.
We know that we've got a resource, it well studied. It's already had a lot of met work done on it; it's already had a bunch of rock engineering done on it. Consequently, we can short track it to production that meets our operating plan.
Maurice Jackson: This was a wonderful demonstration of the business acumen that I was referring to on the use of optionality here to acquire the project. You alluded to the mineral resource at Los Reyes. When was that conducted?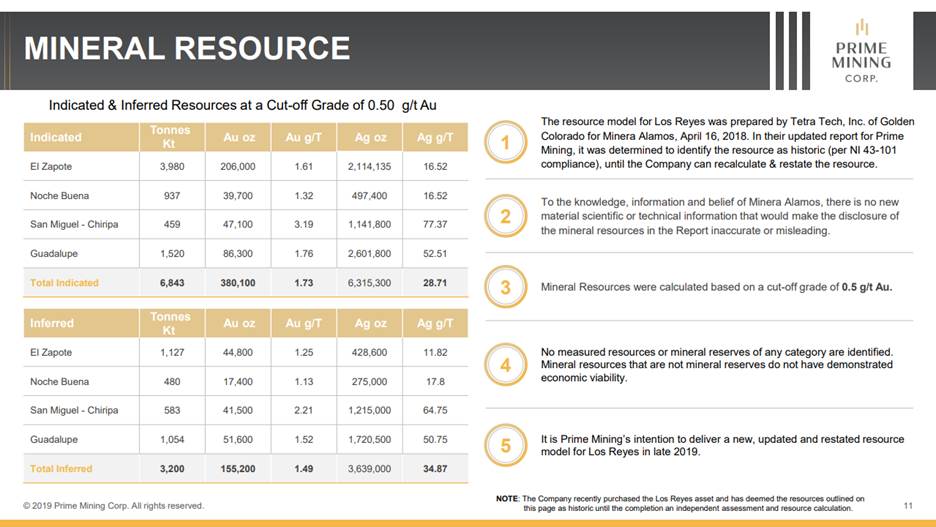 Andrew Bowering: Well, there's a few different resources that were calculated. But the most current resource was calculated in 2012–2013 By Tetra Tech. It is 43-101 current, it's about 530,000-ounces of gold and about 10 million ounces of silver. If you look at the grades of it but keep in mind, this is all oxide, there is no transition zone, no sulfide zone. It's never been drilled deeper than 180 to 200 meters. It's a 1.7-gram oxide deposit. In addition, there's a 500,000-ton starter pit that's at 3.4 grams. The grade of this deposit is twice the average operating grade of an open-pit heap leach in Mexico and maybe three times the grade of that which you would find in Nevada.
We put together 25 open-pit heap leaches operating in Mexico and the average of them is half this grade. It's that robust and it's been calculated on the back of 493 drill holes and considerable surface work. It's ready to mine and it's in a place where it's right to mine.
Maurice Jackson: Mr. Bowering, you have our attention. Open-pit heap leach offer simplicity and the low cap-ex equals a potential for generous profits. But there's more to the story. What can you share with us regarding exploration potential?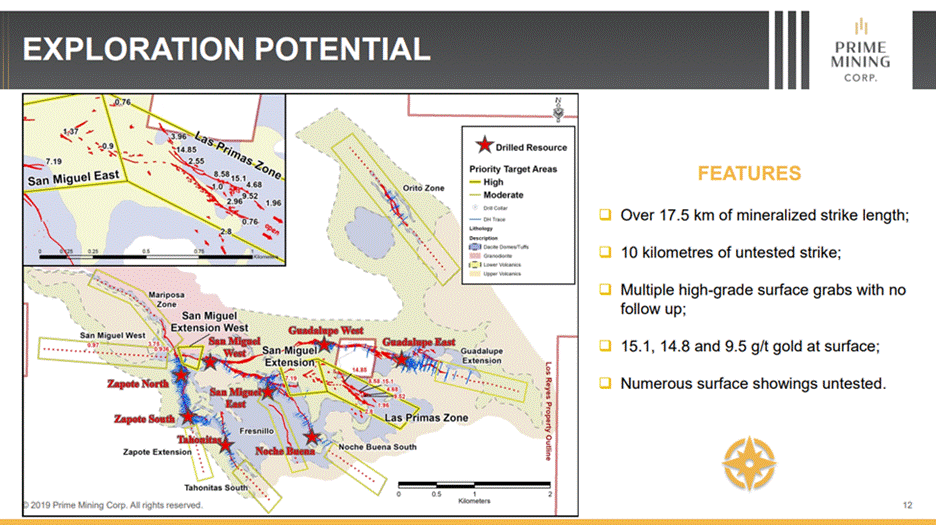 Andrew Bowering: That's the interesting part about Los Reyes. There are those out there that tell you it can be a 1.5 to 2 million ounce deposit and that we should focus on some exploration rather than development. Okay, fair enough. But your drilling off ounces costs $8 to $12 US an ounce to drill them off historically. So to drill off another half million ounces might cost Prime Mining $5 to $7 million US. I would rather pay for that exploration out of cash flow, so get it operating and then explore it. What I will say is that only seven kilometers of known strike length of 17 kilometers have been drilled. If you just take the percentage of shoots that are mineralized, the average thicknesses, the average width, the average depth, and the length and model that all. That tells you there's about 1.5 million potential ounces there. There are several surface showings that have never been drilled but grade from three-quarters of a gram all the way up to 15 grams on surface. So a lot of upsides in explorations but simply, we're going to build a mine first, we'll get it operating and we'll use those cash flows to build it bigger later.
Maurice Jackson: Speaking of cash flow, the company has ambitious plans to be in production in two years. How did management determine the timeline?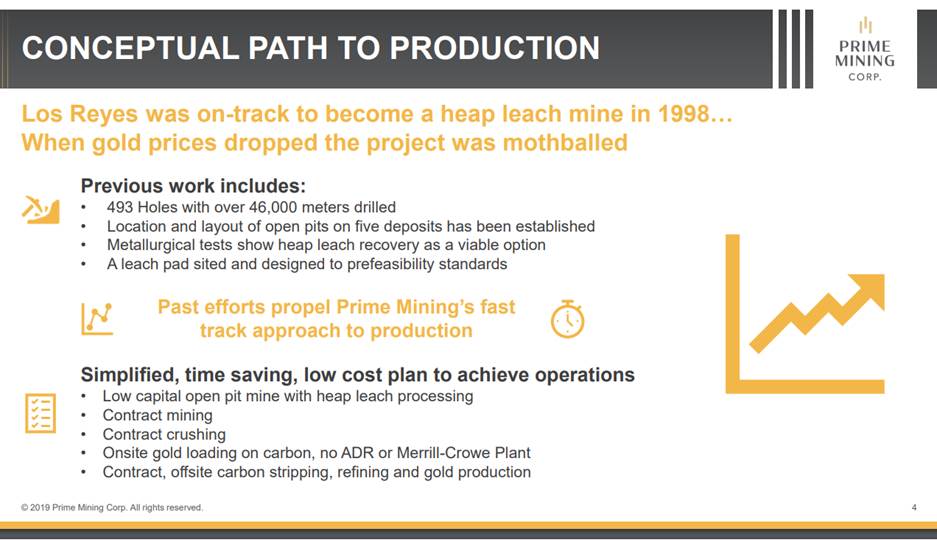 Andrew Bowering: Well, we've looked at several other operations that have a built-in the region and that makes the most sense to us. So we came public September 3, we've been working to calculate a new resource and deliver a current resource that we understand. We would like to have that done by the end of this year. Then we will model it around an open-pit heap leach and deliver a PEA to PFS levels by April of next year.
Now when I say deliver that PEA to PFS levels, I mean we're going to have to contractor bids for every piece of equipment we need to buy. At least two quotations on every process that we plan to employ in the operation of the mine. Once we have that document, we can make a production decision on it. We're pretty sure that we're going ahead with this just because of its grade and its size. But once we do, then we have to wait for that mining permit. Now, we started the process of applying for the mining permit this week. That's about a 12- to 14-month process. When that's completed, we can start the construction. Construction of an open-pit heap leach like this will take about eight months in the region. The only thing that would slow us down would be the rainy seasons, September and October. If we get caught at a certain part of the build during that time, we could be slowed down by a few weeks. Effectively, that's about a two-year process then from start until finish. At that point, we would be employing mining operations, crushing, and stacking on our leach pad. Latency and the pad might lead you 60 days to 90 days before you recover gold, which will put you in that 24 to 30-month period. That's pretty well the timeline for the whole process.
Look, we're optimistic but there's a lot going on in this company as we speak. There are four crews on the ground itself, doing surface geology. There is a team of two geologists, one in Vancouver and one in Tucson, Arizona, doing modeling of all the drill hole and all the data we have right now. There is a team in Boise, Idaho, that's doing the engineering. So I'm talking about the haul road design, the leach pad design, the waste dump design, and the pit design, and then the operating equipment. So there are teams all over working together. I failed to mention there's a team in Mazatlán that's working on the environmental and the engineering to get the permitting completed. So in summary, you got to look at the people in this company and understand how we think that we can do this in a short period of time.
Maurice Jackson: We're going to address that here shortly. I'm intrigued. Can you please provide us with a tour of the conceptual site plan?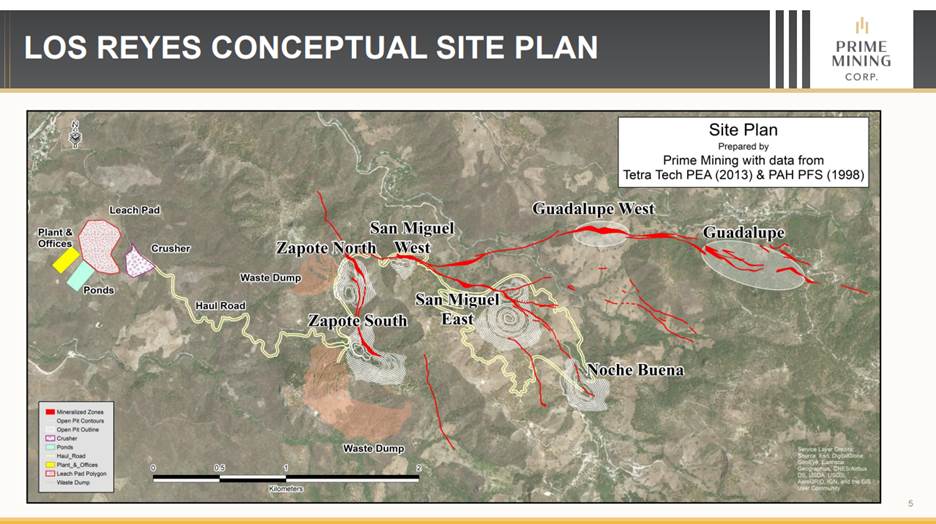 Andrew Bowering: So keep in mind that Los Reyes was on track to be an open-pit heap leach back in the late 1990s, when the price of gold and bad market conditions totally derailed it. But it's a short time to get that done. Now, our plan is not to buy our own rolling stock. There are several contract miners that operate in Mexico. So we're going to employ contract miners to do the mining and the crushing. We will take that crushed rock, agglomerate it with cement and cyanide. Stack it on our leach pads, operate our own carbon recovery circuit and then we will harvest a pregnant carbon and ship that off out of country for stripping. That's a common practice down there. McEwen Mining ships carbon out of country to have it recovered, so does Argonaut. We want to do that so that we don't spend that extra time and extra capital cost and building an ADR plant to recover our own gold. We will look to pay a third-party to strip it or potentially sell it as that offtake.
Maurice Jackson: Now, Mr. Bowering, what type of activity is being conducted currently on-site?
Andrew Bowering: One of the interesting things about Los Reyes is that when they first did all the drilling on it, they looked for adits, where the old miners had gone underground and simply mined. They drilled out from those. So you have these 493 drill holes that pierce the structures between 80 meters and 180 meters below surface. Interestingly though, there was never a coordinated surface trenching program done on the property. Since we're planning an open-pit, we want to know exactly where all the structures are at surface. Now, all of the structures, at least in the first three deposits that we plan on mining on the property, sit on the dip slope, you can stand on them, they outcrop. But as I mentioned, the drill holes don't pierce them higher than about 80 meters below surface. That means that the model is out there right now that was 530,000-ounces that we referenced earlier, either has some inferred on the surface or it's considered waste rock. We are doing a massive 5,000 meters surface trenching program on the property. To fill in all those surface data points of the deposits.
There are four crews on that property. A crew is made up of one geologist, four diggers, and three samplers. There are four crews like that working on that property as we speak. That's on-site. In addition, on-site, we have a couple of Caterpillar D6s opening up the drill roads and the trails that have gone around the property because no one's been actively working there at over six years. So we're cleaning it all up, getting it ready to run new LIDAR surveys and get everything ready to finalize our plans.
Maurice Jackson: Let's discuss some important topics germane to the project, beginning with reversionary interests. Are there any on the project?
Andrew Bowering: There is an NSR due to Vista Gold of 1% of all production on the property. Then there are some other royalties on claims. Overall, there's about a 3% royalty on the whole project. That's very typical as most projects in Mexico have about a 3% royalty. That's all in our models and doesn't change any of our economics. Aside from that, the only other thing that's out there is Vista Gold has a back-in right to a participating 49% in an underground operation. Now, keep in mind that we are planning an open-pit heap leach.
So there's no ability for Vista to back into that. But if somewhere along the line we said that we want to start an underground operation based on an economic study or an engineering study that we've done, they have a 60-day right of first refusal to back in and pay 49% of the cost to enter that. It's kind of a crazy short-circuit, I'm not even sure the words I want to use for it. It really doesn't make any sense for them. I guess they thought that at the time that this agreement was written up, that if somebody did find a 5 or 10 million ounce deposit that they would want to be able to back into it. But 60 days doesn't really give you enough time to determine anything. Quite honestly, if there's a big underground mine found there, we'd probably be thrilled to have a partner.
Maurice Jackson: We're going to get into some numbers later in this discussion. But from a capital expenditure standpoint, let's remind audience members about the existing infrastructure. Why is this paramount to the value proposition?
Andrew Bowering: We're planning on building up an open-pit heap leach. There are already sort of several roads established on the property. The pits have already been and deposits have already been established. So for us, it's a relatively simple job. We've looked at three or four different models for this property and the plan. But I can tell you that we're going to keep it simple. I mentioned earlier that we're going to employ contract miners to mine it for us. We're going to operate an open-pit at about 4,000 to 4,500 tons a day planned operation. That will be mined, hauled to our central facility on the west of the property. It'll be two-stage crushed, agglomerated and then stacked on our leach pads. The cost of doing all that's about a $14 million US build. We're not buying rolling stock, we're not buying our own crushers, we're contracting that out. So effectively, we're running a simple agglomerater, stacking on our leach pad and then running a simple carbon recovery circuit. Probably, no more than four carbon columns and then shipping carbon off. To have it stripped, Idaho's one possibility. So no ADR plant, saving another $3 or $4 million in cap-ex there alone.
The operation is simple. There is enough water in the region. There may be two months, current water balance studies indicate that there's two months of dry season. There's enough power in the region for all of our operations with the exception of the crushing. We will have to generate power for the crushing. But other than that it's a relatively simple operation, no milling, no tailings compound and we have a lot of concrete being poured. You've effectively got three concrete pads being poured. One for a crusher, one for the contractors to change oil on their vehicles. Then one for your agglomeration region. That's about it. So relatively a simple easy build.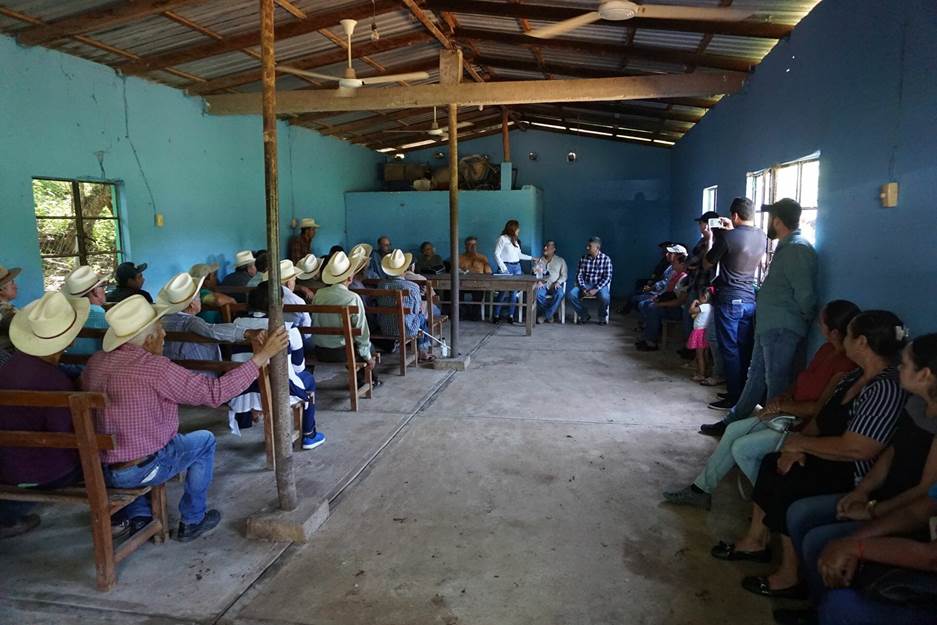 Maurice Jackson: What is your relationship with the community and are they on board with Prime Mining?
Andrew Bowering: That's probably one of the greatest things about this whole deal. We've got to get into some of the management of this. So our executive chair is a gentleman named Dan Kunz. Dan has a storied career. He was CEO of Ivanhoe Mines, he was CEO of MK Gold. MK Gold was a Morrison-Knudsen spin-out that built Castle Mountain and American Girl in Southern California. But in addition, Dan Kunz was a founding director of Chesapeake Gold. Chesapeake Gold is 90 kilometers away with their Metates Project. A 20 million ounce gold deposit. Dan Kunz has a very good relationship with the locals in this community. Dan was able to get us a meeting with the mayor of Cosala the day after we went public. She got us in touch with the president of the local Ejido. Now, Ejido is the communal group that controls the surface access rights. Much like many parts of the world where you have First Nations that control surface access rights or various landholders, the Ejido is the group in Mexico. Without the Ejido on your side, you're not building a mine.
Anyway, we were able to, two days after going public, have a meeting with 17 members of the Ejido. They granted us instant access to the surface rights on the property and voted in favor of building a mine. They wanted a small annual payment and they wanted us to fix their roads so they could get in and out of their communities better. And they wanted us to help them with water during the dry period. Very simple, easy propositions and it was looked after. We will be saying more about the Ejido shortly in public disclosure but suffice to say that we have the access agreement with the local Ejido. We have a very good relationship with the mayor of the closest community, Cosala. We have good relations with the governor of the state. We have excellent relations with the federal government. Our legal counsel for this company was number two in the Ministry of Mines federally. So all in all, very good operating status in the region.
Maurice Jackson: Are you fully permitted?
Andrew Bowering: No, we are not fully permitted yet but we are working towards that. We will start the permitting process this month. We have engaged a firm out of Mazatlán to start that process. It's about a 12 to 14-month process, based on two other companies that we know operating in the region. So we don't suspect that's going to be a significant difficulty. It's a very mining-friendly region. There are several members of the community that really want to work, rather than having to drive 250 or 300 kilometers to work in the mines there. They're looking forward to an operation here at Los Reyes.
Maurice Jackson: We've discussed the good, let's address the bad. What can go wrong and what is your action plan to mitigate that wrong?
Andrew Bowering: That's a tough one. This project has got a lot of things going for it. It's had a lot of money spent on it. We know the resource is there, we know the metallurgy is good on it. It's had column tests run. We know that recoveries are good. I don't think there's anything geologically that sets this company back. Permitting might take a little longer. We've seen companies do it in 12 months, we've seen companies do it in 14 months. Could we get a little delayed with permitting? Maybe. Other than that, I guess the only difficulties may be in funding. Markets can get tough, it can be hard to finance projects. But our company's currently funded all the way through the resource we're going to deliver, the PEA that we will deliver next April or thereabouts. Sometime next year, we're going to have to raise about $20 million to take this through to production. That'll be our tallest order raising the $20 million to put into production.
Now, having said that we've already talked to a couple of Mexican banks. I just came back from a trip to London; I was with several funds and bankers there. Everybody seems to really like this project. So I don't see too many difficulties there. I really can't think of anything that stands out, as being a showstopper here. We've been working on this day in, day out for months now. I don't think anybody in the company would tell you that there's anything here that stands out as worrisome at this point in time. The one last thing I'll add to that is that go through our management, have a look at the depth of the people in here. Our COO's built for mines in Mexico alone.
Maurice Jackson: Well, let's get into the people right now. We've covered the project, let's cover the virtue that Prime Mining offers to the market equally important, which are the people. Sir, your team has a proven pedigree of success. Let's discuss the people responsible for increasing shareholder value. Mr. Bowering, please introduce us to your board of directors.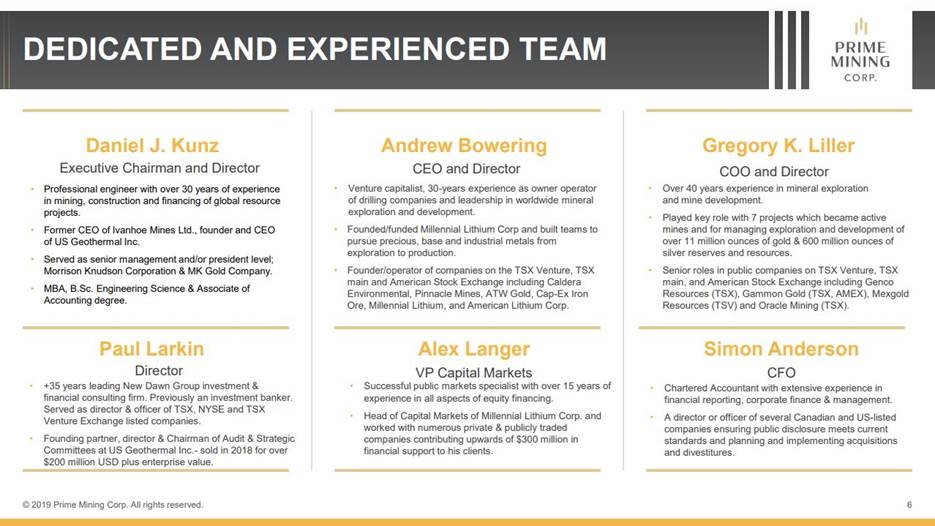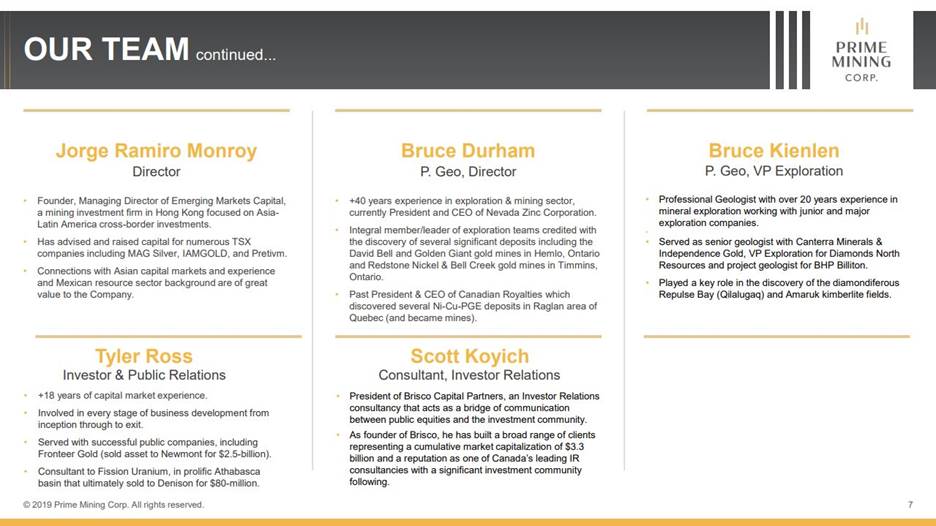 Maurice Jackson: Let's get into some numbers. Sir, please share the capital structure for Prime Mining.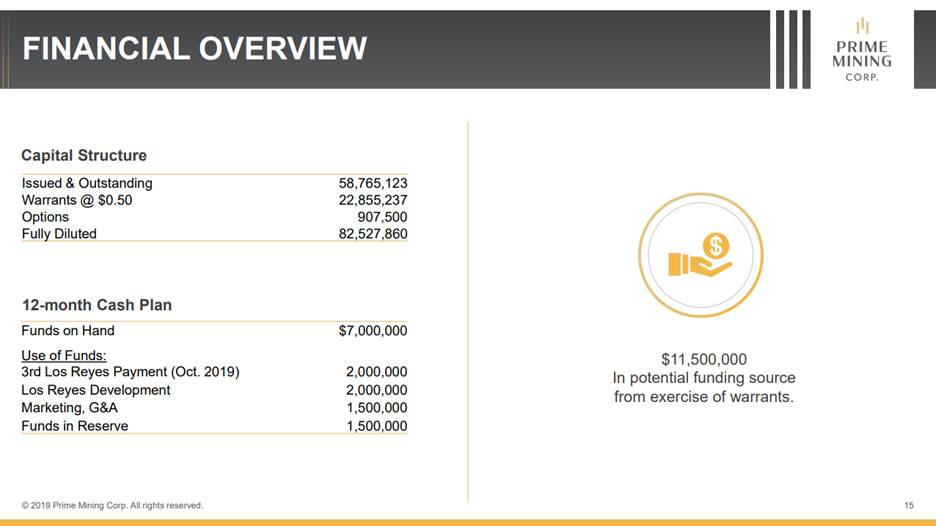 Andrew Bowering: Prime has about 58.7 million shares out. It has never had a share issued on it I think lower than 20 cents a share. There was a very small financing of about a million and a quarter units at 20 cents. The last financing round before this deal was done at 26.6 cents. We currently financed at 30 cents. We went out to raise six million, we ended up raising $8.7 million brokered through friends and insiders. I'm one of the largest investors in the company. I have $3.5 million of my own money tied up in the company. I do not take a salary from the company nor do I accrue one. I work for my equity position. Aside from me, anybody that did take a salary or deserves a salary, swapped out their first-year salary into equity of the company at 30 cents a share. We are all in this to build something successful and return it back to shareholders. There are a couple other mining engineers that have a couple of percent stake in the company and then there are a couple of funds worldwide that came into our financing.
Aside from that, 58.7 million shares issued in outstanding, there are 22 million warrants or thereabouts exercisable at 50 cents for two years. If those warrants were to come in due to a strong market, that'd be all the money we need to get this thing to the finish line.
Maurice Jackson: How much cash and cash equivalents do you have right now?
Andrew Bowering: Now, we have about just under $4 million in cash right now and are fully funded to deliver that new resource to the investors at the end of the year and the PEA mid-first-half next year.
Maurice Jackson: How much debt do you have?
Andrew Bowering: Right now, there's $1 million in debt in the company that is a note payable to me. In March of this year when we first put this deal together with Minera Alamos there was that $1.5 million US payment due to Vista. I made that with two other parties. We put up $2 million Canadian to make that payment. On the financing closing August 30 this year, we paid back those two arm's length investors and I agreed to keep my $1 million loan in the company at the direction of the board for conversion later or payment later when it was in the company's better interest to do it.
Maurice Jackson: What is your burn rate?
Andrew Bowering: Now, that's an interesting question because it really varies on what tasks we have going on. We've been buying a couple of trucks and little bits and pieces here and there and paying for surveys this. Different parts of the property and engineering services here in there. But I'm going to suggest it's around $200,000 a month right now.
Maurice Jackson: Who are the major shareholders?
Andrew Bowering: I'm one of the largest shareholders and my family and I control well over 15% of the company. Minera Alamos owns 17% of the company, our board controls about another 10% of the company. A fund out of Australia called Terra Capital owns 4% of the company. Commodity Capital of Luxembourg owns 6% or 7% of the company. Then a bunch of our supporters, our friends, some mining engineers that recognize what we have own 3% or 3% of the company. It's over 50% owned by our supporters.
Maurice Jackson: That addresses one of my next question, which is what is the float? I know you have a lot of capital invested in the company. But when was the last time you purchased shares and at what price?
Andrew Bowering: The last time I guess I purchased shares was in the financing that closed August 30. I would think one of my family members has purchased stock in the company within the last two or three weeks.
Maurice Jackson: Are there any redundant assets on the books that we should know about?
Andrew Bowering: Yes, there are a couple other assets. There are six or seven grassroots properties in Sinaloa State in Mexico that are in the company. We're just trying to determine what to do with those now. We have Grupo Mexico looking at one of them and I have to get back to them shortly on a potential disposition cost. They're looking to see what we would want for it. There's also we have a 50% ownership in a gold-cobalt prospect in Idaho, that sits next to Jervois Idaho cobalt project. We have to determine what to do with that as well. But I think we will be divesting of it at some point.
Maurice Jackson: Are there any change of control fees? If yes, what is the compensation?
Andrew Bowering: No, there's none. I'm really opposed to those sorts of things. As I mentioned earlier, I don't take a wage from the company and I don't believe in those fancy golden handshakes that really penalize shareholders because management did something successful. I'm just not in favor of them, so there aren't any.
Maurice Jackson: Quite impressive. Is management charging a consultant fee for any services?
Andrew Bowering: I do not. Dan Kunz does not directly either. Dan Kunz takes no pay. But we do hire two of Dan Kunz's engineers. I believe that we are saving the shareholder's money by doing that because I think that they're making things much easier for us when it comes to hiring the independent engineer to vet our final PEA. I think that the cost savings will be significant.
Maurice Jackson: In closing, multilayered question, what is the next unanswered question for Prime Mining? When can we expect the response and what determines success?
Andrew Bowering: Well, we're going to deliver a resource to the market sometime in the next 30 days, I believe. The resource that's out there now at 530,000 ounces of gold and 10 million ounces of silver. That's a Tetra Tech resource calculated in 2013, re-papered or re-plated in 2018 by Minera Alamos. We need to be satisfied that all that work is correct, that it's accurate and that it's right. A whole bunch of new results from the property are coming over the next two months. Then a PEA coming shortly thereafter, that talks about this whole plan as an open-pit heap leach. What it's going to look like, what the costs of it are going to be, what it looks like it's going to be able to make, what its operating costs are going to be? It'll be a very good statement for shareholders and we hope to have that delivered by about April. Then it will be simply waiting for that production announcement decision.
Maurice Jackson: Quite exciting times for Prime Mining, I look forward to the press releases here in the near future. Andrew, what keeps you up at night that we don't know about?
Andrew Bowering: Just running companies, just running this company. I like to work, Maurice, I've worked hard all my life. I'm 60 now, I love doing this and I can't let it go. So I lie in my bed and I think about what about this, what about that? What it's going to look like when this data comes in? The success of this company is what keeps me up at night.
Maurice Jackson: Well, I can vouch for that, you and I've been corresponding here in the last month. We're talking in all hours of the night, no matter where you are geographically. You're on the task and you're trying to increase shareholder value. I can vouch for that. We've had some discussions offline here. Mr. Bowering, last question. That is what did I forget to ask?
Andrew Bowering: That's a good question, Maurice. You asked me about what keeps my mind up at night. Well, I can continue in that, I can think of things all the time. But you know what? I think you've done a really good job picking the main points of this thing and getting out of me what needs to get out. There's really nothing else we need to go over right now. I am required to give you my answers sort of in the context of 43-101. But what I would like to do at a future date is I'd like to actually get into how that mining plan looks and talk about seven-year mine life and up. How many ounces of annual production and things like that as our relationship grows a little more.
Maurice Jackson: Well, we look forward to having you share that with our subscribers here. Mr. Bowering, for someone listening that wants to get more information about Prime Mining, please share the website address.
Andrew Bowering: Our website is www.primeminingcorp.ca.
Maurice Jackson: For direct inquiries, contact Jeremy Ross at 604-428-6128 or you may email [email protected]. Prime Mining trades on the TSX.V, symbol PRYM.
Before you make your next bullion purchase make sure you call me. I'm a licensed representative for Miles Franklin Precious Metals Investments. We provide a number of options to expand your precious metals portfolio. From physical delivery, offshore depositories, precious metal IRAs and private blockchain distributed ledger technology. Call me directly at 855-505-1900 or you may email [email protected]. Finally, please subscribe to www.provenandprobable.com for mining insights and bullion sales.
Andrew Bowering of Prime Mining, thank you for joining us today on Proven and Probable.
Maurice Jackson is the founder of Proven and Probable, a site that aims to enrich its subscribers through education in precious metals and junior mining companies that will enrich the world.
[NLINSERT]
Disclosure:
1) Maurice Jackson: I, or members of my immediate household or family, own shares of the following companies mentioned in this article: Prime Mining. I personally am, or members of my immediate household or family are, paid by the following companies mentioned in this article: None. My company has a financial relationship with the following companies mentioned in this article: None. Proven and Probable disclosures are listed below.
2) The following companies mentioned in this article are billboard sponsors of Streetwise Reports: None. Click here for important disclosures about sponsor fees.
3) Statements and opinions expressed are the opinions of the author and not of Streetwise Reports or its officers. The author is wholly responsible for the validity of the statements. The author was not paid by Streetwise Reports for this article. Streetwise Reports was not paid by the author to publish or syndicate this article. The information provided above is for informational purposes only and is not a recommendation to buy or sell any security. Streetwise Reports requires contributing authors to disclose any shareholdings in, or economic relationships with, companies that they write about. Streetwise Reports relies upon the authors to accurately provide this information and Streetwise Reports has no means of verifying its accuracy.
4) This article does not constitute investment advice. Each reader is encouraged to consult with his or her individual financial professional and any action a reader takes as a result of information presented here is his or her own responsibility. By opening this page, each reader accepts and agrees to Streetwise Reports' terms of use and full legal disclaimer. This article is not a solicitation for investment. Streetwise Reports does not render general or specific investment advice and the information on Streetwise Reports should not be considered a recommendation to buy or sell any security. Streetwise Reports does not endorse or recommend the business, products, services or securities of any company mentioned on Streetwise Reports.
5) From time to time, Streetwise Reports LLC and its directors, officers, employees or members of their families, as well as persons interviewed for articles and interviews on the site, may have a long or short position in securities mentioned. Directors, officers, employees or members of their immediate families are prohibited from making purchases and/or sales of those securities in the open market or otherwise from the time of the interview or the decision to write an article until three business days after the publication of the interview or article. The foregoing prohibition does not apply to articles that in substance only restate previously published company releases.
Proven and Probable LLC receives financial compensation from its sponsors. The compensation is used is to fund both sponsor-specific activities and general report activities, website, and general and administrative costs. Sponsor-specific activities may include aggregating content and publishing that content on the Proven and Probable website, creating and maintaining company landing pages, interviewing key management, posting a banner/billboard, and/or issuing press releases. The fees also cover the costs for Proven and Probable to publish sector-specific information on our site, and also to create content by interviewing experts in the sector. Monthly sponsorship fees range from $1,000 to $4,000 per month. Proven and Probable LLC does accept stock for payment of sponsorship fees. Sponsor pages may be considered advertising for the purposes of 18 U.S.C. 1734.
The Information presented in Proven and Probable is provided for educational and informational purposes only, without any express or implied warranty of any kind, including warranties of accuracy, completeness, or fitness for any particular purpose. The Information contained in or provided from or through this forum is not intended to be and does not constitute financial advice, investment advice, trading advice or any other advice. The Information on this forum and provided from or through this forum is general in nature and is not specific to you the User or anyone else. You should not make any decision, financial, investments, trading or otherwise, based on any of the information presented on this forum without undertaking independent due diligence and consultation with a professional broker or competent financial advisor. You understand that you are using any and all Information available on or through this forum at your own risk.
Images provided by the author.