In my first write up about drones, I used the phrase "The Drones are coming." Perhaps now it is more appropriate "The Drones are multiplying like rabbits." The FAA announced that there were more than 122,000 commercial drone pilots in early 2018. Combined with the 878,000 hobbyists, there were more than 1 million total drone registrations. The chart below is the FAA projection for commercial drones.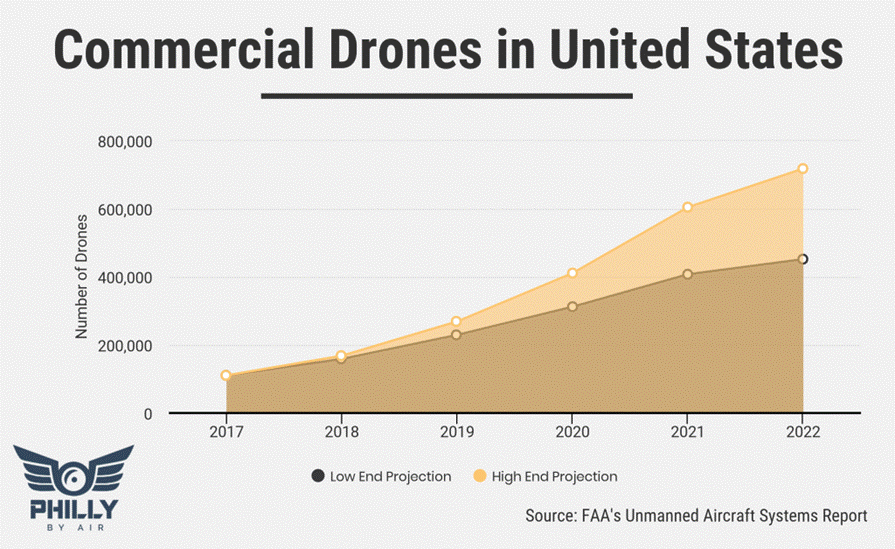 A projection from Grandview Research estimates categories and size of U.S. commercial drone market: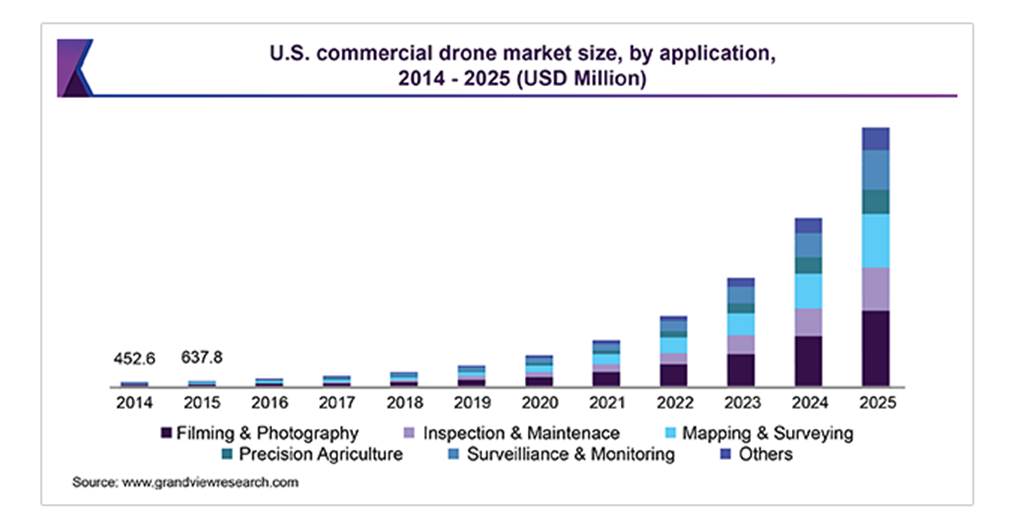 The global commercial drone market size was valued at US$5.80 billion, with an estimated 274,600 units sold, in 2018. The market is anticipated to register a CAGR of 56.5% during the forecast period according to Grandview Research.
What's driving this strong growth? It is the increasing technical capability and efficiency of drone technology, as Goldman Sachs points out.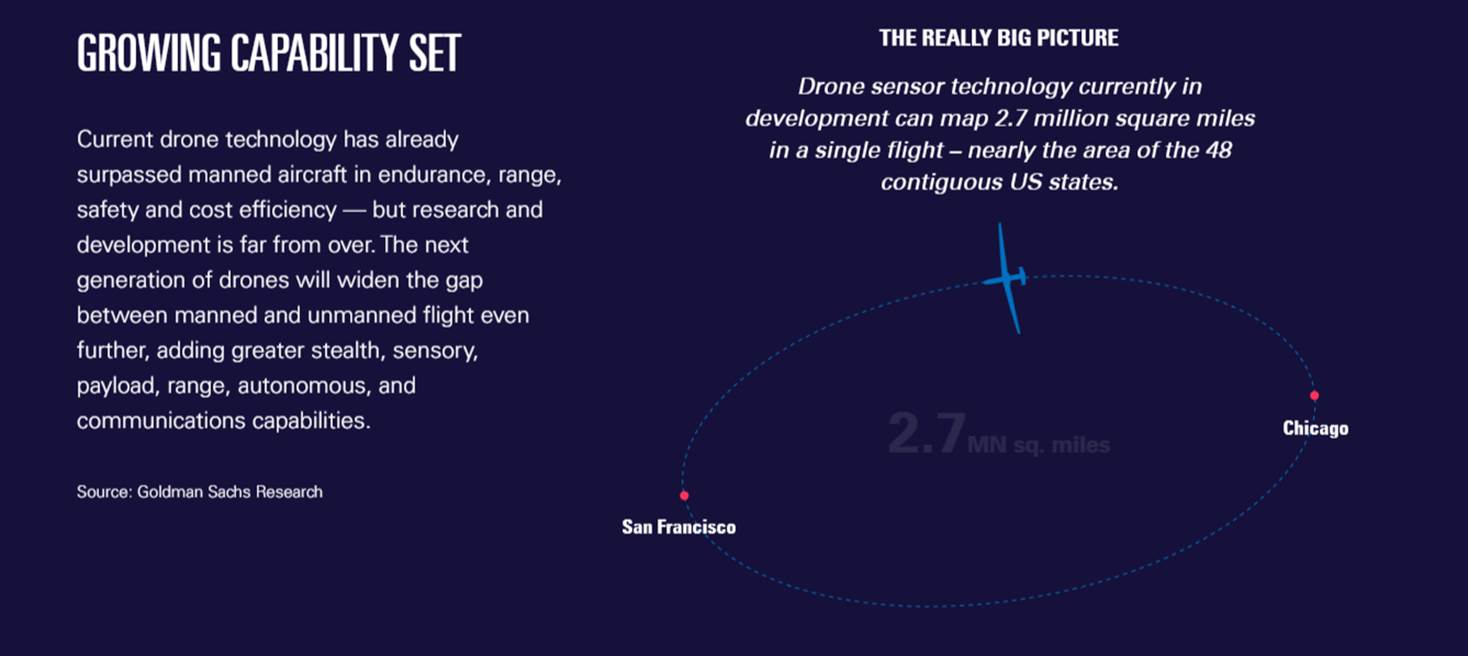 The drone market is witnessing very strong growth, but it is not easy to find great investments in the sector. There are not many public companies and many have a focus on a smaller narrow market. The other factor until recently is Chinese domination in the sector. However, this has been abruptly ended and few investors have picked up on a dramatic shift that will occur in the U.S. drone market.
A hint was in the FAA report.
This is one highlight in a 100-page FAA report; the bold is my doing
"The small drones market globally is the increasing number of security concerns at the international level. In major events, these drones are highly preferred for surveillance applications in large cities. The growing demand for safety and surveillance applications is also accelerating the small drones market to a great extent. In order to precisely gather accurate sensitive data by using advanced drones, shortage of skilled drone pilots is observed for both military and commercial purposes."
If you have a growing number of drones doing surveillance in the U.S. you would not want to have foreign and or Chinese drones collecting that data. How secure and vulnerable is it? A drone could send data all over the world instantly these days.
On October 31, it came to a head as the U.S. Department of Interior grounded hundreds of Chinese made drones. Furthermore a U.S. bill banning foreign and Chinese drones passed the U.S. House committee, so a step closer to becoming law.
You would not think that was such a big deal except Chinese drone company DJI dominates the world and U.S. research firm Skylogic reported in 2018 that 79 percent of commercial drones operating in Canada and the United States are manufactured by DJI.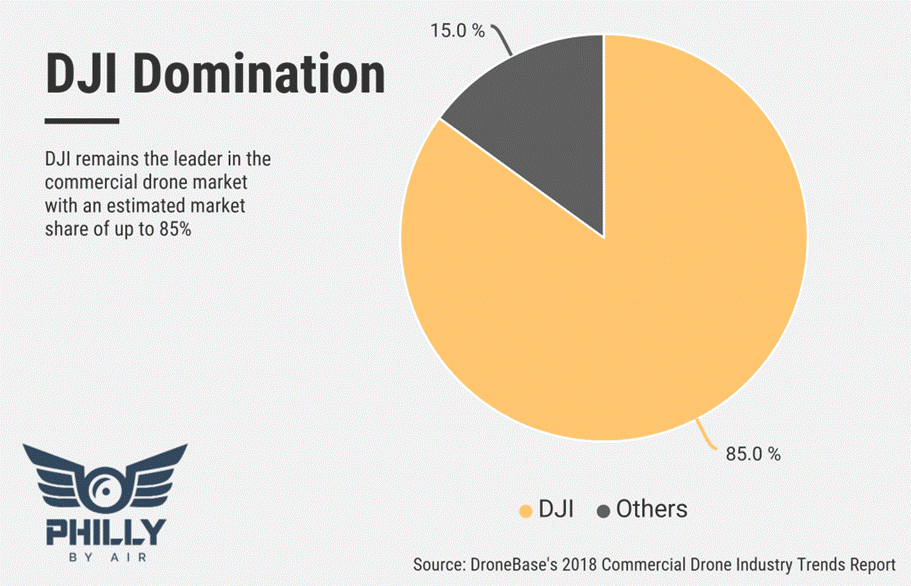 This is going to be a huge benefit to Canadian and U.S. drone companies. As luck would have it, or good timing, a North American drone company that has gone public in November on the CSE is positioned perfectly for this abrupt change. This is no ordinary drone company, while it has just gone public, it has been a growing concern privately for a long time. Founded in 1998, Draganfly Inc. (DFLY:CSE) is recognized as one of the first commercial multi-rotor manufacturer and has a legacy for its innovation and superior customer service.
I met with the CEO in Toronto, early November.
Draganfly CSE:DFLY Recent Price - $0.60 Shares outstanding – 69.7 million approx.
Draganfly has sold products and services to over 50 countries. To date, Draganfly has sold over 9,000 of its drones for multitudes of applications around the world. Zenon Dragan is the founder of Draganfly and is a recognized leading expert on UAVs. Draganfly is positioning itself as an integrated solutions provider to the UAV industry.
Draganfly introduced its first systems in 1999 and has since evolved and shaped the UAV industry. The company's aircraft are widely used by public safety agencies worldwide and were one of the first UAVs to receive a Federal Aviation Administration Certificate of Approval the fall of 2009 with the Mesa County Colorado Sheriff's Office. In 2012, the Royal Canadian Mounted Police (RCMP) flew one of the company's drones to locate and save the life of an accident victim. The RCMP system is on permanent display at the Smithsonian National Air and Space Museum. Draganfly has achieved many industry firsts, including:
first public safety UAV to shoot aerial photos documenting a manned aircraft accident in an urban area;
first UAV operated by a public safety organization flown at night to locate and save a life;
first UAV helicopter to be granted a county wide U.S. FAA COA; and
recently named as a test platform at one of the U.S. FAA's certified test sites.
Management – see new COO appointed Nov. 12, Patrick Imbasciani
Cameron Chell, Chairman and CEO, is the co-founder of Business Instincts Group, Inc., a venture creation, business development and product development accelerator. Mr. Chell has been a technology entrepreneur for over 30 years and has spent his career growing a diverse collection of high-potential ideas into revolutionary companies that have changed the way we experience the world. Mr. Chell takes a very hands-on leadership role in projects, infusing innovation and adoption with operational principles of clarity, alignment and measurement into the culture of every company he works with.
Paul Sun, CFO, has over 20 years of business experience and has held numerous senior roles at investment banks including Scotia Capital, Desjardins and Beacon Securities. Mr. Sun has provided financial solutions to small start-ups to $billion market-cap companies and involved in transactions across the entire capital structure.
Scott Larson, director, brings over 20 years of corporate finance, technology development and entrepreneurial experience to the board. Currently CEO of Kater, a Vancouver-based mobility as a service (MaaS) company building out an integrated intermodal transportation platform incorporating public transportation, buses, taxis and ride-hailing vehicles into a single service. Previously, Mr. Larson has been CEO and co-founder of Helios Wire, a satellite company building out a space-enabled IoT/M2M network, and was CEO/co-founder of UrtheCast. Mr. Larson helped scale the company from its inception, taking it public on the Toronto Stock Exchange, raising $200 million, and leading the company to 250 employees over five years with seven offices around the world.
Andy Card, director, is the second longest-tenured White House Chief of Staff, has served in senior government roles under three U.S. presidents. Mr. Card serves on the board of directors of public corporation Union Pacific, on the Business Advisory Board of BrainStorm Cell Therapeutics, on the Advisory Board of the U.S. Chamber of Commerce, and on a number of non-profit boards.
Mr. Card, served as chief of staff to President George W. Bush from January 2001 to April 2006. Before that, Mr. Card was VP-Government Relations for General Motors Corporation. From 1993 to 1998, Mr. Card was president and CEO of the American Automobile Manufacturers Association. Mr. Card also served as deputy chief of staff and then as a cabinet member for President George H.W. Bush as the 11th Secretary of Transportation. Prior to that, he served as special assistant (1983 to 1987) and later as deputy assistant to the president and director of intergovernmental affairs for President Ronald Reagan (1988), where he was a liaison to governors, statewide elected officials, state legislators, mayors and other elected officials.
Zenon Dragan, born and raised in Saskatoon, is the founder and co-owner of Draganfly. He's had a lifelong passion for flying machines and possesses the entrepreneurial spirit. He co-founded and sold a successful toy business prior to launching Draganfly in 1998 with his wife Christine. Innovation has always been the driving force behind the business and Zenon and his team are interested in creating things that haven't been done before.
Draganfly Inc. has appointed military and unmanned aerial vehicle/unmanned vehicle systems (UAV/UVS) veteran Patrick Imbasciani as the COO. Mr. Imbasciani is a seasoned business professional with over 20 years of experience building enduring relationships in domestic and international technology markets. He served his country as a sergeant in the United States Marine Corps, was director of health and education programs for the United Nations Pan American Health Organization Foundation in Washington, D.C., and served as senior director of international business development for PrecisionHawk.
"For commercial entities to remain competitive worldwide and for government and public safety to effectively and safely respond to crisis, the use of autonomous systems to collect, process and analyze data is no longer a nice to have, it's a must have. Draganfly has been building reliable, durable, accurate and secure solutions for industry and public serving institutions for over 21 years," said Mr. Imbasciani. "By enhancing our internal operations and working closely with strategic partners and investors, the timing is right for us to scale our North American-made products and services internationally. It will be an honour to build upon the great reputation our talented team has created for itself."
As PrecisionHawk's previous senior director of international business development, Mr. Imbasciani delivered UAS into the day-to-day business of agriculture, insurance and energy, among other industries. He helped expand the company into 10 countries outside of the United States, championed and delivered numerous commercial proof of concepts with enterprise partners, and personally led efforts to collect data with drones in Ecuador, the United States and the Bahamas, following a deadly earthquake, mass floods and hurricanes.
Some Draganfly history
The development of the Draganflyer quad-copter was a game-changer and sparked the imagination of thousands. The Draganflyer multi-rotor helicopters have become the most widely known systems in the industry today.
What sets Zenon and Draganfly apart from the competition is that they're always listening to the customer and adapting the products to meet the needs of the industry. They have the right people and contacts.
The company has won several major awards, including the SABEX, ABEX, and Popular Science's "Best of What's New" award, and they've been featured in hundreds of magazine and news articles. The Draganflyer X4-ES made its mark on the world in May 2013 when it was used by the Saskatoon RCMP to locate a missing driver after a single vehicle roll-over accident and was credited as the first ever small Unmanned Aerial System to save a person's life. The historic flight made it a natural fit for the X4-ES to be added to the collection at the Smithsonian National Air & Space Museum, where it joins 330 other aircraft, including the Enola Gay and one of the first airplanes ever built.
Products
With firm roots in the public safety sector, Draganfly is expanding into precision agriculture, which many are saying is the fastest-growing drone market and will become the largest use case for unmanned systems. I will give a few samples of their products. With all their government contacts and past business, the defense sector will be another strong sector for growth.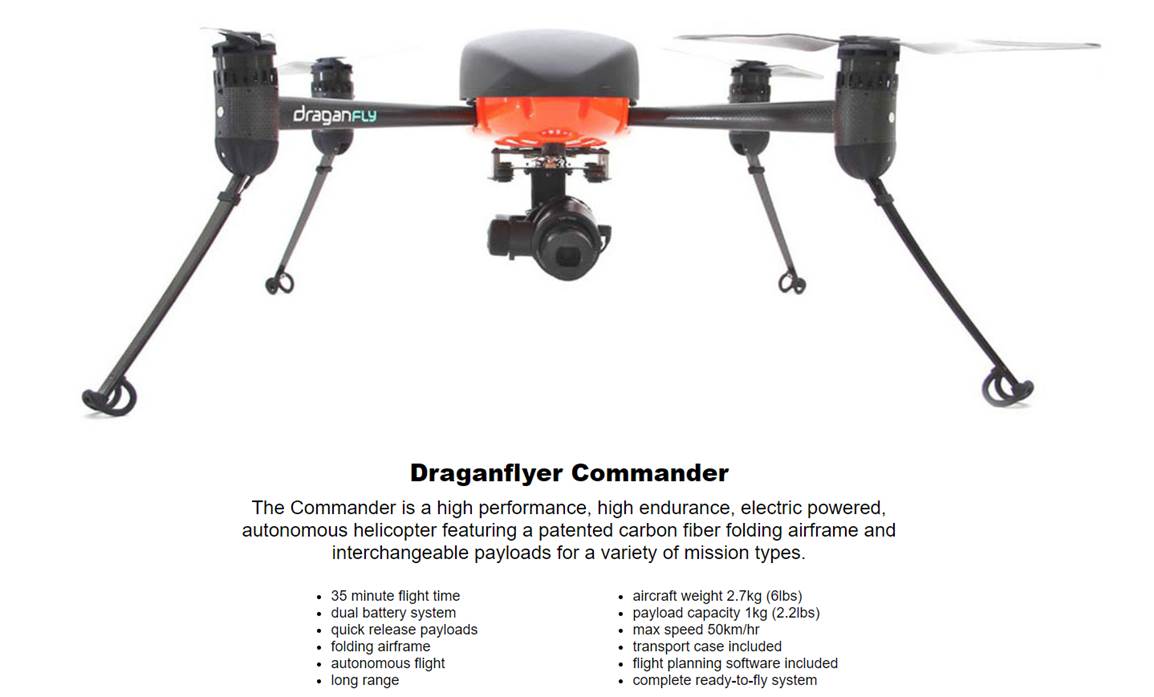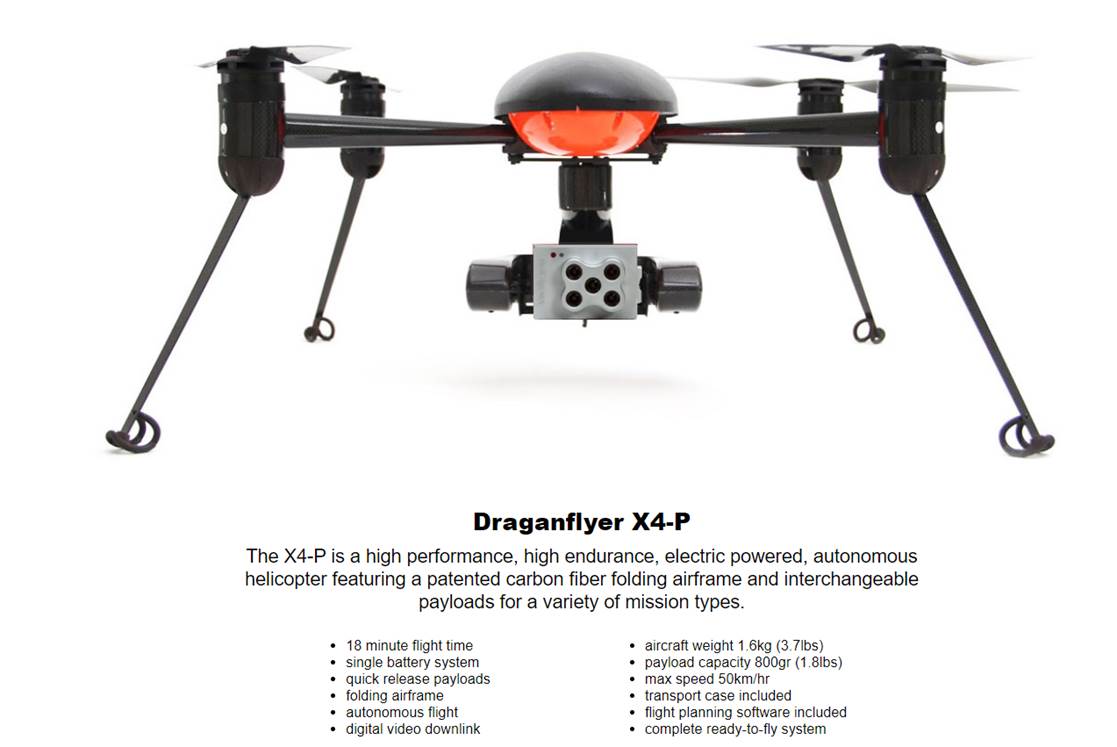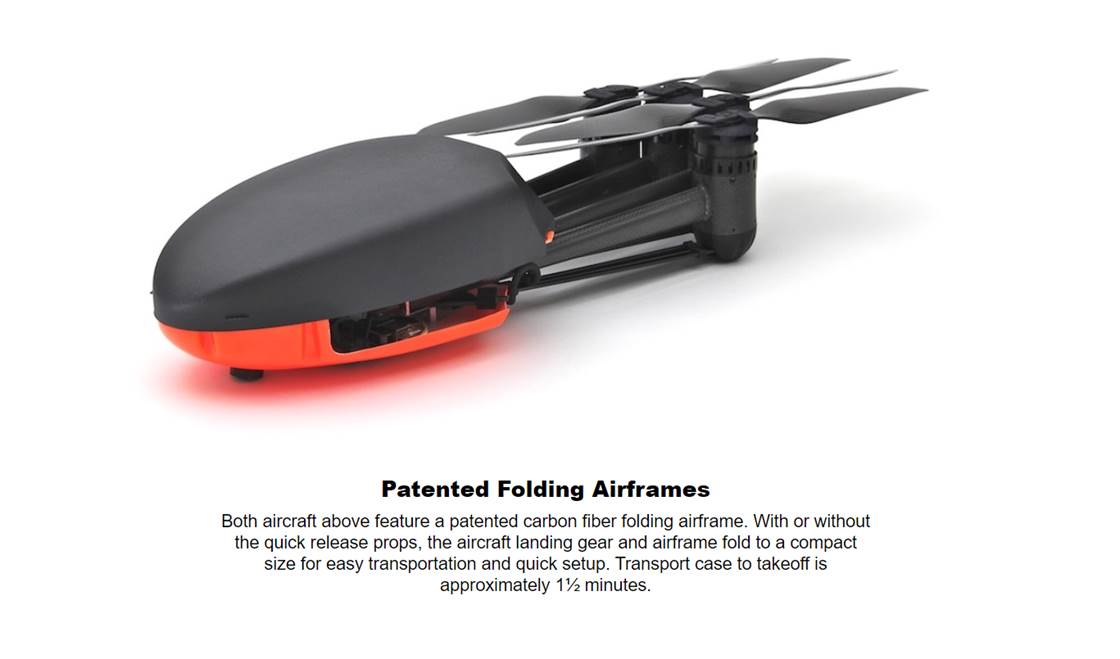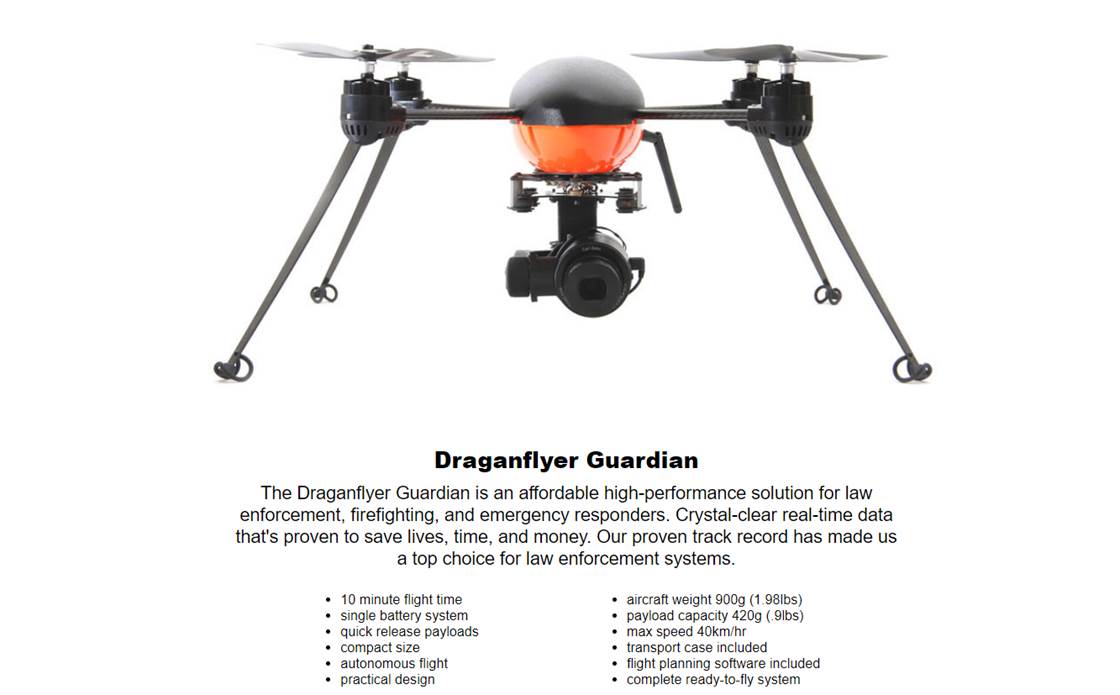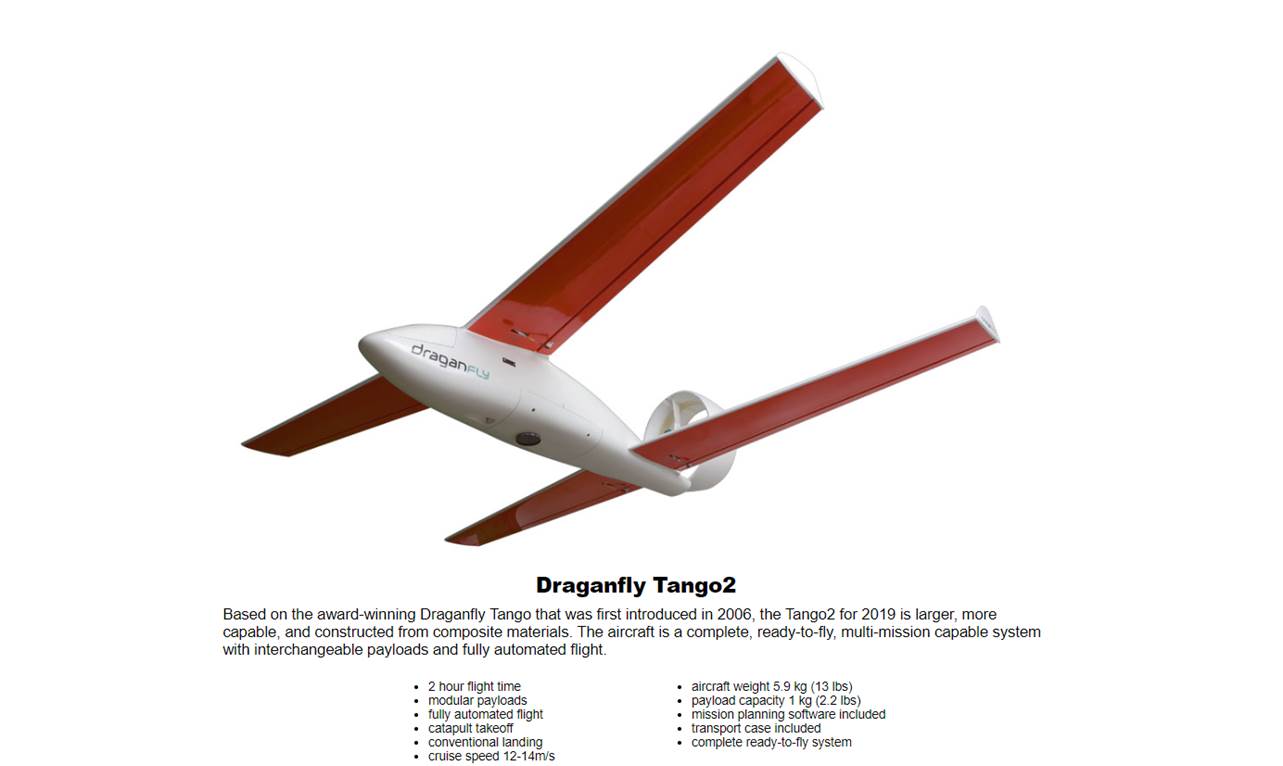 Draganfly has many products and services that are 100% manufactured in North America. I only touched on a handful above, Check out more at this section of its web site. They have sold over 9,000 drones and are an established player in the commercial drone space.
The company can provide its customers with an entire suite of products and services that include quad-copters, fixed wing aircraft, ground based robots, hand held controllers, flight training and software used for tracking, live streaming and data collection. The company's products are manufactured at its facility in Saskatoon, Saskatchewan. Raw materials for the company's products consist of a combination of its original equipment manufacturer parts and United States compliant third-party components.
Draganfly designs and builds some of the most advanced drone systems for the world's most reputable enterprise and government agencies around the world. This is the go-to company for secure, safe and sophisticated drone systems.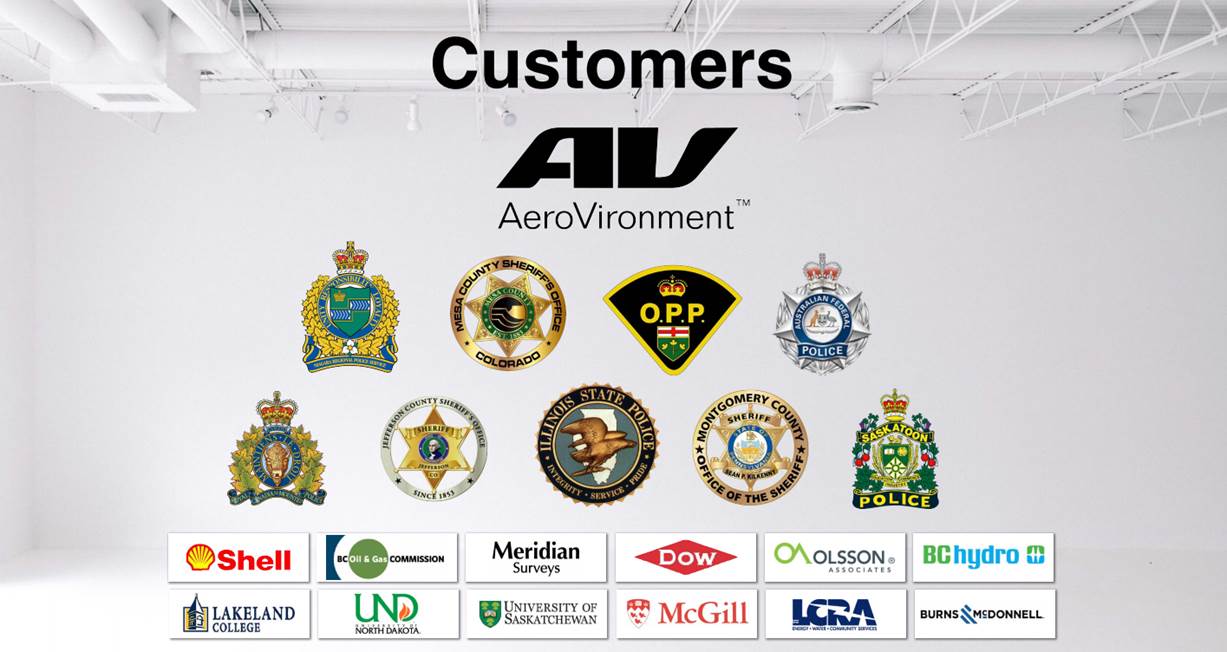 Financial
As part of Draganfly's public debut, a private placement financing was completed resulting in the issue of 14,051,499 units of the company. Each unit consists of one common share and one transferable common share purchase warrant. Each unit warrant will entitle the holder to purchase one common share at a price of $0.50 for a period of 12 months following the issuance of unit warrants. This puts the company in a very good financial position.
With long-term engineering and services contracts in place, the company has a strong base of recurring revenue to support its ongoing and future operations. Revenue for this year should come in around $2 million and I expect growth to the $5 to $6 million range in 2020.
Conclusion
DFLY's market drivers are technological efficiency, new rules opening the market, DFLY's strong management and contacts, increased defense initiative, especially after the drone attach on Saudi oil fields , strong patent portfolio and new restrictions on foreign/Chinese drones.
This graphic from the Goldman Sachs article: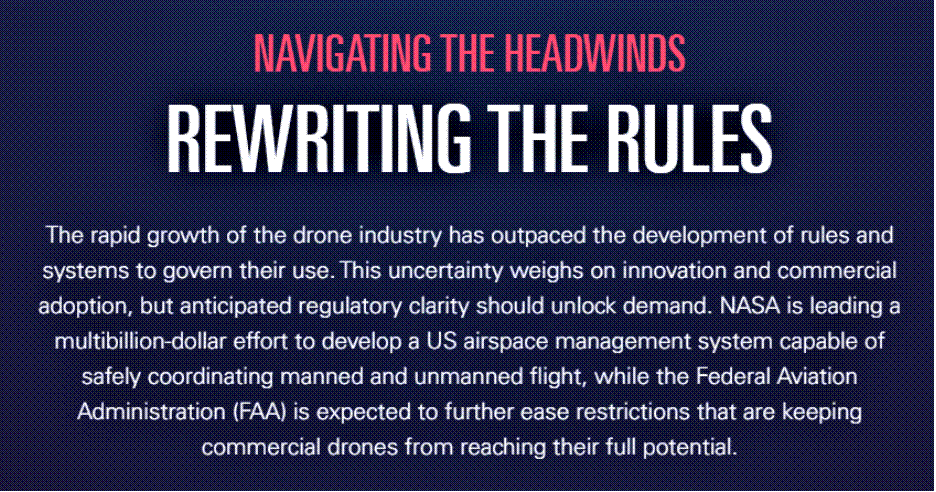 Technology Leadership – With 18 patents in its portfolio and six more pending in the application stage, the company has one of the most significant portfolios of intellectual property in the drone sector and will continue to expand its intellectual property docket. The CEO mentioned to me that the company doesn't submit patents for the sake of patents but only if they feel they are very important ones.
DFLY builds not only drones, but systems too. It provides complete turnkey solution. With its leadership in military applications, a large segment of enterprises will turn to Draganfly and more so after the foreign drone restrictions.
Draganfly has sold over 9,000 drones with many to public safety agencies. Other departments for sales and services include the Saskatoon Police Department, Royal Canadian Mounted Police, Illinois State Police, Sarasota (Florida) County Sheriff's Department, Australian Federal Police and Dubai Police Force. Other companies are Corning, Global Institute for Food Security, Lower Colorado River Authority, Maryland Dept. of Transport, seven universities and many more.
A lot of Draganfly's sales have been to government agencies that take a lot of work getting through due diligence at the highest levels. Those contracts come with a high level of certainty for payment and they usually continue for many years, so a solid source of revenue.
Previously the need for drone capabilities has outweighed the foreign risk. The trade war with China is far more than just about cheap good and unbalanced trade. It has a lot to do with a technology war. That is what all the focus on Huawei is all about and now it is obvious that drone technology is a security risk. U.S. authorities need better solutions and from North American companies, and Draganfly fits the bill perfectly.
I could not get much on detail from the CEO as a lot of their work is classified, but DFLY is presently working on border patrol, counter-terrorism and battlefield payload programs that would bring in far greater revenues from government agencies. I believe that is some of the huge potential upside and these few slides from the company presentation outline their Detect, Defend, Deliver initiative.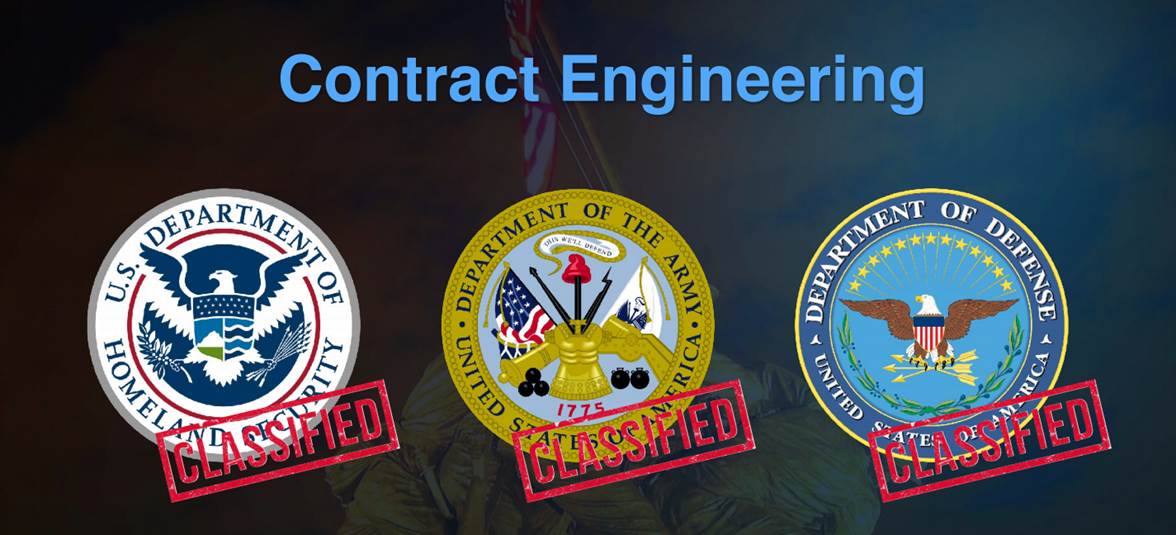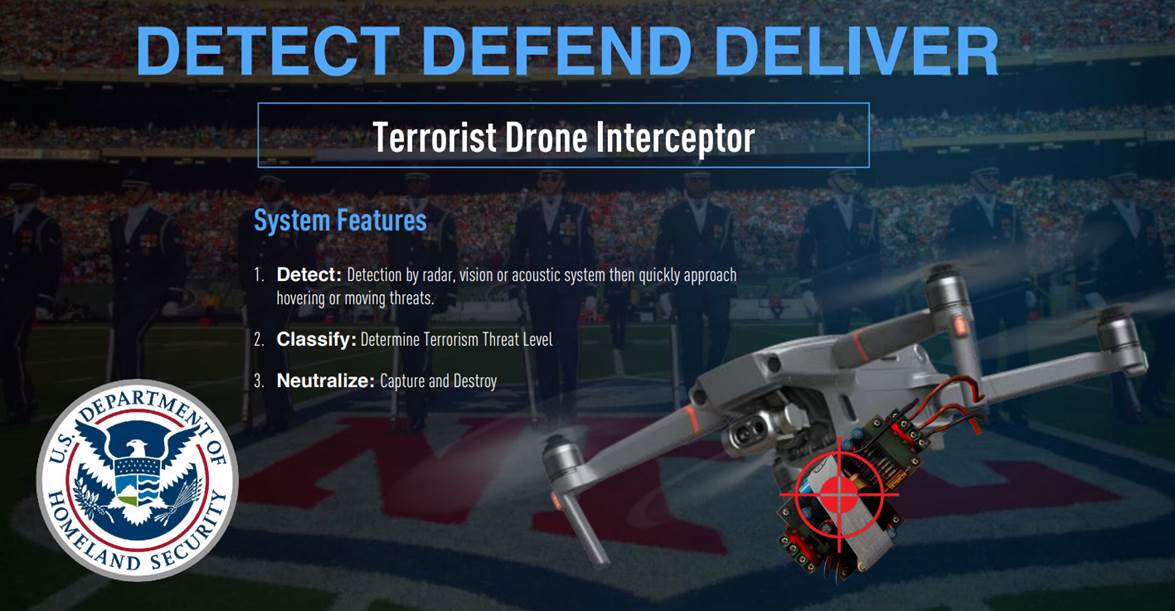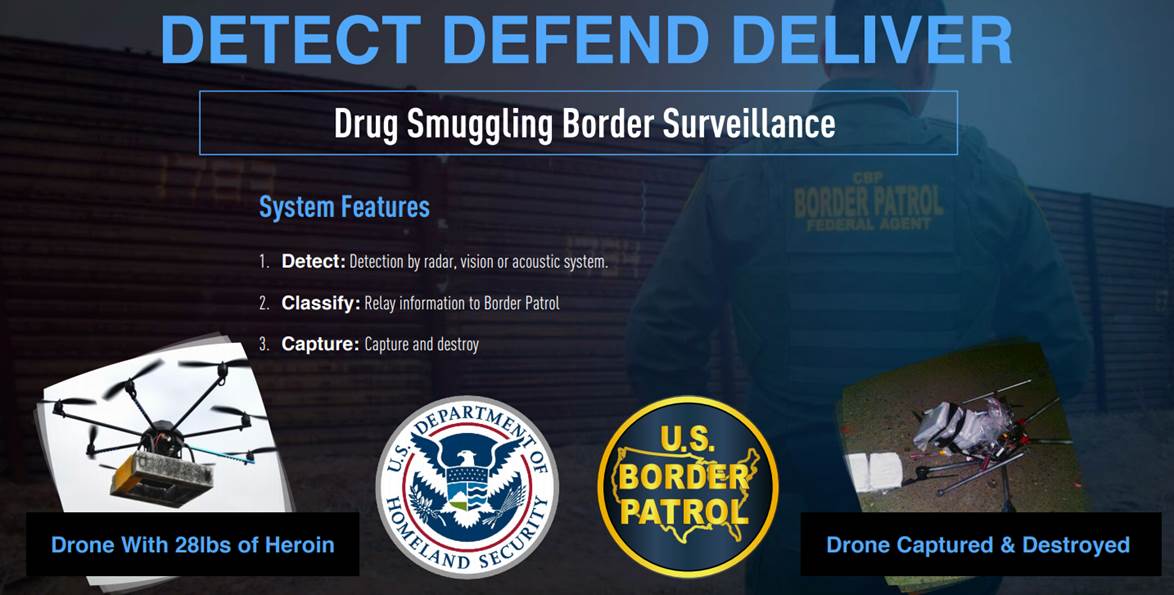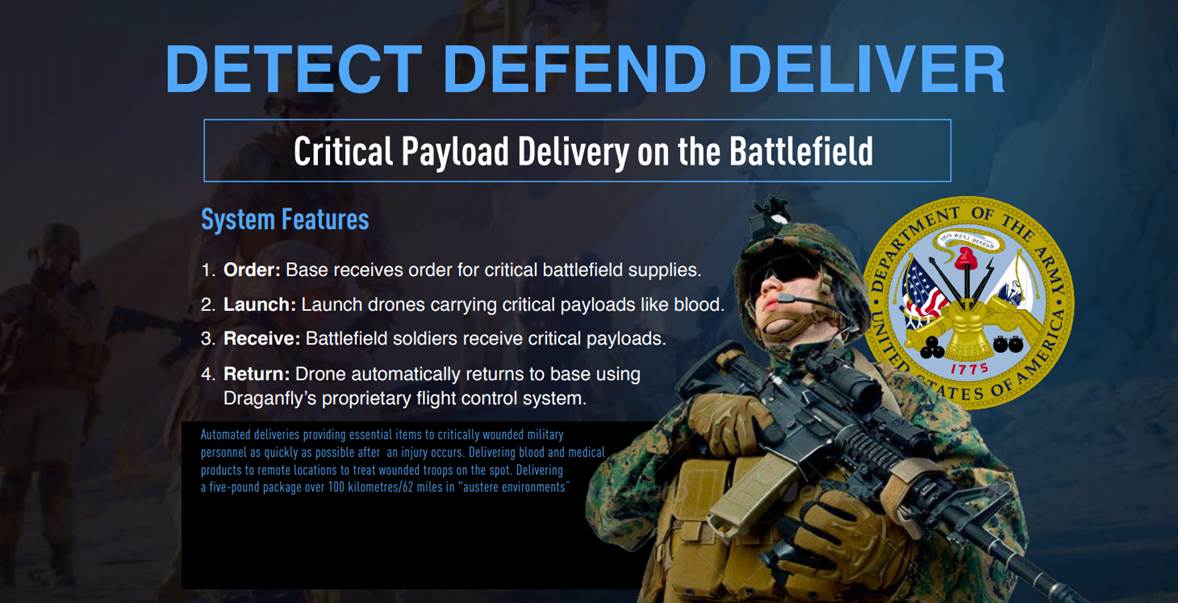 This Youtube video is an excellent overview of the company.
While many drone companies might talk about their plans to provide solutions for U.S. government agencies, DFLY is already doing it. People make companies, so again look who is behind the company and you can be assured they will make huge in roads.
The timing of the foreign drone restrictions and DFLY just coming public is a unique advantage for us, few know about this company yet.
We have made huge profits on drone delivery and even in the recent market correction and low in the stocks, we are still up almost 100% and 250% before the correction. Drone Delivery TSXV:FLT even at this depressed price has a market cap of approximately $140 million.
Drone Delivery and Draganfly do not compete against each other and this market is huge, so many good drone players can do extremely well. I still like and own stock of Drone Delivery and Draganfly makes a perfect addition to our portfolio in this sector.
Currently Draganfly has a market cap of only $42 million, less than 1/3 that of Drone Delivery and Draganfly is farther advanced along the commercialization curve with more revenue. Four of six commercial drones in Canada are Draganfly, obvious Drone Delivery is another.
There is no sense in showing a chart, the stock has only been trading about three weeks, It traded up to 90 cents on the hype of its debut and the recent pull back and consolidation is an excellent entry point.
Ron Struthers founded Struthers' Resource Stock Report 23 years ago. The report covers senior and junior companies with ample trading liquidity. He started his Millennium Index of dividend stocks in 2003 - $1,000 invested then was worth over $4,000 end of 2014 and the index returned 26.8% in 2016. He retired from IBM after 30 years in customer service, systems and business analyst, also developing his own charting software. He has expertise in junior start-ups and was a co-founder of Paramount Gold and Silver.
[NLINSERT]
Disclosure:
1) Ron Struthers: I, or members of my immediate household or family, own shares of the following companies mentioned in this article: Draganfly and Drone Delivery. I personally am, or members of my immediate household or family are, paid by the following companies mentioned in this article: None. My company currently has a financial relationship with the following companies mentioned in this article: Draganfly and Drone Delivery are advertisers at playstocks.net. Additional disclosures below. I determined which companies would be included in this article based on my research and understanding of the sector.
2) The following companies mentioned in this article are sponsors of Streetwise Reports: None. Click here for important disclosures about sponsor fees.
3) Statements and opinions expressed are the opinions of the author and not of Streetwise Reports or its officers. The author is wholly responsible for the validity of the statements. The author was not paid by Streetwise Reports for this article. Streetwise Reports was not paid by the author to publish or syndicate this article. The information provided above is for informational purposes only and is not a recommendation to buy or sell any security. Streetwise Reports requires contributing authors to disclose any shareholdings in, or economic relationships with, companies that they write about. Streetwise Reports relies upon the authors to accurately provide this information and Streetwise Reports has no means of verifying its accuracy.
4) This article does not constitute investment advice. Each reader is encouraged to consult with his or her individual financial professional and any action a reader takes as a result of information presented here is his or her own responsibility. By opening this page, each reader accepts and agrees to Streetwise Reports' terms of use and full legal disclaimer. This article is not a solicitation for investment. Streetwise Reports does not render general or specific investment advice and the information on Streetwise Reports should not be considered a recommendation to buy or sell any security. Streetwise Reports does not endorse or recommend the business, products, services or securities of any company mentioned on Streetwise Reports.
5) From time to time, Streetwise Reports LLC and its directors, officers, employees or members of their families, as well as persons interviewed for articles and interviews on the site, may have a long or short position in securities mentioned. Directors, officers, employees or members of their immediate families are prohibited from making purchases and/or sales of those securities in the open market or otherwise from the time of the interview or the decision to write an article until three business days after the publication of the interview or article. The foregoing prohibition does not apply to articles that in substance only restate previously published company releases. As of the date of this article, officers and/or employees of Streetwise Reports LLC (including members of their household) own securities of Draganfly, a company mentioned in this article.
Charts and images provided by the author.
Struther's Resource Stock Report: All forecasts and recommendations are based on opinion. Markets change direction with consensus beliefs, which may change at any time and without notice. The author/publisher of this publication has taken every precaution to provide the most accurate information possible. The information & data were obtained from sources believed to be reliable, but because the information & data source are beyond the author's control, no representation or guarantee is made that it is complete or accurate. The reader accepts information on the condition that errors or omissions shall not be made the basis for any claim, demand or cause for action. Because of the ever-changing nature of information & statistics the author/publisher strongly encourages the reader to communicate directly with the company and/or with their personal investment adviser to obtain up to date information. Past results are not necessarily indicative of future results. Any statements non-factual in nature constitute only current opinions, which are subject to change. The author/publisher may or may not have a position in the securities and/or options relating thereto, & may make purchases and/or sales of these securities relating thereto from time to time in the open market or otherwise. Neither the information, nor opinions expressed, shall be construed as a solicitation to buy or sell any stock, futures or options contract mentioned herein. The author/publisher of this letter is not a qualified financial adviser & is not acting as such in this publication.
(c) Copyright 2019, Struther's Resource Stock Report