Maurice Jackson: Joining us for conversation is Judson Culter, the CEO of Rover Metals Corp. (ROVR:TSX.V; ROVMF:OTCQB). Glad to have you back on the program, sir, to have you share the value proposition before us in Rover Metals, which is focused on emergent gold and silver opportunities in historic, gold-rich central Nevada in the United States and the Yellowknife district of the Northwest Territories of Canada. Mr. Culter, for someone new to the story, please introduce us to Rover Metals and the opportunity the company presents to the market.
Judson Culter: Rover Metals has drill-ready gold and silver resources that we're essentially looking to move up to an Inferred, or in the case of Nevada, Measured and Indicated resource in 2020. We've got some very high-grade silver in Nevada and with a gold equivalent of an economic grade up to one million ounces. And we've got also some very high-grade gold up in the Northern Canada to the tune of 14 grams per ton. So that's a quick high level. When I say drill ready, what I mean is geophysics has been done, drill permits have been obtained.
Maurice Jackson: Mr. Culter, just to clarify, Rover Metals is early stage, is that correct?
Judson Culter: I would say prior to this acquisition in Nevada, we were early stage. We are in the process of finalizing an acquisition in Nevada, a very large historical resource that's had 17,000 meters of drilling. And there's a portion of that, the high-grade portion of 9 million ounces at 250 grams per ton silver. That's an inferred resource. I think we are mid-stage in terms of a junior; certainly in terms of a mining company it's fair to say we're an early stage that is looking to get to that preliminary economic feasibility calculation within the next year to two years.
Maurice Jackson: Are the company's projects brownfields exploration?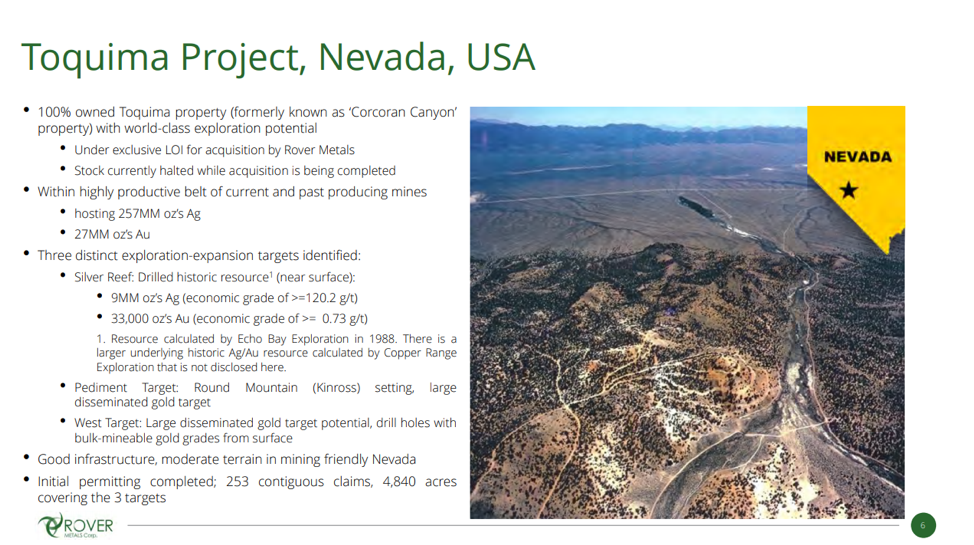 Judson Culter: [On] the Toquima Nevada asset, the silver portion of that is brownfields. We've got a step-out from the historic silver reef zone at our Toquima Project that is three-and-a-half kilometers of golden core, which is a greenfields target. It really just shows an extension of the historical resource, but it is a good anchor silver brownfields project for us in Nevada.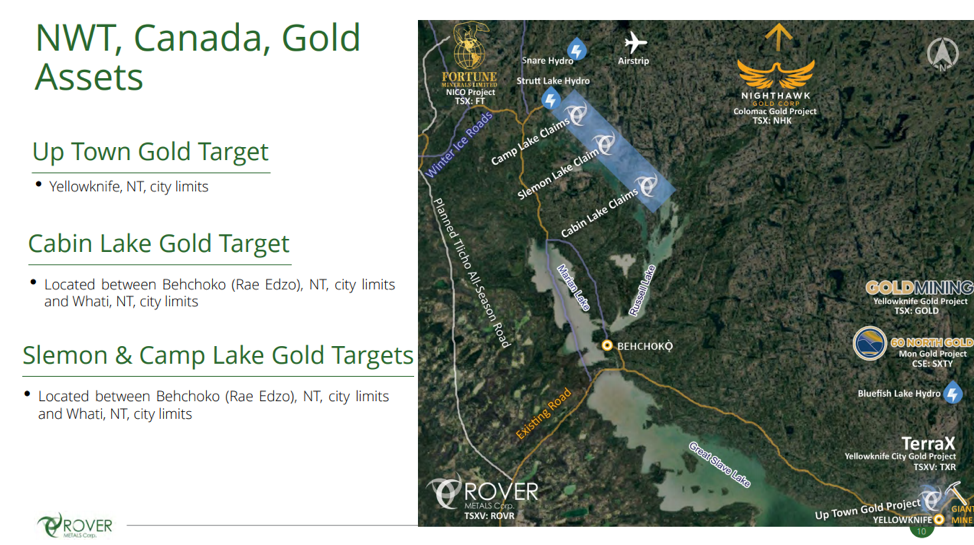 What we have up in Northern Canada, I would say, is an earlier stage greenfields high-grade gold resource to the tune of about 85,000 ounces. And there's only been 7,500 meters of drilling, but I think we could, in a good gold market, in the bull market we're heading into, quickly move that asset into the brownfields category as well.
Maurice Jackson: Let's discuss a topic germane to the value proposition of Rover Metals that I believe a number of speculators may be overlooking. You and I had a conversation regarding your thoughts on merger and acquisition (M&A) market for the precious metals juniors that I thought was quite interesting. Mr. Culter, when is the M&A market for precious metals coming?
Judson Culter: Maurice, there's a good chance for 2020. I think we follow very closely the published reserves of the producers and then there's multiple credible online publications. The listener can just simply type that into Google and look at some of the graphs, where you could see a 10-year stack bar graph [showing] we're in the lowest drawdown on precious metal resources in a decade. And with these kind of gold prices that we're at, and Treasury's getting topped up, I mean, it's just business economics that you would be wanting to acquire projects when you've got the treasure to do it.
Maurice Jackson: Yeah, certainly is. And you look at just the fundamentals and the bureaucratic aspect of the mid-tiers in the major gold companies, they took the exploration side of their business model out and that left an opportunity for junior mining companies. But not just any junior mining company. It takes a company such as Rover Metals, I believe, that has the business acumen and geological acumen to make something come to fruition. And in this case, it looks like we have two opportunities, one in Canada and one in Nevada, which segues into my next question here. And that was, back in April Rover Metals announced an LOI [letter of intent] to purchase a strategic land package in central Nevada. Tell us about the project and the value proposition before us.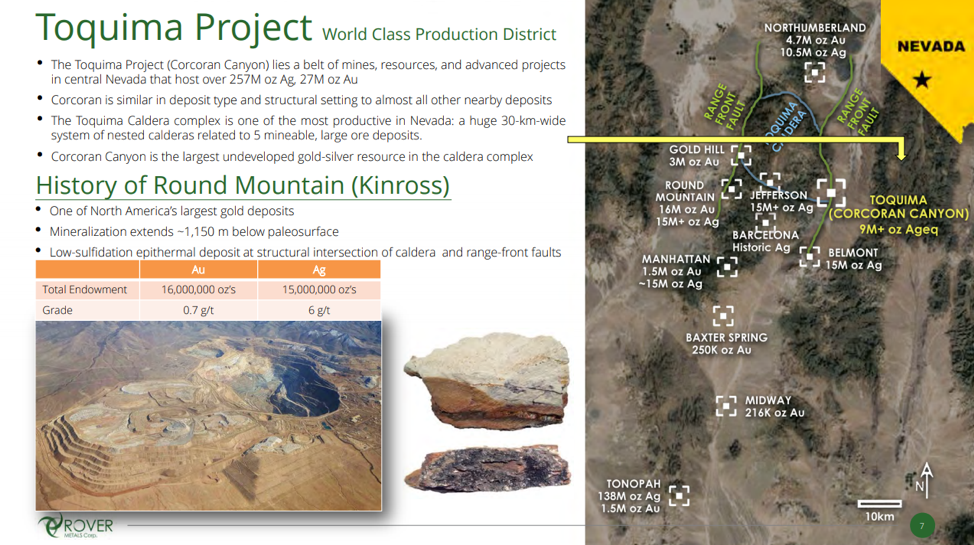 Judson Culter: I think the project is in a great location in Nevada. To start with the value proposition first: Again, on the M&A topic, I think Nevada will continue to stay one of the hottest jurisdictions for M&A, like it was in 2019. At the ultimate ivory-tower level, [it is] with the majors Barrick Gold Corp. (ABX:TSX; GOLD:NYSE) and Newmont Goldcorp Corp. (NEM:NYSE) and the JV [joint venture] that was formed. But it's just a state where it's just so business-friendly and there's just such an endowment of resources there.
The sheer cost of exploration is perfect for the market we're in. I think if we do see the M&A cycle, I think Nevada is the logical place for it to be. That's the value proposition for us is the fact that we're in Nevada. You've got just the boots on the ground, the resources, the support for the industry logistic-wise. Out of Reno, people are on the ground in places like Round Mountain for Kinross Gold Corp. (K:TSX; KGC:NYSE).
[You have] access to the workforce that you need, and just really the historic resource, who's worked this project. Echo Bay did a significant amount of exploration there in the 1980s. We've built the database. It's a good combination of RC [reverse circulation] drilling and diamond core drilling at this Toquima Project.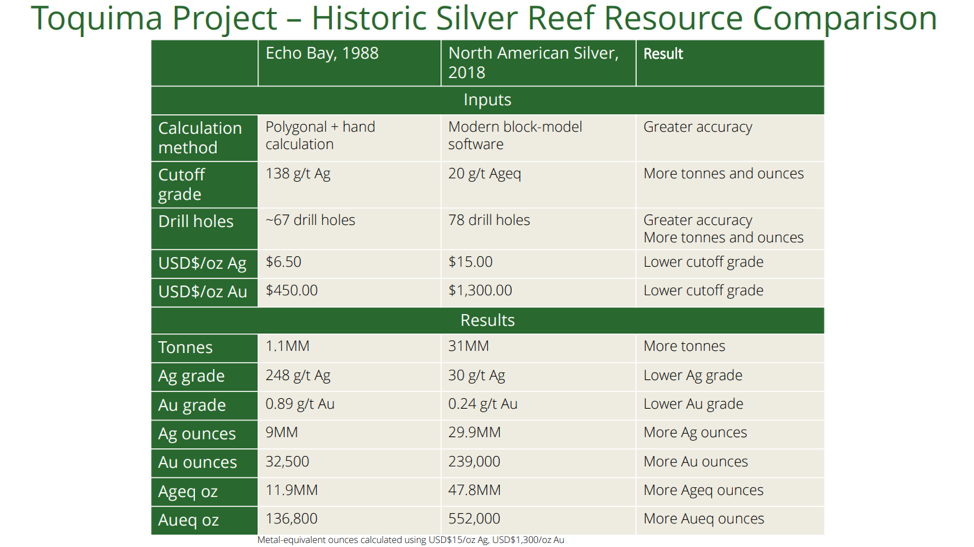 The opportunity is there's up to 48 million ounces of economic-grade silver. Right now, we're focused on moving the historic 9 million ounces of high-grade. But we've also think there's up to 48 million ounces Measured and Indicated to be proven up. And then we've got this area [called] Toquima Caldera.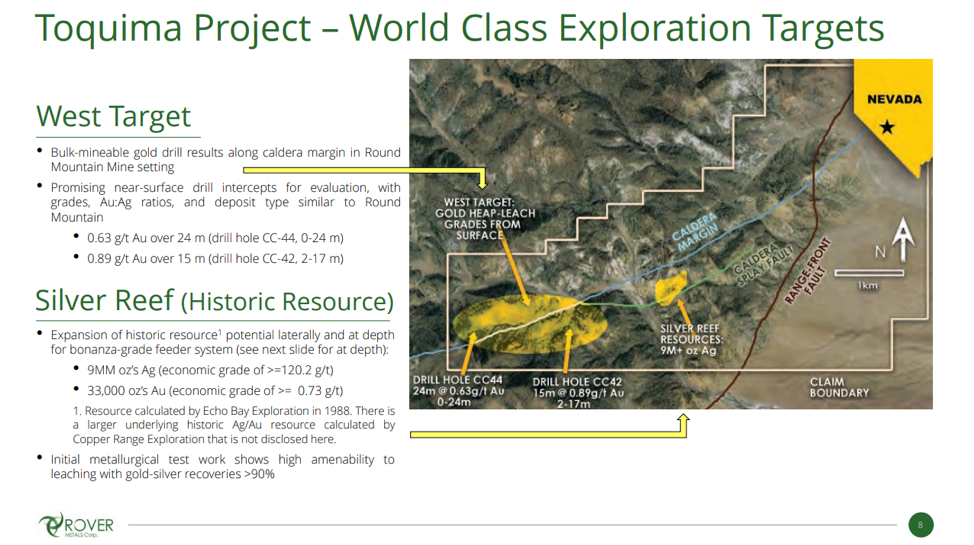 All these margins typically have gold within a 10-to-1 to silver—he alloy and just the pure geology of the region. In Kinross' Round Mountain case, it's actually like 2-to-1 gold to silver. And so. . .we think this is actually as much silver as there, and it's been proven to be there. We believe this is actually a gold exploration target, just because of the comparables in the region. Look at Gold Hill, look at the Manhattan project, look at Baxter Springs—those are all gold projects and we're talking about a 15-square-mile radius here. It's just very unusual that there wouldn't more gold in the Toquima Project.
Maurice Jackson: Mr. Culter, please provide us with an update on the LOI.
Judson Culter: Rover Metals is basically approved for this acquisition. What we've done over the summer months is we raised $300,000. What that $300,000 [in] proceeds was used for was to buy out the underlying option agreement for the Toquima asset. And so that means that there was six months left of a three-year option agreement. That option agreement is now fully satisfied. We've also renewed the claims in Nevada. So those claims are in good standing for a year. And on closing, the title is just ready to move over to Rover. The last piece of the acquisition is we're looking to finance working capital of $500,000. This is future working capital. And that's currently where the acquisition stands.
And as soon as we've closed on that CA$500,000 minimum, we would like to do a bit more. But right now, that's the last piece of the acquisition. And that's what we've been working on since Labor Day in September, since the first closing on the financing is the half-million we need to get to work. And I think the good news is, is that we're ready to get in there early in the new year and start delivering exploration results to what looks to be a bull market for precious metals.
Maurice Jackson: But there's more to the value proposition before us in Rover Metals. Judson, it just occurred to me that we haven't spent too much time on your properties in the Northwest Territories. Let's introduce [readers] to them. And the first of all, let's begin with the Cabin Lake gold property and then let's transition to the Up Town Gold project.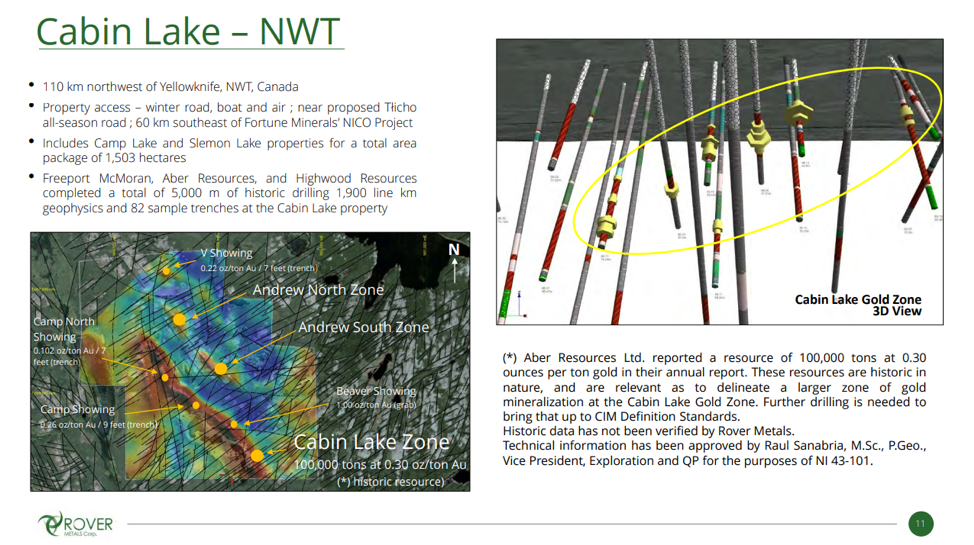 Judson Culter: The Cabin Lake is a project that has really got the support of the community in the North; stakeholders in Yellowknife and outside of Yellowknife. We've got the support of the local First Nations. We've got proven companies that have been at it about three years longer than we have that have gone to work 120 kilometers north of us. And they've recently delivered a three-million Inferred gold resource to the market.
The infrastructure that they've brought into our camp and in our region just bodes well for us. We've got a five-year exploration permit. This is high-grade gold. This is 14 grams per ton. We've only scratched the surface. There's only been 7,500 meters of drilling. We think, with the gold markets that we're heading into, that this is another very good supplementary asset to help us generate what we hope to be quarterly exploration news in 2020, 2021, moving forward.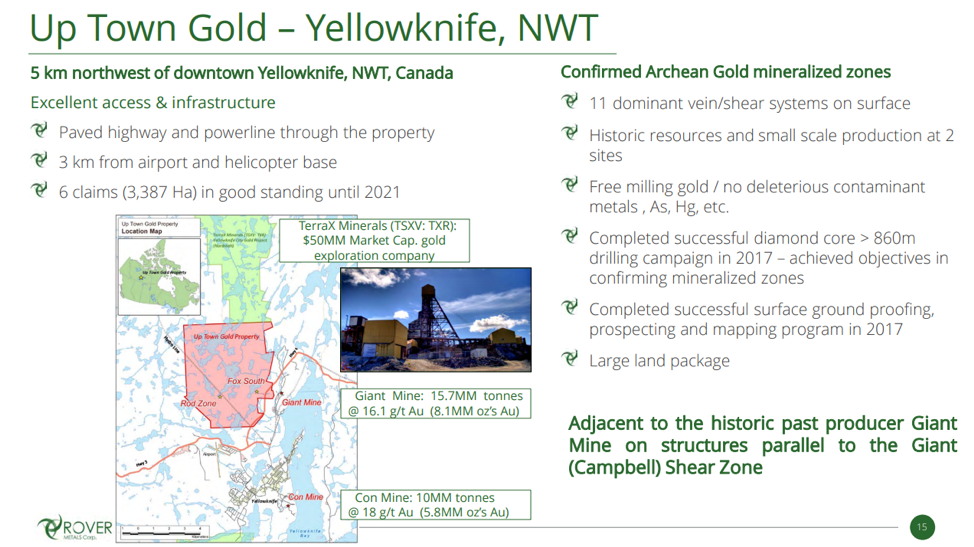 It's a really interesting type of geology. It's an iron formation. I guess a very good comparable might be the Lupin Mine that operated from 1983 up to 2003. It's an exciting opportunity. We've got the Up Town Gold Project as well, right in the city of Yellowknife. Actually you're flying out the airport, it's almost the other side of the highway from the airport. That's a little bit trickier geology. It's a granite formation, but with the right gold market, with the ability to have a project right in the city limits really makes it, in terms of what's required to be economic. That's always been the opportunity with that project as well.
Maurice Jackson: Sticking with M&A, what does Rover Metals have to offer to perspective precious metals producers in terms of M&A?
Judson Culter: We are confident that we have a very economic deposit. I think we are very close—within a year—to doing the hard work in terms of moving it up to a Measured and Indicated resource. And it's just in such a mining-friendly jurisdiction that a smaller mid-tier producer would be a good candidate. It's open pittable, at surface, and oxide. I believe for the right producer it'd be a great strategic fit. And I think. . .the most likely first strategic investment would be to come for the Nevada project.
Maurice Jackson: When is the next big opportunity for investors to get a piece of Rover Metals?
Judson Culter: There's an opportunity right now, as we offering a financing opportunity (press release). One of the things that you don't get in the open market is a stock purchase warrant and that's incredibly valuable, especially when you look at current precious metal company prices. Rover Metals has been approved to issue a stock warrant at double the face value of our share price. And I think it's no secret that there's some real good buys in the precious metal sector right now. Why not get a five-year warrant in addition to a full common share? And that's the value of the private placement that we're offering right now.
I think anybody can do a little bit of research or listen to some of your interviews on investing in the precious metal resource sector. Holding both the warrant and the common share really allows you to do a little bit of future planning and hedge your success in a sector. We are taking some swings, but typically it's the warrant that brings value to a lot of investors in the sector.
Maurice Jackson: Judson. One more time. How many years on that warrant again, sir?
Judson Culter: Five years.
Maurice Jackson: That's not common.
Judson Culter: It's almost like a half a mining cycle if you will, right? Or a full mining cycle, right? If we truly are going in to a bull market you've got a share essentially that comes into the money at $0.12, and you're shielded for five years on that.
Maurice Jackson: But that's just icing on the cake.
Judson Culter: Let's just get back to that as well. These will be on this private placement—really the only outstanding warrants in our company—because as of June, all of our existing warrants expire. Again, getting back to the value of the warrants that we're offering in this financing, given that as we move forward, that just gets back to a tighter capital structure where, on the money that we've raised to date, some of the warrants will be expiring Dec. 31, but the remainder that are outstanding expire in June. These warrants at five years has got some real value. As they come into the market, there is a market for the shares on exercise just because of the fact they're not competing with warrants from previous finances.
Maurice Jackson: Multilayered question: What is the next unanswered question for Rover Metals? When can we expect a response and what determines success?
Judson Culter: Well, I think for us the most exciting opportunity is the geophysics that we want to run on our Toquima Project in central Nevada. And we have a historical resource, the high-grade silver. What they've done on the project in the last five years is three-and-a-half kilometers of golden core stepout. Never had geophysics, never had magnetics, never had a drone-based airborne over top of it.
You're talking about up to 48 million ounces of silver. We've got gold only targets here. I mean, this could just be such an amazing opportunity. And I think just emphasizing the geophysics, that's something we can do in six to eight weeks.
Maurice Jackson: Switching gears. Mr. Culter, please share the current capital structure for Rover Metals.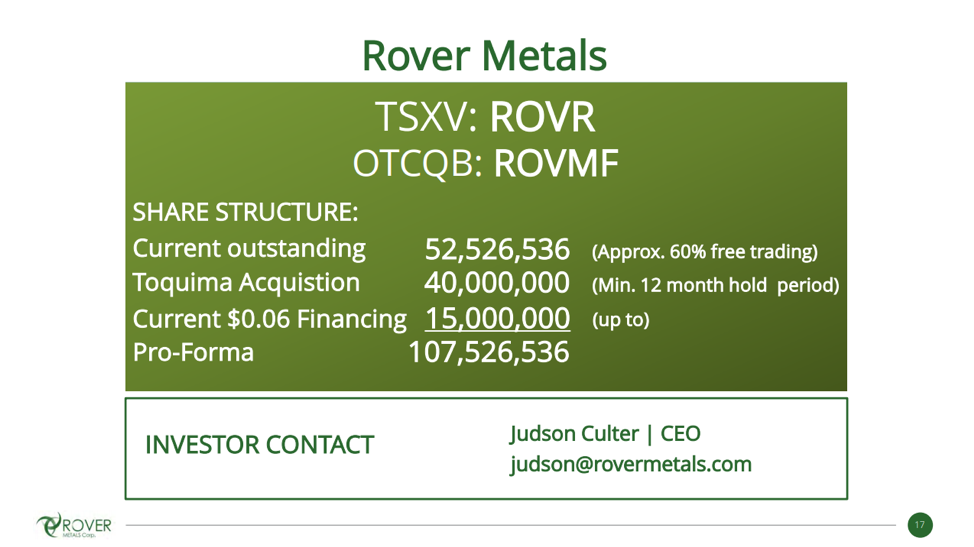 Judson Culter: We've got 52 million shares outstanding as of [this] date. Upon closing of our acquisition in Toquima, we will have 92 million shares outstanding. And that is not a control block to one person. . .it's actually being distributed down to a 100 people, including Eric Sprott. There is an up to two-year hold period on those acquisition shares as well. Those shares won't be in the market right away.
So, on a post-acquisition basis, we've got, as I said, 92 million shares out. And then if we add the financing shares, that puts us around 107 million shares outstanding. We own a majority of our projects outright. We're not optioning; we're not having to do earnings. You know, that's a lot of real estate and resource owned by the company. And that's reflective in that capital structure.
Maurice Jackson: The stock is currently halted on the Canadian Toronto Venture Exchange while still trading on the OTCQB. Can you provide us with some context on why and when the company expects to resume trading?
Judson Culter: We are targeting to close just before the new year on the acquisition, and that may stretch into January. That is our likely date to resume trading, just based on right now with the financings—the money that's being put together, where it's coming from. Just some of the due diligence steps that, as you can appreciate with smart money in this sector, [is] what's typically done to close. It's just taking some time to get that financing done.
In terms of the OTCQB listing, we're actually still trading on the OTCQB and I know that there'll be some American investors that will be depositing about 400,000 shares that just recently had legends removed, and that will be free trading before 100,000 new shares going into the DTC OTC listing.
And so we may see a nice little run here before the end of the year, just based on the OTC trading. Because I do believe that we've seen some volume there already in the last few months, and one trade of $0.40, one at $0.17, and then another trade at $0.17. So it'll be fun to just to see on speculation of closing of this acquisition—how the OTC market trades here in the next couple months.
Maurice Jackson: Now you said that lightly, but let's put that to some context here. You said $0.40, $0.17 and I believe it was $0.20 or $0.25. Is that correct?
Judson Culter: That's right. And I think that's all on just speculation around what we're doing in Nevada. It's also important to know who we've just added to our advisory role. That was our last press release. We just added Robert Shafer—Bob, as he likes to be called, to our advisory board. Bob was an early guy with Ken Ross, very senior executive. Well known in U.S. mining circles, very well respected, well known in Canadian markets. He was the president of the PDAC, I believe, three years ago.
Bob is joining us to provide technical expertise in Nevada. He has regional data to help us with our exploration program. He knows what works on geophysics and I also wouldn't be surprised if there is some future M&A closer to the Toquima Project. Bob's worth [a lot] just based on the relationships he carries in Nevada being his backyard. I don't know, maybe the OTC was trading on that news as well. It's hard to say.
Maurice Jackson: Yeah. But Judson, if we have readers, let that soak in for a second: those are U.S. numbers when you're referencing the OTC. What was the price of Rover Metals on the TSX.V when it was halted?
Judson Culter: [It was] $0.06.5. So, yeah, it's a nice boost and I mean, given that we're financing at $0.06, it's a pretty nice return for investors coming in and kind of showing them what's in store for us as we look ahead. And 2020 really, I mean they're supposed to be. . .I mean again, I'll leave it to the listener to do the research on gold prices, but the ETFs—when they come into this sector, they come in in a big way. And I think what we're seeing on the OTC is somewhat indicative of when we get called back to trade where our share price is headed.
Maurice Jackson: What are some of the biggest concerns and positive feedback you've been receiving from shareholders?
Judson Culter: It's been very supportive. People just want to know, because during this whole period we haven't been issuing as many press releases, so people just e-mail me or call me personally. There's really not anything to be concerned about. From our side, during the halt, it was adding somebody of Bob Shafer's caliber to the technical team[and] trying to pull in regional data, in addition, to Toquima, so that we really can plan the expiration appropriately and then get the financing done—and come back to trade with the intent that within a couple of weeks thereafter we're getting to work, right? You need the people and the expertise and the knowledge in addition to great projects. That kind of stuff doesn't happen overnight.
Maurice Jackson: Sir, what keeps you up at night that we don't know about?
Judson Culter: Dreading my next interview with Proven and Probable. I get my feet held to the fire.
Maurice Jackson: Well, we certainly like to do that.
Judson Culter: That was tongue in cheek. Love being on the show.
Maurice Jackson: And also, by the way, for audience members, we want to share that we are enthusiastic of having Rover Metals as our newest sponsor. Thank you for coming onto the program, sir, for that as well. Last question, what did I forget to ask?
Judson Culter: As usual, Maurice, I think you covered it all. I think just to be in a position where we're. . .moving projects up from a great historic resource, an abundance of data, to either an Inferred or a Measured and Indicated category in what hopefully will soon be an M&A market —that's just really a good summation of the stage where we're at and for an investment as well as a company.
And really, I think the kind of travel that I think we're looking forward to in 2020 in terms of what conferences we will be attending. We'll have a very good U.S. presence in 2020, with real focus on the U.S. retail audience, with giving them the constant updates on what we're doing in Nevada. Not to discount the Canadian market. It's just the six-month focus is really on what's going on in Nevada.
Maurice Jackson: For more information on Rover Metals visit www.rovermetals.com. Rover trades on the TSX.V: ROVR | OTC: ROVMF. For direct inquiries, please contact Judson Culter. And he may be also be reached at [email protected]
Before you make your next bullion purchase, make sure you call me. I'm your licensed representative from Miles Franklin Precious Metals Investments, where we provided a number of options to expand your precious metals portfolio. From physical delivery, offshore depositories, precious metal IRAs and private blockchain distributed ledger technology. Call me directly at (855) 505-1900 or you may email [email protected].
Finally, please subscribe to provenandprobable.com, where we provide mining insights and bullion sales. Subscription is free. As a reminder, Rover Metals is a sponsor of Proven and Probable, and we are proud shareholders for the virtues conveyed in today's interview. Judson Culter of Rover Metals: Thank you for joining us today on Proven and Probable.
Maurice Jackson is the founder of Proven and Probable, a site that aims to enrich its subscribers through education in precious metals and junior mining companies that will enrich the world.
[NLINSERT]
Disclosure:
1) Maurice Jackson: I, or members of my immediate household or family, own shares of the following companies mentioned in this article: Rover Metals. I personally am, or members of my immediate household or family are, paid by the following companies mentioned in this article: None. My company has a financial relationship with the following companies mentioned in this article: Rover Metals. Proven and Probable disclosures are listed below.
2) The following companies mentioned in this article are billboard sponsors of Streetwise Reports: None. Click here for important disclosures about sponsor fees.
3) Statements and opinions expressed are the opinions of the author and not of Streetwise Reports or its officers. The author is wholly responsible for the validity of the statements. The author was not paid by Streetwise Reports for this article. Streetwise Reports was not paid by the author to publish or syndicate this article. The information provided above is for informational purposes only and is not a recommendation to buy or sell any security. Streetwise Reports requires contributing authors to disclose any shareholdings in, or economic relationships with, companies that they write about. Streetwise Reports relies upon the authors to accurately provide this information and Streetwise Reports has no means of verifying its accuracy.
4) This article does not constitute investment advice. Each reader is encouraged to consult with his or her individual financial professional and any action a reader takes as a result of information presented here is his or her own responsibility. By opening this page, each reader accepts and agrees to Streetwise Reports' terms of use and full legal disclaimer. This article is not a solicitation for investment. Streetwise Reports does not render general or specific investment advice and the information on Streetwise Reports should not be considered a recommendation to buy or sell any security. Streetwise Reports does not endorse or recommend the business, products, services or securities of any company mentioned on Streetwise Reports.
5) From time to time, Streetwise Reports LLC and its directors, officers, employees or members of their families, as well as persons interviewed for articles and interviews on the site, may have a long or short position in securities mentioned. Directors, officers, employees or members of their immediate families are prohibited from making purchases and/or sales of those securities in the open market or otherwise from the time of the interview or the decision to write an article until three business days after the publication of the interview or article. The foregoing prohibition does not apply to articles that in substance only restate previously published company releases.
Proven and Probable LLC receives financial compensation from its sponsors. The compensation is used is to fund both sponsor-specific activities and general report activities, website, and general and administrative costs. Sponsor-specific activities may include aggregating content and publishing that content on the Proven and Probable website, creating and maintaining company landing pages, interviewing key management, posting a banner/billboard, and/or issuing press releases. The fees also cover the costs for Proven and Probable to publish sector-specific information on our site, and also to create content by interviewing experts in the sector. Monthly sponsorship fees range from $1,000 to $4,000 per month. Proven and Probable LLC does accept stock for payment of sponsorship fees. Sponsor pages may be considered advertising for the purposes of 18 U.S.C. 1734.
The Information presented in Proven and Probable is provided for educational and informational purposes only, without any express or implied warranty of any kind, including warranties of accuracy, completeness, or fitness for any particular purpose. The Information contained in or provided from or through this forum is not intended to be and does not constitute financial advice, investment advice, trading advice or any other advice. The Information on this forum and provided from or through this forum is general in nature and is not specific to you the User or anyone else. You should not make any decision, financial, investments, trading or otherwise, based on any of the information presented on this forum without undertaking independent due diligence and consultation with a professional broker or competent financial advisor. You understand that you are using any and all Information available on or through this forum at your own risk.