Maurice Jackson: Joining us for a conversation is Jordan Trimble, the president, director and CEO of Skyharbour Resources.
Glad to have you on the program to discuss Skyharbour Resources Ltd. (SYH:TSX.V; SYHBF:OTCQB) is a preeminent uranium explorer in Canada's Athabasca Basin. Readers should note that we recently conducted a very thorough comprehensive interview regarding the value proposition of Skyharbour Resources. We encourage you to visit that interview to fully appreciate today's interview. Mr. Trimble, please introduce us to Skyharbour Resources and the opportunity the company presents to the market.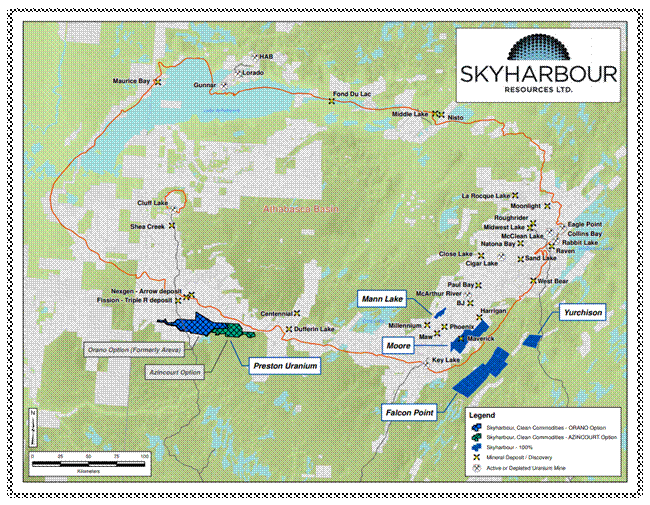 Jordan Trimble: We are a high-grade uranium exploration and early-stage development company with projects in the Athabasca Basin in northern Saskatchewan, which is known for the highest-grade depository of uranium in the world. We have six projects scattered throughout the Basin on the west side near recent notable discoveries made by NexGen and Fission, as well as projects over on the east side where you have infrastructure and the largest and richest uranium mines in the world being at McArthur River and Cigar Lake. We've done a good job over the last five or six years of acquiring projects at attractive valuations in a depressed uranium market.
Our flagship project is a project called Moore Lake. Moore Lake is a project we acquired about three years ago from our largest shareholder and strategic partner, Denison Mines. We've been actively exploring and advancing that project, making some recent notable discoveries. We are now preparing for a winter drill program. That's a big upcoming catalyst for the company, and then in addition to our offering that high-grade discovery potential, really looking to emulate the recent again successes at the Nexgens, Fissions, Hathors of the world. We also act as a prospect generator. We look to bring in partner companies to advance our other projects.
Notably, we've done two deals in the last several years, one of which is with France's largest uranium mining company known as Orano, previously called AREVA, where it can spend upwards of $8 million to earn up to 70% of our Preston Project. We conducted a similar deal with Azincourt a few years back under similar terms where it spent $3.5 million, to earn up to 70% of our East Preston Project. A good complement to what we're doing at our flagship. These partner companies fund the work. We get some cash payments from them, and we also benefit from news flow.
That's the company in a nutshell, run by myself, my team here in Vancouver, and my head geologist and a director of the company, Rick Kusmirski, and our geological team in Saskatoon. Some notables on the Board and Advisory Board, David Cates, who is the president and CEO of Denison Mines, which is our strategic partner and our largest shareholder. Another gentleman, Paul Matysek, a strategic advisor to the company. Skyharbour Resources has a good technical team and management team and a strong shareholder base as well.
Maurice Jackson: To gain some better context and appreciation for Skyharbour's most recent press release, Mr. Trimble, where in the Athabasca is the flagship Moore Lake Project located? How many hectares does it contain?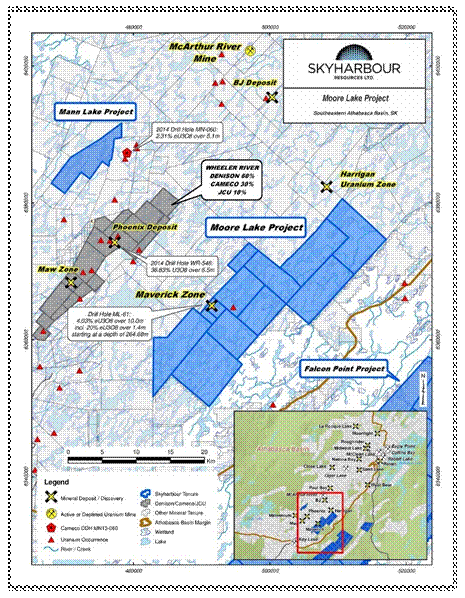 Jordan Trimble: The Moore Lake Project is a big property. It's about 36,000 hectares. It's located on the east side of the Athabasca Basin, south of McArthur River, and approximately 13 kilometers east of Denison's flagship Wheeler Project. The road that goes up to McArthur River is actually in between Denison's project and our project. Logistically for us, especially in the winter, it's very easy to get in and out. The main Maverick corridor where most of the drilling is focused is very easy to work on. The infrastructure allows our drill costs to come down quite a bit as we are ideally located or situated on the east side where the infrastructure is, power, roads, existing mines and mills. That's an important part of the story here for us at our flagship project.
Maurice Jackson: Jordan, take us to your flagship Moore Lake Project, which is known for its rich, high-grade uranium, and let's discuss the details of the company's latest press release regarding airborne geophysical surveying and the exciting plans for the upcoming drill program.
Jordan Trimble: We announced about a week ago results from a UAV drone MAG survey flown by Pioneer Aerial Surveys, and so this is a new technique that we're using to refine and identify new and existing targets at our flagship project, Moore Lake Project. At the project, there's a 4-kilometer-long structural mineralized corridor called the Maverick corridor. This is where most of the historical exploration and the drilling we've carried out over the last several years has been focused. There's high-grade uranium mineralization there, upwards of 21% U308. There are several high-grade pods along strike on this 4-kilometer-long corridor, but really only 2 kilometers of it has been systematically drill tested, so there's room to expand alongside strike, make additional discoveries.
What's intriguing right now and what's significant for this upcoming drill program is that we are now looking a little bit deeper in drill testing, a little bit deeper into the basement rocks. Worth noting, these recent discoveries that were referenced with NexGen, Fission, the Gryphon deposit that Denison discovered several years back, these are all basement-hosted deposits below the sandstone sediments and the unconformity being the contact.
Finding these feeder zones in the basement rock, that's where you can really find your biggest and highest-grade deposits in the Athabasca Basin and what's exciting about this project right now is that using these new techniques, these MAG surveys flown by drones, we're able to get a more refined geophysical signature, get a better picture of what is happening beneath, and properly with pinpoint accuracy target these potential feeder zones. We really believe that we're going after some of our best targets.
It's worth noting in the last drill program, which was earlier in the year, one of our last drill holes intersected some of the highest-grade mineralization that we found in the basement rock on this project to date. Again, relatively untested. We really think we've just scratched the surface and we believe we're on to finding something much larger in these basement rocks.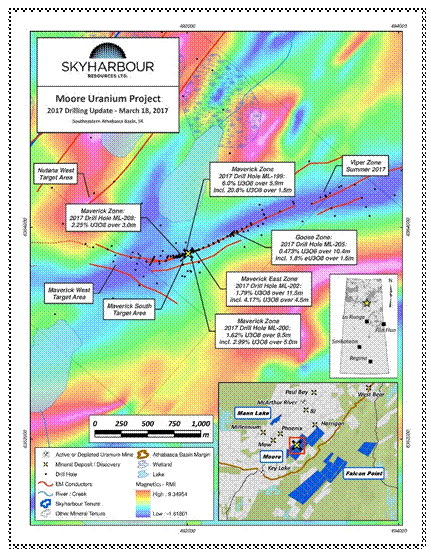 The results from the MAG survey identified cross-cutting structures, features that basically come and break up that main structural corridor and allow the fluids, uranium to come up. We've identified a couple of top priority targets, one of which is at what's called the East Maverick Zone. This was a new discovery we made a few years ago where we discovered high-grade mineralization along strike from the main Maverick Zone and we had grades there upwards of 9% over a meter and a half.
In this last drill program, on one of these last holes drilled we successfully hit high-grade in the basement rock, but we haven't been able to follow up on it yet. Sure enough, we flew the drone survey. We see a target a little bit deeper down and we're going to be drill testing that in this program coming up. We also have another zone about a kilometer and a half along strike up to the northeast called the Viper Zone.
We'll be drill testing the Viper Zone, and then from a regional perspective, it's a big property, we're going to be going back into an area that's had limited historical drilling called the Otter Zone, and this was a zone about 9 kilometers away actually from that main Maverick corridor that we drilled a couple of holes earlier this year. It had anomalous uranium mineralization, but definitely warrants follow-up work, so we'll be doing a little bit of exploratory work and drilling there as well.
Maurice Jackson: Let's discuss the forthcoming drill program.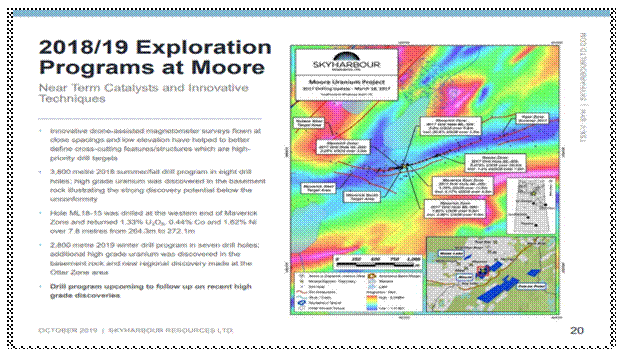 Jordan Trimble: It's going to be winter drill program. We're waiting for freeze-up, so that'll be later this year and early in the new year. We have planned and budgeted for 2,500 meters of drilling. We'll have details out on this drill program over the next month or two here, so look out for additional news flow on that. We're just going through the final plan right now, and we have those highlighted for readers in our news release. Most of the drilling focused at the Maverick Zone, in particular the Maverick East Zone and then the Viper Zone, and then a regional target at the Otter Grid.
Maurice Jackson: What are some of the potential catalysts on the horizon for shareholders?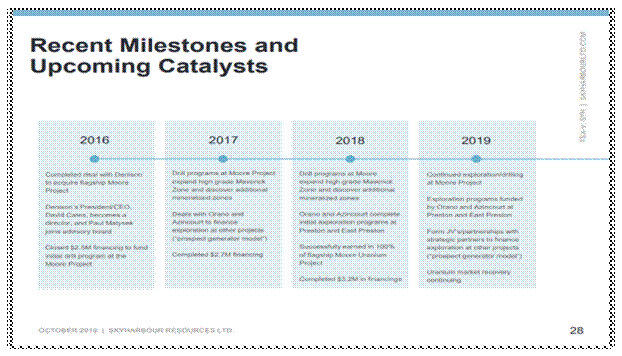 Jordan Trimble: The big one needless to say is this upcoming drill program. One hole can change the fortunes for the company and can really be a game changer. I think given the current valuation and market cap, one big hole we can see a significant price increase on that. Again, we're out there looking to make that next big high-grade discovery, continuing to advance our flagship project. That's a big one, but we also, as I mentioned earlier, acting as a prospect generator, have partner companies that are planning upcoming work programs, specifically Orano at our Preston Project, which is adjacent to NexGen's ground and Fission as well on the west side of the Athabasca Basin. Orano completed previous drill programs and exploration programs at Preston and it is now planning for an upcoming winter program as well. We'll have details on that program when we get the final plan from them.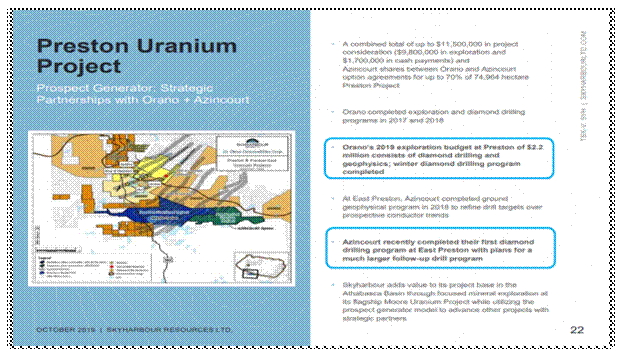 In addition, last month we shared our partners at Azincourt announcing plans for a 2500-meter drill program at our East Preston Project. These are partner-funded programs. Collectively, the partners spending upwards of $11.5 million to earning up to 70% of our Preston East and Preston Project. Both of these programs will provide news flow for Skyharbour. We do get some cash payments as per the option earning agreements with the partners and it's a great complement to our value proposition. These are added catalysts that we have at our flagship project, Moore.
Another note I'll just make is we are talking with other companies right now regarding interest that we are receiving from other groups on additional noteworthy projects that we have as a prospect generator. We're always looking to bring in strategic, value-add partners to come in and advance our secondary projects, and we have three other projects on the east side of the Athabasca Basin in Falcon Point, Mann Lake, and Yurchison, all three which are a 100% owned. Falcon Point is worth noting that there's a small resource there, NI 43-101 compliant inferred resource, and a very high-grade surface showing on the north end of the property at 68% U308. A project that we would like to get back to work to or find a partner company to come in and fund that exploration, as we think there's a lot more to be found there.
Maurice Jackson: Switching gears. Mr. Trimble, please share the current capital structure for Skyharbour Resources.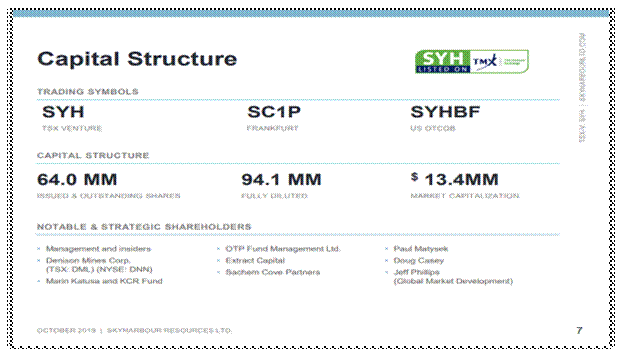 Jordan Trimble: Skyharbour Resources has 64 million shares issued and outstanding. I'd say just under half of that is in the hands of several groups, including management and insiders. As I mentioned, Denison Mines is our largest strategic shareholder. We have a few funds and institutional investors that have come in over the last several years.
Maurice Jackson: When was the last time you purchased shares? At what price?
Jordan Trimble: That was actually today. I've been buying more shares in the market over the last several weeks. In the last couple of months here, just a note on the market post-Section 232, we have seen a sell-off across the board with uranium companies. There was a lot of money or some money that came into the sector about a year ago that drove higher prices, and some of that money that came in came in on a trade on this 232. It was event-driven funds and money that came in that bid these companies up.
We also saw that in the backdrop of a rising uranium price, but we've now seen some of those funds have to exit the sector and we've seen a sell-off as a result of that, so it's, I think, really just a short-term unfortunate sell-off that we're going through, again, across the board. It's, I believe, an incredible buying opportunity and value proposition, given that we've continued to advance our projects. I think there's going to be also a move in the uranium price here between now and year end that will help drive higher prices. I think the value proposition right now is really better than ever given the upcoming catalysts we have and, again, this uranium market recovery.
Maurice Jackson: Mr. Trimble, last question. What did I forget to ask?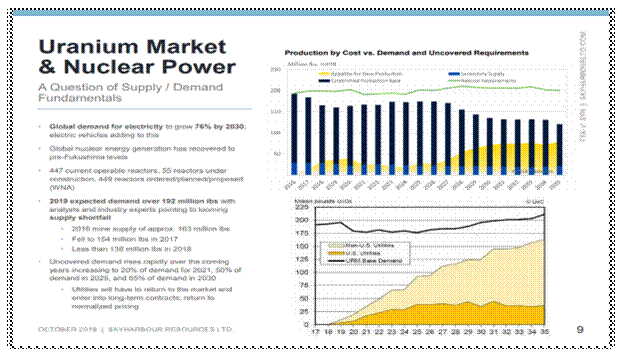 Jordan Trimble: I would like to touch on the uranium market. It's obviously a big part of our story and there's a lot to update on since we last spoke. We have seen the uranium price settle in. It's pulled back a little bit earlier in the year, but it has settled in the mid-20s. We're still trading near historical lows and in inflation-adjusted terms, we're trading well below that average global cost of production. We need to see a much higher uranium price for new mines to come on-line, for existing mines that have been idle to come back on-line, most notably McArthur River. There's a good case, a compelling case, for much higher uranium prices given the supply-demand. We're now seeing a major supply deficit forming.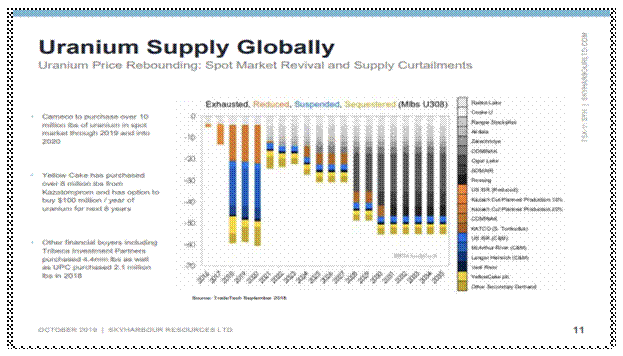 I was just at the World Nuclear Association Symposium in London, which is one of the marquee conferences for the nuclear industry and uranium mining industry held annually in London and was quite interesting. The association came out with its bi-annual fuel report and this was, I think, one of the key takeaways from the conference is seeing that fuel report really I think opened a lot of people's eyes to what's happening in the uranium mining sector right now. You've had major supply curtailments, almost 30% of global primary mine supply that's been either shut down or curtailed, including as I mentioned McArthur River in the Athabasca Basin. You've seen major supply cuts in response to a low commodity price environment. We're now producing about 135 million pounds from primary mine supply and that's in the backdrop of well over 190 million pounds of annual demand in reactor requirements. I think something has got to give. That's obviously coming from secondary supplies.
I think we'll see secondary supplies continue to dwindle here and we're seeing that spot market tightening up. One of the big talking points going forward here in the near term, and potentially one of the biggest catalysts for any uranium company, is the fact that Cameco, because it has shut down its largest mine at McArthur River, it has to buy or shore up supply of uranium either in the spot market or from other secondary sources to meet to delivery into the contracts that it has with utility companies. We now know that it has to buy quite a bit between now and year-end, potentially upwards of 10 million pounds, and then next year over 20 million pounds. That's a lot of material that it has to get either from secondary supplies or what appears will happen, it will have to buy some of that, if not all of that, in the spot market over a very short period of time.
Just to give some perspective on that, a year ago when a lot of these uranium companies including us were hitting 52-week highs, that was driven by a uranium price increase from the low $20s to about $29 a pound in about a five-month period. A big part of that was Cameco buying in the spot market and it bought about 8 million pounds. Here we are today and Cameco has to buy about 10 million pounds between now and early in the new year, and so this could be one of the single-largest catalysts for the spot price over the coming months. I think if we see that spot price break $30 a pound, we've seen this resistance in the high 20s, but I think if we see it break $30 a pound, I think that is what is going to spur utility buying contracting to pick up.
In our previous interview, we've discussed Cameco's participation is going to be one of the more important catalysts coming up over the next few years, but I think it's waiting to see that price tick up through $30, and as we've seen in the past. It's important to note, that the combined market capitalization of all publicly traded uranium companies is less than $10 billion. That means that money that comes into the space works its way down to the junior companies like Skyharbour quite quickly, so we see that uranium move as we have seen a few times in the past several years. We benefit from that quite quickly. Money flows down quickly from the large caps to the small caps in the sector.
Maurice Jackson: Mr. Trimble, for someone listening that wants to get more information about Skyharbour Resources, please share the website address.
Jordan Trimble: Absolutely, so it's skyharbourltd.com. More than welcome to get in touch with me directly my office, or you can email me at [email protected].
Maurice Jackson: Skyharbour Resources trades on the (TSX.V: SHY| OTCQB: SYHBF). Skyharbour Resources is a sponsor of Proven and Probable. As a reminder, I'm a Licensed Representative for Miles Franklin Precious Metals Investments. We offer a number of opportunities to expand your precious metals portfolio, from physical delivery, offshore depositories, precious metal IRAs, and private blockchain-distributed ledger technology. Call me directly at 855-505-1900 or you may email [email protected]. Finally, please subscribe to provenandprobable.com. We provide Mining Insights and Bullion Sales.
Jordan Trimble of Skyharbour Resources, thank you for joining us today on Proven and Probable.
Read what other experts are saying about:
[NLINSERT]
Disclosure:
1) Maurice Jackson: I, or members of my immediate household or family, own shares of the following companies mentioned in this article: None. I personally am, or members of my immediate household or family are, paid by the following companies mentioned in this article: None. My company has a financial relationship with the following companies mentioned in this article: Skyharbour Resources is a sponsor of Proven and Probable. Proven and Probable disclosures are listed below.
2) The following companies mentioned in this article are billboard sponsors of Streetwise Reports: Skyharbour Resources. Click here for important disclosures about sponsor fees.
3) Statements and opinions expressed are the opinions of the author and not of Streetwise Reports or its officers. The author is wholly responsible for the validity of the statements. The author was not paid by Streetwise Reports for this article. Streetwise Reports was not paid by the author to publish or syndicate this article. The information provided above is for informational purposes only and is not a recommendation to buy or sell any security. Streetwise Reports requires contributing authors to disclose any shareholdings in, or economic relationships with, companies that they write about. Streetwise Reports relies upon the authors to accurately provide this information and Streetwise Reports has no means of verifying its accuracy.
4) This article does not constitute investment advice. Each reader is encouraged to consult with his or her individual financial professional and any action a reader takes as a result of information presented here is his or her own responsibility. By opening this page, each reader accepts and agrees to Streetwise Reports' terms of use and full legal disclaimer. This article is not a solicitation for investment. Streetwise Reports does not render general or specific investment advice and the information on Streetwise Reports should not be considered a recommendation to buy or sell any security. Streetwise Reports does not endorse or recommend the business, products, services or securities of any company mentioned on Streetwise Reports.
5) From time to time, Streetwise Reports LLC and its directors, officers, employees or members of their families, as well as persons interviewed for articles and interviews on the site, may have a long or short position in securities mentioned. Directors, officers, employees or members of their immediate families are prohibited from making purchases and/or sales of those securities in the open market or otherwise from the time of the interview or the decision to write an article until three business days after the publication of the interview or article. The foregoing prohibition does not apply to articles that in substance only restate previously published company releases. As of the date of this article, officers and/or employees of Streetwise Reports LLC (including members of their household) own securities of Skyharbour Resources, a company mentioned in this article.
Images provided by the author.
Proven and Probable Disclosures:
Proven and Probable LLC receives financial compensation from its sponsors. The compensation is used is to fund both sponsor-specific activities and general report activities, website, and general and administrative costs. Sponsor-specific activities may include aggregating content and publishing that content on the Proven and Probable website, creating and maintaining company landing pages, interviewing key management, posting a banner/billboard, and/or issuing press releases. The fees also cover the costs for Proven and Probable to publish sector-specific information on our site, and also to create content by interviewing experts in the sector. Monthly sponsorship fees range from $1,000 to $4,000 per month. Proven and Probable LLC does accept stock for payment of sponsorship fees. Sponsor pages may be considered advertising for the purposes of 18 U.S.C. 1734.
The Information presented in Proven and Probable is provided for educational and informational purposes only, without any express or implied warranty of any kind, including warranties of accuracy, completeness, or fitness for any particular purpose. The Information contained in or provided from or through this forum is not intended to be and does not constitute financial advice, investment advice, trading advice or any other advice. The Information on this forum and provided from or through this forum is general in nature and is not specific to you the User or anyone else. You should not make any decision, financial, investments, trading or otherwise, based on any of the information presented on this forum without undertaking independent due diligence and consultation with a professional broker or competent financial advisor. You understand that you are using any and all Information available on or through this forum at your own risk.