Maurice Jackson: Joining us for a conversation is James Pettit. He is the President, CEO and Director of Aben Resources Ltd. (ABN:TSX.V; ABNAF:OTCQB). Mr Pettit, welcome to the program.
James Pettit: Thank you very much. Maurice. Glad to be back.
Maurice Jackson: Always an honor to have you join us. I was excited to read this week's press release issued by Aben Resources regarding the ambitious exploration plans for the Justin Gold Project and your flagship Forest Kerr project. But before we delve into the exploration plans, Mr Pettit, what is Aben Resources and what is the opportunity you present to the market?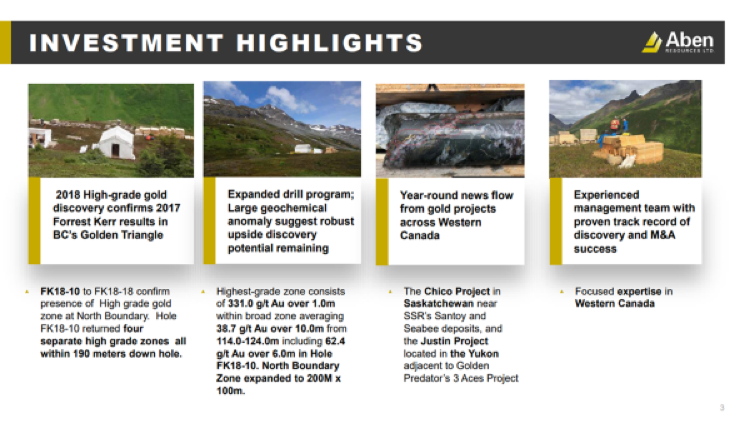 James Pettit: We are a junior gold exploration company, specifically gold, and specifically we target high-grade gold because we go to areas that offer that opportunity. We're listed on the Toronto Stock Exchange, the Venture exchange. What we offer is exploration, discovery, upside.
I think that's the most exciting part of the whole mining cycle. The stock always has the biggest move on discovery and then you move into more resource building and development, which, in my mind, [is where] it gets boring. I like being out there finding new stuff and usually the best opportunity for stock performance success is usually on the discovery. All you have to do is look at our chart over the last three years.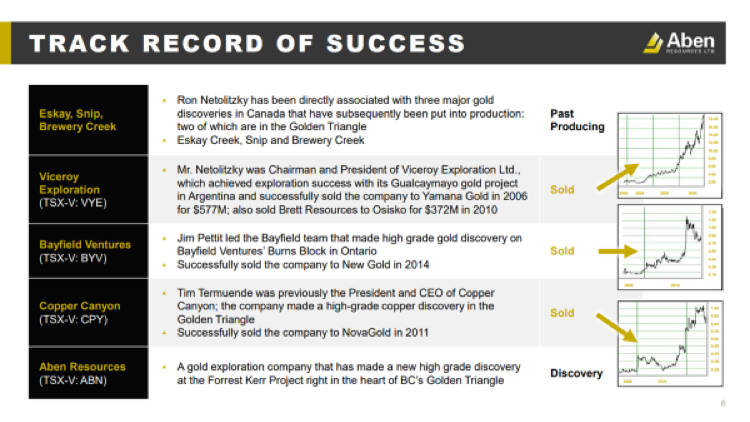 Maurice Jackson: Mr. Pettit, I like the exploration plan the team will be initiating on the upcoming drill season. Take us to the Yukon, onto the Justin Gold project, which in my opinion speculators often overlook when analyzing the Aben's Project Portfolio. Share the outline of the proposed drill season there.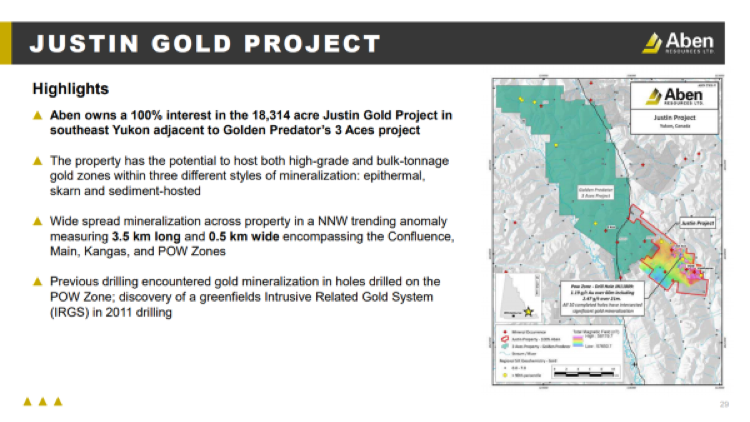 James Pettit: The Justin Project we've had in our portfolio since 2010 and during that period of '10, '11 and '12, the Yukon was on fire. Everybody wanted to get something up there while we had this project. As the market died off in the Yukon, we made a discovery and it's called an intrusion-related gold system. They have the potential of being low-grade but large, like Fort Knox in Alaska and Victoria Gold in the Yukon. They're intrusion-related systems. We never really got a chance to get back there.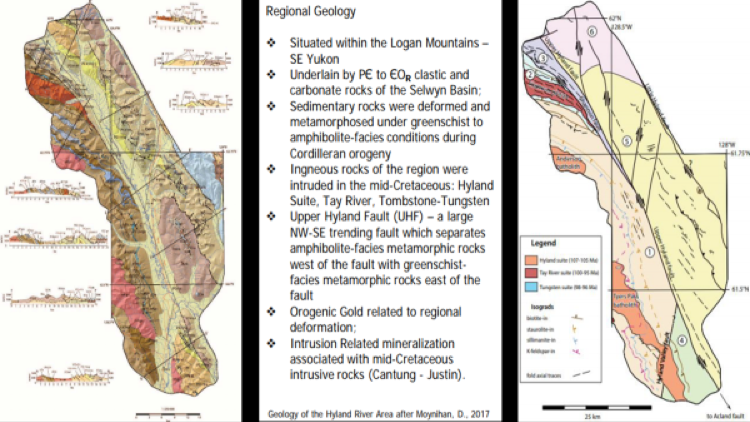 Two years ago we did some sampling, and we came up with just spectacular gold and till samples, and that led us last year to do some trenching. We've got some very high-grade, just beside where we found that intrusion-related system. It's about a kilometer and a half to the west and it's another gold system. What we've got is orogenic in nature, very similar to our neighbors, Golden Predator. Theirs is called the Three Aces, so we're calling ours the Lost Ace, because it's the same; it's in the same older formation.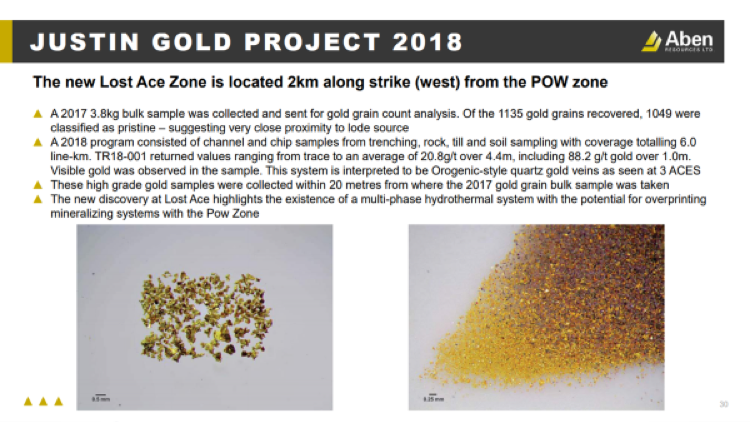 And it's older than the intrusion system. So what we've got to look at there is side by side Surely there's some overprinting and possible enriching going one way or the other. This is specifically why we're now going to go in there and to drill 2,000 meters. Part of it will be with RAB drill, rotary air blast system, which allows us to do shallow drilling 20 to 50 meters and quickly. We'll get about 20 holes in there and then we're going to do up to 10 diamond drill holes in the immediate vicinity as well. It's going give us a really good look at what we've come up with over the last few years there. And the RAB drill is seriously good to use for exploration and at shallow depths, because what we've got happening there has come up to surface.
Maurice Jackson: Yes, I notice that Aben is committed to drilling an extra month this year on the Justin Gold project and that certainly peaked my interest. Why?
James Pettit: We want to stretch out our season because right now with the Forest Kerr, as exciting as it is, it's four to five months. You know when you hit something good there, the stock performs, it does very well, and at the end of the season it tends to fall off. They all do—everybody up there all faces the same thing. So we decided to add to the length of our season. We've got crews actually heading up to the Yukon right now to get the camp built, and then we can start drilling beginning of June. We'll be finished by the end of June, maybe the beginning of July. And that's when we start the Forest Kerr project. It'll allow us to increase our newsflow, make that period longer. And it's very similar type of targets. We're going after high grade.
Maurice Jackson: Speaking of the Forest Kerr, let's go there. It's in the Golden Triangle of British Columbia, and it really has the market excited and deservedly so. What are the plans there for this drill season?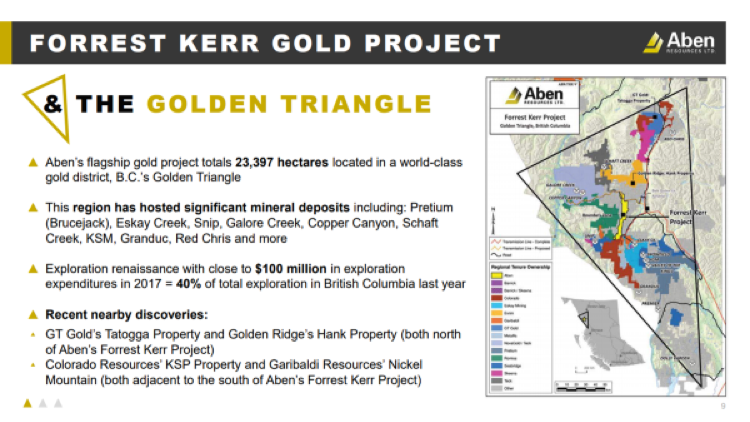 James Pettit: They're pretty big. We're going to go start the season right away. As a matter of fact, in another week they'll start the airborne geophysical surveys, the big MAG survey covering the whole Boundary zone, where we've been concentrating the last two years. That'll overlay the geo-chem survey that's been already done and it's going to give us an overlay of the geophysics and the geo-chem.
It's good to have coincidental targets and the MAG will get us some deeper looks at what we're working with, because that was the one thing that was lacking—modern geophysics. We've got a lot of gold, obviously you can tell we have a lot of gold there. How does it hold together, where its coming from, and this deeper-seated geophysics are going to help us try to hone in to these areas that could be feeding this whole area, because there is a lot of gold. We've hit a lot of gold in various areas in the Boundary zone. North Boundary in particular has some very high grades.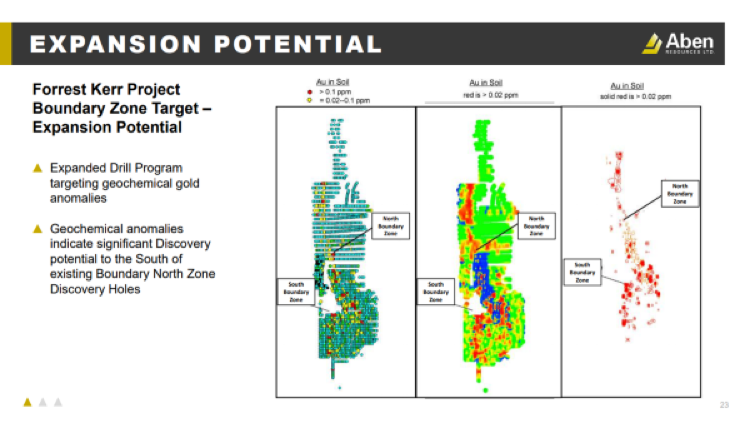 We're going to get a better handle on it. This year we've got 55 new pad locations that we didn't have before. We only had nine. That's what we had to drill off last year.
You're limited to two angles. When you do hit something you'd like to get a different angle, but we didn't have the permits to move the pads. The pads are basically what the drill sits on. So you're limited to what the drill can accomplish off one pad.
This is going to give us a certain amount of certainty and increased confidence of where we drill and how we drill. And when you do hit something you can change your angles rather than from one point, drilling angles off that. You can move the pad and actually get some more precise angles and better knowledge.
Maurice Jackson: We've discussed what Aben will be doing, but I want to shift the focus now on what the primary goals are for the team. What have they identified that would be tangible success for the drill season for each project respectively?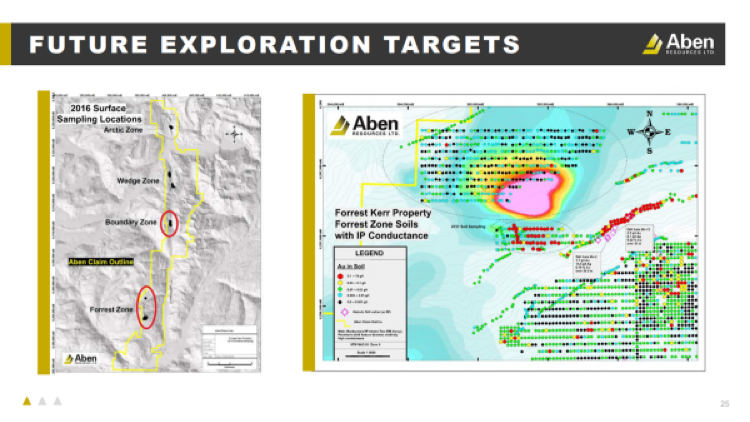 James Pettit: Well, let's start with the Forest Kerr. We've got three areas identified that we want to get to right away. We did that last year by drilling from the north down through, under the North Boundary zone, which we had had the year before, and that was tremendous success. This year we've got an area to the north of the North Boundary zone, which is between two holes we drilled to the north last year that started getting mineralization toward the end of the hole. We want to go out there, put in a new pad and drill in between those two targets because they're a couple of hundred meters out. We want to get in between them and see what's there. That was left behind.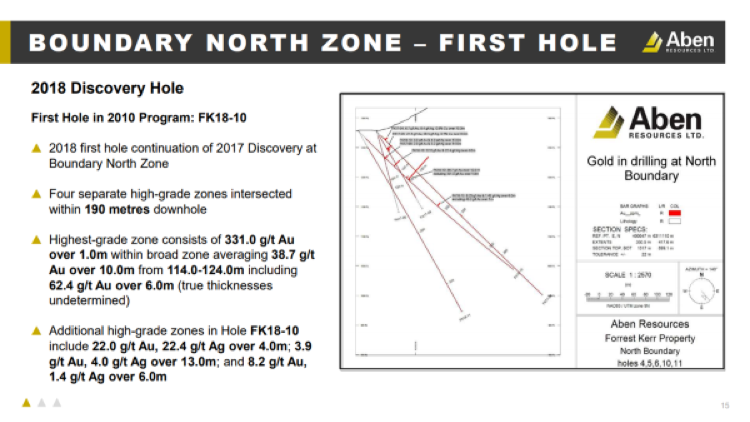 We've got another target to the south of the North Boundary zone that was drilled by Noranda. We touched on it the first year, but our pad location was 180 meters away and so we called it spear-fishing, where we could just point in the direction of where Noranda hit their very high-grade zone, which was 340 grams at one meter.
We try to hit it from 180 meters away. You're not going to have a whole lot of success. It's spear-fishing. We want to go in there and do what we did in the northbound zone and drill underneath that thing, get up closer to it and drill underneath, see what's there. We have a better indication of the orientation of the mineralized zones running through the area, so I think we can get in closer and we may get some good success there.
And then we've got the South Boundary zone, which we touched on last year. We only had one pad, we drilled three holes. Every one of those holes have very broad intersections of 60- to a 100-meter holes but lower grade, not the big 20-plus grams. This was more like up to 5 gram stuf,f but it also had high-grade copper, zinc and silver in it.
So there's something else going on there. We'd like to just see what that's all about, because generally when we see high-grade copper we see high-grade gold. And then, with the combination of the geo-chem we already have in the geophysics we're doing, we're going to generate a lot more targets as we move south. Starting from the North Boundary zone, the only direction we really have is south.
We've got a little bit of leeway to the north, but you know we've got four kilometers of length, two kilometers of width to work with. So we're going to generate a lot of targets and with the success of the season we can add to what we're going to do. We are planning on 5,000 meters of drilling to start. If we have success like we did last year, we can turn that into 10 very easily, and it's already paid for. We've got over $5 million in the till, so this season is bought and paid for. And that's more than enough actually what we're going to do.
Maurice Jackson: Certainly exciting times for Aben Resources. Switching gears, Mr Pettit, what does the current capital structure look like for Aben Resources?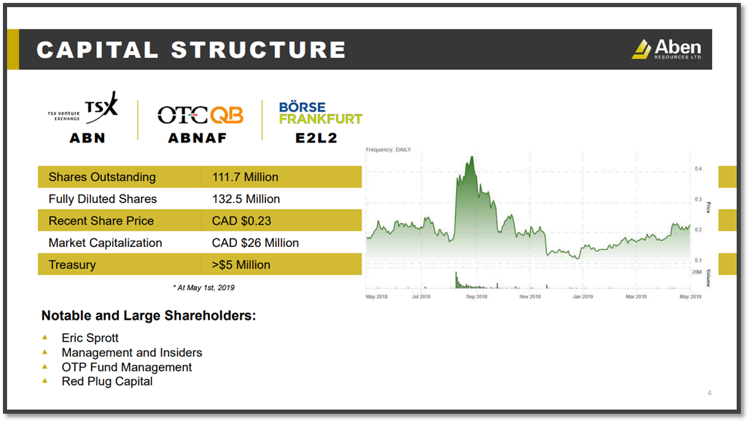 James Pettit: Well, we've got just about 112 million shares out, 132 million fully diluted. What happens each season is we managed to take down a lot of warrants and options in the company, because the stock has, the last three years, performed very well in the summer, which adds to the treasury. Current market capitalization is, you know, $20–$25 million. Well, about $20 million right now. And I think, as we go forward, as you can see just look at the chart, it changes in the summer.
Maurice Jackson: Speaking of this year's pricing. I was doing some research on our last interview back in December and the share price was $0.12 cents. I don't want to be the one to say, you know, I said so, but Mr Pettit, what is the share price today?
James Pettit: The share price today is, well, it's been settling in at $0.22 cents, which is substantially higher than where we started the last couple of seasons. That was usually around $0.10 to $0.12. We've got a much better base this year, much better. And it has to do with the success we've had in the past.
People recognize the trading patterns—as you get closer to the season, the stock moves up. But this has been plateauing here, basing it at $0.19 to $0.22 range. And it's good for it because if we do have any kind of success, it'll take a run. That's what generally what happens.
Maurice Jackson: Speaking of the base, who is doing the buying?
James Pettit: Well, we've got a huge investor base as far as notable shareholders. Obviously our biggest shareholder is Eric Sprott, and we've got some funds involved. But we really rely heavily on the retail side and we market—I'm always on the road marketing what we're doing.
We have a huge following in Germany, probably almost as big as what we have in Canada and the US. It's good, it's retail, and a lot of people understand that when the season ends is when they're watching to start buying. We've got a lot of investors in this thing that I've accumulated starting say back in December, even November last year, and they accumulated on the depths all through until now. It's a good shareholder base and I think you can hear my phone ringing. Those are shareholders, they're responding to the news release. I'm telling you right now, the response to the news release has been really amazing.
Maurice Jackson: Yes, you echoed that earlier, prior to our conversation here online on this interview, that the phones have been ringing off the hook. Last question for you sir. What did I forget to ask?
James Pettit: Well, you're good at covering things off, but generally: Why do I like this? What makes me excited about this whole thing? And it's really the philosophy that we have with this company, the guys running this company. We want to be in an area that's known for high grade. The Golden Triangle is really well known for that, with some of the highest grade mines ever developed. These are now done—they're finished—but there's some new ones coming out. The Brucejack mine is amazingly high grade and that's brand-new. There'll be more coming.
And then in the Yukon—that's always been known for high grade. And what we've had is unique. It's a very high-grade new target right beside, which potentially could be, a very large lower grade, but they mix. Does that influence between them? Is there enrichment coming one way or the other? That's exciting, and that's why we do it, and we always go into areas where there's lots of data available to us and we can sort of put it under a new spotlight.
Maurice Jackson: Well, Mr. Pettit, for someone who wants to get more information on Aben Resources, please share the website address.
James Pettit: You can go to the website at www.abenresources.com. It's a good website and it's full of really good information and a lot of interviews that I do are put up there. There's audio and visual so if you want to get up to speed quick, that's a great place to go.
Maurice Jackson: And for additional inquiries about Aben Resources, please call Don Meyers at (604) 639-3851. He may also be reached at [email protected]. Aben Resources trades on the TSX.V: ABN and on the OTCQB symbol ABNAF. Aben Resources is a sponsor of Proven & Probable and we are proud shareholders for the virtues conveyed in today's message.
Finally, we invite you to visit us at provenandprobable.com. We deliver mining insights and bullion sales. Mr Pettit, thank you for joining us today on Proven & Probable.
Maurice Jackson is the founder of Proven and Probable, a site that aims to enrich its subscribers through education in precious metals and junior mining companies that will enrich the world.
Read what other experts are saying about:
[NLINSERT]
Disclosure:
1) James Pettit: I, or members of my immediate household or family, own shares of the following companies mentioned in this article: Aben Resources. I personally am, or members of my immediate household or family are, paid by the following companies mentioned in this article: Aben Resources.
2) Maurice Jackson: I, or members of my immediate household or family, own shares of the following companies mentioned in this article: Aben Resources. I personally am, or members of my immediate household or family are, paid by the following companies mentioned in this article: None. My company has a financial relationship with the following companies mentioned in this article: Aben Resources is a sponsor of Proven and Probable. Proven and Probable disclosures are listed below.
3) The following companies mentioned in this article are billboard sponsors of Streetwise Reports: Aben Resources. Click here for important disclosures about sponsor fees. As of the date of this article, an affiliate of Streetwise Reports has a consulting relationship with Aben Resources. Please click here for more information.
4) Statements and opinions expressed are the opinions of the author and not of Streetwise Reports or its officers. The author is wholly responsible for the validity of the statements. The author was not paid by Streetwise Reports for this article. Streetwise Reports was not paid by the author to publish or syndicate this article. The information provided above is for informational purposes only and is not a recommendation to buy or sell any security. Streetwise Reports requires contributing authors to disclose any shareholdings in, or economic relationships with, companies that they write about. Streetwise Reports relies upon the authors to accurately provide this information and Streetwise Reports has no means of verifying its accuracy.
5) This article does not constitute investment advice. Each reader is encouraged to consult with his or her individual financial professional and any action a reader takes as a result of information presented here is his or her own responsibility. By opening this page, each reader accepts and agrees to Streetwise Reports' terms of use and full legal disclaimer. This article is not a solicitation for investment. Streetwise Reports does not render general or specific investment advice and the information on Streetwise Reports should not be considered a recommendation to buy or sell any security. Streetwise Reports does not endorse or recommend the business, products, services or securities of any company mentioned on Streetwise Reports.
6) From time to time, Streetwise Reports LLC and its directors, officers, employees or members of their families, as well as persons interviewed for articles and interviews on the site, may have a long or short position in securities mentioned. Directors, officers, employees or members of their immediate families are prohibited from making purchases and/or sales of those securities in the open market or otherwise from the time of the interview or the decision to write an article until three business days after the publication of the interview or article. The foregoing prohibition does not apply to articles that in substance only restate previously published company releases. As of the date of this article, officers and/or employees of Streetwise Reports LLC (including members of their household) own securities of Aben Resources and Pretium Resources, companies mentioned in this article.
Proven and Probable LLC receives financial compensation from its sponsors. The compensation is used is to fund both sponsor-specific activities and general report activities, website, and general and administrative costs. Sponsor-specific activities may include aggregating content and publishing that content on the Proven and Probable website, creating and maintaining company landing pages, interviewing key management, posting a banner/billboard, and/or issuing press releases. The fees also cover the costs for Proven and Probable to publish sector-specific information on our site, and also to create content by interviewing experts in the sector. Monthly sponsorship fees range from $1,000 to $4,000 per month. Proven and Probable LLC does accept stock for payment of sponsorship fees. Sponsor pages may be considered advertising for the purposes of 18 U.S.C. 1734.
The Information presented in Proven and Probable is provided for educational and informational purposes only, without any express or implied warranty of any kind, including warranties of accuracy, completeness, or fitness for any particular purpose. The Information contained in or provided from or through this forum is not intended to be and does not constitute financial advice, investment advice, trading advice or any other advice. The Information on this forum and provided from or through this forum is general in nature and is not specific to you the User or anyone else. You should not make any decision, financial, investments, trading or otherwise, based on any of the information presented on this forum without undertaking independent due diligence and consultation with a professional broker or competent financial advisor. You understand that you are using any and all Information available on or through this forum at your own risk.
Images provided by the author.