Maurice Jackson: Joining us today is Bart Jaworski. He is the CEO and director of Group Eleven Resources Corp. (ZNG:TSX.V; GRLVF:OTCQB), which is known for advanced-stage zinc exploration in Ireland. Group Eleven Resources just announced a major breakthrough that may significantly increase the company's value proposition. But before we begin, Mr. Jaworski, for first-time readers, please introduce us to Group Eleven Resources.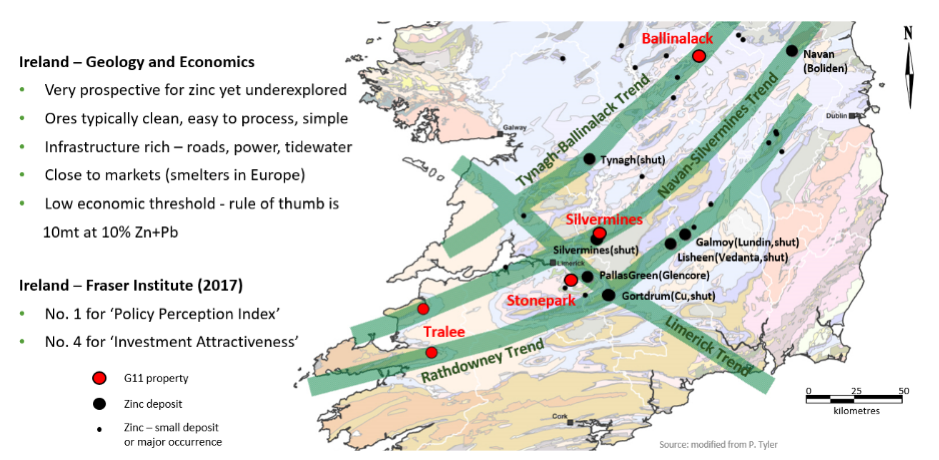 Bart Jaworski: As you know Maurice, zinc is the fourth most commonly mined metal in the world. Global inventories have been dropping sharply over the last six years and are now at 12-year lows—mostly on insufficient mine supply. So, we're quite bullish on the metal. We have the largest land position in the richest country for zinc in the world, that being Ireland. Ireland is No. 1 in terms of zinc found per square kilometer [and] there are lot of deposits over a relatively small area.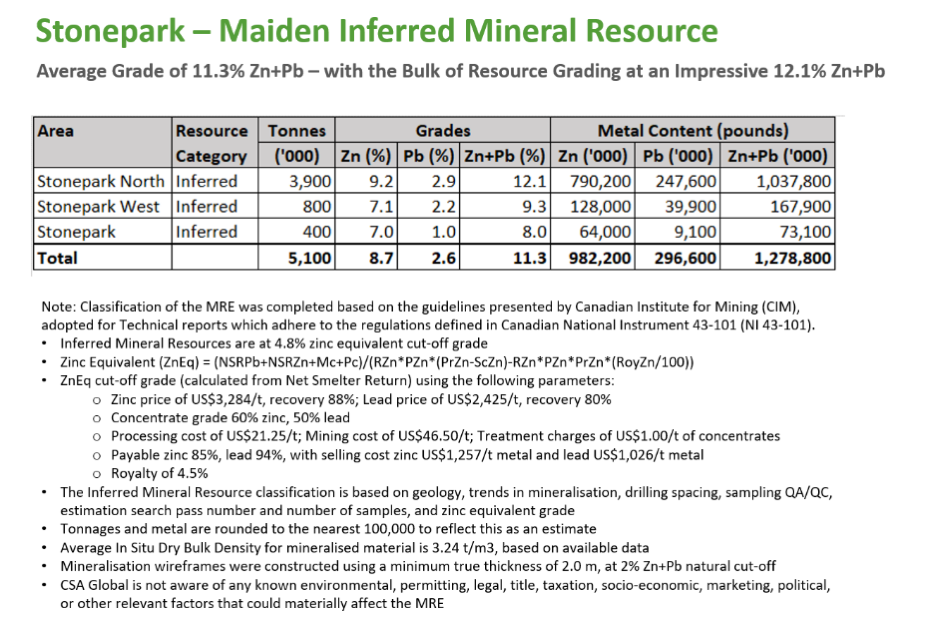 Our vision is to discover the next big zinc deposit in the country. We already have the second and third largest undeveloped zinc deposits in the country, that being the Stonepark and Ballinalack resource estimates—and those are second only to Glencore International Plc's (GLEN:LSE) very substantial Pallas Green deposit, which is one of the largest undeveloped zinc deposits in the world).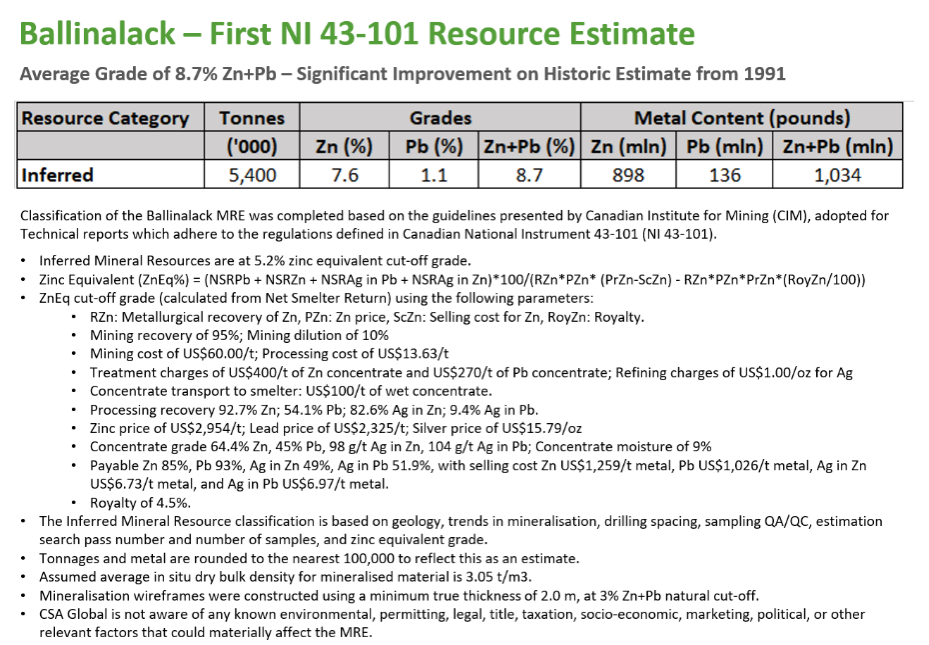 Maurice Jackson: Who are the members that comprise your team and what qualifications do they bring to ZNG?
Bart Jaworski: In terms of the team, we have a strong independent board and very experienced management team.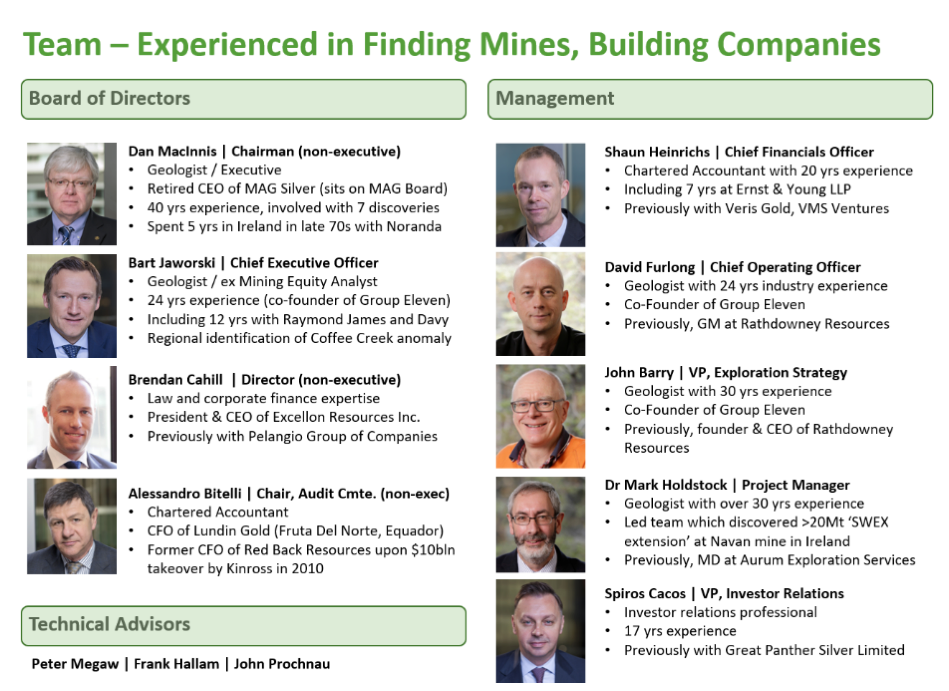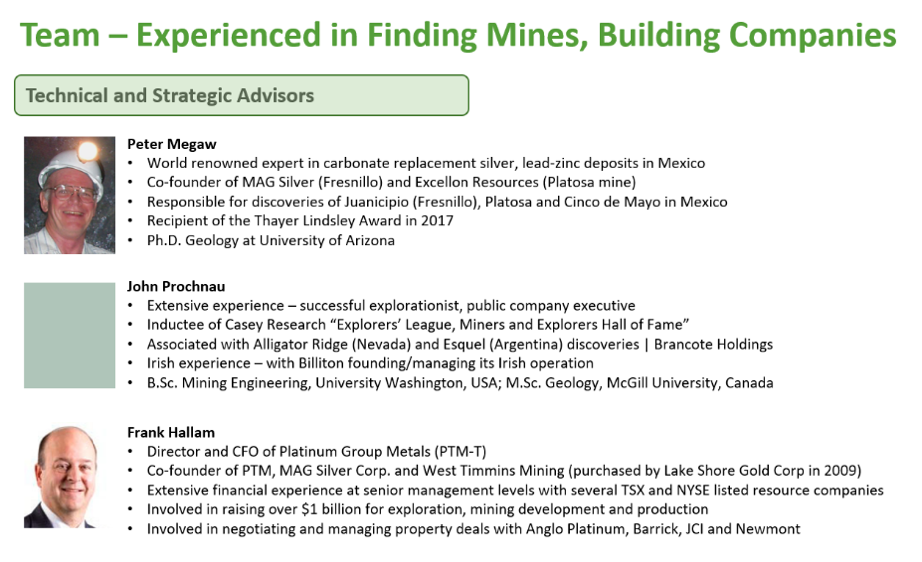 MAG Silver Corp. (MAG:TSX; MAG:NYSE.A) is a strategic backer, and with people like Peter Megaw and Dan MacInnis involved, as well as very experienced Irish geologists like David Furlong, John Barry and Dr. Mark Holdstock—that is, I think, a powerful combination. As for myself, I'm the CEO and cofounder of the company; I've been in the mining industry for the last 24 years or so, first as an exploration geologist for about seven years, then mining equity analyst for 12 years at Raymond James and Davy, and the last few years as CEO.
Maurice Jackson: Group Eleven is unique in that the company has two flagship projects, Ballinalack and Stonepark. Mr. Jaworski, Group Eleven just completed a drill program and the results got the market's attention! Take us to the Stonepark Project, which is adjacent to Glencore's Pallas Green deposit, and walk us through the project and share the company's recent accomplishments.
Bart Jaworski: Allow me to share with readers our VRify 3D platform and first show you the land position we have at Stonepark, and the adjoining PG West project.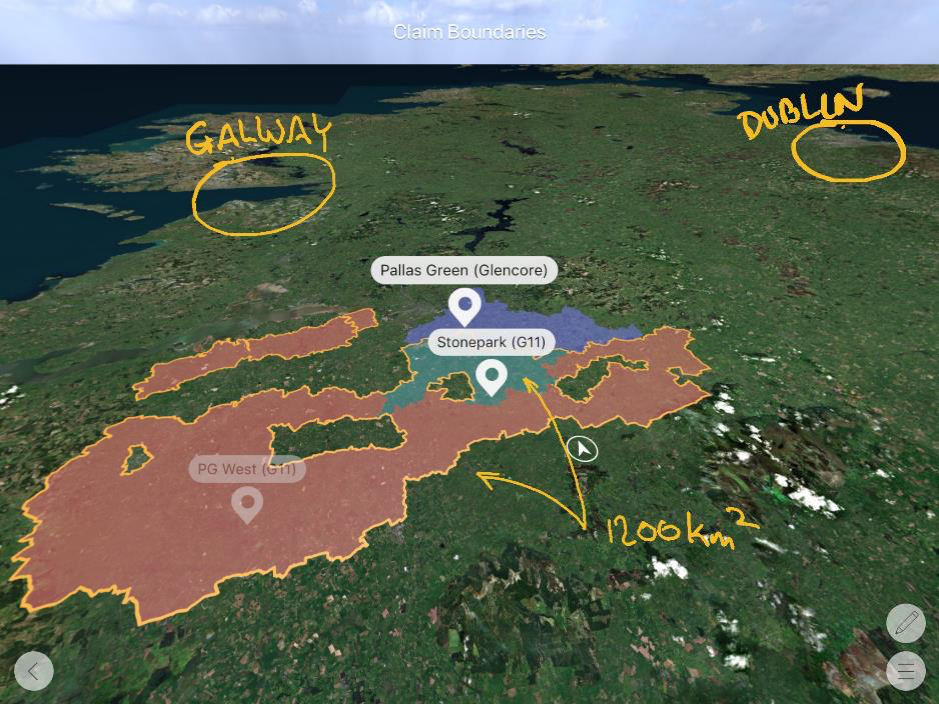 First, for reference, see the Galway area on the top left side of [the image] and the Dublin area on the right. As you can see, Group Eleven has a fairly large land package. It's 1,200 square kilometers, in fact, and it consists of two main properties. The PG West property is 1,000 square kilometers and we own it 100%. The adjoining Stonepark project is 200 square kilometers and we have that 77% to Group Eleven and 23% roughly to Arkle Resources, which is an AIM-listed, junior resource exploration company. All that is, in turn, contiguous to Glencore's Pallas Green project in purple.
Maurice Jackson: Indeed, that is quite the land position. Let's now talk about the basic need-to-know information on the property.
Bart Jaworski: OK. This entire area here is called the Limerick Basin. All the green layers [in the image below] are the Waulsortian Limestone. This is where zinc deposits in Ireland typically occur, so this is our target horizon. We control most of the green in the Limerick Basin—that's an important fact to state.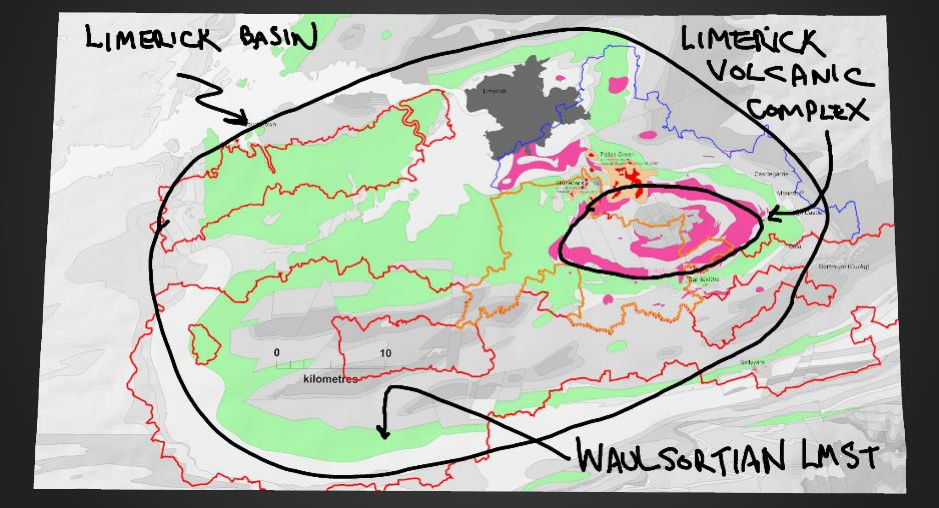 The other thing to notice are these oval pink rocks called the Limerick Volcanic Complex. These are a very important package of rocks because for the longest time it was always thought that they had nothing to do with the zinc mineralization in this area.
Quite contrary, we only now know over the last few years that, in fact, Limerick Volcanic Complex is part of the main driving system. They take typical Irish-style zinc deposits and effectively put them on steroids. Essentially, they enhance the zinc mineralization in the area.
Our Stonepark resource is 5 million tonnes at 11% zinc and lead, which is adjacent to Glencore's PallasGreen deposit at 45 million tonnes at 8%, roughly.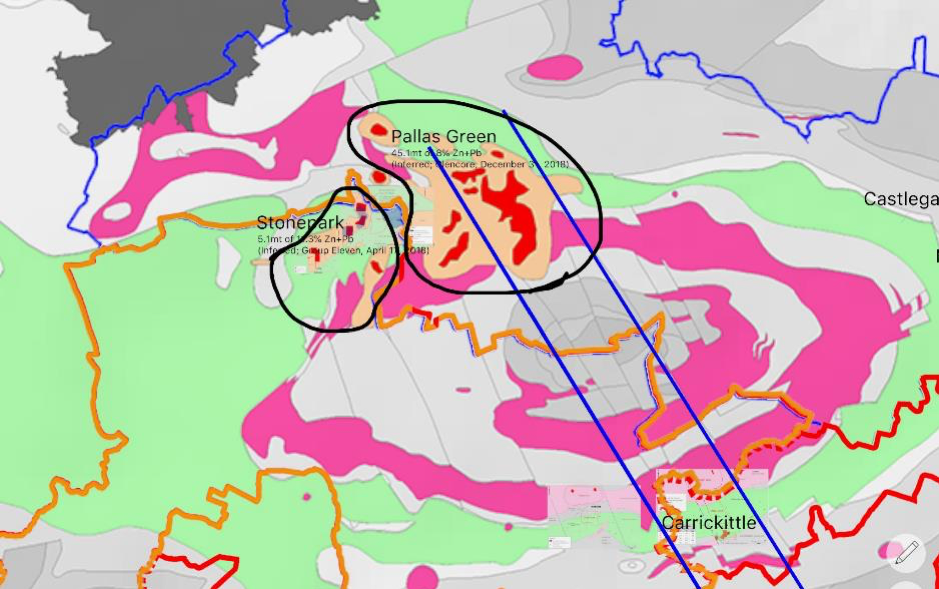 Maurice Jackson: Mr. Jaworski, what can you share with us about this Pallas Green corridor?
Bart Jaworski: Well, effectively, it's basically the two straight blue lines that you see in the map above. This blue corridor is an concept that was born out of Group Eleven's Big Think Initiative. Effectively, we analyzed all the data in this camp and started focusing on the geology. We notice the following:
· The main part of the Pallas Green body appears to be oriented northwest;
· There are series of northwest-oriented faults along the corridor; and
· We have this zinc occurrence called Carrickittle.
This is how things stood before we started drilling a few months ago.
Fast forward to today: what we've found with the drilling is a brand-new hydrothermal system at Kilteely. Plus, we found some significant zinc mineralization at Ballywire, which has effectively doubled the Pallas Green corridor to 20 kilometers, which prior to drilling was 10 kilometers. Also, we've added a lot more meat to the idea that this corridor actually exists.
Maurice Jackson: Interesting. So the postulated corridor has now doubled to 20 kilometers—that is important for investors to know. That essentially means you have narrowed your search radius for an economic deposit to a much narrower area than ever before. Please provide us with more details about your first big hit?
Bart Jaworski: Let's look at Ballywire and show you how it's related to Pallas Green. The Pallas Green–Stonepark system occurs at the base of the green unit, which is the Waulsortian Limestone, here on the right of the [image below]. It dives under the volcanics, comes back up and then comes back down at Ballywire. So, you can see, it's the same unit and it occurs along the Pallas Green corridor.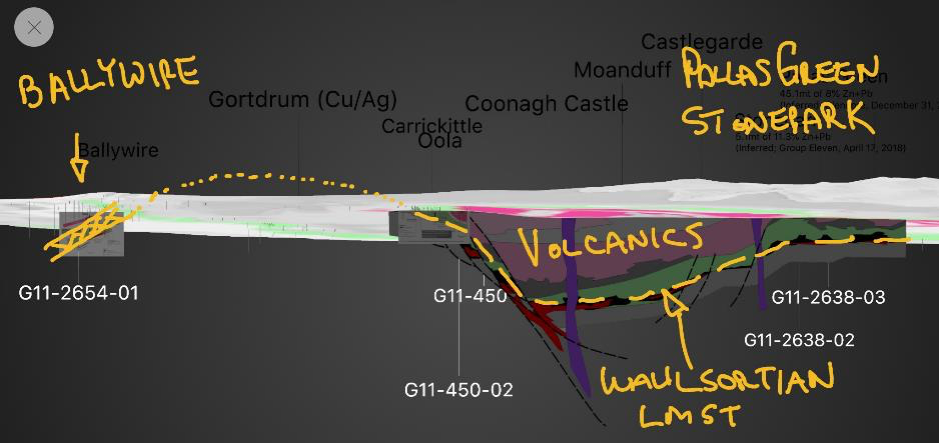 Maurice Jackson: So this is on trend and along the same stratigraphic layer. Makes sense. What did you actually hit at Ballywire?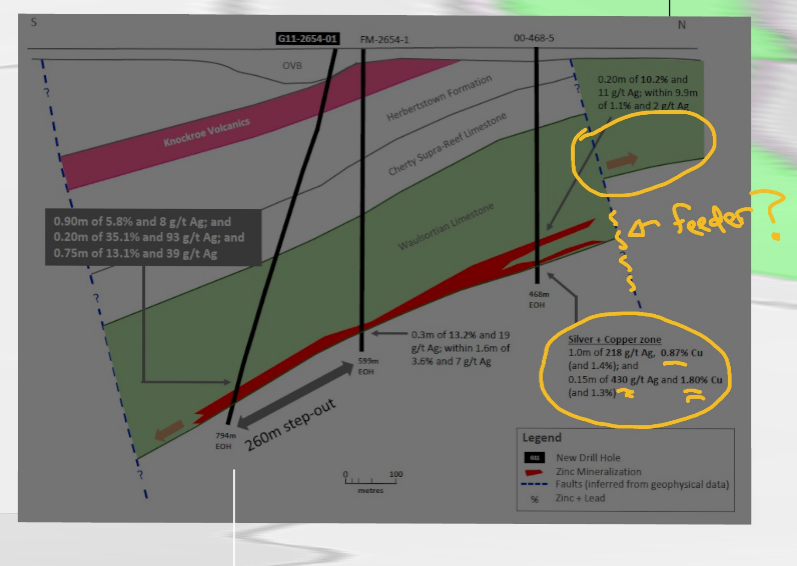 Bart Jaworski: There are two historic holes in this area, both of which hit significant mineralization. The first hole, drilled in the year 2000, also discovered a very interesting copper and silver zone. Up to 430 grams per tonne silver, in fact, and almost 2% copper. Now that was over 15 centimeters, but there is also a second zone, one meter wide, which also had 218 grams per tonne silver and nearly 1% copper. These are some of the highest silver grades I've ever seen in Ireland. Typically, silver and copper in Ireland mean you are getting close to a feeder structure, as you can see above.
In 2008, another operator came in and stepped out about 300 meters and got some more joy, intersecting 13% zinc plus lead over 30 centimeters, part of the wider 1.6-meter zone. And that was quite interesting. I think the guys were very excited by the results, but unfortunately it was the Lehman Brothers crisis and they couldn't raise any more money on base metal projects, especially around those days.
Maurice Jackson: Well, I feel sorry for the guys that drilled the Lehman Brothers hole. They were clearly on to something. The exploration upside seems very compelling. Can you tell us a bit more about it?
Bart Jaworski: Ballywire sat dormant for another 10 years, up until we came along and drilled our hole—a 260-meter step-out. And our thinking with this hole was to get closer to a large postulated fault structure, which is inferred from geophysics. It's called the Kilross Fault, and it seems that mineralization is emanating from it.
Turns out we intersected the best drill results to date on this prospect. An impressive 35 meters of intermittent zinc mineralization with some high grades in it. This includes:
· 1.85m of 6.4% zinc (Zn) and lead (Pb) and 23 g/t silver (Ag) (including 0.75m of 13.1% Zn and Pb and 39 g/t Ag);
· 1.45m of 6.3% Zn and Pb and 17 g/t silver (including 0.20m of 35.1% Zn and Pb and 93 g/t Ag);
· 2.75m of 3.2% Zn and Pb and 5 g/t silver (including 0.90m of 5.8% Zn and Pb and 8 g/t Ag)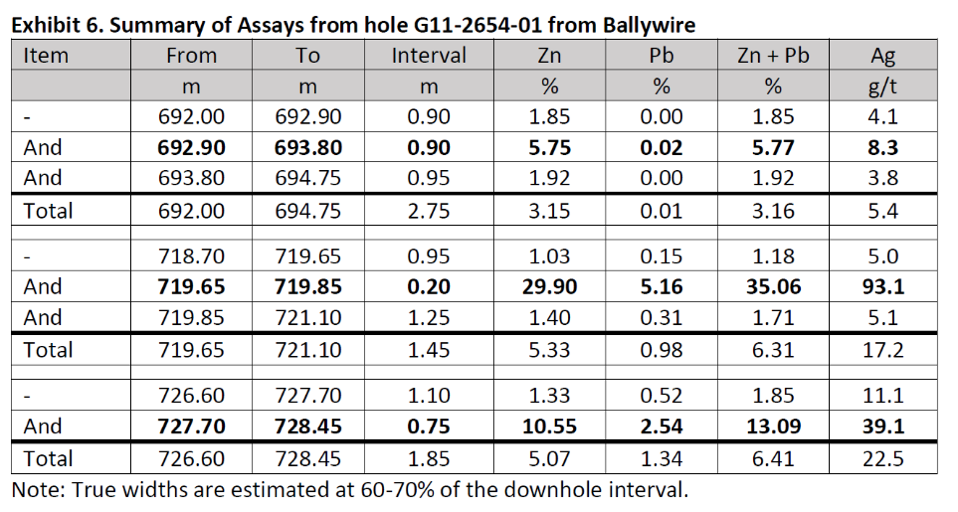 Maurice Jackson: Bart, what is the next step at Ballywire for Group Eleven.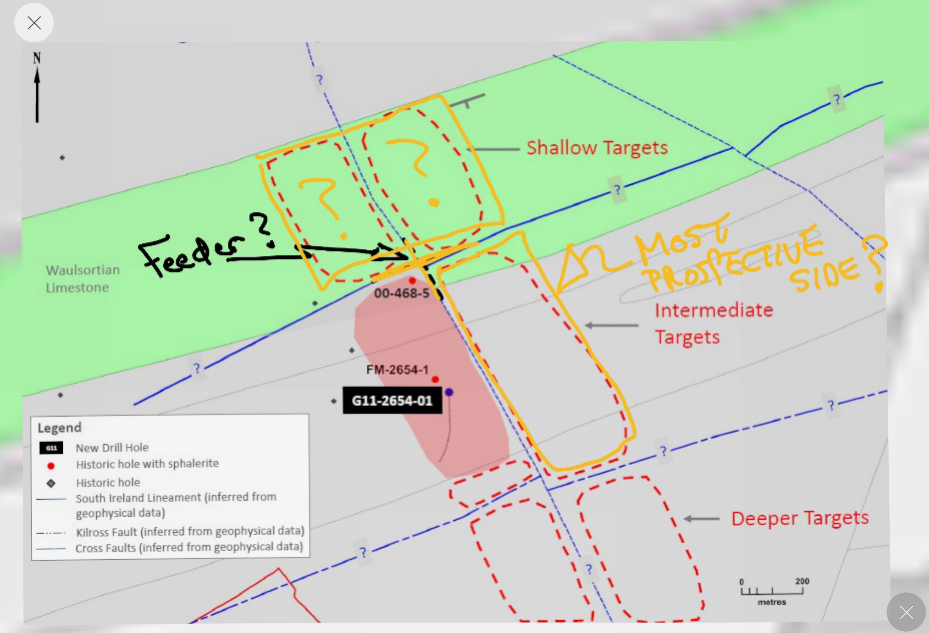 Bart Jaworski: Well, that's an excellent question. We now have a 650-meter-long zone, down dip. The next logical step is to chase this Kilross Fault to see if grades and thicknesses improve.
But the other very intriguing area for us is to chase down this potential feeder structure close to the copper-silver zone. And the fact that you're getting fairly shallow here, probably about 200 to 300 meters deep, is a big bonus. So this is an area that's quite intriguing for us.
Thirdly, if we look at the plan view, as per the map above, what really sticks out is the area just east of the current three holes. Once we drill more in this area, what we could find is that this eastern area is actually the more prospective side of the northwest-oriented fault running down the middle of the prospect. That would be a very exciting scenario.
All the above could help us push the needle more toward our current resources growing to that magic 10 million tons at 10% zinc and lead, which is the rule of thumb in Ireland of what you need to be economic.
Maurice Jackson: Mr. Jaworski, take us to your second target hit, which was equally intriguing.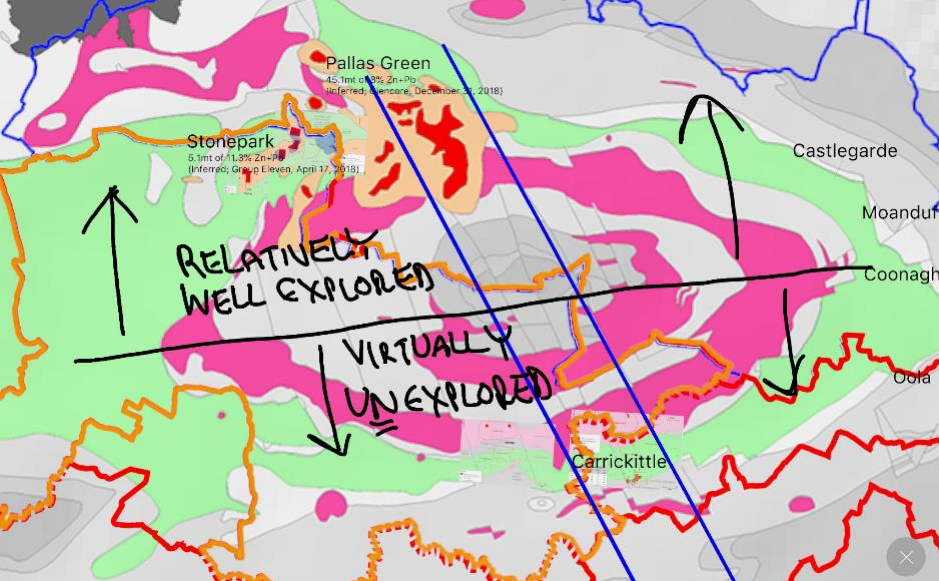 Bart Jaworski: Indeed—this is the Kilteely area. And I would almost argue it's more significant than Ballywire. To help you understand why, it's important for readers to understand the general context.
Going back to our previous discussion on the Limerick Volcanic Complex: Basically, you can split volcanics into two halves, the northern half and the southern half. It's the northern half that's been very well explored by Glencore and ourselves and historic operators on the Stonepark project.
But guess what? On the southern half, it's been virtually unexplored. There's only been one hole ever drilled in the southern half. And of course, the big question here is, is the southern half a mirror image of the north?
Maurice Jackson: Bart, give us a little bit more granularity and let us know, in particular, where in the south side are you going to focus most of your efforts?
Bart Jaworski: This is where things get fairly interesting. The south side is where it's at for us. But now the question is, where within that south side do you look? We already know that this Pallas Green corridor appears to be quite interesting, so that narrows things down immensely. But we also believe that there is a cross-structure running through this area, just north of Kilteely. This narrows the search radius even further.
Maurice Jackson: For all intents and purposes, it looks like X marks the spot. But I'm curious to find out more about the cross-fault area. Can you show us something on that?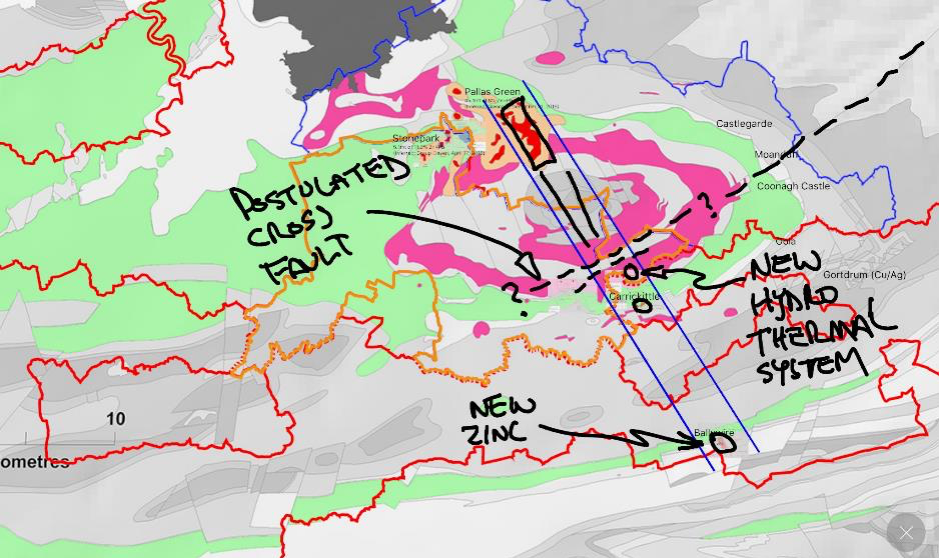 Bart Jaworski: Well, if we look at this from the side, in yellow on your screen is our key target area where we believe there is potential to discover very significant zinc mineralization. This cross-fault "hot spot" area could be feeding the entire Pallas Green Stonepark system. It's quite an interesting area.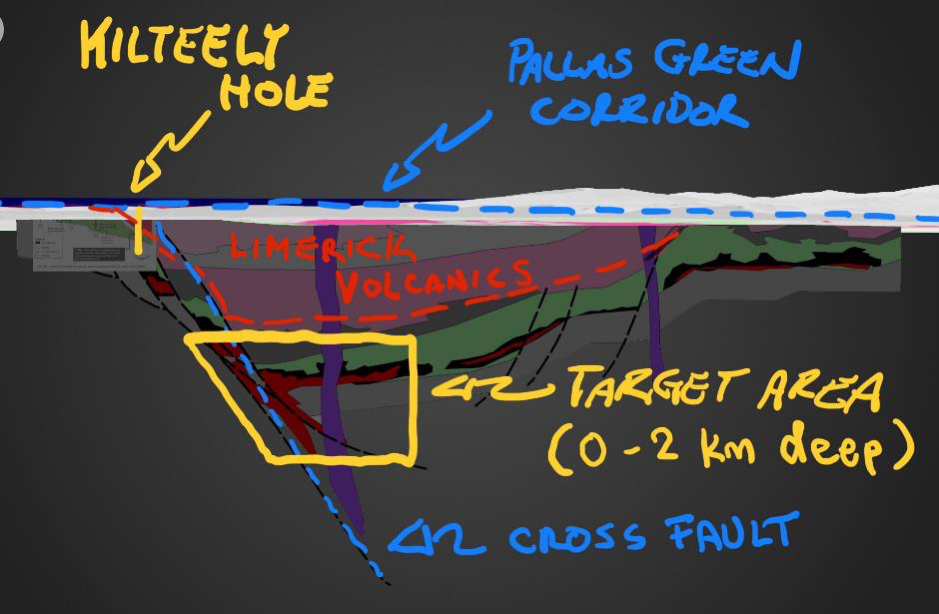 Maurice Jackson: What did the Kilteely hole hit and why was it significant?
Bart Jaworski: The Kilteely hole was the second hole ever drilled into the southern half of the Limerick volcanics and was designed to test for any hints of hydrothermal activity which might tell us we are close to a zinc system.
We ended up hitting significant hydrothermal activity over 230 meters, which is a very extensive width. Within this zone was a lot of coarse-grained iron sulphide (pyrite and possible marcasite) and brecciation (rock busted up by hot fluids). This got us very excited. We may be on the outer edge of a large zinc system as we start looking under the volcanic cover.
Maurice Jackson: Switching gears, Mr. Jaworski, please share with us the current capital structure.
Bart Jaworski: Shares outstanding right now are about 64 million and in terms of options and warrants, we have 11 million out, so fully diluted. We're at 75 million shares. Cash-wise, as of the last financial results for Q4/18, [around] December 31 [we had] CA$1.9 million, and we just raised about half a million—just under half a million dollars Canadian.
Maurice Jackson: All right, sir, you survived the storm. Mr. Jaworski, what is next for Group Eleven Resources? When should we expect results?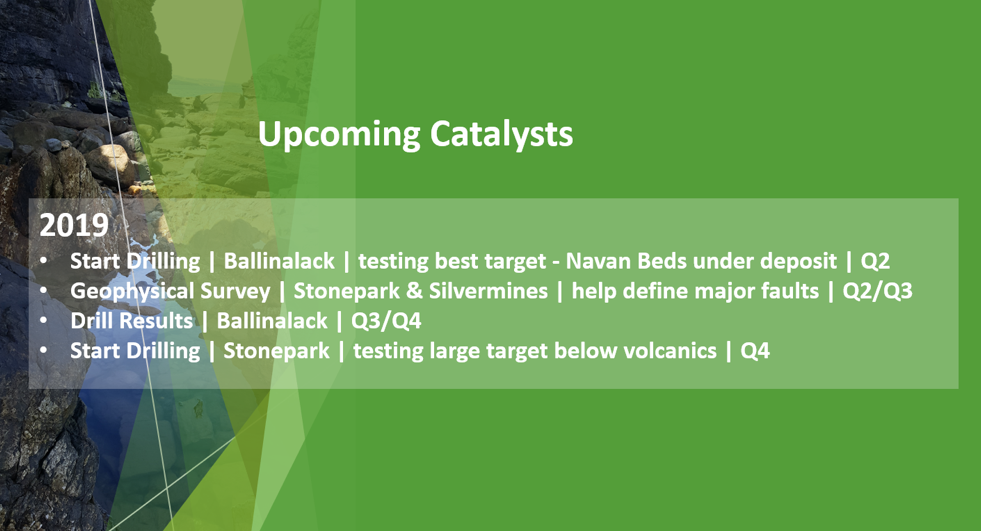 Maurice Jackson: For readers who want to get more information on Group Eleven Resources, please the contact details are.
Bart Jaworski: Our website is www.groupelevenresources.com. And as a reminder Group Eleven Resources trades on the TSX-V: ZNG and on the OTCQB: GRLVF. For direct inquiries, please contact Spiros Cacos at (604) 630-8839 ext. 503, and he may also be reached at[email protected].
Maurice Jackson: And finally, we invite you to visit provenandprobable.com, where we deliver mining insights and bullion sales. Bart Jaworski of Group Eleven Resources, thank you for joining us today on Proven and Probable.
Maurice Jackson is the founder of Proven and Probable, a site that aims to enrich its subscribers through education in precious metals and junior mining companies that will enrich the world.
[NLINSERT]
Disclosure:
1) Maurice Jackson: I, or members of my immediate household or family, own shares of the following companies mentioned in this article: None. I personally am, or members of my immediate household or family are, paid by the following companies mentioned in this article: None. My company has a financial relationship with the following companies mentioned in this article: None. Proven and Probable disclosures are listed below.
2) The following companies mentioned in this article are billboard sponsors of Streetwise Reports: MAG Silver. Click here for important disclosures about sponsor fees.
3) Statements and opinions expressed are the opinions of the author and not of Streetwise Reports or its officers. The author is wholly responsible for the validity of the statements. The author was not paid by Streetwise Reports for this article. Streetwise Reports was not paid by the author to publish or syndicate this article. The information provided above is for informational purposes only and is not a recommendation to buy or sell any security. Streetwise Reports requires contributing authors to disclose any shareholdings in, or economic relationships with, companies that they write about. Streetwise Reports relies upon the authors to accurately provide this information and Streetwise Reports has no means of verifying its accuracy.
4) This article does not constitute investment advice. Each reader is encouraged to consult with his or her individual financial professional and any action a reader takes as a result of information presented here is his or her own responsibility. By opening this page, each reader accepts and agrees to Streetwise Reports' terms of use and full legal disclaimer. This article is not a solicitation for investment. Streetwise Reports does not render general or specific investment advice and the information on Streetwise Reports should not be considered a recommendation to buy or sell any security. Streetwise Reports does not endorse or recommend the business, products, services or securities of any company mentioned on Streetwise Reports.
5) From time to time, Streetwise Reports LLC and its directors, officers, employees or members of their families, as well as persons interviewed for articles and interviews on the site, may have a long or short position in securities mentioned. Directors, officers, employees or members of their immediate families are prohibited from making purchases and/or sales of those securities in the open market or otherwise from the time of the interview or the decision to write an article until three business days after the publication of the interview or article. The foregoing prohibition does not apply to articles that in substance only restate previously published company releases.
Proven and Probable LLC receives financial compensation from its sponsors. The compensation is used is to fund both sponsor-specific activities and general report activities, website, and general and administrative costs. Sponsor-specific activities may include aggregating content and publishing that content on the Proven and Probable website, creating and maintaining company landing pages, interviewing key management, posting a banner/billboard, and/or issuing press releases. The fees also cover the costs for Proven and Probable to publish sector-specific information on our site, and also to create content by interviewing experts in the sector. Monthly sponsorship fees range from $1,000 to $4,000 per month. Proven and Probable LLC does accept stock for payment of sponsorship fees. Sponsor pages may be considered advertising for the purposes of 18 U.S.C. 1734.
The Information presented in Proven and Probable is provided for educational and informational purposes only, without any express or implied warranty of any kind, including warranties of accuracy, completeness, or fitness for any particular purpose. The Information contained in or provided from or through this forum is not intended to be and does not constitute financial advice, investment advice, trading advice or any other advice. The Information on this forum and provided from or through this forum is general in nature and is not specific to you the User or anyone else. You should not make any decision, financial, investments, trading or otherwise, based on any of the information presented on this forum without undertaking independent due diligence and consultation with a professional broker or competent financial advisor. You understand that you are using any and all Information available on or through this forum at your own risk.
Images provided by the author.