Maurice Jackson: Welcome to Proven & Probable. I'm your host, Maurice Jackson. Joining us today is Michael Rowley, president and CEO of Group Ten Metals Inc. (PGE:TSX.V; PGEZF:OTCQB), which is known for platinum, palladium, nickel, copper and cobalt in the Stillwater district in Montana.
This interview is the second of a three-part series introducing the value proposition for the Metallic Group of Companies comprising Metallic Minerals, Group Ten Metals and Granite Creek Copper. These are three separate leading exploration companies, each with a different metal of focus, but with a common approach to business under the proven management of the Metallic Group.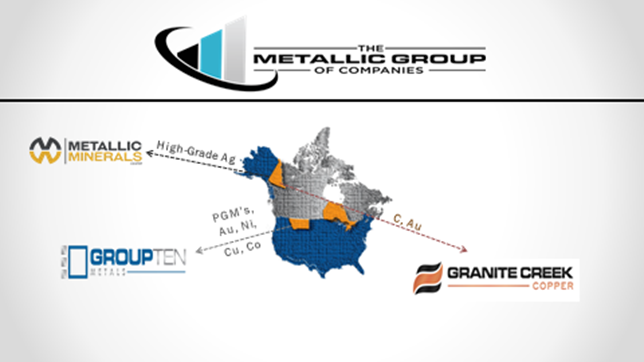 Earlier we interviewed Greg Johnson to talk about Metallic Minerals and its exciting high-grade silver projects in the Yukon. Today we turn our focus to a second company in the Metallic Group, Group Ten Metals, a leading explorer for platinum, palladium, nickel, copper and cobalt in the world-famous Stillwater district in Montana.
Mr. Rowley, for someone new to the story, who is Group Ten Metals, what is your flagship project, and what is the thesis you are attempting to prove?
Michael Rowley: Group Ten is a leading explorer for platinum group metals—these include platinum, palladium and rhodium, along with nickel, copper and cobalt.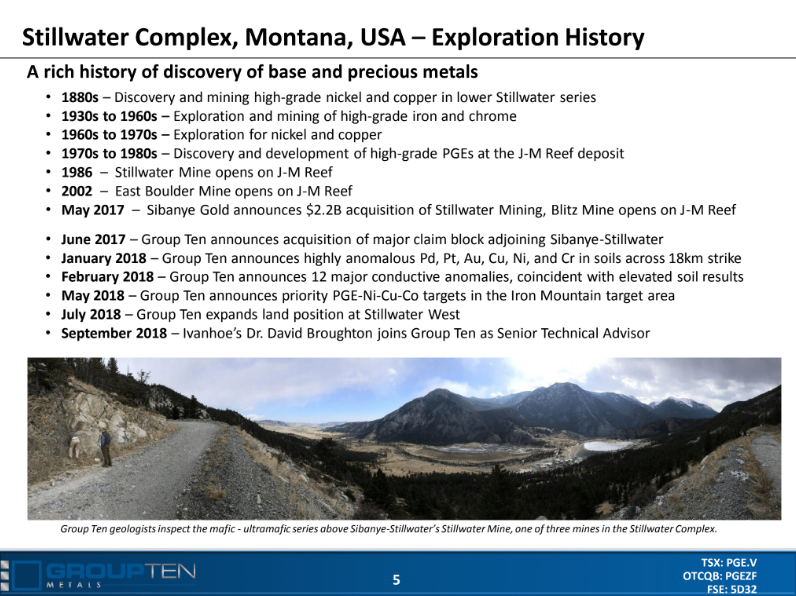 Our flagship project is the Stillwater West project where we have consolidated a very large land position alongside Sibanye-Stillwater's three producing mines in the heart of the Stillwater Igneous Complex in Montana. It's one of the world's premier platinum and palladium producers and is one of the only platinum group metal producing mines outside of South Africa or Russia.
Geologically, Stillwater is a large, layered, mineral-rich magmatic system, very similar to the Bushveld complex in South Africa, which hosts over 75% of the world's platinum, as well as enormous quantities of copper, nickel, gold and other metals.
We see the potential for large-scale disseminated and high-sulphide PGE-nickel-copper type deposits similar to the multi-100-million-ounce deposits in the Platreef district of the northern limb of the Bushveld Complex, and we are the first to apply the new geological models from the Platreef district to the Stillwater district, despite these well-known similarities.
In addition to bringing the land position together with a wealth of data, we have also assembled a truly world-class team, to which we recently added one of the most celebrated Platreef geologists, Dr. David Broughton of Ivanhoe.
Maurice Jackson: Please share where in Montana the Stillwater West Project is located, and provide us some historical context.
Michael Rowley: The project is located in south-central Montana where we adjoin the three producing Stillwater mines, which were bought by Sibanye, a South African gold producer, in 2017 for $2.2 billion. The district is famous for the size and grade of its palladium-platinum mines, which are the highest grade in the world, and the largest outside of Africa and Russia with over 14 million ounces of past production, and over 80 million ounces of resources still in the ground. The PGMs occur along with nickel and copper sulphide, so these are also nickel and copper mines.
Historically, the district, including our block of claims, was also mined for high-grade nickel, copper, chrome and other metals such as cobalt.
The history at Stillwater parallels the developments at the Bushveld Complex in South Africa, so they share more than geology in that regard. Both districts were recognized over 100 years ago for their mineral riches, and both supported a number of mines for varying commodities. And, in both districts, the discovery of high-grade "reef-type" platinum group metal deposits in the 1970s produced large-scale operations that were the sole focus of exploration efforts until the 1990s when regulatory changes forced a release of mineral rights to other operators. In Montana, these changes were in the form of amended U.S. claim fees, while in South Africa it was the end of apartheid. In South Africa, the resulting exploration efforts lead to the development of Anglo American's Mogalakwena Mines, a giant at over 265 Moz PGMs and a very profitable operation that is the largest open-pit platinum mine in the world. Adjacent to that, Ivanhoe is now building the Platreef mine on the same system with over 112 Moz platinum plus substantial nickel and copper values.
We are the first operators to consolidate the lower Stillwater Complex under one owner, to recognize the similarities of the two systems, and to bring a focused exploration program for Platreef-type deposits to the Stillwater complex in Montana.
Maurice Jackson: Group Ten is exploring for platinum, palladium, nickel, copper and cobalt in a world-class district; compare and contrast how your deposits compare to similar districts like South Africa's Bushveld, and also your neighbors in Montana at Sibanye-Stillwater.
Michael Rowley: The Bushveld and Stillwater complexes are both layered magmatic systems, which means that they were both created when enormous amounts of metal-rich magma cooled, forming these massive districts nearly 3 billion years ago. As a result, both districts have high-grade PGM-Ni-Cu deposits in the upper layers and they also have lower zones where magmas where allowed to mix, creating thick intervals of sulphide mineralization enriched in PGMs.
At Bushveld, two basic types of mines have been developed for these two deposit types: narrow high-grade PGM mines on two reef-type deposits, and more recently bulk mining operations in the Platreef district such as Anglo's Mogalakwena mines and Ivanhoe's underground mechanized operation.
At Stillwater the operating mines have focused on narrow, high-grade reef-style deposits. These are the highest grade in the industry, but no systematic effort has been undertaken to explore for and develop Platreef-style mineralization. Group Ten Metals is now exploring in the lower part of the complex for potential large-scale Platreef deposits in the Stillwater district, following the parallels of the same type of settings in South Africa that have produced the Platreef deposits.
Maurice Jackson: Mr. Rowley, we've covered some good background on the Stillwater West Project, walk us through the project.
Michael Rowley: Let's begin with some of our claim holdings in the Stillwater district and some of the existing resources and operations there. As you can see on the Regional Claims Map, Group Ten's Stillwater West land position, shown in yellow and orange, is a large 25-km-long claim block located directly adjacent to Sibanye's three operating Stillwater mines (shown in grey). Proximity to the existing mines provides access to infrastructure such as roads from the west and from the northeast.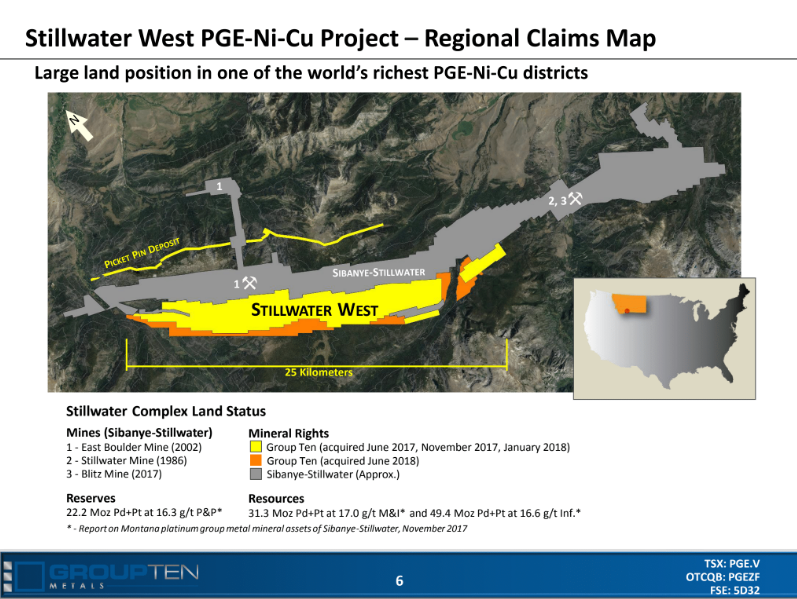 Maurice Jackson: What can you share with us regarding the geology and the potential that we have at the Stillwater West project?
Michael Rowley: This is a layered magmatic system, and layering is visible in the geologic map of the Stillwater Complex, as it shows the J-M reef deposit—this is the world's highest-grade major PGE deposit at 16 g/t, and, at 80 Moz, the largest outside of South Africa and Russia.
Looking at the cross-section of the Stillwater Complex shown on the District Geology figure, this layering is clearly visible. Layers of metal-rich magma were laid down at formation, and then the whole system was later tipped up 60 degrees, which is more amenable to both mining and exploration as mineralization starts right at surface.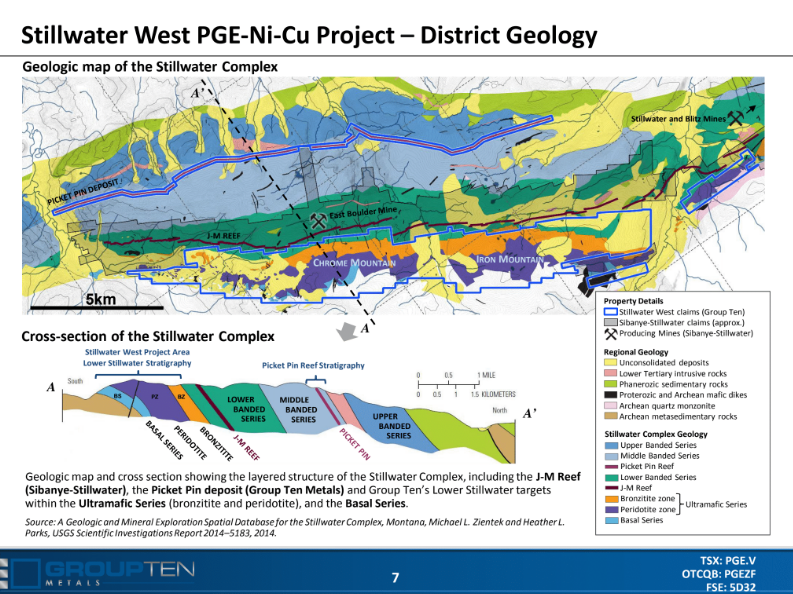 Like the Bushveld complex in South Africa, narrow reef deposits occur in the middle and upper layered portions of the igneous system, while the lower portion of the complex, shown here in orange, purple and light blue, are the basal layers where magma mixed with pre-existing rock, created large, disseminated and massive sulphide deposits such as those in the Platreef district in South Africa. Though it was previously recognized these areas had significant nickel and copper mineralization, this is the first time the potential for large PGM deposits with nickel and copper have been recognized, and the similarities to the large deposits in South Africa make this a very exciting exploration target for Group Ten.
Maurice Jackson: What can you share with us regarding geophysics?
Michael Rowley: A geophysical survey measuring the electrical conductivity of the rocks was conducted over the entire property. High metal contents in the rocks would make them highly conductive so this survey gives a very good indication of metal sulphide content of the mineralization that hosts the PGMs, copper and nickel. This type of geophysics is one of the main targeting tools used by companies exploring for metal sulphide deposits and maps the PGE-Ni-Cu targets, as shown in the top half of slide 8. The survey results indicate seven very large highly conductive targets across the lower part of the complex (highlighted by large blue ellipses as Platreef-type deposits), and five high-grade reef type targets (highlighted by red ellipses), above the lower part of the complex, where they would be expected.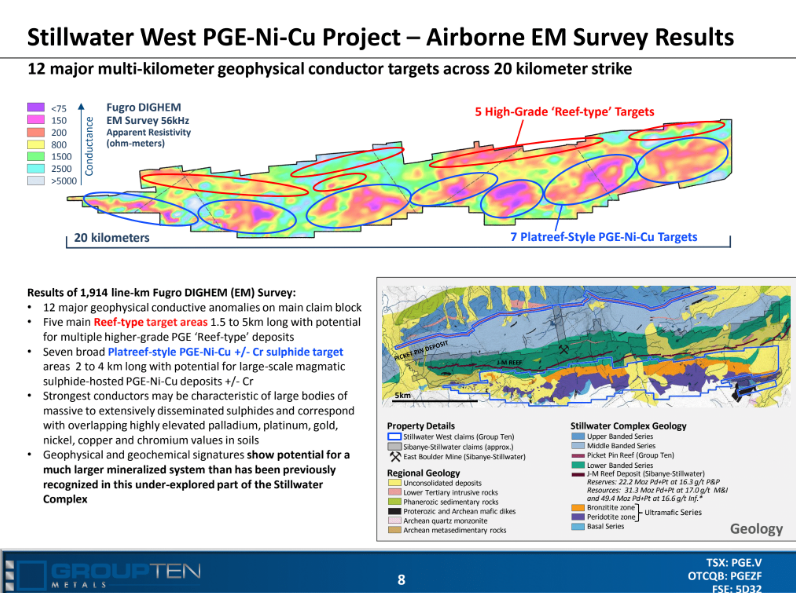 Surface and drill results confirm that these conductors are mineralized with PGMs, nickel and copper, and that a good relationship exists between conductivity and metal content. However, Group Ten will be the first company to systematically drill test these targets in the basal zone for these types of deposits. The strongest conductive targets have yet to be tested, so these are very exciting priority targets for us.
Note that the main part of the property is over 20 km long, and that these individual targets are 3 to 6 kilometers in length each, large enough individually to contain a deposit the size of Ivanhoe's or Anglo American's Platreef deposits!
Maurice Jackson: What do we know about the soil geochemistry?
Michael Rowley: In addition to the geophysics, we have identified very high levels of metals in soils covering an 18-kilometer-long area with high levels of platinum, palladium, nickel and copper. These elevated metals in soils correlate well with the geophysical targets and the shape of the underlying geology. Group Ten's work in 2018 was the first property-wide effort to target large-scale Platreef-type systems in the lower Stillwater Complex and to see this combination of large scale geochemical and geophysical targets is very rare.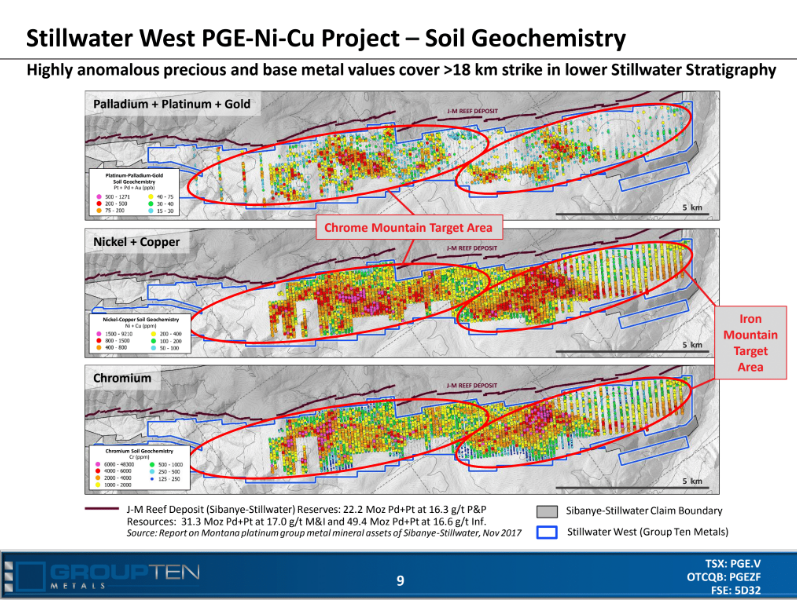 Maurice Jackson: Tell us a bit more about these geologic targets that you have identified.
Michael Rowley: Below is a picture of some of the core from our property showing strong sulphide mineralization with PGE-Ni-Cu-Co values in the lower part of the Stillwater Complex.
We have identified two primary target types: the high-grade "reef-type" type deposits that are being currently mined by Sibanye-Stillwater and the Platreef-type that Group Ten is targeting based on evidence in the data, and geologic parallels with the Bushveld in South Africa.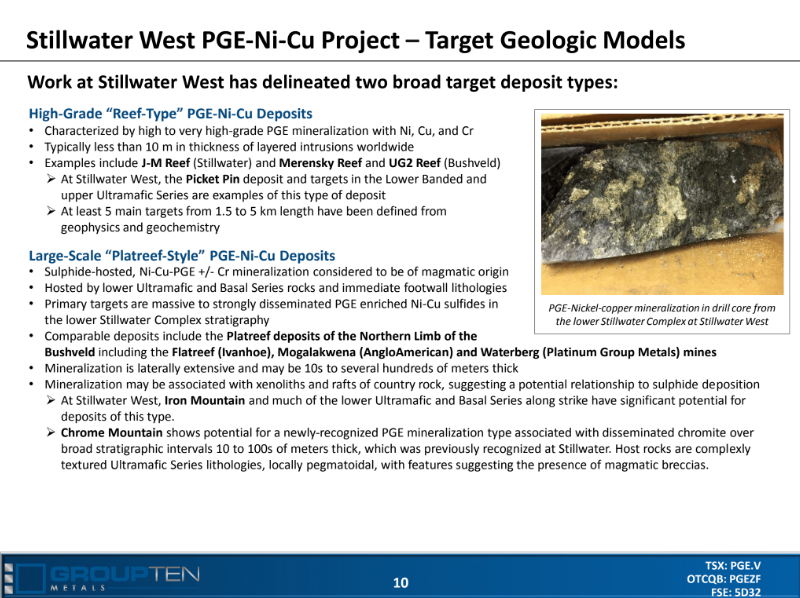 Maurice Jackson: What do we know about the styles of mineralization in this kind of geologic environment?
Michael Rowley: In terms of mineralization and mineralization type, slide 11 presents and compares reef type and Platreef-type targets. The Reef type deposits are presented in the brown color box and photos, and we've taken the Merensky and the J-M Reef as examples, one from Bushveld and one from Stillwater. Very high grade, very narrow thickness. On the right hand side of the slide are some good pictures showing what it's like to operate in these mines. Merensky happens to be flat lying, and the mines are deep and expensive to operate. It is expected that many of these marginal Merensky mines will close due to their high costs, which should drive platinum prices in the coming years, with continued reduction of supply even as demand for platinum and palladium continue to grow.
The lower picture on the right shows mining of the J-M Reef deposits at Stillwater, at a 60 degree angle that's more amenable to mining.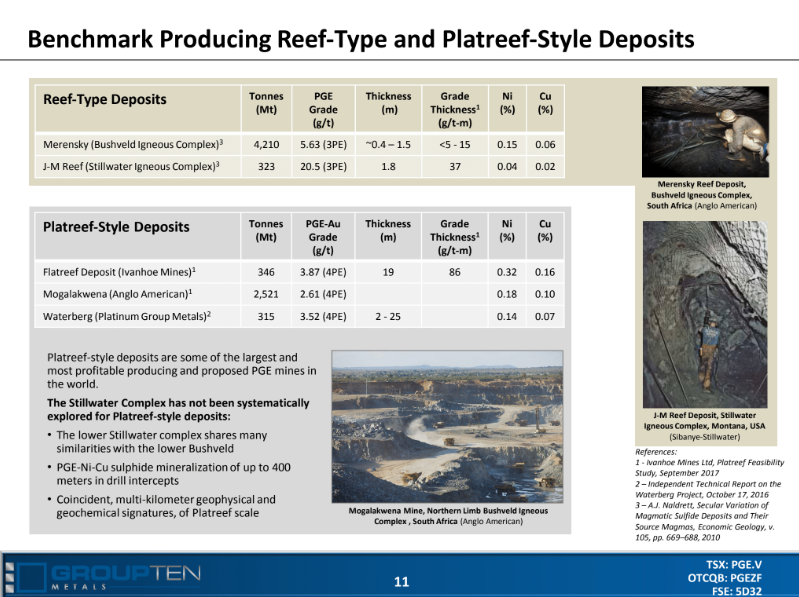 The key take-away from this slide is the scale of the Platreef-style deposits shown in the grey box in the lower left of the slide with the picture of Mogalakwena mine. The thicknesses that we see in the mineralization, and the contained metal in these deposits—these are very large and economically attractive bulk mining operations. It's worth noting that Anglo American's Platreef Mogalakwena Mines are the largest and most profitable platinum mines in the world. Ivanhoe's adjoining Platreef Mine is going to be a very high-tech underground bulk mining operation that looks similarly very economically attractive, and that's potential that we see at Stillwater West.
Maurice Jackson: The Stillwater West is considered a large brownfields exploration property; how is this important in terms of the potential for exploration discovery and development?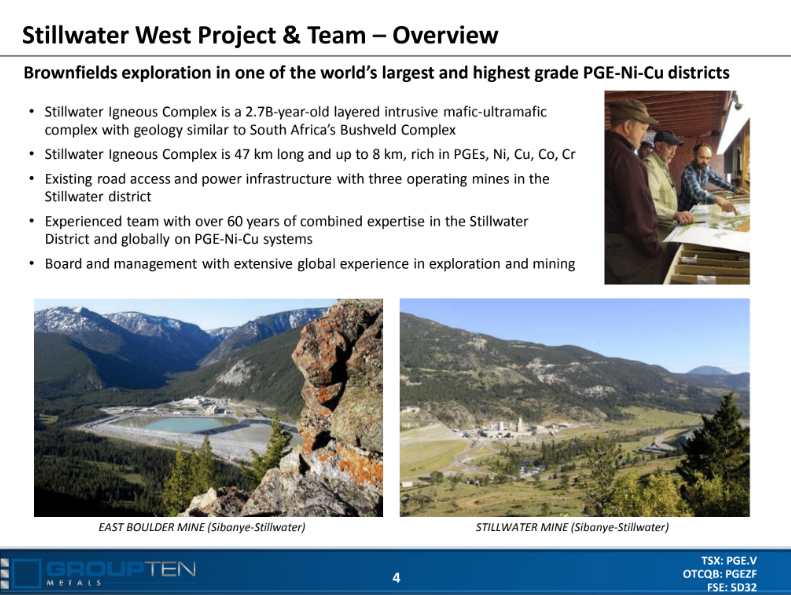 Michael Rowley: Brownfields is a term for a property that is in an area that has had past discoveries and/or production. So this in contrast to a greenfields property, which is outside of proven mining areas.
Many people don't realize that the majority of exploration dollars spent in the mining industry go to exploration around existing mines because it is one of the best places to make new discoveries and to rapidly be developed and produced using existing infrastructure. The adage is "the best place to find a mine is right next to an existing one."
In this case, at Stillwater, we have consolidated the district alongside three operating mines owned by Stillwater-Sibanye and are exploring in this same highly productive geologic environment, significantly increasing the probability of making new discoveries and potentially allowing for rapid development of low capital deposits because they are near surface and have the benefit of existing roads, power and other infrastructure already in the district.
Maurice Jackson: Group Ten has other assets in its portfolio. Where are these located, and please provide us with some historical background.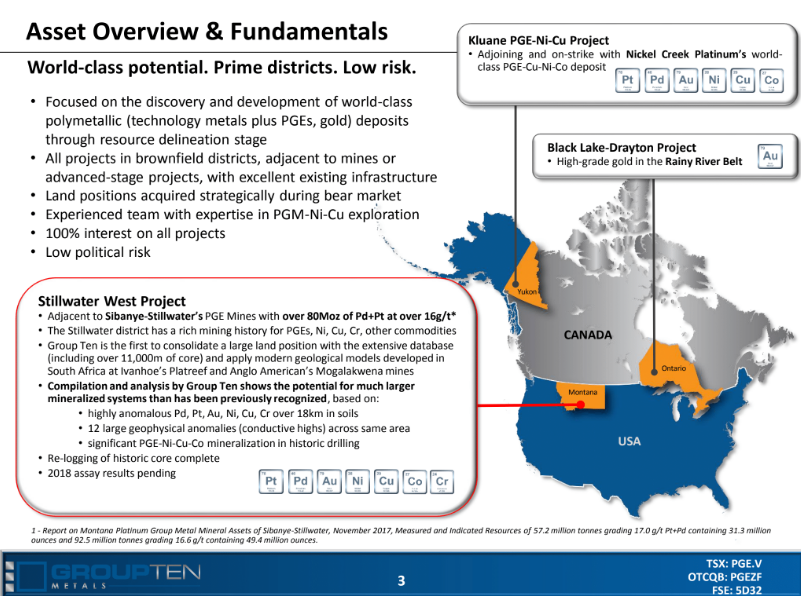 Michael Rowley: Following the Metallic Group model of acquiring quality assets in districts during the low parts of the metals price cycle, Group Ten has another PGE nickel copper project in the Kluane belt of the Yukon. This adjoins Nickel Creek Platinum's Wellgreen project. World-class geology, and excellent potential for scale and grade there. We are seeing good interest in this asset as well but it's at an earlier stage than the Stillwater asset.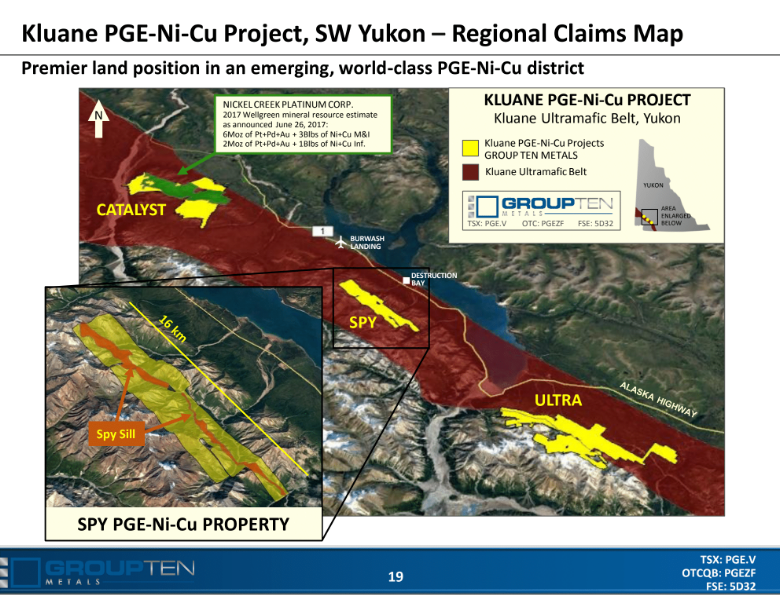 We also have the Black Lake/Drayton gold project, which adjoins First Mining's Goldlund project and Treasury Metals Goliath project in the Rainy River belt of Ontario. We have several groups looking at this project as it is a 30-kilometer-long belt of productive geology that sits between two multi-million-ounce gold deposits. We've consolidated an impressive land position and database during the bear market and this is a very active exploration district.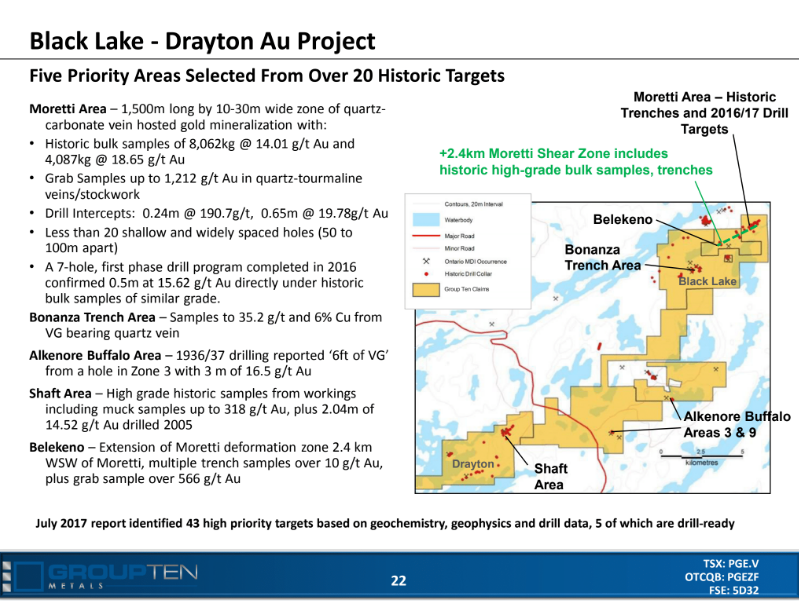 Maurice Jackson: What work have you done this year, and how do you prioritize them alongside your flagship Stillwater West project?
Michael Rowley: Work programs at Kluane were focused on target refinement with an eye to adding value and assisting some of the parties from whom we have had expressions of interest. Similarly, in Ontario our work has consisted of refining targets and presenting the potential of the project to the groups we have under CA looking at a possible acquisition or partnership.
Maurice Jackson: You are just wrapping up exploration for this season at Stillwater West so when should we expect to see the next results from this year's work?
Michael Rowley: This was only our first year on the ground at Stillwater and yet, because of the amount of information we have including surface sampling, mapping, drilling and geophysics we have already identified 12 major targets on the property.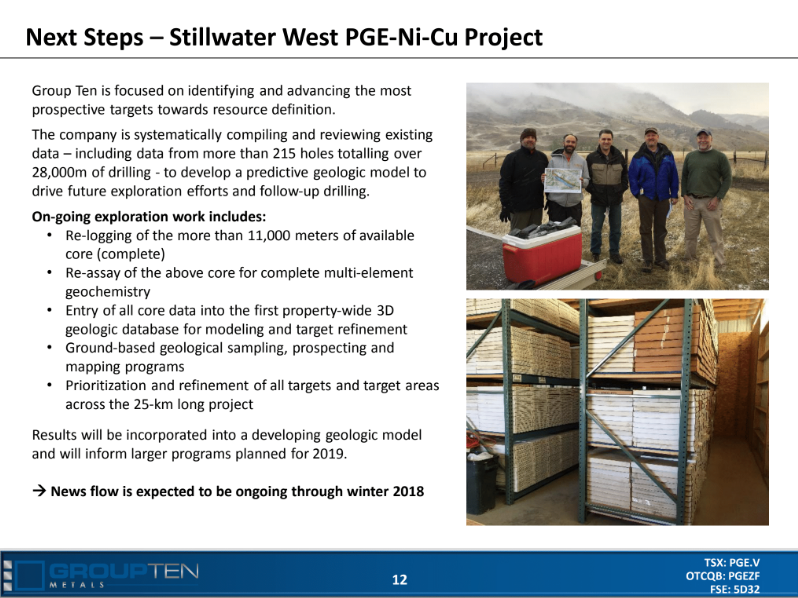 In addition, we have re-logged over 11,000 meters of core that is in our possession, some of which was assayed incompletely, or never assayed at all, and certainly never looked at with the bulk tonnage model we are using. Those results, and the new 3D models they will drive, are expected to give us a lot of news flow over the next several months as we detail the information in each of our target zones with the objective to develop and refine the targets for drilling and to focus on those areas that we may be able to rapidly advance towards new resources.
Maurice Jackson: What is management's philosophy, are you looking to build mines or are you focused on exploration?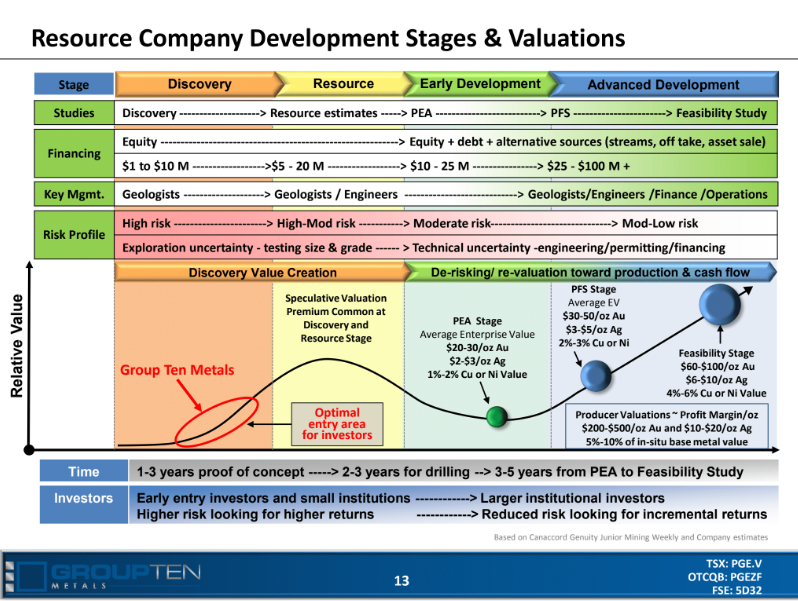 Michael Rowley: We are very much focused on the opportunity to make discoveries and to rapidly advance those to resource definition, as shown on slide 13. This stage can be one of the greatest periods for value creation in mining for investors. It's not uncommon that the value that's created in that initial discovery and resource development phase may not be exceeded again until these projects actually go into production, often times many years later.
Maurice Jackson: Switching gears, I've learned from some of the most respected names in the natural resource space—Rick Rule, Doug Casey, Jayant Bhandari, Mickey Fulp, Bob Moriarty—that the people running the business are equally, if not more important, than the latent material in the ground. Mr. Rowley, please introduce us to your board of directors and management team, and what unique skill sets do they bring to Group Ten Metals?
Michael Rowley: The quality of the Stillwater asset in particular has enabled us to attract a remarkable team. Dr. Craig Bow, who was part of the original discovery at Stillwater, is back leading the team now. Dr. Dave Broughton, of course of Ivanhoe, awarded for the discovery of the Platreef deposit and other world-class mines for Ivanhoe, just recently joined as senior technical advisor. They both are very excited about the potential here, and are experts in this type of deposit. In addition, we have a number of experienced team members who have worked in this region for decades. It's a great group of people to work with. And of course the Metallic Group management team, Greg Johnson, Gregor Hamilton, Bill Harris, myself, all of us veterans are of the industry. The team brings great depth of experience with specialized expertise in PGM and nickel systems.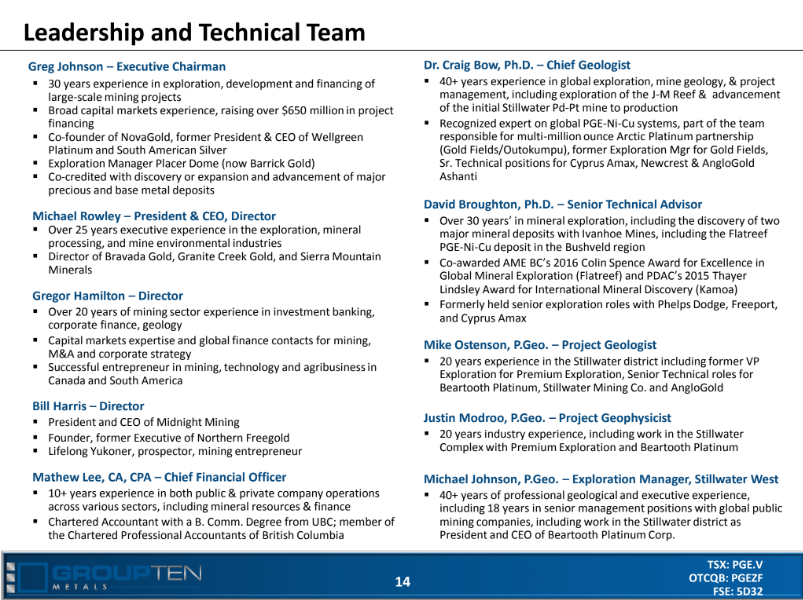 Maurice Jackson: Tell us about your share structure, options and warrants.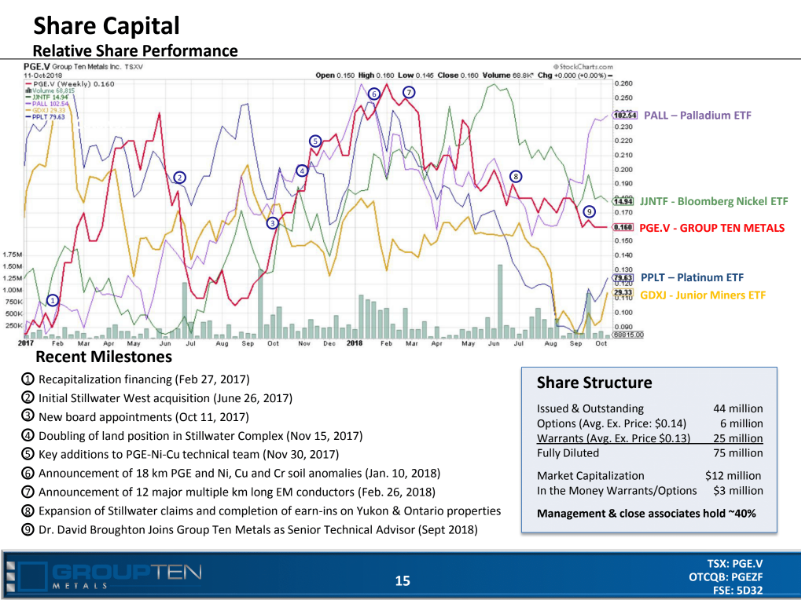 Michael Rowley: It's early days, we have a market cap of about $8 million, and about 44 million shares outstanding. Key point is we have $3 million of both in the money warrants that are callable and that's after bringing in about $800,000 worth of those to date.
Maurice Jackson: What is your burn rate?
Michael Rowley: Presently it is about $50,000 per month. That includes our technical team and we do a good job of keeping costs down by sharing office and other back office expenses with the Metallic Group companies.
Maurice Jackson: Do you have institutional investors at this point?
Michael Rowley: We have a couple of mining-focused institutional funds with one out of Europe and one out of Toronto and a great set of high net worth investors.
Maurice Jackson: What is the float?
Michael Rowley: It's pretty tightly held so probably about 20 million shares, and we turn over about one or two million shares per month.
Maurice Jackson: Mr. Rowley, multilayered question, what is the unanswered question for Group Ten Metals, when should we expect results, and what will determine success?
Michael Rowley: We have a lot to report through coming months as we continue the work to refine the highest priority drill targets for 2019. We have over 11,000 meters of core that has been re-logged and in places re-sampled, we have completed a comprehensive program of surface mapping and sampling and are integrating the drill information along with the surface work and geophysics.
We will be reporting a large number of assay results over coming months from our 2018 programs and are excited to be able to begin 3D modelling of the geophysics and drilling towards developing a predictive 3D geologic model of the lower Stillwater Complex targets.
Maurice Jackson: Mr. Rowley, in the introduction we alluded to the Metallic Group of Companies, please tell more about this.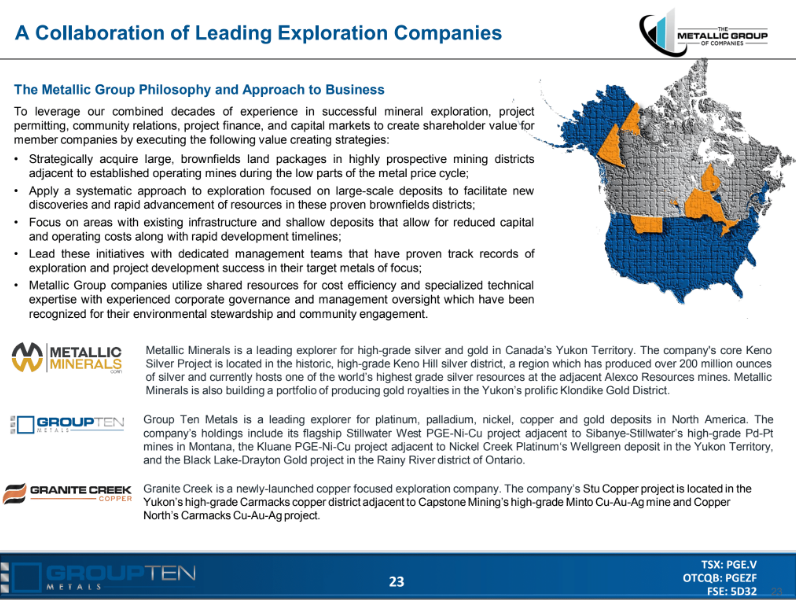 Michael Rowley: Group Ten Metals is part of a collaboration of leading exploration companies with some common directors between the companies and a similar approach to business. The Metallic Group of Companies includes Metallic Minerals TSX-V: MMG, which is focused on high-grade silver in the Yukon Territory; Group Ten Metals focused on platinum and palladium along with nickel and copper, in the Stillwater District, of Montana; and the newest company to join the group, Granite Creek Copper, as a newly launched copper focused exploration company with an exciting project right next door to a high-grade copper producer in the Carmacks District of the Yukon.
These three companies have each focused on acquiring large blocks of brownfield holdings during the low part of the metal price cycle, adjacent to operating mines with infrastructure and facilities already in place in the districts. All three companies have multiple targets that have potential for major new discoveries, and are focused on large-scale targets that would be of interest to the major mining companies.
We are applying new technologies to the extensive historical data on these projects that allow us to fast-track target development and refinement and drive rapid advancement to the resource delineation stage.
In each of these situations with these operating mines next door, there is an opportunity to be able to fast track development on these targets by utilizing the existing infrastructure in their respective districts. There is also the potential for partnering with those operators or, if we're successful in discovering very large scale deposits, to see interest by other larger companies.
The Metallic Group of Companies are reducing costs by having a common admin group and CFO, as well as allowing us to have a deeper technical team with some specialists that can be shared across the group.
It's an exciting group of companies with a common philosophy. Our objective is to build real value for the Metallic Group investors going forward.
Maurice Jackson: Finally, what did I forget to ask?
Michael Rowley: I think that was a very comprehensive overview of Group Ten, and thank you for it. Perhaps in closing, I'd like to touch on a couple of catalysts ahead. On the industry side, we mentioned South Africa and the costs of mining there and the expected closure of a lot of those high-cost platinum mines. It has been a well-established pattern of falling PGM production out of South Africa year-on-year and the CPM Group's work out of New York indicates that a lot of mine closures are expected soon, in 2019 and 2020. This is going to have a huge effect on platinum prices, because 75% of the world's PGMs comes out of those reef deposits in South Africa. It's also worth noting that we have significant nickel, copper and cobalt, which are such important metals for the rapidly growing battery and technology metals space.
We are very bullish on these metals after a seven-year bear market. With most commodity price cycles running four to six years, we believe that the upside opportunity in these metals moving into the next cycle ahead could be very significant.
Lastly, the fact that the Stillwater West project is a U.S.-based project adjoining these world-class, enormous PGM mines in Montana, with all the existing infrastructure in place can allow us to fast track our progress there.
Maurice Jackson: In our first interview, we shared that there was a financing opportunity for accredited investors. Please share the details with us.
Michael Rowley: We recently announced that we are in the process of completing the initial offering for our newly created copper company, Granite Creek Copper.
Maurice Jackson: For someone listening that wants to get more information on Group Ten Metals, the website address is www.grouptenmetals.com. And as a reminder Group Ten Metals trades on the TSX-V:PGE and on the OTCQB:PGEZF. For direct inquiries please contact Chris Ackerman at 604-357-4790 ext. 1 and he may also be reached at [email protected]
And last but not least please visit our website provenandprobable.com, where we interview the most respected names in the natural resources space. You may reach us at [email protected].
Michael Rowley of Group Ten Metals, thank you for joining us today on Proven and Probable.
Maurice Jackson is the founder of Proven and Probable, a site that aims to enrich its subscribers through education in precious metals and junior mining companies that will enrich the world.
[NLINSERT]
Disclosure:
1) Maurice Jackson: I, or members of my immediate household or family, own shares of the following companies mentioned in this article: None. I personally am, or members of my immediate household or family are, paid by the following companies mentioned in this article: None. My company has a financial relationship with the following companies mentioned in this article: None. Proven and Probable disclosures are listed below.
2) The following companies mentioned in this article are billboard sponsors of Streetwise Reports: None. Click here for important disclosures about sponsor fees.
3) Statements and opinions expressed are the opinions of the author and not of Streetwise Reports or its officers. The author is wholly responsible for the validity of the statements. The author was not paid by Streetwise Reports for this article. Streetwise Reports was not paid by the author to publish or syndicate this article. The information provided above is for informational purposes only and is not a recommendation to buy or sell any security. Streetwise Reports requires contributing authors to disclose any shareholdings in, or economic relationships with, companies that they write about. Streetwise Reports relies upon the authors to accurately provide this information and Streetwise Reports has no means of verifying its accuracy.
4) This article does not constitute investment advice. Each reader is encouraged to consult with his or her individual financial professional and any action a reader takes as a result of information presented here is his or her own responsibility. By opening this page, each reader accepts and agrees to Streetwise Reports' terms of use and full legal disclaimer. This article is not a solicitation for investment. Streetwise Reports does not render general or specific investment advice and the information on Streetwise Reports should not be considered a recommendation to buy or sell any security. Streetwise Reports does not endorse or recommend the business, products, services or securities of any company mentioned on Streetwise Reports.
5) From time to time, Streetwise Reports LLC and its directors, officers, employees or members of their families, as well as persons interviewed for articles and interviews on the site, may have a long or short position in securities mentioned. Directors, officers, employees or members of their immediate families are prohibited from making purchases and/or sales of those securities in the open market or otherwise from the time of the interview or the decision to write an article, until one week after the publication of the interview or article.
Proven and Probable LLC receives financial compensation from its sponsors. The compensation is used is to fund both sponsor-specific activities and general report activities, website, and general and administrative costs. Sponsor-specific activities may include aggregating content and publishing that content on the Proven and Probable website, creating and maintaining company landing pages, interviewing key management, posting a banner/billboard, and/or issuing press releases. The fees also cover the costs for Proven and Probable to publish sector-specific information on our site, and also to create content by interviewing experts in the sector. Monthly sponsorship fees range from $1,000 to $4,000 per month. Proven and Probable LLC does accept stock for payment of sponsorship fees. Sponsor pages may be considered advertising for the purposes of 18 U.S.C. 1734.
The Information presented in Proven and Probable is provided for educational and informational purposes only, without any express or implied warranty of any kind, including warranties of accuracy, completeness, or fitness for any particular purpose. The Information contained in or provided from or through this forum is not intended to be and does not constitute financial advice, investment advice, trading advice or any other advice. The Information on this forum and provided from or through this forum is general in nature and is not specific to you the User or anyone else. You should not make any decision, financial, investments, trading or otherwise, based on any of the information presented on this forum without undertaking independent due diligence and consultation with a professional broker or competent financial advisor. You understand that you are using any and all Information available on or through this forum at your own risk.