Maurice Jackson: Joining us today is Christopher McFadden, the president, CEO, and director of NxGold where the focus is on high-grade gold in world-class districts.
Mr. McFadden, for someone new to the story, who is NxGold Ltd. (NXN:TSX.V) and what is the thesis you're attempting to prove?
Christopher McFadden: NxGold is a relatively new junior gold explorer listed on the TSX. We are looking to make significant discoveries in good mining jurisdictions with large volumes of high-grade gold that we could eventually convert into mining operations to improve, and increase shareholder value.
Maurice Jackson: Let's discuss NxGold's project portfolio, beginning in Western Australia with Mt. Roe. Where in Western Australia is Mt. Roe located?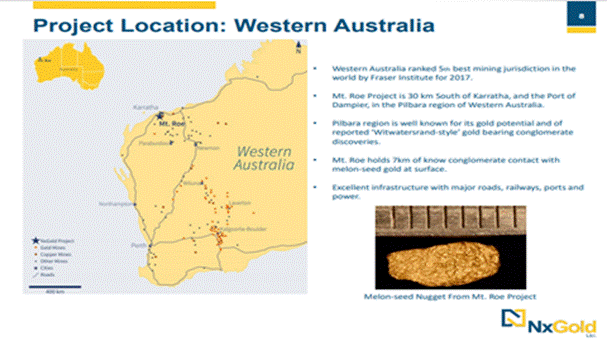 C. McFadden: Our projects in Western Australia are in a region called the Pilbara. Western Australia is obviously a very large state in Australia. The Pilbara is northern Western Australia, not quite all the way to the top. It's about 1,500 kilometers north of Perth where not far from the coast there's a fairly large rural town, called Karratha on the coast, and we're 30 kilometers to the south of Karratha.
Maurice Jackson: Now, how many hectares is Mt. Roe, and what type of lithology is prevalent there?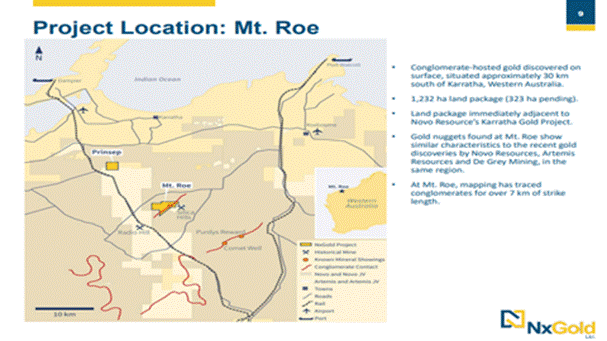 C. McFadden: It's a relatively small project area. We have two blocks; the total land package is 1,200 hectares. In terms of the lithology, there's lots of different basalt flows, and in some cases some felsic flows that are being interpreted to be eroded and then covered with various sequences of the Roe style sediments and basalt flows.
What I say to people is this part of the world's crust is some of the oldest rocks that are known on the planet. Some of these rocks I believe are two to three billion years old. That it's perhaps a bit like a deck of cards that have been shuffled and moved, and changed over time and over geological history. So, it's quite a complex geological setting on our project area.
Maurice Jackson: Maybe it is too early to determine, but would you define Mt. Roe as a placer deposit, and if yes, what does that mean for shareholders?
C. McFadden: I think it probably is too early to say. I think it's fair to say the project area has potential for the paleo-placers style of mineralization, but it is too early to determine if it's the dominant style on the property. An interesting point that will be of interest to shareholders is that our geologists have recently been focused on an older interpreted epithermal type vein mineralization on the property as well, that may have been the source of the recently announced stream sediments anomalies.
I think it was the 8th of August we put out a release showing some of the findings of some stream sediment work that we've done. We'll probably talk about the nuggets later on in our discussion, but there we have found what we call hackly or rough textured gold nuggets on the property, which may have come from epithermal veins. So that, I think, is of great interest, and a strong potential for us on this project in that we possibly have a number of different types of nuggets, and therefore types of their potential sources of those nuggets.
Maurice Jackson: Speaking of those nuggets, do they appear to be generously sprinkled throughout Mt. Roe?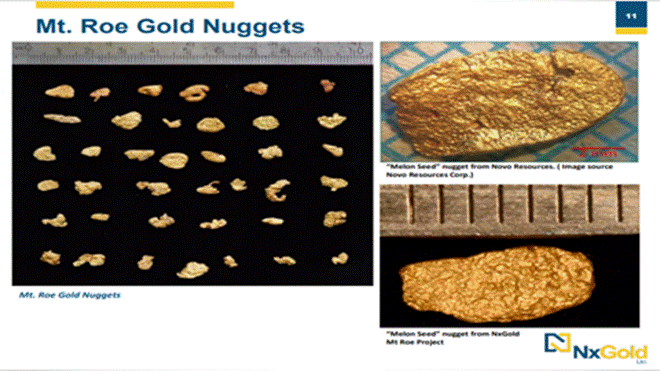 C. McFadden: What's very interesting is that we've been able to find nuggets in a number of places. We've been collecting them in the northeast of the project area, and also down the northwest. Down the western side of a ridge, our project has a ridge line that passes down the length of the project area, and that ridge is probably two kilometers or a bit longer. And, we've been finding nuggets quite consistently along that ridge line, and in some pockets they seem to be a lot more concentrated, but as I mentioned previously, the number of the nuggets particularly those in the northern areas, are these flattened, what others in that area are calling melon seed like nuggets, and they are like watermelon seeds in terms of even their size and their shape, and that they're squashed and they're flat. And, if you look at them very closely, and look at them under a magnifying glass you can see little divots in them where they've been pressed and pushed against little grains of sand, and other material. And, they do look exactly like a watermelon seed.
What we've also got, and these are the nuggets we've been collecting along the western side of the project area, they tend to be rough and hackly. Very different style of nugget, where you can see that they haven't been squished, they haven't been squashed and rolled between this other material. So, that's what making us think that perhaps that they're coming out of epithermal veins, and we've been finding them hopefully close to their source.
Maurice Jackson: You alluded to the nuggets having the watermelon seed shape, which is alluvial. How does that factor into the thesis that this may be an extension of the Witswaterand?
C. McFadden: Well, that's a very interesting academic argument that others in the area are leading. I mean, it would be wonderful if the Pilbara was the same as the Wits, and was able to produce the same levels of gold. That would be a magnificent result, but I think it's probably too early to say that we have a similar area or similar geology, or the same style, or same size region. We're aligned with the thinking of our peers in the area that the melon seed nuggets are part of what looks like potentially a marine paleo-placers system, but there's a long way to go in the work to be done in the area. It's less than two years since the comparison was first made, so I think there's a lot of academic and geological work that needs to be done first.
Maurice Jackson: NxGold is approximately 30 kilometers south of Karratha, a well-known mining town; tell us about the infrastructure surrounding Mt. Roe.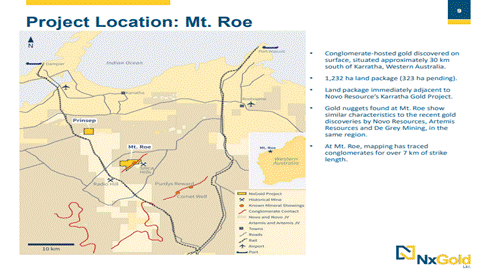 C. McFadden: It's an absolutely fantastic place to be. My past history, I used to work at Rio Tinto many, many years ago, and I think those that know the mining industry would understand that the Pilbara is the home of the Australian iron ore industry. There are three significant iron ore producers there: Rio Tinto, BHP, and Fortescue, producing huge volumes of iron ore out of the Pilbara.
Those companies have been developing infrastructure in Karratha, and around the Pilbara regions for 50–60 years now. So, Karratha is unique, in my view, and in terms of world mining. There's a huge port there for iron ore shipments to Asia. There's a huge railway line coming in from the Rio Tinto operations, and the railway line is, as the crow flies, probably five or six kilometers from our project area. We can drive to our project area on a sealed road except for the last two or three kilometers, which is a dirt road.
Karratha is a service and infrastructure home for the Pilbara, and for the iron ore industry. So, there's huge numbers of service providers there, drilling companies, equipment hire. There's a labor force. There's accommodation, there's services such as hospitals and schools, etc. Karratha is a wonderfully established town. For us, the beauty is that it means we can stay in Karratha; we don't need to build a camp, which saves us a lot of money.
We can obtain all the services we need at very competitive rates in town, because there are so many providers there. There's an airport that has a number of direct flights to Perth every day. As remote as Karratha, and as remote as the Pilbara is, it's very, very well serviced. It's a wonderful location, a wonderful place to be.
Maurice Jackson: One of the virtues you just alluded to is capital expenditures. There won't really be an issue here, because the infrastructure's already in place. I can attest to it myself; I was in Karratha last year, but it goes without saying here, but let's just clear the air here. How would you define the mining jurisdiction?
C. McFadden: Western Australia one of the key mining states in Australia, where at the federal level Australia is a very safe and mining friendly country. So, the federal laws are very easy to operate in. Western Australia itself, and the state is responsible for licensing, is often listed as the top three to five mining jurisdictions in the world in terms of its security of tenure. It's an environmental management and other regulations, it's a great state in which to operate. For an exploration company, it's one of the best plant places in the world to be, and that's one of thesis: if you like of NxGold, we generally we try to operate in fertile countries in good jurisdictions where it's safe. Where investment is protected, where there is rule of law, and a consistent and even-handed approach to regulation.
Maurice Jackson: How about community relations, and specifically with the indigenous people there?
C. McFadden: Yes, again, it's given the work that's been done by the majors on the iron ore front, and other explorers in the region. The indigenous groups in Australia are fairly sophisticated in terms of how they consider mining and exploration. They understand the industry, and they generally work in partnership with miners and explorers. Our peers in the area are making good progress with obtaining mining tenure, etc. So, we expect that our engagement with the indigenous groups will be of a similar ilk.
One of the challenges I think in that area is that, because of the recent interest in the area, there's perhaps a capacity issue, and there's a lot of applications and paperwork that is being done. So, there is a bit of a backlog in terms of the indigenous groups ability to deal with all the matters in front of them, but you know our dealings with the group so far have been excellent. We don't have any particular heritage issues on our ground that we are aware of, but we're working with the indigenous people to make sure that we're operating the right way, and we're not offending anybody, and that we're working with them in partnership.
Maurice Jackson: Please provide us with an exploration update on Mt. Roe.
C. McFadden: We've had people in the field recently that was announced on the 8th of August. Now, our approach is to, even though we've ticked the main box, we've got gold on the licenses, you can go with a metal detector and you can pick up nuggets pretty much basically off the ground. It's quite remarkable, and is new, too, in my experience. We're taking a step back from that, and just trying to work out where this gold comes from.
So, we're going back to basics. Our approach is to take a very systematic approach, follow a process of mapping of soil sample within sediment stream sampling. There's quite a lot of drainage in the area that we've been taking some samples from. And we announced recently, that we've got over a kilometer of hits from some stream sediment. There's been some panning of that, and visible gold in those samples. So, that's all now in the laboratory getting a more detailed assessment of the material that was collected at the time. We're hoping for those sampling tasks in the next few weeks.
The labs are very busy at the moment, so it is taking a bit longer than we'd hoped, but once we get those results, we're in the process of doing some geophysics as well that it is being flown I think this week. So, we'll get those results from the geophysics, we'll get the geochemistry and then we'll work out what we're going to do next in the next phase if you like of the exploration on the ground. It may well involve some drilling to get a better understanding of what's going on under the ground. We may consider looking at some large bulk samples, it just depends on the results that we get from the work that we've recently done. So, we'll take a very systematic approach, one step at a time, and every dollar we spend has to be justified by the results that we have.
Maurice Jackson: Mr. McFadden, we've covered the flagship project, Mt. Roe; let's discuss your second gold project, Kuulu. Where's Kuulu located, and how many hectares is this project?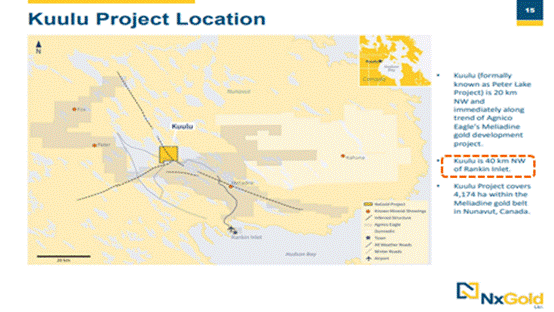 C. McFadden: It's a fascinating case study if you like. Kuulu is the project that we basically recapitalized the company on about 18 months ago. The project is in Nunavut in northern Canada, so you could not get a more different place than Nunavut and the Pilbara region of Western Australia. Western Australia is always very hot and dry; Nunavut is almost Arctic conditions where our project is located, and so our geologists love going from one to the other. The temperature change can be extraordinary. The Kuulu project is larger, it's about 4,000 square hectares. It's just north about 40 kilometers north of Rankin Inlet in Nunavut.
Maurice Jackson: What can you share with us regarding the lithology there?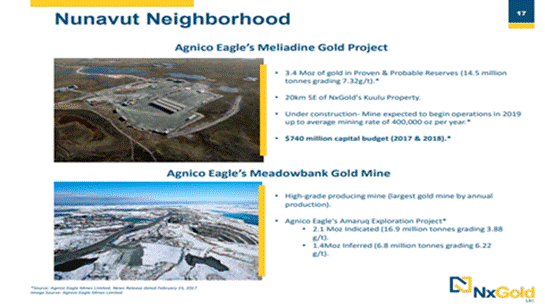 C. McFadden: The interesting part of this project, and what got us so excited about it initially, was that it's directly a long strike from the Agnico Eagle Meliadine project that is currently being constructed, and will be in operation I think next year; 2019 they're looking to commence production. That is a world-class deposit, and it will be a significant mine producing I believe, 400,000 to 500,000 ounces a year, possibly more. It's a large deposit, many millions of ounces at a significant grade. So, we are up strike along the fault that Meliadine is located on.
Maurice Jackson: And are the drills turning there?
C. McFadden: They're not at the moment. We have some challenges with that project from an access point of view. We don't have a surface rights license at this stage from the Inuit Association that's based in Rankin Inlet. We're working with them to try to obtain that, we have numbers of walk-up drill targets there. We have been able to take advantage of previous work done on the license area, and some of our own geophysics that we did last year, to identify some very exciting targets where we're hoping to drill as soon as we can, but working with the local people we've been able to identify that they are concerned about drilling during the hunting season. And the impact that increased activity, particularly with helicopters and drill rigs, the impact that may have on caribou, in particular, and other animals that they hunt.
So, given the concerns that the local people have about hunting, and the impact on the animals, and their hunting activities, we have agreed that at this stage, we will drill over winter only. We're still in discussions with the local people, and we have a number of visits and the meetings planned over the next few months to try to achieve that goal. But, we have all the other permits that we require in order to undertake exploration activities on that license area.
Maurice Jackson: Mr. McFadden, before we discuss the management team, are there any reversionary interests on these projects?
C. McFadden: With Mt. Roe, we have an 80% interest in that project. The vendors from whom we acquired the project have a 20% interest in that project. We are currently funding all of the exploration work ourselves, and we have an obligation to fund 100% of the work through to completion of any feasibility study that may be undertaken on that project should it get to that point.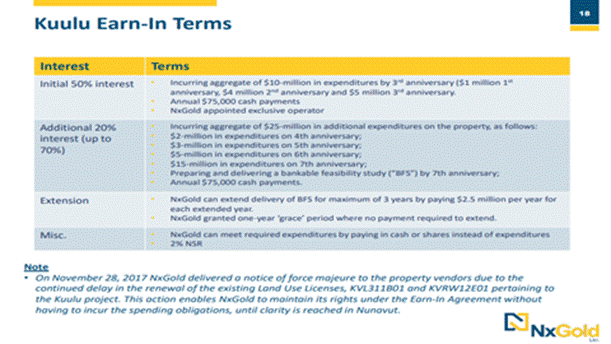 For the Kuulu Project, we are currently earning into that project from the vendors. We have to meet certain expenditure obligations in order to earn our interest, but given the difficulties we're having with the surface licenses those spending obligations and requirements are currently on hold, pending the satisfactory conclusion of the license situation.
Maurice Jackson: Now, realizing that you are an exploration company, what is management's philosophy? Are you looking to build a mine or arbitrage?
C. McFadden: We're looking to build a mine. Certainly, my background in the majors is to make a significant discovery, and then progress that discovery through to development and operations. Of course, who can predict what happens along that journey; it's a long journey. So, we'll just have to see what happens at the time, and take all interest into consideration, and obviously the interest of shareholders.
Maurice Jackson: Switching gears, I learned from Rick Rule and Doug Casey that the people running the business are equally, if not more important, than the latent material in the ground. Mr. McFadden, please introduce us to your Board of Directors, and what unique skill sets do they bring to NxGold?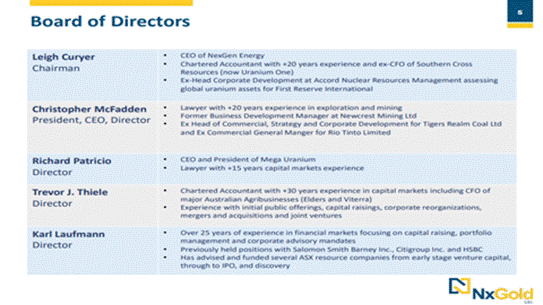 C. McFadden: We have a board that has vast experience in the mining sector. Let's start with our chairman, Leigh Curyer. Leigh is currently the CEO of NexGen Energy, and was the founder of that entity. I think a lot of investors will be aware of NexGen Energy, and the great success that company has had in the uranium space in Saskatchewan with the Arrow deposit. He worked in private equity and reviewed numerous mining opportunities in the uranium space, and prior to that he worked in a precursor to Uranium One, and was heavily involved and was responsible for permitting one of Australia's uranium mines. So, Leigh has close to 20 years of experience in the resources sector. He is a great leader of NexGen. Perhaps I'm a bit biased there, but I remain the chairman of NexGen, so I managed to see Leigh operate on a regular basis, and he's got a great team and great leadership, and he's a very strong strategic thinker in terms of project developments and community relations, etc. So, Leigh's great to have on our board, and he's a great leader of our board.
Trevor Thiele. He is an Australian, and he's based in South Australia. He's quite close to our Mt. Roe Project. Trevor is our leader of our Audit Committee, he's a financial veteran in the resources, and primary industry sector in Australia. Very detailed, focused leader in the accounting sphere, and has a great business mind, and great business acumen and is a very strong director.
We have Richard Patricio, who is based in Toronto. Richard's a lawyer by training, and again he's a very strong strategic thinker, particularly on the legal side and awareness, and he's switched on and plugged in to the Toronto market, and the people there.
And finally, we have Karl Laufmann, who is a recent addition to our board. He's based in Perth, and Karl is in the financial industry. He has over 20 years of experience in capital markets in Australia, and internationally and is very well connected. And again, very strong on his strategic thinking and he's awareness of the market, and the gold, particularly the gold industry in Australia and in Western Australia in particular.
Maurice Jackson: Tell us about Christopher McFadden, what makes him qualified for the task at hand?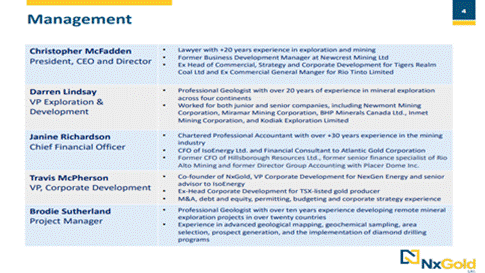 C. McFadden: I've been in the mining industry for over 20 years now. I'm a lawyer by training, and I started out in the Melbourne legal sector, particularly working in natural resources and energy. And initially, I worked as an in-house lawyer with Rio Tinto in Melbourne, and also in London. So in that 15 years, I was with Rio Tinto initially as a lawyer, and then for the last seven or eight years as a commercial general manager leading teams to transact large acquisitions, and large disposals, but also large joint ventures on the exploration sphere.
I managed to work across the globe in many commodities at various stages of exploration and development. So, I would say that with my global experience, and my experience negotiating joint ventures and managing joint ventures, and managing exploration projects in many places with many different people, and many different cultures with many different challenges, because no two projects are the same. I've been able to develop a very strong skill set in mining and exploration in particular.
Maurice Jackson: What can you share with us about the technical team?
C. McFadden: As a small company we have only one technical team member on full-time staff, and that's our VPX, Darren Lindsey. Darren is highly experienced in gold exploration around the world, with particular experience in Northern Canada, and Nunavut in particular. Darren has worked in across the all spheres of the gold sector. He's worked in majors, he's worked in juniors, and he's worked in development projects, and he's also been a CEO in a past life. So, he clearly understands capital markets, and what drives shareholders and what drives interest in juniors so, he's a wonderful member of our team. He's technically very experienced, and highly skilled, and very methodical and a clear thinker. So, he's a wonderful person to work with, and he's very excited about our projects and on working very hard to make that discovery.
Maurice Jackson: Let's get into some numbers here. Tell us about your share structure.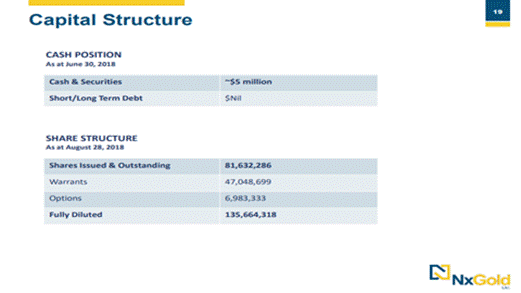 C. McFadden: It's a relatively simple structure. The company was recapitalized in early 2017; it was previously a shell company. We have done two capital raisings since that time so, we currently have approximately 80 million shares issued and outstanding. We have quite a number of warrants, there's about 45 million warrants, and about 7 million options. So, fully diluted, the total is roughly 130–135 million on a fully diluted basis.
Maurice Jackson: How much cash or cash equivalents do you have?
C. McFadden: At this stage, about CA$5 million. We've completed a capital raise a couple of months ago, which has restocked us very nicely. So, we're quite well funded at this stage.
Maurice Jackson: And, what is your burn rate?
C. McFadden: We try to run very lean. Obviously, we don't have huge full-time staff so, our burn rate all in including my salary is just over a $1 million a year subject to travel requirements. And obviously, with projects in different parts of the world that can be one of our higher costs, but relatively low costs.
Maurice Jackson: Talk to us about the cash flow distribution, what is the ratio between cash spent, and tangible assets on the balance sheet?
C. McFadden: The primary focus is to put money into the ground into exploration. So, at least 70–75% of our cash is spent on exploration.
Maurice Jackson: How much debt do you have?
C. McFadden: We have $0 debt.
Maurice Jackson: Who are some of your institutional investors?
C. McFadden: Primarily most of our shareholders are high net worth and we have individuals we know from our NexGen experience. So at this stage, we don't have any really large, dominating institutional shareholders.
Maurice Jackson: What is the float?
C. McFadden: It's relatively small because we have some very loyal and long-term shareholders, and so at this stage, I suggest perhaps a 20–25% of the market cap would be the float.
Maurice Jackson: Are there any redundant assets such as a patent mining claim?
C. McFadden: No, there are not. At this stage, we really just have the two projects so it's very clean.
Maurice Jackson: Are there any change of control fees, and if there are what are the terms?
C. McFadden: No, there aren't.
Maurice Jackson: Alright, sir, you survived the storm. Mr. McFadden, multilayered question here. What is the next unanswered question for NxGold? When should we expect results, and what will determine success?
C. McFadden: It is a multilayered question there, that's a challenging question. We have a systematic approach to exploration. So, we're looking for results out of Mt. Roe in the next couple of weeks in terms of the lab results to just follow-up on our last announcement. And then, from there that will determine the work that's done, and then I suspect that if we're drilling or bulk sampling, there'll be results that will flow from that.
In terms of success, obviously, success would be a significant discovery, but it's probably a bit early to get there. If we're drilling, success will be a better understanding of our geological setting, and if we are pursuing those epithermal veins, well then if we can make some hits with those, that'll be incredibly successful and very powerful.
Maurice Jackson: Mr McFadden, what keeps you up at night that we don't know about?
C. McFadden: As a long-term mining person, one thing that does keep me up at night, obviously, is the safety where we get people in helicopters or working heavy machinery, that's all obviously a consistent stress. A big one for me is really Kuulu and getting land access there. That is one that is very important to us, because that is a significant project with great potential. That's what keeps me awake at night other than the constant concern about share price and share performance, which I think is a minute by minute concern for every mining industry professional.
Maurice Jackson: And last question, what did I forget to ask?
C. McFadden: That was a very comprehensive interview, Maurice, I'm not sure you forgot to ask anything, but one thing perhaps is just in terms of our market cap and the potential that we represent by being in the Pilbara, and also being with our Kuulu Project. If you compare us to some of the other players in the Pilbara, I think it's arguable that we are undervalued. With success I think there's great potential for our market cap to rise significantly. I think that's where the interest probably lies in our company, and the opportunity that our current, relatively low share price represents.
Maurice Jackson: Mr. McFadden, for someone listening that wants to get more information on NxGold, please share the contact details?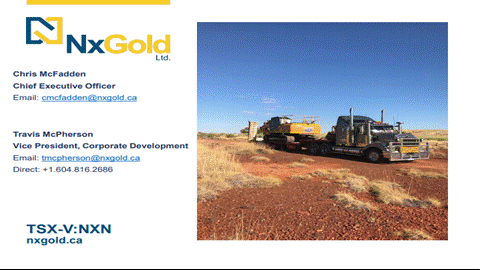 C. McFadden: I think the best place to start would be our website www.nxgold.ca. We have our corporate presentation on the website you can access. We obviously have access to past results, and we have profiles of our directors and senior management there as well, and hopefully it's comprehensive and easy for prospective investors, and those that are interested to follow.
Maurice Jackson: And as a reminder, NxGold trades on the TSXV symbol NXN. For direct inquiries, please contact Travis McPherson at 604.816.2686. He may also be reached at [email protected] NxGold is a sponsor of Proven and Probable and that we are proud shareholders for the virtues conveyed in today's interview.
And last but not least, please visit our website www.provenandprobable.com where we interview the most respected names in the natural resource space. You may reach us at [email protected].
Christopher McFadden of NxGold, thank you for joining us today on Proven and Probable.
Maurice Jackson is the founder of Proven and Probable, a site that aims to enrich its subscribers through education in precious metals and junior mining companies that will enrich the world.
[NLINSERT]
Disclosure:
1) Christopher McFadden: I, or members of my immediate household or family, own shares of the following companies mentioned in this article: NxGold. I personally am, or members of my immediate household or family are, paid by the following companies mentioned in this article: NxGold.
2) Maurice Jackson: I, or members of my immediate household or family, own shares of the following companies mentioned in this article: NxGold. I personally am, or members of my immediate household or family are, paid by the following companies mentioned in this article: None. My company has a financial relationship with the following companies mentioned in this article: NxGold is a sponsor of Proven and Probable. Proven and Probable disclosures are listed below.
3) The following companies mentioned in this article are billboard sponsors of Streetwise Reports: None. Click here for important disclosures about sponsor fees.
4) Statements and opinions expressed are the opinions of the author and not of Streetwise Reports or its officers. The author is wholly responsible for the validity of the statements. The author was not paid by Streetwise Reports for this article. Streetwise Reports was not paid by the author to publish or syndicate this article. The information provided above is for informational purposes only and is not a recommendation to buy or sell any security. Streetwise Reports requires contributing authors to disclose any shareholdings in, or economic relationships with, companies that they write about. Streetwise Reports relies upon the authors to accurately provide this information and Streetwise Reports has no means of verifying its accuracy.
5) This article does not constitute investment advice. Each reader is encouraged to consult with his or her individual financial professional and any action a reader takes as a result of information presented here is his or her own responsibility. By opening this page, each reader accepts and agrees to Streetwise Reports' terms of use and full legal disclaimer. This article is not a solicitation for investment. Streetwise Reports does not render general or specific investment advice and the information on Streetwise Reports should not be considered a recommendation to buy or sell any security. Streetwise Reports does not endorse or recommend the business, products, services or securities of any company mentioned on Streetwise Reports.
6) From time to time, Streetwise Reports LLC and its directors, officers, employees or members of their families, as well as persons interviewed for articles and interviews on the site, may have a long or short position in securities mentioned. Directors, officers, employees or members of their immediate families are prohibited from making purchases and/or sales of those securities in the open market or otherwise from the time of the interview or the decision to write an article, until one week after the publication of the interview or article.
Proven and Probable LLC receives financial compensation from its sponsors. The compensation is used is to fund both sponsor-specific activities and general report activities, website, and general and administrative costs. Sponsor-specific activities may include aggregating content and publishing that content on the Proven and Probable website, creating and maintaining company landing pages, interviewing key management, posting a banner/billboard, and/or issuing press releases. The fees also cover the costs for Proven and Probable to publish sector-specific information on our site, and also to create content by interviewing experts in the sector. Monthly sponsorship fees range from $1,000 to $4,000 per month. Proven and Probable LLC does accept stock for payment of sponsorship fees. Sponsor pages may be considered advertising for the purposes of 18 U.S.C. 1734.
The Information presented in Proven and Probable is provided for educational and informational purposes only, without any express or implied warranty of any kind, including warranties of accuracy, completeness, or fitness for any particular purpose. The Information contained in or provided from or through this forum is not intended to be and does not constitute financial advice, investment advice, trading advice or any other advice. The Information on this forum and provided from or through this forum is general in nature and is not specific to you the User or anyone else. You should not make any decision, financial, investments, trading or otherwise, based on any of the information presented on this forum without undertaking independent due diligence and consultation with a professional broker or competent financial advisor. You understand that you are using any and all Information available on or through this forum at your own risk.