I discovered a unique company that will use blockchain technology to help resolve one of the toughest health issues facing Canada, the U.S. and for that matter around the developed world. When I invest in this company, I also get a good feeling that I am helping some on this issue. I am talking about mental illness and I am sure, like me, you know close friends or family affected. Here are some of the facts from Canada Mental Health Association:
Mental illness indirectly affects all Canadians at some time through a family member, friend or colleague.
In any given year, 1 in 5 people in Canada will personally experience a mental health problem or illness.
Mental illness affects people of all ages, education, income levels, and cultures.
Approximately 8% of adults will experience major depression at some time in their lives.
About 1% of Canadians will experience bipolar disorder (or "manic depression").
How common is it?
By age 40, about 50% of the population will have or have had a mental illness.
Schizophrenia affects 1% of the Canadian population.
Anxiety disorders affect 5% of the household population, causing mild to severe impairment.
Suicide accounts for 24% of all deaths among 15-24 year olds and 16% among 25-44 year olds.
Suicide is one of the leading causes of death in both men and women from adolescence to middle age.
The mortality rate due to suicide among men is four times the rate among women.
What is very troublesome is this problem is increasing at a rate faster than any other common diseases or illness. Last year a Toronto Star Article was headlined "Demand for youth mental health service is exploding."
Here are a couple tidbits from this article and from a Star/Ryerson survey of 15 Universities and Colleges. "We have lineups out the door and down the hall," said McMaster University psychiatrist Dr. Catharine Munn. "Despite hiring more counsellors, we're drowning."
Mental health budgets at universities have increased by an average of 35%. There has been a 344% increase in calls to the Mental Health Helpline run by Connex Ontario (a toll-free mental health services information line) since 2010 by people 25 or younger. A major survey of 25,164 Ontario university students by the American College Health Association showed that between 2013 and 2016, there was a 50% increase in anxiety, a 47% increase in depression and an 86% increase in substance abuse. Suicide attempts also rose 47 per cent during that period.
The causes are still a matter of debate and I have some of my own theories too and some were highlighted in the Star article. However, experts agree the problem is becoming overwhelming.
I encourage you to read the complete Star article; the problem is simply staggering.
And this report from Global News:A staggering 63% of Canadian millennials are at "high risk" for mental health issues, according to a new Ipsos report released exclusively to Global News. Across the board, 41% of Canadians from all ages fell into the "high-risk" category. That's up from 35% last year and 33% from the year before.
One of the difficulties and it is unique to this problem is diagnosis and patient record access. You cannot simply take blood tests and scans, etc., to find the problem. Patients will hide and lie about their real symptoms because they are ashamed, confused, scared and anxious, among other symptoms brought on by their condition. In many cases they cannot communicate very effectively at all about their condition. Then if a proper diagnosis gets done and the patient ends up another time at a different hospital or clinic another problem arises. There is poor or no ability for care providers to gain access to different platforms to get patient records.
In the healthcare industry patient record privacy and security is the utmost important yet the there is a strong need for the interoperability of records. I believe health care will be the biggest benefactor to blockchain technologies and I have invested in some private deals not public yet. I am not alone with this opinion.
Blockchain solutions for financial services have received the maximum investments. Healthcare has the most aggressive plans to deploy blockchain-based applications across multiple use cases during 2017. Blockchain technologies hold the promise to unite the disparate processes in health care, increase data flow and liquidity, reduce costs, and improve patient experience and outcomes.
I have invested in another company in this space but the stock will be halted several months for the exchange to qualify the transaction. That stock is poised to open three or four times the price of VitalHub Corp.'s (VHI:TSX.V) current price.
Blockchain has a huge potential to become the next big technology innovation engine. Blockchain will be most disruptive in the financial transaction sector and health care. Blockchain applications for patient-data portability, interoperability, care delivery management, and administration can provide the answers to many challenges facing the industry.
In the past I have described Blockchain as simple transaction or accounting method. The technology behind it is not that simple but this graphic might help you get a better grasp of it.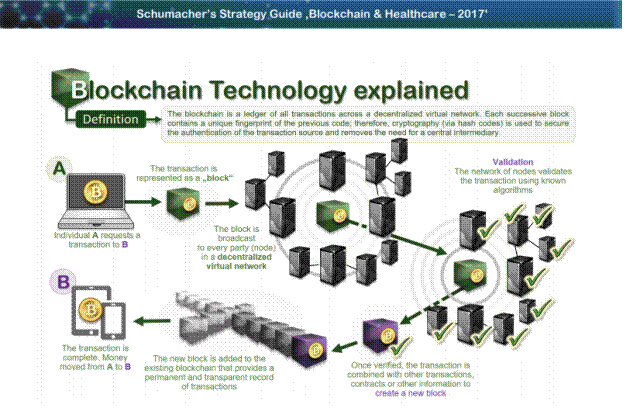 Schumacher produced a 50 page report on Blockchain and Healthcare. The two paragraphs below are how they described it.
"In a nutshell, a blockchain is a distributed tamper proof database, shared and maintained by multiple parties that secures all records that are added to it. Each record contains a time stamp and secure links to the previous record. Records can only be added to the database, never removed, with each new record cryptographically linked to all previous records in time. New records can only be added based on synchronous agreement or "distributed consensus" of the parties maintaining the database.
By cryptographically linking the records it is impossible for one party to manipulate previous records without breaking the overall consistency of the database. Such a process eliminates the need for trust because participants in the blockchain can have mathematical certainty for every digital asset that constitutes the system you want to protect. When storing healthcare data in a blockchain, cryptography is used for encrypting the contents of a message or transaction, so that only intended users can open and read its contents. The encryption process works via 'Public Key Cryptography' or asymmetric cryptography, an encryption system that uses pairs of keys. First, a "public key" may be disseminated widely to everyone and a "private key" that is known only to its holder. Either key may be used to encrypt a message, but the other key must decrypt the message. Practically speaking, there are two use cases involving public and private keys. A patient can encode her health data with a public key and be sure that only the holder of the private key can decrypt it. Second, the data can be encrypted with a private key. If the data, e.g., a hospital discharge letter, makes sense when it is decrypted using the corresponding public key, it is guaranteed that the holder of the private key is the party that encrypted the data. Such a process is equivalent to "signing" a message because it is analogous to someone putting her unique signature on a document."
The potential uses of blockchain technology in healthcare are multiple: blockchain technologies have advanced and have matured to hold the promise to unite the disparate processes in the pharmaceutical industry and health care ecosystem, reduce costs, improve regulatory compliance, increase data flow, and improve patient experience and outcomes. Slowly but steadily, life science organizations are getting interested in this new technology. Even the FDA started to think seriously about it by partnering with IBM Watson to work on a secure, efficient and scalable system.
HIMSS "Blockchain technologies hold the promise to unite the disparate processes in healthcare, increase data flow and liquidity, reduce costs, and improve patient experience and outcomes."
Capgemini "We believe Blockchain has a huge potential to become the next big technology innovation engine. Blockchain applications for patient-data portability, interoperability, care delivery management, and administration can provide the answers to make challenges facing the industry."
This chart is from the January 2017 Hyperledger Healthcare Working Group Survey and predicts that blockchain technology will see very quick adoption in health care.

VitalHub uses Blockchain, mobile, and web-based technology to create disruptive SaaS healthcare applications that solve industry-wide problems. VitalHub's aim is to create high-value, secured solutions that enable broad interoperability among existing health data systems. VitalHub is primarily focused on working with organizations in the mental health and long-term care spaces, to further extend organization's applications across the continuum of care, powered by the security, efficiency, and trust of blockchain technology.
I have met with VitalHub in Toronto to understand its business plan further and its strategy going forward.
VitalHub TSXV:VHI Frankfurt:60V Recent Price $0.14
Shares outstanding: 125 million; Management/insiders own 40% approx.
This is a new growth story and about being in the right market segment with the right solutions. The stock only started trading last October and went up to 25 cents before dropping down to 11 cents in the recent correction. It is starting to move back up again, but still a cheap entry point.
VitalHub uses Web, mobile and blockchain technology to create disruptive software-as-a-service-based health care applications that solve industry-wide problems. The company currently has around 200 clients using its technology solutions. Revenue for the 1st 9 months of 2017 was just over $400,000 but so much has happened since then with acquisitions that these revenue numbers will increase many fold from this level.
In early 2018 VitalHub acquired H.I. Next, a growing company that has historical revenues of $2,695,000, $3,329,000 and $3,572,000 for the previous three fiscal years (2015, 2016 and 2017), respectively.
H.I. Next offers a complete suite of industry-proven, peer-reviewed tools to identify and address the full range of behavioral, medical and social problems affecting the seriously mental ill. Providers can document, share and collaborate patient results, care plans and progress notes with peer providers in real time. H.I. Next owns Treat, a Web-based EHR (electronic health record) and care co-ordination platform built for health care providers.
On January 19, 2017, VitalHub announced the acquisition Clarity Healthcare Solutions and other selected assets of Clarity Health Inc., such assets having previously represented approximately $200,000 in revenue for Clarity in its last fiscal year pursuant to an acquisition agreement dated Jan. 17, 2018.
And very significantly, VitalHub announced its Blockchain solution WellLinc on February 7, 2018.
The company has a strong management team, well experienced in the health care space.
President & CEO, Dan Matlow has over 20 years of experience in software management, with expertise in sales, marketing, and software development. He is a strategic thinker with a history of expanding Canadian operations globally through acquisition and organic growth. He has a proven track record of building outstanding teams while maintaining strong control on financial operations.
He most recently served as President & CEO of Medworxx Solutions Inc. from 2004 to 2015 where he drove the company's growth and an ultimate successful sale at of Medworxx at $0.56 per share to Aptean Software, a Vista Equity Partners company. At the time, Medworxx software was used at hospitals in Canada, France, the United States and the United Kingdom.
Prior to Medworxx, Dan held sales leadership roles with a variety of software and technology companies, mostly focused on health care. Dan holds a Bachelor of Arts from York University in Toronto.
Peter Catford (Co-Founder and CEO of HInext Inc.) has over 30 years of experience in health care information systems development. He developed EHR software system installed in 85 organizations across North America. Peter is Adjunct Faculty UofT; informatics in the Masters of Health Admin program (MHSc) and Past Chair of Ontario's Health Informatics Standards Council (OHISC).
Vijit Coomara (Co-Founder and CTO, B Sharp) has over 30 years of experience in development of innovative and disruptive technology solutions. He has managed technological and architectural software development of multiple projects across North America and Europe, including establishment of dev. hub in Sri Lanka.
The board of directors includes Dan Matlow and five other directors with diverse experience in software, health care, public companies and finance.
New Blockchain solution
WellLinc is a proprietary electronic health record (EHR) interoperability solution powered by blockchain technology. WellLinc leverages blockchain technology to address multiple challenges associated with the exchange of health information across the continuum of care.
A major problem exists wherein segregated records, lack of interoperability, and various security constraints prevent care providers from accessing critical information required to ensure informed and appropriate delivery of care. It is estimated that 46% of U.S. clinicians do not have a complete view of their patients' health history/ records. Further, individuals cannot view a unified medical record or pass it on to clinicians. High Error Rates with Centralized Health IT Systems: Error rates for successfully identification or integration of a file are 25% for hospitals and health systems and as high as 50%–60% outside hospitals.
VitalHub's WellLinc solution targets this problem directly, using blockchain technology. Blockchain offers the potential of a shared platform that decentralizes health data ensuring access control, authenticity, and integrity of protected health information.
The company has chosen the mental health space as an initial area of focus, both due to the sheer size of the market opportunity and having identified serious gaps in mental health care delivery that result from inadequate access to available patient health information. VitalHub has significant domain expertise building solutions for mental health care and has numerous existing customers in need of such solutions. This graphic from its presentation shows how the platform would work to share records.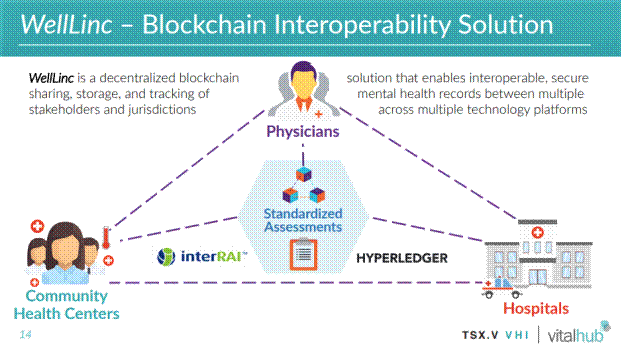 WellLinc Blockchain features access to historical and real-time patient data on blockchain, cryptographically secure and irrevocable or immutable. Identity management with predefined user access rules peer-to-peer network and multi-party collaboration health bank for remunerative commons. Storage of genomics and user- generated data securely with access control. VitalHub's platform is being built on the Hyperledger Technology Set. Hyperledger is an open-source collaborative effort created to advance cross-industry blockchain technologies. It is a global collaboration, hosted by the Linux Foundation, including leaders in finance, banking, Internet of Things, supply chain, manufacturing and technology. Recently 185+ members and eight ongoing projects.
The recent collaboration between Guardtime, the data-centric security company, and the Estonian eHealth Foundation to secure the health records of one million Estonian citizens using its proprietary Keyless Signature Infrastructure (KSI) is a classic example of blockchain technology.
The potential for this blockchain solution is enormous and to this end VitalHub will take advantage of its experience working with system integrators to enable much wider reach in the market.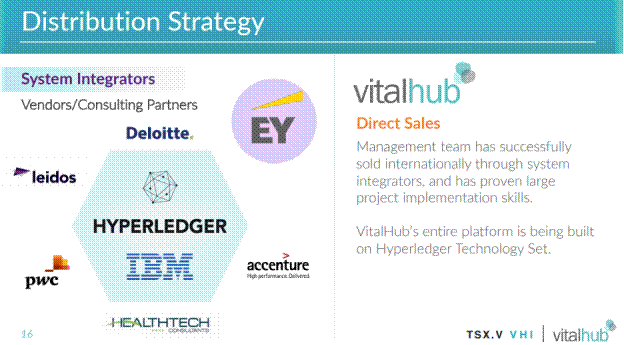 VitalHub will charge one time consulting fees to implement WellLinc, and it will continue to generate recurring revenues with SaaS-based long term annual use contracts. There would also be annual fees based on usage and amount of data.
Financial
Last financials at September 30, 2017, reveal $2.1 million in cash with another $1 million financing proceeds in escrow and no long-term debt.
Since that time, VitalHub closed a non-brokered private placement (the "Offering") of units (the "Units") at a price of $0.115 per Unit, for total gross proceeds of $2,000,000. Each Unit consisted of one common share (each, a "Common Share") and one half of one Common Share purchase warrant (each a "Warrant"). Each Warrant is exercisable into one Common Share at an exercise price of $0.18 per Common Share, for a period of two (2) years from the date of issuance.
Summary
Various research exists on the impact and cost of mental health conditions, such that "the global cost of illness for mental health conditions in 2010 was estimated at $2.5-trillion (U.S.), with the cost projected to surge to $6.0-trillion (U.S.) by 2030." (See "The Global Economic Burden of Non-Communicable Diseases," World Economic Forum and the Harvard School of Public Health.) VitalHub's blockchain solutions such as WellLinc hold the potential to significantly improve many of the challenges health care providers are currently facing across the mental health landscape, and digital health more broadly.
WellLinc Blockchain has a lot of potential for future revenue growth, but we should not forget about VitalHub's other growing markets. VitalHub Corp.'s subsidiary H.I. Next Inc. just recently obtained 16 new customers in New York State, through the BH-IT funding program for adult behavioral health home and community-based services (BH HCBS) providers. This brings the total in the state to 21 and marks the beginning of the company's expansion into U.S. markets.
Recent acquisitions will have a significant impact on revenues in 2018 and we should also factor in a number of new acquisitions. This is a major part of VitalHub's growth strategy and highlighted in this slide of its presentation.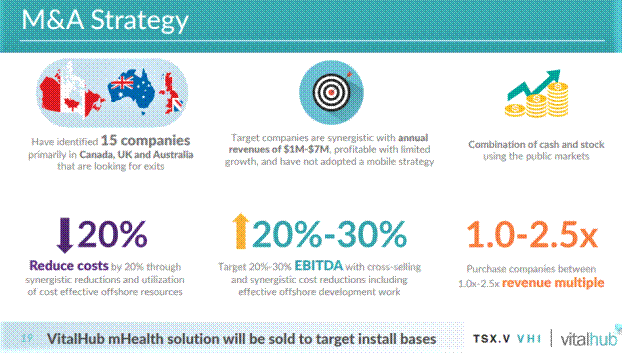 VitalHub is targeting companies with at least 60% of their revenue recurring and owner operated with little outside investment. Ideally target company's expense is mostly R&D compared to sales and marketing. VitalHub can then leverage their sales expertise and strategies to increase revenues.
I expect we will see a number of new acquisitions in 2018 and this with new revenues from their WellLinc Blockchain products will propel revenues much higher and re rate the stock with a higher growth multiple. Year over year, I am expecting triple digit revenue growth. With recent acquisitions, I estimate VitalHub is around a $5 million annual revenue run rate, so I am expecting this to be over $10 million by end of 2018. This is considering small revenue from its WellLinc product this year, which should kick in with much higher revenue in 2019. This product will just begin introduction to its customer base this year. However, keep in mind that there is potential for some large sales agreements that could occur before year end.
VitalHub is in a high growth market with the right solution that can make quite a difference for its customers and VitalHub's bottom line.
There is only six-month trading history on the chart that shows strong support between 10 and 15 cents with resistance at 25 cents. Therefore, it's a good buy near this support level. The other thing of significance is that there has been strong accumulation (On Balance Volume) since mid February and some of that might be ourselves from my early March alert. If you did not buy then, it is a little better price now.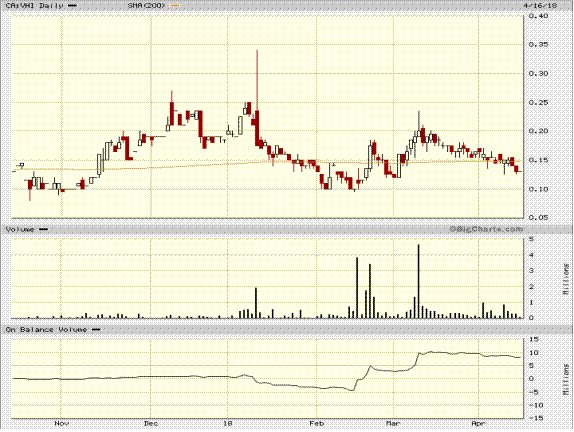 For 27 years, Ron Struthers, founder and editor of Struthers' Resource Stock Report and Playstocks.net, has consistently beat the comparable benchmarks selecting stocks in the precious metals, oil and gas, clean-tech and disruptive technology sectors. In 2017, 35 stocks in the precious metals sector saw an average gain of 62% and energy clean-tech an average gain of 65%. In disruptive technology, 16 picks saw an average gain of 55%. Past performance is no guarantee of future gains. Struthers leverages his vast network of contacts, approaches investments from a value perspective seeking several 100% gain potential and uses technical analysis to aid in buy and sell levels.
Want to read more Streetwise Reports articles like this? Sign up for our free e-newsletter, and you'll learn when new articles have been published. To see a list of recent articles and interviews with industry analysts and commentators, visit our Streetwise Interviews page.
Disclosure:
1) Ron Struthers: I, or members of my immediate household or family, own shares of the following companies mentioned in this article: VitalHub. I personally am, or members of my immediate household or family are, paid by the following companies mentioned in this article: None. My company has a financial relationship with the following companies mentioned in this article: Vitalhub is an advertiser on playstocks.net. I determined which companies would be included in this article based on my research and understanding of the sector.
2) The following companies mentioned in this article are billboard sponsors of Streetwise Reports: None. Click here for important disclosures about sponsor fees.
3) Statements and opinions expressed are the opinions of the author and not of Streetwise Reports or its officers. The author is wholly responsible for the validity of the statements. The author was not paid by Streetwise Reports for this article. Streetwise Reports was not paid by the author to publish or syndicate this article. The information provided above is for informational purposes only and is not a recommendation to buy or sell any security. Streetwise Reports requires contributing authors to disclose any shareholdings in, or economic relationships with, companies that they write about. Streetwise Reports relies upon the authors to accurately provide this information and Streetwise Reports has no means of verifying its accuracy.
4) This article does not constitute investment advice. Each reader is encouraged to consult with his or her individual financial professional and any action a reader takes as a result of information presented here is his or her own responsibility. By opening this page, each reader accepts and agrees to Streetwise Reports' terms of use and full legal disclaimer. This article is not a solicitation for investment. Streetwise Reports does not render general or specific investment advice and the information on Streetwise Reports should not be considered a recommendation to buy or sell any security. Streetwise Reports does not endorse or recommend the business, products, services or securities of any company mentioned on Streetwise Reports.
5) From time to time, Streetwise Reports LLC and its directors, officers, employees or members of their families, as well as persons interviewed for articles and interviews on the site, may have a long or short position in securities mentioned. Directors, officers, employees or members of their immediate families are prohibited from making purchases and/or sales of those securities in the open market or otherwise from the time of the interview or the decision to write an article, until one week after the publication of the interview or article.
Charts and graphics provided by the author.
Struthers Resource Stock Report disclosures:
All forecasts and recommendations are based on opinion. Markets change direction with consensus beliefs, which may change at any time and without notice. The author/publisher of this publication has taken every precaution to provide the most accurate information possible. The information & data were obtained from sources believed to be reliable, but because the information & data source are beyond the author's control, no representation or guarantee is made that it is complete or accurate. The reader accepts information on the condition that errors or omissions shall not be made the basis for any claim, demand or cause for action. Because of the ever-changing nature of information & statistics the author/publisher strongly encourages the reader to communicate directly with the company and/or with their personal investment adviser to obtain up to date information. Past results are not necessarily indicative of future results. Any statements non-factual in nature constitute only current opinions, which are subject to change. The author/publisher may or may not have a position in the securities and/or options relating thereto, & may make purchases and/or sales of these securities relating thereto from time to time in the open market or otherwise. Neither the information, nor opinions expressed, shall be construed as a solicitation to buy or sell any stock, futures or options contract mentioned herein. The author/publisher of this letter is not a qualified financial adviser & is not acting as such in this publication.