The Gold Report: In the Nov. 10 issue of the HRA Journal under the title, "Janet's Kool-Aid Stand," you set your sights and took some shots at U.S. Federal Reserve Chairman Janet Yellen. All the while, her policies have helped bolster the U.S. dollar, the U.S. stock markets have stabilized after an August swoon and seem poised for further gains. What's not to like?
Eric Coffin: Janet Yellen has done an OK job. The biggest mistake the Fed made was not raising rates in early 2014. The simple truth is that the Fed has cornered itself. It has a major credibility issue given how markets reacted to its wimping out in September. If the market stops believing in its guidance, it has a bigger problem.
Frankly, I'm not as sold as everyone else is on the amount of upside the market has right now. I'm concerned the timing may turn out to be fairly bad for this rate increase even though the Fed doesn't really have much choice.
TGR: What do you think the Fed will do?
EC: I don't think this is going to be a traditional tightening cycle where you see a rate increase at every meeting—far from it. After its 25 basis point increase yesterday, the Fed is going to go to extraordinary lengths to convince the market that it's going to be a very slow upward move in rates. It doesn't want to spook the market. It could be quite a while before it raises rates again.
Register for the Metals Investor Forum 2016 for free
January 23, 2016, in Vancouver
Click here
TGR: You follow macroeconomic indicators more than most newsletter writers. What are two or three things that Eric Coffin is most focused on?
EC: In the U.S. I watch the Institute for Supply Management indicators, both manufacturing and service. The manufacturing index turned negative in the last couple months; service is still fairly strong, although it has dropped too.
I watch the Cass Freight Index because that's a bit more of a coincident indicator. Everyone obsesses about the U.S. payroll numbers. Obviously, payrolls are important but there's a three- to four-month lag there in terms of what the economy is actually doing today.
I'm also nervous about the divergence between the equity markets and the higher yield market. I realize a lot of that is about what's happening in the oil and gas sector because a lot of the high-yield debt is loans to the oil and gas sector. But the divergence is becoming quite large. In my experience it's quite often the debt guys who see market problems first. I'm not saying problems in the debt market guarantee that the equity indices are going to roll over but it's foolish to ignore it.
TGR: What's a telltale sign when you're looking at that market?
EC: If you stick an S&P 500 chart and a high yield index chart side by side, you would notice that they tend to move more or less together. A divergence basically started when Quantitative Easing 3 ended last year, but the divergence has become significantly bigger in the last few months. The S&P 500 has been bouncing along its recent highs, yet the high yield index is probably 15% off its high. That's unusual. Either the S&P 500 is going to new highs and the high-yield index will move up again or the S&P 500 will come down to meet it. Historically, more often than not, the S&P 500 comes down to meet it. Keep an eye on that.
S&P 500 and High Yield Index Comparison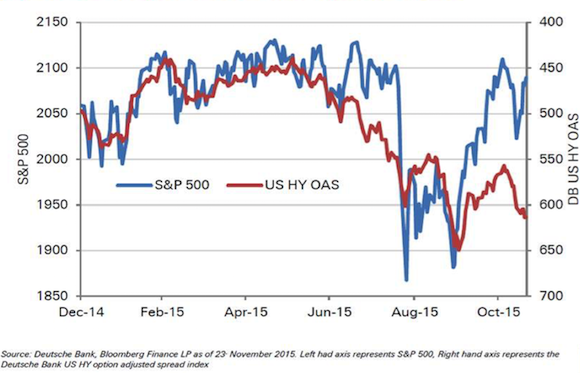 TGR: Uranium is one of the few commodities that seems poised for gains. Please give us a brief overview of how you see the uranium market shaping up in 2016.
EC: We have a mined supply deficit, but ever since the Fukushima meltdown in Japan in 2011 two things have happened: uranium prices have dropped significantly and supply has been coming into the market via destocking by different utilities that no longer require uranium following the total nuclear shutdown in Japan and a partial shutdown in Germany. Prices have been declining almost continuously since Fukushima but if you're running a big nuclear plant, the cost of uranium pellets is a relatively small part of your operating costs. Obviously, you'd rather pay $35 a pound ($35/lb) versus $100/lb, but the big factor for those utilities is that they need to make sure they have deliveries.
Utilities commonly buy uranium with long-term contracts, which normally make up about 80% of the uranium market. But in the last three or four years, utilities haven't really deemed it necessary to sign long-term uranium contracts, preferring instead to buy it on the spot market. There is a lot of unfilled utility demand between now and 2025—some estimates put it as high as 1 billion pounds. The question is when do these utilities start getting nervous and decide to go back into the market to make certain they have enough. There will probably be a slight oversupply next year when you include destocking supply and mined uranium. But 2017 is the point at which you're probably going to see a real price move.
TGR: At what price do new uranium mines get built?
EC: If you want to incentivize mining companies to build uranium mines, you probably need a uranium price in the $70/lb or $80/lb range. At $35/lb, these companies are not going to build uranium mines. There will be no new mine supply.
TGR: Are you following any uranium companies?
EC: The one uranium story that I'm following, which will be presenting at the Metals Investor Forum, is Energy Fuels Inc. (EFR:TSX; UUUU:NYSE.MKT; EFRFF:OTCQX). The company produces uranium from both in situ recovery (ISR) and at the White Mesa mill in Utah, the only operating conventional mill in the U.S. Energy Fuels will probably produce 700,000 to 800,000 pounds next year, not a big producer. It makes a little money on production and has a good working capital position. It has permitted a number of small resources close to the mill and is working on expanding ISR.
TGR: Could Energy Fuels ramp up production if there is a sudden price increase?
EC: Management doesn't really want to expand production unless the uranium price moves sufficiently higher, but it is one of the few companies that it is in a position to write long-term sales contracts and deliver into them at two, three or four times its current production rate.
The company is adding a couple more header houses at its ISR operation. Energy Fuels could probably take Nichols Ranch, which is the current unit, the Hank unit and Jane Doe, which it is just finishing permitting on, up to 1.5–2 million pounds (1.5–2 Mlb) per year. That would probably take a year or two, but it only makes sense to boost production at above $50/lb uranium, at a minimum. The selling that it is doing right now is on long-term contracts priced at about $55/lb.
TGR: What about its hard rock uranium assets?
EC: It has two or three smaller hard rock uranium resources in breccia pipes fairly close to its White Mesa mill. Three of those, ranging in size from 0.5, 1, 1.5 Mlb each, are already permitted. Its lead time on those is probably from three to nine months. It has a couple of larger resources as well, though they are not as far along in the permitting process. And White Mesa is permitted for 8 Mlb/year, so it's not remotely close to capacity.
TGR: Are you following other uranium companies?
EC: Yes, but not formally in the newsletter. I'm a technical adviser to Roughrider Exploration Ltd. (REL:TSX.V). If something happens that's worth talking about, I talk about it in the HRA Journal, but I don't put a rating on the company. It has a large land position on the eastern side of the Athabasca Basin in northern Saskatchewan, basically sub-basement rocks. Most of the large uranium discoveries in the last few years, namely by Fission Uranium Corp. (FCU:TSX) and NexGen Energy Ltd. (NXE:TSX.V; NXGEF:OTCQX) on the other side of the basin, were in sub-basement rocks. That's part of the rationale behind these exploration plays, that they find something that's not 1,000 meters below surface.
TGR: What's your advice to equity investors in the throes of tax-loss selling season?
EC: Try to identify companies that are going to be subject to tax-loss selling but that don't have to finance in the short term. You don't want to be buying into a deal that's going to get hit on tax-loss selling and then have to do a massive placement a month later. So you want a company that's financed to carry it through next year or farther. You also want strong management and projects that look practical at today's metal prices. Then put in a stink bid and see what happens.
TGR: What are you going to talk about at the Metals Investor Forum and why is this different from other resource events?
EC: I'm either going to be talking about why I was right about the U.S. dollar topping or I'm going to be explaining why I wasn't. I think there's real potential that the NYSE topped six months ago and that things are going to look a lot uglier in two months. It's still a 50/50 proposition. It's a fairly dangerous looking market in the U.S. There are very few companies carrying that rally. I don't think we can ignore the potential for a bear market in the near term. That potential is quite real but maybe Janet Yellen can still save the day.
To address the second part of your question, unlike most other resource investor conferences, the Metals Investor Forum brings you a curated list of companies (such as some of the companies I discussed above) followed by one or more of the newsletter editors that host it. It's invite-only for companies and the number of presenting companies is strictly limited. Just as important, it's invite only for attendees and we use a venue that limits the amount of total attendance. This is not about making a room look full. It's about getting the best list of presenting companies and an audience of subscribers that really want to hear their stories together. You can't just walk in. You need an invitation to register and attend.
After the success and positive feedback from our first event, we decided to add a winter event so that our attendees could benefit from our experts' advice during peak investment season. Serious investors have the rare opportunity to meet the companies' executives in person, ask the hard questions and really get to know the people managing your investment dollars firsthand.
Streetwise Reports readers are invited to attend the free Metals Investor Forum—click here now to register while seats are still available.
TGR: Thank you for your insights, Eric.
Eric Coffin is the editor of the HRA (Hard Rock Analyst) family of publications. Responsible for the "financial analysis" side of HRA, Coffin has a degree in corporate and investment finance. He has extensive experience in merger and acquisitions and small-company financing and promotion. For many years, he tracked the financial performance and funding of all exchange-listed Canadian mining companies and has helped with the formation of several successful exploration ventures. Coffin was one of the first analysts to point out the disastrous effects of gold hedging and gold loan-capital financing in 1997. He also predicted the start of the current secular bull market in commodities based on the movement of the U.S. dollar in 2001 and the acceleration of growth in Asia and India. Coffin can be reached at [email protected] or the website hraadvisory.com.
Want to read more Gold Report interviews like this? Sign up for our free e-newsletter, and you'll learn when new articles have been published. To see a list of recent interviews with industry analysts and commentators, visit our Streetwise Interviews page.
DISCLOSURE:
1) Brian Sylvester conducted this interview for Streetwise Reports LLC, publisher of The Gold Report, The Energy Report and The Life Sciences Report, and provides services to Streetwise Reports as an independent contractor. He owns, or his family owns, shares of the following companies mentioned in this interview: None.
2) The following companies mentioned in the interview are sponsors of Streetwise Reports: Energy Fuels Inc., Fission Uranium Corp. and NexGen Energy Ltd. The companies mentioned in this interview were not involved in any aspect of the interview preparation or post-interview editing so the expert could speak independently about the sector. Streetwise Reports does not accept stock in exchange for its services.
3) Eric Coffin: I own, or my family owns, shares of the following companies mentioned in this interview: Energy Fuels Inc., and Roughrider Exploration Ltd. I personally am, or my family is, paid by the following companies mentioned in this interview: Advisory fees from Roughrider. My company has a financial relationship with the following companies mentioned in this interview: None. I was not paid by Streetwise Reports for participating in this interview. Comments and opinions expressed are my own comments and opinions. I determined and had final say over which companies would be included in the interview based on my research, understanding of the sector and interview theme. I had the opportunity to review the interview for accuracy as of the date of the interview and am responsible for the content of the interview.
4) Interviews are edited for clarity. Streetwise Reports does not make editorial comments or change experts' statements without their consent.
5) The interview does not constitute investment advice. Each reader is encouraged to consult with his or her individual financial professional and any action a reader takes as a result of information presented here is his or her own responsibility. By opening this page, each reader accepts and agrees to Streetwise Reports' terms of use and full legal disclaimer.
6) From time to time, Streetwise Reports LLC and its directors, officers, employees or members of their families, as well as persons interviewed for articles and interviews on the site, may have a long or short position in securities mentioned. Directors, officers, employees or members of their families are prohibited from making purchases and/or sales of those securities in the open market or otherwise during the up-to-four-week interval from the time of the interview until after it publishes.