The Gold Report: Your latest presentation declares that Quaterra Resources Inc.'s (QTA:TSX.V; QTRRF:OTCQX) "assets have the potential to be transformed into a district-scale, long-life copper-mining operation." Tell us about your assets, and explain why you have such confidence in them.
Steven Dischler: We own 51 square miles of property in the Yerington district of Nevada. This is a district with a rich history of successful copper production in one of the world's best mining jurisdictions. We have three properties there: Yerington, which Anaconda mined at an average of 0.54% copper, MacArthur and Bear. Yerington has a mineral resource as defined under NI 43-101, and MacArthur has a preliminary economic assessment, but it is Bear that we believe could be the catalyst for the whole district.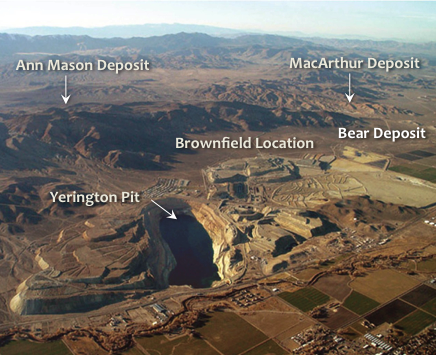 Source: Quaterra Resources
We own valuable water rights at Yerington specifically permitted for mining and mineral processing. We have broad-based community support for responsible mining. We have invested $28 million ($28M) in the district since 2006 with another $7.1M in planned exploration that has just begun. And we have the enthusiastic support of Freeport Nevada, which has an option to earn between a 55% and 75% interest in the project.
TGR: Tell us about the executive team's background.
SD: Tom Patton, our executive chairman, has a successful track record of taking exploration projects all the way from discovery to production. He was the president/COO of Western Silver Corp. and was instrumental in the discovery of the Peñasquito mine in Mexico, now owned by Goldcorp Inc. (G:TSX; GG:NYSE). He was also previously vice president of exploration for Kennecott, and he's got a Ph.D. in geology from the University of Washington.
Scott Hean, our CFO, comes from investment banking, including the Bank of Montreal and JP Morgan. He has an MBA from the Ivey School of Business.
I'm a mining engineer by training, with a Bachelor of Science degree from the University of Wisconsin, a master's from the University of Arizona and over 30 years of experience. I've been involved in permitting and developing mining projects across the U.S. Before joining Quaterra in 2011, I was a strategy manager with BP for a portfolio of historic mines associated with Anaconda, including Yerington. I know this project intimately, and I am passionate about it.
TGR: How important are your water rights?
SD: They are a key asset, especially as we are in a part of the country, the Western United States, where water is in short supply. We have ownership of almost 9,000 acre feet of primary ground water. Having those rights as part of the infrastructure required to build and operate a major mine is a key differentiator for us.
TGR: How does the Yerington district stand for other aspects of infrastructure?
SD: Yerington is located about 75 minutes by road from a major city, Reno. Major highways run through the town. A few miles to the north, we have rail access that gives us access to international ports. There is a power plant located a few miles from Yerington, which could give us access to low-cost electricity.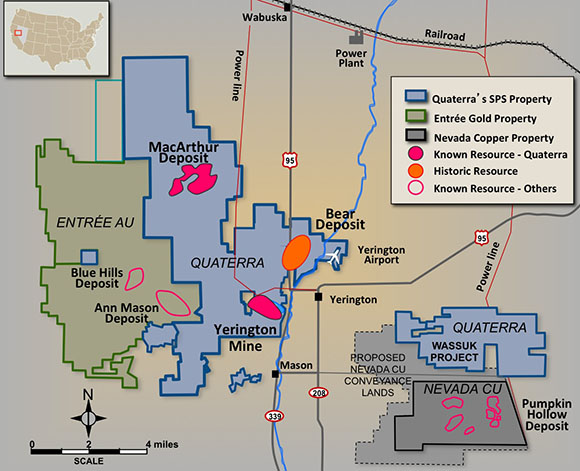 Source: Quaterra Resources
In addition, we have an experienced workforce familiar with mining. All this adds up to excellent infrastructure.
TGR: Tell us about your option agreement with Freeport. How much money has Freeport committed to Quaterra, and how much of Quaterra does Freeport get in return?
SD: We entered into the option agreement with Freeport in June 2014. We are now in the second stage of a three-stage agreement. Freeport has the option to earn a 55% interest in SPS, the Quaterra subsidiary that owns the Yerington assets, by paying approximately $41M over four years. Freeport can increase its share to 75% by spending an additional $98M to fund Yerington through to a feasibility study.
Quaterra is the operator now, but should it exercise its option to earn 55%, Freeport will become the operator.
TGR: What did Freeport see in your company and its Yerington assets?
SD: Freeport is looking for large-scale projects with the potential to become large-scale operating mines. Yerington has multiple copper centers—three so far—and a historic record of successful copper production. These qualities, plus our infrastructure and the easy permitting in Nevada, made Yerington potentially a good fit for Freeport.
TGR: How extensively have the 51 square miles of Yerington been explored?
SD: As I mentioned, we have mineral resources as defined by NI 43-101 for Yerington and McArthur, and the Bear has been previously explored by two major companies. Beyond that, however, the overall property is largely underexplored, despite Anaconda being there from the 1950s. So a great deal of potentially prospective land is still there.
TGR: Why have you decided to concentrate on the Bear property? Why do you call it Yerington's potential catalyst?
SD: We have consolidated key acreage covering the Bear deposit and have compiled data from 49 drill holes and 125,000 feet of historic drilling. That data indicated that Bear is still underexplored and open in several directions. So additional drilling is required to confirm the extent and grade of Bear mineralization and to bring it up to NI 43-101 standards. We believe Bear has the potential to contain a large amount of copper above the average grade of the district.
TGR: You announced a Bear drilling program Aug. 13. How big is the program?
SD: Five to seven holes and about 22,500 feet. We aim to better define the deposit. We will twin one of the previous historic holes to corroborate the historic results. We will test whether the thicker or higher-grade intercepts extend to the north of previous drilling, which is suggested by the grade thickness contouring we have done. And we will better establish the limits of mineralization both horizontally and at depth.
TGR: What are your plans for the Yerington and McArthur properties?
SD: We believe those assets are still really exciting, but they are going to require additional exploration to further assess their value. Our first obligation is to our shareholders, so we have decided to go with Bear first.
TGR: What has Quaterra done to become leaner and meaner in the current negative market environment?
SD: Starting 18 months ago we reset our strategy. We raised about $9.5M divesting four sets of assets.
TGR: Don't you have a JV with Goldcorp for silver properties in Mexico?
SD: We still have that agreement, but given the new royalty regime in Mexico and the downturn of the mining sector in general, we've put those properties in maintenance mode and retained a royalty.
TGR: How much cash do you have?
SD: Almost $4M. We're well financed to complete our program this year at Yerington, and we'll also have funds coming in because payments from the sale of some of our assets are due over a period of time.
TGR: The price of copper has fallen to a six-year low. Why do you remain bullish on copper's long-term prospects?
SD: I get that question a lot. No one can predict where copper will be in the future. But I suspect we are nearer the bottom than the top. And, medium term, I would say there appears to be more upside than downside. The elephant in the room, however, is China: its slowing economy and those effects on copper demand.
On the supply side, we do know that grades at many of the big copper mines are declining, or they are moving underground. Large long-life mines are becoming harder to find, even more difficult to permit, and are experiencing increasingly longer timelines to production. These are long-term secular trends that are not going to change, and they have big implications despite the swings of the business cycle. Copper abundance is finite, especially at these current low prices. This is not a problem that can be managed. Copper production will become more expensive as the deposits being mined become lower grade and harder to access. And so I believe that copper prices will have to rise.
TGR: Would copper mining at Bear be traditional mining or in situ?
SD: It will be traditional, and we think at least part of it would be underground, but more assessment will be needed.
TGR: How close is Bear to an initial resource statement?
SD: It's a bit early, I think, to be discussing this. We hope that we will be able to use many of the historic holes to reduce the amount of drilling required to calculate a resource estimate. And that's one of the reasons we'll be twinning one of the holes in this current round of drilling.
What we do know now is that the deposit is there, that Bear is a large porphyry copper system. About that we have no doubt. Our other Yerington assets could provide flexibility with production schedules and determine the timing of further phases of development in the district.
TGR: Which mining companies are your neighbors at Yerington?
SD: Nevada Copper Corp. (NCU:TSX) has its Pumpkin Hollow project to the southeast of us, on the other side of the valley. Entrée Gold Inc. (EGI:NYSEMKT) has significant properties to our west, where we share seven miles of fence line. Its main project is Ann Mason. And then there's a privately owned investment southeast of us with an agreement with MetalBank Ltd. (MBK:ASX).
TGR: Where do you see your company in three years?
SD: If Bear turns out well, we will own 25–45% of a large and attractive copper asset moving systematically toward production while being operated by a major copper producer. The potential to add value in this scenario is very real, and it's exciting for both us and our shareholders. Obviously this is a forward-looking statement, as are others in this interview, and is based on assumptions that involve risks and uncertainties. Results may be considerably different from what we hope to achieve. Your readers may wish to review more fully these risks and uncertainties in our filings with the securities regulators, or on our website at www.quaterra.com.
TGR: Your company boasts large, highly prospective holdings in a great jurisdiction, with interest from a major producer, Freeport, which has an option to earn in. Yet Quaterra shares can be had for only a dime. What are you doing to persuade investors of Quaterra's worth?
SD: We have a good story, and so we've begun putting effort into telling it to the market. We have good quality assets at the right address with the support of a major copper producer. History tells us that mining is highly cyclical; investor interest ebbs and flows in response to a wide range of issues. Over the past few years, equity performance has been hurt by softer commodity prices, and many investors are on the sidelines. This is where we see an opportunity.
Specifically, we have revamped our website, and we shall be attending mining conferences in San Francisco, Vancouver and Toronto. We're organizing site visits to Yerington, and we've begun to re-engage with mining analysts and potential investors. All of this takes time, especially when the sector is so out of favor. But, we have differentiated ourselves in a positive way from many of the other explorers. We're moving forward, and we have the budget in place to pave the way.
Today, investors can get a decent position in Quaterra for little money. Times will change, and the pendulum will swing back the other way. The world will need more copper, and prices will improve. We will be there to prosper when the sector turns around. In summary, I believe we are well positioned for success.
TGR: Steven, thank you for your time and your insights.
Steven Dischler, president and CEO of Quaterra Resources, has 32 years of experience in mining and other natural resources. Prior to joining Quaterra Resources, he was a strategy manager with BP for a portfolio of historic mines associated with the former Anaconda Mining Company assets in the U.S., including Yerington. Dischler has held a variety of leadership positions in consulting and industry with expertise in managing and permitting major capital projects. He has been involved with the permitting and development of several major mining projects across the U.S. Dischler has a Bachelor of Science degree in mining engineering from the University of Wisconsin and a Master of Science degree in mining engineering from the University of Arizona. He is a registered professional engineer in eight states and has been a member of the Society of Mining Engineers since 1979.
Read what other experts are saying about:
Want to read more Gold Report interviews like this? Sign up for our free e-newsletter, and you'll learn when new articles have been published. To see a list of recent interviews with industry analysts and commentators, visit our Streetwise Interviews page.
DISCLOSURE:
1) Kevin Michael Grace conducted this interview for Streetwise Reports LLC, publisher of The Gold Report, The Energy Report and The Life Sciences Report, and provides services to Streetwise Reports as an independent contractor. He owns, or his family owns, shares of the following companies mentioned in this interview: None.
2) Quaterra Resources paid Streetwise Reports to conduct, produce and distribute the interview.
3) Steven Dischler, a qualified person as defined in NI 43-101, had final approval of the content and is wholly responsible for the validity of the statements. Opinions expressed are the opinions of Steven Dischler and not of Streetwise Reports or its officers.
4) The interview does not constitute investment advice. Each reader is encouraged to consult with his or her individual financial professional and any action a reader takes as a result of information presented here is his or her own responsibility. By opening this page, each reader accepts and agrees to Streetwise Reports' terms of use and full legal disclaimer.
5) From time to time, Streetwise Reports LLC and its directors, officers, employees or members of their families, as well as persons interviewed for articles and interviews on the site, may have a long or short position in securities mentioned. Directors, officers, employees or members of their families are prohibited from making purchases and/or sales of those securities in the open market or otherwise during the up-to-four-week interval from the time of the interview until after it publishes.