Gatling Exploration Inc. (GTR:TSX.V; GATGF:OTCQX)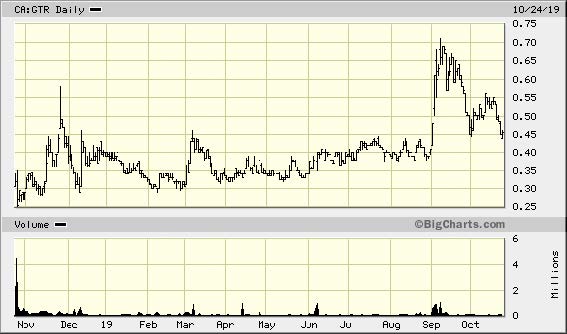 Trades Toronto: GTR
US OTC: GATGF
Shares Outstanding: 47.5 million
Price 10/25/19: US$0.356; 12/5/19 US$0.32
Market Cap: ~US$17 million
Cash: ~$4 million
Gold Resource (All NI-43-101 Categories): 960,800 ounces (The current gold resource calculation is broken down in the following chart)
Progress Rating: A3
Phone: 604-678-5308
Web: Gatlingexploration.com

Mining, like any business, is all about people. For success in the junior exploration business, you obviously need to start with good, competent exploration geologists. Gatling Exploration is strong in that regard, with Dale Ginn leading that task. He and Nav Dhaliwal (the President and CEO) have proven their ability to succeed in the exploration business with a huge amount of success at Bonterra. But few stories covered in this letter have been as disappointing tome as Bonterra. The downturn came after a monetary infusion brought in a merger and management company that not only killed the upside that was to be had thanks to the successful exploration efforts of Ginn and his team, but after a merger with Metanor, the stock dropped like a rock.
But there is good news! The Larder Project located on the Ontario/Quebec border and owned by Bonterra was spun off to shareholders into what is now Gatling Exploration. And the successful Dhaliwal/Ginn team left Bonterra to head up this very promising project located along the prolific Cadillac-Larder Lake Fault in Ontario. By the looks of things, Ginn and Dhaliwal have picked up where they left off with the same kind of success on the Gladiator Gold Discovery as when they were at Bonterra.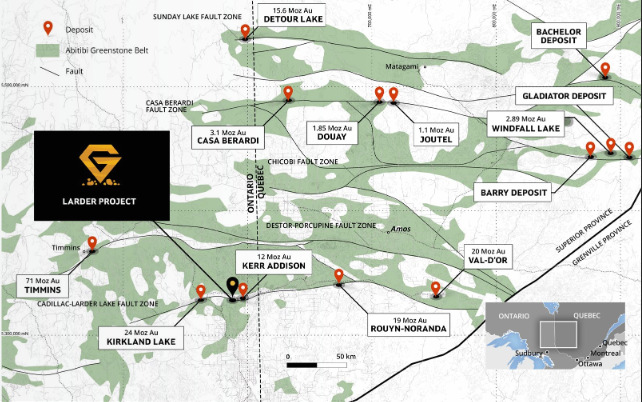 As you can see from the map above, the company's Larder Project is located along the Cadillac-Larder fault zone in prime gold real estate. Along that fault zone, lies the 24-million-ounce Kirkland Lake mine to the west. And just a few kilometers to the east of the Larder mine is the 10.5-million-ounce Kerr Addison gold mine. In fact the gold mineralization on the Larder Project is exactly identical to the Kerr Addison Mine.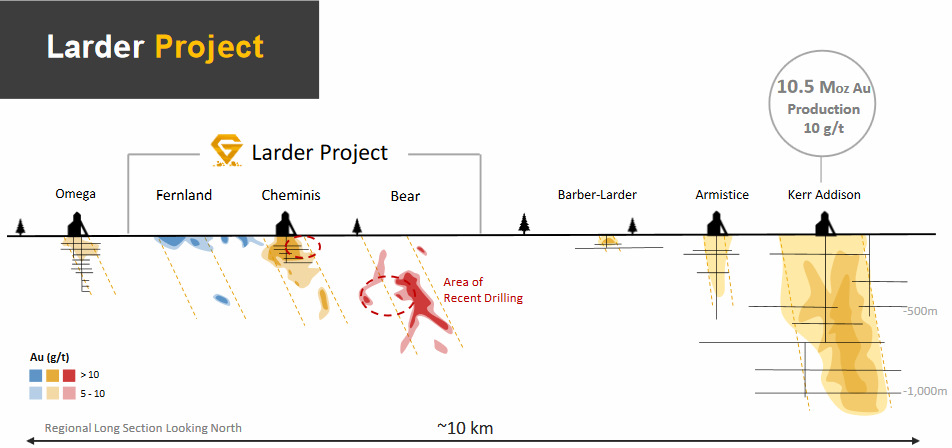 By no means is this a new discovery. What management is very sure about is that these various zones that were drilled by different companies in the past are all continuously gold mineralized. Having locked up the area noted above that makes up the Larder Project means that Gatling is free to fill in these gaps. A very important fact is that some 31,000 meters of drilling was carried out in the past by such well-known senior mining firms as Teck and Goldfields. None of that data has been factored into the resource of nearly 1 million ounces, nor have the significant meters of drilling this year been factored into the resource. With success, management has expanded an earlier 10,000-meter drill program this year into a 20,000-meter program and then lastly 35,000 meters of drilling to be completed by year end.
In speaking with Dale Ginn, I'm told that mining widths are very good with a minimum of about 3 meters but can swell out to 40 or more meters. Mineralization is structurally controlled and according to Dale it is relatively easy to identify those structures for drilling. The have been hitting their targets on a high percentage basis. Generally, the narrower widths are of higher grade but with widths like these it would seem mining dilution should be quite low. I'm told the metallurgy is simple and non-refractory and that the two kinds of mineralization at the Kerr Addison Mine (an ultramafic and an altered basalt) are identical on the Fernland, Cheminis, and Bear deposits. The company has two drill rigs working on the Larder Project now with most of the attention currently on the Bear. There has been a considerable amount of underground exploration on the Cheminis, where mineralization starts on surface but the underground workings were used mostly for exploration rather than production. As you can see from the illustration above, the Bear mineralization starts below surface. It is my understanding that the Fernland is a relatively new discovery with mineralization identified right on surface. What is important to keep in mind is that these gold deposits located in the Greenstone Belts of Quebec and Ontario generally run to very considerable depths. The Kerr Addison, for example, ran to a depth of over 1,000 meters. So the bottom line for me here is that the Larder Project has the potential to host many millions of ounces of gold. For obvious cost-related reasons, the attention near term will be along strike more than at depth. Also keep in mind that this is a brownfield project with several hungry mills in the immediate area. Therefore, to my way of thinking, the level of speculative risk for these shares is a lot lower than for many other companies in the junior resource space.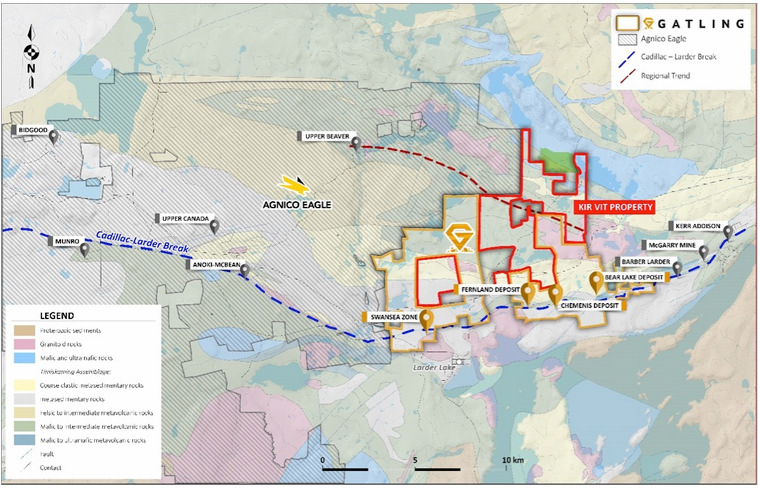 The Kir Vit Target
In April of this year, Gatling announced that it expanded its land position by picking up1,274 hectares known as the Kir Vit Claim Package, which is the area within the redlines shown on this map. (The initial Larder claims are within the yellow boundaries.)With this acquisition, the Larder Project as a whole covers a contiguous land position of 3,370 hectares.
The new property hosts several near-surface drill-ready target areas that trend onto proven zones such as Agnico Eagle's Upper Beaver deposit that has an indicated mineral resource of 1,461,000 ounces gold at 6.62 grams per tonne Au with 56,006,000 pounds copper at 0.37 per cent Cu (6.87 million tonnes) and an inferred resource of712,000 oz Au at 4.85 g/t Au with 32,218,000 lb. Cu at 0.32 per cent Cu (4.57 million t).
The addition of the Kir Vit property opens up new exploration opportunities within intrusion related gold targets and Timiskaming sediments—geology that is consistent with hosting gold mineralization similar to the Larder gold project and elsewhere in the region. Also along with the acquisition came Teck's database of recent exploration activities on the property, including geophysics and surface sampling. That data will be reviewed and compiled for future targeting.
Near surface gold mineralization has been identified with surface sampling completed at new property has returned gold values up to 7.9 g/t Au. Management has identified multiple new drill targets. The acquisition opens new exploration potential in intrusion related gold targets, along trend of the Upper Beaver deposit and geophysics has identified additional potential targets. A 3-D induced polarization survey was completed by Teck in 2017 on the property that identifies a number of targets.
While this project is early exploration and thus early drilling will be much riskier than drilling between known gold-bearing structures between the Bear, Cheminis, and Fernland deposits, a read of management's August 27 press release discussing exploration plans paints a very exciting picture of the potential for Kir Vit, as the following highlights of early exploration work reveal.
High-grade gold at surface: Gatling's 2019 surface exploration program has been primarily focused on the Kir Vit zone. The program has collected samples from historical trenches, pits and multiple exposed outcrops. High grade gold has been recovered along the altered volcanic contact with both the syenite intrusion and conglomerate units. Sample values include 7.0 grams per tonne gold and 6.7 g/t Au.
Geological understanding of the Kir Vit: The historical work completed on the property was reportedly well documented and aided in Gatling's 2019 surface program. From this comprehensive work completed thus far, Gatling has been able to establish that both intrusive-style mineralization and Timiskaming conglomerate mineralization are present at the Kir Vit zone. Proximal to both mineralized trends are altered mafic volcanic rocks that also show indication of late-stage mineralization as well as hydrothermal alteration.
Large hydrothermal footprint: Multiple alteration assemblages have been identified in the field indicating a large hydrothermal footprint. Alteration encountered thus far includes sericite, albite, epidote, silica, hematite and carbonate.
Proximity to existing resources: The Kir Vit zone has displayed multiple similarities to nearby deposits including the porphyry-style mineralization at Agnico Eagle's Upper Beaver deposit. The current exploration target is approximately 10 kilometers southeast of Agnico Eagle's Upper Beaver deposit, which has an indicated mineral resource of 1,461,000 ounces of gold at 6.62 grams per tonne Au with 56,006,000 pounds copper at 0.37 per cent Cu (6.87 million tonnes) and an inferred resource of 712,000 ounces Au at 4.85 g/t Au with 32,218,000 pounds of Cu at 0.32 per cent Cu (4.57 million t).
The drilling program is now under way. Gatling is using all of the collected data to help with planning of the current 3,500-meter drill program at what is named the Kir Vit Zone. Initial drilling has exposed heavily altered syenites, altered volcanics, quartz-carbonate breccia patches and multiple lenses of conglomerate. Gatling will provide assay results as they come in, which is expected in a couple of months. Of course we will report in this letter and, as with all news releases for companies we cover, you can find those releases as they are published at www.Miningstocks.com.
Management
Nav Dhaliwal, President and CEO: Mr. Dhaliwal is an experienced executive, leader and team builder. He was the founder and CEO of Bonterra Resources and has a track record of success in the mining sector. Mr. Dhaliwal is particularly adept at nurturing early stage companies through their critical phases of evolution. He also brings valuable business relationships with international analysts, brokers and investment bankers throughout Canada, the United States, Europe and Asia.
Dale Ginn, COO: Dale Ginn Executive Chairman and Director Mr. Ginn is an experienced mining executive and geologist of nearly 30 years. He is the founder of a number of exploration and mining companies and has led and participated in numerous gold and base metal discoveries, many of which are in production today. Mr. Ginn has led or was part of the discovery teams for the Gladiator, Hinge, 007, 777, Trout Lake, and Tartan Lake deposits and received the Quebec Discovery of the Year Golden Hammer award in 2018 for the Gladiator deposit. His experience has included both senior and junior companies such as Goldcorp, Harmony Gold, Hudbay, Westmin, San Gold, Bonterra, Gatling Exploration and others. While specializing in complex, structurally controlled gold deposits, he also has extensive mine operations, development and startup experience.
Nathan Tribble, VP Exploration: Mr. Tribble, P.Geo. (ON) has over 13 years of professional experience in exploration and mining, with a particular focus on gold and base metal exploration and project evaluation. Past experience includes Senior Principal Geologist for Sprott Mining, Senior Geologist for Bonterra Resources, Jerritt Canyon Gold, Kerr Mines, Northern Gold, Lake Shore Gold and Vale Inco. He was also part of the exploration team that discovered the 8.2 million ounce Côté Lake gold deposit for Trelawney Mining and Exploration Inc. Mr. Tribble is registered as a Professional Geoscientist in Ontario and holds a Bachelor of Science degree in Geology from Laurentian University.
Peter Dickie, Director: Mr. Dickie has over 35 years of experience in the public and private corporate environment, with over 25 years spent in management positions. He is the former President, CEO and director of NioCorp Developments Ltd., a company developing the largest super-alloy mineral deposit in North America (niobium, titanium and scandium). During his six years with NioCorp, Mr. Dickie developed key relationships with property owners and all levels of government in the project area, built a team of internationally recognized senior executives, raised tens of millions of dollars and graduated the company to the TSX. During this time, NioCorp's market capitalization grew from under $5million to over $200 million.
Richard Boulay, Director: Mr. Boulay has over 40 years of experience in the exploration and mining industries in Canada and internationally, including 15 years of mining and infrastructure financing experience gained with Bank of Montreal, Royal Bank of Canada and Bank of Tokyo. He has extensive experience in the management and financing of public companies in Canada and the United States. He is also a Director of Moneta Porcupine and Latin American Minerals Inc.
Jason Billan, Director: Mr. Billan is a seasoned strategy, corporate development and valuation professional with an accelerating career in the mining industry. Following the completion of an MBA at the Richard Ivey School of Business at the University of Western Ontario in 2009, he spent roughly three years in equity research covering the precious metal sector, at Salman Partners and RBC Capital Markets, with a coverage universe ranging from small to large caps. In 2012, he joined Nevsun Resources as the sole Corporate Development professional reporting into the senior executive team. After several years of evaluating hundreds of gold and copper opportunities, Nevsun acquired the world-class Timok copper-gold project in Serbia for over US$500M. Last year, Mr. Billan's comprehensive skill set in capital markets, valuation, and transaction experience was further strengthened as he evaluated the hostile bid of Nevsun by Lundin Mining and later evaluated numerous strategic alternatives leading to the successful CA$1.9B acquisition of Nevsun by Zijin Mining. Mr. Billan also brings a strong network of corporate and institutional representatives in the mining industry to support Gatling's objectives.
Peter Damouni, Chairman of the Board: Mr. Damouni has over 17 years of experience in senior executive positions in investment banking and capital markets, with expertise in mining and oil and gas. Throughout his career, Mr.Damouni has worked on and led equity and debt financings valued over $5 billion for companies at different stages from exploration, to development, permitting and construction to production. He has comprehensive experience inequity financing, restructuring and mergers & acquisitions. Mr. Damouni is a graduate of McGill University, Canada. He is a Canadian and British citizen, residing in the United Kingdom.
Carrie Cesaronem, Director: Ms. Cesarone has worked in the public company sector for 30 years. She worked as a paralegal for well-known Vancouver securities lawyers for 11 years and following that, has worked as an independent contractor for both public and private companies for the past 13 years. She has served as a director, Corporate Secretary and CFO for a number of listed companies and continues to serve a Corporate Secretary for Pacton Gold Inc. and BlueBird Battery Metals Inc. Ms. Cesarone holds a Bachelor of Arts degree from Simon Fraser University.
Joseph Meagher CFO and Corporate Secretary: Mr. Meagher became a Chartered Professional Accountant (CPA,CA) in 2008, and obtained the Chartered Director (C. Dir.) designation from The Directors College (a joint venture between McMaster University and The Conference Board of Canada) in 2017. Mr. Meagher currently serves as the Chief Financial Officer and a Director for several publicly listed companies. Previously, Mr. Meagher worked at Smythe CPA as a manager. Mr. Meagher also holds a Bachelor of Commerce from the University of British Columbia.
The Bottom Line
Gatling's Larder Gold Exploration Project has without a doubt very considerable exploration potential starting with drilling between the Bear, Cheminis, and Fernland deposits. With nearly 1 million high-grade ounces already identified, it's not a stretch in my view to anticipate 2 or 3 times those levels at relatively shallow depths between those three known zones. Though it's at an earlier stage of exploration and hence represents riskier drilling, the Kir Vit Project looks to be an exceptional exploration target. We should be receiving early drill results from that project. Early results could be good but keep in mind deposits are not usually made on early drill holes that serve to educate and guide geologists to drill more perceptively in the next phase of drilling. On the other hand, I believe probability of continued very attractive drill results should be expected along the Cadillac-Larder Break.
Also adding to the attractiveness of this story is the excellent infrastructure of the area in terms of access, water, power, and nearby mills, which could conceivably come in handy in the early stages. With some 31,000 drill hole data not factored into the existing resource plus another 35,000 meters drilled this year, it is not unreasonable to anticipate the nearly 1 million ounces of high-grade gold is likely already much larger. I'm not expecting an updated resource right away. Rather, step-out drilling makes more sense as the extent of mineralization along several kilometers is established. Then will come infill drilling to allow for a resource calculation that as noted above should be a factor of at last 2 to 3 times larger than the existing resource. Last but most important of all, I have confidence in the ability of Nav Dhaliwal and Dale Ginn to carry out the business plan and in this portion of their careers to avoid the kind of destructive relationships in their last experience.
Originally published in J. Taylor's Gold, Energy & Tech Stocks on October 25, 2019.
As he followed the demolition of the U.S. gold standard and the rapid rise in the national debt, Jay Taylor's interest in U.S. monetary and fiscal policy grew, particularly as it related to gold. He began publishing North American Gold Mining Stocks in 1981. In 1997, he decided to pursue his avocation as a new full-time career—including publication of his weekly J. Taylor's Gold, Energy & Tech Stocks newsletter. He also has a radio program, "Turning Hard Times Into Good Times."
Read what other experts are saying about:
[NLINSERT]
Disclosure:
1) Jay Taylor's disclosures are below.
2) The following companies mentioned in this article are billboard sponsors of Streetwise Reports: Gatling Exploration. Click here for important disclosures about sponsor fees.
3) Statements and opinions expressed are the opinions of the author and not of Streetwise Reports or its officers. The author is wholly responsible for the validity of the statements. The author was not paid by Streetwise Reports for this article. Streetwise Reports was not paid by the author to publish or syndicate this article. The information provided above is for informational purposes only and is not a recommendation to buy or sell any security. Streetwise Reports requires contributing authors to disclose any shareholdings in, or economic relationships with, companies that they write about. Streetwise Reports relies upon the authors to accurately provide this information and Streetwise Reports has no means of verifying its accuracy.
4) This article does not constitute investment advice. Each reader is encouraged to consult with his or her individual financial professional and any action a reader takes as a result of information presented here is his or her own responsibility. By opening this page, each reader accepts and agrees to Streetwise Reports' terms of use and full legal disclaimer. This article is not a solicitation for investment. Streetwise Reports does not render general or specific investment advice and the information on Streetwise Reports should not be considered a recommendation to buy or sell any security. Streetwise Reports does not endorse or recommend the business, products, services or securities of any company mentioned on Streetwise Reports.
5) From time to time, Streetwise Reports LLC and its directors, officers, employees or members of their families, as well as persons interviewed for articles and interviews on the site, may have a long or short position in securities mentioned. Directors, officers, employees or members of their immediate families are prohibited from making purchases and/or sales of those securities in the open market or otherwise from the time of the interview or the decision to write an article until three business days after the publication of the interview or article. The foregoing prohibition does not apply to articles that in substance only restate previously published company releases.
Charts and graphics provided by the author.
Jay Taylor's Disclosures: J Taylor's Gold, Energy & Tech Stocks (JTGETS), is published monthly as a copyright publication of Taylor Hard Money Advisors, Inc. (THMA), Tel.: (718) 457-1426. Website: www.miningstocks.com. THMA provides investment ideas solely on a paid subscription basis. Companies are selected for presentation in JTGETS strictly on their merits as perceived by THMA. No fee is charged to the company for inclusion. The currency used in this publication is the U.S. dollar unless otherwise noted. The material contained herein is solely for information purposes. Readers are encouraged to conduct their own research and due diligence, and/or obtain professional advice. The information contained herein is based on sources, which the publisher believes to be reliable, but is not guaranteed to be accurate, and does not purport to be a complete statement or summary of the available information. Any opinions expressed are subject to change without notice. The editor, his family and associates and THMA are not responsible for errors or omissions. They may from time to time have a position in the securities of the companies mentioned herein. No statement or expression of any opinions contained in this report constitutes an offer to buy or sell the shares of the company mentioned above. Under copyright law, and upon their request companies mentioned in JTGETS, from time to time pay THMA a fee of $250 to $500 per page for the right to reprint articles that are otherwise restricted solely for the benefit of paid subscribers to JTGETS.
To subscribe to J Taylor's Gold, Energy & Tech Stocks Visit: https://www.miningstocks.com/select/gold. Receive J Taylor's Gold, Energy & Tech Stocks monthly newsletter and weekly e-mail messages for the period of your choice (U.S. and Canada). For foreign postal delivery contact us at e-mail below. Return to: 6003 72nd St., Maspeth, NY 11378, USA. Phone or Fax: 718-457-1426; e-mail: [email protected]