1. Introduction
Alianza Minerals Ltd. (ANZ:TSX.V) is the second hybrid prospect generator I am discussing in a short period of time, after closely related Avrupa Minerals (AVU.V). Both companies are guided by Pacific Opportunity Capital, a Vancouver financial consulting and merchant banking firm, led by Mark T. Brown, who is also the executive chairman of both companies. Whereas Avrupa is focused on Southern Europe, Alianza has its projects located in the Americas, with projects in Nevada, Yukon, BC, and Peru, and three royalties in Mexico.
The company recently raised C$862,000 in December 2018, and is mapping out exploration programs for several projects. Its current flagship project is the 100%-owned Haldane high-grade silver project in the Yukon, acquired in March 2018. The company has a 10-year exploration land use permit, which it announced it had received on December 4, 2018, and with the cashed up treasury it is readying to get started, as winter break comes to an end in the Yukon in a few months from now. It is interesting to note that with the road access this project has, it may be possible to extend the exploration season through the winter months in certain areas of the property. This would avoid a lengthy winter break with no news.
Let's have a look at the potential of Haldane, and the other projects.
All presented tables are my own material, unless stated otherwise.
All pictures are company material, unless stated otherwise.
All currencies are in US Dollars, unless stated otherwise.
2. The company
Alianza Minerals is a prospect generator with a hybrid business model of joint venture funding and self-funded projects to maximize opportunity for exploration success. The company currently has gold, silver and base metal projects in Yukon Territory, British Columbia, Nevada and Peru, and several royalties in Mexico. The flagship project of Alianza is the Haldane project in the Yukon, and other important projects are KRL in BC, and Horsethief in Nevada.
These are all pretty good jurisdictions for mining projects according to the Policy Perception Index (PPI) of the most recent Fraser Institute Survey of Mining Companies. The Yukon can be found at position 22 out of 91, Nevada at 5/91, BC at 36/91, Peru at 43/91 and Mexico for the royalties at 49/91. The PPI is the most important figure of this survey, as it indicates the mining friendliness of a jurisdiction, which encompasses corruption, permitting, speed of administrative processing, politics, local sentiment, etc. The survey is usually published in the last week of February, so a new version can come out any day now, probably adjusting the positions and scores somewhat, so if interested you can check this here.
The management team is led by prospect generator veteran President and CEO Jason Weber. Despite his relatively young age (48) he has been a president and CEO since 2007 of various prospect generators (Rimfire Minerals, Estrella Gold) and a developer (Kiska Metals, Whistler Gold project in Alaska). With Rimfire, he managed to reel in over $30 million for exploration from JV partners like Newmont, Barrick, AngloGold, First Quantum and Xtrata.
On the financial front the most important figure is Executive Chairman Mark T. Brown, who merged predecessor Tarsis Resources with Estrella Gold in order to form Alianza Minerals, as president of Pacific Opportunity Capital, his family fund which is basically an incubator for many junior mining companies. Its most successful exit was Rare Element Resources, where he entered the rare earth space in 1999, well before almost anyone else, based on watching China cornering the rare earth market at an early stage. He had to wait until 2011 for the exit, but it was worth the wait many times over. Brown was the CFO of Miramar Mining and Eldorado Gold before he joined his father, John Brown, to build out Pacific Opportunity Capital. Alianza also has a few real mining veterans on the Board of Directors, as there are John Wilson (Codelco, AMAX) and Marc Blythe (Almaden Minerals, Nevsun, Placer Dome, WMC).
Alianza Minerals has its main listing on the main board of the TSX Venture, where it's trading with ANZ.V as its ticker symbol. With an average volume of about 42,838 shares per day, the company's trading pattern is not very liquid at the moment, but I expect this to improve when drilling results will start to come in during Q2, 2019, and some paper from the last raise coming free trading at the end of April.
The company currently has 60.34 million shares outstanding (fully diluted 90.1 million), 25 million warrants (the majority at @ C$0.15 or more, of which 19.2 million warrants are expiring in September 2019, March 2020 and April 2020) and several option series to the tune of 3.5 million options in total, the majority priced at C$0.15 or more and expiring from April 2020 onwards. Alianza sports a tiny market capitalization of C$3.92 million based on the February 27 share price of C$0.065. The company is basically controlled by management, as 30% is held closely by management, Board of Directors and insiders. Chairman Mark Brown is the largest shareholder with 10.5 million shares (17.4%). Other major shareholders own 37% of the company, so 67% is in tight hands. Alianza had an estimated working capital position of about C$536,000 (excluding due to related parties) as of December 2018.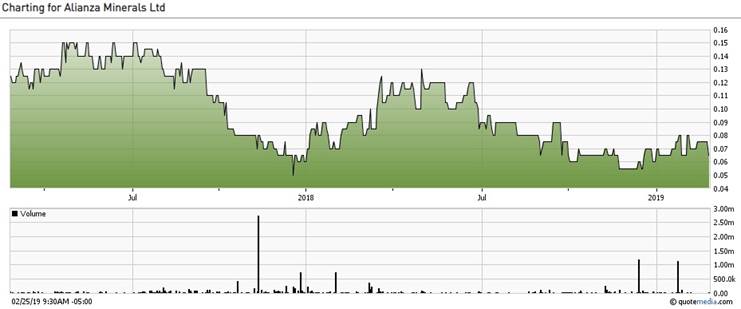 Share price; 2 year time frame
As can be seen in the chart, the overall negative sentiment in especially H2, 2018, the following substantial tax loss selling in November–December and the December financing had an impact on the share price, after a pretty good start of 2018. As gold and silver prices are on the rise since December, sentiment for miners is cautiously optimistic at the moment. All things considered, it seems the share price has bottomed as 5-6c are multiyear lows, and I view these levels as good buying opportunity, as drilling will finally begin on prospective land.
As a reminder: the hybrid prospect generator model has been described extensively in my first article about Avrupa Minerals with all pros and cons. The main characteristic is that such a company forms JVs with other, larger companies who finance the joint exploration efforts for the majority of the project in return. The hybrid part consists of the junior self-financing by raising money in the markets (or selling royalties on their projects) one or more of their projects, but also not having to hand over large parts of their projects.
Advantages of a prospect generator are limited dilution of share structures, strong partners and spread out risks as usually more than one project is explored at the same time, with different partners. Disadvantages are that the value proposition for investors isn't always clear, the junior loses the majority of project ownership, and the agenda of the JV partners isn't always the same as those of the junior. Especially when large majors are involved, investors need to beware of how the JV deal is structured, regularly resulting in the major running away after first drill holes don't immediately indicate Tier I potential, despite still being a pretty good prospect for an intermediate producer.
3. Projects
The Haldane silver project in the Yukon is the flagship project, so this will receive the most attention from me in this article. Following this I will briefly describe secondary projects like KRL Gold and Horsethief, and the other projects. First up are the Yukon projects, including Haldane.
Yukon projects
Alianza Minerals has six different projects at its disposal in the Yukon, flagship project Haldane, White River, Prospector Mountain, MOR Property, Goz Greek and Tim. For White River and Prospector Mountain no sampling or drill results are mentioned, so I consider these projects very early stage.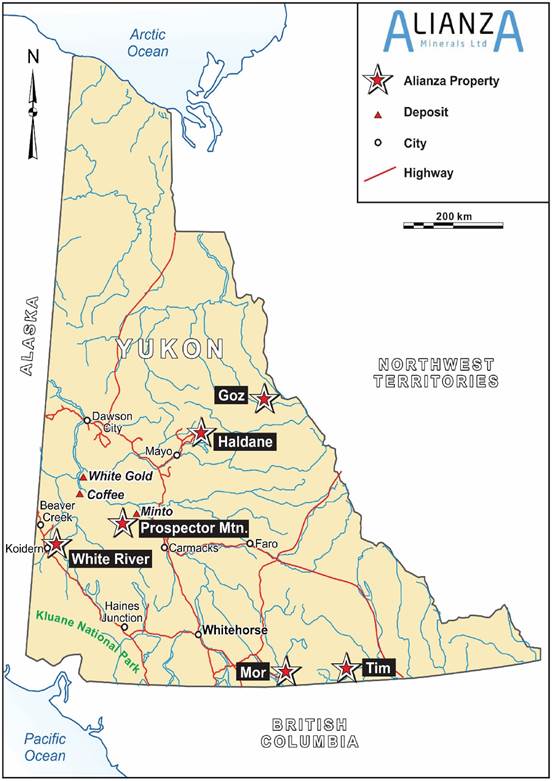 The MOR Property has seen drilling, but only generated short intervals of medium graded, non-economic mineralization so far. The Goz Creek project is different, as it sports a relatively small historical resource estimate of 2.9Mt of high grade zinc (11.25% Zn), but also near surface. The 2008 down dip/along strike drilling generated pretty convincing results like:
27.91 meters grading 17.19% zinc and 39.67 grams silver per tonne;
27.50 meters grading 12.83% zinc and 10.91 grams silver per tonne;
37.67 meters grading 6.98% zinc, including 21.10 meters grading 10.32% zinc;
24.59 meters grading 5.73% zinc, including 17.49 meters grading 6.67% zinc; and
25.31 meters grading 7.00% zinc, including 2.96 meters grading 20.21% zinc and 17.35 grams silver per tonne.
The deepest intercepts ended before 100m depth, so this zinc mineralization appears to be very economic in my view, as an open-pit zinc operation needs only about 2–2.5% Zn. As other zinc projects in the Yukon don't have oxidized ore, which is sometimes the case with high grade zinc near surface, I assume that Goz Creek isn't oxidized either. It made me wonder why thisproject didn't see more drilling during the current zinc cycle, and this is what management had to say about it: The Goz Property lies within the Peel Watershed Land Use Plan region, where the Yukon government is consulting with First Nations and stakeholders to define areas of the region eligible for development and industrial use. Due to the uncertainty of the outcome of this process, the property has not been advanced. If the project area is deemed ineligible for development, Alianza will investigate its options with respect to compensation as we feel there is a significant zinc deposit at Goz. Management isn't counting on a successful outcome for development, and is expecting to go the direction of compensation in the future.
The Tim project has seen sampling and trenching in the 1980s and confirmation sampling in 2013, and generated very interesting results: historical trench chip samples from 1988 returned 352.4 g/t silver and 9.12% lead over 4m, and two grab samples taken from another trench returned assays of 1248.1 g/t silver and 49.5% lead, and 978.7 g/t silver and 32% lead. The 2013 confirmation sampling returned 6.4 meters grading 220 g/t silver and 4.74% lead. Within this interval, 3.7 meters assayed 365 g/t silver and 7.54% lead, so it sure looks interesting. Tim has a lot of similarities (geological setting, style of mineralization) with the Silver Tip Mine 20 km away, bought in October 2017 by Coeur from JDS for C$250 million. The story goes that when the original discovery was made at Silvertip, the owners were evaluating both Tim and Silvertip and had to choose which property to drill first, and basically on rolling the dice picked Silver Tip. So maybe Alianza could get lucky and might have Silver Tip potential on their hands here, who knows.
The Haldane project is an under-explored high-grade silver property in a historical silver mining region. Alianza Minerals acquired the property from Equity Exploration Consultants on March 5, 2018, under the following purchase terms:
issuing to Equity, 2,000,000 shares of Alianza upon receipt of TSX-V approval
making two stage cash payments of $50,000 each to Equity by June 30, 2018 and June 30, 2019;
making a final $100,000 payment in cash or by issuing the number of shares of equivalent value at the Alianza's election, on June 30, 2019;
and by making bonus share payments to Equity:

issuing Equity 250,000 shares upon the public disclosure of a Measured Mineral Resource (as such term is defined in National Instrument 43-101 – Standards of Disclosure for Mineral Projects) of 5,000,000 oz silver-equivalent at 500 g/t silver-equivalent;
issuing Equity 500,000 shares upon the decision to commence construction of a mine or processing plant on any part of the Haldane Property.

Alianza has also agreed to grant Equity the right to manage exploration programs at Haldane through 2023 and to assume all the obligations with respect to the underlying 2% net smelter royalty on the property.
A total compensation of $100,000 in cash and 2 million shares ($160,000 at the time of the transaction), and another $100,000 in cash or shares seems very reasonable to me. According to the agreement, Alianza will be the operator but Equity will be hired by Alianza as the exploration program manager.
The 8,579 hectare Haldane Silver Property is located 25 km west of Keno City, Yukon Territory, in the western portion of the Keno Hill Silver District, where companies like Alexco Resource Corp. and Metallic Minerals Corporation are currently exploring.
Notably, the access road to Victoria Gold Corp.'s Eagle Gold Mine crosses the northern portion of the property. Considering the collection of claims and companies, it clearly seems to be a prospective region: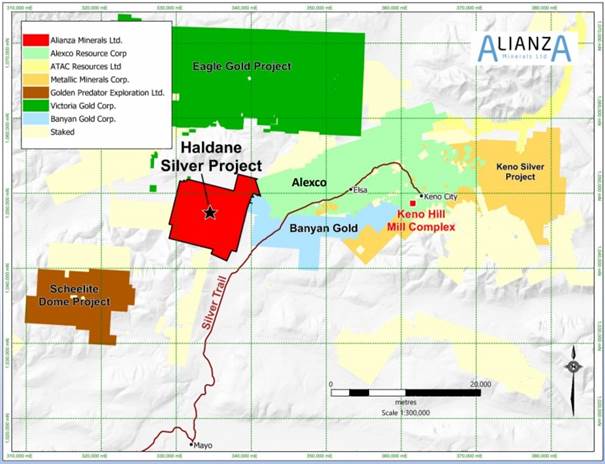 The Haldane property is well situated approximately 25 km west of the main Keno Hill deposits. Mineralization in the district consists of structurally controlled, silver-bearing veins. The Keno Hill silver deposits produced over 200 million ounces of silver in a long history of mining from 1913 to 1989, with production recommencing briefly from 2011–2013. The Keno Hill District ranks as one of the highest-grade silver districts in the world, as in the past 4.87 million tonnes were mined at an average grade of a very high 1,389 grams/tonne (g/t) silver, 5.62% lead and 3.14% zinc. For comparison, the highest mined silver grade at the moment in Mexico, the world's number one silver producing country, is coming from the relatively small Platosa Mine of Excellon, sporting a grade of 549 g/t silver.
Haldane itself has seen some high grade silver/lead mining of its own as well in the distant past. One underground development produced 24.7 tonnes of hand-sorted ore that graded at 3,102 g/t Ag and 59% Pb. Another one produced a total of 2.1 tonnes at 4,602 g/t Ag and 57.9% Pb. Over 65 deposits and prospects have been identified in the district. Most occur within the Keno Hill quartizite as structurally-controlled veins in proximity to the Robert Service Thrust. This is exactly the case with the Haldane project (quartzite in greyish blue):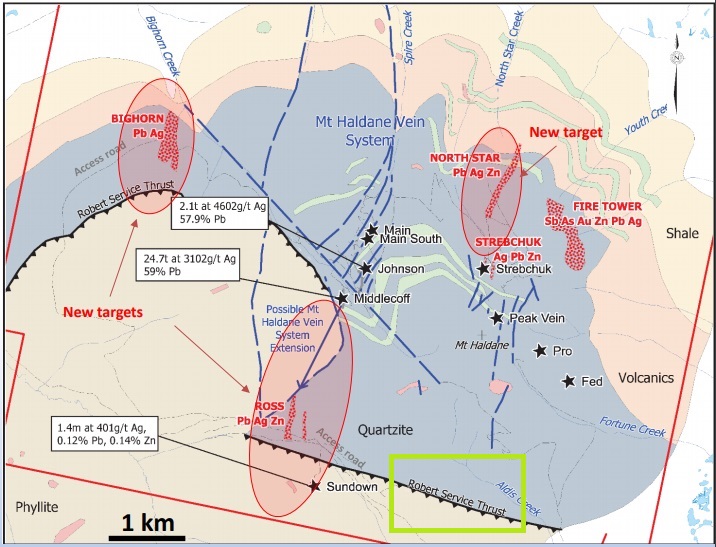 To me it appears that this Robert Service Thrust serves as a potential source of precipitated mineralization in the area, considering the large number of deposits found close to it. The 2018 field program was successful according to management, and generated three new targets. The Ross anomaly resulted in the largest and most prospective target, which could extend the Mount Haldane Vein System up to 3.5 km of strike length. The 2018 program also identified a potential new vein target 2.8 km northwest of the MHVS at the Bighorn anomaly.
Management is looking to emulate historical exploration work, like these highlights: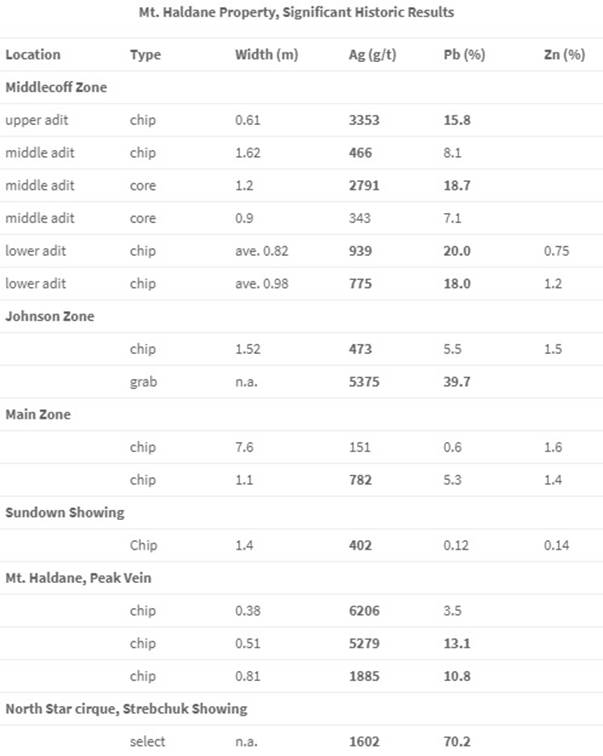 Here is a map with drill collars of 2010–2011 drilling: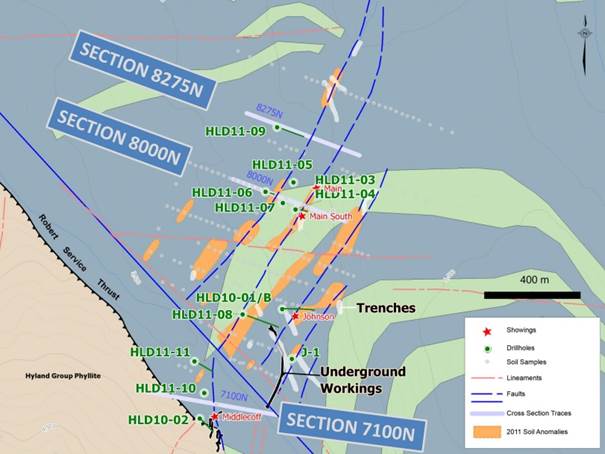 This is the cross section 8275N: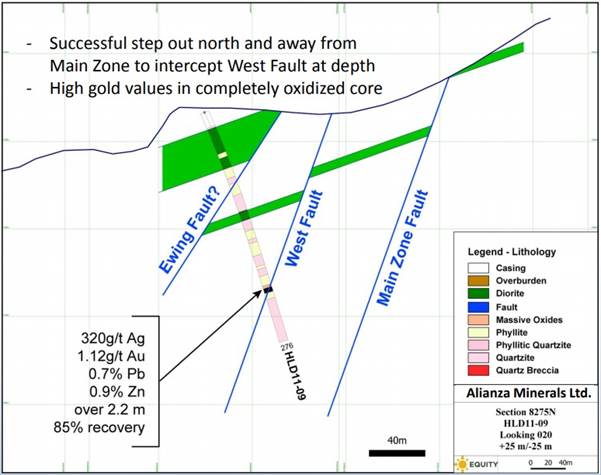 This section represented the best intercept of this drill program, which is decent and economic, but not really spectacular. I don't necessarily expect longer intercepts as mineralization is narrow vein type and breccia hosted, but I do hope for (much) higher grade results, as the historic samples generated many multiples of current results, and Haldane shares lots of aspects with the Keno Hill mining camp:
Quartzite (Keno Hill) host.
Proximity to Robert Service Thrust
Vein and breccia mineralization hosted by complex fault systems
Galena, sphalerite, plus tetrahedrite and possibly pyrargyrite
Quartz and manganiferous-carbonate gangue are prevalent
Better grade commonly in proximity to northwest cross-faults
Again no certainty, but considering the high grade samples already found, the old adit production and the somewhat lower grade veins already hit, Alianza could be circling around some very interesting mineralization.
Furthermore, there is sufficient Haldane project potential:
the property is underexplored; prior to 2010, only one surface drill hole outside of Middlecoff has been drilled, over 4 km strike of showings on the Mt Haldane Vein System (MHVS) along strike on the MHVS;
4 km from Spire Ck to Sundown, Ross Anomaly, only 1400 m drilling to date, 2.6 km of this is untested.
to depth on MHVS and elsewhere; primarily shallow investigations to date, i.e., look under the Ewing fault, get below oxidation Bighorn Creek valley, sulphide preservation and potentially better Ag values
parallel structures; within MHVS buried under talus (large, loose broken stones on mountain side), and elsewhere on the property to the east and west of the MHVS. Confirmed by new targets identified 3 km NE of MHVS in 2018 program
possibility to identify longitudinal faults; key component of Keno Hill setting, lineaments at Haldane suggest presence of these faults.
Summarizing Haldane in a nutshell: there has been enough successful reconnaissance exploration, old production and indication of Keno Hill characteristics to suggest that drill programs have a substantial chance of hitting economic mineralization, which might in turn even lead to Keno Hill deposit #66.
British Columbia project
KRL Gold project
This is a very interesting project in my view, optioned from well-known BC/Yukon prospector Bernie Kreft, and available for JV. KRL Gold is located in the middle of the Golden Triangle, host of many deposits and exploration projects, and has seen a lot of successful sampling and trenching so far.
The property lies within 2 km of road access and within 5 km of power from AltaGas' McLymont Creek and Forrest Kerr power projects, and is adjacent to Aben Resources' Forrest Kerr Project. The Golden Triangle is host to past and present producers such as the Eskay Creek, Snip, Premier, Brucejack and Red Chris mines and major projects including Galore Creek, Schaft Creek and KSM. Discoveries by Aben Resources, GT Gold and Golden Ridge Resources highlight the potential of the Golden Triangle for new discoveries.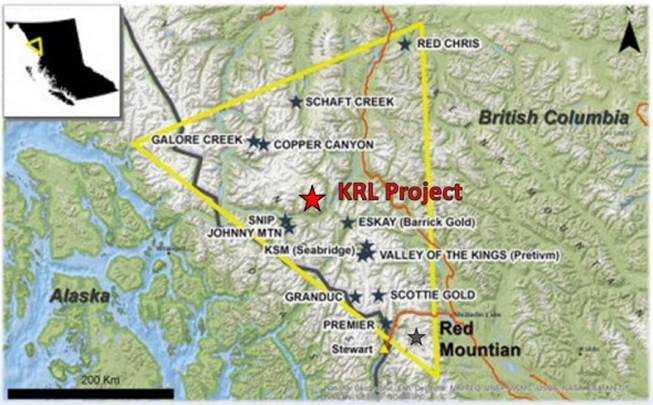 The KRL Property is host to a swarm of high-grade gold bearing quartz veins exposed in the alpine slopes east of McLymont Creek near its junction with the Iskut River in the Golden Triangle area of northwest British Columbia. Trenching in the late 1980s exposed numerous 10-100 cm-wide quartz veins that assayed in excess of 8.5 g/t gold with multiple samples returning values in excess of 200 g/t gold.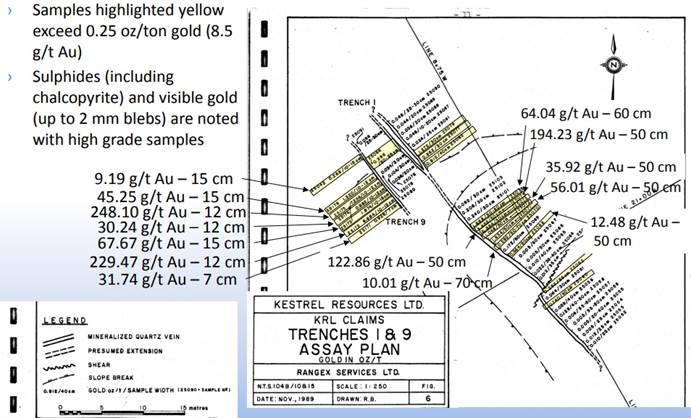 At least 11 veins were identified with potential for additional veining below the tree line and under vegetation and talus cover. It is thought that the formerly compromised land position (the gold showings straddling the property boundary) may have been detrimental to the development of the project, as nothing happened with it since the 1990s. The present KRL property has been consolidated now, and encompasses the entire showing and surrounding area allowing for a coherent assessment of the high-grade gold veins and the potential for additional, and perhaps economic, gold concentrations under talus (loose rocks) or vegetation cover below the tree line.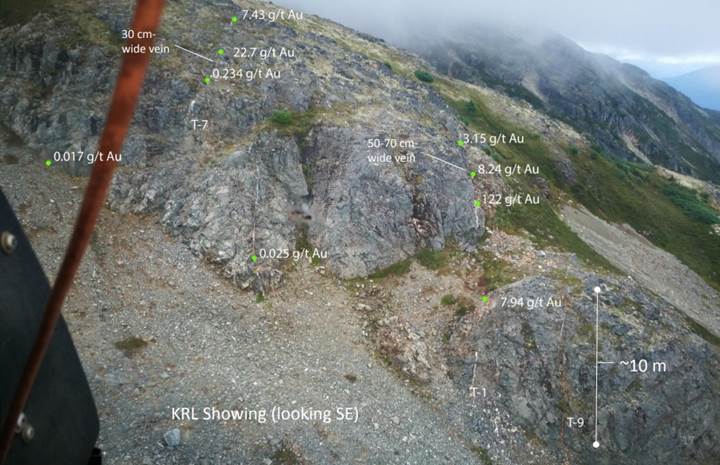 Recent sampling results confirmed the historical findings, and the company is determining now how to advance the exploration program for KRL.
Nevada projects
Alianza has interests in five projects in Nevada, East Walker, BP Project, Bellview, Horsethief and Ashby. Of these projects, Ashby has been leased out to Nevada Canyon Gold Corp, East Walker, BP Project and Bellview seem very early stage projects with no significant results, notwithstanding this the company is actively seeking JV partners for Bellview. Horsethief is the most prospective of the five projects according to management, and therefore it is the focus of attention in Nevada.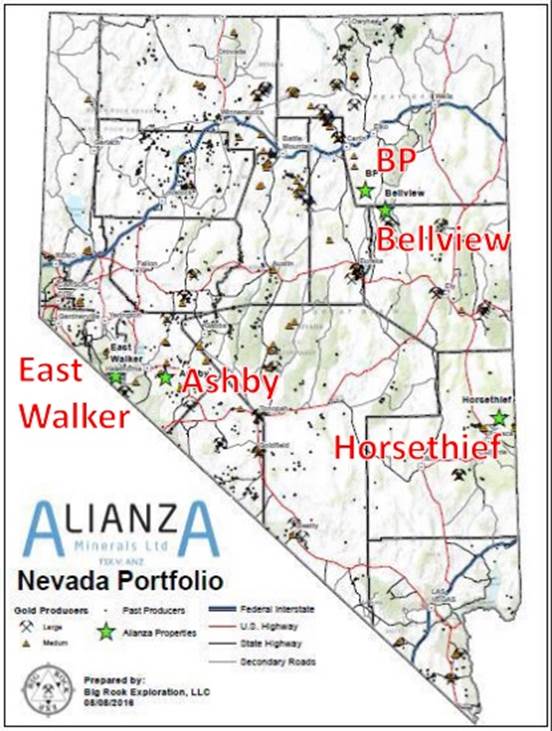 The Horsethief property consists of 63 claims located in Lincoln County, northeast of Pioche. The exploration target on this property is Carlin-style gold mineralization. At Horsethief, the country rocks are limestones and siltstones, a fault-controlled block of carbonate rocks within volcanic rocks.
Work by prior operators included sampling hematite-rich jasperoid breccia outcrops that reportedly returned gold assays ranging from below detection to 21.94 g/t gold. Numerous shallow sub-gram gold intervals are reported over intercepts of tens of meters from a 1984 drill program. Controls on mineralization appear to be poorly understood at this time. Here is a 3D modeled chargeability/resistivity visual of the project: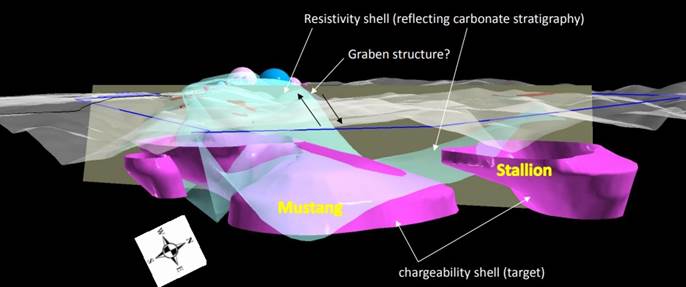 To be clear, IP models don't predict any mineralization, but at least these are indicators of potential near surface mineralization.
Peru projects
Alianza is involved in two projects in Peru as well, Yanac and Pucarana. Of the two, its interest in Pucarana has been converted into a 1.08% NSR royalty. Yanac is a drill-ready, large copper-moly porphyry target, and the result of a former JV with Cliffs Natural Resources, and now 100% owned by Alianza, as Cliffs decided to discontinue with all exploration initiatives in 2014.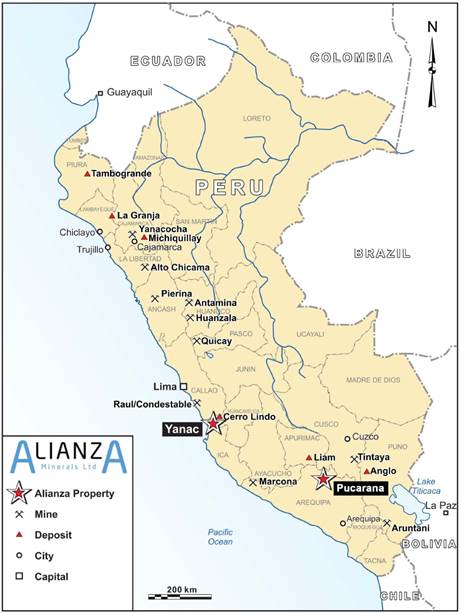 Mexico projects
Alianza holds three Net Smelter Royalties (NSRs) on projects in Mexico. All three projects, Yago, San Pedro and Mesquites are owned by Almadex Minerals (TSX.V: AMZ). Alianza holds a 1% NSR on each (capped at $1 million per property). Yago has seen recent small scale production of 28.8 koz gold. The other two royalties are very early stage and many years from production.
4. Plans
Management has planned additional trenching at the new Bighorn anomaly and will be drilling at the Mount Haldane Vein System and Ross targets soon. While they are still planning out the 2019 program, CEO Weber expects additional groundwork and soil geochemical sampling, to trench 400m at Bighorn, and conduct the first 800m of diamond drilling at MHVS and the Ross targets. He forecasts a timeline for Bighorn to start the fieldwork and trenching in June, for MHVS and Ross targets to start drilling in July . First results of trenching are expected in August and for drilling of MHVS and Ross in September.
Some targets will require more excavator time to build pads and access to the pads, which causes more costs. Management will be working on this shortly. They are planning for challenging drilling conditions (upper portions of heavily oxidized, fractured rock), require special care to ensure good recovery of the rock. In larger and subsequent programs the drilling costs will come down as mobilization costs are spread over many more meters and the drillers are more efficient at recovering the vein material. Therefore, this budget is quite conservative until management has a good handle on these variables.
Alianza is also looking to advance earlier-stage projects to the drill-ready stage, to find partners for existing projects and to identify new exploration projects in key jurisdictions. Field programs are planned for the newly acquired high-grade KRL gold property in the Golden Triangle, BC and are being considered for the Bellview, BP (Nevada) and Tim (Yukon) properties to identify and prioritize drill targets. The KRL program for 2019 is scheduled for the latter part of Q3, consisting of mapping, prospecting and soil geochemical sampling in the area of the KRL Showing and areas to the north where additional mineralization might be detected.
It is expected by management that the current treasury will take Alianza through their 2019 exploration programs at Haldane and KRL. Additional work in Nevada may include BP and Bellview, where mapping, prospecting and geophysical surveys will help to start defining drill targets for subsequent programs.
They are considering another raise to expand the Haldane program and to advance other projects. Management is actively assessing new opportunities in North America as well as finding option partners or buyers for projects and royalties.
5. Conclusion
Alianza Minerals seems to be following the direction of related Avrupa Minerals, by recently and successfully raising sufficient cash on its own to start drilling its 100%-owned projects. Besides this, they also have a few other interesting projects that should be able to generate solid JVs. Although I understand the relative safety of a prospect generator, I applaud a junior going for its own luck at fully owned projects, as all added value through potentially successful exploration will be theirs. This is how you create potential multibaggers, and this is why I am in this part of the investment industry.
I view Haldane as a prospective high-grade silver exploration opportunity, and I'm very interested if it can hit some really high grade intercepts, as has happened in many places at and around Haldane in the past. If Alianza hits something substantial, with the current tiny market cap and relatively low liquidity the share price could see significant moves upwards. On the other hand, I like the risk/return here as there seems to be strong support at 5–6c.

I hope you will find this article interesting and useful, and will have further interest in my upcoming articles on mining. To never miss a thing, please subscribe to my free newsletter on my website http://www.criticalinvestor.eu to get an email notice of my new articles soon after they are published.
The Critical Investor is a newsletter and comprehensive junior mining platform, providing analysis, blog and newsfeed and all sorts of information about junior mining. The editor is an avid and critical junior mining stock investor from The Netherlands, with an MSc background in construction/project management. Number cruncher at project economics, looking for high quality companies, mostly growth/turnaround/catalyst-driven to avoid too much dependence/influence of long-term commodity pricing/market sentiments, and often looking for long-term deep value. Getting burned in the past himself at junior mining investments by following overly positive sources that more often than not avoided to mention (hidden) risks or critical flaws, The Critical Investor learned his lesson well, and goes a few steps further ever since, providing a fresh, more in-depth, and critical vision on things, hence the name.
[NLINSERT]
Disclaimer:
The author is not a registered investment advisor, and currently has a long position in this stock. Alianza Minerals is a sponsoring company. All facts are to be checked by the reader. For more information go to alianzaminerals.com and read the company's profile and official documents on www.sedar.com, also for important risk disclosures. This article is provided for information purposes only, and is not intended to be investment advice of any kind, and all readers are encouraged to do their own due diligence, and talk to their own licensed investment advisors prior to making any investment decisions.
Streetwise Reports Disclosure:
1) The Critical Investor's disclosures are listed above.
2) The following companies mentioned in the article are sponsors of Streetwise Reports: Aben Resources, Pretium Resources. Click here for important disclosures about sponsor fees. The information provided above is for informational purposes only and is not a recommendation to buy or sell any security.
3) Statements and opinions expressed are the opinions of the author and not of Streetwise Reports or its officers. The author is wholly responsible for the validity of the statements. The author was not paid by Streetwise Reports for this article. Streetwise Reports was not paid by the author to publish or syndicate this article. Streetwise Reports requires contributing authors to disclose any shareholdings in, or economic relationships with, companies that they write about. Streetwise Reports relies upon the authors to accurately provide this information and Streetwise Reports has no means of verifying its accuracy.
4) The article does not constitute investment advice. Each reader is encouraged to consult with his or her individual financial professional and any action a reader takes as a result of information presented here is his or her own responsibility. By opening this page, each reader accepts and agrees to Streetwise Reports' terms of use and full legal disclaimer. This article is not a solicitation for investment. Streetwise Reports does not render general or specific investment advice and the information on Streetwise Reports should not be considered a recommendation to buy or sell any security. Streetwise Reports does not endorse or recommend the business, products, services or securities of any company mentioned on Streetwise Reports.
5) From time to time, Streetwise Reports LLC and its directors, officers, employees or members of their families, as well as persons interviewed for articles and interviews on the site, may have a long or short position in securities mentioned. Directors, officers, employees or members of their immediate families are prohibited from making purchases and/or sales of those securities in the open market or otherwise from the time of the interview or the decision to write an article until three business days after the publication of the interview or article. The foregoing prohibition does not apply to articles that in substance only restate previously published company releases. As of the date of this article, officers and/or employees of Streetwise Reports LLC (including members of their household) own securities of Aben Resources, Golden Ridge Resources, Pretium Resources, companies mentioned in this article.
Charts and graphics provided by the author.