CV Sciences beat our Q3 sales, gross margins, and sequential growth estimates.
Shares have been outperforming the cannabis sector.
Remains best value in cannabis/hemp space.
CV Sciences Inc. (CVSI:OTCQB) reported Q3 2018 earnings November 7, surpassing our expectations, a solid beat. Our prior estimation of CVSI hitting the all-important $50 million sales run rate is confirmed.
Top line Y/Y sales growth was over 143%. Our realistic growth expectations indicated Q3 2018 revenues would hit $13.3 million; they came in nicely at $13.6.
Sequential sales growth hit 10%, exceeding our 8% estimate; this roughly extrapolates to a 45% annual growth rate.
Our quick annualizing of the prior 2 quarters' basic earnings of $0.04 suggests a net earning run rate of $0.16, which places CVSI at a PE of 34—quite fair for a 45%, or 143% Y/Y (take your pick) growth story—and this one has "legs." For sure, CV's net earnings look a downright steal compared to most in the cash-hemorrhaging cannabis sector.
We expected continued strength in gross margins, which hit 73%. Continued strong Q3 gross profit at $9.9 mm, for a 149% Y/Y jump. Net GAAP earnings matched our estimate of $3.3 million at $3.295, and retail store count hit 2093.
KEY DRIVERS FOR 2019
NASDAQ Listing. Unlocks a potential tsunami of investors. May take Farm bill passage. We believe NASDAQ is responding and qualifying CV's July application; a positive.
2018 Farm Bill. The 2014 Bill expired on September 30 and politicos will have to pass a new one. Senate Leader Mitch McConnell has included bill language fully legalizing hemp (as widely reported). Should pass in lame duck session, as Senator McConnell just indicated. We think full U.S. hemp legalization is now nearly certain as House Rep. Pete Sessions lost re-election bid; he had been a main cannabis bill blocker. All told, we believe the election was a big win for hemp and CBD.
Expanding CBD market. We suspect the upcoming Farm Bill opens the floodgate for CBD. Indeed, giants Coca-Cola and Walmart, among others, have publicly expressed interest in the CBD "wellness" space. We bet the whole bunch (like Pepsi, Starbucks, etc.) soon piles in.
Cannabis/hemp/CBD is here to stay, whether you like it or not.
CVSI well positioned for continued growth. Whole Foods, along with the other food, drug and mass merchandise retail, have yet to enter. We predict this changes in 2019. CV has been working these channels for years, and is anticipating the upcoming boom. In the Q3 call, CVSI specifically emphasized their major, recent investments in raw material procurement and oil processing, exactly what is necessary for a fast scale-up in 2019.
Wall Street catching on. Full federal U.S. cannabis legalization could be years away, and quirky state laws (like California's) are designed to protect small operators, throttling mass marketing. Investors are beginning to realize hemp-based CBD, the benefits, without the "high," is the better play. We argue there's more Americans interested in better health, on a daily basis, than those getting "stoned." Let's hope. We'll wash our CBD down with a glass of wine, thank you.
Hemp/cannabis "action" moves from Canada to U.S. Our suspicion of Canadian legalization a "sell the news" event looks prophetic. Canadian operator Tilray is returning to planet earth. Note: U.S.-focused companies—CVSI and Charlotte's Web—had a recent dramatic share outperformance. Investor interest grows. We believe this trend continues throughout 2019 as U.S. cannabis takes center stage.
Product and marketing growth. CV's new (quite tasty) CBD gummies should add revenue. CBD oil tastes lousy. We think CBD edibles have a big future, and the new gummy line hits it perfectly. Try some. Although sales have been exploding, CVSI has room to grow/improve marketing and retail base, maintaining revenue expansion.
Mass market hasn't even started. CBD oil, at around $150 per month, or more, is expensive for the average consumer. We believe peak volume's at the $40–$50 range. Our vision is a two-tier "premium" and "value" approach. Sort of like Proctor & Gamble did in laundry soap. In our opinion, the early cannabis/hemp players are over-selling a hyperbolic "super-quality" sales pitch, ignoring 50 years of recreational drug use history, and consumer pricing everywhere else. 90% of wine sells below premium brand pricing.
Value-added manufacturing. Cannabis/hemp has been grown in India for over 4,000 years. It's not new. It grows all over Latin America; is plentiful in Europe. Sourcing is world-wide. Like any commodity, abundant supply lowers prices. We believe future profits best found in skilled manufacturing, i.e., oils, edibles, and, naturally, distribution. We expect investors figure this out during 2019. CVSI is spot on trend.
Better business model. CV let's others do the farming, a tough, low margin business. We see tremendous investor disconnect towards growing/vertical integration hype. $13 billion Tilray boasts a (sarcastically) whopping 2.4 cannabis acres under cultivation; the USDA (Sept. 2018) reports U.S. tobacco crop planting alone at 321,000 acres. They can crush pot farmers blindfolded. Do the math. Marijuana farming supposedly yields over $1 million per acre, while tobacco farmers, the highest paying major crop, get about $1,500 per acre. Investors have to be idiots to think farmers won't switch. Plus, it grows all over California, and elsewhere, outdoors and year-around. We believe input (cannabis/hemp) prices continue falling, which could strengthen CV's gross margins.
Potential intermediate term supply shock. Hemp oil does require a larger input; it will take farmers several cycles to scale up for any sudden demand jump. CV Sciences is well aware of the supply situation and lining up suppliers, world-wide, for expansion, as stated in its Q3 earnings call.
Management. A solid core team is ready to grow. Includes "bankable" CEO Joseph Dowling, a CPA, former Citigroup MD, and driven entrepreneur, along with the dynamic Stuart Tomc, a proven industry expert. Famous NFL neurologist Joseph Marron recently joined Board. Competition's increasing—the early, land-grab days are over—in the trenches, only strong, experienced management survives. Mature and professional, CVSI has an opportunity for a sector "roll-up."
Moat building. Shelf space in health and nutritional stores is not easy to gain. Stores like to stick with brands they know. We are skeptical Canadian cannabis will have much penetration success as well as the myriad of CBD wannabe's coming out of woodwork.
Background
San Diego, Calif.-based CV Sciences (OTCBB:CVSI) is a rapidly emerging player and market leader in the cannabis realm, the exploding CBD (non-intoxicant) "cannabidiol" market. CBD is a cannabis compound, but does not contain THC (the "high" component" in marijuana). Numerous research studies show wide benefits including for inflammation, pain, anxiety, arthritis, diabetes, PTSD, infections, epilepsy, depression, alcoholism and MS.
CV's choice to first-focus in non-THC paid handsomely; PlusCBD is now sold in over 2,000 U.S. retailers, nationwide, an impressive penetration depth.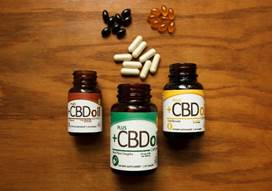 Attractive products. We like the new gummies. (Source: CV)
CV Sciences was founded in 2012 by entrepreneurs, Michael Mona, recruiting Joseph Dowling as CFO in 2014 along with the CV "secret weapon," nutritional supplement expert and industry veteran, Stuart Tomc, who previously help build success story Nordic Naturals. In May 2018, Mr. Dowling assumed the role of CEO.
We were favorably impressed with CV's office and state-of-art lab during our visits. So will the "Cokes" and "Whole Foods." This is important: quite sadly, the nutrition industry has always attracted loads of charlatans. CV Sciences' attention to compliance and quality protects shareholders and adds value going forward.
From the Sept. 10 news release, where CV has received:
"Generally Recognized as Safe (GRAS) status in accordance with stringent U.S. Food and Drug Administration (FDA) safety guidelines. CV Sciences is the only hemp CBD nutraceutical company to invest in the scientific evidence necessary to achieve this sought-after designation,.."
Bottom line: it's all cleaned up and ready to go.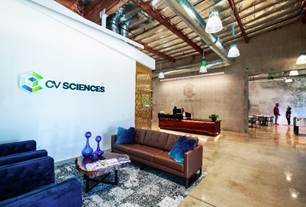 Attractive, professional San Diego office. State-of-art lab and production facilities (Source: CV)
Nutrition/ vitamin industry a natural fit
This author, coming from a health industry family, with parents and siblings working both retail and wholesale since the 1970s, has followed industry development for over 35 years. Hemp-based CBD is the right product at the right time. The nutrition industry has always "ran" on hot, new products. It's their life-blood. All retailers today are under pressure, especially the small ones, and "hot" products drive new customers into stores.
CBD is a natural fit. Nutrition stores sell dozens of plant-based concoctions, which explains why CBD was such a fast adaption. CVSI is already in over 2,000 U.S. retail locations nationwide—perhaps more (genuinely active) retailers than the entire cannabis industry, combined.
Whole Foods has yet to enter the CBD fray, they will, count on it. CV has great potential for continuing revenue growth, with deep relationships in the industry. We can't stress this enough—shelf space in the nutrition industry is not easy. It's a different industry, with unique quirks. Most CBD competitors are farmers, charlatans, or wannabe start-ups.
Generational growth for plant-based medicines
28,187 plant species are recorded with medical use (source: Royal Botanic Gardens, London); an estimated 40% of prescription medicines come (or synthesized) from plants. Cannabis is part of a generational shift towards more direct, natural use, and less, more toxic, "meds." There are many dozens of known plants that have healing value. Cannabis is just one. Many others are known to exist with mild pyscho-active elements or healing benefits. The CV sales channel has thus an intrinsic value—opportunities exist going forward to introduce new, helpful products.
CVSI remains the better value. Canadian operator Tilray—bubbling after a U.S. listing (see below) has gone down from a genuinely insane 25X (relative to CVSI) overvaluation, to "only" 24X, from our Sept. 24 report where we wrote:
"CVSI is the better value. By far. Aphria (APH.TO) lost $5mm on $12mm in sales (5/18) yet trades for C$4.6 billion. Charlotte's Web (CWEB.CN) is a US CBD seller with slightly larger sales and earnings (and a nice chocolate mint product) but trades over 3.5X higher than CVSI. Cronos (CRON) sells for $2.2 Billion with paltry Q2 sales of $3.4 million."
We note: a re-valuation continues to favor CVSI for 2019.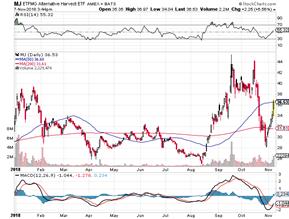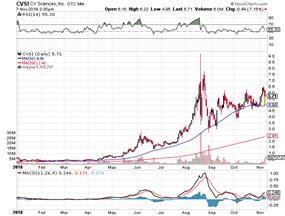 Mirror, mirror on the wall, whose chart is the fairest of them all? (source: Stockcharts)
CBD leaders: CVSI and Charlotte's Web (CWEB.CA).
The industry's two leading, public, U.S.-focused, CBD pure-plays have many similar characteristics. In Q2 CV earned $3.1 (millions) on $12.3 in sales, while CWEB earned $3.7 on $17.2 in sales. Charlotte's Web has excellent name recognition, a hit product in chocolate mint CBD oils, and now is heavily cashed up. However, as investors we preference CVSI for the following reasons:
Better Valuation. CVSI has been trading at about 1/3 the value. A significant difference.
All of CWEB's hemp oil comes from their proprietary 300 acres of crop land. This is a microscopic sliver and hardly worth a premium for vertical integration, long term, we believe. 300 acres is a micro-drop of world market supply.
Charlotte's Web trades on the lowest Canadian exchange, was a Canadian financed IPO, with limited U.S. exposure. We fear extra risk if Canadian investors (doing what they always do) dump everything as the bubble up north deflates. We preference U.S. stocks growing their base of U.S. institutional investors, a phase CVSI is just beginning.
The CV management team has been together for 4 ½ years, while CWEB has a new rent-a-CEO, a lawyer, previously with an extremely over-hyped millennial/hipster "brand," one of probably hundreds, that "nobody" in the health food industry knows (based on our conversation's). That's a risk.
Potential for institutional "endorsement." We'd like to see CV take some serious money institutional investors are offering to expand marketing, add depth with "name" investors, plus add big-time U.S. brokerage coverage. The institutional "herd" has begun to hear of CVSI, but yet to pile in. Right now share volume seems almost entirely retail/day-trader. The timing is right: CVSI has been invited to present at Cowen's upcoming November cannabis symposium and was the only CBD player invited to CNBC's Jim Cramer's recent special event.
CV Sciences vs. Tilray
Since Tilray has yet to release Q3 financials, we will compare Q2—guess which company (Tilray or CVSI) is worth $13 billion and which sells for $543 million?
| | |
| --- | --- |
| Q2 sales: $12.3 million | Q2 sales: $9.7 million |
| Y/Y growth rate: 200% | Y/Y growth rate: 95% |
| Q2 net profit: $3.1 million | Q2 loss ($12.8 million)* |
| % sales in higher margin oils: 100% | Oils: 45% - dried leaf: 54% |
| Gross profit: 73% | Gross profit: 42% |
| US Sales: 100% | US Sales: 0 |
*includes $5.6 mm in stock compensation expenses
Hint: Tilray isn't profitable.
Do you see 24X more value?
Prices falling. Tilray reported (Q2) an average selling price per gram at $6.38. That's good, but look at real-world legalization. Oregon, for example, legal since 2015: High quality cannabis prices in Portland are down to $75 an ounce ($2.65 per gram) (source: priceofweed.com).
It's a Canadian company, folks. Shares of Tilray spiked on November 7, apparently after U.S. Attorney General Jeff Sessions resigned. Only. . .Tilray does no business in the U.S. Bulls may argue they could, someday, but then, so could all the other 100's of producers. See below. We do agree, however, current developments are likely bullish for all cannabis.
Lower margins. Tilray's margins are significantly less than CV. One would think being "vertically" integrated would be more profitable. That's the sales pitch, at least.
Will the cartel pricing hold? The Canadian government lists 132 authorized cannabis producers. The only chance of prices holding, contrary to the real-world, U.S. early-legalized states, in our opinion, is an OPEC-like cartel pricing, where everybody is in on the act. Big Liquor in Canada keeps prices high, but there are only a couple large players. Plus, liquor requires capital, and time; it is expensive to transport. If one pot seller lowers prices, and subsequent volume spikes, we doubt the current nosebleed valuations would hold, and the whole Canadian pot sector could crash.
Scroll down, Tilray's near the bottom:
https://www.canada.ca/en/health-canada/services/drugs-medication/cannabis/licensed-producers/authorized-licensed-producers-medical-purposes.html
In sum, not only do we believe CVSI is the better value, we suggest CVSI and Tilray should be priced equally.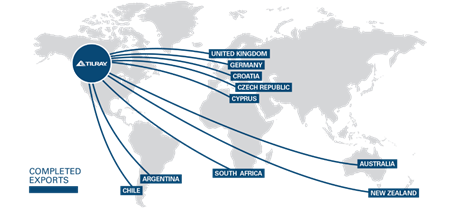 This slide looks over-promotional. Tilray Q2 global sales a paltry $345K - 96.5% in Canada. (Source: Tilray)
CBD goes mainstream
On September 17, Coca-Cola announced it was in "talks" with a Canadian cannabis company, saying:
"Along with many others in the beverage industry, we are closely watching the growth of non-psychoactive CBD as an ingredient in functional wellness beverages around the world," Coke said in its statement." (Source: Reuters)
The Coke announcement is about CBD. Not marijuana. It is a potential blockbuster. For CBD, that is. The Canadian cannabis companies have almost no experience selling CBD, certainly not in the US.
Coke used the term "functional wellness beverages." Not exactly sexy, but a validation of a quantum shift in consumer attitude. If Coke, then Pepsi, Starbucks, etc. This news helps confirm our thesis that the CBD story is just beginning.
CVSI has the core expertise, production compliance and distribution in CBD oils that they will need.
Follow the money. It's not the hops, barley or tobacco farmers flying those private jets, it's the manufacturers, large-scale distributors and kingpins. In the "wellness" and nutrition business, it's even worse; small retailers have been squeezed for years. Will cannabis retailing be different?
Yes, but the big guys will buy us out. Maybe. But our experience differs: big corporations are ruthless at sourcing—how often do they sole-source or pay input providers huge profits? Secondly, we've seen plenty of "strategic" deals announced and then go nowhere. Finally, the number of dumb corporate acquisitions probably dwarfs the great ones. We think skilled, value-added, U.S.-focused, with national distribution, should be favored.
Actual recent sector buyouts have been by overvalued Canadian growers smartly using inflated stock, picking up U.S. assets. Another reason to consider CVSI.
Public markets opening. As noted, we expect CVSI leads U.S. cannabis sellers in NASDAQ uplisting. Nobody knows when U.S. marijuana stocks will be federal "legal" enough for U.S. senior listing. Limited exits = lower valuations. But a clever U.S. CBD company can enter the THC space, when appropriate, through buyout or organically, and thus be first to public markets.
Risk factors
This is a fast moving market and subject to violent market changes. Volatility is off-the-chart. Be careful. Although CV qualifies for a NASDAQ listing, and the cannabis "barrier" has been broken, there is no assurance of ultimate listing.
Like all of the cannabis industry there are plenty of competitors as entry barriers are low. CVSI has an early lead and possesses top talent to maintain competitive advantage. Nevertheless, increased competition is a certainty.
There are numerous state and federal agencies still weighing in on CBD as a food. No assurance can be made that some agency will attempt to deny CBD sales, and no guarantee, although remote, the Farm Bill passes.
We see the biggest near term risk as a pinprick bursting the bubble of the other cannabis stocks. Especially Tilray. Per our Sept. 24 report, we hoped for CVSI to outperform while the sector consolidates.
So far, so good.
Summary
Another good quarter. We continue to preference CVSI for the relative, discounted valuation, expected NASDAQ listing, and strong U.S. sales, nationwide. We believe Canadian cannabis shares have peaked, valuations are stretched, and the investing "action" has shifted to the U.S., and, that this theme continues throughout 2019. Any sizable dip on a sector sell-off could be a CVSI opportunity.
Cannabis is here to stay. Investors interested in exposure should favor U.S.-based, high-margin, profitable, and rapidly growing, CV Sciences.
Frederick Lacy, President of Fincom Investment Partners, began as a Chicago commodity broker in 1984. In 1987 he joined Bateman Eichler, Hill Richards in Los Angeles, focusing on small to mid-cap equities, ultimately "retiring" in 2000 as a Managing Director of Investment Banking. Mr. Lacy has been involved in numerous investments, from arranging start-up capital for what became Petrohawk, which sold for $15 Billion, to mobile payments in India. Several long-time clients were founding investors of Cheniere Energy. Mr Lacy's decades in California technology includes arranging an early $13 million VC financing for "permanent ledger" software (now commonly known as "blockchain") led by top-tier fund Upfront Ventures. Other investments include 3D holographic display technology, early mobile applications, power conversion, along with multiple consumer health-related products: Canadian Glacier bottled water, Kinetin skin cream, a proprietary oxidative-stress formula, and UV purification systems. In 1989 Mr. Lacy hosted "the Venture Capitalist" which aired on (now) CNBC, and has followed the natural foods industry for 35 years.
[NLINSERT]
Disclosure:
1) Frederick Lacy: I, or members of my immediate household or family, own shares of the following companies mentioned in this article: CV Sciences. I personally am, or members of my immediate household or family are, paid by the following companies mentioned in this article: None. My company currently has a financial relationship with the following companies mentioned in this article: None. Additional disclosure below. I determined which companies would be included in this article based on my research and understanding of the sector.
2) The following companies mentioned in this article are billboard sponsors of Streetwise Reports: None. Click here for important disclosures about sponsor fees.
3) Statements and opinions expressed are the opinions of the author and not of Streetwise Reports or its officers. The author is wholly responsible for the validity of the statements. The author was not paid by Streetwise Reports for this article. Streetwise Reports was not paid by the author to publish or syndicate this article. The information provided above is for informational purposes only and is not a recommendation to buy or sell any security. Streetwise Reports requires contributing authors to disclose any shareholdings in, or economic relationships with, companies that they write about. Streetwise Reports relies upon the authors to accurately provide this information and Streetwise Reports has no means of verifying its accuracy.
4) This article does not constitute investment advice. Each reader is encouraged to consult with his or her individual financial professional and any action a reader takes as a result of information presented here is his or her own responsibility. By opening this page, each reader accepts and agrees to Streetwise Reports' terms of use and full legal disclaimer. This article is not a solicitation for investment. Streetwise Reports does not render general or specific investment advice and the information on Streetwise Reports should not be considered a recommendation to buy or sell any security. Streetwise Reports does not endorse or recommend the business, products, services or securities of any company mentioned on Streetwise Reports.
5) From time to time, Streetwise Reports LLC and its directors, officers, employees or members of their families, as well as persons interviewed for articles and interviews on the site, may have a long or short position in securities mentioned. Directors, officers, employees or members of their immediate families are prohibited from making purchases and/or sales of those securities in the open market or otherwise from the time of the interview or the decision to write an article, until one week after the publication of the interview or article.
Fincom Investment Partners Disclaimer
This report is for informational purposes only and is not a solicitation of any security purchase or sale. Prices as of November 6 and 7, but are moving too fast to constantly recalculate; do your own due diligence. Opinions expressed herein by the author are not an investment recommendation and are not meant to be relied upon in investment decisions. The information upon which this material is based was obtained from sources believed to be reliable, but has not been independently verified. Therefore, Fincom Investment Partners cannot guarantee its accuracy. Any opinions or estimates constitute our best judgment as of the date of publication, and are subject to change without notice. We recommend investors conduct thorough investment research of their own, including detailed review of the related Companies' SEC filings, and consult a qualified investment adviser. Fincom Investment Partners and its officers and directors own shares in the securities mentioned in this report and may buy or sell shares at any time without prior notice. Fincom Investment Partners has not been compensated for this report.
Charts and images provided by the author.