Combining Fundamental and Technical Analysis
The two disciplines of fundamental and technical analysis are often set against each other and investors may think that they must make a choice.
This doesn't need to be the case and there is a middle ground. You can consider combining the two approaches as part of your overall investment plan. This is what I do. I look for certain chart patterns and try to research the fundamental reasons behind why the chart patterns look either bullish or bearish. Chart patterns have changed since the days of Robert Edwards and John Mcgee's classic "Technical Analysis of Stock Trends," although still very relevant, when they recognized recurring patterns that occurred from the stock operator pools of the day. Today, we must deal with computer algorithms and high-speed communications that have made the stock markets much faster than in the past, so new and different patterns have emerged, and that is what I focus on today in my work.
Fundamental analysis attempts to determine the value of a share by analyzing a company's financials from its annual report and using qualitative data about the environment in which it operates. This value is often called intrinsic value. The simplest form of fundamental analysis is by using fundamental ratios such as the P/E ratios, Price to Sales ratios, or the dividend yield. However, in the case of junior explorers like Great Bear Resources Ltd. (GBR:TSX.V) and other junior mining shares, we simply don't have that luxury; the nature of these companies is that they are cash burning machines and don't have much in the way of fundamentals.
However, there is help. Many people write about the sector, and one of many I like is "J. Taylor's Gold, Energy and Tech Stocks Newsletter," and his radio show. Jay does a great job of looking at the fundamentals behind the junior mining companies: property assessment, drilling results and all-important management interviews; he also highlighted Great Bear Resources (GBR.V) in his letter starting in January of this year. Jay also highlights the famous "Momentum Structural Analysis" of Michael Oliver every week, so he doesn't ignore technical analysis either. If you are super keen, you can find the genetic DNA on just about any junior miner at John Kaiser's Kaiser Research Online site.
Technical analysis offers a different view of a stock. It is based on the belief that the combined minds of the world are making decisions about a company on a moment-by-moment basis, and all that is known about a stock is reflected in its price and volume. The market is made up of a very large number of people who may have very different views on the market, making both long- and short-term decisions on both long and short positions. The activity of these very large numbers of investors and traders results in different patterns emerging in the market. (An example could be as simple as a cook is told to cook extra meals for more guests, a helicopter pilot is booked to bring in banking analysts and investors, drillers see the core they are drilling, and on and on. We can imagine that all these minds are at work assessing a company.) Technical analysts attempt to recognize these patterns and take advantage of them when making their investment decisions.
In the Shadow of Giants: Red Lake, Ontario, Canada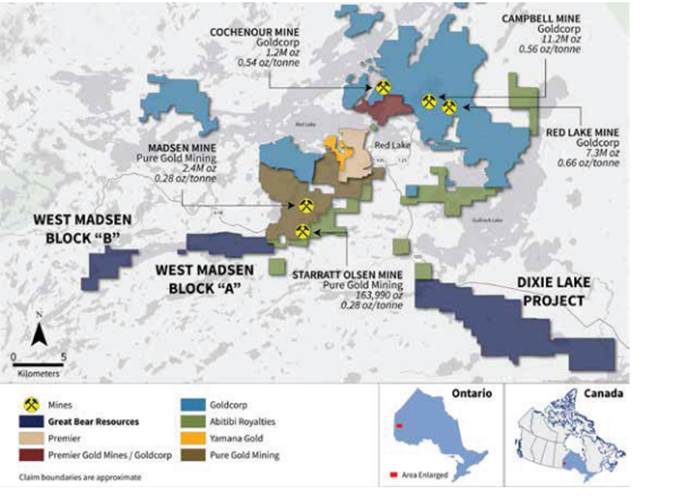 When looking for a mining company in today's markets, in a world where majors must build up their ever-declining reserves, we start by looking for projects with district-size potential or large land packages put together by great management teams and geologists. Great Bear Resources is one of those companies. Great Bear Resources is exploring in the famous Red Lake Mining District in Ontario, a mining district in northern Ontario, Canada, where about 30 million gold ounces have been recovered from the time it was first discovered in the mid-1930s by approximately 15 companies. Great Bear Resources' properties sit about 30 km from the famous Red Lake mine owned by Goldcorp, in keeping with the old mining adage, "the best place to find gold is next to where it already has been found." It's a strategy that has already been paying off for Great Bear Resources with high-grade drill results within an expanding mineralized gold system. The Red Lake area has always proven to be geologically very fertile for important gold discoveries, and mines that have a gift of keep on giving, the deeper you go.
About Great Bear Resources (GBR.V)
Great Bear Resources is a Canadian precious metals exploration company engaged in advancing projects with special merit in leading mining regions, currently working the famous Red Lake District in northwestern Ontario. Great Bear Resources is earning a 100% royalty-free interest in the Dixie and Madsen properties, which consist of a total of 10,000 hectares in the Red Lake District. All Great Bear's Red Lake projects are accessible year-round through existing roads. The company is led by Mr. Chris Taylor and a team of experienced and proven mine finders in many mining districts, but they have also been very successful in the Red Lake mining camp. See information about the team here.
Shares Issued and Outstanding: 23,176,169
Stock Options: 1,936,000 various prices between $0.23 and $2.50 (weighted average $0.33) expiring between July 17, 2017 and October 5, 2021
Warrants: 10,437,217 between $0.20 and $0.70
Fully Diluted: 35,549,386
It is believed that management, family and friends own about 30% of the outstanding shares and warrants.
Special Note: On August 24, 2018, Great Bear issued ~7 million new shares and warrants that increase the share and warrant count written above. Further, the company announced that McEwen Mining and Mr. Rob McEwen will participate in the private placement and will own ~18% of the shares of Great Bear Resources.
See News Release here: McEwen Buys into Great Bear Resources.
Great Bear has enjoyed some early-stage success in validating its geological model while "elephant hunting" among some of Canada's richest gold fields, with a remarkable drill hit ratio and continuity of a high-grade, near surface resource in a structurally controlled gold mineralization system on its Dixie Lake property, which is currently the focus of the company. There are three points we want to make that help us build our thesis that Great Bear could be a dynamic investment in the months and years ahead:
The company controls 100% of more than 10,000 hectares of highly prospective greenstone belts at Dixie Lake and Madsen, with no royalties.
Great Bear has a tight share structure with ~40 million shares fully diluted and ~$12 million in cash (assuming the exercise of current warrants) to continue to explore this highly prospective ground.
Great Bear is finding the same success as its neighbor, Pure Gold (PGM.V), and has a remarkable success ratio in its drill results, as it follows the near-surface, high-grade resource in this structurally controlled gold mineralization system.
I would point to two excellent recent interviews done by Jay Taylor and Eric Coffin with Great Bear's CEO and president, Chris Taylor, that present the investment case and outline the story for Great Bear Resources better than I could do, as well as an Investing News Network video with Chris Taylor.
Investing News Interview: Chris Taylor's in his own words
The Map of Great Bear Resources Projects in the Red Lake District: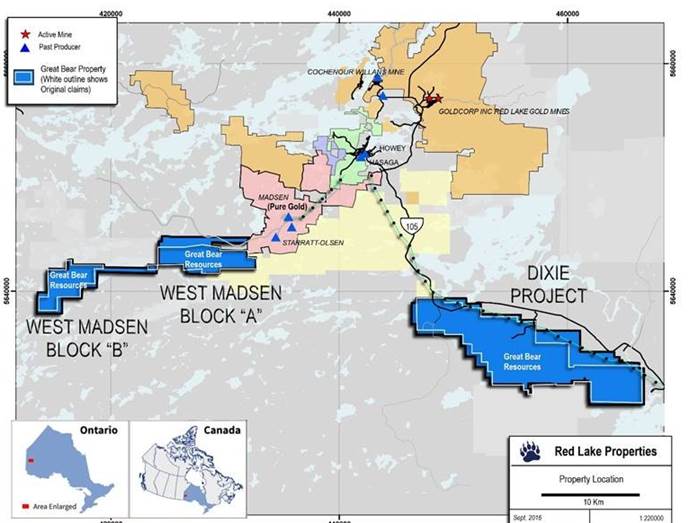 The graphic of the "Fold" that potentially makes a 10 km system into a 20-km system: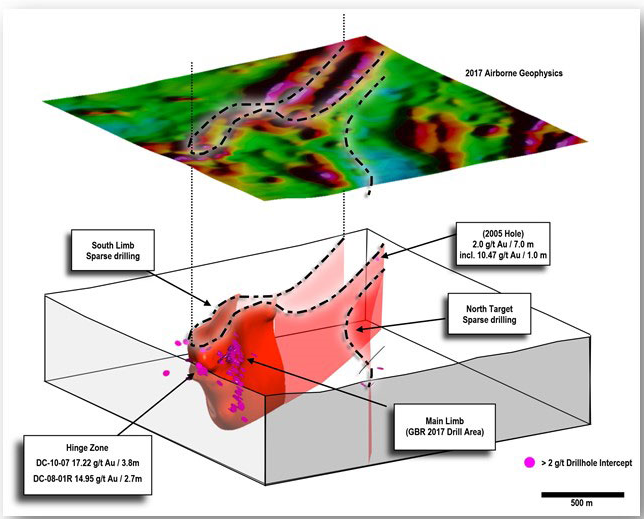 Great Bear Resources (GBR.V) shocked the market on August 22, when the company reported high-grade assay results from the Hinge Zone (shown in table below, approximately 33 grams of gold = 1 oz) on its Dixie Lake gold project in the Red Lake Gold District. Then on August 24, the company announced a private placement that insures this frugal, tightly knit, smart, experienced management team has all the funds needed to advance the company forward. The table below shows the latest drilling results that moved the share price.

The map below outlines approximately 2 km of the 10 km Dixie Lake Project: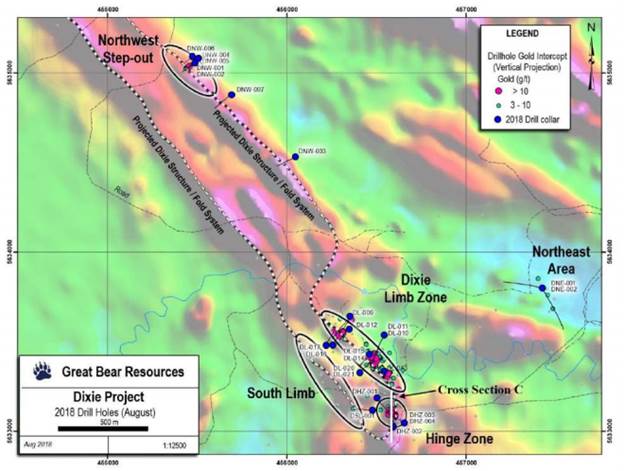 A picture of Red Lake prize that all miners in this area hope for: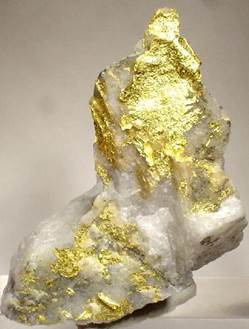 More than just the Dixie Lake Project
Great Bear also has two potential successes in the Red Lake Mining District with its 2,725-hectare West Madsen Project comprising West Madison A Block and West Madsen B Block as shown in the map below, which encompasses the strike extension of the geology that Pure Gold Mining (PGM.V) controls with its nearby Madsen gold discovery.
Great Bear is located about three kilometers from Pure Gold's (PCM.V) discovery zone. West Madsen is also located in proximity to the historical Starratt Olsen and Madsen mines, of which it shares very similar geological characteristics. In the event of a major taking over Great Bear Resources, this property could be a standalone company by itself, or included in the merger, but this is pure speculation on my part. If Pure Gold's stellar drill results are any indicator of things to come, then Great Bear can also look forward to an exciting drill season at its West Madsen blocks when and if that gets going.
West Madsen (100%) is an on-strike extension of Pure Gold's high-grade Madsen project. Recent eastern expansion of Block A of 725 hectares; 2,725 hectares for all West Madsen. PGM's Wedge Zone (adjacent to GBR's West Madsen Block A) drill results include: 33.3 g/t gold over 8.3m, 21.3 g/t gold over 10.3m, 22.5g/t gold over 2.0m, 15.1 g/t gold over 5.4m. Other PGM Zones: 28.2 g/t gold over 7m, 26.4 g/t gold over 12.7m, 27.1 g/t gold over 5.8m.
Geophysical survey shows two primary gold targets:
A prominent northeast to southwest magnetic linear
Strong evidence of large-scale folding
Plans for 2018 at West Madsen properties include geological mapping, rock sampling, and prospecting and drill target generation.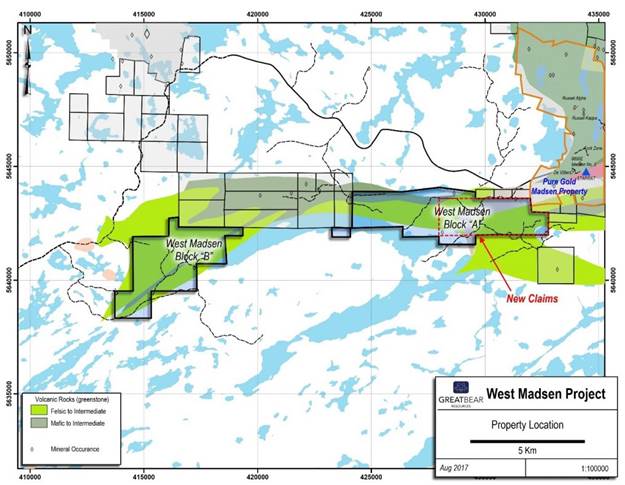 The Technicals: "Déjà Vu All Over Again"
I was first introduced to Great Bear resources when a shareholder asked me to do a chart on the company, concerned about the volatility, so I did my first chart on Great Bear as shown below, in late November of 2017.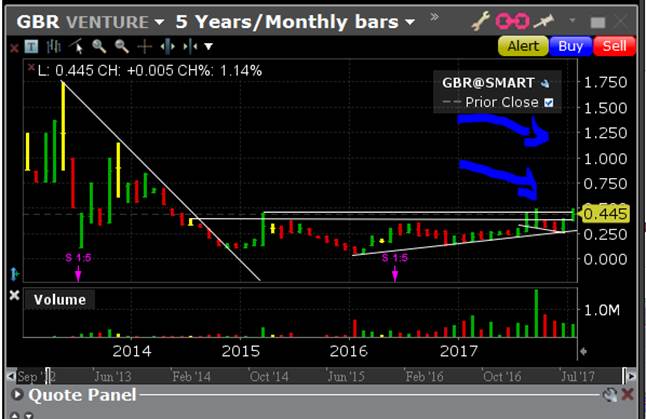 Chart from Interactive Brokers
Then, I did my second chart in January 2018 (not shown), as a follow up, in which three targets emerged, as I was encouraged by Great Bear's resilience in the face of an overall declining precious metal market. Now I was intrigued, so I listened to and visited the company at the Metal Investors Forum in Vancouver in May 2018, and the fundamental story began to emerge. It was also a top pick for 2018 of "The Resource Maven," Gwen Preston, found here.
From the beginning of the year Great Bear Resources built—in technical terms—a "triangle" until it announced the drill results and its share price gapped higher, giving new investors little time to position themselves at lower prices or holders to sell at the two additional higher targets; the shares blasted through all the previous targets. Then on August 24, Rob McEwen, famed precious metal investor and CEO of McEwen Mining (MUX.TO), bought an ~18% position in Great Bear Resources, divided between himself and his company. And the shares proceeded to and exceeded my last published target.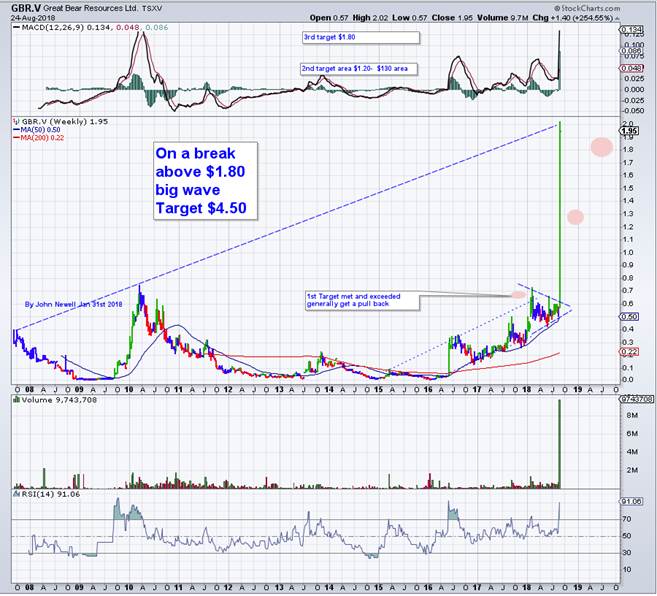 Chart courtesy of StockCharts.com.
Short back story:
As a rookie stockbroker in the mid-1980s, against the advice of the management of my company and the brokers in the bullpen, all ready to carve up my small but growing list of clients, because of my soon to be ill-fated venture, the IPO of Goldcorp at $10.00 per share and an "A" and "B" warrant attached. It started out as a closed-ended investment fund that held physical gold on behalf of investors. I put in for and got filled on $400,000 worth and had the weekend to sell it; problem was I had only a handful of accounts. I was told by a chorus of brokers that "closed-end funds always trade at a discount of 10%–15% percent of their value and I was going to take a big loss right away, and that it was a stupid thing to do."
I got scared with all the guys telling me I was doomed, so I telephoned Goldcorp in Toronto in the afternoon Vancouver time hoping to talk to someone to bolster my sagging spirits. To my surprise Mr. McEwen, Rob's father, answered the telephone and I told him my sad story. I will never forget the words he said, sensing the fear in my voice, "John, if gold goes down, it's cash (Goldcorp had not yet invested the proceeds of its IPO), and if gold goes up it's 'Goldcorp,' you have nothing to worry about." I sheepishly responded "…err…what about the net asset discount?" He said, "Why do think we attached the two warrants to the offering!" I sold 19,600 units that weekend with 20,400 yet to go, Goldcorp opened with a premium on the Monday morning and shortly thereafter went to $12 (the older brokers in the office split the commission with me as they batted cleanup, on the balance unsold).
The purpose in telling that story is that the McEwens have a history of good timing in precious metals. Also, we must remember Rob McEwen was the former head of Goldcorp where as CEO he had the fortitude to change the company from a closed-end fund to an operating gold company and found an extension of its main asset in Red Lake under the existing, almost depleted mine. Goldcorp, in 2001, traded for its cash value, as he faced many investors and institutions that did not believe in his vision. The mine that arguably built Goldcorp resides in Red Lake, so McEwen knows the ground, and now he's back in Red Lake, and as they say, "timing is everything in mining." As shareholder, I want a major shareholder that has guts, vision, and belief in the product he produces, and knows the ground. Great Bear Resources gets all that with McEwen Mining (MUX.TO) and Rob McEwen.
One of the benefits of age, or as I call it now, experience, is you have lived to see a few cycles, and mining has a lot of cycles, but also I remember the stock charts of precious metal companies for some strange reason, and when I looked at the break out of GBR.V, two companies popped into my head, but I thought Virginia Gold was the most similar, so I went back and looked at the charts, and then I ask myself "Does this look like that?" I say, "...err... yup. I can see that."
Now I realize I am getting ahead of myself comparing an exploration play like Great Bear Resources to Virginia Gold, a company that built a resource and later was bought out by Goldcorp, but the technical evidence is mounting both fundamentally and technically that Great Bear is on to something important. We can see that after Virginia broke out of its triangle it corrected back to its break point and then some, so we have to be aware of the tremendous volatility these companies can experience, but as a technical person, I also have to look at the long-term potential of such an investment and see the possibilities of the "what ifs" that are in the chart pattern. Because Great Bear broke above the last stated target of $1.80 and exceeded it, I can see the "possibility" of $4.50 in the chart, not right away, and not straight up, but it's possible when rock that was previously—only days ago—given little value, potentially becomes very valuable.


Charts above from Independent Survey Company


Charts above from John Kaiser's website
Investment Summary:
Great Bear Resources has made great progress in advancing exploration at its leading Dixie Lake project and has the potential for one or more world-class gold discoveries. This project sits just off the highway to Red Lake and it is near all the infrastructure needed to advance. We are planning to hold our position to see the results of the more than 5,000 meters of drill results, yet to be announced. Virginia Gold put about 220 drill holes into Éléonore before it was taken over by Goldcorp; Great Bear Resources has about 160 historical holes drilled by Teck and others previously on this ground and is planning 50 holes this year, so with future success it could begin to define a resource at Dixie Lake as early as 2019. I am not suggesting in this short article that speculators and investors jump into this company immediately, a company whose share priced increased greater than three times in less than a week and did a financing that historically would move the share price lower, at least temporarily. Or that a significant discovery is a valuable deposit yet, but I have successfully charted discovery stories in the past, which does not guarantee I will do it in the future, but Virginia Gold was one of them, and that was 14 years ago, and I am still learning, and getting bounced around every day in precious metal arena, called the stock market, and in my own way "hunting for elephants."
John Newell is a portfolio manager at Fieldhouse Capital Management. He has 38 years of experience in the investment industry acting as an officer, director, portfolio manager and investment advisor with some of the largest investment firms in Canada including Scotia McLeod, CIBC Wood Gundy and Richardson Greenshields (RBC Capital Markets). Newell is a specialist in precious metal equities and related commodities, and follows a disciplined proprietary approach incorporating equity research, analytical frameworks and risk controls to evaluate and select long and short stocks primarily from the Canadian small and mid-cap coverage. Many large, midcap and junior precious metal companies use his technical charts. Newell is a registered portfolio manager in Canada (advising representative).
[NLINSERT]
Disclosures:
1) John Newell: I, or members of my immediate household or family and friends, own shares of the following companies mentioned in this article: Great Bear Resources. I personally am, or members of my immediate household or family are, paid by the following companies mentioned in this article: None. My company currently has a financial relationship with the following companies mentioned in this article: John Newell manages the Fieldhouse Global Precious Fund Class G, and it is long the shares of Great Bear Resources (GBR.V). I determined which companies would be included in this article based on my research and understanding of the sector. Additional disclosures/disclaimer below.
2) The following companies mentioned in this article are sponsors of Streetwise Reports: None. Click here for important disclosures about sponsor fees.
3) Comments and opinions expressed are those of the specific experts and not of Streetwise Reports or its officers. The author is wholly responsible for the validity of the statements. The author was not paid by Streetwise Reports for this article. Streetwise Reports was not paid by the author to publish or syndicate this article. The information provided above is for informational purposes only and is not a recommendation to buy or sell any security. Streetwise Reports requires contributing authors to disclose any shareholdings in, or economic relationships with, companies that they write about. Streetwise Reports relies upon the authors to accurately provide this information and Streetwise Reports has no means of verifying its accuracy.
4) The article does not constitute investment advice. Each reader is encouraged to consult with his or her individual financial professional and any action a reader takes as a result of information presented here is his or her own responsibility. By opening this page, each reader accepts and agrees to Streetwise Reports' terms of use and full legal disclaimer. This article is not a solicitation for investment. Streetwise Reports does not render general or specific investment advice and the information on Streetwise Reports should not be considered a recommendation to buy or sell any security. Streetwise Reports does not endorse or recommend the business, products, services or securities of any company mentioned on Streetwise Reports.
5) From time to time, Streetwise Reports LLC and its directors, officers, employees or members of their families, as well as persons interviewed for articles and interviews on the site, may have a long or short position in securities mentioned. Directors, officers, employees or members of their immediate families are prohibited from making purchases and/or sales of those securities in the open market or otherwise from the time of the interview or the decision to write an article, until one week after the publication of the interview or article.
Legal Notice / Disclaimer
This document is not and should not be construed as an offer to sell or the solicitation of an offer to purchase or subscribe for any investment.
John Newell has based this document on information obtained from sources he believes to be reliable, but which has not been independently verified.
John Newell makes no guarantee, representation or warranty and accepts no responsibility or liability as to its accuracy or completeness. Expressions of opinion are those of John Newell only and are subject to change without notice. John Newell assumes no warranty, liability or guarantee for the current relevance, correctness or completeness of any information provided within this Report and will not be held liable for the consequence of reliance upon any opinion or statement contained herein or any omission.
Furthermore, I, John Newell, assume no liability for any direct or indirect loss or damage or for lost profit, which you may incur because of the use and existence of the information provided within this Report.
John Newell manages the Fieldhouse Global Precious Fund Class G, and it is long the shares of Great Bear Resources (GBR.V).
Friends and family of John Newell hold shares of Great Bear Resources (GBR.V)
Additional Disclosures and Disclaimer from John Newell, Fieldhouse Capital Management, September 5, 2018:

Disclosures and Disclaimer:
It should not be assumed that the methods, techniques, or indicators presented in these pages will be profitable or that they will not result in losses. Past results are not necessarily indicative of future results. Examples presented on these pages are for educational purposes only. These set-ups are not solicitations of any order to buy or sell. The authors, the publisher, and all affiliates assume no responsibility for your trading results. There is a high degree of risk in trading.
Hypothetical and historical performance results have many inherent limitations, some of which are described below. No representation is being made that any account will or is likely to achieve profits or losses similar to those shown. In fact, there are frequently sharp differences between hypothetical and historical performance results and the actual results subsequently achieved by any trading program. One of the limitations of hypothetical and historical performance results is that they are generally presented with the benefit of hindsight. In addition, hypothetical and historical trading may not present the financial risks and returns for future trading. For example, the ability to withstand losses or to adhere to a particular trading program in spite of trading losses are material points which can also adversely affect trading results. There are numerous other factors related to the markets in general or to the implementation of any specific trading program which cannot be fully accounted for in the preparation of hypothetical performance results and all which can adversely affect actual trading results.
Disclaimer: This Publication is protected by Canadian and International Copyright laws. All rights reserved. No license is granted to the user except for the user's personal use. No part of this publication or its contents may be copied, downloaded, stored in a retrieval system, further transmitted, or otherwise reproduced, stored, disseminated, transferred, or used, in any form or by any means without prior written permission. This publication is proprietary.
Neither the information, nor any opinion expressed constitutes a solicitation for the purchase of an investment program. Any further disclosure or use, distribution, dissemination or copying of this message or any attachment is strictly prohibited; such information, whether derived from Fieldhouse Capital Management or from any oral or written communication by way of opinion, advice, or otherwise with a principal of the company is not warranted in any manner whatsoever, is for the use of our customers only and may be obtained from internal and external research sources considered to be reliable.
Images provided by the author.