In this article, we will take a brief look at the Yukon, the prolific Tintina Gold Belt and drill down to the Dawson Range, which makes up part of the belt, and what could be Triumph Gold Corp.'s (TIG:TSX.V; TIGCF:OTC) strategic position and district-size potential in the Yukon Tanana Terrane that makes up part of the prolific Tintina Gold Belt.
Why the Yukon: Canada's Yukon Territory is a mining-friendly jurisdiction with a long, proud history in mining and exploration, starting with the 1897 Klondike Gold Rush. Mining is an important part of its economy today, as the Yukon experiences a new, modern-day gold rush. For much of this time, smaller companies, placer miners "working the creeks," dredging barges "working the rivers," prospectors and mining entrepreneurs have walked and staked the ground throughout the Yukon.
However, this is changing because the majors are discovering what the juniors have long known: This region is largely underexplored, has exceptional geology, and has strong potential for district-size mining operations that can replace the declining mineral reserve profiles that the majors are experiencing.
Mining companies continue to invest in the Yukon, not only because of the strong mineral potential, but also because of the clarity provided by all levels of government, programs and partnerships with First Nations. The mining-friendly Yukon ranks only after Saskatchewan and Quebec for mining investment attractiveness within Canada.
The Tintina Gold Belt, which extends from British Columbia to Alaska, is underexplored in its central section spanning the Yukon Territory, including where it crosses the un-glaciated Dawson Range. The Tintina Gold Belt is a 1200-km-long and 200-km-wide arc, extending from the south corner of Alaska into the northern part of British Columbia. Production mines and significant exploration and mine development projects demonstrate the geologic potential in the Dawson Range. Over 50 million ounces of gold have been discovered in this belt over the last 20 years. (See maps below.)
The White Gold District and the Dawson Range experts call the "Best Hope for New Gold Deposits," Northern Miner, May 13, 2018
The Yukon's Dawson Range (map above) gold belt is a northwest-trending series of gold-rich epithermal vein deposits, copper-gold porphyry deposits, minor skarns and extensive placer deposits that stretch for approximately 100 kilometers parallel to the Big Creek fault, northwest of Carmack, in the south-central Yukon.
Most of the placer gold recovered in the Dawson Range to date is from the still-active Revenue Creek, one of the prolific placer creeks in the Yukon, that runs through the property. The hunt for the source of that gold continues at Triumph Gold. Triumph Gold's district-scale Freegold Mountain Project is surrounded by the Minto Mine, formerly owned by Capstone, Copper North, Rockhaven, Teck Resources, Western Copper, and Goldcorp's Coffee Creek project, further to the northwest.
Many geologists and experts believe there are many more hard-rock sources to all this placer gold. While exploration for hard-rock deposits has been limited in the past, this started to change in the past 10 years, when over 7 million ounces have been discovered in this area. Over time, education, new technology, innovation and more experience has continually enhanced companies' abilities to discover new deposits, as well as expand on existing ones, which is encouraging senior miners to take a closer look and invest in the district.
In addition, the Yukon territorial governments, along with the Canadian federal government, have committed $360 million to build improved roads and infrastructure throughout the Yukon, including the White Gold District surrounding areas. This heavy infrastructure spending should drive down capex costs and improve project economics for companies in the area. Investors can see from the insert below how the landscape is changing in the area, as major gold producers are moving heavily into the area. To re-cap, the reasons are excellent geology, vast areas of under-explored prime terrane, geopolitical stability, infrastructure that is decent and improving, a mining friendly culture, and new large deposits being found, examples being Goldcorp's Coffee project, Victoria Gold's Dublin Gulch and ATAC's Carlin style target. The rush back to North America will likely intensify as events continue to become more volatile worldwide, and large mining corporations must look forward at least 10-15 years to be sustainable.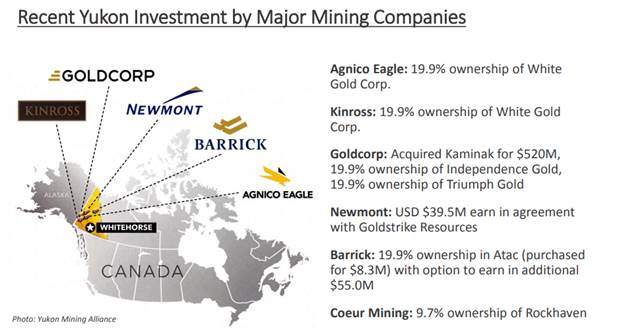 "The best place to find a new mine is next door to an old mine or existing mine," - Tom Zoellner
Triumph Gold's location in the Yukon: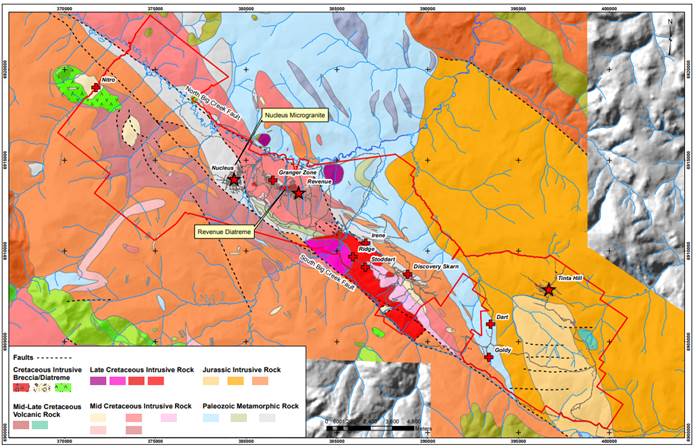 The back story: Triumph Gold Corp., formerly Northern Freegold, was the first mining company I was involved in from its initial public offering, after being called to market on September 6, 2006, at $0.50 per share, and it quickly doubled its value. It was on a field trip to the site that I first met Mr. Bob Moriarty of 321 Gold, the Sprott Global Mining team and the Casey Research guys. As I recall, Bob smashed a loose rock on Freegold Mountain and found wired gold or free gold on the first day. The company was poised to do very well.
The project was a land consolidation of over 100 individuals and companies that owned the claims, and due to the efforts of the previous management team, this large land package was formed and developed into a 43-101 compliant mineral resource of about 3 million ounces of gold and a gold equivalent resource of over 5 million ounces, if the copper and molybdenum are converted to gold ounces, into what is now Triumph Gold Corp. The former company also did metallurgy as part of the PEA and got 98% recovery rates at Nucleus and 90% recovery rates at Revenue. However, the cyclicality of mining came in play beginning in 2008 and extended through until early 2016, and those years took the wind out of the earlier success enjoyed at the Freegold Mountain project. All that changed in 2017, when after a management change, a name change and an investment from Goldcorp, Triumph Gold was ready to rebuild the dream of building a district-scale mining project in the Yukon.
Today, Triumph Gold shares are trading on the TSX Venture Exchange under the symbol TIG. Triumph is a growth-oriented, Canada-based junior natural resource company currently engaged in the acquisition, exploration and, if warranted, the development of mineral properties of merit in the Yukon Territory and British Columbia, Canada. Currently, the company is focused on creating value through the advancement of the district-scale Freegold Mountain Project. All the properties in which the company currently holds interests are in the exploration stage. The company funds its exploration and development primarily through the sale of its equity securities.
Shares Issued and Outstanding: 77.9 million
Warrants: 27.41 million
Options: 6.02 million
Cash: $6 million (projected to end this year 2018 at ~$3 million after this year's drilling)
Market Capitalization ~$35 million
Major Shareholders: Goldcorp now owns approximately 19.999% of the issued and outstanding Triumph Gold; a private Hong Kong investment fund owns 9.1%; Gold 2000, a Swiss fund, owns ~10%; Palisades Capital ~17.4%; and management at ~8.70%. (In total major shareholders own and control about 65% of the 77.9 million outstanding, leaving a float of ~35% or ~25 million shares.)
Management: Triumph Gold is headed by a well-known mining financier in Vancouver, Mr. John Anderson, who is the executive chairman and a director. John's job has been to attract capital and talent to rebuild the company. To that end, the tough decision to roll back the shares was made in October 2014 on a 10-1 basis. John then hired Mr. Paul Reynolds as president, he is a professional geoscientist with 30 years of experience working around the world in the field, and 20 years of managing public companies. Paul is responsible for managing the project.
The name was changed to Triumph Gold in January 2017 when John Anderson re-organized the board and management. Triumph hired Dr. Tony Barresi as vice president of exploration, an expert in VMS, porphyry- and epithermal deposits, having done his master's thesis on "Sedimentology, structure, and depositional setting of the Loon Lake sedimentary rock unit, southern Semenof Hills, central Yukon," and Ph.D thesis on "Tectono-magmatic and metallogenic evolution of the Late Triassic to Middle Jurassic Hazelton Group in northwest British Columbia, Golden Triangle." Dr. Barresi also quickly staked the Andalusite Peak property in the Golden Triangle, when it became available in 2017, having worked and studied the area, and knowing its highly prospective value.
Triumph Gold's property: covers more than 200 sq km that host three deposits; to grasp its size, it is one-third the size of Hong Kong and five times larger than Manhattan. There is a government-maintained road that covers the 32 km end to end and if extended would connect the massive Casino property owned by Western Copper & Gold and connect to Goldcorp's Coffee Project, where that company has invested $520 million. We do not know the future, but the Yukon Territorial Government, along with Canadian Federal Government, supports a plan to invest $360 million into infrastructure and road building to help with the capital cost of getting these valuable mineral deposits to market.
Triumph Gold's Property Map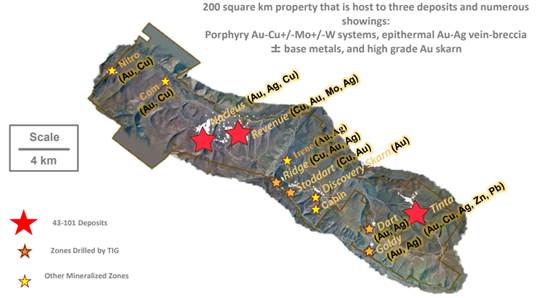 Triumph Gold today:
In the past, Triumph Gold could have been considered an "optionality play," a large low-grade resource, with the investment comfort of an NI 43-101 resource of 3+ million ounces backstopping the investment.
But all that seems to have changed starting in early 2017, with Goldcorp taking a 19% stake in the company, (see news release) and new theories emerging about the deposit, based on a thesis by Dr. Tony Barresi, and the prior work of going back through the old data. What emerged from all that effort was a new geological interpretation that identified five new areas where the company believes it could build a bigger, higher-grade project that could be economic at today's metal prices.
Dr. Barresi, VP Exploration, believed what earlier geologists thought, that a large porphyry, formed 120 million years ago, existed on the property, but that a later-stage diatreme (a long, vertical pipe or plug formed when gas-filled magma forced its way up through overlying strata), formed 50 million years ago, blasting its way up through the earlier existing porphyry.
Drilling in 2017 (see here) was very successful and the new releases in the later half of the year backed this up; however, the market did not really respond to the better results or the optimism expressed by the exploration team and management. Triumph completed ~13,000 meters of diamond drilling in 35 holes during the 2017 drilling season. Now, after reviewing the data from 2017, the team was ready to plan to build on the past year's success. They raised more money with past and new shareholders and are well prepared to capitalize on all they have learned.
The plan for 2018 is to drill the Freegold Mountain property to execute a 1,900-meter diamond drill program targeting the newly discovered porphyry system in the Keirsten Zone (see PR # 17-13). Porphyry-related mineralization was first discovered in the Keirsten Zone with drill hole KZ17-01, which tested the center of a 1.1-km diameter intense (up to 180 milliradians) buried chargeability high. The drill hole encountered rock that had been affected by an extremely vigorous porphyry-related hydrothermal system from 193 meters to the end of the hole at 603.50 meters. Phase 1 drilling will test new targets within and along the margin of the chargeability high that were developed through the application of a porphyry model to the interpretation of existing geological and geophysical data.
Phase 1 drilling commenced on March 27. The timing of Phase 1 capitalized on frozen ground in the Keirsten Zone, which is largely overlain by a swamp. The frozen ground allows a drill to be mobilized with minimal environmental impact from road building, or expense from use of a helicopter. It also facilitated the early establishment of a camp and crew, which support spring- and summer-long exploration activities, including an additional approximately 16,100 meters of diamond drilling, trenching and geophysical and soil geochemistry surveys.
Tony Barresi, VP Exploration of Triumph Gold Corp. commented: "Phase 1 drilling of the Keirsten Zone demonstrates Triumph Gold's commitment to test and advance the exploration concept that Revenue and Nucleus are not discrete deposits, but instead they are parts of a five- to six-kilometre-long magmatic-hydrothermal mineralizing system with porphyry and epithermal components. The Keirsten Zone is centered almost exactly between the Revenue and Nucleus deposits and represents a high priority exploration target as a potential core or focus of the broad mineralizing system."
Areas to be drilled and explored this year are:
Nucleus and Revenue and the surrounding area
The Generation Zone
The Keirsten Zone
The Blue Sky Zone
The Happy Creek Area
Irene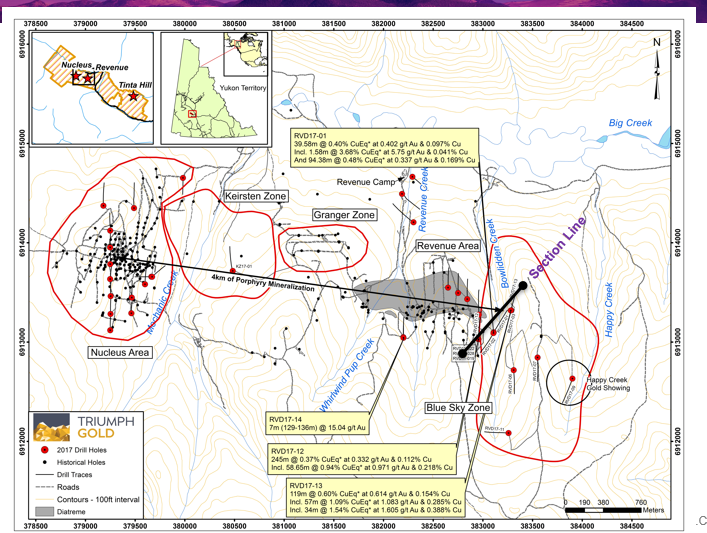 Exploration Update 2018 Drilling
Triumph Gold announced some pretty spectacular drill holes on August 23, which was the first confirmation of what the company really discovered a year ago, with a small intercept in a big stepout from its existing known resource, on its 200 sq km property, and that's really what's led to the news of a discovery that Triumph Gold came out with last week: a large, robust, gold-rich porphyry system in the Yukon that work started on earnestly as far back as 2006.
Again, Triumph Gold has a district-sized property blessed with great geology and geography, having a government-maintained road going to and right through the length of the 32-km property.
Earlier, on July 31, Triumph had reported that an 18,000-meter diamond drill program was in progress on Triumph Gold's 100%-owned, road accessible Freegold Mountain property. Exploration is mainly focused on identifying new porphyry and epithermal mineralization within a 6-km long soil and geophysical anomaly that envelops the Revenue and Nucleus deposit areas (Figure 1). Drilling is now complete in three additional areas, the Blue-Sky Zone (e.g. RVD17-13 with 1.01 g/t Au and 0.285% Cu over 57 meters), the Guder Zone (e.g. RVD17-14 with 15.0 g/t Au over 7 meters), and the Granger Zone (e.g. GRRAB-091 with 4.48 g/t Au over 16.73 meters). The results from drilling in these zones will be released as they are received and checked for quality. Two drills are currently situated over the Nucleus deposit area where they will drill approximately 4,000 metres. When the drilling at Nucleus is complete, one drill will be mobilized to conduct the inaugural drill test of the Irene epithermal vein prior to the end of the field season.
Revenue Target and diagram of the Diatreme concept below showing the pre-existing porphyry.
Mineralization overprinted and enriched by emplacement of the diatreme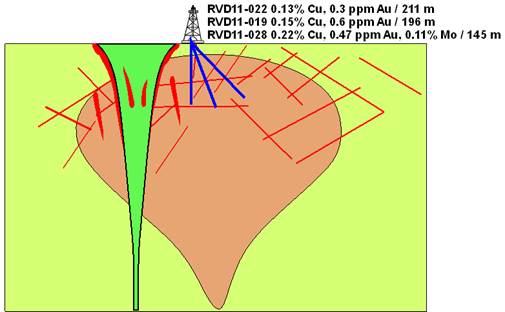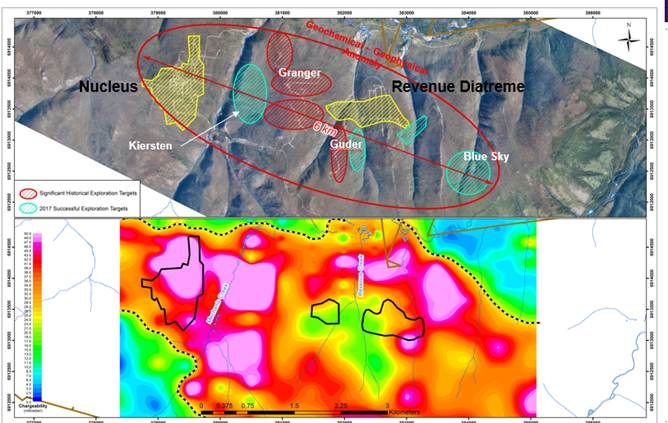 Picture above shows exploration targets and IP chargeability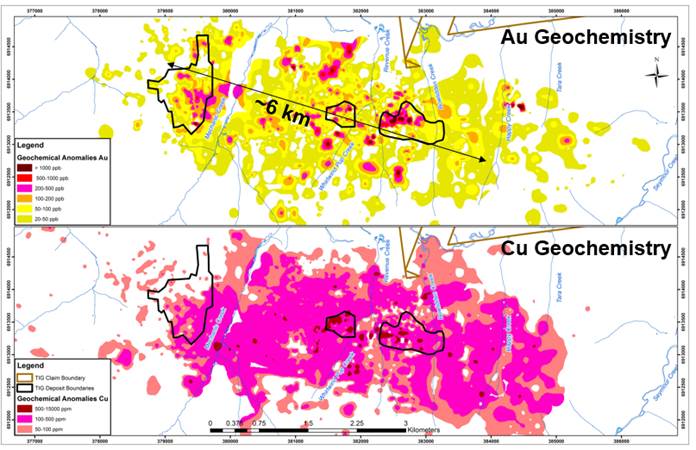 Picture above shows geochemical anomaly over 6 kilometers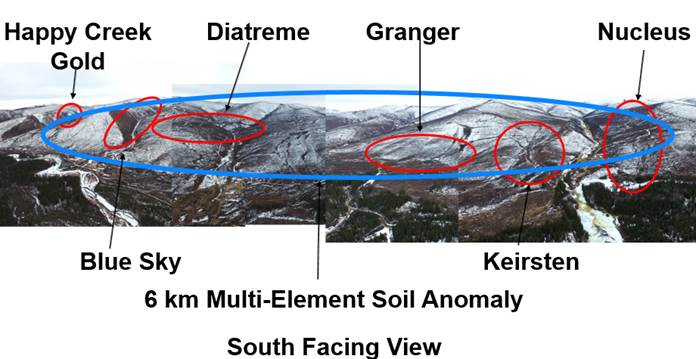 Plans for the rest of the year for Triumph Gold
Triumph announced a confirmation of a major gold-rich porphyry system with robust grades, 0.3% copper and over 1 gram of gold in several holes and the company still has more drill results to come out of the Blue Sky Zone, which is what it is calling the discovery zone.
Triumph Gold also still has four other targets that it has drilled on the property this year, and it will release results as they come in. With all the new assays back, the company will study all the results and learn how it is going to approach the rest of the property for the balance of the year and into next year's drilling season.
Andalusite Peak Property, BC, property was acquired by staking in January 2017. It is in northwestern British Columbia, 65 km north of the Red Chris copper-gold mine, 20 km west of BC Highway 37 and 7 km south of the Kutcho Creek mining road. The property covers an alteration "blow-out" in the center of a 27-kilometer-long belt of strongly altered rock that was identified and mapped in 2016 by BC Geological Survey geologist Bram van Straaten.
Two similar alteration blowouts are known along the belt and both represent important exploration properties: 1) the Tanzilla property, 11 km to the northwest of Andalusite Peak, is owned by Kaizen Discovery and was optioned to Freeport McMoRan between 2013 and 2015, and 2) Teck Resources' McBride property is 12 km to the southeast of Andalusite Peak. On these properties, porphyry-style mineralization has been identified within and beneath the alteration lithocap.
Only one historical record of exploration on the Andalusite Peak property exists (BC assessment report 30590); in the report, the intensity of the alteration was noted and the discovery of an outcrop containing massive coarse andalusite was documented. The presence of andalusite on the property indicates that it has experienced higher temperature and more intense alteration than any other location along the 27-km belt.
Paul Reynolds, Triumph Gold's president and CEO noted, "The Andalusite Peak property was staked based on the presence of an intense alteration blow-out like others within the district that are host to significant mineral occurrences. However, prior to our work, no mineralization had ever been discovered on the property. In one year, this property went from a highly speculative exploration concept to an exploration reality with the identification of two new gold-copper occurrences. We are eager to follow up on these exciting new discoveries and to continue to explore the Andalusite Peak Property."
News release can be found here.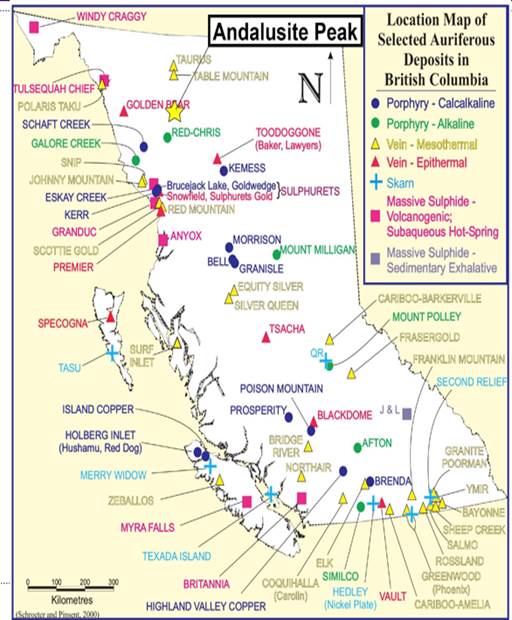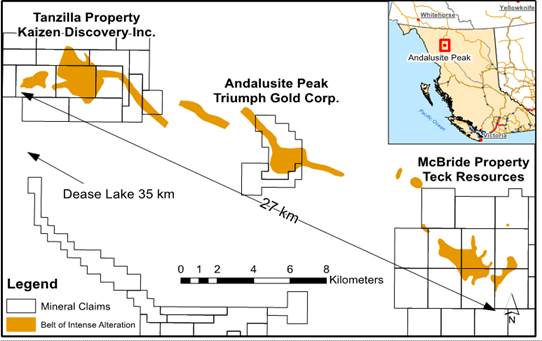 Triumph is again at the Speculation Stage of the cycle, as this year's drilling news can hopefully expand on the company's successful 2017 drilling and exploration campaign. This year's drilling and exploration news will help investors hopefully see the potential higher grade and larger size of the deposit based.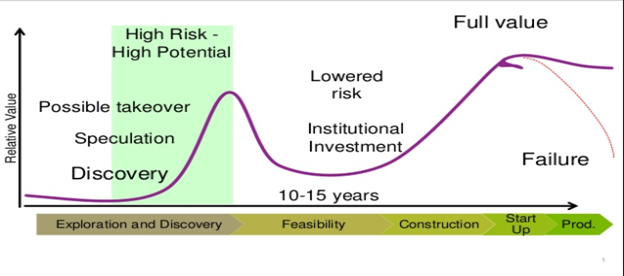 Technically, Triumph has built a long powerful looking base formation, called a head and shoulder pattern.
Within that pattern is a strong hidden "momentum cylinder" that looks poised to control the next move higher. TIG.V has held up in this recent correction of precious metal shares, adhering to the Wall Street adage, "What goes down the least, goes up the most."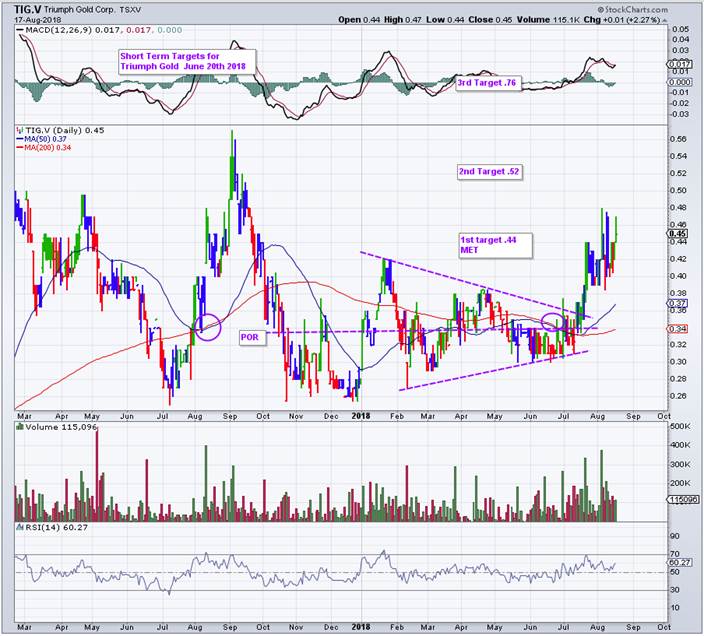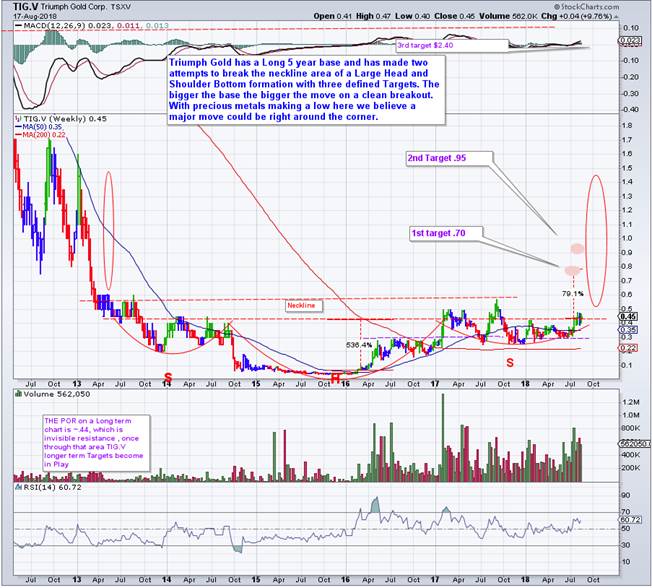 Charts courtesy of StockCharts.com.
Summary of reasons to consider Triumph Gold as an investment:
New porphyry mineralization identified over 4-km strike length adjacent to and between Nucleus and Revenue.
New intersection of highest-grade gold ever discovered at Revenue, assaying up to 81.3 g/t Au over 1.0m. This is a deposit next to one of the most prolific placer creeks in the Yukon.
450m strike length of high-grade, gold-rich, porphyry mineralization, newly defined with four drill holes in 2017. Open in all directions and to depth, including 57m of 1.08 g/t gold and 0.285% copper in RVD17-13.
Positive results from metallurgical work at Nucleus and Revenue with >95% recovery rates.
Road accessible, in a good mining district, straightforward permitting, support from government and local communities.
18,000-meter drill program in conjunction with other exploration activities planned for 2018 to capitalize on the successful 2017 drill program.
Management is very experienced in mineral exploration in British Columbia and the Yukon Territories, Canada, with a flagship project that has no debt or property payments.
Management has the experience and capability to finance the project directly with investors. Proven with the chairman who has quarterbacked numerous large financings. Of note, there is yet not any involvement with investment bankers or brokers on the $14 million raised by the company since the management change, largely due to the non-promotional philosophy the company has taken in an obvious bear market.
Triumph could be a welcome addition to add to the already existing resources at Goldcorp and/or another major mining company interested in taking a position in what could be a district-scale potential deposit that could help replace depleting resources. Finally, Triumph is in a safe political jurisdiction, in an area with excellent infrastructure, close to power and a government-maintained road.
Why should investors look at Triumph Gold?
Triumph Gold has a great risk reward proposition in the current choppy to down precious metals market, but hungry for exploration success. We must remind readers Triumph Gold is situated in the Yukon with good infrastructure, which is a huge benefit for not only exploration, but also as the development of a project as it moves forward, helping to make this project economically viable in today's environment.
Finally, after speaking with management, the Triumph team now believe geologically they have got an "elephant by the tail" with this blue-sky porphyry that the company recently announced. Management believes Triumph Gold is in the early stages of a major expanding gold-copper system, and still feels there is a lot of upside left in what management thinks could be the discovery of the decade, in the Yukon.
Below are two previous YouTube videos that potential investors can view.
See Interview.
See interview.
Copper Porphyry Article.
See website link here.
John Newell is a portfolio manager at Fieldhouse Capital Management. He has 38 years of experience in the investment industry acting as an officer, director, portfolio manager and investment advisor with some of the largest investment firms in Canada including Scotia McLeod, CIBC Wood Gundy and Richardson Greenshields (RBC Capital Markets). Newell is a specialist in precious metal equities and related commodities, and follows a disciplined proprietary approach incorporating equity research, analytical frameworks and risk controls to evaluate and select long and short stocks primarily from the Canadian small and mid-cap coverage. Many large, midcap and junior precious metal companies use his technical charts. Newell is a registered portfolio manager in Canada (advising representative).
[NLINSERT]
Disclosures:
1) John Newell: I, or members of my immediate household or family, own shares of the following companies mentioned in this article: Triumph Gold. I personally am, or members of my immediate household or family are, paid by the following companies mentioned in this article: None. My company currently has a financial relationship with the following companies mentioned in this article: Funds controlled by Fieldhouse Capital currently own shares of Triumph Gold. I determined which companies would be included in this article based on my research and understanding of the sector. Additional disclosures/disclaimer below.
2) The following companies mentioned in this article are sponsors of Streetwise Reports: Victoria Gold. Click here for important disclosures about sponsor fees.
3) Comments and opinions expressed are those of the specific experts and not of Streetwise Reports or its officers. The author is wholly responsible for the validity of the statements. The author was not paid by Streetwise Reports for this article. Streetwise Reports was not paid by the author to publish or syndicate this article. The information provided above is for informational purposes only and is not a recommendation to buy or sell any security. Streetwise Reports requires contributing authors to disclose any shareholdings in, or economic relationships with, companies that they write about. Streetwise Reports relies upon the authors to accurately provide this information and Streetwise Reports has no means of verifying its accuracy.
4) The article does not constitute investment advice. Each reader is encouraged to consult with his or her individual financial professional and any action a reader takes as a result of information presented here is his or her own responsibility. By opening this page, each reader accepts and agrees to Streetwise Reports' terms of use and full legal disclaimer. This article is not a solicitation for investment. Streetwise Reports does not render general or specific investment advice and the information on Streetwise Reports should not be considered a recommendation to buy or sell any security. Streetwise Reports does not endorse or recommend the business, products, services or securities of any company mentioned on Streetwise Reports.
5) From time to time, Streetwise Reports LLC and its directors, officers, employees or members of their families, as well as persons interviewed for articles and interviews on the site, may have a long or short position in securities mentioned. Directors, officers, employees or members of their immediate families are prohibited from making purchases and/or sales of those securities in the open market or otherwise from the time of the interview or the decision to write an article, until one week after the publication of the interview or article. As of the date of this article, officers and/or employees of Streetwise Reports LLC (including members of their household) own securities of Triumph Gold, a company mentioned in this article.
Additional Disclosures and Disclaimer from John Newell, Fieldhouse Capital Management, August 31, 2018:

Disclosures and Disclaimer:
It should not be assumed that the methods, techniques, or indicators presented in these pages will be profitable or that they will not result in losses. Past results are not necessarily indicative of future results. Examples presented on these pages are for educational purposes only. These set-ups are not solicitations of any order to buy or sell. The authors, the publisher, and all affiliates assume no responsibility for your trading results. There is a high degree of risk in trading.
Hypothetical and historical performance results have many inherent limitations, some of which are described below. No representation is being made that any account will or is likely to achieve profits or losses similar to those shown. In fact, there are frequently sharp differences between hypothetical and historical performance results and the actual results subsequently achieved by any trading program. One of the limitations of hypothetical and historical performance results is that they are generally presented with the benefit of hindsight. In addition, hypothetical and historical trading may not present the financial risks and returns for future trading. For example, the ability to withstand losses or to adhere to a particular trading program in spite of trading losses are material points which can also adversely affect trading results. There are numerous other factors related to the markets in general or to the implementation of any specific trading program which cannot be fully accounted for in the preparation of hypothetical performance results and all which can adversely affect actual trading results.
Disclaimer: This Publication is protected by Canadian and International Copyright laws. All rights reserved. No license is granted to the user except for the user's personal use. No part of this publication or its contents may be copied, downloaded, stored in a retrieval system, further transmitted, or otherwise reproduced, stored, disseminated, transferred, or used, in any form or by any means without prior written permission. This publication is proprietary.
Neither the information, nor any opinion expressed constitutes a solicitation for the purchase of an investment program. Any further disclosure or use, distribution, dissemination or copying of this message or any attachment is strictly prohibited; such information, whether derived from Fieldhouse Capital Management or from any oral or written communication by way of opinion, advice, or otherwise with a principal of the company is not warranted in any manner whatsoever, is for the use of our customers only and may be obtained from internal and external research sources considered to be reliable.
Images provided by the author.