Blackbird Energy Inc. (BBI:TSX.V) is still on for an upside breakout from its bull Flag, and the picture looks more potent than when we bought it back on the 6th, because, as we can see on its latest 6-month chart, the additional time that it has remained within this tight Flag pattern has allowed the overbought condition that arose as a result of the last upleg to continue to unwind and the moving averages to swing into more bullish alignment, with the 50-day catching up with the price the better to force a breakout. Furthermore buyers have been raising their bids in recent days on increasing upside volume, another sign that it is ready to break out. How far will the next upleg get? – it should rally to resistance in the C$0.50–C$0.52 area where we will consider taking profits, with some chance that it could storm through this resistance. This is an oil stock that looks set to break higher regardless of what oil does.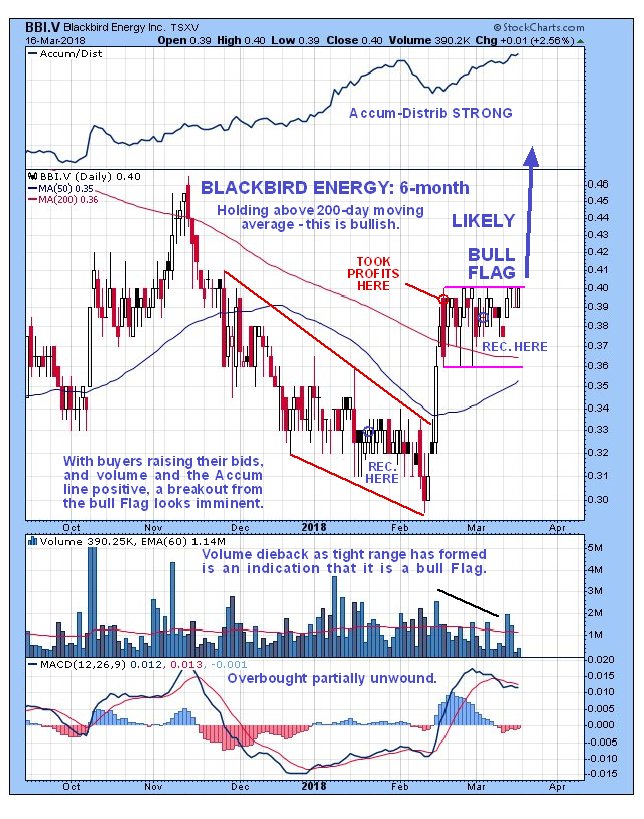 Holders should therefore stay long, and new purchases are in order, up to C$0.415. Although the number of shares in issue in Blackbird is high at 749 million, it is understood that many are tightly held by insiders.
Blackbird Energy website.
Blackbird Energy Inc, BBI.V, BKBEF on OTC, closed at C$0.38. $0.307 on 16th March 2018.
Read what other experts are saying about: