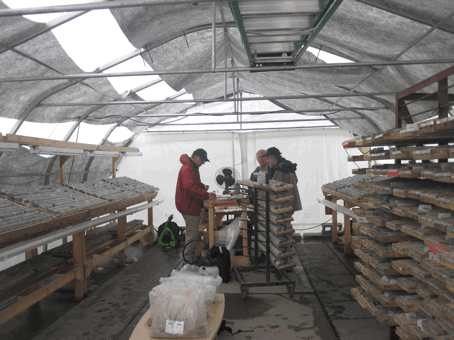 Chevrier Gold project; core shack Main Zone
After having completed a 10,150m 58-hole drill program on the Main Zone, plus 25 new trenches and re-sampling of 11 historic cores, it seems that Genesis Metals Corp. (GIS:TSX.V; GGISF:OTC) is well on its way to get more insight in the complex geology of Chevrier, therefore an update is warranted. Follow-up drilling on a new Main Zone extension is about to commence in this spring, and a maiden resource estimate is scheduled for Q3, 2018. On top of that, the company is contemplating drilling other geological targets as well, as the property has abundant exploration potential.
All presented tables are my own material, unless stated otherwise.
All pictures are company material, unless stated otherwise.
All currencies are in U.S. Dollars, unless stated otherwise.
2. Background summary
Genesis Metals is a Canadian exploration and development company that developed a new geologic model for its fully owned flagship Chevrier Gold deposit in Chibougamau, Quebec, and is hopefully further proving it up by a 2018 phase drill program, and also owns the October Gold property in Ontario, located in the vicinity of and on trend with Goldcorp's Borden Lake deposit and Iamgold's Cote Lake deposit, which isn't a priority at the moment. The management team is built around a lot of players of the Underworld Resources story, that got bought out for $138M.
Genesis Metals currently has 74.8M shares outstanding (fully diluted 104.85M), 22.5M warrants (the majority is due @C$0.20 or more) and several option series to the tune of 7.225M options in total, which gives it a market capitalization of just C$7.48M based on a share price of C$0.10. Management and advisors hold about 12%; other large shareholders are Delbrook (10%), Eric Sprott (7%), Osisko (6%) and U.S. Global (5%), in total about 50% is in strong hands. The company has about C$750k cash in the treasury at the moment.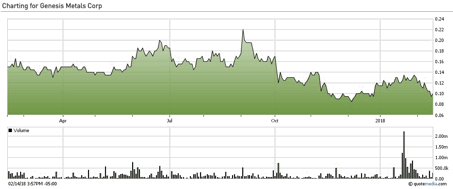 Share price; 1 year time frame
After initial disappointment on misses on the IP/exploration targets outside the Main Zone, and tax-loss selling in November and December 2017, the stock had a rough time, but recovered somewhat at the beginning of 2018, only to give back most gains on recent market/metals volatility. An updated resource estimate is planned for Q3, 2018. This should be able to move things, as the current market cap is tiny and would implicate undervaluation according to peers.
Chevrier Gold project
A quick recap: The Chevrier Gold project is located in the very prolific Abitibi Greenstone Belt, which has seen over 170Moz of gold production until now, and is host to some of the largest gold mines of Canada, like Canadian Malartic and Detour Lake. The Chevrier land package consists of 120square kilometer approximately 35 kilometers South West of Chibougamau, which has an airport and highway.
The property has ideal infrastructure with direct road access, and a powerline runs within the claim boundaries, so the cheapest power of Canada (a huge advantage of Quebec, besides a 25% tax refund on exploration costs) comes at no additional costs, and road construction isn't necessary either.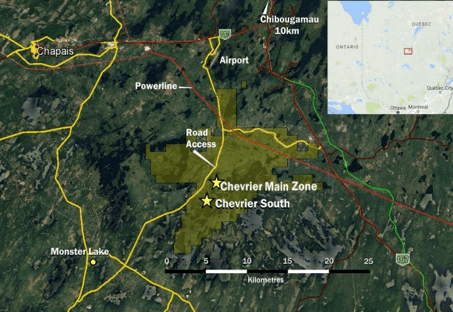 Chevrier Gold project; location/infrastructure
The former owner of Chevrier had the 2010 NI-43-101 compliant resource estimate completed by Met-Chem, which resulted in an Inferred resource of 4.6Mt @1.99g.t Au >295koz gold for the Chevrier Main Zone deposit. Met-Chem also came up with a 3D model for Chevrier South, which allowed an estimate of a tonnage and grade of mineralized material potentially present at Chevrier South: 8.5-9.0Mt @1.8 - 2.2g/t Au. Management estimates it will take about 20 drill holes to upgrade South to a 43-101 compliant resource estimate. By using the average numbers, this might generate a hypothetical 559koz gold for the Chevrier South deposit.
Taking this a bit further, both deposits together would add up to a hypothetical 854koz Au, and most of it is within reach of an open pit depth (<-150m), so at least the average grade seems to have a decent chance on becoming economic, as often open pit operations comparable to this (still hypothetic) project are already economic at 1.2-1.4g/t Au. The Main Zone deposit, is open to the north and at depth. Another subject for profitability of an open pit operation is the strip ratio (ratio of waste to ore), and this is very roughly speaking 5:1 @$1250-1300/oz Au @1g/t Au. It is hard to say at this early stage what the eventual strip ratio will be.
Although strip ratio is hard to guesstimate right now, management does believe there is more continuity in the mineralized structures, when compared to the old model. So far it has been a quest to look for the right structural controls. Summarizing the concept of Met-Chem again:
"The interpreted geometry of the mineralized zones suggests the presence of a series of sub-vertical mineralized shoots with short strike lengths related with the fold noses of the re-folded fold interpreted by Met-Chem. This interpretation is confirmed by the study completed by Murgor on the adjacent property that indicated a clear relationship between the fold hinges and the gold mineralization (Press Release of September 24, 2009).
As an alternate interpretation, the discontinuous and persistent mineralized structures might be accounted for by long-lived mineralizing event. The early stage mineralization would have been disrupted and contorted by subsequent tectonic events, whereas later in the history, the mineralizing fluids were injected into newly formed shears that escaped deformation. However, Met-Chem believes the control on mineralization by folds is more likely, considering the short lateral continuity of the shoots."
Genesis management has worked on alternative models for mineralization, which it will publish soon. The company has identified key controls to gold mineralization within the main zone: gold essentially correlates with higher percentages of veins that are themselves hosted in a larger sheared zone characterized by mylonitic texture and strong ankerite-fuchsite-tourmaline-silica alteration.
I added most highlighted drill results in the following map in order to show the significant variance in results: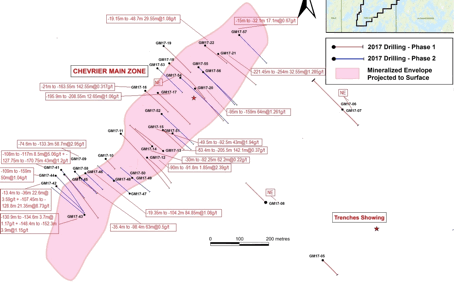 The holes without further specification often had low grade narrow vein results. Here are the highlights of the drill program for the Main Zone so far in text:
Phase 1:
2.94 grams per tonne gold over 58.70 m including 14.01 g/t Au over 6.35 m in hole GM-17-09;
1.93 g/t Au over 43.00 m including 3.06 g/t Au over 15.45 m in hole GM-17-15;
2.00 g/t Au over 35.20 m within an interval of 0.93 g/t Au over 94.90 m in hole GM-17-20;
1.13 g/t Au over 38.05 m in hole GM-17-211.23 g/t Au over 24.45 m in hole GM-17-22.
Phase 2:
8.73 g/t Au over 21.35 m including 37.97 g/t Au over 3.00 m in hole GM-17-42;
3.59 g/t Au over 22.60 m in a separate zone in hole GM-17-42;
4.26 g/t Au over 19.40 m including 8.99 g/t Au over 7.80 m in hole GM-17-48;
4.47 g/t Au over 12.45 m within an interval of 1.08 g/t Au over 84.85 m in hole GM-17-46;
5.06 g/t Au over 8.45 m and 1.23 g/t Au over 43.00 m in two intervals in hole GM-17-41;
4.53 g/t Au over 13.80 m in hole GM-17-44;
1.04 g/t Au over 50.05 m including 1.94 g/t Au over 17.10 m in hole GM-17-44.
Core lengths are shown. True length is calculated to be 65% of core lengths.
As the results at the Southern part of the Main Zone (holes GM-17-41 to GM-17-46, shown in the next table) were successful as extension stepout holes, management expects to add ounces here and will look into further drilling at this part of the Main Zone first. The geologists think that the northern part of the Main Zone could also be able to add more ounces, and also contemplate about investigating deeper lying mineralized structures at both northern and southern parts. Genesis management is looking to follow up on these extensions of the Main Zone with minimum 5,000 meters of drilling. According to the news release of January 22, 2018, two new extensions have been discovered:
"- Holes GM-17-45 and GM-17-46 were drilled to test for extensions to Hole GM-17-09 (2.94 g/t Au over 37.40m – previously reported in Company news release dated October 3, 2017). This drilling has identified a new north-east trending shallow extension of mineralization encountered in Hole GM-17-09. Similarly, the results from Holes GM-17-41 and GM-17-44 define a new deeper south west extension of the mineralization encountered in GM-17-09. This large and well mineralized zone now appears to be defined over a distance of more than 300m. This zone is a priority for geological modeling.
- The results from the highlighted holes would suggest an area of shallow higher grade mineralization has been defined and still remains open at depth in the southern part of the Main Zone."
Hole GM-17-42 was an outlier to the upside, and keep in mind the mineralized intervals were determined using a 0.5 g/t cut-off which is higher than the used cut-off in the 3D Model. True width is estimated to be 65% of the reported intercepts: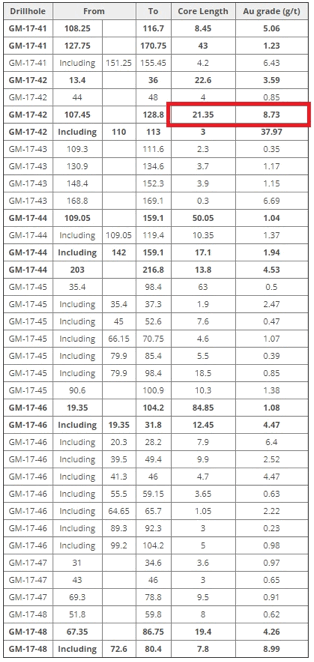 It is a good thing this newly discovered mineralization is relatively near surface and high grade at decent intervals, and according to management relatively continuous, so this could bode well for an eventual starter pit in this area.
Using a lower cut-off grade could probably have a significant positive impact on the number of ounces, as a lot of assays are low grade according to the 2010 resource estimate: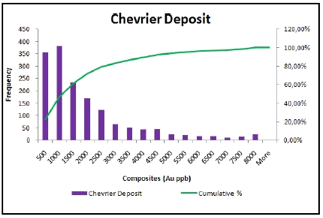 Chevrier Main Zone deposit; distribution of gold in ppb (1000ppb = 1g/t)
It looks like about 50% of total assays <1g/t Au are left out of the current resource, and with a cut-off of for example 0.5g/t instead of the used 1g/t this could already add about 20% of total assays, which are now left out. This could hypothetically increase the resource with 40%, which could bring the current Inferred resource of 295koz Au to 413koz Au.
The same hypothetical concept goes for the South Deposit: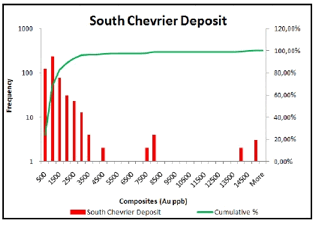 Chevrier South Zone; distribution of gold in ppb (1000ppb = 1g/t)
It looks like South could gain a potential 30% of total assays at a 0.5g/t cut-off grade, resulting in upgrading the hypothetical 559koz Au resource into a 1.12Moz Au resource.
By simply proving up the Met-Chem estimates and using a lower cut-off, total ounces could go from 854koz Au to a hypothetical 1.53Moz Au, of course at a lower grade.
So rehashing the current plans a bit: Genesis Metals is first contemplating about a drill program of 5,000m to extend the high grade parts of the Main Zone.
A quick status update on the October Gold property: Genesis Metals originally wanted to look for a JV partner, but management currently feels that this property has more value, and has completed the property wide compilation of historical work, which will guide them on the next round of exploration work to upgrade potential targets.
4. Upside potential
As I did in my first article on this company, a peer comparison is probably the best method to get a first idea of valuation. This method is far from perfect as I keep stating, as every single company has a unique set of parameters and should actually be analyzed in full and normalized as far as this is possible of course, and EV doesn't say anything about profitability, high capex, jurisdiction etc., but with some comments to go with such a peer comparison it provides at least an indication.
The list with companies changed a bit compared to last time, leaving out for example a junior with an underground deposit:

For comparison I used a hypothetical 0.85Moz resource for Genesis Metals, as if the South Zone would have been hypothetically delineated to Inferred. When management would indeed prove up my estimated 1.5Moz in total, the EV/oz would drop to about 3, which is clearly way below any competitor. Although most others are more advanced, an EV of $3 per oz Au is very cheap for a 1+Moz deposit, which has a decent chance of being economic as a mostly open pit operation. It's up to management now, to prove up as many ounces as they can.
5. Conclusion
Although Genesis Metals doesn't have the easiest task at hand, as the Chevrier Main and South Zone both have complex geology, it looks like verification drilling at the Main Zone not only proved up the historic drilling used for the 2010 resource estimate, but also indicated new, shallow and high grade zones, with possibly deeper located additional potential, which all might be eligible of adding economic ounces. Further exploration on multiple adjacent targets is the ongoing wildcard of the Genesis story, but the resource update will probably be the big catalyst for this year.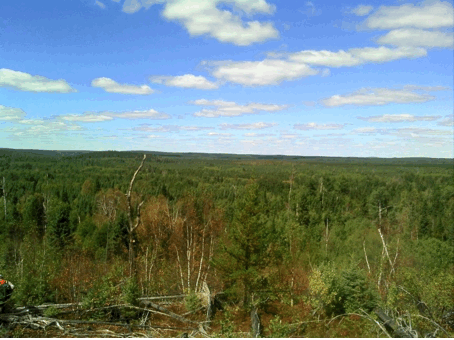 October Gold project
I hope you will find this article interesting and useful, and will have further interest in my upcoming articles on mining. To never miss a thing, please subscribe to my free newsletter on my website www.criticalinvestor.eu, and follow me on Seekingalpha.com, in order to get an email notice of my new articles soon after they are published.
Disclaimer:
The author is not a registered investment advisor, and currently has a long position in this stock. Genesis Metals is a sponsoring company. All facts are to be checked by the reader. For more information go to www.genesismetalscorp.com and read the company's profile and official documents on www.sedar.com, also for important risk disclosures. This article is provided for information purposes only, and is not intended to be investment advice of any kind, and all readers are encouraged to do their own due diligence, and talk to their own licensed investment advisors prior to making any investment decisions.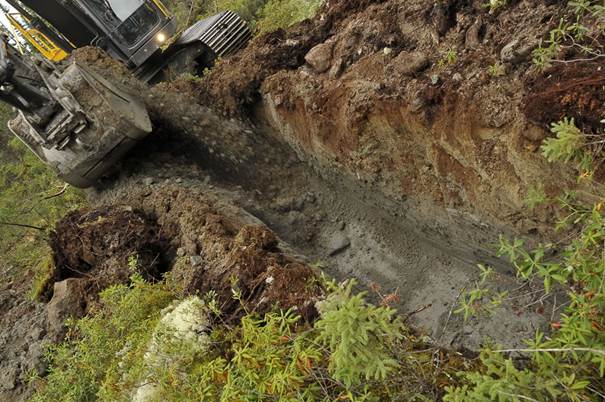 Chevrier Gold project; trenching
The Critical Investor is a newsletter and comprehensive junior mining platform, providing analysis, blog and newsfeed and all sorts of information about junior mining. The editor is an avid and critical junior mining stock investor from The Netherlands, with an MSc background in construction/project management. Number cruncher at project economics, looking for high quality companies, mostly growth/turnaround/catalyst-driven to avoid too much dependence/influence of long term commodity pricing/market sentiments, and often looking for long term deep value. Getting burned in the past himself at junior mining investments by following overly positive sources that more often than not avoided to mention (hidden) risks or critical flaws, The Critical Investor learned his lesson well, and goes a few steps further ever since, providing a fresh, more in-depth, and critical vision on things, hence the name.
Want to read more Gold Report articles like this? Sign up for our free e-newsletter, and you'll learn when new articles have been published. To see recent articles with industry analysts and commentators, visit our Streetwise Interviews page.
Streetwise Reports Disclosure:
1) The Critical Investor's disclosures are listed above.
2) The following companies mentioned in the article are billboard sponsors of Streetwise Reports: None. Click here for important disclosures about sponsor fees. The information provided above is for informational purposes only and is not a recommendation to buy or sell any security.
3) Statements and opinions expressed are the opinions of the author and not of Streetwise Reports or its officers. The author is wholly responsible for the validity of the statements. The author was not paid by Streetwise Reports for this article. Streetwise Reports was not paid by the author to publish or syndicate this article.
4) The article does not constitute investment advice. Each reader is encouraged to consult with his or her individual financial professional and any action a reader takes as a result of information presented here is his or her own responsibility. By opening this page, each reader accepts and agrees to Streetwise Reports' terms of use and full legal disclaimer. This article is not a solicitation for investment. Streetwise Reports does not render general or specific investment advice and the information on Streetwise Reports should not be considered a recommendation to buy or sell any security. Streetwise Reports does not endorse or recommend the business, products, services or securities of any company mentioned on Streetwise Reports.
5) From time to time, Streetwise Reports LLC and its directors, officers, employees or members of their families, as well as persons interviewed for articles and interviews on the site, may have a long or short position in securities mentioned. Directors, officers, employees or members of their immediate families are prohibited from making purchases and/or sales of those securities in the open market or otherwise from the time of the interview or the decision to write an article, until one week after the publication of the interview or article.
Images and charts provided by The Critical Investor