Right now, daily usage levels, the amount of time users invest in social media daily, has grown to new heights. According to Statista, the average daily usage is at 135 minutes per day. The next level of social media will be even more encompassing than where it is now. It will need to push the boundaries of the very constraining social circles that we use for communication. The new VITA app, the first app release from VITA Mobile Systems Inc. (GMUI:OTCBB), pushes social media to a new level and solves the plaguing constraint in social media of how to access information that isn't part of your social circle. Think about how many times you search daily and find the real-time answer is on a social media app but you are unable to access it because you aren't in their social network. The VITA app closes the loop and the solution is crowdsourcing.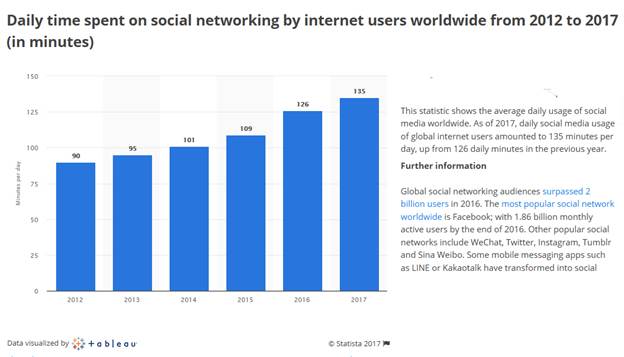 The other factors weighing on today's social media is information overload. Users have so much information flying at them that they are unable to process it and have grown accustomed to simply tuning things out. Intelligent algorithms attempt to filter out the spam but traditionally do too much or do too little. They haven't found the magic balance. VITA's solution to this balance is to develop a social network for the public that eliminates profiles, eliminates friends, and essentially breaks down all barriers to allow information sharing all the time. In a nutshell the VITA app has information for everyone to view and this unfiltered information is organized and available at any time it is wanted.
VITA App
The VITA app is a community driven platform that allows users to take pictures of everyday life and post them as a living archive of location-based content. Users are motivated by sharing with this community their uncensored and unfiltered pictures devoid of the social pressure to take the perfect shot at the perfect angle with the perfect lighting. People are capturing life like they see it and posting to the archive. It's crowdsourcing location-based content.
SEE IT, TAKE IT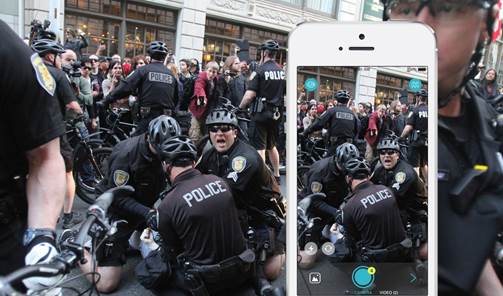 POST IT
When pictures and videos are posted using the VITA application, its proprietary algorithms create a searchable location based content engine for public consumption. With the growth of social media, it has become apparent that one picture is not enough to tell a complete story. There are billions of pictures that are taken every year but only 1–2% of them make it to social media; VITA is after the other 98% of the media that doesn't see the light of day today. VITA will compile the multitude of pictures and videos submitted to locations and events to provide a comprehensive narrative, giving today's culture exactly what they are craving. VITA's platform will enable users worldwide to provide or view first-hand accounts and live updates of events as they happen, as opposed to blindly searching current social media outlets such as Instagram, Twitter and Facebook or relying on a narrow media reporting of news outlets.
Evolution
The first baby steps of social media were taken by the social sites Friendster and Myspace. Then Facebook (FB) came along and set the tone of social media as we recognize it today with heavy use of text supplemented with pictures. Twitter (TWTR) evolved with posts limited to 140 characters of text supplemented with a picture. This made sharing of pictures easier which increased the amount of posts users would do. Less thought was need to come up with a full description/caption increasing user engagement. Eventually sharing photos became popular and Instagram was heavily weighted towards pictures and video supplemented with a small amount of text. This imagery based posting was easier because less thought was needed to post a picture. Instagram and Facebook posting are wildly popular but it is limited and hasn't realized its full potential because users have to spend time selecting the perfect picture to post to capture the true essence of the moment. This selection process takes up valuable time because users are concerned that their peers would judge them by the quality of their posts. The social pressure led to Snapchat, which allowed the user to take short clips of video and pictures on a real-time basis. Social pressures of selecting the perfect post diminished because the content disappeared after 24 hours and there was no history on the user's social profile. A major shortcoming was that this content was only available to friends and doesn't allow the public to view everyone's post.
VITA emerges from the EVOLUTION
VITA takes note of this evolution and integrates the successful tools within this progression. VITA breaks down all restrictive barriers associated with finding, viewing and posting content. VITA allows a user to post clips and pics to describe large events or every day sightings for EVERYONE to see. All found in an easy to use google maps platform. Along with essentially creating a powerhouse search engine catalogue for geo-location based content, this should open the door for VITA to achieve the most use and most volume of posts.
Frequency of Usage
At every step along the progression of social media, frequency of usage was a key metric pushing the next of evolution. Vita as the next evolution breaks down the boundaries of tradition social circles and expands them to a more universal harmonious social network based on one's geo location. The pure community based nature of the network is all about creating opportunities for unfiltered content that is posted as pictures for public consumption. The VITA app has appeal to people that just see interesting things and take an unfiltered look at life around them and share it with the idea that it will make the community stronger.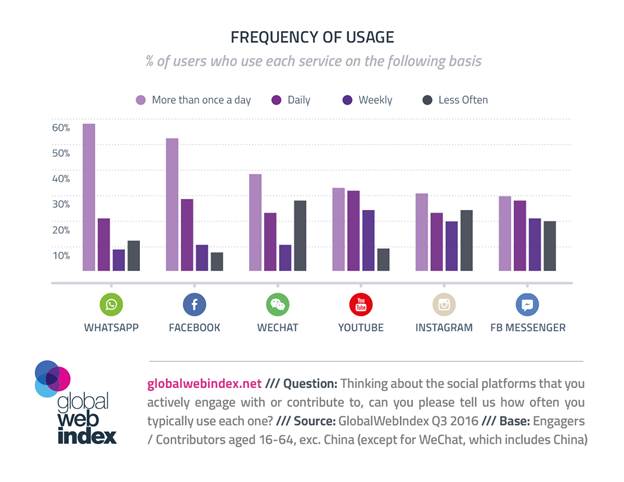 Once VITA launches, it's expected that the VITA app could even surpass WhatsApp and other popular social apps in terms of the percentage of daily users. If this high frequency of use is maintained and the content network builds, VITA has the potential to be one of the new leaders in social media.
Shortcomings with current location-based Social Media
Right now, Twitter is great for communicating news ideas but it fails if you don't put in the right hash tag. Facebook live is a great way to share a concert that you know about in your social circle but what about the small concert happening at the local pub? Waze is great about telling us about traffic but what about other social events? Linkedin also had permission-based social circles that don't allow out of network sharing without a fee. The VITA app creates a community of See it, Take it, Post it. There are no more boundaries. It crowdsources real-time live looks at life happening around us.
Here are some real world applications of HOW VITA WORKS:
Up-close looks of the car accident around the corner
First-person views of the protest downtown and video of police handing the masses
The out of control brush fire that is inching closer to your neighborhood
A candid sighting of a movie star at the gym
Seeing an actual look at the construction project that shut down a freeway on-ramp
Pictures of a lost animal found in the street
Flash sales and daily deals posted by local store and restaurants managers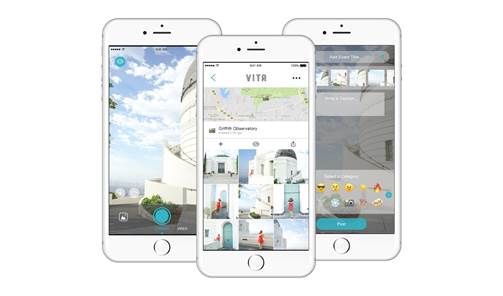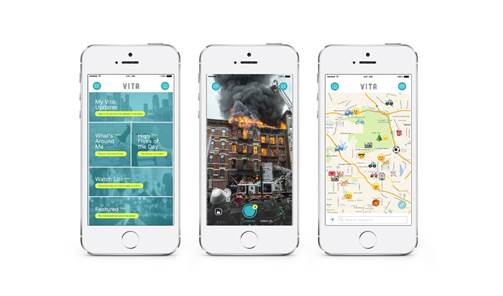 Reasons for Enormous Potential
Almost all social platforms are built around users developing their own social circles. This foundation of a user-centric social circle means that most of the content is tailored after the image of the user and uploaded to make the user feel good about his or her image. Facebook, Twitter, SnapChat, and Instagram have all tried geo-location-based content but it grossly misses the mark because a majority of the images are selfies and just not useful. A good example of the differences between VITA and the other social networks might be the local mall. With the other social networks you are likely to get close-ups of people having a great time making faces and doing silly things. On the other end of the spectrum you will get people taking pictures of crowds or pictures of sales specials stores are running. Nothing in these pictures gives context with what to expect at the location. With VITA the difference is readily apparent because users post pictures of the outside of the mall so you can identify the different entrances, a picture of the parking lot so you can see how many cars can park, and a picture of the food court so you can see the variety of selection. The VITA app is not just another social media app it is the next evolution in social media where the crowd posts things for the greater good of the community. It is true location-based content that isn't muddled with selfies and pictures and nothing of interest.
The defining factor is that the VITA app clearly defines the boundaries that the content on this platform is for public versus private consumption. The anonymous nature of the photos makes posting extremely easy and will ultimately lead to more posts per user daily. The true value of the platform lies in the data mining gathered from the pictures and user behaviors captured during the applications use. The company's proprietary algorithms will be able to analyze the millions of pictures and videos shared daily, to interpret behavior, anticipate need, and satisfy the public's growing thirst for immediate information. VITA has the potential to be one of the largest disrupters in social media because it has all the tools and consumer data that media and targeted advertising campaigns need. This potentially enormous databank could make VITA the leader in Artificial Intelligence and Augmented Reality.
VITA and Twitter Synergies
One of the most frustrating things about Twitter is that the content a user is looking for is probably there but the user can't find it because he or she don't know the right hash tag. With the VITA app all users have to do is get close to the geographic location and then view the archive of photos or the pictures happening in real time. VITA with its Google maps functionality makes it incredibly easy for the user to categorize pictures in this platform. It's not hard to imagine the integration of the two platforms combining Twitter's hashtag search with the Google maps geographic search encapsulated in the VITA application. There are additional similarities between the platforms because Twitter is a micro-blog platform based on random thought when events are happening. VITA seems to be a pictorial or video extension of those random thoughts that allows users to capture happenings around them for posting on VITA's public social network.
Twitter has been struggling over the past years trying to monetize its gargantuan user base estimated at 330 million active users in Q3 of 2017. In Q3 the company finally delivered good news to Wall Street posting better than expected growth in international revenue per user and strength in the video and data enterprise solutions. The underlying issue with Twitter still remains because there has been little change in the platform and nothing in the works for Twitter users to get excited about. VITA could be the killer application Twitter has been looking for because it enhances its exposure in pictures and video and has the killer application to drive user engagement to new levels, allowing Twitter to charge its advertisers more. If integrated correctly, the VITA media could be Tweeted with the geo location embedded in the Tweet. Twitter users can then see what visual media is available around their current location without having to 'FOLLOW' the right people or having to rely on their actual network for updates. The VITA tools would optimize Twitter to act like a local drone, which allows a user to view updates within proximity of their location. VITA would also instantly make Twitter an aggregator of valuable meta-tagged big data and also opens a new revenue stream in hyper-local advertising. The fusion of VITA and Twitter seem to be a natural add on that would only make Twitter better.
Market Structure
The corporate name of VITA Mobile Systems is still Gold Mining USA Inc. (GMUI). The company has discontinued all mining operations and is only involved with application development. The company has executed all the documents necessary to effect the name change and is simply waiting on regulatory approval from FINRA in order to execute it. From the quarterly report, VITA shows $2.69 million in development costs on the balance sheet indicating a sizeable development project justifying the current valuation. The market capitalization is roughly $15 million with 3.0 billion shares authorized and 968,265,132 outstanding. There are only 79,472,792 million shares in the float and this represents 8.2% of the outstanding. From stock purchase agreement 800 million shares are subject to a lock up for a minimum of 30 months. Another interesting point about the structure is that North Coast Ventures has 40 million free trading shares, which roughly represent half the shares of the float. Based on trading volume since the acquisition, it seems to be sitting patiently on the sidelines. A thorough review of the balance sheet shows no toxic convertible debt and any of the debt currently on the books was a result of funding in support of the VITA business.
Investment Summary
Investors willing to take a step back and look at the whole picture might realize that that VITA has the next big thing in social media. VITA has a fully functioning app currently going through Beta testing. The company has invested millions to develop this platform. The share structure is very accommodative and its thin market depth makes it a perfect candidate for price appreciation. An argument can be made that VITA is a possible acquisition target of top tier companies. If the platform takes root the data mined off the user's interactions will contain valuable marketing data corporations would be paying a handsome premium for. The platform lends itself to toward multiple pathways of revenue generation allowing VITA to monitor the data and repackage it for media advertisers. VITA Mobile Systems (GMUI) is a ground floor opportunity investment as Twitter was years ago before the Twitter revolution took hold. This investment could be the single biggest play in social media and warrants an investment before the obvious catalysts like the name change and the beta launch get this in the hands of the masses that take it viral.
Michael Sheikh is the founder of Falcon Strategic Research, which focuses on small-cap and micro-cap companies that are not covered by traditional analysts on Wall Street. Sheikh is an Air Force Academy graduate with a degree in economics; he was a KC-135 pilot. He was a stock broker for Dean Witter and was a research analyst for National Securities, covering the aerospace sector. He is a contract CFO for various public companies.
Want to read more Streetwise Reports articles like this? Sign up for our free e-newsletter, and you'll learn when new articles have been published. To see a list of recent articles and interviews with industry analysts and commentators, visit our Streetwise Interviews page.
Disclosure:
1) Michael Sheikh: I, or members of my immediate household or family, own shares of the following companies mentioned in this article: VITA Mobile Systems Inc. I personally am, or members of my immediate household or family are, paid by the following companies mentioned in this article: None. My company currently has a financial relationship with the following companies mentioned in this article: None. I determined which companies would be included in this article based on my research and understanding of the sector.
2) The following companies mentioned in this article are sponsors of Streetwise Reports: None. Streetwise Reports does not accept stock in exchange for its services. Click here for important disclosures about sponsor fees. The information provided above is for informational purposes only and is not a recommendation to buy or sell any security.
3) Statements and opinions expressed are the opinions of the author and not of Streetwise Reports or its officers. The author is wholly responsible for the validity of the statements. The author was not paid by Streetwise Reports for this article. Streetwise Reports was not paid by the author to publish or syndicate this article.
4) The article does not constitute investment advice. Each reader is encouraged to consult with his or her individual financial professional and any action a reader takes as a result of information presented here is his or her own responsibility. By opening this page, each reader accepts and agrees to Streetwise Reports' terms of use and full legal disclaimer. This article is not a solicitation for investment. Streetwise Reports does not render general or specific investment advice and the information on Streetwise Reports should not be considered a recommendation to buy or sell any security. Streetwise Reports does not endorse or recommend the business, products, services or securities of any company mentioned on Streetwise Reports.
5) From time to time, Streetwise Reports LLC and its directors, officers, employees or members of their families, as well as persons interviewed for articles and interviews on the site, may have a long or short position in securities mentioned. Directors, officers, employees or members of their immediate families are prohibited from making purchases and/or sales of those securities in the open market or otherwise from the time of the interview or the decision to write an article, until one week after the publication of the interview or article.
Charts and images provided by the author.