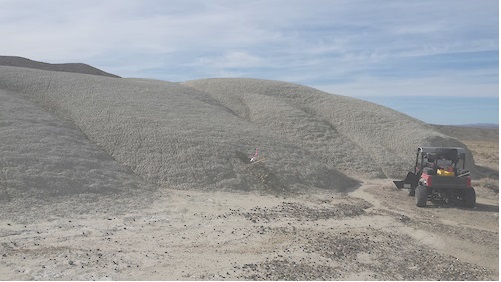 Dean Clayton Valley project; outcropping lithium-rich claystone
1. Introduction
After watching prices of lithium products soar at the end of 2015 and the beginning of 2016 on the back of a starting paradigm shift from internal combustion engine (ICE) powered vehicles towards electric vehicles (EV) needing lots of lithium-ion batteries, and seeing these prices consolidating as the first hype wore off, it seems more and more likely that the EV movement isn't going anywhere soon. Large manufacturers and countries with huge potential markets like China are steering towards a EV dominated market in the not too distant future, and statements like this have initiated a second frenzy towards lithium products. It looks like the paradigm shift is here to stay, and EV will actually be the new reality. As lithium product prices are going up again as demand further increases, so do almost all lithium mining companies, and it looks like a good moment for a new junior like Cypress Development Corp. (CYP:TSX.V) to join the party.
The company is looking to explore and develop two large and promising claystone projects in Nevada, both adjacent to Albemarle Corp.'s (ALB:NYSE) lithium brine operation, under the guidance of strong management. Although my first reaction to the story was an old mining adage: "when it's clay, go away," as clay often causes recovery issues, it appeared after discussing the projects with management that there could actually be a good chance of exploring and developing this into economic deposits. CEO Bill Willoughby is a PhD engineer with a doctorate in engineering and metallurgy, has a very good reputation in the industry and seems confident in finding a way how to approach the important recovery question, and testing so far indicates to back this up. For now, Cypress is conducting a drill program to prove up resources first, results are coming out in less than two weeks, and are expected to be in line with very good earlier assays.
All presented tables are my own material, unless stated otherwise.
All pictures are company material, unless stated otherwise.
All currencies are in U.S. dollars, unless stated otherwise.
Please note: the views, opinions, estimates or forecasts regarding Cypress performance are those of the author alone and do not represent opinions, forecasts or predictions of Cypress or Cypress management. Cypress has not in any way endorsed the information, conclusions or recommendations provided by the author.
2. Company
Cypress Development (CYP.V) is an exploration and development company, which has recently started drilling on its flagship Dean lithium claystone project in Clayton Valley, Nevada, U.S., is also exploring its adjacent Glory lithium claystone/brine project and also holds the early stage zinc/silver Gunman project, which will likely be divested or JV-ed. Earlier drilling actually revealed very decent grades but the company is focusing all its resources on lithium these days, so I will not discuss it either. The Dean and Glory lithium projects are located right beside Albemarle's Silver Peak lithium brine mine, and management believes there could be opportunities to provide lithium concentrate feed to them, as grades continue to drop over the years and reserves are dwindling. Silver Peak started out at over 500Mg/L Li2O more than 50 years ago, but is reportedly dealing with hardly 100Mg/L at the moment, which is very low for a brine operation.
Nevada is a very mining friendly jurisdiction as it ranks #5 out of 104 jurisdictions worldwide according to the Policy Perception Index (PPI) of the 2016-2017 Fraser Institute Survey of Mining Companies. However, it doesn't tolerate any more lithium brine evaporation ponds, and water rights are very scarce as well. This has caused all newcomers involved in lithium projects in Nevada to search for alternative ways of recoveries, most notably junior developer Pure Energy. It has been working with South Korean giant POSCO for many years now to develop a commercial method to extract lithium from brines, but hasn't found the solution yet. Cypress is going to try something different, needing no evaporation ponds or large quantities of groundwater, more on this later.
As mentioned, Cypress Development is headed by mining veteran CEO Bill Willoughby, who has lots of experience in all aspects of the mining industry, primarily working for Teck Cominco but after this for juniors like Enexco International and as an advisor for Bayhorse Silver, among others. He has worked on all aspects of mining projects, including planning and evaluations, exploration, drilling, underground and surface development, technical studies, permitting and financing of a number of projects worldwide including the U.S., Canada, Mexico and South America, and also has extensive knowledge of metallurgic processing. This is one of the reasons Cypress management was very happy to be able to contract him as the new CEO in September, as Willoughby noticed real opportunities when starting out at the company as a technical advisor in June. Other very experienced names are Chairman and President Don Huston, and VP Exploration Robert Marvin.
The cash position of the company is estimated at $1.5M by management, and has no debt. The company closed an oversubscribed and increased placement on October 18, which indicates solid interest from the markets: a C$1.42M @C$0.10 round with a full 2y warrant @C$0.13, which will be free trading on February 19, 2018.
Management and BoD has solid skin in the game and holds about 4.88% of outstanding shares, and 5.61% fully diluted.
Cypress Development has a current (November 24, 2017) share price of C$0.205 and a market cap of $10.62M, based on 51.8M shares outstanding: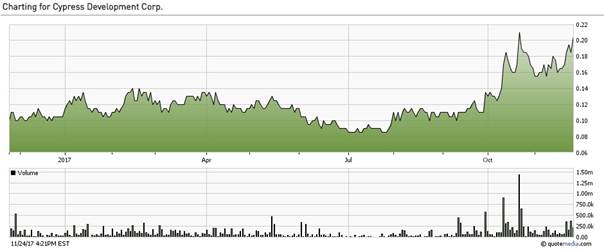 Share price over 1-year period (chart for Canada listing, in C$)
The company started marketing the story at the beginning of October, when it started its fall drill program, which obviously had an effect. Also, the strong move on the lithium market around that time saw almost all lithium-, cobalt-, and other EV related mining stocks score significant gains, and so did Cypress. I'm not sure if Willoughby could be the driver behind all this action, from financing round to marketing, but his appointment for the CEO job coincides nicely with recent developments and share price appreciation. Let's have a look at lithium first, as it is the metal Cypress is looking after.
3. Lithium
The story around lithium is probably already well known, but it can't hurt to go through (and update) the basics again once in a while. Of course, you can also just skip this section if desired.
Lithium (chemical symbol: Li) is the lightest of all metals. It does not occur as a pure element in nature, but is contained within stable minerals in a range of hard rock types, clay deposits, or in solution in brine bodies within salt lakes, in sea water or geothermal brines. The contained concentration of lithium is generally low and there are only a limited number of known resources where lithium can be economically extracted.
Lithium is used in numerous applications including ceramics and glass, batteries, greases, aluminum, air treatment and others.
Future demand is projected by Roskill to grow at an annual base rate of at least 9.7% until 2025 with optimistic forecast at 15.7% per annum consumption growth. Consumption of lithium in volume terms with be largely driven by the rechargeable battery market, which is predicted to grow 21.5% per annum. I found a pretty good lithium market description in the presentation of high profile Australian lithium producer Galaxy Resources Ltd. (GXY:ASX; GALXF:OTCMKTS), so I would like to use a few visuals and charts from that presentation deck to illustrate things:

The forecasted growth by UBS is significant over the next eight years, but could very well pan out to be true, as more and more large car manufacturers are shifting towards EV, and governments are adapting/directing their policies to this turnaround as well: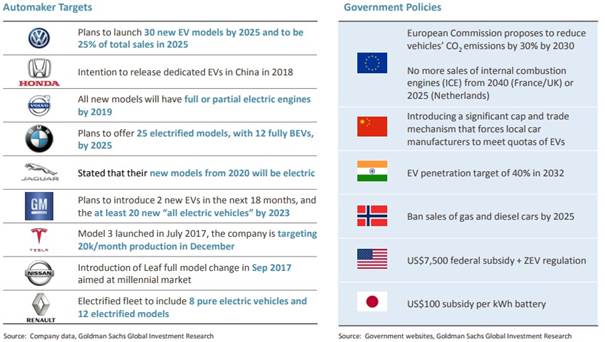 Important examples that haven't been mentioned here are the massive US$84B EV plans by Volkswagen, and countries like China planning long term to ban ICE (fossil fuel based engines) vehicles altogether. On a side note I can confirm that the 2025 goal stated for my home country, The Netherlands, was a bit too ambitious, and has been replaced by a 2030 target for new cars only. Lithium-ion batteries have become the most important storage technology in the areas of portable and mobile applications (e.g., laptops, cell phones, smartphones, tablets, power tools, medical devices, electric bicycles, electric cars) since around 2000. Lithium's high electrochemical potential—it has the highest electric output per unit weight of any battery material—makes it the standard material for lithium-ion (high energy-density rechargeable) batteries.
While portable consumer goods alone continue to provide impressive growth in demand for lithium batteries, the start of mass production of hybrid, plug-in hybrid and electric vehicles presents the most significant upside potential for lithium demand. All kinds of battery producers are planning large factories, the so-called "megafactories," to meet expected demand: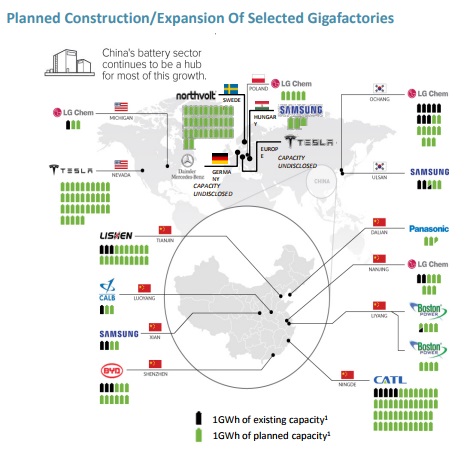 Source: Benchmark Minerals
A very important market force here is again China, which has very quietly become the world leader in fossil free investments, in an attempt to fight the ongoing widespread pollution and smog, for example, that could create civil unrest, which is something the current government wants to avoid, in order to stay in power. China is investing in a wide array of fossil free solutions, but is also focusing on EV, and already taking it a few steps further as it for example stimulates production of electric buses and E-bikes as well, as 30 million E-Bikes are now produced annually, and buses are projected to almost double by 2018.
It will probably be clear by now that something has changed dramatically, beginning in Q4 2015 when, all of a sudden, lithium shortages started to occur, and witnessing recent actions of car manufacturers, end users and politicians. All this continues to have a profound impact on the price of lithium chemicals like lithium carbonate/hydroxide.
There is no exchange traded market for lithium chemicals, as prices are set by negotiation between producers and customers often based on customer-specific formulations. Prices for lithium concentrates used for conversion into chemicals are correlated to, and tend to follow, the same trend as lithium carbonate and hydroxide prices. As can be seen in the next chart, there currently is a huge shortage of both, causing prices to increase again after a period of consolidation:

It can be debated how sustainable these spot prices are, as they are caused by frantic but limited Chinese buying orders, coming from non-competitive battery producers, scrambling for the last bits of available supply, as most lithium carbonate from producers is already sold out. Lithium hydroxide is made by processing lithium carbonate further, so it should fetch a higher price, but for some reason unknown to me it doesn't.
This chart trajectory has everything to do with the forecasted increasing demand of EVs, energy storage, other battery technologies and steady growth in other sectors, while supply development is seen as problematic. The lithium market is a so-called oligopoly, dominated by a few parties, like producers FMC Lithium Corp. (FMC:NYSE), SQM (SQM:NYSE) and Albemarle, and lithium products are just part of the revenue stream for all of them, but in most cases the most profitable one these days. These producers are using a long-term contract price for lithium carbonate of about $14,000/t, as opposed to a spot price of around $20,500/t: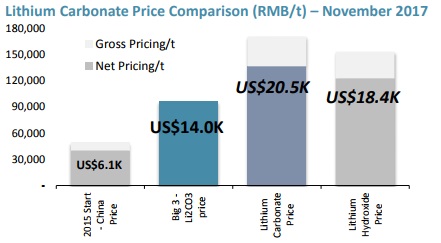 What are the big producers actually doing to address the ongoing shortages? They don't appear to act very fast, as they probably like fetching higher prices. However, EV developments, grid storage, etc., are really getting serious now, and if these producers keep taking it slowly, they could find themselves obsolete when big parties like manufacturers would take things in their own hand, in order to work around this oligopoly.
For now, Albemarle is planning a gradual expansion from 80,000t LCE to 165,000t LCE in 2021, which is a doubling of production at its flagship facilities, Atacama and Greenbushes. This shows how slow these big producers work. Brine operations have a ramp up period of 18 months on average but less than 12 months construction time, mainly needed for the plant, which is already running but needs to be expanded. This means if a decision was made at the beginning of this year, this doubling could have been achieved in H2 2019 instead of 2021.
FMC has an expansion planned for Fenix, but this is still in engineering stages. Another expansion is being constructed at its Argentine brine project, but it takes much longer than planned to complete this, let alone when it will reach nameplate production. I don't expect any meaningful production from it before the end of 2019. The company also forecast annual revenue growth of 10–15%, so it isn't very active on this front. SQM is doing much better in that regard and sees the opportunities, developing Cauchari-Olaroz, expanding at Atacama and developing an Australian project as well. Despite all this, first production increase of just 15,000t LCE is coming on-line in 2018, another 25,000t LCE is scheduled for 2019 and 65,000t LCE is forecasted to come on-line after 2021.
Bottom line is clear: no meaningful new production will come on-line before the end of 2019. Until that time, lithium carbonate price levels around or above $14,000 can be expected, which is extremely positive for economics of almost any half decent lithium project. As a reminder, a lithium project with solid economics usually needs about $5,500-6,000/t LCE prices to be viable. As a consequence, this creates room to maneuver for the subject of Cypress Development's endeavors in Nevada, the Dean and Glory claystone projects.
4. Dean & Glory projects
Cypress holds a 100% interest in the 2,700-acre flagship Dean lithium claystone project, and a 100% interest in the 1,520-acre Glory lithium claystone/brine project, both of which are located in the heart of the Clayton Valley lithium production and exploration area in Nevada. This area had become the scene of a claimstaking frenzy last year after lithium prices soared, and many companies hold interests over there. The Dean project is located to the immediate east of the Albemarle Silver Peak mine with the Glory project on its south boundary and Pure Energy Minerals project on its southwest boundary. The Glory project is located to the immediate south of the Dean project and less than 1,000 meters (0.5 mile) southeast of producing lithium brine wells of the Silver Peak Mine.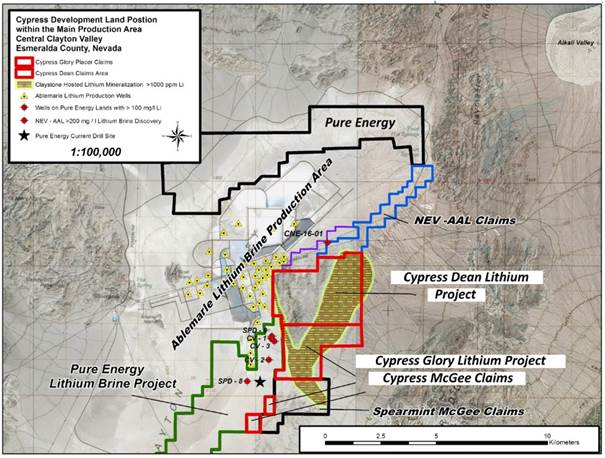 Both projects are located in an active area of lithium mining and lithium exploration. Highways and electric power are in place and exploration resources needed are readily accessible.
Cypress Development has already completed a detailed sampling program on the Dean project in September 2016. The samples returned very positive lithium results ranging between 340 ppm Li to 2,940 ppm Li (=1.56% Li2CO3 or LCE equivalent) with an overall average grade of 925 ppm Li (=0.49% Li2CO3) achieved. As an aside: LCE mass = 5.323 x Li mass. It appeared that Cypress had discovered high lithium grades in a non-hectorite claystone over a wide area on surface, outscoring other reported Clayton Valley sediments and brines. Similar grades were detected when doing an earlier sampling program on the Glory project. CEO Willoughby explained to me that it was the non-hectorite characteristic that caught his attention when he was doing due diligence on the company, since he was familiar with the recovery issues of Western Lithium and its hectorite deposit.
A second, more detailed sampling program was conducted in October 2016, collecting 72 samples, with further encouraging results:
Maximum value in claystone/mudstone was 3,730 ppm lithium (1.98% Li2CO3 equivalent);
8 samples assayed greater than 2000 ppm lithium (>1.06% Li2CO3 equivalent);
29 samples assayed greater than 1000 ppm lithium (>0.53% Li2CO3 equivalent);
An area of >2 square kilometers was identified as a new high-grade zone, with an average lithium grade of greater than 1500ppm Li (>0.80% Li2CO3);
Initial chip channel samples demonstrate vertical continuity of mineralization to 3.25 meters.
This proved to be a nice confirmation for follow up work. In May 2017 the first drill program was carried out, consisting of nine holes: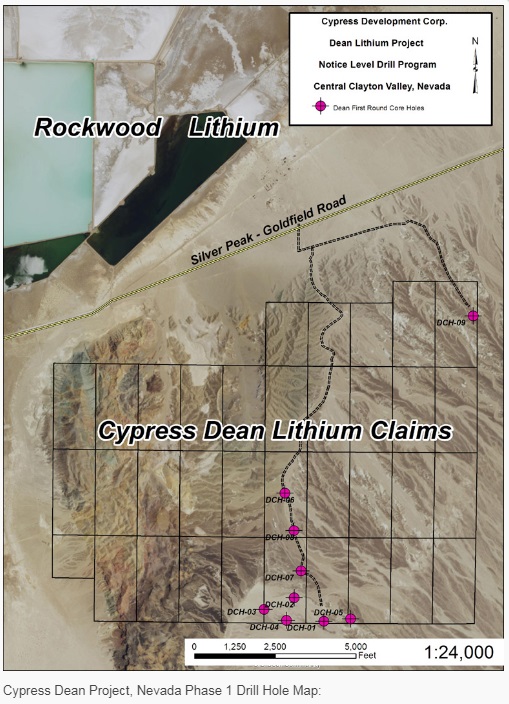 This program proved to be a success and a solid confirmation of the sampling; these are the highlights:
All lithium mineralized intercepts at Dean start at near surface;
Explored portions of Dean Property averages greater than 1000 ppm Li (>0.53% Li2CO3 equivalent);
Average Li mineralized thickness is greater than 220 feet;
The thick, tabular zone of pervasive Li mineralization is considered to be open in all directions;
Drill data to date outline a Li mineralized zone of 4 km x 2 km;
Lithium mineralization appears to thicken and increase in grade towards the east.
This is impressive, as a mineralized zone with these metrics could account for 4,000 x 2,000 x 70 x 2.5t/m3 = 1.4B tonnes of possible ore, containing 1.4Bt x 0.53% = 7.42Mt Li2CO3 or LCE. Such a hypothetical resource is close or even exceeding world-class deposits in all categories. Examples are brine projects like Cauchari/Olaroz (Orocobre 6.4Mt LCE, SQM/Lithium Americas 11.7Mt LCE), clay projects like Sonora (Bacanora 7.2Mt LCE) or hard rock projects like Whabouchi (Nemaska 4.06 Mt LCE), each of them being among the largest in their category. So, if Cypress would be able to conduct successful drill programs and prove up this kind of resource, it doesn't have to worry about size at all.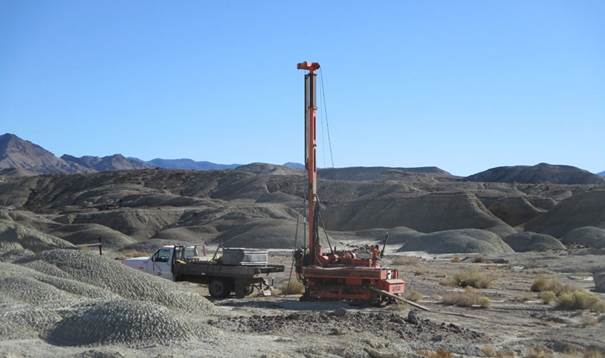 Grade is a different story, as Dean/Glory have an average grade that, if consistent at 1,000 ppm Li, would be, for example, about 30% of the average grade of Sonora of Bacanora Minerals, which sports a 3,200 ppm Li grade.
However, the methods of recovery for these projects seem to differ materially. Whereas Bacanora has been testing roasting methods with an autoclave for two years now and expects to test for another 1–1.5 years, without any material off-takes (with prepayments, only equity investments have been made with no obligations) being executed until now, recoveries and thus economics don't seem a slam dunk for this project. Roasting is a much more expensive method (two to three times standard capex), but Cypress Development seems to have options to avoid this altogether. This were other findings after its first drill program:
Potential exists for a water leach followed by dilute acid wash to mobilize lithium into solution;
Laboratory studies continue to explore the highly reactive and soluble nature of the large volume of lithium enriched rock seen outcropping at Dean.
And this is exactly where it gets really interesting for this tiny market cap. Cypress has conducted solubility lab testing on claystone samples, and these have shown 35% Li recovery by simply using a water leach method, and 95% Li recovery using a dilute Aqua Regia leach process. A 95% recovery is high for any lithium category project without further processing it. For example, Bacanora reaches 82% recovery in beneficiation (scrubbing, screening, classification and reverse flotation), and 87.2% recovery in extraction (roasting and further leaching), resulting in a 69.8% Li overall recovery. The designed FS processing plant of Lithium Americas reaches an overall processing efficiency of 71%. The LCE plant has a yield of 84%, so the earlier steps would generate an 84.5% recovery if I'm correct. Keep in mind I am just discussing the first steps in Li recovery here for Dean, as this has to be concentrated and possibly processed into LCE, but the first results are very encouraging, in my view.
The data shows that a readily soluble non-hectorite mineral form of lithium-rich claystone exist at surface, covering an area 7 kilometers long across both Glory and Dean projects. The million-dollar question is, of course, if the company can succeed in proving up a commercial recovery method, as this is new territory.
Cypress isn't sitting on its hands in that regard, and CEO Willoughby is very determined to find out. Management is proceeding with additional leach studies with the Dean assays to determine the amount of lithium extraction possible. For metallurgists among us: a modified dilute Aqua Regia leach process (ME-MS41W) and a deionized water leach process (ME-MS03) were already completed by ALS / Chemex Lab, to provide further data on the feasibility of a large-scale leach extraction method of lithium from the mineralized claystone. This solubility study returned results above expectation. The deionized water leach process resulted in strong lithium extraction (lithium solubility of 42%), and very low extraction of magnesium and calcium, two of the most contaminating elements in brines. The solution which was assayed was dubbed "synthetic brine" by management, as it closely resembled chemistry of actual producing brines from other Clayton Valley sources.
A table which is very interesting in my opinion is the comparison of this synthetic brine with the brines of neighbors Pure Energy and Albemarle:

It can be seen that the lithium grade is double the grade of Pure Energy and even four times the grade of Albemarle. Magnesium and calcium are also equally higher, but still well below usual thresholds of economic brine (for example, a well-known ratio is Mg/Li being max. 8:1). The study resulted in a table for these ratios as well:

Based on this data it can be concluded that the Dean "brine" is chemically very similar to the other two brines, but higher grade, and might even be sold to Albemarle, for example, as a brine feed. The data is so conclusive according to the company, that the current working theory is that the existing brines are continuously recharged by the claystone, which is situated in a wide belt along Clayton Valley. It would implicate that rain and underground aquifers extract the elements by simply washing them out, and feed the underlying brines this way. It resembles some kind of huge natural heap-leach situation in my view, which is fascinating to think of.
However, for commercial production a different method of mining is needed. According to Willoughby, the claystone is very soft, there is only up to a few meters of overburden as can be seen below, and as any operation will probably be large scale, it could probably even be mined by a bucket wheel excavator and conveyors, with no drilling and blasting required.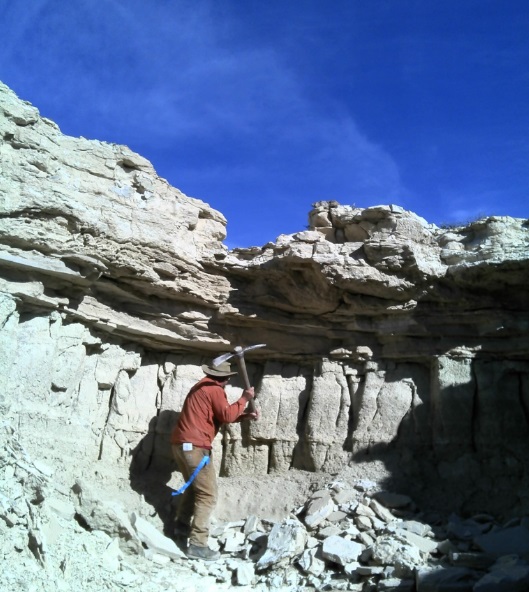 For milling he foresees run-of-mine ore with minimal time in a ball mill. The processing has to be determined yet, and is also dependent on the pricing of any lithium product that Cypress would be able to generate, whether it is synthetic brine or concentrate, or lithium carbonate or lithium hydroxide.
Further testing will be needed, and is ongoing at the moment. In the mean time, the company is also busy with a Phase II drill program, in order to delineate lithium claystone resources.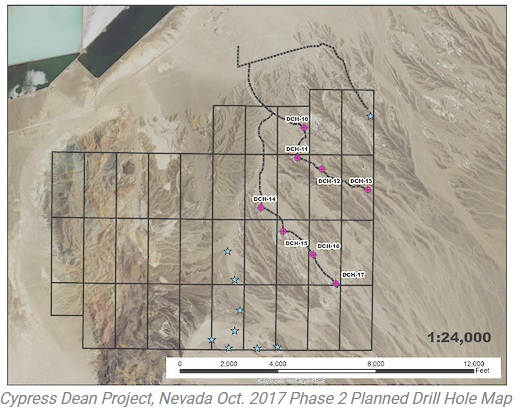 Some deeper drilling is planned for later at Glory, to explore actual brines below the claystones, as neighboring Pure Energy has already detected brines a few hundred meters away. Looking at the earlier drill results, my expectations are fairly continuous mineralization for this Phase II program for Dean, which will in turn hopefully confirm scale and continuity. Still early days, but drilling so far follows sampling beautifully until now, so I don't have many reasons to doubt it will be different this time. The first drill results will be announced in the week after next week. A maiden resource estimate is expected in Q2, 2018. Working out recovery methods and optimize for commercial production is obviously the biggest task ahead for management, but considering the results of completed test work on metallurgy this looks promising.
When we take a look at the hypothetical value of one tonne of claystone, which could contain 5.3kg LCE on average (0.53% LCE) according to drilling, we arrive at $14,000/t LCE / 188.7 = $74.2, which is very healthy for an open pit type bulk mining operation with very low opex per tonne ($10–20/t). Again, there seems to be room to maneuver for processing and recoveries.
When Cypress manages to delineate a multi-million tonne resource, which I think has a high probability, and achieves successful testing on commercial scale, which surely isn't unthinkable as well, it will be clear that this little junior could be in for a significant re-rating, as competitors with even smaller, economic projects trade at 10–25 times the valuation of Cypress at the moment.
5. Conclusion
Cypress is a tiny junior with an unusual project, but at the same time very compelling with vast potential. If management indeed manages to prove up a massive resource, and conducts solid met testing, this junior could easily become a multibagger. CEO Bill Willoughby has a very good reputation in the industry, and sees real possibilities here. The price of lithium products will probably be strong support during his endeavors with Dean and Glory. The outlook on lithium seems to be positive in my view, as EV/energy storage/fossil free developments seem to take the world by storm now, providing a very solid lithium price deck for years to come as supply probably gears up too slowly to keep up. Cypress might have a very interesting project on its hands, and I'm curious how this all could pan out.
I hope you will find this article interesting and useful, and will have further interest in my upcoming articles on mining. To never miss a thing, please subscribe to my free newsletter at http://www.criticalinvestor.eu/, in order to get an email notice of my new articles soon after they are published.
The Critical Investor is a newsletter and comprehensive junior mining platform, providing analysis, blog and newsfeed and all sorts of information about junior mining. The editor is an avid and critical junior mining stock investor from The Netherlands, with an MSc background in construction/project management. Number cruncher at project economics, looking for high quality companies, mostly growth/turnaround/catalyst-driven to avoid too much dependence/influence of long-term commodity pricing/market sentiments, and often looking for long-term deep value. Getting burned in the past himself at junior mining investments by following overly positive sources that more often than not avoided to mention (hidden) risks or critical flaws, The Critical Investor learned his lesson well, and goes a few steps further ever since, providing a fresh, more in-depth, and critical vision on things, hence the name.
Disclaimer:
The author is not a registered investment advisor, and has a long position in this stock and in Nemaska Lithium (which is also a sponsoring company). Cypress Development is a sponsoring company. All facts are to be checked by the reader. For more information go to Cypress Development Corp. and read the company's profile and official documents on Sedar, also for important risk disclosures. This article is provided for information purposes only, and is not intended to be investment advice of any kind, and all readers are encouraged to do their own due diligence, and talk to their own licensed investment advisors prior to making any investment decisions.


Dean claystone project; Clayton Valley, Nevada
Want to read more Energy Report interviews and articles? Sign up for our free e-newsletter, and you'll learn when new articles have been published. To see a list of recent articles and interviews with industry analysts and commentators, visit our Streetwise Interviews page.
Streetwise Reports Disclosure:
1) The Critical Investor's disclosures are listed above.
2) The following companies mentioned in the article are billboard sponsors of Streetwise Reports: None. Streetwise Reports does not accept stock in exchange for its services. Click here for important disclosures about sponsor fees. The information provided above is for informational purposes only and is not a recommendation to buy or sell any security.
3) Statements and opinions expressed are the opinions of the author and not of Streetwise Reports or its officers. The author is wholly responsible for the validity of the statements. The author was not paid by Streetwise Reports for this article. Streetwise Reports was not paid by the author to publish or syndicate this article.
4) The article does not constitute investment advice. Each reader is encouraged to consult with his or her individual financial professional and any action a reader takes as a result of information presented here is his or her own responsibility. By opening this page, each reader accepts and agrees to Streetwise Reports' terms of use and full legal disclaimer. This article is not a solicitation for investment. Streetwise Reports does not render general or specific investment advice and the information on Streetwise Reports should not be considered a recommendation to buy or sell any security. Streetwise Reports does not endorse or recommend the business, products, services or securities of any company mentioned on Streetwise Reports.
5) From time to time, Streetwise Reports LLC and its directors, officers, employees or members of their families, as well as persons interviewed for articles and interviews on the site, may have a long or short position in securities mentioned. Directors, officers, employees or members of their immediate families are prohibited from making purchases and/or sales of those securities in the open market or otherwise from the time of the interview or the decision to write an article, until one week after the publication of the interview or article.