• Dolly Varden is looking for much more high grade silver on its prolific land package, just inside the Golden Triangle
• A new management team has taken on Dolly Varden under the leadership of Gary Cope as President & CEO.
• After raising C$7.2M, Dolly Varden is ready for a major drill program in 2017.
• The 2016 drill results are in and look very promising.
1. Introduction
The best place to explore for a new mine is in the shadow of an old mine. This is a very old adage in the mining sector and is definitely valid for new sponsor of my website Dolly Varden Silver Corp. (DV:TSX.V). Dolly Varden is a junior exploration company fully focusing on the Dolly Varden silver district, which is home to several former high-grade silver mines. The company hopes to expand known deposits, and find new ones under the technical guidance of veteran geologist Ben Whiting (P.Geo).
This district is located at the southern end of the Golden Triangle, a well-known mining area in Canada's British Columbia province.
Dolly Varden has just started drilling, but things weren't always that bright for this little junior. The company had for example a bad share structure, debt from the past and hardly any cash, and was involved in a fight with long time major shareholder Hecla Mining Co. (HL:NYSE), which launched a buyout offer and tried to take control right before the summer. This (hostile) attempt fell back, and Dolly Varden was able to raise CA$7.2M to repay all of the debt it owed and could finally start a significant field program in September 2016. Results of this program are already impressive, and this company will probably remain fixed on the radar of many mid-tiers.
All presented tables are my own material, unless stated otherwise.
All pictures are company material, unless stated otherwise.
All currencies are in US Dollars, unless stated otherwise.
2. Company, Project, Background
Dolly Varden Silver is a mineral exploration company focused on the Dolly Varden silver properties located in northwestern British Columbia, Canada, 25km by road from deep tide water. The 8,800 hectare property hosts a robust high-grade mineral resource and is considered to be highly prospective for further high-grade deposits, being on the same structural and stratigraphic belts that host numerous other, on-trend, high-grade deposits, such as Eskay Creek and Brucejack.
There have been some recent changes to senior management. Since December 5, 2016, Gary Cope has been appointed president and CEO. He is a well known name in junior mining sector, and also very familiar with adding value regarding silver juniors. His last big deal was the buyout of Orko Silver Corporation by Coeur Mining for C$350M as the president and CEO of Orko Silver. The Board of Directors of Dolly Varden was delighted that someone of the calibre of Cope wanted to step in, and he did this because he saw great opportunities to add considerable value.
Another new and high calibre exec is Ben Whiting, the new VP of exploration, replacing Rory Kutluoglu, who is strengthening the team of Black Sea Copper and Gold. Gary and Ben know each other from Orex Minerals and Orko Silver. Gary didn't have to be very persuasive to get Ben on board. Ben Whiting is a professional geoscientist with more than 35 years experience in the international mining industry. He has worked for both major (for example, Rio Tinto) & junior companies, managing a wide range of operations from exploration through to production. He has also acted as a special advisor on mining industry matters to government agencies and is a past Adjunct Professor of Queen's University in the Geological Sciences & Mining Engineering departments. Whiting is an "Economic Geology" medal award winner and winner of the 2008 IAC "Explorer of the Year" award, and has a host of other distinctions and memberships of professional organizations to his name.
The latest addition to the team is Robert van Egmond, who is also a professional geologist with over 25 years of experience at the likes of Cominco, BHP, Kennecott, Platinum Group Metals, Candente and Northern Dynasty Minerals, and knows Gary and Ben from the time he worked at Orex recently, so it's kind of a reunion for them.
Some basic information: Dolly Varden has just 34.5M shares outstanding, with Hecla Mining as a major shareholder (about 15%). The cash position is estimated at C$3M, with no debt. The current share price is C$0.69, resulting in a market cap of C$23.81M.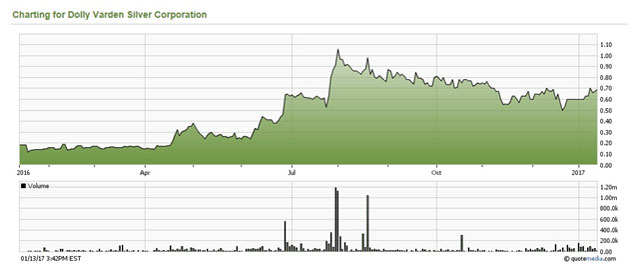 Share price; 1 year time frame
After this, it's time to elaborate a bit more on the Dolly Varden silver project.
Location, together with grade, is one of the most important features of any mining project anywhere in the world. The location and access to existing infrastructure can really make or break a project, and fortunately Dolly Varden Silver has been blessed as the location of its land package in British Columbia is pretty much as good as it gets.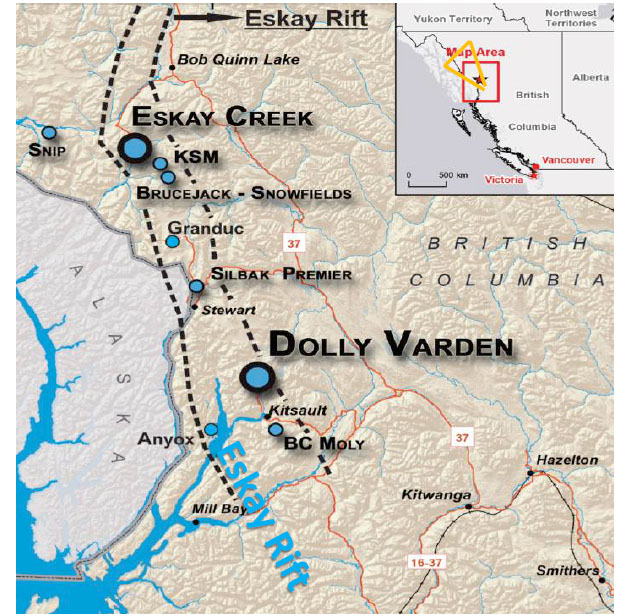 The claims are located approximately 40–45 kilometers to the southeast of Stewart, and just 25 kilometers north of Kitsault, where Kitsault Energy has unveiled plans to build a huge LNG factory to convert the natural gas coming from Alberta into LNG before shipping it out to Asia where the gas prices are much higher than on the North American continent. Even though this project is still in the early stage, right next to Kitsault is the large molybdenum project owned by Resource Capital Funds after it took Alloycorp Mining (former Avanti Mining) private. If any of both projects ever gets the green light, Kitsault's "ghost town" could become one of the newest mining-focused settlements in British Columbia.
The proximity to Stewart and perhaps Kitsault could also benefit Dolly Varden Silver as it will be much cheaper to source labor from an existing town rather than finding employees using a fly in–fly out regime. Another potential source of labor would be the city of Terrace, which is approximately 225 kilometers to the south on an all-weather road.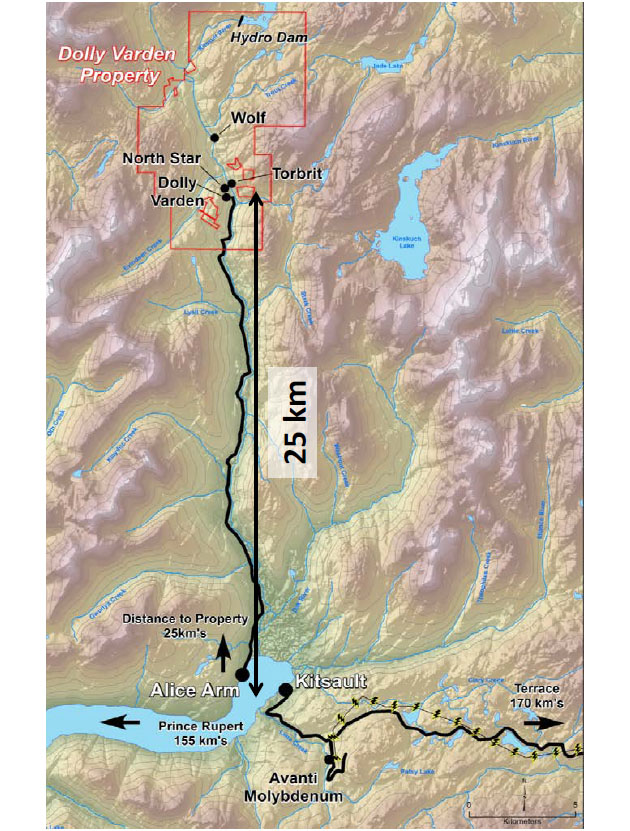 The Dolly Varden claims currently consist of approximately 8,800 hectares, which are 100% owned by Dolly Varden Silver, subject to a 2% Net Smelter Royalty (of which 1% can be repurchased C$1M). No further milestone payments nor any work commitments are required, which gives the company quite a bit of flexibility when it designs its exploration plans.
The Dolly Varden land package has seen two distinct periods of historical production; in the 1920s and 1950s high-grade ore was mined and even though the historic mine records are incomplete, approximately 20 million ounces of silver were recovered from the four historic deposits.
The most successful zone on the claims was the Torbrit mine (which was powered by its own hydropower installation, but could now be connected to the existing provincial power grid at Kitsault) where a total of 18.7 million ounces of silver as well as 11 million pounds of lead have been produced from rock with an average grade of in excess of 13.5 ounces of silver per tonne. The Torbrit mine was shut down in 1959, and it took 30 years before another drill program in 1989 was trying to uncover the rich silver veins on the property. Nothing happened after this 24 hole drill program until Dolly Varden acquired the property in 2011, more than 20 years after the most "recent" exploration program had been completed.
From 2011 to 2015, Dolly Varden continued its exploration activities at a moderate pace (after all, the silver price had started to trend down from its peak of $48.48 in H1 2011), but the company's exploration success was very consistent as all target areas returned anomalous to high-grade silver mineralization. On top of that, an underground sampling program in the historic Torbrit mine returned an average value of 262 g/t silver over a total length of approximately 226 meters.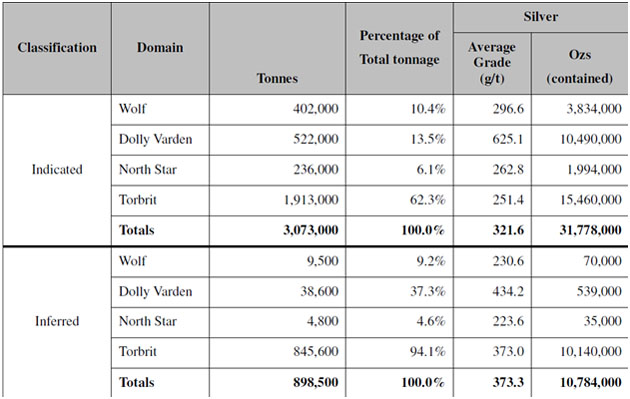 This eventually allowed Dolly Varden to complete a maiden resource estimate in August 2015, and despite the fact this resource estimate took less than 10,000 meters of drilling into consideration, the results were very encouraging with a total of 42.5 million ounces of silver (using a cut-off grade of almost 5 ounces of silver per tonne), of which 75% was located in the Indicated Resource category. As Dolly Varden has spent less than C$20M on its 2011–2015 exploration program, it's safe to say the discovery cost per ounce of silver was very likely less than C$0.50, confirming the efficiency of the past exploration programs. As far as management is concerned, this is not the end of it by any means.
The 2016 exploration program was focusing on the so-called Ace-Galena trend, where drill results confirmed the existence of a high-grade silver system, with intersections of 1.25 meters grading 454 g/t silver and 3.15 meters containing 591 g/t silver.
In this Ace-Galena trend (where both VMS-type mineralization and epithermal veins have been encountered), as this is also where the past-producing Torbrit mine is located (keep in mind the majority of the historical production in the Dolly Varden district was produced at the Torbrit mine).
The existing resource estimate containing 42.5 million ounces of silver is a nice milestone, but if Dolly Varden's geological model is even just remotely correct, there's much more to come. The Dolly Varden property contains the same host rocks as the world class Eskay Creek deposit (further up north in British Columbia). As a brief reminder, Eskay Creek was Canada's largest gold producer and one of the top-10 silver producers in the world with a total production of in excess of 3 million ounces of gold as well as 160 million ounces of silver.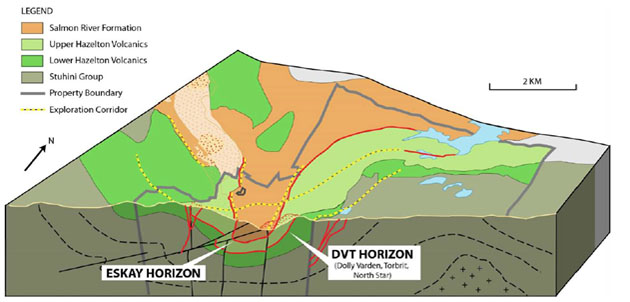 Eskay Creek wasn't just a pure gold-silver deposit, but should be seen as a VMS-type deposit with substantial base metal credits as the average grade of the zinc and lead were pretty substantial. Granted, the encountered lead and zinc grades at Torbrit and Ace-Galena (see later) were lower than at Eskay Creek, but it's encouraging to have encountered these two base metals as it further validates the thesis and the geological model.
What's making Dolly Varden even more exciting are the epithermal veins running over the property, which indicate this isn't a pure VMS deposit à la Eskay Creek, but also shows characteristics of the Brucejack project, which is currently being developed by Pretium Resources Inc. (PVG:TSX; PVG:NYSE). These epithermal vein deposits are characterized by very high-grade precious metals mineralization, and Dolly Varden's historic drill results with for instance 0.5 meters containing in excess of 3,000 g/t silver (!) and more recently 2 meters at 2,500 g/t silver are confirming the Dolly Varden property to be a blend of Eskay Creek-style and Brucejack-style mineralization that looks really promising.
3. The 2016 field program
Dolly Varden has used the flow-through funds it raised in July to complete its 2016 field program at its land package with a specific focus on the past-producing Torbrit mine, where in excess of 2,300 meters have been drilled.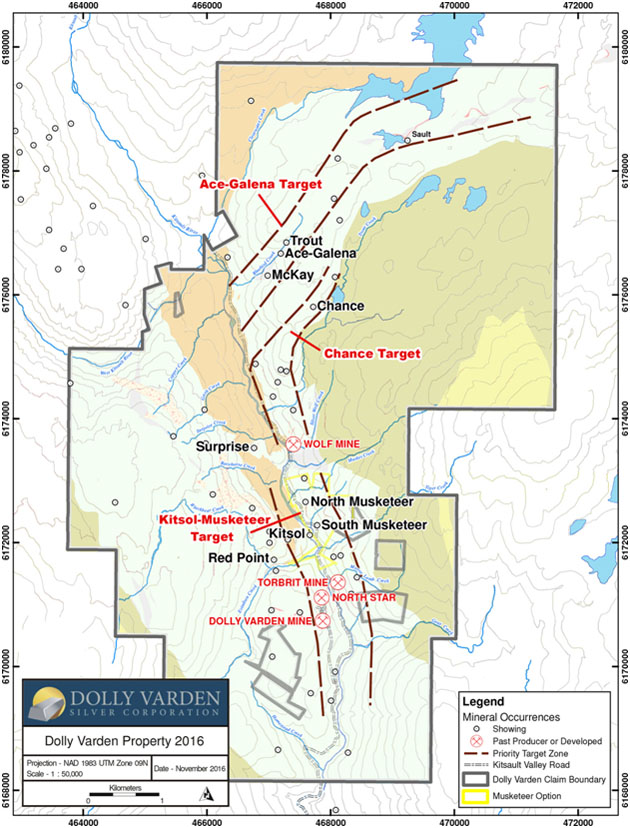 Five holes were drilled at Torbrit, but unfortunately one of the holes was lost in the historical workings. The four other holes did reach their specific targets and confirmed the continuous existence of high-grade silver mineralization. With 4 meters of 317 g/t silver and 2.82% ZnPb and 6 meters containing 367 g/t silver and 0.93% ZnPb, it's pretty safe to say the summer drill program at Torbrit has been successful as Dolly Varden was specifically testing certain zones within the so-called "resource shapes" where no drill data had been compiled before.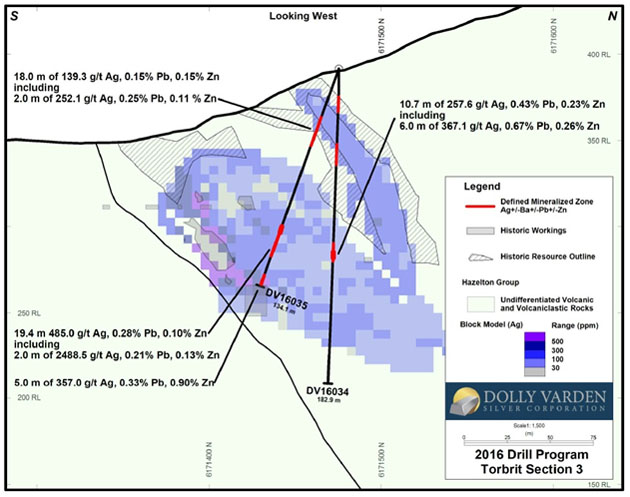 Torbrit 2016 drill results
It's very positive to encounter more high-grade silver at Torbrit, as this part of the land package will very likely be the main focus for the time being. After all, approximately 25.5 million ounces of silver of the total of 42.5 million ounces in the Indicated and Inferred resource categories are located at Torbrit. With 60% of the total resources located in one well-defined area, it shouldn't be a surprise the Torbrit zone has the potential to be fast-tracked towards development.
Of course, the greater Dolly Varden land package consists of much more than just the Torbrit zone, as this is just one of the four high-priority zones.
Approximately 2 kilometers north of Torbrit, Dolly Varden has identified the Ace-Galena zone which was the subject of a 2016 drill program after the 2015 exploration program unveiled very interesting drill results and confirmed the existence of epithermal mineralization as well as a VMS horizon.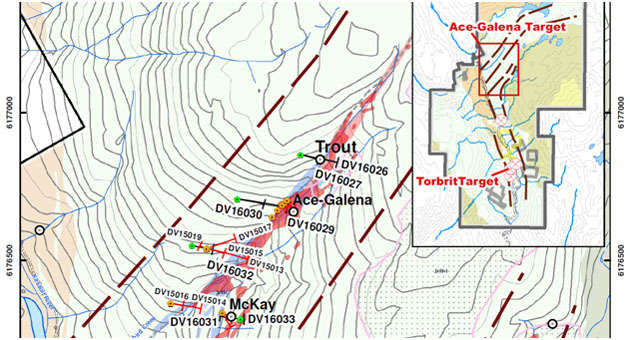 The 2016 drill program consisted of seven drill holes, of which five holes returned positive assay results with decent silver grades (ranging from just a few grams per tonne to 3.25 meters containing almost 406 g/t silver). However, the key thing to remember from the drill holes at Ace Galena isn't the silver grade, but the fact the strike length of the mineralization has now been extended by an additional 300 meters towards the north, and this will allow Dolly Varden Silver to add more tonnes to future resource estimates.
4. The Hecla takeover attempt
During the final days of June, Hecla caught everybody off-guard when it announced it would make an unsolicited takeover bid for Dolly Varden. Hecla probably felt the need to do "something" as its grip on the company was slipping away after Dolly Varden announced its intention to repay a loan to Hecla Mining.
Dolly Varden originally entered into a loan agreement with its two largest shareholders, Hecla Mining and Robert Gipson, to meet the working capital requirements in September of last year, when the entire mining sector was going down the drain. The loan originally had a one-year term, and as the original creditors didn't want to consent to a prepayment on this loan, Dolly Varden decided to refinance the Hecla/Gipson debt with erasing all debt from its balance sheet as the ultimate goal.
So why was Hecla playing hardball with regards to the original loan agreement? Hecla might have been counting on Dolly Varden not being able to meet its commitments to service the debt, and upon defaulting on the loan, Hecla would have been allowed to take the asset away from Dolly Varden, considering it was a senior secured loan.
In a first step, Dolly Varden refinanced the Hecla loan with the proceeds of a short-term loan issued by Sprott and K2. This could be seen as some sort of bridge financing, as the Sprott/K2 loan was maturing just six months later, and carried an interest rate of just 4%. This allowed Dolly Varden to immediately repay Hecla, and raise the funds to repay Sprott/K2 in a private placement.
It took a while before this placement could close as Hecla and Dolly Varden's clash was fought out in court. Hecla Mining was "not amused"' by this move, and promptly launched an offer to acquire all of Dolly Varden's shares it didn't already own at C$0.69 (in cash). This caught Dolly Varden off-guard, and the company was successful in claiming Hecla's offer to be an "insider bid," which has to be subject to an independent formal valuation.
At the end of July when the Ontario Securities Commission sided with Dolly Varden, causing Hecla to withdraw its hostile bid, Dolly Varden was finally able to close the equity placement. A total of C$7.2M was raised, consisting of 9.1 million shares priced at C$0.62/share (hard dollar) and an additional 2.14 million flow-through shares priced at C$0.70/share. The flow-through funds were immediately put to work right after the summer when Dolly Varden mobilized its field crews to complete in excess of 2,000 meters of core drilling as well as a sampling and mapping program.
With several million dollars now in the bank, Dolly Varden is in a much better shape than just six months ago. Not only has the working capital deficit (-C$2.3M as of at the end of June) been converted into a positive working capital position, the company is now completely debt-free, and more importantly, the assets are now unencumbered. Management also hired top-notch investor relations firm Skanderbeg not too long ago, so investor awareness will be up to speed soon, too.
5. Next steps/upside
There's very little doubt the first resource estimate containing 42.5 million ounces of silver was just a very first step in the right direction, and there are several possibilities to increase the resource, and to increase the value of the property.
First of all, it looks like the total tonnage of the existing resource estimate might actually be understated. As drilling was still relatively limited in the past few years, Dolly Varden's consultants have been very conservative when modeling the specific gravity data for the four zones.
In 2015, the author of the technical report has based its specific gravity estimates on 301 samples that have been collected in the 2012–2013 drill program, completed with 21 core samples from the Wolf zone in 2015. The specific gravity ranged from 2.73 (for the waste) to 3.12 (at Torbrit), and an average specific gravity ratio of less than 3 has been used to convert the rock volumes to a tonnage model.
As more data is coming to surface, it's now very likely this specific gravity assumption might be too low. The rock at Dolly Varden contains both sulphides and barite, and these usually have a higher density. This could mean the tonnage in the current resource estimate (containing approximately 4 million tonnes) could be revised upward to 4.2–4.4 million tonnes, which would also increase the total amount of silver in the resource.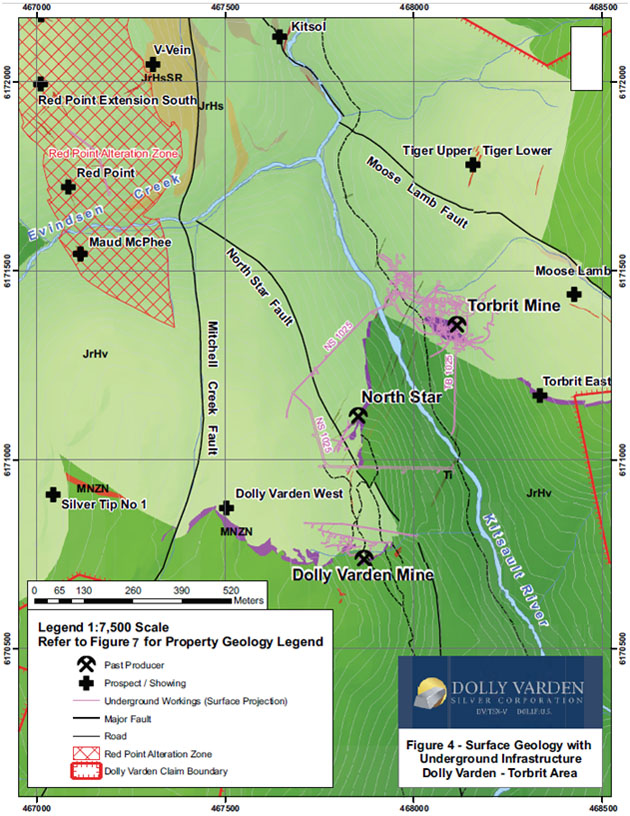 Second, there are several zones with historical data that were excluded from the current NI43-101 compliant resource estimate as there was not sufficient "new" data to confirm the historic numbers. As Dolly Varden continues to drill the zones at and around the spots where the historical mineralization occurs, it should be able to add these zones to future resource estimates, which will increase both the tonnage as well as the ounces of silver in the resource.
And finally, drilling at Torbrit and Ace-Galena confirmed the existence of zinc and lead. Even though the grades aren't very high (the combined zinc-lead ratio at Ace-Galena is generally less than 1%), both base metals could be an attractive by-product that could reduce the production cost per ounce of silver. A zinc-lead percentage of 0.75% (with a 50/50 ratio zinc/lead) will increase the value per tonne of rock by almost $20. Needless to say that adding zinc and lead to the resource estimate and a future mine plan will be accretive to the total value of the project.
After discussing these subjects with management, it seems that Dolly Varden seems on its way to possibly add 40–50% more silver (equivalent) ounces to its existing high grade resources. What this would mean for EV/oz ratios among peers can be seen in these tables, which I reconstructed and expanded upon data from a table of Haywood:

And:

Considering the stage, high grade and solid jurisdiction, I could view Dolly Varden as undervalued according to this peer comparison, as peers at the same stage have (much) higher valuations. As always with peer comparisons, you actually need to look into the chosen peers very carefully, and fully understand how their valuation could be motivated. However, as a first indication it does seem that Dolly Varden is at the low end of the spectrum for now.
All the data from the 2016 exploration program will now be analyzed during the winter, and Dolly Varden is expected to move forward in 2017 with a follow-up drill program and perhaps an updated resource estimate, incorporating all the new features of the property.
6. Conclusion
Dolly Varden Silver had a tough 2016 on the corporate front, but has been successful in defending itself against a hostile buyout offer from Hecla Mining. Dolly Varden's share price is currently lower than what Hecla was offering to pay for the company, and the recent positive exploration results have actually increased the value of the entire project.
It doesn't look like Hecla will quit its attempts to control the Dolly Varden district, as the senior silver producer has elected to keep its position in Dolly Varden Silver stable at approximately 15% (and has the right to retain that equity level as long as it owns more than 10%), so it does look like Hecla could still pursue a (friendly?) deal with Dolly Varden Silver. As other major shareholders are continuously blocking all takeover attempts until now, my expectation is that Dolly Varden will only be sold for a significant premium to today's share price, also probably doing justice to the eventual exploration upside.
The first resource estimate contains 42.5 million ounces of silver, but there's much more to be found on the Dolly Varden claims, and the recent drill results at the old Torbrit mine are very encouraging. But even if we would use the current 42.5 million ounces, Dolly Varden Silver is trading at just C$0.33 per ounce in the ground. This makes Dolly Varden Silver one of the cheapest high-grade silver companies based on EV/oz, and there's no fundamental reason why the company should be trading this cheap. As far as I'm concerned, this value gap will only widen more when incoming results and follow up drill programs will continue to yield very strong drill results.
I hope you will find this article interesting and useful, and will have further interest in my upcoming articles on mining. To never miss a thing, please subscribe to my free newsletter at criticalinvestor.eu, in order to get an email notice of my new articles soon after they are published.
Want to read more Gold Report articles like this? Sign up for our free e-newsletter, and you'll learn when new articles have been published. To see a list of recent articles and interviews with industry analysts and commentators, visit our Streetwise Interviews page.
Disclosure:
1) The author is not a registered investment advisor, and currently has no position in this stock, but might initiate one soon. Dolly Varden is a sponsoring company of The Critical Investor. All facts are to be checked by the reader. For more information go to dollyvardensilver.com and read the company's profile and official documents on sedar.com, also for important risk disclosures. This article is provided for information purposes only, and is not intended to be investment advice of any kind, and all readers are encouraged to do their own due diligence, and talk to their own licensed investment advisors prior to making any investment decisions.
2) The following companies mentioned in the article are sponsors of Streetwise Reports: None. Streetwise Reports does not accept stock in exchange for its services. The information provided above is for informational purposes only and is not a recommendation to buy or sell any security.
3) Statements and opinions expressed are the opinions of the author and not of Streetwise Reports or its officers. The author is wholly responsible for the validity of the statements. The author was not paid by Streetwise Reports for this article. Streetwise Reports was not paid by the author to publish or syndicate this article.
4) The article does not constitute investment advice. Each reader is encouraged to consult with his or her individual financial professional and any action a reader takes as a result of information presented here is his or her own responsibility. By opening this page, each reader accepts and agrees to Streetwise Reports' terms of use and full legal disclaimer. This article is not a solicitation for investment. Streetwise Reports does not render general or specific investment advice and the information on Streetwise Reports should not be considered a recommendation to buy or sell any security. Streetwise Reports does not endorse or recommend the business, products, services or securities of any company mentioned on Streetwise Reports.
5) From time to time, Streetwise Reports LLC and its directors, officers, employees or members of their families, as well as persons interviewed for articles and interviews on the site, may have a long or short position in securities mentioned. Directors, officers, employees or members of their families are prohibited from making purchases and/or sales of those securities in the open market or otherwise during the up-to-four-week interval from the time of the interview/article until after it publishes.