The Life Sciences Report: For those who aren't familiar with you, can you please tell us about yourself?
Frank Oakes: My background is in marine biology. My specialty is marine aquaculture. Before forming Stellar Biotechnologies Inc. (SBOT:NASDAQ), I had over 35 years of management experience in developing aquaculture technology and domesticating marine species. For 10 years I was the CEO of The Abalone Farm Inc., the country's largest abalone producer, and at one time the world's largest abalone producer.
Currently, I'm the chairman and CEO of Stellar Biotechnologies. Stellar specializes in keyhole limpet hemocyanin (KLH), a natural protein and immune-stimulating molecule that has only one source, the giant keyhole limpet, a wild, natural, marine mollusk that lives only along the Pacific Coast of California, from Central California to Baja California.
"Our Stellar KLH products are in multiple, clinical-stage immunotherapies."
KLH is an interesting protein. It's been used for decades as an immune stimulant, it is an active pharmaceutical ingredient (API) in many new immunotherapies, and has been used as an injectable product to assess immune response. KLH is a very versatile molecule with a long history of safe use, and is used across a wide variety of disease indications, including cancers, inflammatory diseases, Alzheimer's disease and immune disorders. It also has a wide application in research.
You can think of Stellar this way: We're working at the crossroads of two important global trends. One is the rise of immunotherapy as a potential game-changing treatment approach, and the second is the sustainable development of the ocean's essential resources. This is an exciting position for a company to be in.
TLSR: KLH is essential to immunotherapy, which is one of the fastest growing biopharma sectors. There is only one source along the Pacific Ocean. What is Stellar doing to ensure that KLH is produced in a responsible manner?
FO: You've touched on the very core of our business proposition. Stellar has the unique ability to sustain and reproduce KLH without harming the natural source animal. We have the only facility of its kind in the world. This infrastructure gives us an in-house, controlled source for delivering scalable supplies of KLH to the biopharmaceutical industry. Stellar is positioning to be the only company that can meet the long-term demand for this important pharmaceutical ingredient.
Stellar's research and manufacturing facilities are located directly along the Pacific Ocean. Our location is a proprietary asset that was acquired in the 1990s during a Naval base privatization, and was a truly unique, once-in-a-lifetime opportunity. At this location, we built a land-based aquaculture facility that can support the complete life cycle of the giant keyhole limpet. This was a first-ever industry achievement pioneered by Stellar. We developed complex methods for the culture, feeding and seawater management to sustain multiple generations of limpets over many years. Stellar's manufacturing is protected by a method patent for non-harmful protein extraction, plus we have proprietary methods for the purification and separation of the KLH molecule.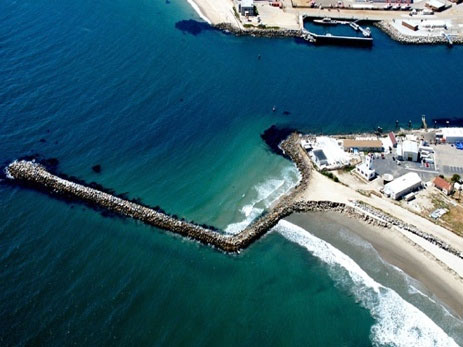 Stellar Biotechnologies' coastal processing facility
The Stellar team represents decades of research and a range of specialized disciplines, including marine sciences, biotechnology and pharmaceutical manufacturing. Our aim is to protect the natural source of KLH to ensure that future immunotherapies have a plentiful supply of this high-quality material. Because there is only one source of KHL, and because there are so many potential applications, it is imperative that we—collectively—do everything we can to protect our oceans and make sure we are operating in a sustainable and responsible fashion. We set a high benchmark for KLH manufacturing, and we're proud of our environmental achievements as well.
TLSR: Can you tell us a little more about Stellar and the unique advantage the company has over potential competitors?
FO: Stellar Biotechnologies began in 1999 as a private company in Port Hueneme, Calif. At the time, there was a paradigm shift in drug research toward strategies that employ the body's immune system to treat disease. This led to a rising demand for the KLH protein. But the supply dynamics were simply unsustainable—an uncontrolled fishery and manufacturing practices were depleting the scarce marine animal that is the only source of KLH.
Stellar Biotechnologies was founded to solve the pharmaceutical dilemma of how to ensure commercial-scale supplies of a high-quality KLH protein that, at the time, came only from a live marine animal. We were initially supported by grants from the National Institutes of Health, the National Science Foundation and the California Technology Investment Partnership. By using these funds, and by developing advanced aquaculture techniques, we transformed the threatened natural resource into a viable commercial platform.
"Stellar is now the leader in sustainable manufacture of KLH."
We then built a portfolio of Stellar KLH products, including formulations of good manufacturing practices-grade KLH for vaccine conjugation and KLH-finished products for use in immunotoxicology testing of new drugs. Our customers include multinational biotechnology companies, academic institutions and contract research organizations.
Stellar is now the leader in sustainable manufacture of KLH. We manage the source, quality and supply of KLH to a degree that no other company has achieved. Stellar has an in-house, controlled source of KLH. Other KLH suppliers are reliant on sensitive, wild populations of keyhole limpets, and cannot offer KLH that meets Stellar's standards.
TLSR: Can you share with our readers the names of some of your partners?
FO: I can share the names of those companies that we've publicly announced. We currently have agreements in place with Amaran Biotechnology Inc. of Taiwan (private), Neovacs SA (ALNEV:Alternext Paris) of France, Araclon Biotech of Spain (majority-owned by Grifols (GRFS:NASDAQ), and Ostiones Guerrero SA of Mexico (private). We are collaborating on the development and evaluation of projects with a number of companies evaluating Stellar KLH for their immunotherapy programs. Immunotherapies in clinical development using Stellar KLH include treatments for breast cancer, ovarian cancer, Alzheimer's disease, lupus and Crohn's disease.
TLSR: You mentioned Ostiones Guerrero SA. I understand you recently entered into an agreement with that company for the potential development of a second site. Is that correct?
FO: Yes, that's right. In July 2015, we announced a collaboration with Ostiones Guerrero, a long-term producer of oysters and mussels using aquaculture technology in Baja California, Mexico. We secured a collaboration agreement—an exclusive lease on a strategic Baja California site for potential development of an additional aquaculture location.
"We are collaborating on the development and evaluation of projects with a number of companies evaluating Stellar KLH for their immunotherapy programs."
This collaboration is a good example of Stellar's forward thinking. We expect demand for reliable sources of KLH to grow as clinical use of immunotherapies increases. This project offers the operational security of a second site and, importantly, the opportunity to extend our leadership in the sustainable production of KLH by controlling the protection of a large natural habitat. We already have the capacity to meet customers' clinical trial needs, but this new site would help position Stellar to accelerate KLH production to accommodate the anticipated industry growth.
If you look at the industry pipeline of new immunotherapies, with dozens of KLH-based vaccines targeting many serious diseases, you can see why we are excited about the future prospects of the KLH business. Stellar is positioning to lead that business. We have established infrastructure, the only aquaculture of its kind, smart plans for expansion and we've shown the ability to secure meaningful alliances. Our Stellar KLH products are in multiple, clinical-stage immunotherapies. It's gratifying to know we may be involved in bringing ground-breaking treatments to the market and, at the same time, we are pioneering environmental achievements that will protect the ocean's resources.
TLSR: Frank, thank you for joining us.
Frank Oakes, chairman of the board, president and chief executive officer of Stellar Biotechnologies, has more than 35 years of management experience in aquaculture, including a decade as CEO of The Abalone Farm, Inc., during which he led that company through the R&D, capitalization and commercialization phases of development to become the first profitable and largest abalone producer in the U.S. He is the inventor of the company's patented method for non-lethal extraction of hemolymph from the keyhole limpet. He was the principal investigator on the company's Phase 1 and 2 SBIR grants from the NIH's Center for Research Resources, an NSF grant, and a California Technology Investment Partnership (CalTIP) grant from the U.S. Department of Commerce. Mr. Oakes has consulted and lectured for the aquaculture industry around the world. He received his bachelor of science degree from California Polytechnic State University, San Luis Obispo, and is a graduate of the Los Angeles Regional Technology Alliance (LARTA) University's management training program.
Want to read more Life Sciences Report interviews like this? Sign up for our free e-newsletter, and you'll learn when new articles have been published. To see recent interviews with industry analysts and commentators, visit our Streetwise Interviews page.
DISCLOSURE:
1) Tracy Salcedo prepared this interview for Streetwise Reports LLC, publisher of The Gold Report, The Energy Report and The Life Sciences Report, and provides services to Streetwise Reports as an employee. She owns, or her family owns, shares of the company mentioned in this interview: None.
2) Stellar Biotechnologies Inc. is a billboard sponsor of Streetwise Reports.
3) Frank Oakes had final approval of the content and is wholly responsible for the validity of the statements. Opinions expressed are the opinions of Mr. Oakes and not of Streetwise Reports or its officers.
4) The interview does not constitute investment advice. Each reader is encouraged to consult with his or her individual financial professional and any action a reader takes as a result of information presented here is his or her own responsibility. By opening this page, each reader accepts and agrees to Streetwise Reports' terms of use and full legal disclaimer.
5) From time to time, Streetwise Reports LLC and its directors, officers, employees or members of their families, as well as persons interviewed for articles and interviews on the site, may have a long or short position in securities mentioned. Directors, officers, employees or members of their families are prohibited from making purchases and/or sales of those securities in the open market or otherwise during the up-to-four-week interval from the time of the interview until after it publishes.
Images provided by Stellar Biotechnologies.