The Gold Report: Why should investors buy stock in junior gold explorers in today's price environment?
Ken Booth: For many years, gold has been buffeted by price cycles. Make no mistake: gold is here to stay and there is always a need for gold explorers. Prudent investors are not waiting for the next rebound. They are looking to invest in experienced explorers with proven success and solid stakes in good properties. Those qualities define Redstar Gold Corp. (RGC:TSX.V). We concentrate on finding the highest grades of gold in North America—and we know where to look.
TGR: Why is high-grade gold attractive at this time?
KB: Grade is always important. The higher the grade, the better the mining economics. Grade is king because it can handle lower gold prices. By way of analogy, in the energy industry low-cost oil production is king. Low costs can survive any market. In the gold industry, high grades can weather any storm. And that's why the gold majors will pay top dollar for high-grade deposits.
Redstar's Unga Project in Alaska and our Newman Todd Project in Ontario both have the potential to be extremely high-grade deposits. Unga is our key project. It is located at the end of the Aleutian Peninsula in the Shumagin Island chain. The Alaskan government and our local partners are quite friendly toward exploration and the logistics are splendid.
TGR: Is the local infrastructure sufficient to support large-scale mining?
KB: There is an all-weather, mile-long, paved airstrip close by in the town of Sand Point, which provides a good base for operations. Diesel power for mining will be standalone, because there are no transmission lines. But that is okay because we are not talking about a large open pit, but a smaller underground mine producing high-grade ore. Historically, Unga is the site of Alaska's first underground gold mine—and as we all know the best place to explore is around a mine. The previous mine was shut down in the 1920s when the technology of the day could not efficiently process the mined ore but that is not before the "old timers" produced about 150,000 ounces of gold at ~1/3 oz/ton gold. We had our eyes on this area for years before gladly getting involved in 2011. Redstar now controls 100% of the ~100 sq mile property.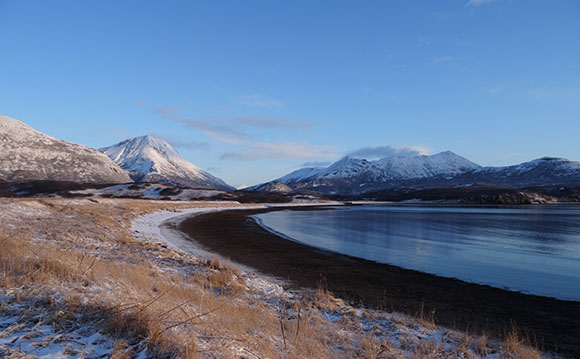 Baralof Bay, Unga Island, Alaska. Photo courtesy of Redstar Gold Corp.
TGR: What is the geological profile of the Unga Project?
KB: The Unga Project has two very long mineralized trends totaling approximately 12 miles. The past-producing Apollo-Sitka mine lies along one of those trends. Our diamond drilling in one zone, called the Shumagin, encountered high-grade gold. That exploration delineated sites for further drilling. We completed an eight-hole, 1,500-meter (1,500m) diamond drilling program on the Shumagin Gold Zone in May 2015. Assay results contained several high-grade gold and silver intersections, including 202 grams per tonne (202 g/t) gold and 82 g/t silver over 1.9m and 35.3 g/t gold and 209 g/t silver over 2m. Results showed continuity of the Shumagin Gold Zone at depth and along strike. Shumagin and Apollo-Sitka are just two of many mineralized occurrences on the Unga Project.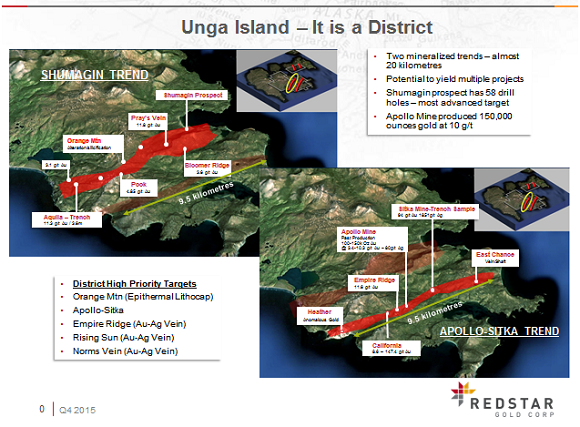 Courtesy Redstar Gold Corp.
TGR: Is Redstar interested in transitioning to production?
KB: Right now, we are explorers, not producers. Companies have certainly made a smooth transition from exploration to production, but we are happy with prospectivety. We plan to continue drilling the Shumagin Gold Zone, while exploring other targets. Remarkably, we have the entire 100 square mile Unga district to ourselves—no competitors pressuring us—and we have only begun to scratch its surface. A second phase diamond drilling program is planned for 2016. It will test for further depth and strike extensions and other prospective high-grade gold targets located within the Unga gold project.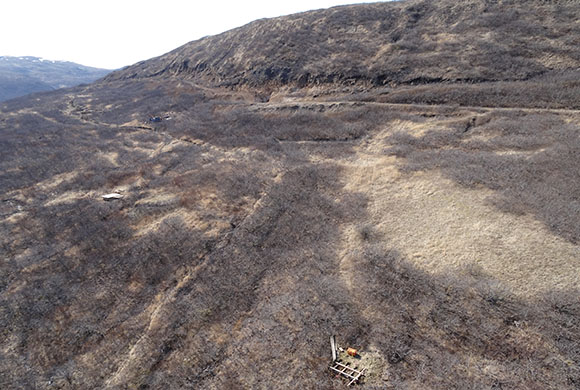 View of drill pad locations for Summer 2015 Drilling Program on Shumagin Vein System, Unga Island, Alaska. Photo courtesy of Redstar Gold Corp.
TGR: What is the land ownership status?
KB: We control 100% of the land via three types of ownership. We have state claims in Redstar's name. We have fully patented claims, which is private land owned 100% by Redstar. We have a five-year option to lease agreement with the Aleut Corporation. It is one of 13 Alaskan native corporations. It holds the rights to the minerals outside of our state claims and patented land. The native corporation's mandate is to produce dividends for its shareholders, so our wealth-generating project dovetails with its strategy of maximizing asset value.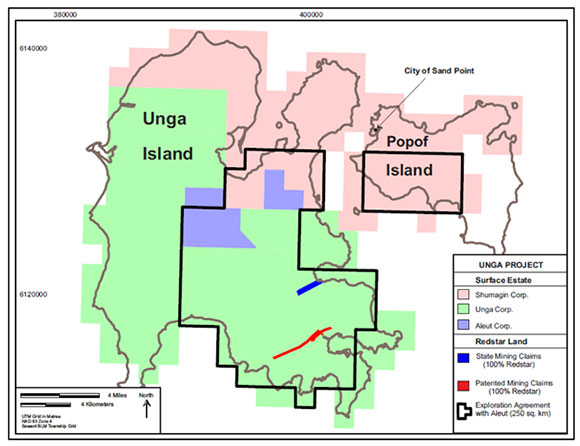 Courtesy Redstar Gold Corp.
TGR: Are there geological analogs to your Unga island property?
KB: From a technical point of view, we are exploring a low sulfidation epithermal style of mineralization. That is analogous to the Kupol property north of Russia's Arctic Circle that Bema Gold explored, developed and sold to Kinross Gold Corp. (K:TSX; KGC:NYSE) in 2010. In Argentina, Andean Resources explored a similar mineralization leading to the Cerro Negro deposit. Based on exploratory results, Goldcorp Inc. (G:TSX; GG:NYSE) bought that deposit for $3 billion.
Mirroring those successes, Meridian Gold developed a low sulfidation thermal deposit at El Peñón mine in Chile. That project was bought by Yamana Gold Inc. (YRI:TSX; AUY:NYSE; YAU:LSE). These three deposits—Kupol, Cerro Negro and El Peñón—are very high grade and geologically similar to our Unga holdings.
TGR: What will be the technology for extracting the gold?
KB: The beauty about the low sulfidation epithermal mineralization is that for the most part the processing is a tried and proven technology of simply crushing and milling the ore, exuding a gold product at site at a good cost. This is not a complex type of ore nor is it an expensive process.
TGR: What talent and experience does your management team bring to the Unga enterprise?
KB: Our VP of Exploration, Jesse Grady, holds a master's degree in structural geology. He's from Alaska and is very familiar with these types of deposits. I have a degree in geology and an MBA, with lots of capital markets experience. I have managed junior exploration companies for 17 years, through both good and bad times. Our board has two technically oriented directors, Sean Keenan out of Australia and Rob McLeod out of Vancouver. Rob was responsible for the Underworld discovery in the Yukon that was sold to Kinross, a great play.
A key point is that our managers and directors own 20% of the company. Our executive chairman and largest shareholder is Jacques Vaillancourt, who served as managing director and head of European equity products at BMO Capital Markets Corp.
TGR: Has Mr. Vaillancourt been involved since the inception of the project?
KB: Jacques became involved in 2013 when he recognized the potential of the Unga Project. At that time the company needed an infusion of capital. He put in his own money and brought others to the table to recapitalize Redstar and refocus it on the Alaskan project.
TGR: Do you have institutional investors?
KB: We have attracted an international mix of institutional investors from North America and Europe—holding about 35% of our shares. The shareholders with quoted gold funds include Geologic Resource Partners, Odey Asset Management, Gold 2000, U.S. Global Investors, Gabelli Capital, and Smith & Williamson.
TGR: What is your strategic financing plan going forward?
KB: We are not carrying any debt and our cash balance is $400,000. We are committed to prudently financing Redstar and the advancement of the Unga Project at the lowest cost of capital through the next several rounds of drilling. The two most obvious forms of financing are equity issues and getting a partner for Unga, but regardless of the method or combination of methods it has to make sense for Redstar and its shareholders. We are vetting new partners with experience in high-grade epithermal gold deposits and the balance sheet to move the Unga Project forward. To that end, we have signed several confidentiality agreements.
TGR: What does all of this mean for investors?
KB: The obvious attraction for investors and partners is that Redstar controls the Unga district, which contains a very high-grade potential. The trend has had successful past production. The jurisdiction is favorable. We now have the best and intimate knowledge of this largely underexplored area. We enjoy a secure shareholder base with 50% of our shares held by insiders and institutions. We are not a one-trick pony: there are at least eight targets with good potential. Our management team has experience advancing exploratory projects from the early stages through acquisition.
TGR: What is the next catalyst in Alaska?
KB: We already know that we have the high grade in the Shumagin, and that zone is only one of many zones along our 12 miles of trends. We are prepared to move forward now, whereas a lot of other companies in our industry are a bit curdled. The takeaway for Redstar investors is that we have discovered a style of mineralization and a series of high-grade targets that will work in most gold price environments. Redstar is definitely ahead of most of our peers.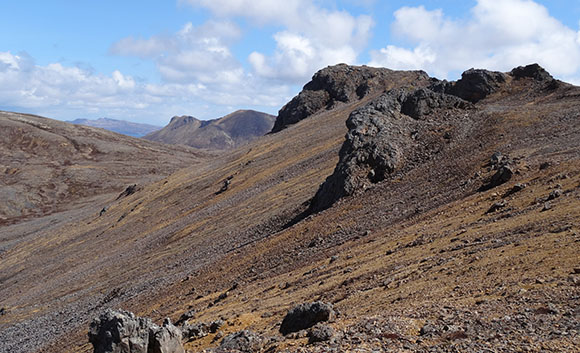 Orange Mountain Prospect, Unga Island, Alaska. Photo courtesy of Redstar Gold Corp.
TGR: Redstar is joint ventured in another high-grade gold operation in Canada. What are the particulars of that project?
KB: Our Newman Todd project is in the Red Lake Camp, which is a famous high-grade gold camp in Ontario, Canada. We began that play in 2005. The Newman Todd sports 30 miles of drilling in 165 holes. And 90% of those holes have intersected the mineralized structure and 41% of all the holes have high-grade gold associated with them. Following Redstar's successful drilling we attracted a partner in 2010, Confederation Minerals Ltd. (CMF:TSX.V). The partner spent approximately $10 million and has now earned 70% of the Newman Todd project. The partners are looking at various ways to move the project forward.
TGR: You have acquired a portfolio of gold properties in Nevada. How do they fit into your long-term plan?
KB: We have 11 exploration projects in Nevada, which is one of the largest gold producing areas in the world. The properties were strategically picked in areas with a history of gold production, or along trends where there is known gold mineralization. We are monetizing the project by finding joint venture partners. Most of our corporate energy is currently focused on the Unga exploration, so we are content to have our partners advance the Nevada and Ontario projects on their own dimes and for our benefit.
It may be a truism, but investors get the biggest bang for the buck in discovery.
TGR: Thank you for your time, Ken.
Ken Booth is currently a director of Redstar Gold Corp. and is acting as interim president and CEO. He holds a Bachelor of Science degree in geology and an M.B.A. He began his career as a geologist for companies such as Falconbridge, Anaconda and Minnova. Subsequently Booth embarked on a career in banking and investment banking at Scotia Bank, BMO Capital Markets and, lastly, RBC Capital Markets. Since 1998 Booth has been the CEO of several public companies and is currently a director of two public exploration companies.
Read what other experts are saying about:
Want to read more Gold Report interviews like this? Sign up for our free e-newsletter, and you'll learn when new articles have been published. To see a list of recent interviews with industry analysts and commentators, visit our Streetwise Interviews page.
DISCLOSURE:
1) Peter Byrne conducted this interview for Streetwise Reports LLC, publisher of The Gold Report, The Energy Report and The Life Sciences Report, and provides services to Streetwise Reports as an independent contractor. He owns, or his family owns, shares of the company mentioned in this interview: None.
2) Redstar Gold Corp. is a sponsor of Streetwise Reports.
3) Ken Booth had final approval of the content and is wholly responsible for the validity of the statements. Opinions expressed are the opinions of Ken Booth and not of Streetwise Reports or its officers.
4) The interview does not constitute investment advice. Each reader is encouraged to consult with his or her individual financial professional and any action a reader takes as a result of information presented here is his or her own responsibility. By opening this page, each reader accepts and agrees to Streetwise Reports' terms of use and full legal disclaimer.
5) From time to time, Streetwise Reports LLC and its directors, officers, employees or members of their families, as well as persons interviewed for articles and interviews on the site, may have a long or short position in securities mentioned. Directors, officers, employees or members of their families are prohibited from making purchases and/or sales of those securities in the open market or otherwise during the up-to-four-week interval from the time of the interview until after it publishes.