The Gold Report: In the last six months Sierra Metals Inc. (SMT:TSX) has replaced its president/CEO, director of corporate development, VP Exploration and COO. Why was this wholesale transformation of management necessary, and what is your mission as the new president/CEO?
Mark Brennan: Sierra was previously a somewhat disjointed company and lacked centralized management. Historically, Sierra had a CFO in Peru and a CEO in West Virginia and Arizona, with corporate development being run out of Vancouver. What I've done as the new president/CEO is bring everything together under one roof in Toronto and encourage communication between all of our operations.
We have three producing underground mines: Bolivar and Cusi—which are 100% Sierra-owned—in Chihuahua, Mexico, and Yauricocha in Peru, which is 82% owned by Sierra. In the past, we ran our Mexican and Peruvian operations as entirely distinct entities. Now, with the benefit of a fully integrated corporate structure, I believe we can continually engineer efficiencies and synergies between Mexico and Peru.
TGR: What is your history in the mining business, and what strengths do you bring to Sierra?
MB: Before becoming president/CEO of Sierra in April 2015, I was president/CEO of Largo Resources Ltd. (LGO:TSX.V). Under my leadership, Largo built the Maracas vanadium mine in Brazil, which began production in 2014. My background is primarily in financial and administrative management. My strengths are in identifying missing pieces in the corporate structure and assembling the team best suited to drive operations forward.
TGR: What do the other members of your management team bring to the table?
MB: We have a solid CFO, Ed Guimaraes, who was in place before I got here. Gordon Babcock, our new COO, has 34 years of experience with production development and management, engineering, exploration and mine consulting. He brings a whole suite of tools with him and will be integral to the modernization of our operations.
Matt Wunder, our new VP Exploration, has 25 years of experience and was a Colin Spence Award recipient for excellence in mineral exploration. Mike McAllister, our new director of corporate development, has a long history in the mining sector and knows that we have a strong story to tell, and he's just the man to tell it.
TGR: What are the production profiles for each of your mines?
MB: Yauricocha, in Peru produces about 2,500 tons per day (2.5 Ktpd). This mine has been operated using older techniques. We are introducing new and safer techniques, which should increase production. We are targeting 4 Ktpd within 24 months.
Bolivar and Cusi are both in Chihuahua, Mexico. Bolivar is accessed through adits into the side of the mountain. It produces 2.5–2.8 Ktpd. We are targeting 4 Ktpd within 18 months.
Cusi produces ~600 tpd. What we're doing there is building a mine without incurring the upfront capital expenditure (capex) normally required. Although we've had commercial production at Cusi since 2013, full production will not be achieved until late 2016 or early 2017.
TGR: Q3/15 throughput at Yauricocha was down 14% due to the operational improvements you just mentioned. When will they begin to pay off?
MB: We're already seeing immediate results in mining efficiency, work safety, work quality and worker satisfaction. We expect a rapid improvement in production by Q2/16.
TGR: How many mills does Sierra own?
MB: We have three. The mill at Yauricocha is called Chumpe and operates currently at 2.5 Ktpd. We expect to receive by the end of the year a licence to increase that to 3 Ktpd. Over the next 24 months, we believe throughput of 4 Ktpd can be achieved. Ultimately, throughput of 7 Ktpd should be possible without much additional capex.
Bolivar's Piedras Verdes mill produces 2.5–2.7 Ktpd. We expect that to rise to 4 Ktpd within 18 months with little capex. Cusi, as mentioned earlier, is a development project that produces 600 tpd from its Mal Paso plant. Throughput will rise as Cusi expands, again with little capex.
TGR: What is the source of the ore that will feed this mill expansion?
MB: All of our mines are really mining regions. Our land packages are 18,000 hectares (18 Kha) at Yauricocha, 15 Kha at Bolivar and 12 Kha at Cusi. None of these packages has had brownfield exploration in the immediate vicinity of the mines or greenfield exploration beyond that.
At Yauricocha, we have four or five high-value brownfield targets within one kilometer (1km) of the mine. These can be added to the production profile quickly, perhaps even by the end of 2015.
At Bolivar, we are focusing on the El Gallo Superior and Inferior deposits. Each deposit is running parallel to a 3km horizontal trend, which is accessed through the adits on the side of the mountain. Just as at Yauricocha, we have very strong potential mine optimization and brownfield opportunities. We will focus on brownfield exploration first and then later on greenfield.
At Cusi, the mine depth is still very shallow with many small veins, so we're still building operating faces.
TGR: What is the cost of production at your mines?
MB: At Yauricocha, production on a cash-cost equivalent basis is ~$8.50 per ounce ($8.50/oz) silver. Its all-in sustaining costs (AISC) are closer to $10.50/oz. Our ongoing improvements should reduce this in the future.
At Bolivar, our current cash cost is about $1.65 per pound of copper equivalent ($1.65/lb Cu eq). The AISC are closer to $2.15/lb Cu eq. We expect efficiency savings here as well in the future.
Cusi has been a real hybrid between operating and development costs. For years the ratio of developmental to operational costs has been ~80:20. Moving into 2016, we'll see the inverse ratio (operational: development) moving toward ~70:30. Operating costs at Cusi are now just under $10 per pound silver equivalent ($10/lb Ag eq), while the AISC are closer to $25/lb Ag eq. These will be substantially reduced over the next 12 months.
TGR: Since 2010, Sierra has managed to continually increase resources while increasing production. How have you accomplished this?
MB: What the Company has done historically is just follow the mines to where they lead visually. Yauricocha is a very prolific deposit. It's been producing for 65 years, and we believe it will continue to produce for another 65. The best testament to its quality is that we've managed to increase both production and reserves over the last five years despite the fact we've spent very little on the mine or in exploration. And as we continue to become more efficient there, Yauricocha will continue to become more profitable.
Bolivar is much the same—we've mined the vein systems we have. Our shift to brownfield exploration will dramatically change how Bolivar will be mined, as we introduce modern equipment and methodologies.
Both mines are great playgrounds that we will continue to enjoy exploring, exploiting and making more efficient.
TGR: For how long can Sierra continue to increase production without significant developmental changes or the acquisition of new projects?
MB: Indefinitely, I think. All three of our mines have tremendous scale, and we see them growing in multiples from where they are today.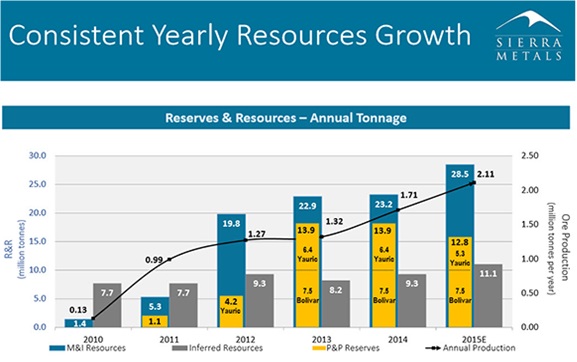 Source: Sierra Metals
TGR: Sierra describes itself as a midtier producer. How big do you intend to become, and how do you intend to accomplish this?
MB: We're at the lower range of being an intermediate producer. With the assets we have, I certainly believe we can become one of the smaller large-cap mining companies just through organic growth. It is certainly within our grasp to have a billion-dollar valuation within the next few years.
That's not to say we won't consider mergers and acquisitions. We will certainly take a look at them, but they would have to be very attractive to compete with the assets we have already.
TGR: How has the new royalty regime in Mexico affected Sierra?
MB: To date it hasn't had any impact.
TGR: On Oct. 16, your shares rose 13% after it was announced that Q3/15 copper production at Bolivar was up 16%, and Q3/15 Ag eq production at Cusi was up 75%. Was this share price bump a one-time thing or a longer-term realization by the market of Sierra's true value?
MB: As you're asking the CEO, I suspect you already know the answer to that question. I'll reiterate my belief that our market cap is a fraction of what it could be and that we could become a billion-dollar company within the next three to four years.
The low-hanging fruit of greater efficiency and brownfield development will fuel Sierra's dramatic growth in short order.
TGR: Where do you see your company in three years?
MB: I see total production of 10-15 Ktpd and a market cap north of $1 billion. We have a very good balance sheet. We're a low-cost producer. We have many ample yet low-cost opportunities.
TGR: Mark, thank you for your time and your insights.
Mark Brennan has 30 years of financing and operating experience in North America and Europe. He most recently served as president/CEO of Largo Resources, where he facilitated the acquisition of its Maracas vanadium project, which began commercial production in 2014. Before that, he was associated with Desert Sun Mining, Linear Capital, Brasoil Corporation, James Bay Resources, Morumbi Oil and Gas and is the former president/CEO/chairman of Admiral Bay Resources. He is a graduate of King's College London.
Want to read more Gold Report interviews like this? Sign up for our free e-newsletter, and you'll learn when new articles have been published. To see a list of recent interviews with industry analysts and commentators, visit our Streetwise Interviews page.
DISCLOSURE:
1) Kevin Michael Grace conducted this interview for Streetwise Reports LLC, publisher of The Gold Report, The Energy Report and The Life Sciences Report, and provides services to Streetwise Reports as an independent contractor. He owns, or his family owns, shares of the following companies mentioned in this interview: None.
2) Sierra Metals paid Streetwise Reports to conduct, produce and distribute the interview.
3) Mark Brennan had final approval of the content and is wholly responsible for the validity of the statements. Opinions expressed are the opinions of Mark Brennan and not of Streetwise Reports or its officers.
4) The interview does not constitute investment advice. Each reader is encouraged to consult with his or her individual financial professional and any action a reader takes as a result of information presented here is his or her own responsibility. By opening this page, each reader accepts and agrees to Streetwise Reports' terms of use and full legal disclaimer.
5) From time to time, Streetwise Reports LLC and its directors, officers, employees or members of their families, as well as persons interviewed for articles and interviews on the site, may have a long or short position in securities mentioned. Directors, officers, employees or members of their families are prohibited from making purchases and/or sales of those securities in the open market or otherwise during the up-to-four-week interval from the time of the interview until after it publishes.