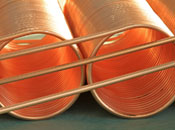 Early this year copper prices dropped hard and fast. They went from about $3/lb to, briefly, under $2.50/lb in late January. Asian traders took a sudden bearish view of copper on the back of routs in oil and iron ore and drove the price down.
With the crashing copper price so went the miners, no surprise here. Mining equities with key copper operations tumbled heavily. The likes of Lundin Mining and Hudbay lost a quarter or so of their share price over the course of a few days back in mid-January. As noted back then, the copper rout seemed overdone. In contrast to iron ore, copper did not (and does not) suffer the same bearish outlook of a pervasive and sizeable long-term oversupply.
Come back
So it hasn't been hugely surprising to see copper prices regain lost territory over the past couple months. Indeed, spot copper back to where it started the year. In recent days it has traded near $2.90/lb for the first time since January. Copper's claw back has largely undone the damage inflicted earlier in the year to most base metal miners. A round-up of intermediate/major miners with important copper operations (but not iron ore) highlights the climb back.
Here's a look at a closing prices for a smattering of copper miners January 2 (when copper was doing ok), January 15 (when copper really wasn't doing ok), and then May 1 (by which point copper had put in its 2015 come back):
Glencore: 285.30/231.05/312.65
Teck Resources: C$16.13/C$13.56/C$18.92
Hudbay: C$10.60/C$8.08/C$12.51
Lundin Mining: C$5.83/C$4.14/C$6.30
Nevsun Resources: C$3.88/C$3.46/C$4.00
Base over bulks
The climb back of both the metal and the miners validates a theme mining analysts have struck this year: to choose base over bulk mining equities, at least as performing better relatively speaking. The underlying argument here is that the supply picture in bulks like iron ore looks really challenging. Much more iron ore is set to come to market than, it's assumed, is needed. Yet no such challenging view exists for the likes of copper, or other base metals like zinc. Given this it wouldn't be all that surprising to see iron ore prices—and equities with lots of exposure to iron ore—flounder in the months (and possibly years) to come. Meantime, base metals—and the base metal miners—could hold their own.
Kip Keen
Mineweb