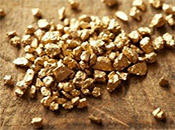 Investors in gold mining stocks have a great catalyst for profits right now: increased deal-making among gold mining companies.
Low gold prices are likely the impetus for increased M&A activity. As explorers, developers, and producers all attempt to trim spending and rationalize costs, more are turning to the strategy of business combinations.
It's a trend that's likely to heat up in the short and medium term as pressure builds to minimize losses and squeeze out profits.
This all means profits ahead for certain gold mining stocks—here's where to look. . .
"Merger of Equals" Between Alamos and AuRico
The latest M&A development among gold miners brings news of a friendly merger between AuRico Gold Inc. (NYSE: AUQ) and Alamos Gold Inc. (NYSE: AGI).
In a deal valued at $1.5 billion, the new business will bear the name of Alamos Gold. With similar market caps, the two entities are combining in what many see as a merger of equals.
The market appears to have liked the deal. On April 13, the day of the announcement, Alamos shares gained 6.6%, while AuRico shares rose 8.2%.
Cash-rich Alamos has been seeking to add to its production assets, while cash-poor AuRico will benefit from the funds to help develop its Young-Davidson mine in Ontario. By some estimates, combined production should reach 400,000 ounces in 2015 and as much as 700,000 ounces by 2018.
As a result, the new Alamos will become a noteworthy contender in the mid-tier gold-producing space.
There will also be a spin-off company named AuRico Metals. It will contain AuRico's Kemess project, a 1.5% net smelter royalty on Young-Davidson, AuRico's Stawell and Fosterville royalties, plus about $20 million in cash. The new Alamos will hold 4.9% of the new company. The balance of shares will be split evenly among Alamos and AuRico shareholders.
The best part for investors: the gains might not be over. . .
You see, analysts at the Canadian Imperial Bank of Commerce (CIBC) think this could make AuRico a takeover target by other suitors.
The most likely potential suitors are miners with assets operating near those of AuRico. CIBC believes the best matches are Goldcorp Inc. (NYSE: GG), New Gold Inc. (TSE: NGD), and IAMGOLD Corp. (NYSE: IAG). They expect some sort of M&A deal will close within one and a half to two years, likely with a premium.
One thing could prevent a bidding war, though: the break fee.
It's steep—$37.5 million for AuRico and $28.4 million for Alamos. But more importantly, AuRico comes with $300 million in debt.
Plus, bidding wars have been few and far between in this sector as potential acquirers have acted with restraint for the past few years.
However, AuRico's assets are attractive as their quality is high and they benefit from mainly favorable geopolitics.
Given the relative scarcity of quality mines and development projects in advantageous locations, I'd say the odds are pretty good someone else wants to chase AuRico.
For investors looking for the next big winner in gold mining stocks, there are a couple other companies that look like the next takeover targets. . .
Two Gold Mining Stocks to Watch Now
Gold Mining Stocks to Watch, No. 1: Rubicon Minerals Corp. is an emerging gold producer. Its flagship is the high-grade Phoenix Gold Project located in Red Lake, Ontario.
That's the same area where Goldcorp operates its Red Lake gold mine, boasting an average grade of more than 2 ounces of gold per tonne. Goldcorp is also developing its nearby Cochenour mine.
Rubicon's Phoenix project is only about 8 kilometers away from both of Goldcorp's Red Lake projects. Rubicon's land claims cover 100 square miles in the area, including 40% of the claims in Red Lake.
What's more, the Phoenix project looks robust. Initial production is expected in mid-2015 and should reach 165,000 ounces in average annual production. And the all-in sustaining cost to produce an ounce of gold is just $870. That should allow it to be a profitable mine from the first ounce, even at lower gold prices.
Gold Mining Stocks to Watch, No. 2: A second attractive takeover target is Carlisle Goldfields. Interestingly, there's an AuRico connection here, too.
Carlisle is a gold explorer/developer advancing its Lynn Lake asset, which includes as many as five deposits. AuRico has invested $5.6 million for a 19.9% equity interest in Carlisle and a further $5 million for a direct 25% interest in the Lynn Lake Gold Camp Project.
The Lynn Lake investment is a joint venture with AuRico as project operator, required to fund $26 million over the next three years to advance feasibility and exploration. AuRico can earn up to a 60% stake by delivering a 43-101 compliant feasibility study within the three-year earn-in period.
Lynn Lake benefits from great infrastructure and low power costs. The Lynn Lake Greenstone belt has seen previous gold and silver production in the late 1980s.
Clearly, AuRico recognizes the potential for strong production of about 145,000 gold ounces annually from Lynn Lake and is willing to pony up for a share in it. And the all-in sustaining cost to produce an ounce of gold at this location is just $700, which will boost profits.
Gold mining stocks like Rubicon and Carlisle should perform well as gold prices improve, even if a takeover doesn't materialize.
Peter Krauth
Money Morning