Two of the world's top pharmaceutical companies have announced a merger today (Thursday), and that's another major buy signal for one of our favorite profit opportunities.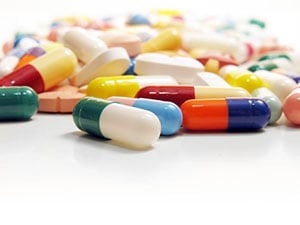 AbbVie Inc. (NYSE: ABBV) officials announced they will purchase Pharmacyclics Inc. (Nasdaq: PCYC) for roughly $21 billion.
The deal gives AbbVie access to one of the world's top-selling cancer drugs, Imbruvica. Revenue from Imbruvica alone is expected to hit $1 billion in 2015 and $5.8 billion by 2020.
Today's pharma company deal is the largest biotech merger of 2015, and one that many Wall Street "experts" didn't see coming…
The Pharma Stock Profit Play Wall Street Is Missing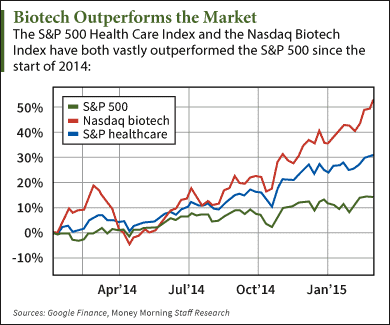 You see, Wall Street declared the market for healthcare M&A activity dead.
The federal government cracked down on "tax inversion" deals in September, and most experts thought that would deter M&A. A "tax inversion" is when a company buys an international firm and headquarters in that country to avoid the United States' high tax rate.
But Money Morning's Defense and Tech Specialist Michael Robinson knew that M&A wasn't going to stop – especially among the top pharmaceutical companies.
His research showed that the M&A market was actually growing. Before today's deal, more than $35 billion had been spent on global healthcare mergers and acquisitions in 2015. That was up 124% from last year. Today's deal pushes that total over $57 billion.
AbbVie's acquisition of Pharmacyclics isn't a tax inversion deal. But it does show that the M&A market is far from "dead" like many predicted.
Healthcare M&A is going to continue. Top pharmaceutical companies go on the hunt for smaller firms when their older patents are about to expire. Instead of developing their own drugs – which can take up to 10 years and $1 billion – they buy other companies with new drugs.
That's the case with today's AbbVie/Pharmacyclics deal. The acquisition takes pressure off AbbVie's biggest revenue generator, Humira. The rheumatoid arthritis drug accounted for $3.36 billion in Q4 alone. However, the company expects sales of the drug to decline in 2017 and 2018.
A new report from Thomson Reuters shows the healthcare sector ranks third for deal making behind the telecom and financial sectors.
"M&A deals will remain a big driver for the whole healthcare industry," Robinson said. "The pickup in M&A activity will translate into healthy bonuses for bankers and lawyers, certainly, but it will also continue accelerate stocks in the biotech and pharmaceutical sectors way past the overall market."
"Since the start of 2014, the S&P 500 Health Care Index has soared 31.5%, and the Nasdaq Biotech Index has advanced 54.5%," he continued. "The wider Standard & Poor's 500 Index, meanwhile, has jumped just 14.3%."
Investors don't have to guess the next takeover target that will see its stock soar. Robinson has found an excellent way to profit from the entire healthcare M&A surge. It's up 17% in 2015, and has plenty of room to run. . .
The Single Best Way to Profit from Top Pharmaceutical Companies Now
Robinson recommends the SPDR S&P Pharmaceuticals (NYSE: XPH) ETF. It's composed of some of the top pharmaceutical companies on the market and several aggressive small caps.
"XPH is not an M&A fund – but it's a great way to take advantage of the trend," Robinson said. "This ETF focuses on the industry's bread and butter: high earnings.
"And many companies in the fund's portfolio will likely end up growing through mergers. Or they could become targets themselves."
The ETF has 36 holdings, and the average market cap is $36 billion. Here's how Robinson explains some of the ETF's most important holdings:
Actavis Plc. (NYSE: ACT) is a global specialty drug firm that makes generic and branded compounds. The firm markets approximately 1,000 products, including both prescription and over-the-counter drugs. The company has been on an acquisition binge. In November, the Dublin, Ireland-based firm said it will buy Botox-maker Allergan Inc. (NYSE: AGN) – which XPH also holds – for $66 billion. And in July, it picked up Forest Laboratories Inc. for $25 billion.
Jazz Pharmaceuticals Plc. (Nasdaq: JAZZ), also based in Dublin with substantial operations in California, has grown quickly since its founding in 2003. Buying products from other firms has played a big role in its global expansion. It has either licensed or acquired outright six major drugs in 11 years. It's best known for Xyrem, a drug that treats sleeping disorders. In late 2013, it agreed to acquire all of Italy's Gentium SPA (OTCMKTS ADR: GENTY) for $1 billion.
Eli Lilly and Co. (NYSE: LLY) is one of the best-known firms in pharmaceuticals. And now it is moving aggressively into high-margin products for animals. Last April, it announced the $5.4 billion acquisition of the animal health division from Novartis AG (NYSE ADR: NVS). The move makes Lilly the world's second-largest animal healthcare business after Zoetis Inc. (NYSE: ZTS), which XPH also holds. The world's 10th-largest pharmaceutical firm operates in 125 countries.
Merck & Co. Inc. (NYSE: MRK) is a company I know well, having had lunch with a former CEO several years ago. He talked me into trying Claritin for my allergies, and I've been taking it ever since. The company is in a state of transition, as evidenced by its recent M&A activity. In December, Merck announced it is buying Cubist Pharmaceuticals Inc. (Nasdaq: CBST) for $8.4 billion. The move followed a decision last May to sell Merck's consumer unit to Bayer AG (OTCMKTS ADR: BAYRY) for $14 billion.
Since the start of 2014, XPH has gained 44.3%. That compares to just 10.2% for the Dow Jones and 14.3% for the S%P 500.
"The beauty of a play like this one is that rather than try to pick a single winner, we get the benefit of the entire sector's operations," Robinson said. "That makes XPH an excellent foundational investment to pave your road to wealth."
Kyle Anderson
Money Morning