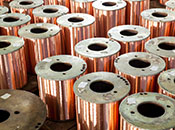 A proposed US$68.7 billion investment in China's power transmission lines, lower scrap supply and possible mine supply disruptions could drive global copper growth by 4.1% this year, says Credit Suisse metals analysts.
"But we are cognizant of the risks posed by lower global growth and some uncertainty around the timing and copper intensity of China investment plans," they cautioned. Credit Suisse forecast 5% growth in China's copper demand this year.
Credit Suisse assumed a 3.6% annual global copper demand growth rate in 2015-2017. "Our downside scenario assumes 2.6% pa global growth in line with the long-term trend. Although we would not go as far to call this a bear case—that would entail negative growth as seen in previous recessionary periods."
We like the medium-term outlook for copper and expect prices to record through 2015, but with the potential demand (and price) risks, we think investors should select defensive copper stocks with attractive valuations, good balance sheets and a degree of earnings diversification (through zinc/nickel and downstream smelting)."
Among the analysts' stock picks are Southern Copper because of near-term growth and lower cash costs and Boliden due to its exposure to zinc (42% of mining revenues) and smelting exposure. Other picks are HudBay's exposure to zinc, as well as its growing cash flow profile and deleveraging potential, as well as Lundin's conservative balance sheet, positive free-cash flow and strong operating and capital discipline. Finally, the analysts also favor Jiangxi's net cash position and smelting exposure.
Credit Suisse anticipates that copper prices will be capped at around $6,600 per tonne and $3 per pound. "We expect higher mine supply in 2016 but operational disruptions and lower scrap supply could be off-setting factors."
In a downside case, the analysts assume 1% lower global demand growth in 2015-17 with prices moving below $5,000/t. Lower near-term demand could trigger strong copper prices after 2017 as weaker prices deter new investment.
Although mined copper supply performance began to improve in 2012, the analysts noted that last year "saw a return of some major disruptions including the temporary export ban in Indonesia, power constraints and project delays in the DRC and Zambia and several new project delays".
Credit Suisse anticipates 1.2 million metric tons in copper supply side disruption this year due to strikes, political interference through export bans, and environmental problems.
"A number of this issues could persist into 2015 and so far we have identified 240 kt of known disruptions for 2015," the analysts observed. "There are several key watch factors in 2015 including Indonesia export policy, Zambia elections and taxation policy, Codelco performance, Escondida and a number of large new projects (including Sentinel, Toromocho, Las Bambas, Katanga, Sierra Gorda, Kansanshi and Buenavista)."
Among the issues impacting specific copper producing nations, grades are expected to fall at the world's largest copper mine Escondida as well as the Collahuasi JV between Anglo and Glencore. Major copper supply uncertainty centers on Chilean state copper company Codelco due to aging mines and high capex requirements.
Dorothy Kosich
Mineweb