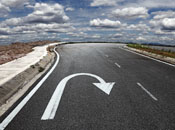 The price of gold put in a recent low December 23, with a PM fix of 1,175.75/oz gold. Since then it's climbed, indeed surged. In the past couple days the gold price has jumped from about $1,230/oz to, at press time, just over $1,275/oz.
Meantime, as gold gained about 8.5% in the past 25 days, gold miners have soared. In fact, all the top 10 gold miners, ranked by 2013 output, bettered gold's performance with share price gains over 9% since close December 23 to press time January 16 (about mid-day EST).
Some, as the above chart shows, did it by just a hair. Russia-focused Polyus Gold was the most lackluster, relatively speaking, climbing just over 9%, barely more than gold's 8.5% gain over the same time period.
Otherwise, the gold miners have far outstripped gold's gains, more than the more typical 2x. Excepting Polyus, all the other nine gold miners in the top 10 at least doubled gold's performance. Most did way better.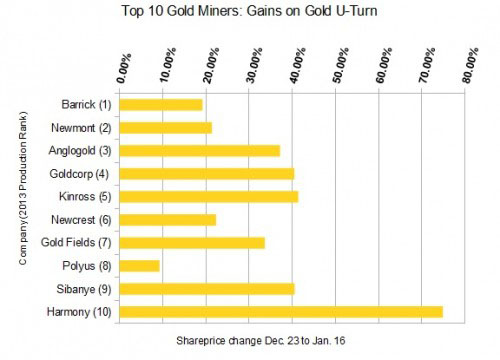 Barrick, which has drawn increasing scrutiny over its debt load and growth potential, brought up the rear among these nine names with a still respectable 19% share price gain.
Moving up the score sheet the gains became considerably stronger: Newmont (21%), Newcrest (22%), Gold Fields (33%), AngloGold (37%), Goldcorp (40%), Sibanye (41%), Kinross (41%) and, at the top, Harmony (75%).
Averaging it out: since December 23 the top 10 gold miners were up 34% or four times the growth in the price of gold. In other words, the top gold miners have had an unusually strong response to gold gains. It looks as if pent up demand for gold equities, waiting for the right timing, is being released on the back of gold's climb since late December.
Kip Keen
Mineweb