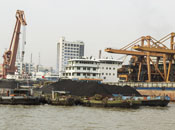 In the wake of recently lifting rare earths export quotas, China, the world's largest producer of the specialty metals, is still expected to manipulate the global market through other means, favouring instead preferential treatment of domestic producers as it strives to create an economy based on value-added products rather than raw materials exports.
Market-focused research house Benchmark Mineral Intelligence on Friday explained that after the World Trade Organisation (WTO) early last year took China to task on several counts of export restrictions on rare earths, tungsten and molybdenum, it had lifted a long-standing quota that capped tonnages of exports.
The WTO complaint was originally raised in 2012 by the U.S. and later saw the European Union, Japan and Canada join the case, claiming that China was deliberately conducting unfair business practices by restricting the irreplaceable elements to global competitors.
China, which produces about 85% of the global rare earths output, capped rare earths export volumes from as high as 50,145 t in 2009 to 30,611 t in 2014.
The rare earths industry was in a state of consolidation after a Chinese export clampdown prompted a rapid spike in prices in 2010/11. However, the global economic crisis and a flood of new supplies resulted in the subsequent collapse of prices in 2013. Prices had now stabilised and were expected to remain so in the long term.
Read the rest of the article here.
Henry Lazenby
Mining Weekly