Biotech stocks to buy in 2015: Biotech was one of the most profitable sectors this year. Through Dec. 18, the S&P 500 Biotechnology Index is up 43.6% in 2014, and the Nasdaq Biotechnology Index is up 36.9%.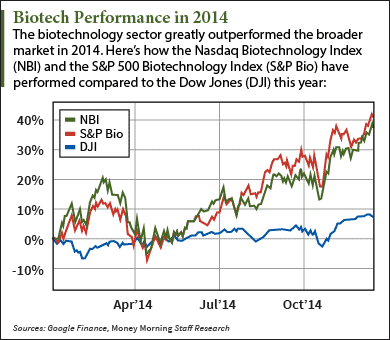 Those gains are three to six times as big as the broader markets'. In 2014 through Dec. 18, the Dow Jones Industrial Average is up just 6.1%, the S&P 500 10.3%, and the Nasdaq 12.8%.
Another indicator of the sector's strength was the number of IPOs in 2014. So far, 262 companies have held initial public offerings in 2014. Healthcare was the most popular sector, with 100 IPOs. That more than doubled the next closest industry – technology – with just 49.
And the health companies that came to market rewarded early investors. Those 100 IPOs raised a total of $8.7 billion and averaged a first-day gain of 13.6%. Overall, they've averaged a 25.3% gain from their offer prices.
Adding to this strong performance is that the biotech market was able to overcome a sharp sell-off in 2014. From late February to mid-April, the Nasdaq Biotech Index dropped 20.8%.
During this plunge, Money Morning's Biotech Investing Specialist Ernie Tremblay urged investors not to flee the market. It was a healthy correction – prior to that dip, the index had climbed 241% since the start of 2012.
And when Wall Street feared a bubble was imminent in July, Tremblay once again set the record straight.
"The market breathes in, and the market breathes out," Tremblay said. "After huge gains over the past three years, an adjustment should come as no surprise to anyone. But that's all it was. There's no bursting bubble."
Like he predicted, instead of a bubble bursting, the index climbed 20% through the rest of the year.
And the industry shows no signs of slowing down. In fact, there are several major catalysts that will drive biotech stocks in 2015.
First, an Evaluate Pharma report indicates that brand-name prescription drug sales will grow globally at a rate of nearly 4% per year between now and 2018.
Another major catalyst is America's aging population.
According to the U.S. Administration on Aging, by 2030, the elderly population in this country will have doubled its size from the year 2000. And those people will be living longer, as average life expectancy continues to increase.
That presents huge opportunities for all types of biotech companies, including those that deal with ophthalmology, pain management, neurological/psychiatric drugs, cancer, and diseases of old age.
Market corrections are always a possibility – especially in biotech, which is one of the more volatile sectors. That's why the most important thing for investors in 2015 is finding companies with real value. Biotech companies that make good drugs that meet critical needs will be the sector's best profit opportunities.
With that major profit potential in mind, here are the best biotech stocks to buy in 2015 according to Money Morning experts…
Three Biotech Stocks to Buy in 2015
No. 1: Organovo Holdings Inc. (NYSE: ONVO) develops human tissue used for drug development and biological research. It also makes therapeutic implants that treat damaged organs and tissue.
The field is known as personalized medicine, and Tremblay describes the field as "miraculous.""The idea is simply this: with current technologies, it's possible to design drugs, such as cell therapy products, that can be altered or optimally combined to fit the genetic and morphological profile of each individual patient, often recruiting his or her own immune system into the fight," he said.
Instead of companies developing a "one-size-fits-all" drug for thousands of patients, these medicines work differently for every patient based on his or her needs.
Complex diseases like cancer, Crohn's, multiple sclerosis, and countless others can't be cured on a broad scale. That's where personalized medicine comes into play. They act like a "magic bullet" that can adjust to each patient's body, curing their ailment.
And the applications for personalized medicines don't just apply to diseases…
"This field also holds the promise of miraculous treatments for severe spinal injuries, joint and bone repair, and organ replacement," Tremblay said.
And ONVO stock is the best investment in this market right now. It's up 307% in the last five years, but still trades at just $6.32. With a market cap of just over $500 million, it still has plenty of room to grow.
It's a speculative play, but one with huge potential.
"The possibilities for using this company's products in both medical research and in clinical applications represent limitless income potential – and, I believe, an extraordinary opportunity for the long-term investor," Tremblay said.
No. 2: Keryx Biopharmaceuticals (Nasdaq: KERX) develops pharmaceutical products for patients with renal disease. It's also one of Tremblay's favorite long-term investments.
In August 2012, KERX stock was worth just $2.06. On Dec. 18, shares opened at $14.37. That's a gain of 598% in just over two years.But that's just the start for this stock.
KERX's developmental drug ferric citrate is going through the regulatory approval process and would be a huge catalyst of the stock. The drug lowers phosphate levels in patients with chronic kidney disease who are on dialysis. People with this condition can end up with bone disease, vascular calcification, cardiovascular disease – and early death.
"For dialysis patients alone, the drug would be in the $250 million to $500 million range, but KERX hopes to expand that market to include pre-dialysis patients," Tremblay said. "That would put it in the $1.2 billion range – a blockbuster."
And the best part is, despite its two-year gains, KERX stock is trading at a discount.
You see, the Associated Press released a story in September saying the drug would come with a new "unexpected" warning about iron levels in patients' blood. Unfortunately, the AP had the story wrong.
By the time a correction was published, panic selling had already taken place. The stock dipped nearly 30% in the first three weeks of September. And even though the AP corrected the story, the stock still hasn't returned to its August highs, over $18 per share.
"Currently, KERX is perfectly positioned to take that market by storm," Tremblay said. "At the same time, the share price for KERX stock is artificially depressed due to the blunders and misunderstandings of the media."
"So investors currently have an extraordinary opportunity – maybe a once in a lifetime opportunity – to get in on this stock at a deep discount," Tremblay continued.
Tremblay recommends buying and holding KERX stock over the next several years. This is a long-term investment, not a stock for day-traders.
No. 3: Gilead Sciences Inc. (Nasdaq: GILD) is a research-based biopharmaceutical company best known for its hepatitis C treatment, Sovaldi.
The drug is 90% effective, and has very few side effects compared to competing drugs. But it's also very expensive. Full treatments cost $84,000 per patient."Sovaldi is almost certainly going down in history as one of the more successful drugs ever launched," Money Morning's Defense and Tech Specialist Michael Robinson said. "In roughly 10 months, it racked up sales of nearly $8.7 billion treating 117,000 patients."
The price is controversial but the results speak for themselves. And now, the company has just received FDA approval on a second hepatitis C treatment, Harvoni. It's even more expensive than Sovaldi, but it's much more convenient. It combines compounds from numerous pills, including Sovaldi, meaning patients only take one drug over 12 weeks of therapy.
And if Sovaldi's strong sales are any indication, Harvoni should be another home run for Gilead.
GILD stock is up 41% in 2014, and trades near $106 per share. But according to Robinson, this stock is discounted right now.
Last quarter, GILD had a strong earnings report, but earnings per share (EPS) missed analysts' estimates. That sent the stock down 10.2% in November.
It was a classic Wall Street overreaction. Earnings may have missed estimates, but they were up 254% from the previous year. Next quarter, the company is expected to post another year-over-year earnings increase of 305%. Revenue is expected to jump 115% next year.
"Trading at $106 a share, GILD still offers plenty of upside," Robinson said. "I often use the price/earnings to growth (PEG) ratio to value a company. A stock has a "fair value" price if it has PEG ratio of 1. Gilead's ratio is nearly half that – at 0.54."
Bonus Biotech Investment for 2015
For those looking for a broader play on the biotech field, the best investment is the First Trust NYSE Arca Biotech ETF (NYSE: FBT).
There's no denying that biotech is one of the most volatile sectors. Individual stocks are subject to wild price swings based on drug approval news. But sitting out of this sector means missing the strong upside.
That's why we're recommending FBT. It's a safer play, but still offers much of the upside of the biotech market.
FBT has 30 holdings, none which comprise more than 5% of the fund's assets. Its biggest holding is Incyte Corp. (Nasdaq: INCY) at just 4.48%.
"The stocks in the First Trust fund have a median market cap of about $10.2 billion," Robinson said. "That's large enough to offer stability but small enough to deliver plenty of upside."
FBT offers a way to play some of the most exciting biotech stocks on the market, including:
Regeneron Pharmaceuticals Inc.'s (Nasdaq: REGN) main product combats blindness in senior citizens. The company has a $43 billion market cap, 31% operating margins, and return on equity (ROE) of 16%. REGN stock is up 54.5% in 2014.
Celgene Corp. (Nasdaq: CELG) has several cancer drugs on the market right now, and a market cap of $93 billion. CELG has operating margins of 32%, an ROE of 27%. The stock is up 37.9% in 2014.
Alexion Pharmaceuticals Inc. (Nasdaq: ALXN) Focused on ultra-rare diseases and has a market cap of $38 billion, 41% operating margins, and ROE of 18%. ALXN is up 44.2% in 2014.
FBT has gained 49.3% in 2014. That compares to a 5.9% gain for the Dow Jones Industrial Average and a 9.9% for the S&P 500 in the same time. Right now, shares of FBT trade near $103.
Kyle Anderson
Money Morning