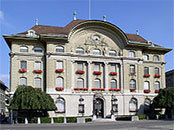 Maybe he would be classified as a sore loser, but Egon von Greyerz, of Matterhorn Asset Management and one of the leading lights behind the unsuccessful Yes campaign in the recent Swiss Gold Referendum, may have a point regarding the tactics used by the Swiss establishment to secure victory.
"We were beaten squarely, but not fairly," he commented at Mines & Money London on Tuesday.
He pointed to examples of the unprecedented campaign by the Swiss National Bank (the country's central bank) to derail the Yes campaign: How the leader of the Swiss Gold initiative was prevented from appearing in a debate on the referendum on Swiss TV, and that the Yes campaign was blocked from receiving donations via PayPal. This was quite apart from appearances by the head of the Swiss National Bank in the Swiss media almost daily to generate opposition to the proposal by someone who normally shuns any kind of publicity.
He pointed out that Switzerland was the biggest seller of Central Bank gold in recent years (sold down from 40% of its foreign reserves in 1999) and scathingly referred to it now as being more of a hedge fund than a Central Bank given its reserves have so little gold backing in percentage terms – even compared with much of the rest of Europe. According to the IMF, the proportion of gold in Swiss reserves nowadays is only 7.5% compared with over 60% for Germany, Italy and France, over 70% for Portugal and over 50% for the Netherlands. Even the UK, which was castigated for the selling of half its gold reserves at the gold price bottom, has a higher proportion of gold in its foreign reserves than Switzerland at 11%. For comparison, 71.6% of the USA's foreign reserves are still officially held in gold.
Von Greyerz is a firm believer that gold is underpriced at the moment—primarily because it is now so out of sync with the huge amounts of debt built up by governments around the world and the huge amount of money printing to preserve the perception that economies are stable to positive by keeping interest rates at or near zero.
He is pessimistic on the state of the global economy and the ongoing value of the dollar, which he feels is due for a very large fall as are other weak currencies like the euro, while the value of gold will remain relatively constant – so as the dollar, euro and ultimately all fiat currencies fall gold will appear to rise correspondingly. It is a wealth preserver in the face of currency debilitation. He is looking for a dramatic reset ahead – while this is unlikely to happen overnight, longer term he feels it is inevitable.
Interestingly, von Greyerz was introduced as a speaker at Mines & Money by Bo Polny, who is a firm believer in the cyclical pattern followed by the markets. Polny is credited with picking recent gold price tops and bottoms almost to the dollar and he is currently in firm agreement with Elliott Wave analyst Peter Goodburn that gold, and other precious metals are due for a huge upturn in dollar terms in the near future as the general stock markets collapse. They are overdue for a mega crash after a run of several upwards years brought on by artificial monetary stimulation, he reckons. He is thus calling for $2,000/ounce gold as soon as next year.
So Mines & Money is, as usual, coming up with a diverse range of views on the likely direction of commodity prices – with a strong slate of speakers commenting specifically on gold. Views are from analysts who feel that gold will remain weak or range bound well into the next year or two to those, like Polny, von Greyerz, Boeckver and others l who see an inevitable sharp upturn ahead, perhaps coupled with a dramatic fall in general equities.
Lawrence Williams
Mineweb