Well, now it is official: The record number of 66 U.S. biotech initial public offerings (IPOs) that were completed in 2000 has been broken following the completion of another two IPOs last week. (See Table 1, below.)
The total of IPOs completed by biotech companies, whose primary focus is on developing therapeutics, this year now stands at 67. It is a milestone that no one in the industry could ever have predicted at the beginning of this year. (See BioWorld Insight, Sept. 22, 2014.)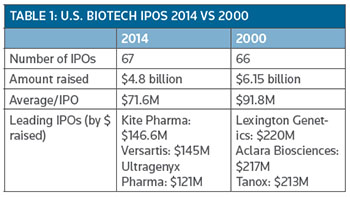 It is perhaps a sign of the times that a company focusing on the development of biosimilars became the 67th biotech to complete its IPO. Coherus Biosciences Inc., of Redwood City, Calif., sold about 6.3 million shares at $13.50, the midpoint of its $12-to-$15 range, for gross proceeds of $85.1 million. That amount could grow to about $98 million as the company has granted the underwriters a 30-day option to purchase up to 944,445 additional shares of common stock at the offering price.
The financing will allow the company to execute on its business plan that includes the goal of becoming a global leader in the burgeoning biosimilar market.
According to the company's S-1A filing, since it formed in 2010, a significant product pipeline has already been developed. The most advanced of which is an anti-TNF product candidate, CHS-0214, being developed as an Enbrel (etanercept, Amgen Inc.) biosimilar that has been partnered with Baxter Healthcare Corp. and Daiichi Sankyo Co. Ltd.
Patients are currently being enrolled in two phase III trials with CHS-0214 to support the planned filing of a marketing application in Europe in 2016. Another anti-TNF product candidate, CHS-1420, is being developed as a Humira (adalimumab, Abbvie Inc.) biosimilar. The company said it plans to initiate a phase III trial for CHS-1420 during the first half of next year to support the planned filing of a marketing application in the U.S. in 2016. Also in development is a long-acting G-CSF product candidate, CHS-1701, that is being developed as a Neulasta (pegfilgrastim, Amgen Inc.) biosimilar.
SECOND ATTEMPT
After postponing its IPO mid-October, Burnaby, British Columbia-based Xenon Pharmaceuticals Inc. re-launched its offering last week, pricing 4 million shares at $9 to raise $36 million. Xenon granted underwriters a 30-day option to purchase up to 600,000 additional common shares, potentially adding $5.4 million to the raise. (See BioWorld Today, Nov. 6, 2014.)
The offering was below its earlier stated range of $10 to $12, but the company's shares (NASDAQ:XENE) have performed well since their public debut and finished at $11.97 by close of business Thursday, for a gain of $2.97, or 33 percent.
Investors clearly like Xenon's prospects. The company is leveraging its extreme genetics discovery platform to develop a pipeline of therapeutics for orphan indications, both for its own internal discovery programs and in collaboration with pharma partners, including Teva Pharmaceutical Industries Ltd., Genentech Inc. and Merck & Co. Inc., which so far generated more than $140 million in non-equity funding, with the potential to accrue $1 billion in milestone payments, plus royalties and co-promotion income on product sales.
The most recent alliance, with Roche AG unit Genentech, was established in March with the goal of discovering and validating therapeutic targets and mechanisms to treat pain. Xenon's extreme genetics discovery platform focuses on rare phenotypes where individuals have an inability to perceive pain or have nonprecipitated spontaneous severe pain.
Both companies will own intellectual property emerging from the alliance, and the company granted Genentech a time-limited, exclusive right of negotiation on a target-by-target basis to form joint drug discovery collaborations. This deal builds on an earlier potential $646 million alliance between the companies to discover and develop pain compounds and companion diagnostics. (See BioWorld Today, Jan. 10, 2012, and March 27, 2014.)
MORE TO COME
With just a few weeks left before the end of the year it is likely that we haven't seen the last of biotech IPO pricing activity. Fibrogen Inc., for example, set terms for its offering, upsizing its IPO to $155 million, including overallotments, by offering 7.1 million shares priced between $16 and $19. If the financing goes ahead, the amount raised would eclipse the $146.6 million generated by Santa Monica, Calif.-based Kite Pharma Inc. in its IPO. (See BioWorld Today, June 23, 2014.)
Fibrogen's FG-3019 human monoclonal antibody is in development for treatment of idiopathic pulmonary fibrosis and other proliferative diseases, including pancreatic cancer and liver fibrosis.
S1 Biopharma Inc., of New York, also set terms for its IPO in late October. That company aims to raise $36 million from 2.8 million shares at a price range of $12 to $14.
According to BioWorld Snapshots, the biotech IPO runway queue now totals 18 companies looking to list on U.S exchanges.
TALE OF THE TAPE
Table 1 provides a comparison of the class of 2000 U.S. IPO companies with the current crop of 2014 graduates year to date.
U.S. biotech IPOs have collectively generated approximately $4.8 billion, well shy of the whopping $6.1 billion raised by 66 companies.
As a group, the 2014 IPO graduates are performing well with their share values growing by a collective average of more than 17 percent year to date.
The leading gainer is Radius Health Inc., which has seen a run-up of almost 161 percent since pricing its shares (NASDAQ:RDUS) in June at $8. The company is focused on developing new therapeutics for patients with osteoporosis as well as other serious endocrine-mediated diseases. (See Table 2, below.)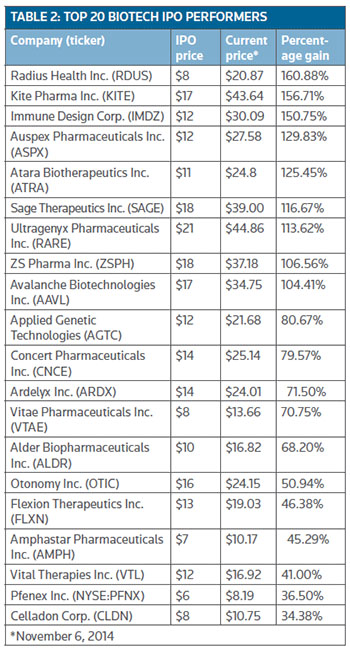 Net proceeds from Radius' offering are going toward regulatory activities around Abaloparatide-SC for which the company expects top-line data from a phase III program late this year.
Abaloparatide-SC, formerly known as BA058, is an anabolic osteoporosis treatment that is being tested head-to-head against Forteo (teriparatide, Eli Lilly and Co.), a drug that already has proved an ability to increase bone mineral density (BMD) and reduce the risk of fracture. Radius has said its product offers greater potential for increasing BMD and bone quality at a faster rate compared to other drugs. (See BioWorld Today, June 9, 2014.)
Peter Winter
BioWorld