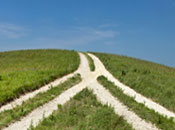 Mojo. The life sciences industry has got it back.
Not just the biotech sector—they've had mojo for some time. And yes, specialty pharma is showing its mojo as well. But now, the old guard—pharma—has it too. After three years of declining revenues, most big pharmas reported top-line growth in Q2/14. While aggregate annual big pharma sales are projected to decline yet again in 2014, the outlook over the next few years for most big pharmas is much brighter than any time in recent memory, thanks to an increasingly visible renaissance of new product approvals and portfolio rationalization efforts. While big pharma growth was essentially flat through the first half of 2014 (adjusting for the net impact of exchange rates), top-line growth is now projected to accelerate to 3% in 2015. Despite modest revenue growth, the industry has provided a total return to shareholders in excess of the performance of most major stock indices in 2014.
What's driving new growth? A number of factors over the past few years: accelerating organic growth from major new product launches, exceptional pricing power (for which the Affordable Care Act has provided some new muscle), solid specialty pharma and generic growth, and a healthy measure of inorganic growth as the industry transforms itself. After several years of painful retrenchment, the pharmaceutical industry is now firing on all cylinders and the outlook is good.
The most recent Capital IQ projection shows an overall 5% industry growth in 2015, driven by big pharma's projected 3% growth, while biotech, specialty pharma and generics maintain strong growth. Some are catching up after falling behind; others are already in the fast lane and racing ahead. Buoyed by rising firepower and management confidence, as well as something not quantifiable—call it mojo—bolder aspirations are altering the competitive landscape and ushering in a new era of transformational M&A.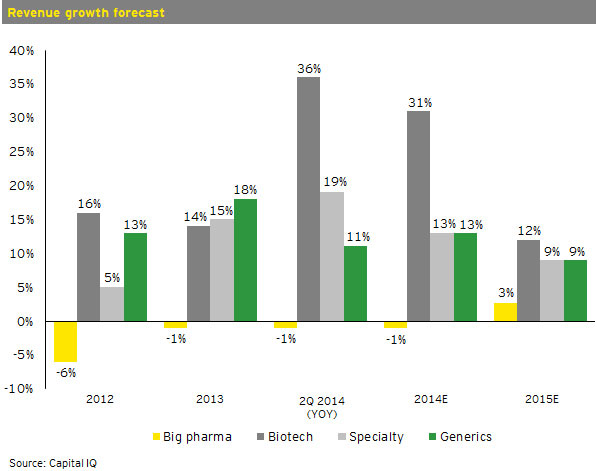 The unifying theme across biotech, big pharma, specialty pharma and generics is collective optimism. The glass half-empty period—with its patent cliffs, FDA setbacks, health care reform angst and a dearth of both IPOs and M&A activities—has passed. Yes, the Federal Reserve in the US has done its part to revive the capital markets as evidenced by the recent record-making wave of IPOs. But it's far more than that. It's mojo: the cautious, deliberate steps to "get through another year" are gone, and we have suddenly, it seems, catapulted to this bold new era.
Specialty pharma has captured the limelight, particularly a notable subset of companies that, just a few years ago, hovered below the radar screen with an average market cap of only about US$10 billion. While a few had sustainable organic growth prospects and proven track records, most had challenges characteristic of the industry, including the need for inorganic growth—a need that M&A addressed. Yet, the most significant aspect, as we have commented over the past few years, is that this group keeps punching above its weight with a clear disadvantage in firepower—the ultimate mojo metric. Having less than US$50b in firepower collectively, or just 5% of industry firepower at the start of 2013, this group accounted for more than US$125 b in M&A deal volume through September while simultaneously doubling its collective firepower to more than US$100b. That's mojo.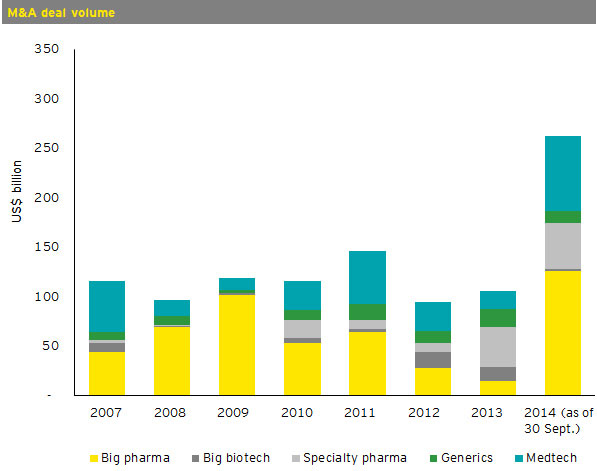 Looking at M&A trends, the new mojo has been companies taking advantage of debt financing—which has been very cheap by historical standards—to lever up to pursue larger targets. This was notable in Q2/14 reports, where specialty pharma companies involved in transactions had debt/equity ratios (market capitalization) averaging 38%, versus 22% for the broader specialty pharma universe and only 13% for big pharma. Moreover, as we have seen with several serial acquirers, post-deal announced pro forma guidance has been very positive and has resulted in higher stock prices and equity valuations. This, in turn, has translated into more firepower to pursue more M&A, often well before deals have closed and the expected benefits have been achieved. Finally, location matters. Companies with lower effective tax rates, because of their country of domicile, are aggressively using the resulting extra firepower to fund acquisitions. Moreover, most targets have relatively unleveraged balance sheets such that after closing transactions, firepower can be effectively replenished, allowing more M&A. Mojo M&A.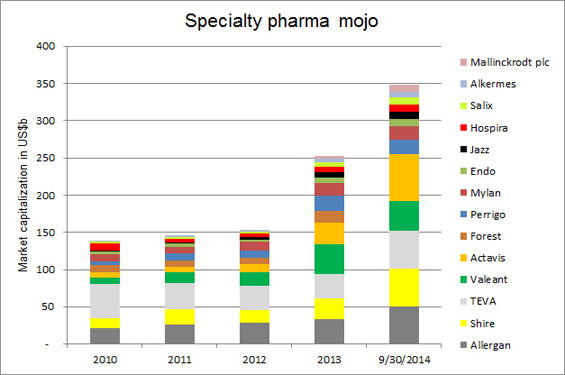 While tax inversion transactions have captured a lot of attention this past year, there are much larger transaction forces—more like tectonic plates shifting to ultimately unleash earthquakes—at work in 2014 as many big pharmas make difficult decisions on portfolio rationalization. While these transactions have resulted in what effectively has been the swapping of assets among themselves, it may not produce the top-line growth that most big pharmas need to close growth gaps. However, when the dust settles in 2015, we'll see a more streamlined focus on core pharmaceuticals and fewer businesses in the portfolio with the global scale needed to be competitive—which ultimately should translate into expanding operating margins for those still in the game. It took big mojo to shed the businesses that, post-patent cliff, have fueled cash flow for dividends and buybacks, but these deals were ultimately driven by careful analyses of sustainable competitive advantages—analyses that pointed many to the brighter prospects of core pharma businesses.
Through Q3/14, there were more than US$125B in announced deals involving all but a few of the big pharma. That's nearly 10 times the volume of 2013 and includes some US$50B in divestures. We've also seen pharmaceuticals' mix of revenues change significantly—from approximately 72% of sales to 80% as we enter 2015—as most of the industry have aligned to a similar strategic framework: focused growth. That's slower-moving mojo in some ways, but considering the industry transformation we are witnessing, this is definitely mojo nonetheless.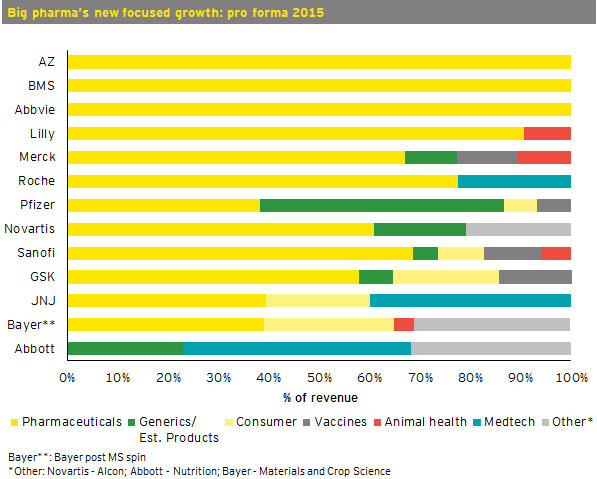 Andrew Foreman
EY