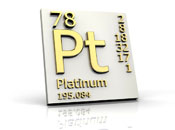 Duduzile Ramela: I'm Duduzile Ramela and joining me on the line to talk about the year that was in the platinum industry is Mike Schüssler, economist at economists.co.za.
Mike, as always, a great pleasure talking to you. Now 2014 was a difficult year for platinum miners, won't you say?
Mike Schüssler: Well very much so...the three biggest mines in South Africa all had the longest strike in our history, roughly five months. We lost well over seven million work days, probably eight million work days in that period. Then we've got to remember that the fourth biggest one, Northam, started the year with a three week strike that had been going on for about, I think about eight weeks in the prior year.
So absolutely, production was curtailed and that really hit the mining and the platinum mining industry hard. And at the same time the prices went nowhere. Before the three biggest producers in the world of platinum, went on strike the price was $1,453 and by the time the strike had ended it was about $1,425. And right now, the platinum price has fallen quite sharply and is now around $1,250 odd...it might be a few dollars more now, or less but the point is that it has really been a very sharp fall and that means that mines are still in trouble because their cost bases increased tremendously. The production isn't there and there is a bit of a squeeze. If it wasn't for the fall of the rand it would be a major catastrophe.
Dudu Ramela: Mike, I guess the biggest question here is, what are some of the biggest takeout's that mining companies need to get from all of this?
Mike Schüssler: I think our industrial relations are going to have to play a very big role, more so than before I guess. But the second thing, and I think for the longer term this is true, the industry needs to realise that mechanisation is now probably becoming much more viable, because the costs of labour and so forth has increased. And at the same time, mechanised production is coming on stream here in South Africa too. We know that the Anglo American mines are still producing the modern but more mechanised route. They're going to ramp up production and Northam has got one mine that is very mechanised, it's just started.
So ultimately, I think the shift is going to be very clear and very painful for many unfortunately. But probably better for the industry in the longer run, and that is they're going to see a lot more mechanisation. I think we're also going to see a lot more, let's put it this way, a more skilled workforce coming to the fore which is unfortunate for the unskilled workforce from what we've had previously.
Dudu Ramela: And how did this damage South Africa's image in the eyes of investors, particularly in this industry?
Mike Schüssler: You know, the one thing that has struck me in the last few years, is the amount of South African companies that are looking elsewhere to invest, and if we take that into the platinum industry, you will already see that some of the mines are probably going to be on sale...the Rustenburg type mines where most of the strike was, from Anglo Platinum, from other players around there, and I think that is the factor that we need to take into account, Dudu very simply put that that is going to be in that industry as well. There are not many other places in the world for platinum, so it is a bit of a different industry, but I think what we are going to see is more mechanisation and also the eyes of the world are going to look at probably, in that industry, more at getting the recycling, better outcomes from there, from the car recycling and the likes. And that's probably what we're likely to see.
Dudu Ramela: Are you optimistic about the future, or not really?
Mike Schüssler: Well I would think we have hopefully learned our lesson, and if we didn't, then I'm not optimistic. But I will be pessimistic about the job outcome in the next two to three years because I think there are going to be a lot less jobs and much more mechanisation around. But the industry as such has probably seen the worst that its ever going to see in our lifetimes...or at least working lifetimes. So it's probably now back onto a more mainstream thing and the fact that Amcu's president has now also tried to woo investors. That says to me how seriously they're also taking it. They understand now that people are not just going to put money in to something where there are big labour tensions and strife and the like. And the fact of the matter is, you can only earn what you produce and if we don't learn that lesson now, we're in big trouble.
Duduzile Ramela
Moneyweb