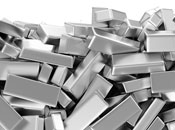 Platinum and palladium are not performing as well as expected this year, and major producers Russia and South Africa have decided to do something about it. Bloomberg reported last Wednesday that the two countries will meet next month to discuss their mutual interest in the white metals, and the possibility of bolstering prices.
According to Russian Minister of Natural Resources Sergei Donskoi, one idea is to use central banks to increase platinum and palladium purchases. "This won't be a trading agreement, but the main aim of this cooperation is to put together the interests of the two countries in this field," he told Bloomberg.
It's a scenario that Mineweb's Kip Keen recently likened to the formation of the Organization of the Petroleum Exporting Countries (OPEC), noting that despite legal ambiguities surrounding the oil producers' arrangement, OPEC has "long got away with" what it set out to do. However, he believes the comparison also illustrates the legal difficulties of such an endeavor.
Could It Work?
Most signs point to "no," although there are some positives inherent to the idea. Keen sees the plan as "the least silly idea circulating in the bid to boost platinum prices." As he explains in his article, nations are more difficult to pin down as the guilty party than other entities when it comes to price-control schemes.
"Look at OPEC," he states, noting that while some have cried foul over the organization's control over the oil sector, none have succeeded in bringing the group down.
However, he notes that mirroring the idea with platinum would be incredibly messy and complicated. Harry First, a law professor at the New York University School of Lawówho is well versed in the legality of OPEC-type situationsóconfirmed Keen's concerns.
Although First said that the nations "could probably do it," he agrees that such a price-control arrangement would face strong opposition on all fronts: from the public, from end users and of course, from other countries as well.
Not-So-Mutual Interests
David Jollie, strategic analyst at Mitsui & Co Precious Metals, has also expressed his doubts. In an interview with BizNews.com, the analyst stresses that the two countries actually produce different metals; South Africa is mostly platinum focused, while Russia has mainly palladium. Both players have relationships with different miners, producers and customers, and the analyst believes that "whether they actually share enough interests to want to move the same way in the market will be interesting to see."
Jollie sees price-boosting efforts as a possibility, but whether it will happen at the state level is "a much more dubious question."
Even domestic companies may be hesitant about the potential PGM-buying partnership. Russia's Norilsk Nickel (OTCMKTS:NILSY,MCX:GMKN) has spoken out against the state buying up palladium in the past, stating "[p]alladium is not a gold and currency reserve. . .It should be sold rather than bought by the state." BullionVault notes that the company said recently that it is planning to buy palladium from Russia's government.
Wait and See
There are a number of other roadblocks that such a price-control arrangement could encounteróthere's a good chance the countries' trading partners wouldn't be too pleased. However, investors with a stake in platinum and palladium will no doubt be watching for results of the talks next month to see what the top PGM-producing countries come up with.
Teresa Matich
Resource Investing News