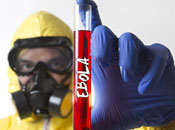 Wall Street traders who have been sharply bidding up the stocks of any biotech companies with potential Ebola therapies are creating a "roller coaster" market, said the chief executive of Canadian drug company Tekmira Pharmaceuticals (TKMR) Tuesday.
Tekmira CEO Mark Murray made the remarks while giving the keynote at a biotech industry panel at the BIO Investor Forum at the Palace Hotel in San Francisco on Oct. 7.
Stocks of MAP Pharmaceuticals, which produced the first successful Ebola treatment, ZMapp, and those of Chimerix (CMRX), which has had its antiviral, brincidofovir, approved for experimental treatment, have all climbed by double digits as the virus has spread globally. Tekmira has seen the same admiration from traders, said Murray.
"It has certainly been a roller coaster going on in the public market," said Murray. "That can be frustrating for us because it's not interest in fundamentals, but is following the headlines."
Tekmira has had a contract with the U.S. Department of Defense for four years to develop the therapy, TKM-Ebola, a drug technology known as ribonucleuic acid interference, or RNAi.
TKM-Ebola was authorized by the U.S. Food and Drug Administration on Sept. 22 to be given as an experimental drug in an "expanded access" program to people with confirmed or suspected Ebola virus infections.
Tekmira' stock climbed 15 percent on the news and has hovered near record highs ever since.
Murray said Tekmira has had frequent conversations with their stakeholders in recent weeks as Ebola has spread globally. Many are seeing a bullish biotech market and have found renewed interest in their investment in Tekmira.
"Investors of course are very, very interested in what this means for them, and are curious to know from us if their Ebola situation represents a new opportunity," said Murray. "They also want to know, does it represent a new part of our core business."
The CEO said the company has had "solid dialogue with our real stakeholders so that they understand what we are doing. That we are developing a pipeline of products," including hepatitis, oncology and other assorted drug therapies. ."
Such expanded access programs have been the subject of much Wall Street debate this month as biotech companies with antiviral therapies have become the prime focus of traders and regulators alike.
Riley McDermid
BioSpace