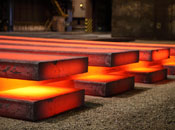 Industrial metals are displaying resilience, while base metals are preferred over bulks and precious metals, said Deutsche Bank analysts in a recently published third-quarter preview.
"Base metal commodity prices have displayed resilience in the face of ongoing U.S. dollar strength, with our thesis of lower price volatility playing out," said DB metals and mining analysts Jorge Beristain and Wilfredo Ortiz. "Of the industrial metals group, we expect nickel, lead and zinc will be the outperformers particularly since these markets have a relatively low exposure to the Chinese property market."
However, the analysts advised that the 3Q14 earnings outlook is positive for industrial and precious metals. "As a group, we anticipate our upstream M&M coverage to report higher sequential EBITDA in 3Q14, with gains in industrial metals of 7% (or $614m) and precious metals of 3% (or $58m). Among precious metals, silver equities should see sequential gains of 29% ($30m) and gold stocks should increase 1% (or $28m)."
Nevertheless, they added, "Amongst precious metals, the gold outlook remains clouded by our assessment that U.S. real yields, the U.S. dollar and the S&P 500 will all post further advances heading into next year. As such, we prefer base metals over bulks and precious."
In their analysis, DB noted that China's decelerating property market continues to be a headwind for industrial metals.
"Industrial metals & energy and precious metals equities continue to be bogged down by China's muted YTD performance, particularly for those with commodities where surpluses are emerging (copper) and with higher exposure to the Chinese property market (iron ore and metal coal)," observed DB.
"Company-negative headwinds continue to [batter] balance sheets. . .and resource nationalism trends (tax changes in Mexico, environmental push backs in Chile, smelting requirements in Indonesia, labor unrest within South Africa raising pressure on other regions for wage hikes," said the analysts. "Investors are shunning even historically strong dividend players as dividend sustainability comes into question on rapidly deteriorating free cash flow outlooks."
"Our views on the remainder of 2014 remain largely unchanged," they added. "We maintain our sub-sector preference for Industrial Metals equities over Precious Metals. . .The 3Q14 downturn in gold prices has again brought to the fore the potential for balance sheet recapitalizations in the precious metals space."
"Going forward, we see possibility of upward demand surprises on Industrial Metals side (over currently depressed expectations) and the end of the gold mini-rally (1H14) as U.S. real interest rates, the S&P 500 and the U.S. dollar move higher."
Deutsche Bank's forecast deficit this year for industrial metals and energy producers has decreased from $9.9 billion to $8.9 billion. Precious metals forecast deficit for 2014 has declined from $3.1 billion to $2.4 billion.
Dorothy Kosich
Mineweb