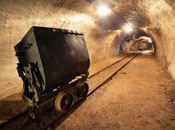 Although LME nickel prices retreated to US$7.80/lb in late September, Scotiabank Economist Patricia Mohr forecasts "The supply and demand balance for nickel in China is still expected to tighten noticeably by early 2015 and we have maintained our price forecast for 2015 and 2016 at a strong US$10/lb and US$12/lb respectively."
In the Sept. 29, 2014, edition of the Scotiabank Commodity Price Index, Mohr noted that the index declined 5.4% in August, adding "The broad-based strength of the U.S. dollar is creating headwinds for precious metal and other dollar-denominated commodity prices."
"The Metal and Mineral Index also inched down by 0.4% month over month in August (-9.6% year over year)," observed Mohr. "Zinc prices strengthened to US$10.5/lb—the highest monthly average since July 2011."
"Spot uranium prices have also lifted decisively off a US$28.25/lb low in June to US$36.50/lb in mid-September," Mohr noted. "Improving market sentiment reflects prospects for two nuclear reactor re-starts in Japan, more active mid-term utility demand and production deferrals and curtailments (e.g. at Paladin Energy)."
"While lead and aluminum prices also increased, and steel-alloying agents (molybdenum and cobalt) gained ground, these increases were just offset by weaker gold prices (US$1,295/oz) and profit taking in nickel and copper," she said.
Despite renewed jitters over China's growth prospects in September, Mohr remains optimistic "that our previous forecast of strengthening zinc and nickel prices in 2015–16, linked mostly to supply developments, will prove correct."
Mineweb
Meanwhile, Mohr observed that record potash shipments have tested global supply capability in the first half of the year. "Canpotex—the overseas agent of Potash Corp., Agrium and Mosaic—is effectively sold out over the balance of 2014."
"Global potash deliveries were a record in H1/14 and will likely approach 59 Mmt in 2014 (+8%)," she added. "Potash Corp. notes that its competitors in the FSU are operating at full capacity and others at 90%, with short supplies of the granular grade."
Mineweb