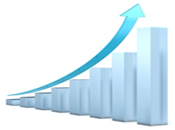 Any notions that the pace of dealmaking would ease off in 2014 after the record number of M&A and licensing transactions that were completed last year, will be quickly dispelled following the release of the Thomson Reuters Recap half-year analysis. In fact, Recap's data clearly indicate a robust deal environment in the life sciences industry in the first half of this year, with volume reaching 1,337 transactions involving not only biopharmaceutical companies but also medical devices, diagnostics and tools firms.
The combined deal value was $194 billion.
The report also highlights an accelerating trend of transactions involving early stage assets.
Vinay Singh, senior deals analyst at Thomson Reuters Recap said, "Dealmaking continues to be rampant and the over 1,300 deals seen so far in the first half of the year and that figure compares to 2,300 deals in all of 2013. We are therefore well on pace to surpass that total."
In terms of deal dollars, "we have already exceeded the $158 billion total from all deals last year," Singh noted.
In dollar terms, M&A has dominated the landscape, accounting for approximately 66 percent, or $127.2 billion, of the collective total from 178 transactions that disclosed deal values; that compares to 152 deals generating $52.6 billion in the first half of 2013. While the number of private company targets remained similar in the comparable periods (138 in 1H13 vs. 149 in 1H14), the public acquisitions jumped more than 52 percent, from 19 to 29. Of the first half 2014 total, the devices and therapeutics companies accounted for 94 percent of the deal value, each with $60 billion for a total of $120 billion.
Recap analysis found that $110.3 billion in aggregate disclosed deal dollars came from 16 announced acquisitions by 10 acquirers. The total was boosted by two megadeals: medical devices giant Medtronic Inc. acquired Dublin-based Covidien plc in a cash-and-stock transaction valued at $93.22 per Covidien share, or a total of approximately $42.9 billion; and Dublin-based specialty pharma company Actavis plc paid a whopping $25.1 billion to acquire Forest Laboratories Inc. That latter deal put an exclamation point on the specialty pharma sector's appetite for M&A deals that has been evident over the past year. (See BioWorld Insight, May 5, 2014.)
Interestingly, the focus has been, in the main, on innovative drug companies. Mallinckrodt plc, for example, a leading global specialty pharmaceuticals company, shelled out $5.6 billion for Questcor Pharmaceuticals Inc. just a couple of months after its acquisition of Cadence Pharmaceuticals Inc. for $14 per share in cash, or approximately $1.3 billion.
Questcor's Acthar, a purified preparation of adrenocorticotropic hormone, is approved for exacerbations of multiple sclerosis, infantile spasms and 17 other conditions.The company bought rights to Acthar from Aventis (now Sanofi SA, of Paris) in 2001, and the product generated $761.3 million in revenues for Questcor last year, up more than 49 percent from 2012. (See BioWorld Today, April 8, 2014.)
Big Pharma
Big pharma companies have also been active in 2014. To bolster its hepatitis C virus (HCV) franchise, Merck & Co. Inc., of Whitehouse Station, N.J., snatched up Idenix Pharmaceuticals Inc. for $24.50 in cash per share, or about $3.85 billion, in a 300 percent-plus premium deal.
The transaction brought aboard Cambridge, Mass.-based Idenix's IDX21437, a uridine nucleotide analogue HCV NS5B polymerase inhibitor for which the firm recently reported data from a phase I/II trial. During the seven-day proof-of-concept part of the study, IDX21437 yielded mean maximum 4.2-4.3 log10 IU/mL reductions for patients infected with HCV genotype 1, 2 or 3 receiving 300 mg once daily. (See BioWorld Today, June 10, 2014.)
Therapeutic Focus
The Recap analysis found that cancer still remained a key area for dealmaking, but neurologic, infectious, autoimmune/inflammatory and endocrine/metabolic diseases assets were also sought after. In M&A, there were 12 cancer-focused deals and eight deals involving neurology.
"There has been a bounce back in interest in neurology," Singh said, "and the eight M&A deals so far have generated $3.1 billion in total deal value."
Teva Pharmaceutical Industries Ltd., for example, purchased Labrys Biologics Inc. for $200 million up front and up to $625 million in pre-launch milestone payments. The single-compound company's once-monthly injectable migraine prevention drug, LBR-101, could capture $2 billion to $3 billion in sales, according to Teva estimates, adding a lucrative new dimension to its growing portfolio of pain treatments.
Labrys has been developing LBR-101, a fully humanized monoclonal antibody that binds to calcitonin gene-related peptide for prevention of both chronic and episodic migraine, a market with as many as 10 million potential customers. (See BioWorld Today, June 4, 2014.)
Bristol-Myers Squibb Co. (BMS) acquired Ipierian, a privately held biotechnology company focused on the discovery and development of new treatments for tauopathies, a class of neurodegenerative diseases associated with the pathological aggregation of tau protein in the human brain.
In an all-cash transaction of $175 million, with the potential for additional development and regulatory milestone payments totaling $550 million, along with future royalties on net sales, BMS gained access to Ipierian's lead asset, IPN007, a preclinical monoclonal antibody that represents a promising new approach to treat progressive supranuclear palsy and other tauopathies, and has the potential to commence phase I trials by early 2015. (See BioWorld Today, April 30, 2014.)
In addition to identifying increased activity in the neurology disease sector for the period, the analysis found that while significant M&A activity still involved products at phase II and at the approval stage, the first half of the year showed a trend toward early stage M&A activity with 19 percent involving products at the preclinical stage and 6 percent involving lead molecules.
That compared to just a combined average of just 10 percent for these assets for the period 2008 through to mid-2013.
Tax Inversion Plays
Another clear trend is tax inversion. Corporate inversion has become a major theme in the life sciences industry. A significant amount of the global pharmaceutical industry's assets and cash are now being gathered into Irish-domiciled entities in order to minimize their exposure to tax regimes in their originating countries. In addition to Medtronic and Mallinckrodt, who took advantage of of the tax inversion strategy, Horizon Pharma Inc. acquired Dublin-based Vidara Therapeutics International Ltd. in a deal valued at about $660 million, adding a fourth marketed product to its pipeline and, more importantly, shifting its headquarters to Ireland to take advantage of that country's low corporate tax rate.
In terms of deal structure, according to the Recap data, 22 percent of 1H14 M&As have been structured with an earn-out provision, compared to, on average, 15 percent from 2008-2013. That is an accelerating trend, noted Singh.
Licenses and Joint Ventures
Like the data for M&As, the analysis on licenses and joint ventures (JVs) reveals that early stage dealmaking continues to be quite vigorous, said Laura Vitez, principal business analyst, Thomson Reuters Recap.
In the first of 2014 there were 342 license and JV deals vs. 380 deals in same period of 2013, however deal values totaled $16.6 billion vs. approximately $10 billion in 1H13.
The analysis noted that half of the top 20 largest up-front-plus-equity payments were for early stage deals.
A total of 263 companies announced in-licenses in H114 and just under one-third of the deals involved a cancer focus. An interesting trend in that deal space is the fact that big pharma companies are using licenses as a tool to access multiple programs as a way to supplement their pipelines with early stage and discovery molecules.
Those multiple-program deals are a form of optionality, which is now being used quite often, noted Vitez. "Optionality" allows deal values and structures to flex along with the science and development. A good example of that is BMS paying $50 million for rights to use Cytomx Therapeutics Inc.'s Probody platform to discover and develop up to four new immunotherapies for cancer, including one targeting CTLA-4, the same receptor targeted by BMS' melanoma fighter, Yervoy (ipilimumab).
The deal includes undisclosed additional preclinical payments and up to $298 million in milestones per target, plus potential royalties. BMS has retained the rights to substitute up to two collaboration targets. (See BioWorld Today, May 28, 2014.)
Also the top licensing deal by disclosed total deal size saw Pfizer Inc. unveil a strategic collaboration in cancer based on the Cellectis SA's allogeneic chimeric antigen receptor T-cell (CAR T-cell) platform, which will involve an initial outlay of about $112 million, as well as research funding, milestones that could reach as much as $2.775 billion in total, and tiered royalties on any products that reach the market.
New York-based Pfizer is paying $80 million up front and will acquire a 10 percent stake in Paris-based Cellectis, at a cost of $32.4 million. It will also pay up to $185 million in development, regulatory and commercial milestones per product. The deal gives Pfizer exclusive rights on CAR T-cell therapies directed at up to 15 different oncology targets. Also included under the banner of the deal are another 12 targets selected by Cellectis. Pfizer will have first right of refusal on four of them, and it will provide research funding for those programs as well as for the Pfizer-designated programs. The two companies will collaborate on preclinical development of these therapies. Cellectis will work independently on the other eight. (See BioWorld Today, June 19, 2014.)
Also among the top 10 deals in the first half of the year was Merck & Co. Inc.'s $2.3 billion cancer immunotherapy partnership agreement with Ablynx NV. (See BioWorld Today, Feb. 4, 2014.)
The study concluded that the dealmaking momentum that they have observed to date exhibits every sign of continuing through the rest of the year.
Peter Winter
BioWorld Insight