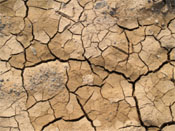 As Sid Himmel, CEO of IC Potash (TSX:ICP), explained to Potash Investing News, what tends to happen when there is a drought is pretty obvious. On the one hand, "you get less production of a crop in that location."
Less production, of course, creates a supply shortage, which in turn pushes up the commodity's price. The higher commodity price means "the profitability of the farmers who can produce in a drought or who are not close by goes up."
But what about potash?
Droughts, while not so good for farmers, are good for fertilizer prices. That's because, as Himmel put it, "the farmers who aren't suffering from the drought are economically incentivized to use more fertilizer. It tends to increase the price of the fertilizer."
Muriate of potash (MOP) prices tend to go higher when droughts affect crops like corn. Meanwhile, when fruit and vegetable crops experience droughts, it's sulfate of potash (SOP) whose price rises.
Himmel did note, however, that SOP prices are at all-time highs of around $750 per metric ton (MT)—a $300 premium above MOP prices, which are at just $450 per MT.
What has supported SOP prices, Himmel explained, is not only the fact that SOP is a premium fertilizer. SOP is actually in shortage and has been for the last two years. That should be a key consideration for investors looking at the potash market, especially in light of this year's drought in California.
On the whole, a drought in the Southwest and Western United States is a cause for concern, particularly if you enjoy fruits and vegetables. As Bloomberg notes, California alone provides half of all fruits, vegetables and nuts consumed in the United States, yet water providers at both the state and federal level have cut supply to agricultural areas, forcing farmers to leave thousands of acres of land unplanted. The state has experienced record low rainfall for the past three years, leaving 82 percent of it under extreme drought conditions—and leaving farmers with water bills 10 times higher than they were before supply cuts.
To be sure, farmers will be looking for any measures that might help them through the drought, and fertilizer is, of course, one of them. The 2014 drought is severe, but unfortunately, it is not an isolated occurrence.
Droughts happen all the time, and the idea that investors can profit from the situation is nothing new either. Last June, The Motley Fool put out an article noting the importance of potassium, potash and phosphate for resource investors, while Forbes covered the case for investing in fertilizer back in 2012. Certainly, investors with a stake in the potash space will want to keep an eye on drought conditions as well as stockpiles of key fertilizer ingredients. With agricultural states more often facing these dry times, fertilizer demand in the United States alone can only grow.
For investors looking to get in early, there several companies—like advanced-stage IC Potash, permitting-stage Potash Ridge (OTCQX:POTRF,TSX:PRK) and exploration-stage EPM Mining Ventures (TSXV:EPK)—that are working SOP deposits in the lower forty-nine.
Vivien Diniz
Potash Investing News