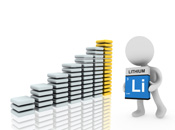 Albemarle Corp. (ALB) agreed to pay $6.2 billion in cash and stock for Rockwood Holdings Inc. (ROC), the world's largest producer of lithium products, which are increasingly in demand for batteries used in electric cars.
The transaction values Princeton-based Rockwood at $85.53 a share, or 13% more than yesterday's closing price, the companies said in a statement today. The takeover is expected to close in the first quarter of 2015.
The market for lithium, which is also used in batteries for laptop computers, may double in a decade, with demand growing at 7–10% annually, Chilean producer Soc. Quimica & Minera de Chile said in April. Tesla Motor Inc.'s planned battery "gigafactory" may consume as much as 17% of current lithium output, easing a forecast oversupply, Goldman Sachs Group Inc. said in February.
The Albemarle deal is the latest example of consolidation in the highly concentrated lithium industry. . .View article