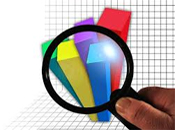 I have trouble understanding the mentality of investors who throw huge amounts of money at biotech and pharma companies that they don't actually understand.
Yes—biotech is (for the most part) a game of chance that has a lot to do with luck. However, I do believe that investors can significantly improve their chances of a win with just a rudimentary understanding of clinical trial data and how it is viewed by doctors and the FDA.
Because many bad companies have been taking advantage of the many individual investors who cannot distinguish good/strong data from bad/weak data, I've provided three really simple tips for investors who want to spot weak data from bad biotechs:
1.) Ignore the Headline and Read the Whole Press Release
Although is unethical, many bad pharma companies use press releases to mislead investors by issuing misleading headlines. This allows pharmaceutical companies to mislead investors into thinking that bad data is actually good when releasing clinical trial data.
My favorite example from year was the PR spin pulled by Prana Biotechnology (NASDAQ: PRAN) in February, when the company called its Phase 2 Huntington disease trial a "success", despite the failure of its drug PBT2 in all efficacy endpoints of the trial.
While their claim of success was technically correct due to the safety endpoint (which was set as the primary endpoint of the trial), it's quite obvious to anyone familiar with Huntington's Disease and clinical trial data that this trial was a complete flop.
In the Phase 2, PBT2 was not able to demonstrate its efficacy with statistical significance (more on that later) in ANY of the 7 predefined efficacy endpoints. Based on this, the FDA would say that Prana's PBT2 is no better than a placebo against Huntington's. Does that sound like something you'd invest in?
2.) Efficacy Claims Aren't "Real" Until Phase 2
Unless your pharma company is enrolling a freakishly large number of people into Phase 1 trials (like Merck with MK-3475), said company should not be making any serious claims about the efficacy of their product until Phase 2 development.
Phase 1 trials only exist to establish safety, tolerability, and dosing levels of a drug in humans. Only a few dozen patients are enrolled into Phase 1 trial, and it is not structured to provide evidence of a drug's efficacy against any disease.
Recently, I called out the unethical behavior Northwest Biotherapeutics (Nasdaq: NWBO)—a company that was actively promoting the nonexistent success of its Phase 1 trial through press releases to its investors. It took an oncologist's opinion to finally convince the market that the Phase 1 data were actually useless for efficacy claims (which ended up tanking the stock), but investors who understand clinical trial data saw this obvious trap coming from a mile away.
If you ever see your pharma company making strong claims about a drug's efficacy based on Phase 1 data, start to worry about their agenda.
3.) Vet Those P-Values
P-values tell us about the statistical strength of a claim, and they are central to the drug development process in the later stages. The smaller p-values are, the better. If any specific claim is made without a p-value below .05, it isn't really "official" and won't matter much to the FDA (or doctors) if they review a claim.
Officially, p-values are used to determine the statistical significance of a claim. Statistical significance is important, because it proves that data canbe taken seriously by the medical community. For obvious reasons, statistical significance is essential for any FDA approvals based on drug efficacy against a disease. Without statistical significance, people can basically dismiss a any claim as a fluke.
Investors may remember the incredible rally in Intercept Pharma (Nasdaq: ICPT) after the company posted these results in January 2014, so we'll use this as an example of why p-value matters to the market.
If you look at the press release, note that p = 0.0024 for the primary endpoint (or the "claim of efficacy"). This means that the improvement in NAFLD score (the numerical measure of drug efficacy in this trial) was not due to randomness, but had everything to do with Intercept's product OCA. The probability that this Phase 3 trial succeeded due to randomness is roughly 24 in 10,000.
That number alone should convince many doctors to use (or consider using) OCA to treat liver fibrosis. Doctors love low p-values, and so should you.