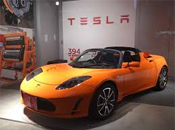 To say the announcement by Tesla Motors Inc. that it intends to build the world's largest lithium-ion (Li-ion) battery plant within the next three years has captured the attention of the industrial minerals industry, would be an understatement.
Tesla's CEO, Elon Musk, is known for his big ideas, most of which have turned into successful ventures that have changed the way we use and think about technology. His businesses include the online payment system, PayPal; solar panel design and installation company, SolarCity; the space travel pioneer, Space X; and, of course, electric vehicle (EV) manufacturer, Tesla Motors.
Tesla, which brought both its Roadster and Model S electric cars from development to driveways in little more than a decade, revealed its latest idea, a $5bn Gigafactory, in February this year. This plant would not only double the world's output of Li-ion batteries from 2013 figures, but would also aim to be a catalyst for mass uptake of EVs.
By producing Li-ion batteries on a mass scale at the Gigafactory, Musk believes Tesla can significantly drive down the cost of the battery packs, the most expensive of all EV components, by 30% and with it the price of EVs, in a move to make them more affordable to consumers.
Tesla and Musk are aiming to replicate for EVs what Ford Motor Corp. did for commercializing the market for gasoline-powered cars, almost exactly 100 years ago.
The Gigafactory is expected to be up-and-running by 2017, reaching full capacity by 2020. By this time, it will produce 500,000 EV Li-ion batteries per year, the majority of which will be transported by rail to Tesla's assembly plant in California, US.
An exact location for the plant has not yet been disclosed, but Tesla has said that it intends to build the facility in south-west US. This is interesting, as North America has little or no current production of the key minerals that go into making a Li-ion battery—namely, graphite, lithium and cobalt.
Doubling the world's battery output will have a significant impact on the consumption of these raw materials, however, responsibly sourcing these minerals at the correct specifications needed to manufacture batteries is Tesla's first major challenge.
Critical mineral sourcing
Sourcing niche, specialist minerals is not like sourcing other commodities, such as iron ore, copper or bauxite.
Not only are these industries small and typically over-reliant on a single country or region to produce the majority of output, but the materials produced from them are complex, with specialist manufacturing knowledge needed to produce a marketable product.
For graphite, mining and processing is concentrated in China and lithium production is mainly centered in Chile, while more than half of the world's cobalt comes from the Democratic Republic of Congo (DRC).
Earlier this year, a Bloomberg news article citing environmental problems connected with the production of flake graphite in China first put these issues on Tesla's radar.
Following the report, the company announced it would source all of its Gigafactory raw materials from North America, yet it is likely this search will be widened to other areas such as Africa, Europe and South America.
Graphite
Used as the anode material in Li-ion batteries, graphite is the largest input raw material by volume.
At present, Tesla uses both synthetically produced and naturally mined flake graphite in its EV batteries, which it buys from the Japanese technology company, Panasonic, which in turn buys the mineral from China.
The challenge with today's supply structure is that China produces 60% of flake graphite and nearly 100% of battery-grade, spherical graphite.
IM Data estimates that Tesla's Gigafactory, at capacity, will need anything from 83,000 tpa to 126,000 tpa of flake graphite (consumed as smaller volumes of spherical graphite).
Considering the flake graphite industry produced 375,000 tonnes in 2013, the volume increase potential to supply Tesla's one plant is clear.
If the company uses 100% natural spherical graphite, this would equate to an increase of up to 34% of total flake demand, or a 154% increase in demand from the battery industry. Similar demand volumes can be expected if the company chooses synthetic graphite.
Cobalt
Used as one of the raw materials in a battery cathode, cobalt presents a more extreme supply situation.
In 2013, 55% of global cobalt output was produced in DRC as a by-product of copper mining.
Indeed, the majority of the world's cobalt is derived as a by-product of the mining of other metals, meaning outside of DRC it is supplied globally in small volumes of between 3-7,000 tpa from countries such as China, Canada, Russia and Australia.
While the Tesla plant is expected to need only 7,000 tpa battery-grade cobalt, a supply risk lies in the fact that there are very few dedicated cobalt mines outside of DRC, which is frequently riven by political turmoil and conflict and is one of the highest risk countries in the world.
Lithium
Also used as a cathode material, lithium faces the least extreme supply situation in relation to the Gigafactory, but ranks second in terms of volumes needed by Tesla.
The majority of the world's lithium is produced in Chile's Atacama Desert, which produced 54% of global supply in 2013. The country has been stable source of lithium carbonate for number of end markets, including batteries, since beginning production from brine in 1996.
Other brine producers include Argentina and smaller volumes from China. Australia is the leading producer of lithium from spodumene rock, although the industry there is now controlled by China.
It is estimated that the Gigafactory will require up to 25,000 tpa of lithium chemicals – most likely lithium hydroxide – at full capacity. This represents a significant increase on today's battery-grade lithium demand of 50% and a 20% increase in overall demand.
Supply chain transparency
In the last three years, factors such as price volatility, government policy and disruptive demand-side developments (like Tesla's Gigafactory) have affected the supply of critical minerals for technologies like EV batteries, cell phones and defense technologies.
This has brought into question the supply chains for these minerals and whether, small producers are ready for major new demand increases from markets that require specialist, processed products as opposed to commodities.
These developments have also put further pressure onto high profile public companies to ethically source raw materials—both from non-conflict countries and from more environmentally responsible mines—which has widened the window of opportunity for new mines in other areas of the world such as Canada, Africa and Australia.
Supply chain transparency and responsibility, particularly for larger companies, are long term, intensifying trends—and with the Gigafactory, Tesla is front and centre stage.
IM Data has released a FREE report on how the Gigafactory will affect the demand for critical minerals, graphite, lithium and cobalt.
To download your copy visit data.indmin.com/tesla
Simon Moores
Industrial Metals