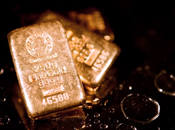 GOLD PRICES touched new four-month lows overnight Monday, as what one analyst called a "rough week" was followed by quiet Asian trade ahead of a key Eurozone policy vote and U.S. jobs data.
China and Hong Kong's main financial exchanges were closed for the Dragon Boat Festival.
Trading more than 4% down from this time last week, gold prices rallied off $1,241 per ounce as European stock markets followed Wall Street's Friday finish to reach new record and multiyear highs.
Silver prices followed gold lower, meantime, bouncing again from Friday's low of $18.65 per ounce—the lowest dollar level since June 2013's three-year bottom.
"On the monthly chart," says technical analysis from Scotiabank's bullion division, "gold is trading in a sideways consolidation within a larger bear trend that began after the September 2011 high."
Friday's end-May close was "lower on the month" and so "opens up a retracement to the double-bottom in the $1,180-1,182 area" from June and December 2013, Scotia Mocatta's Daily Updategoes on.
Last week's 4-month low in gold prices was matched by a 4-month low in net betting on higher prices by hedge funds and other speculative traders in Comex futures and options, new data released Friday by U.S. regulator the CFTC showed.
"There are two forces in control," Reuters quotes analyst Robin Bhar at Scotia's fellow London market-maker Societe Generale, "fast money pulling gold prices lower, and the market looking to price in a more dovish ECB and a strong [U.S.] non-farm payrolls number" due this Friday.
Looking ahead to Thursday's Eurozone central bank decision, "A more dovish ECB might be bullish for gold prices in Euros," says Bhar. "But people still look at gold in Dollars."
"The death of the US Dollar is greatly exaggerated," writes Financial Times columnist John Authers, summarizing a new book from former IMF China specialist and now Cornell University professor Eswar Prassad.
"There is simply nothing that is better and safer."
Consensus forecasts for Friday's U.S. jobs data are for April's 4-year record growth to be followed by 215,000 net additions to non-farm payrolls for May.
Looking at last week's trading action in gold prices, "The recent downside range break was confirmed by a surge in volumes," says a note from London market makers Barclays.
Also targeting the $1,180 level after drop through $1,230, "That signals investor commitment to further weakness in the near term," say the bank's analysts.
"We do not expect an early or quick gold turnaround," agree analysts at London market makers HSBC, "as the market may not have bottomed yet."
Adrian Ash
BullionVault