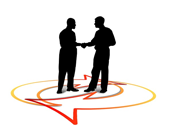 For those based in the U.S., May's Memorial Day holiday weekend is particularly welcome this year after a long, cold winter whose last victim was Q1 GDP. This was evident in the U.S. as big pharma sales fell 6%. While the weather was clearly a major factor, the more secular and perhaps enduring headwinds may be from factors such as the underlying dynamics between payers globally, market access hurdles across Europe, rising government tenders in most of the emerging markets and the launch of the Affordable Care Act, which brings with it a whole host of unknown unknowns. This latest quarter, which kicks off a third year of negative growth, seems to have been the tipping point for pharma companies to finally emerge from a long M&A hibernation. However, what do these recent deals—which were mostly intra-pharma transactions that will do little to grow the top line, at least in the near term—suggest about big pharma's growth aspirations? Is this focus on portfolio rationalization a stepping stone to the more ambitious M&A that is needed to drive real growth?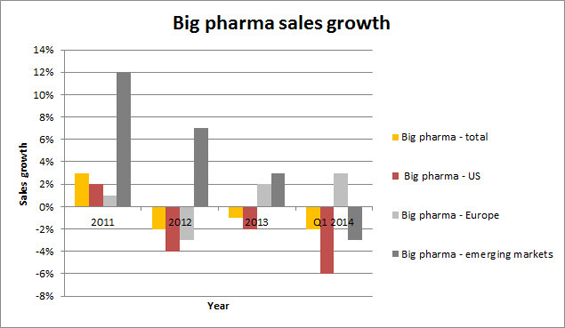 With this calendar year not even half over, who would have expected that the M&A values would have already surpassed all of 2012 and 2013? What's more, should the M&A pipeline fulfill its 2014 potential—a pipeline that includes some high-profile offers and possibly many others rumored in the media and in recent Q1 conference calls—this year's M&A activity may not only best each of the last few years; it could be greater than the last four years put together.
While M&A may be moving at a record-setting pace, this new wave reflects more fundamental strategic planning about sustainable competitive advantages than about top-line growth. Top-line growth remains elusive, as valuations at some of the attractive growth targets are so high they exceed the "firepower" on hand to make acquisitions. So many pharmas have focused on pruning portfolios in order to increase focus and more efficiently allocate capital to businesses with greater scale and competitive advantage. The immediate impact for some will be declining top-line growth, albeit with higher operating margin —which suggests that M&A focused on closing top-line growth gaps could be the next wave. Otherwise we are left to ask once again: where's the growth?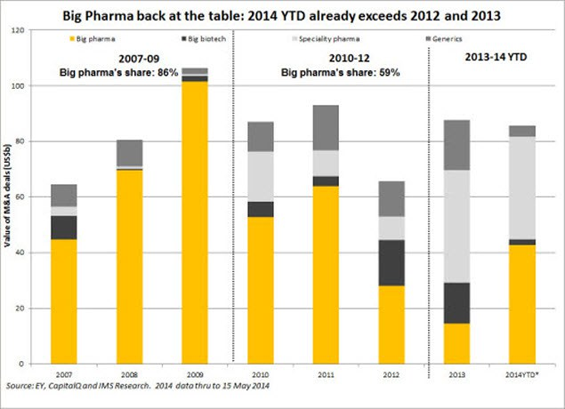 New wave of M&A: why now? As we have discussed over the past few years, big pharma's need to close growth gaps has become more acute. While there have been visible new drug approvals and launches, prescription drug trends and sales growth from new launches in 2013 were mixed, with new reimbursement headwinds clouding the growth trajectory within some therapeutic categories. In short, more companies are concluding that inorganic growth may be increasingly necessary to close growth gaps. But why now? There are three key reasons:
1. Firepower for deals has risen to historic highs as a result of major cost cutting and rising equity valuations. However, as we have commented before, relative firepower of pharma—versus biotech and specialty pharma—has fallen. This has two major implications: the first is that competition for growth targets has increased (as the Actavis-Forest deal illustrates), and the second is that there are more growth targets beyond some of the big pharma companies' firepower and/or valuation thresholds. As a result, pharma has resorted to intra-pharma divestitures and swaps, which may have better returns.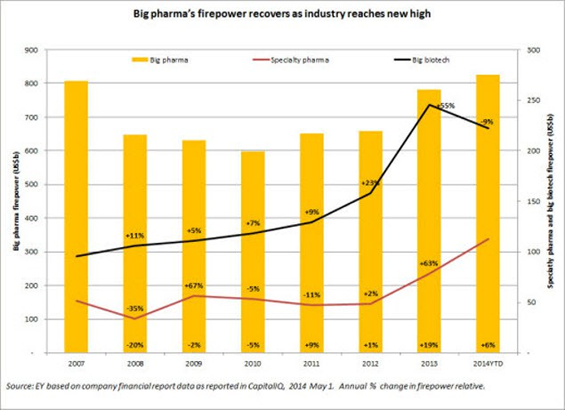 2. Financing costs remain historically low (although for how much longer?). Moreover, debt-to-equity ratios have fallen to multiyear lows.
3. Confidence is up significantly. While the need for M&A has been clear, and rising firepower has been evident, CEO confidence—which is influenced by a number of factor—took a significant jump only recently (see chart below). Part of this uptick may be the result from observing the M&A trends over the past year, where specialty pharma companies have resourcefully deployed more limited firepower, financing deals by levering up and structuring deals via inversions that were immediately accretive. When the smaller, less capitalized companies see their stocks rise after announcing deals, which almost all of them have done over the past year, it would appear to impact confidence in deals, as well: "Come on in, the water's fine."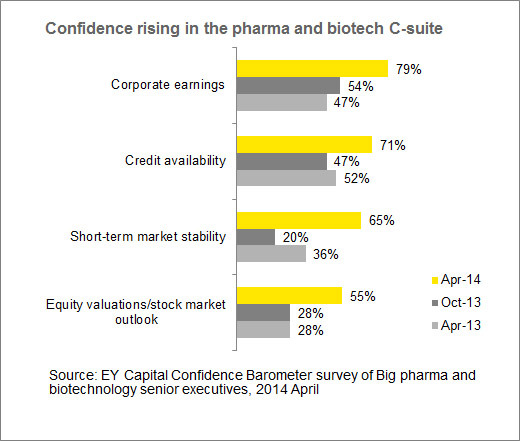 Big pharma's portfolio rationalization story: focus on fewer sustainable growth businesses
As companies seek to allocate capital more efficiently, big pharma's diversified growth model has been under review. Adjacent businesses under review include consumer (mainly OTC), animal health, vaccines, diagnostics and "established products." Established products follow a life cycle management strategy for brands whose patents have expired in major, higher-priced development markets but that have global growth in larger-population markets, mainly emerging markets (albeit at lower prices). Recent deals reflect strategic decisions to focus on fewer core businesses, which has resulted in exiting businesses with smaller share and scale or acquiring assets that increase share and scope and support future growth. Novartis's trifecta deals with GSK and Lilly improved the strategic focus of all three simultaneously: Lilly vaulted to #3 in animal health; GSK strengthened its leading vaccine position while growing its strong consumer business in a JV with Novartis, in which it has controlling interest and will likely acquire Novartis's stake in three years; Novartis, in turn, exits three businesses while focusing greater resources on its core pharma businesses, including acquiring GSK's oncology business, which on a stand-alone basis was less competitive. As discussed below, most majors that have adjacent businesses are in similar strategic reviews. More deals are likely to follow, as illustrated by the most recent one whereby Merck divested its consumer business to Bayer.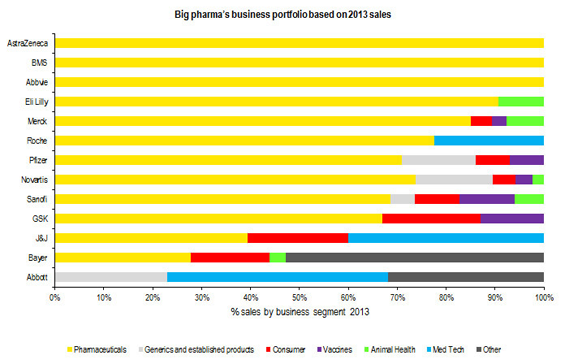 A shift to a leaner, more specialty- and biopharma-focused model? As big pharma's strategies evolve toward greater focus on core pharma, divesting non-core businesses with lower sustainable operating margins, strategic thinking has shifted in the direction of a specialty-biopharma model, focusing on fewer therapeutic franchises with targeted R&D spending and a leaner infrastructure. This should translate into higher operating margins more in line with those that many big biotech companies now enjoy. Moreover, those considering divesting established products business assets might find the leaner specialty pharma playbook worth emulating. And viewed from specialty pharma's vantage point, could these EP businesses, mostly branded generics businesses in emerging markets, have more sustainable bottom-line potential within their lower-cost infrastructure? Fortunately for big pharma sellers, specialty pharma buyers' firepower has reached new highs. And if top-line growth remains stuck at anemic levels as 2014 guidance and Q1 results have just confirmed, then we may only be in the first phase of a major transformation. Without identifying specific deals, if one simply connects the dots from announced deals, proposed deals and the collective chatter across Q1 conference calls, the landscape could look vastly different just a year from now.
Andrew Forman
EY Life Sciences Blog